The Ultimate Guide to Planning a Destination Wedding in Thailand
A wedding in this country means good food and great views.
From Phuket to the resort island of Koh Samui, there's a reason why many couples choose to spend their special day in the gorgeous country of Thailand. The tasty cuisine, memorable landscape and exceptional culture are just some of the reasons why it's easy to picture your dream wedding here, and guests will be daydreaming about their experience for years to come.
As with planning most destination weddings, arranging your special day from beyond the country's borders can get a bit tricky, especially with potential language and cultural barriers. Not to worry, though. We spoke to Ilaire Irenze, founder and CEO of Wedding Boutique Phuket, about all that goes into hosting the perfect Thailand destination wedding. Read on to get details from the expert.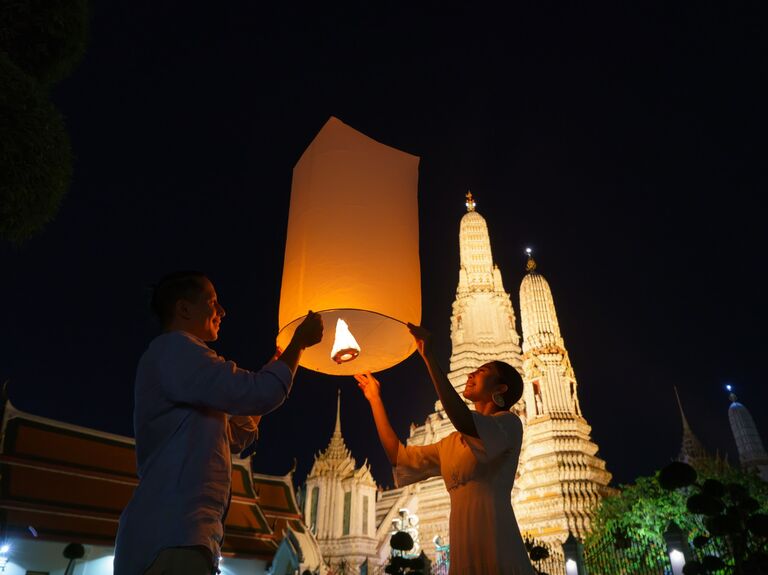 Why Couples and Guests Love Thailand
Thailand is rich with natural splendor and the country features one-of-a-kind hospitality. "Thailand is well known all over the world as a very tourist-friendly country," Irenze says. It's also diverse in landscape. Couples can enjoy the perfect beachfront ceremony or exchange vows in a lush field.
Irenze also notes that the tropical country has long remained popular for its welcoming climate, beautiful beaches and affordable prices. Today, however, there's no shortage of luxury destinations in Thailand, especially in Phuket.
The Best Places to Get Married in Thailand
Couples can find some of the best venues in Thailand around the world, and the biggest plus is the possibility of finding the perfect match. Couples may want the iconic backdrop of Krabi's limestone cliffs in their wedding photos, or perhaps they want their guests to explore the golf courses of Hua Hin. Discover the various options below.
Phuket: Home to unique luxury accommodations and five-star beaches, Phuket is ideal for couples interested in a Pinterest-worthy wedding day at some breathtaking resort. "Well known as the 'Pearl of the Andaman,' Phuket is very famous for destination weddings," Irenze explains. "You will find the natural beauty of a tropical island, sandy and pure shores, all combined with the mystic spirituality of Buddhist culture." Plus, the people are incredibly nice—Thailand isn't called "The Land of Smiles" for nothing.
Chiang Mai: In the northern region of Thailand, guests can enjoy gorgeous scenery, enjoy delicious Thai food, and experience nature. The region is dotted with stunning mountain terrain and Buddhist temples, leaving couples enchanted by everything they see. Wedding ceremony photos are certain to be enviable in Chiang Mai.
Bangkok: The capital of Thailand has some serious charm. Here you'll have access to amazing venues, vendors and everything you need to celebrate a wedding. Stay at a five-star resort, experience the exciting city nightlife, and taste world-class food. Wedding ceremonies on the riverside offer beautiful views, or couples can opt for a lush garden wedding that includes a traditional Thai ceremony.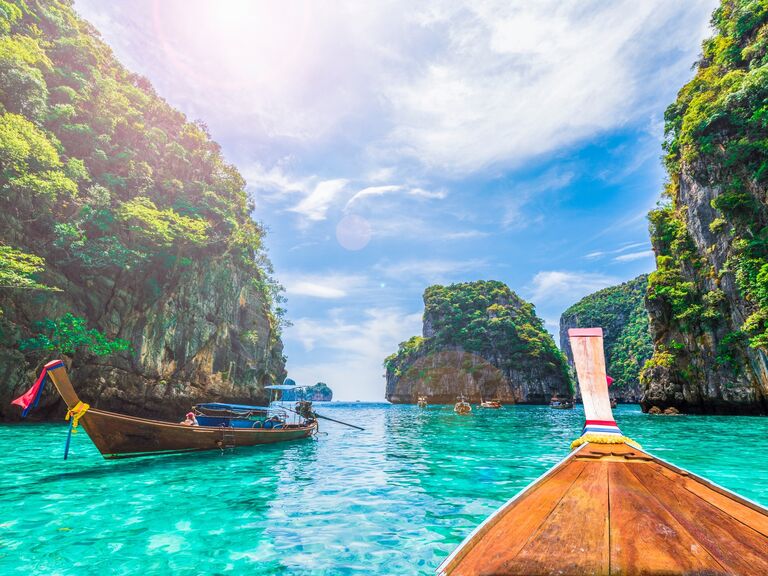 Thailand Wedding Legal Requirements
Legal Weddings vs. Symbolic Weddings
"Generally, wedding celebrations in Thailand are symbolic," Irenze says. "The legal marriage is a separate service that we recommend couples do in their own countries [to save money and time]." This means you'll sign the papers in your hometown, but go through the symbolic celebration in Thailand. You won't be required to deal with the paperwork, pay those extra fees, or struggle through legal jargon.
If you do choose to move forward with a legal wedding in Thailand, Irenze recommends seeking specialized assistance to ensure the process goes as smoothly as possible. "The procedure has to be done through the embassies in the countries of origin in Thailand, and it might take up to five to seven working days in Bangkok," she notes. In these instances, make sure to budget your time wisely.
Required Legal Documents
Thailand is no stranger to destination weddings, but quite a few legal documents are required to get hitched. According to Irenze, you'll need a valid passport, a visa upon arrival, an arrival card once within the Kingdom, and an affidavit of your marital status that's translated into Thai. Then, you'll be well on your way to legally tying the knot in Thailand. Again, hire professional legal help here to work through any issues.
Legal Marriage Timeline
When it comes to all the ins and outs of ensuring your marriage is legal, Irenze recommends getting a good wedding planner who will help you along every step of the way. It can take around a week before you have all of the legal legwork done to move forward with your ceremony, which includes visiting your own country's embassy in Thailand, as well as time for the translation and processing of the documents. You will have to be prepared to stay in Bangkok during this time to iron everything out and will probably want a coordinator to help you along the way. Once you've completed the ceremony and registered your marriage, you'll be recognized as a wedded pair in the US.
Legal Marriage Cost
If you're set on holding a legal marriage, you'll be required to pay a bit more for your wedding. According to the US Embassy, you will pay $50 for an affidavit that states you are single. You will also be required to pay a small fee to have your documents translated into Thai, legalized by the Thai MFA (Ministry of Foreign Affairs Thailand), to formally register your marriage. Overall, the fee for legalization will come out to around $1,200-1,400 USD, says Irenze.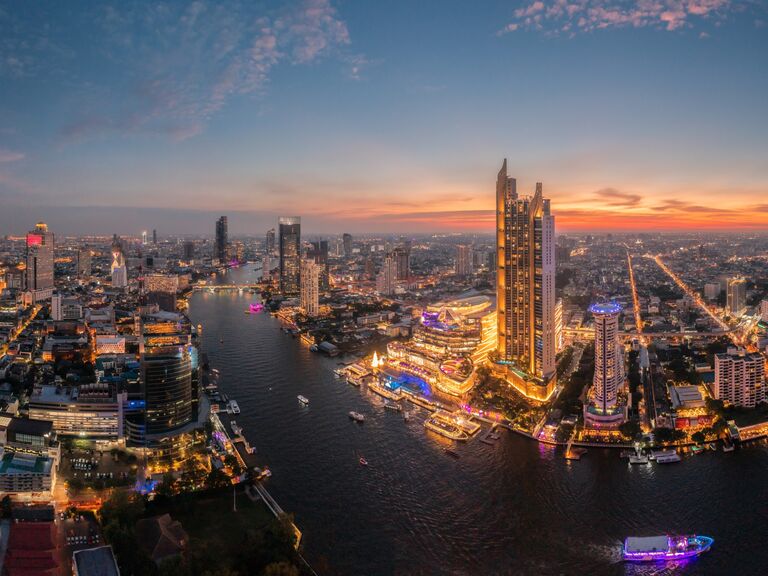 Thailand Wedding Planning Tips
Planning the perfect Thai destination wedding is absolutely in your capabilities, and it all starts with doing the research. Since you won't be on the ground, take a look at some of the many wedding packages offered by local resorts. Irenze suggests having a wedding planner that you trust to make decisions for you and lead you in the right direction. And her best tip for those getting married in Thailand? "Buy a light and easy wedding dress," she laughs. "Grooms should also stay away from tuxedos." The tropical weather doesn't do well with heavy fabrics and layers.
How to Get There
There are seven international airports in Thailand, and you can expect to pay around $1,000 minimum for round-trip flights from the US. Flights are around 20 hours long, depending on the number of stops you make during your journey. Once there, couples will find ways to get around Thailand. For longer trips, trains and buses are your best bet, and for shorter distances, renting mopeds, hopping on tuk-tuks or even taking ferries is fairly simple.
Thailand Weather
"Thailand is a tropical country, and while it offers amazing landscapes and lush nature, the hot, humid climate is either [loved or just tolerated] by travelers," Irenze says. The best time to visit is during Thailand's dry season between November and April, when you'll get the opportunity to experience gorgeous sunny days, clear skies and beautiful calm waters. While the rainy season might be cheaper, be prepared for all weather, and don't be surprised if your special day gets rained on.
Choosing your Venue and Vendors
Choosing the perfect venue and vendors for your Thai wedding can be an exciting and wonderful experience. While Irenze notes there are many different types of destination wedding venues, most are for outdoor ceremonies due to Thailand's great weather, gorgeous natural wonders and beautiful views. "From the casual barefoot ceremony on the beach, perfect for an exotic destination elopement, to amazing luxury villas, and everything in between, [you'll find] your perfect wedding venue." Whether you're looking to tie the knot in an all-inclusive resort, on a cliff-top with an awe-inspiring view or in the sand of a tropical beach, "it really depends on the couple's expectations and envisionment of their day." Thailand has a wide variety of venues and vendors to choose from, so you certainly won't have trouble finding the right one for you and your desires.
Budgeting Tips
From those looking for a luxurious Phuket gathering to couples interested in a simple laid-back beach wedding, when it comes to budgeting for your special day in Thailand, it will likely ring up for cheaper than in the US. "While some places around the world may cost you a fortune to hire excellent staff for your wedding, Thailand offers just as wonderful service at a much lower price," Irenze says. "From luxurious to affordable: every type of wedding exists in this beautiful country, promising everyone a great experience no matter what."