Thank Your Guests With These 7 Brilliant DIY Projects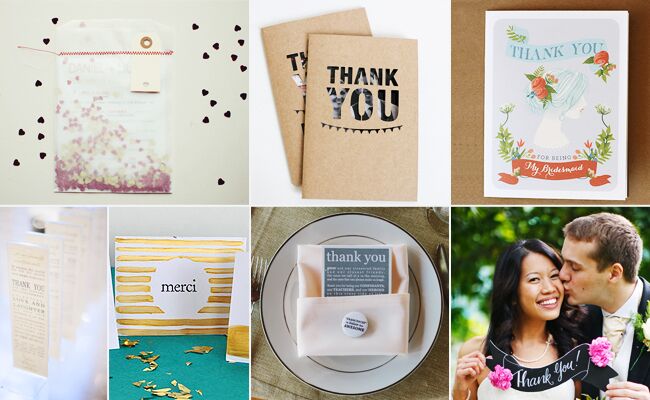 Whether it's in stationery after your honeymoon or in the creative place settings at your reception, there are tons of way to make sure your guests feel your gratitude! Write a thank you message on the dinner menus, create a custom thank you note to go with the favors or add a wedding photo to a set of DIY thank you cards (yes, you still need to write individual notes for all those wonderful gifts!). Cure the thank you note blues by assembling one of the seven easy DIY projects below.
Glitter And Gold Paint Thank You Notes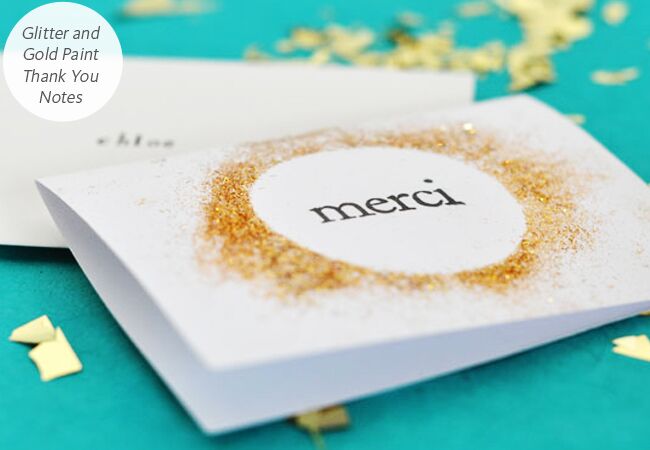 Photo: Chanel Dror
Use gold paint and glitter to glamorize simple notecards. Here are three ways to do it!
Confetti Mad Libs Thank You Package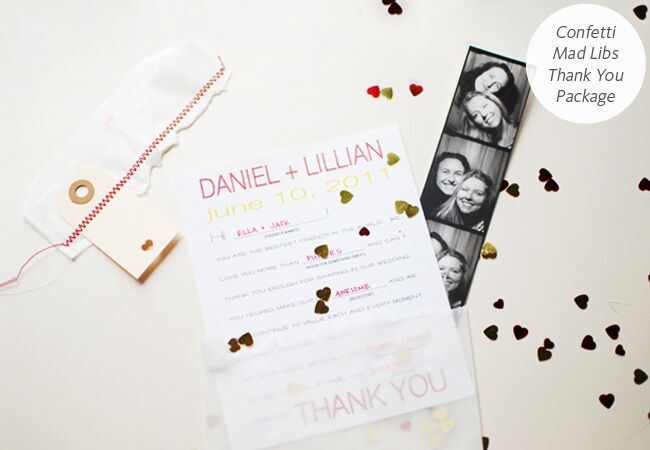 Photo: Lauren Elise Crafted
With access to a sewing machine, you can bundle these amazing thank you packages for your bridal party (or your entire guest list if you're ambitious!). Follow this tutorial to make it happen.
Cut-Out Photo Thank You Notes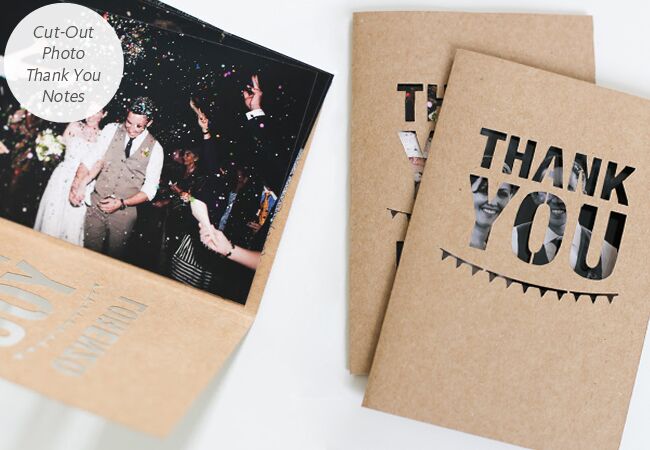 Photo: Claire Dalgliesh
Transform plain kraft paper notecards into a set of creative stationery with a paper punch (like this one!) and a photo from your wedding. Here's the how-to!
Chalkboard Thank You Photo Sign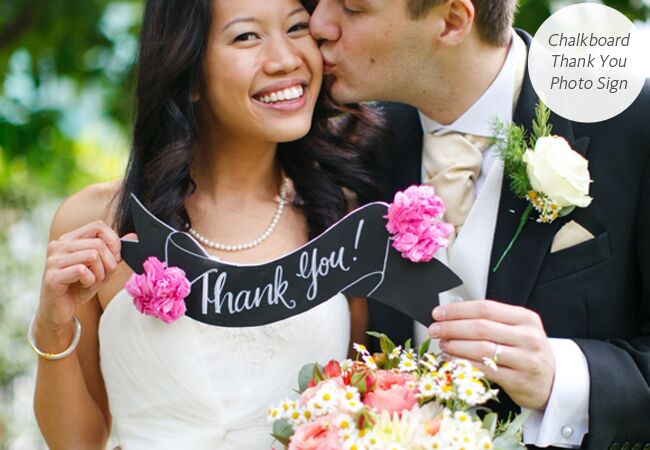 Photo: Chloe Browne
Think ahead and make a sign to hold while you shoot couple's photos on the day of your wedding. Print and add them t0 your thank you notes or make them into notecards with a site like mpix, Zazzle or Shutterfly. Learn how to make the chalkboard thank you sign here.
Printable Bridesmaid Stationery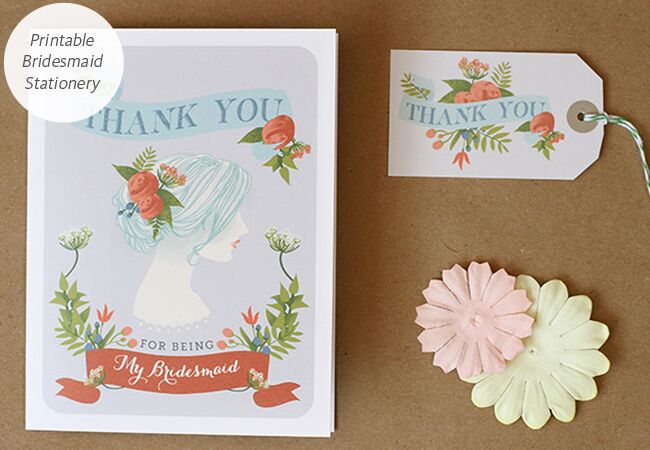 Photo: Love vs. Design
Download this cute bridesmaid thank you card design and print your own set! Click to download here.
Custom Thank You Pin Place Setting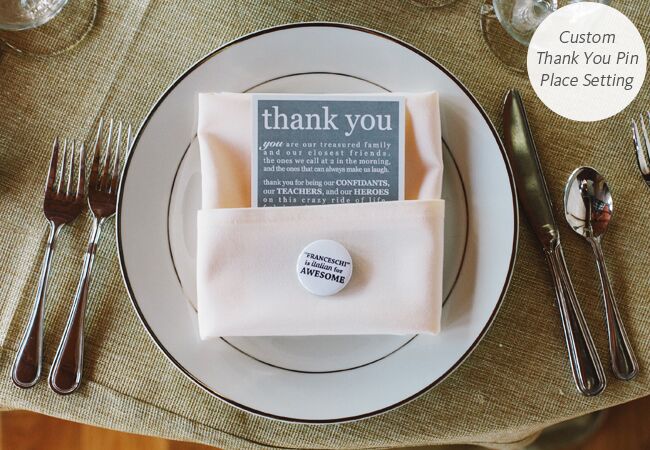 Photo: Brett & Jessica
From the album: A Creative Movie-Inspired Wedding in Durham, NC
Give your guests a thank you note, a menu and an awesome custom pin! Print a postcard that has a thank you message on one side and a menu on the other. Tuck it into the napkins at your reception and finish off the place setting with a pin of your own design! Use a site like Zazzle to create the buttons with a message or image of your choice.
Photo Booth Frame Thank You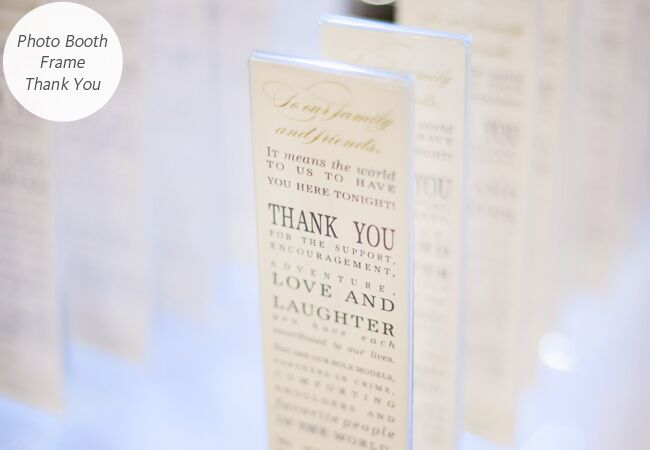 Photo: Scobey Photography
From the album: A Classic Elegant Wedding in Atlanta, GA
Set up a table next to the photo booth at your reception with acrylic photo booth picture frames. Print off thank you notes to go inside the frames. Once guests have their printed photo, they can slide it into the frame and take it home as a favor. Try it with these cool photo booth magnet frames.
See More!
> Wedding thank you notes: a complete guide
> How to use Mad Libs at your wedding