The Best 6th Anniversary Gifts for a Marriage That's as Strong as Iron
Mark the iron anniversary with a meaningful present.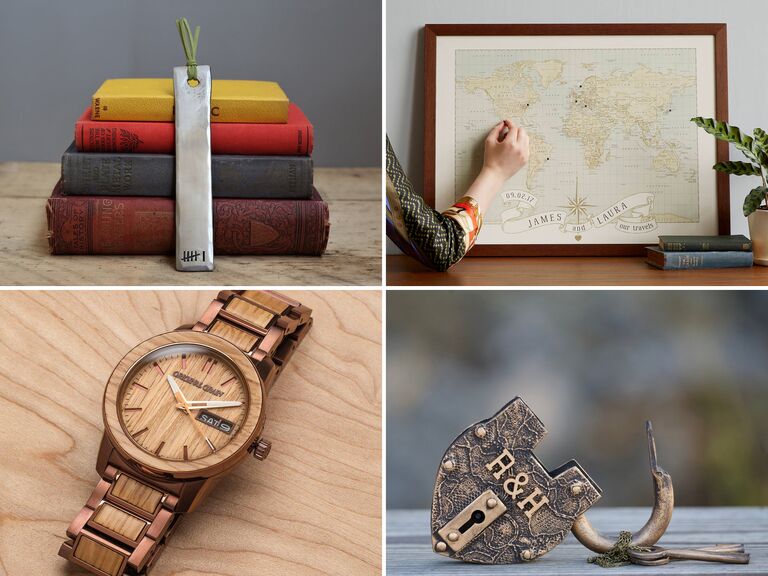 We have included third party products to help you navigate and enjoy life's biggest moments. Purchases made through links on this page may earn us a commission.
With five years of anniversary gifts already under your belt, it's safe to say the inspiration might be running a little dry this year. But don't worry—we've got lots of clever and unique six-year anniversary gift ideas that are just as good (if not better) than last year's presents. Whether you're shopping for your spouse or a happy couple, one of these thoughtful picks is sure to impress. We've thought of everything, from traditional iron gift ideas to modern and creative alternatives they won't see coming. Ready to get started? Find out everything you need to know about the six-year anniversary symbols, then jump right into our gift guide!
In this article:
What is the six-year anniversary gift?
With every year together, a marriage only gets stronger—and the traditional sixth anniversary gift is proof of just that. This special milestone is represented by iron, which is a sturdy and durable metal. Can you think of a better material to represent the strong and loving bond of a six-year marriage? Feel free to interpret the sixth anniversary theme literally or more creatively on your hunt for the perfect present.
Not sure about gifts made of iron? There are a few alternative symbols associated with this special milestone that are just as meaningful. The modern six-year wedding anniversary gift is wood, chosen for its remarkable resiliency. For even more inspiration, consider the year's traditional colors (purple, white or turquoise), gemstone (amethyst) or flower (calla lily).
Of course, there's no rule stating your gift has to include any of the milestone's traditional symbols. Just think of them as a helpful starting point if you're feeling stumped. Need more ideas? You'll find plenty of great alternative presents at the bottom of our list.
Iron Anniversary Gifts
Giving your spouse (or the couple) an iron anniversary gift seems like it could be difficult, right? Good news: There are actually so many fabulous options to choose from, whether their tastes are unique and modern or classic and elegant. Plus, iron is easy to engrave for a personalized touch they'll appreciate.
Meaningful Lyric Art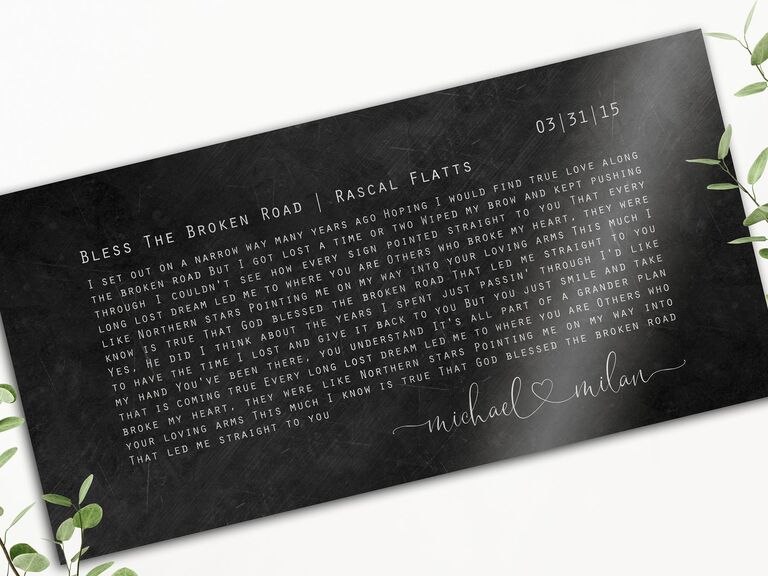 Throw it back to your big day with this personalized wall art from Honeycomb Proverbs featuring your first dance song, names and wedding date on iron aluminum alloy.
Romantic Metal Bouquet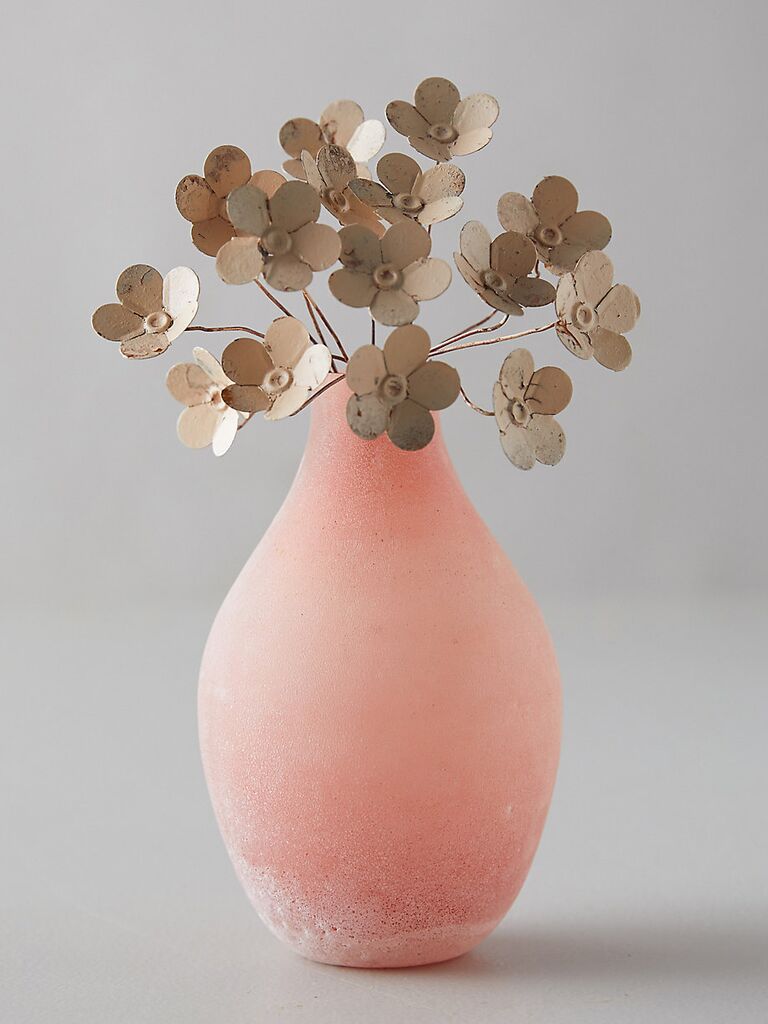 Flowers are a go-to gift for all kinds of special occasions. Beautifully crafted from iron, these rustic faux forget-me-nots are unique to this meaningful milestone. Pair them with a lovely vase for a romantic and creative present.
Practical Dutch Oven
If the last time the lovebirds got some shiny new cookware, it was from their wedding registry, they're likely due for an upgrade. This gorgeous Dutch oven comes in a range of colors and sizes, so you can choose the one they'll love most. It's a sixth wedding anniversary gift they'll want to keep out on the countertop for everyone to see.
Personalized Bottle Opener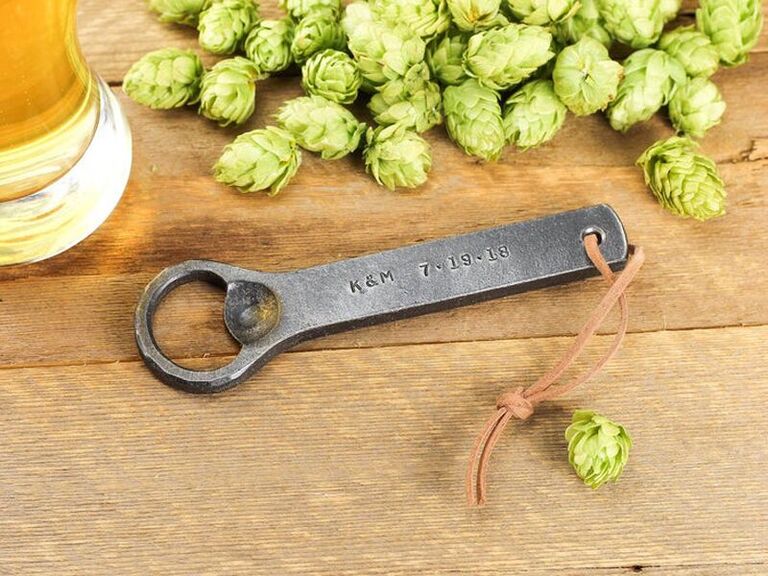 Looking for a traditional gift that's both practical and meaningful? This personalized wrought-iron bottle opener from Black Dog Ironworks can be engraved with your initials and anniversary date for that extra-special touch. Every time your S.O. cracks open a beer, they'll be reminded of your wonderful wedding day.
Antique-Inspired Love Lock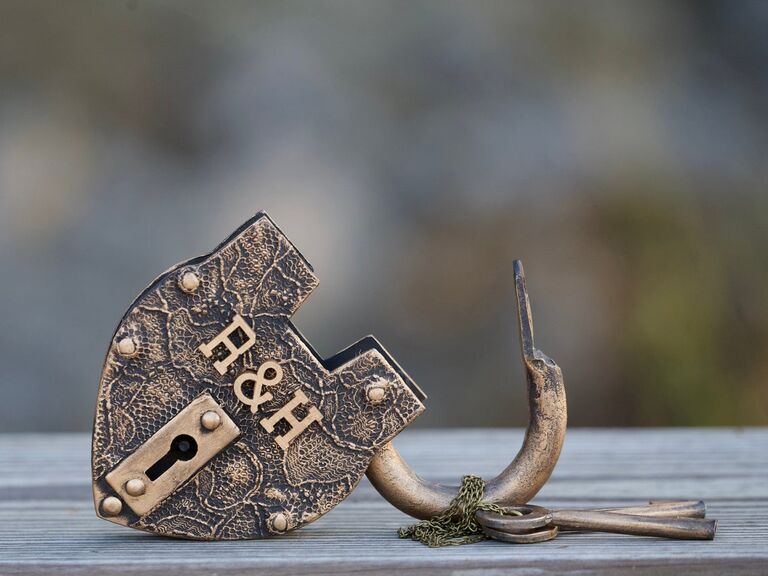 Want a super-romantic idea to celebrate the occasion? Order a bespoke love lock from Early Bright Melange and take your spouse somewhere special where you can lock it in place.
Elegantly Embossed Teapot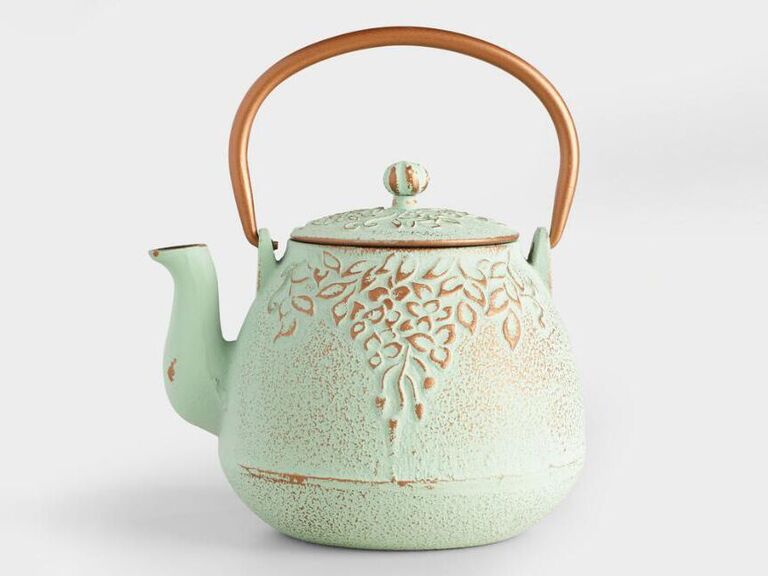 Upgrade your S.O.'s morning cup of tea with this gorgeous cast iron teapot. Take your present to the next level by pairing it with a monthly tea subscription.
Heartfelt Framed Photo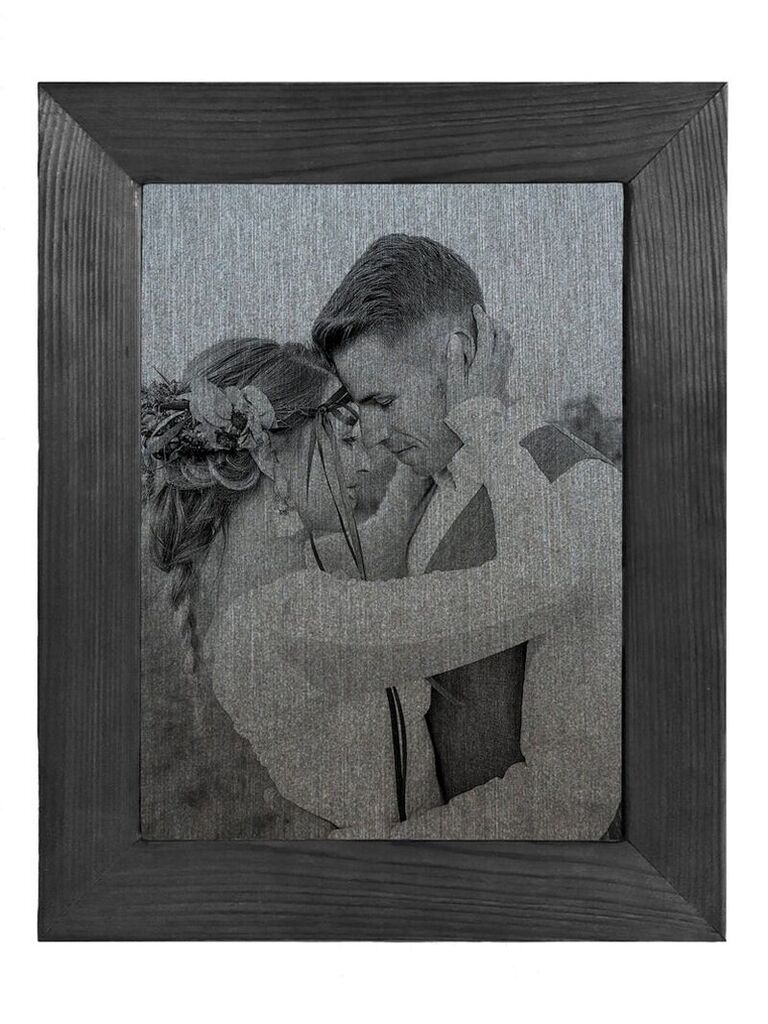 This unique photo present by Any Image On Leather isn't just a regular snapshot of you and your other half—it's a recreation on iron. The result? A display-worthy (and on-theme) iron anniversary gift for him or her.
Vintage-Style Jewelry Stand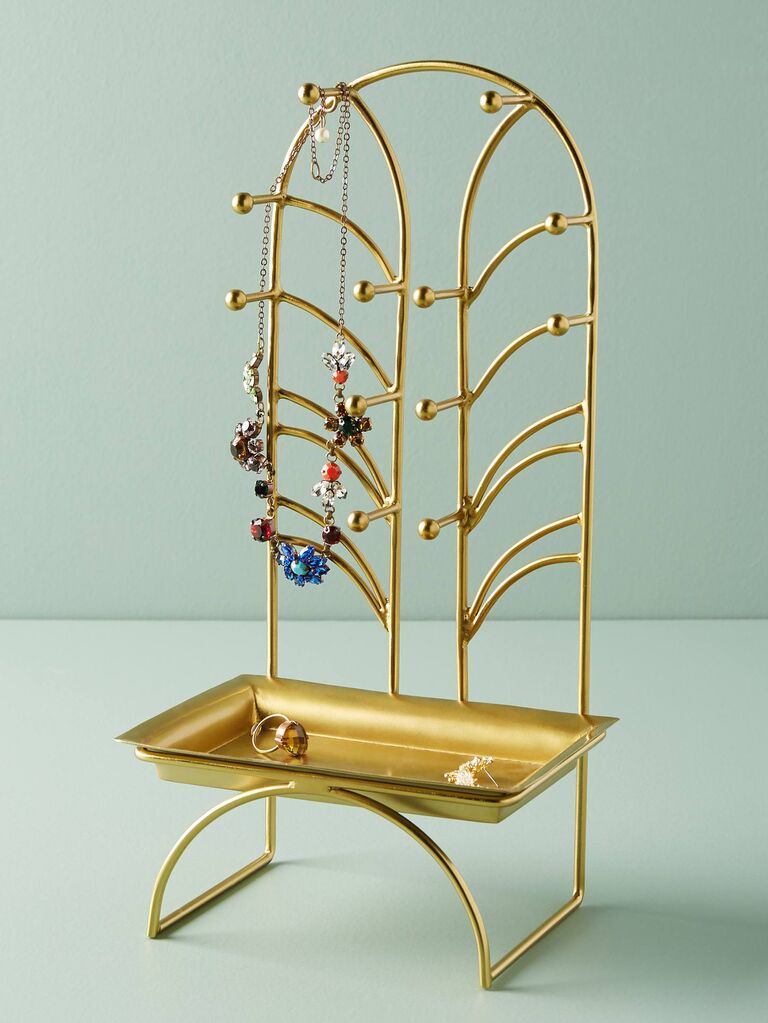 Rather than gifting jewelry, give your spouse a place to store all of their beautiful necklaces, bracelets and rings. This iron stand has a lavish gold finish, making it as lovely to look at as it is practical.
Custom Nesting Bowls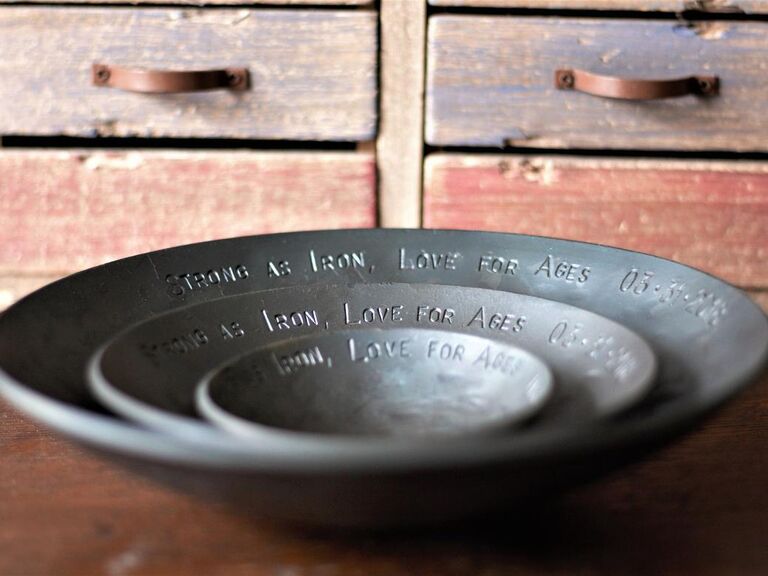 These custom iron bowls by Coach House Forge will make a unique addition to the couple's kitchen, and they'll be a fun reminder of this important relationship milestone. Forged by a professional blacksmith, this present is made to last—just like their love.
Sweet Home Decor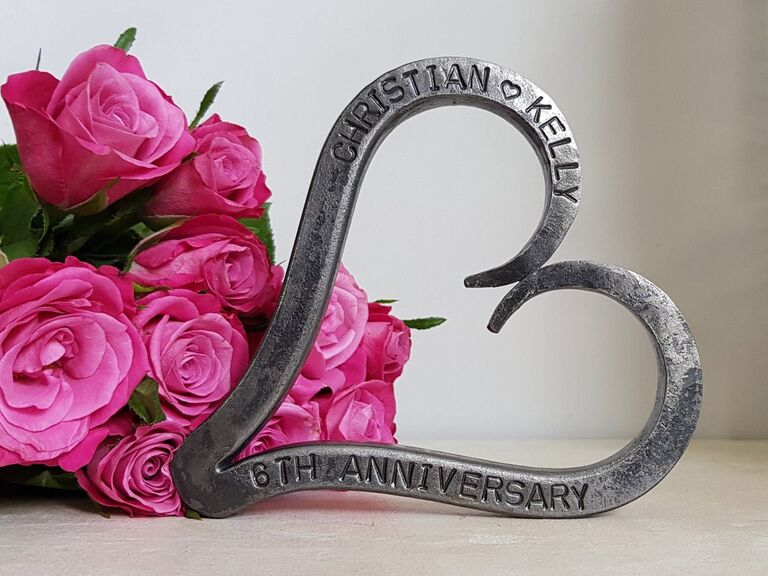 This decorative piece from Oakbeck Forge is handmade with love using traditional forging techniques. Have the heart personalized with your names, initials or the date of your nuptials for a truly special keepsake. It'll make a unique iron anniversary gift whether you're shopping for her, him or them.
Superhero Cuff Links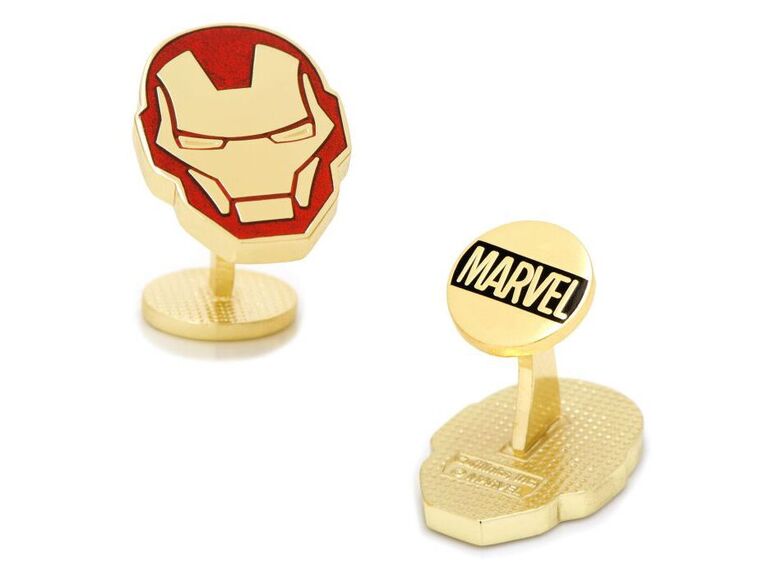 There are plenty of ways to think outside the box and pick out a clever iron anniversary gift. Unleash your spouse's inner superhero with this pair of cute Marvel Iron Man cuff links.
Minimalist Iron Bookmark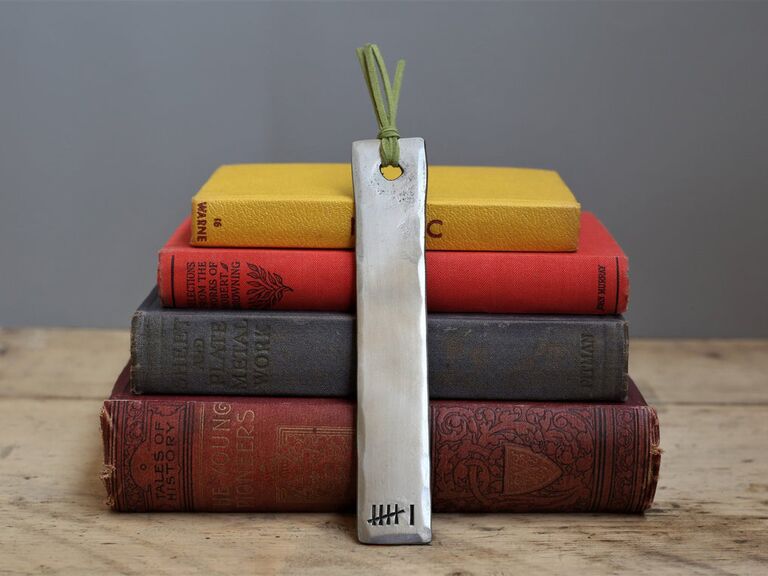 Is your S.O. a self-proclaimed bookworm? If so, they'll wholeheartedly appreciate this sentimental iron bookmark by Coach House Forge representing six magical years together.
Sleek Fondue Pot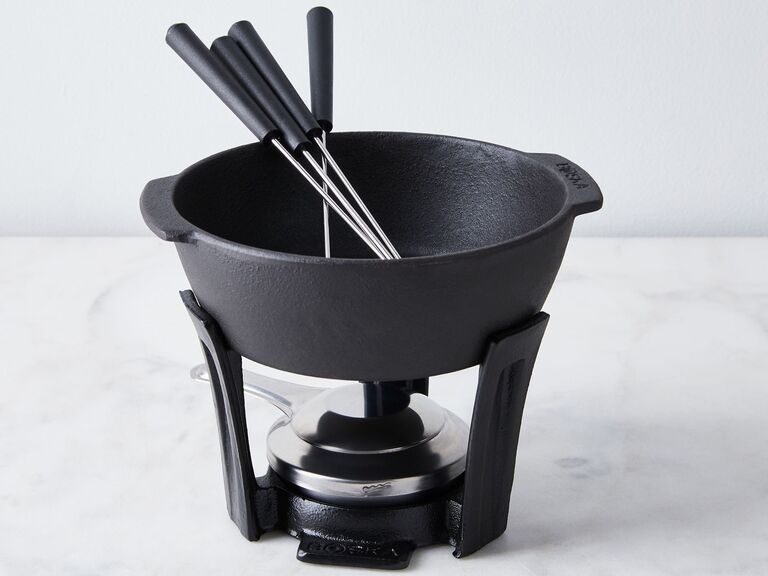 Here's another practical present that'll lend itself to future date nights at home. Boska's cast iron fondue pot can be used for cheese or chocolate—whatever your hearts desire most.
Thoughtful Stamped Keychain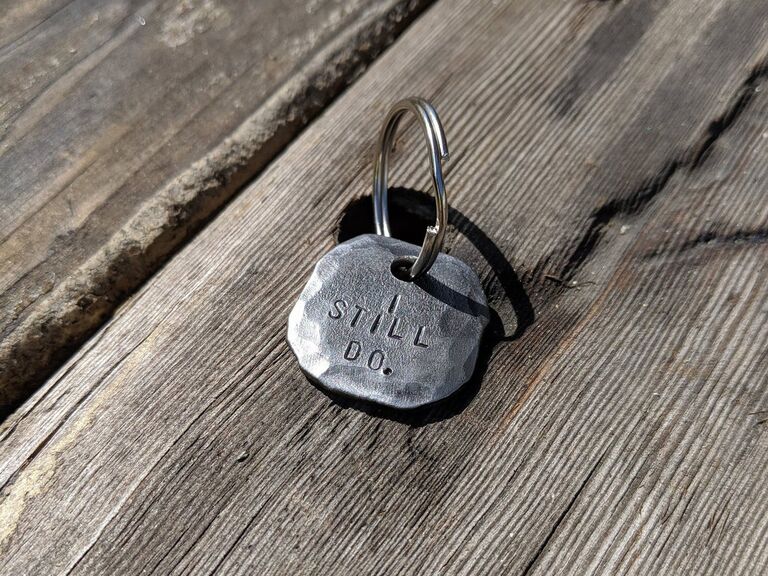 This sentimental keyring proves that the price tag isn't what makes a meaningful present. There are plenty of budget-friendly iron anniversary gift ideas out there. This iron keychain from Element Metal and Woodcraft reads: "I still do." (Awwh!)
Chic Belt Buckle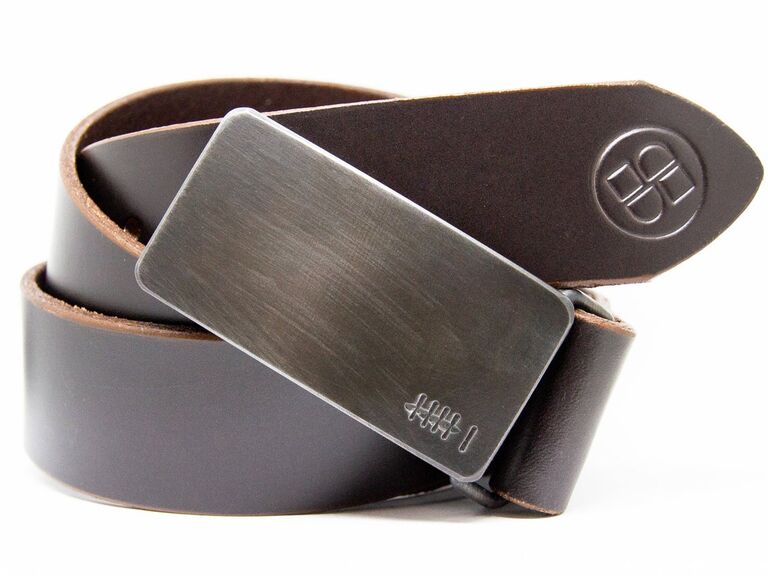 A sleek belt buckle crafted from steel and iron is already a cool, on-theme present, but the six etched tally marks make this pick from Steel Toe Studios even more special. There's also an option to include a belt if your spouse doesn't already have a favorite accessory to add the buckle to.
Wood Anniversary Gifts
After going six years strong, it makes sense to say "I love you" or "happy anniversary" with a gift made of wood—a material that represents strength. Again, you're welcome to take this theme as literally or creatively as you'd like. Check out 10 of our favorite wood presents for the happy couple or your better half.
Rustic Serving Tray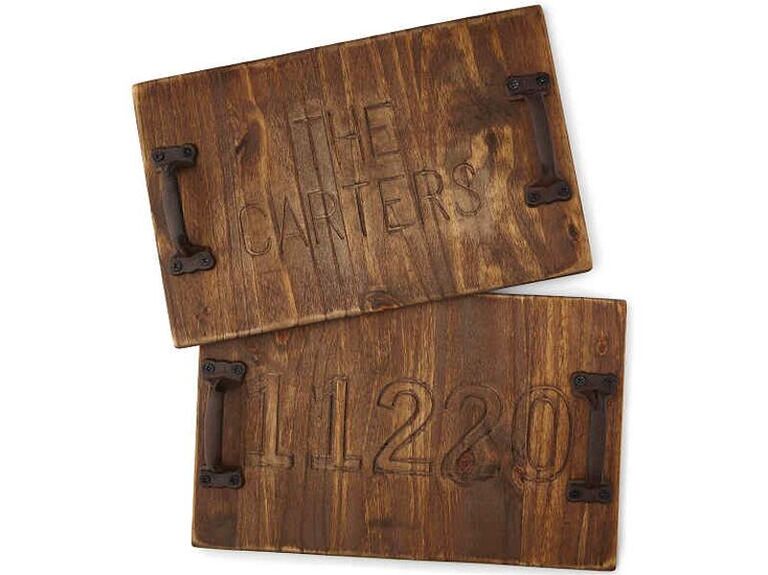 We love this personalized tray by Whitney Herndon because it combines both of the six-year milestone's themes. Distressed wood and iron handles make it the perfect unique centerpiece for the couple's kitchen table.
Sporty Barbecue Set
Does your spouse love to grill? Gift them a set of Sportula's wood-handled barbecue tools that pay tribute to their favorite sports team. Whether they're into football or basketball, there are plenty of personalization options.
Cute Photo Cube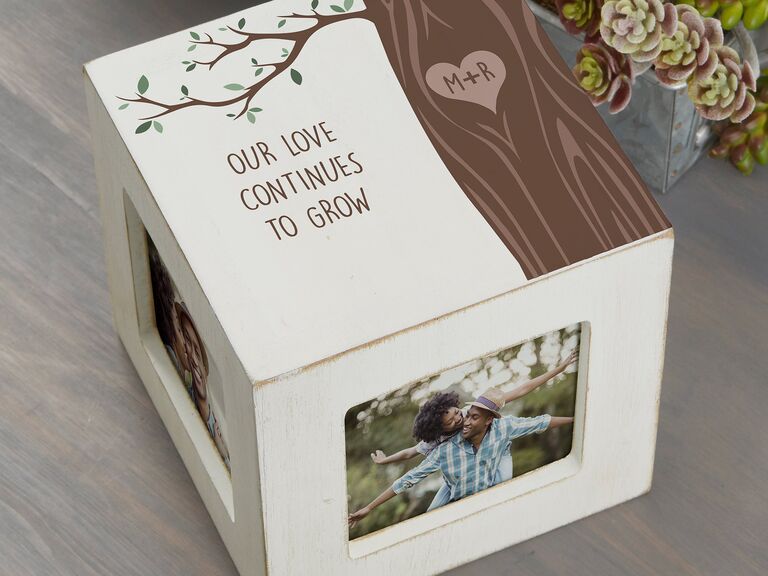 Shopping for a sentimental spouse? Pick out a sixth-year anniversary gift that acts as a sweet keepsake of your relationship. This distressed wood photo cube will add a chic, personal touch to any space, from their nightstand to their office desk.
Coordinate Collar Stays
Specializing in personalized wood presents, Maria Allen Boutique is a great place to shop for items that follow the modern gift theme. These nifty collar stays can be customized with the coordinates of your choice (think: the place you first met, your wedding venue or even your home).
Adorable Four-Across Game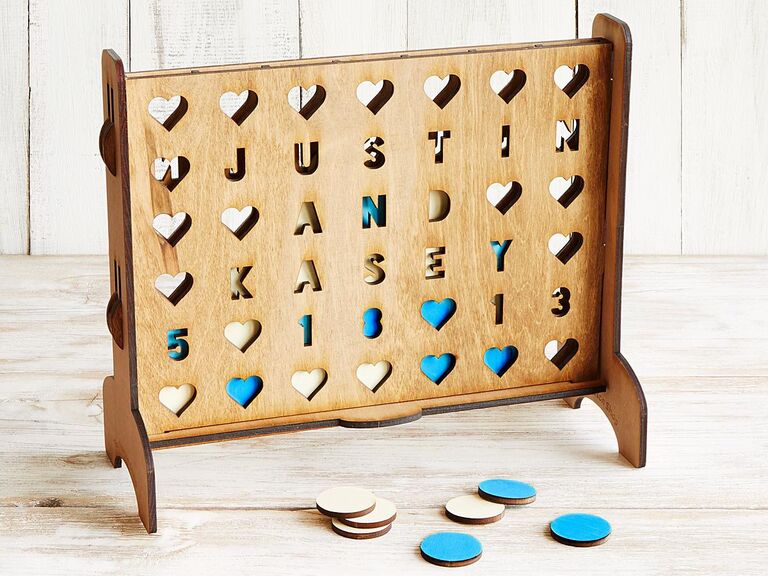 Kasey and Justin Pearson's personalized wooden four-across game is hands down one of our favorite six-year anniversary gifts. Whether you're shopping for him or for her, this heartfelt (and fun!) present is sure to make anyone smile.
Unique Wood Watch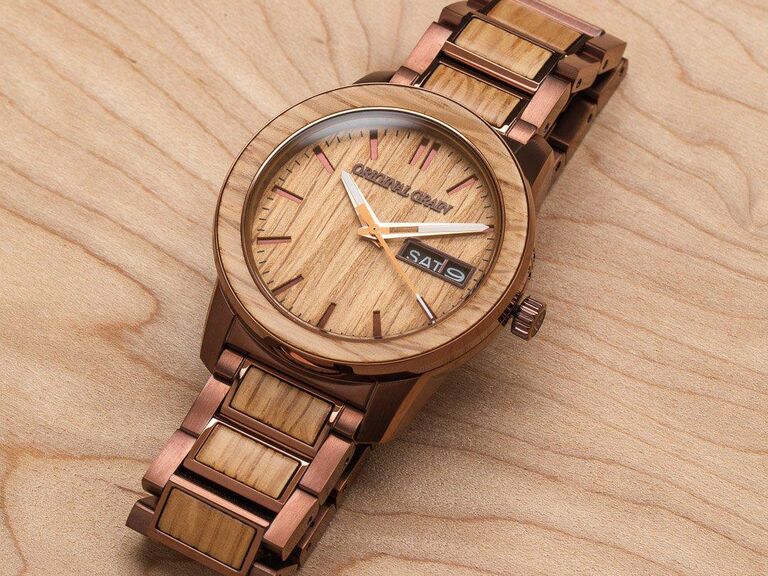 We love this one-of-a-kind watch because it offers both form and function. The combination of reclaimed whiskey-barrel wood with espresso-toned stainless steel and mineral crystal glass is easy on the eyes.
Luxe Layflat Album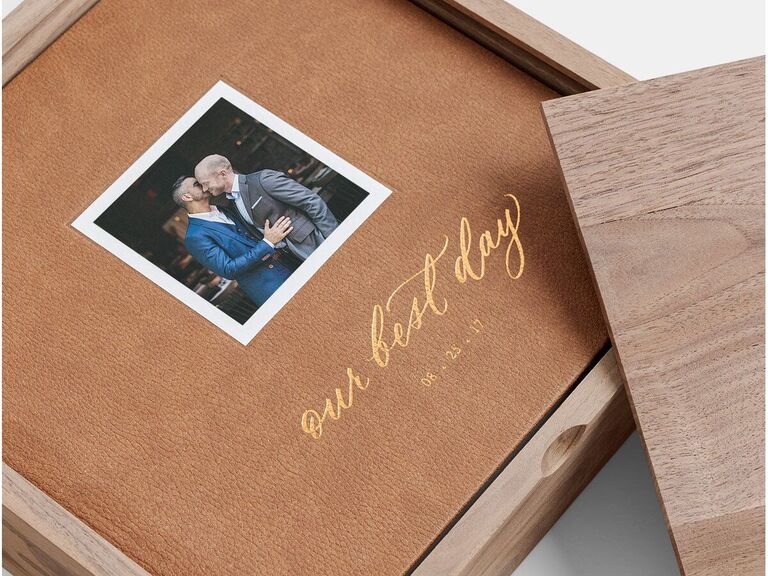 It's your six-year anniversary, meaning you've made lots of wonderful memories together since your wedding day. Create your highlight reel in this beautiful leather photo book for a tear-jerking present your spouse will love. Add on the stylish walnut box for a nod to the milestone's modern theme.
Engraved Wood Coasters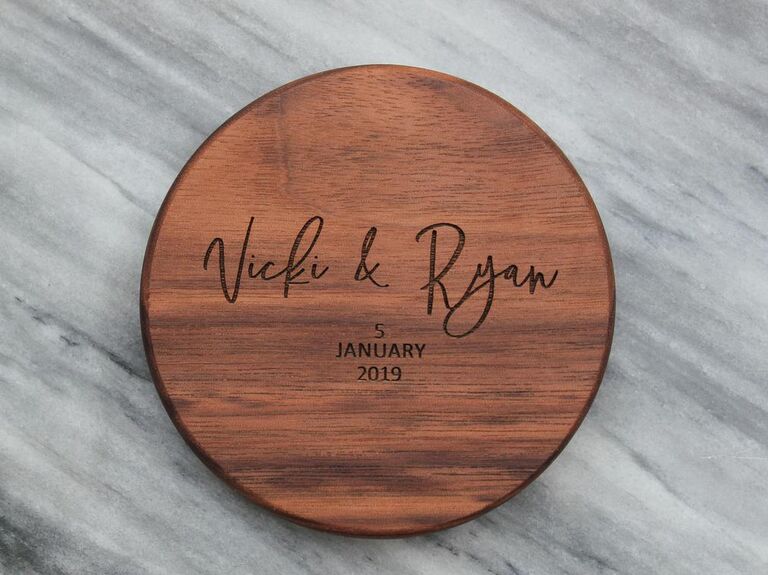 This pretty coaster is a simple way to vamp up their morning routine or add a sweet, personal touch to their desk. Serenity Designs' chic wood coasters can be engraved with your names and the date you tied the knot.
Gorgeous Wedding Memento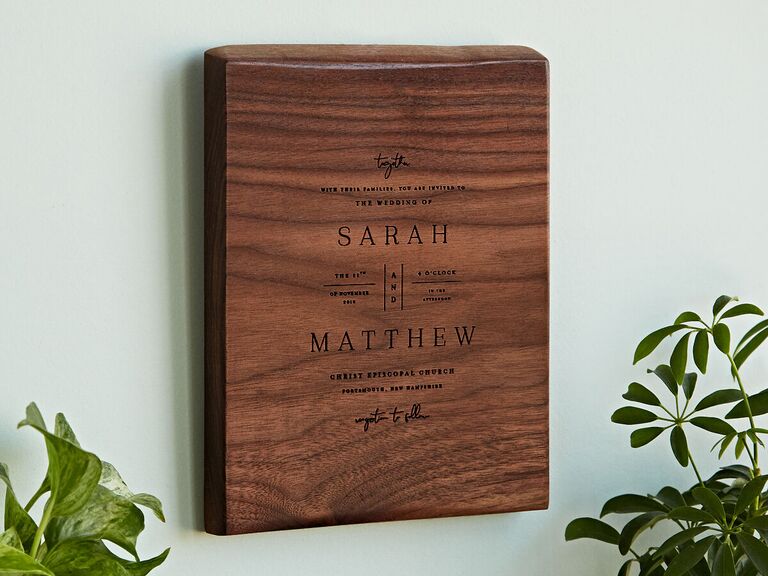 On the hunt for sentimental six-year anniversary gift ideas? Melyssa, Michele and Christine Kirn can recreate your wedding invitation on chic display-ready maple or walnut.
Stylish Oak Ring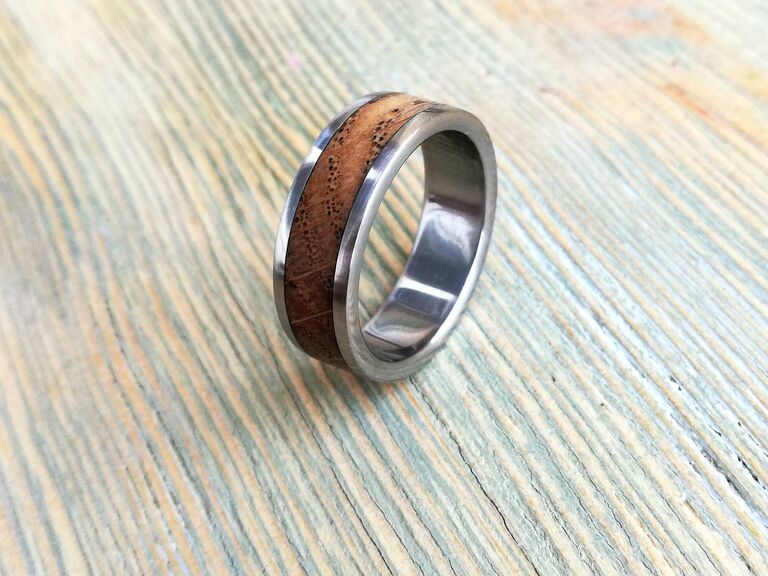 This sleek Trifleholics ring has a layer of whiskey barrel oak wood in the middle, making it a really cool and modern present to give your spouse.
Alternative Six-Year Anniversary Gifts
If iron or wood just aren't sparking the right kind of inspiration, don't sweat it. Feel free to ditch the six-year anniversary themes altogether and pick something from this list of creative alternatives. We've got something for everyone, from the sentimental spouse to the couple who prefers practicality.
Personalized Travel Map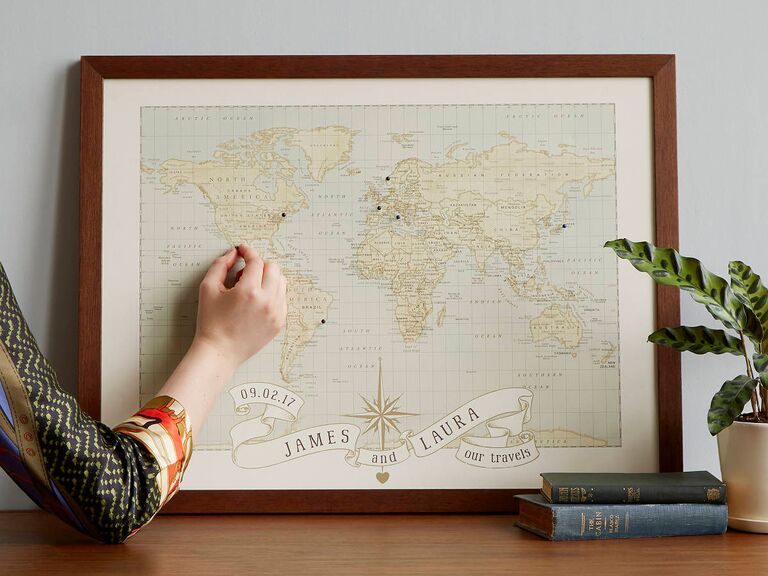 After six years of marriage, you've probably had some great adventures together. This map, created by Wendy Gold, comes with 100 push pins to mark all the places you've been. Personalized with your names and anniversary date, it's a romantic gift that's sure to impress.
Luxury Silk PJs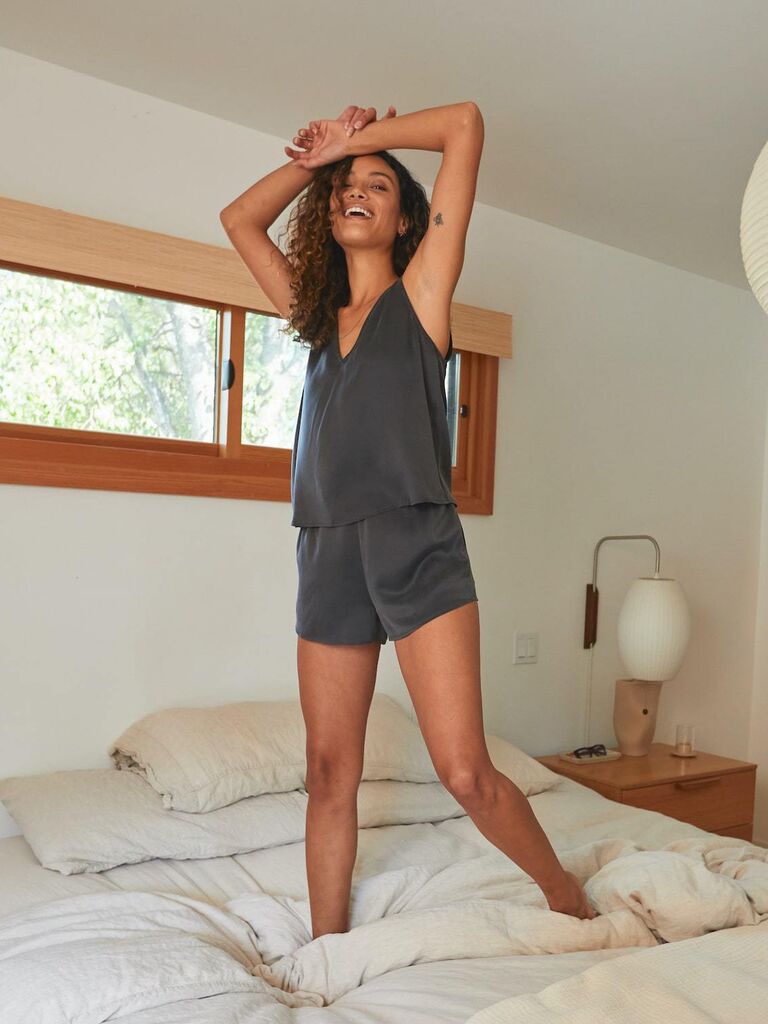 A luxe pair of pajamas is basically a must-have, especially if your spouse is working from home these days. This silk set from Lunya is soft, stylish and better yet: machine washable.
Gorgeous Preserved Roses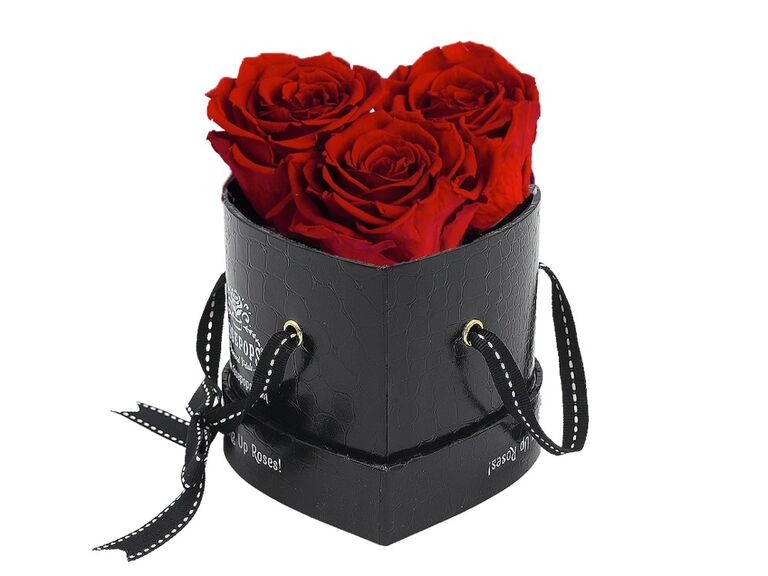 What could be more romantic than a bunch of vibrant red roses? A bunch of preserved red roses in a pretty, heart-shaped box. These gorgeous blooms will keep their vivid hue for months after you hand them over—no need to buy flowers again until next year!
Inspiring Date Scrapbook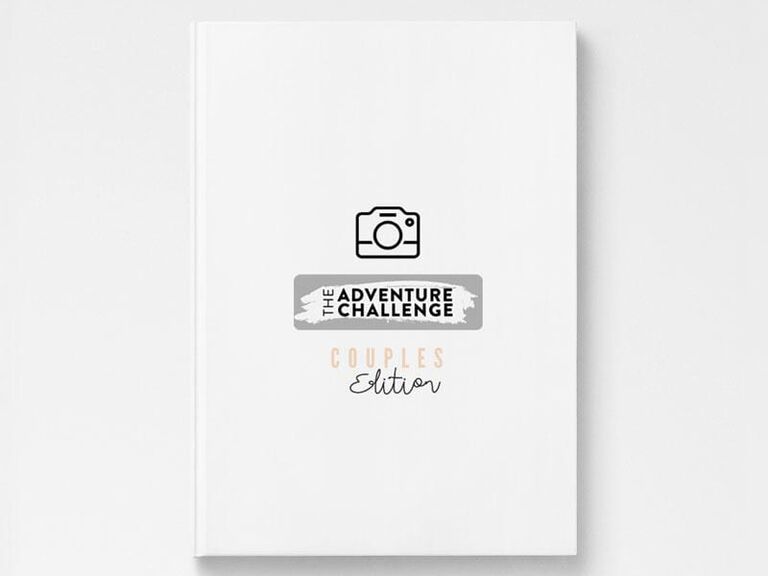 How about a gift that doubles as date inspiration? The Adventure Challenge scrapbook is filled with scratch-off ideas that'll add a fun, spontaneous twist to your quality time together. Helpful symbols indicate how long a date will take, whether you'll have to leave the house and other information to help you decide (without letting the cat out of the bag). Talk about a unique six-year anniversary gift for your wife or husband!
Heart-Shaped Diamond Necklace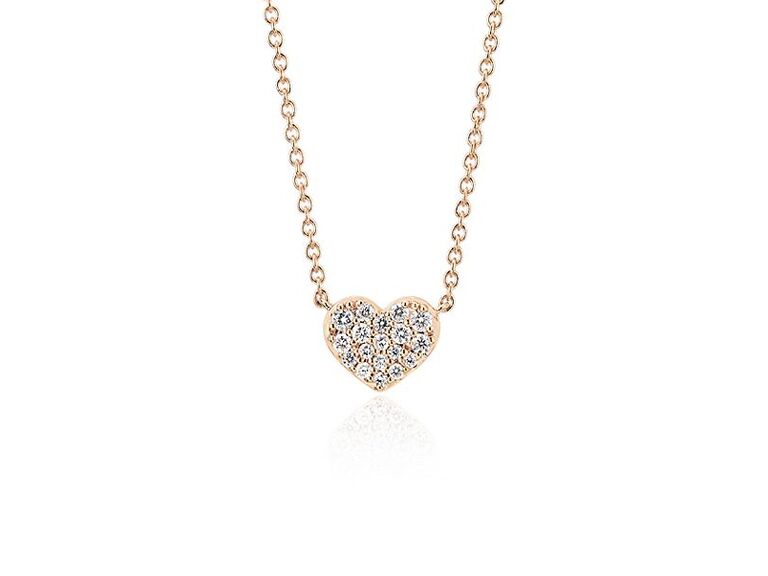 Diamonds may not technically be a traditional gift pick this time around, but that shouldn't stop you. Get your one and only something that sparkles just as much as they do.
Cool Leather Wallet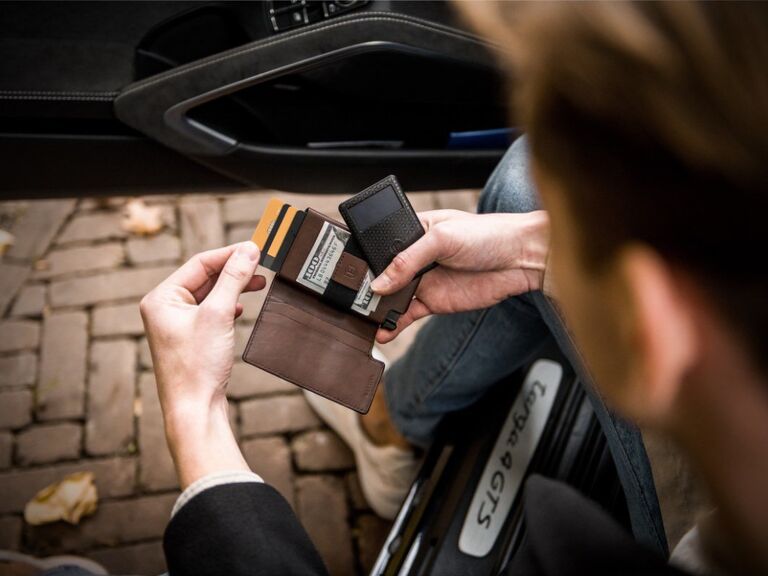 Sometimes practical presents are the best of all. This elegant, timeless and undeniably useful wallet is sleek enough to stow away in their back pocket. It also comes in a range of stylish colors and has a one-of-a-kind mechanism that pops out the card tray at the push of a button.
Fairytale Encased Rose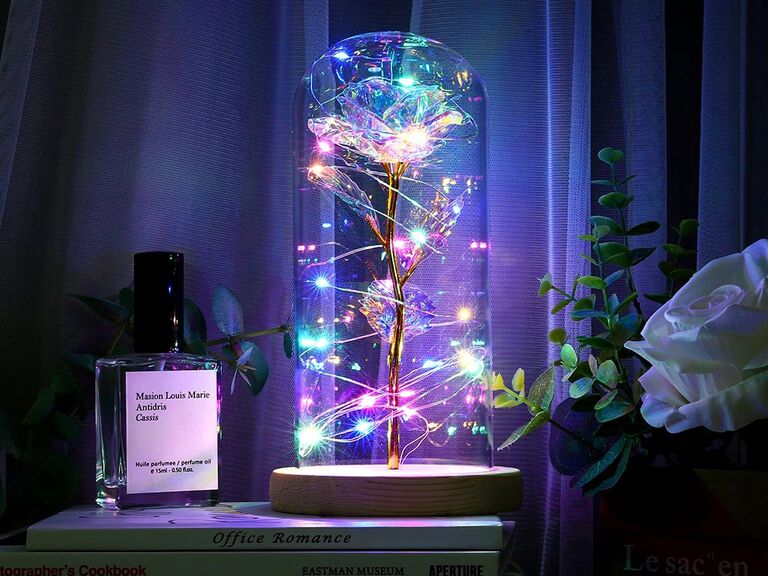 When it comes to creative sixth anniversary gift ideas for your spouse, why not treat them to an enchanting galaxy-themed rose? This gorgeous display dome looks like something right out of a fairytale, from the colorful fairy lights to the rose's 24-karat gold stem.
Pampering Skincare Set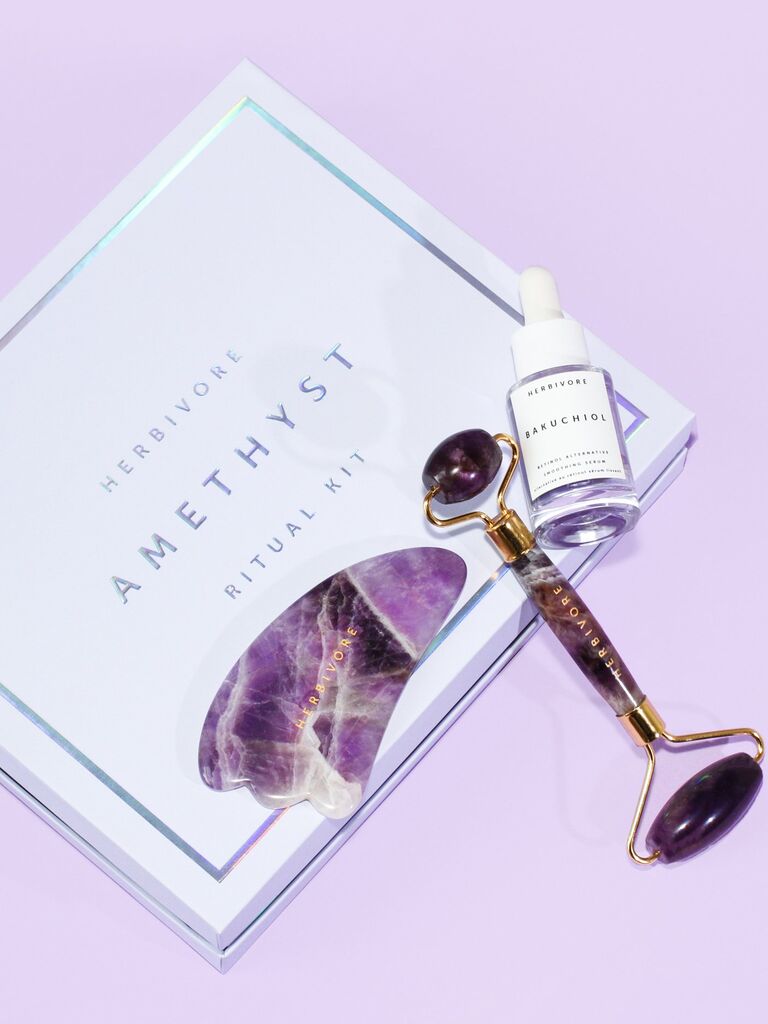 This luxurious set is ideal for any beauty lover. It comes with two pretty tools designed to give your spouse skin that's simply glowing. Bonus: It's made from the sixth anniversary stone, amethyst, which symbolizes peacefulness. The gift set also includes sustainably sourced Bakuchiol serum, meant to smooth and hydrate the skin.
Unique Whiskey Glasses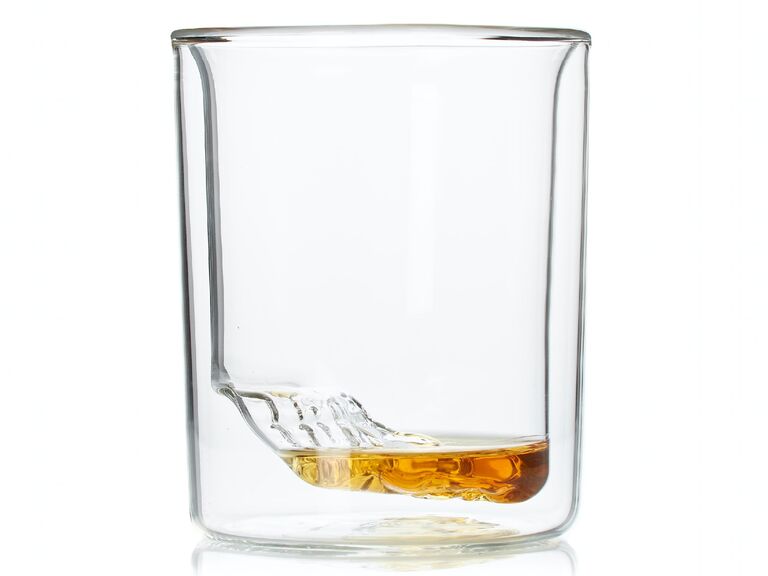 Got a whiskey enthusiast on your hands? We've got the perfect gift idea for them. These stunning rocks glasses by Whiskey Peaks feature miniature topographic impressions of the Grand Canyon inside. It's an even better gift idea if their appreciation of whiskey is accompanied by a love of nature.
Stylish Leather Tote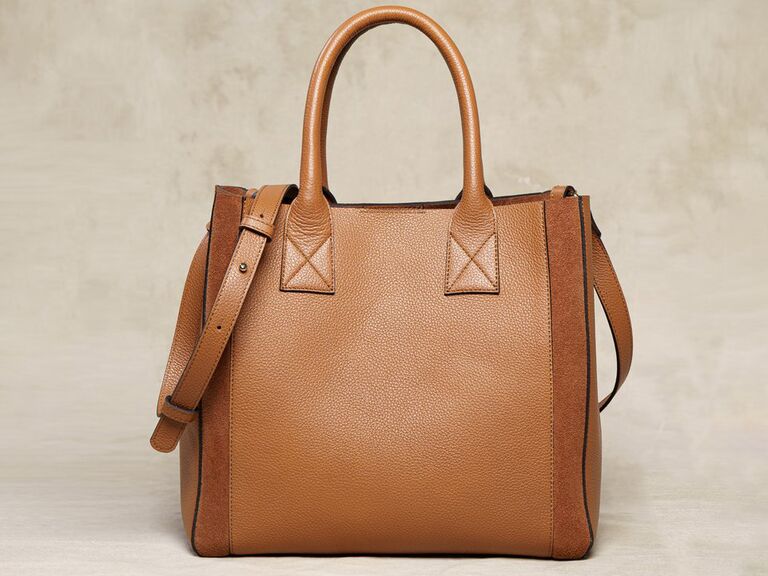 From the premium leather exterior to the ultra-soft suede interior, this stylish tote looks and feels amazing. Its conveniently compact size means it's easy to carry around, but don't be fooled—there's still plenty of room inside for all the essentials. Plus, the adjustable shoulder strap makes it comfortable to wear as a crossbody.
Illustrated Throw Blanket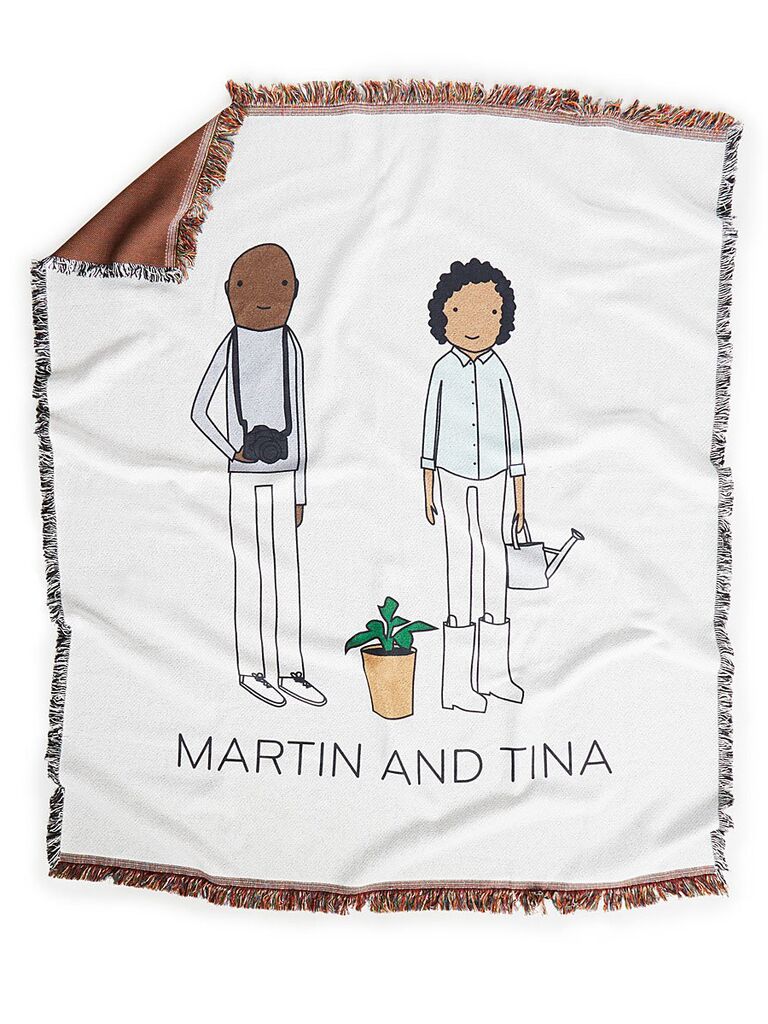 A cozy, decorative throw blanket is a great gift for a couple, especially if they like spending their weekends snuggled up with a good movie. But when it comes to cozy throws, this one definitely takes the cake. Shelly Klein personalizes each blanket with an illustration of the lovebirds enjoying their favorite hobbies.
Eye-Catching Calla Lilies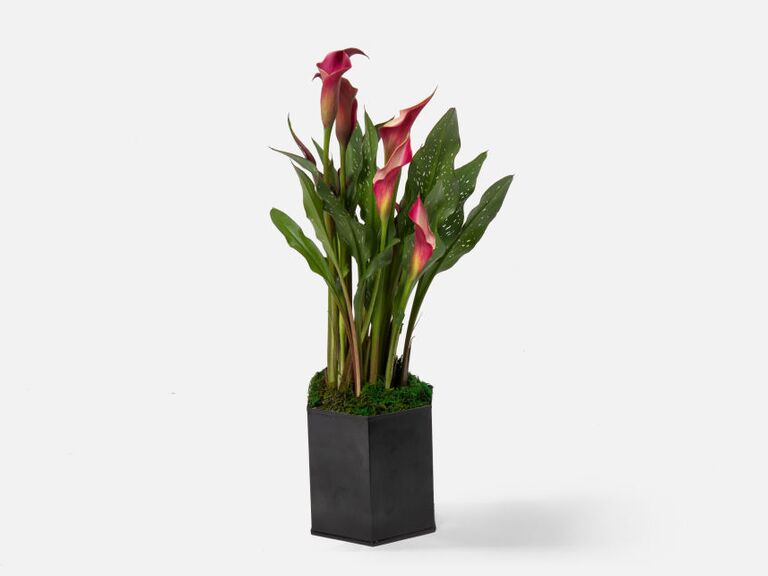 The sixth anniversary flower is the calla lily, which is why this gorgeous plant is an excellent gift idea. The bloom has different meanings depending on its color, but generally, it's a symbol of purity and faithfulness. We especially love red calla lilies, which represent passion and beauty.
Elevated Lace-Up Sneakers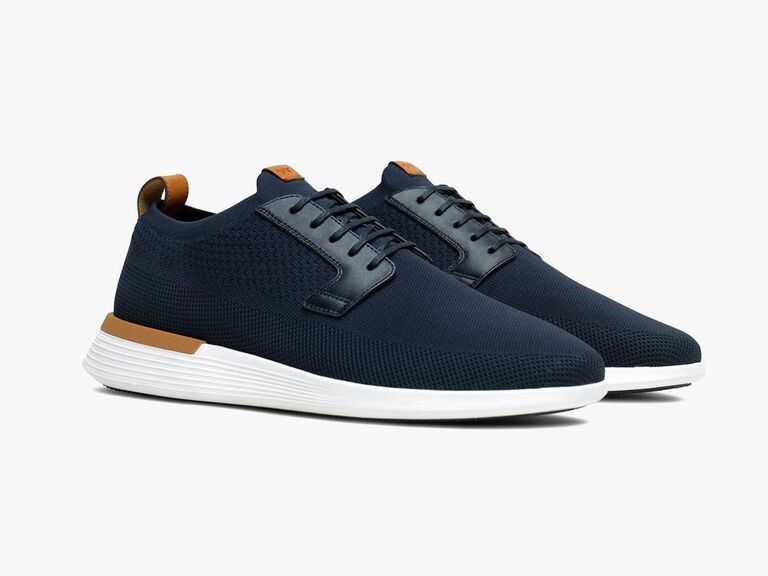 These sneakers are the ultimate combination of style and comfort. From the contrast leather pull-on tabs to the monochrome laces that blend right in, no detail has been overlooked. Your spouse will want to wear these bad boys everywhere (and since they're smarter looking than the average sneaker, they probably can).
Dazzling Diamond Bracelet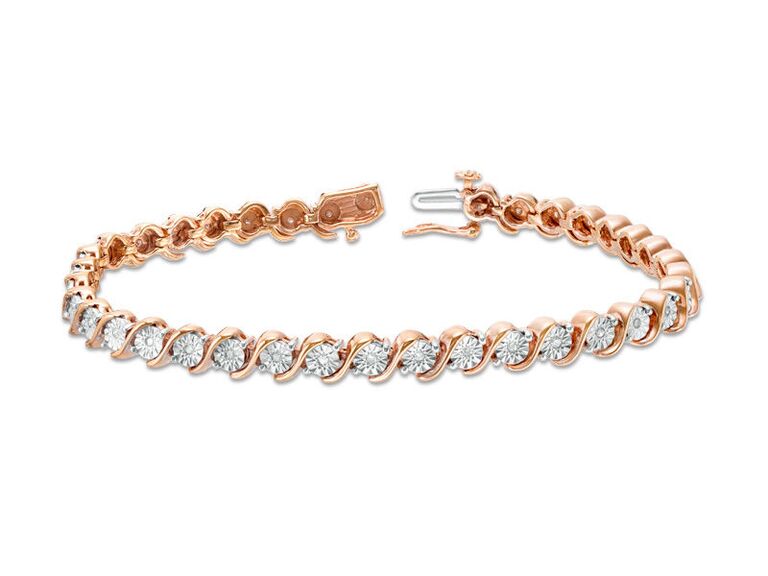 Jewelry always makes a good anniversary gift. A beautiful tennis bracelet like this one would even live up to Moira Rose's standards. Featuring elegant rose gold and shimmering diamonds, you simply can't go wrong.
Virtual Cooking Class
Shopping for a budding home chef? Or maybe you just want to gift your other half a one-of-a-kind experience? Either way, a virtual cooking lesson with one of the world's top chefs or culinary experts will be a welcome surprise. The site offers classes covering cuisine from lots of different countries.