35 Wedding Anniversary Gifts for Your Wife That Say "I Love You"
These finds will make her extra glad she married you.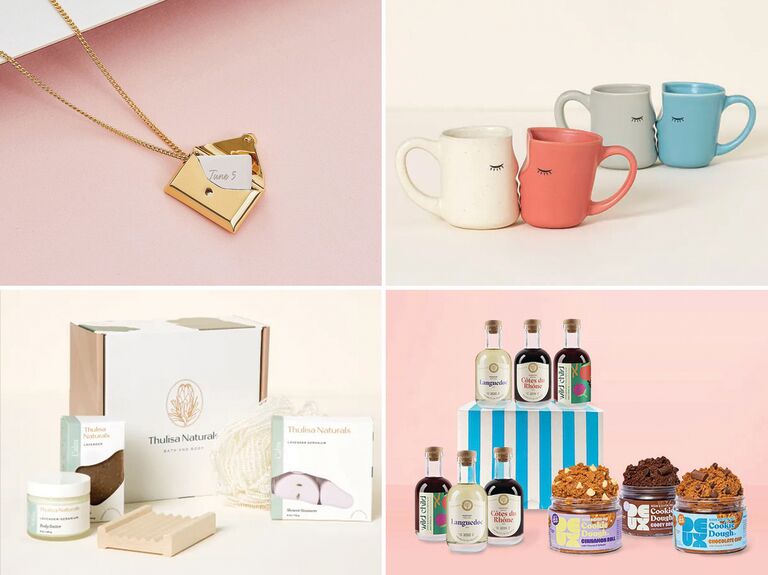 Photos, clockwise: Capsul Jewelry, Uncommon Goods, In Good Taste, Uncommon Goods
We have included third party products to help you navigate and enjoy life's biggest moments. Purchases made through links on this page may earn us a commission.
Even after 36 wonderful years of marriage, my dad still asks me: "What should I buy your mom for our wedding anniversary?" Suffice to say, whether you're celebrating your first year together or your 50th, finding good anniversary gifts for your wife doesn't get easier with age. How do you surprise your wife year after year so she knows how much you love and cherish her? Luckily for my dad (and now you), I've got some pretty great ideas for gifts for your wife up my sleeve. From anniversary flowers (a must every year, IMO), to sentimental keepsakes that'll make her swell up with happy tears, to practical goodies she'll use daily, these are the best wedding anniversary gifts for your wife.
Anniversary Gifts for Your Wife
There are lots of reasons your wife is happy to be married to you. For one, you're a really great gift-giver, thanks to our list of thebest anniversary gifts for her below. Think: shimmery jewelry, personalized art, cozy loungewear and creative date-night experiences.
1. Two Dozen Red Roses
Roses are red, violets are blue, here's to another year of loving you! Flowers—especially red roses—are a classic romantic gift. Have this gorgeous bouquet shipped right to your home as a surprise gift for your wife on your anniversary. You can even add candy and a vase. Better still, they have next-day and even same-day delivery for any last-minute shoppers.
2. Pop-Up Anniversary Card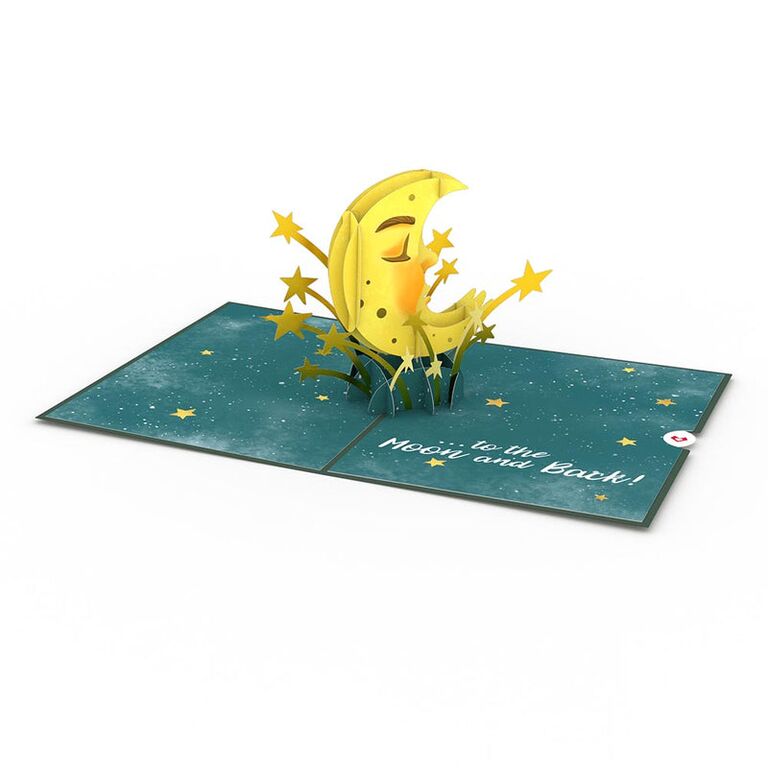 Just as you shouldn't forget flowers for your wife on your anniversary, you also shouldn't forget a card. But just any 2D card won't do. Tell your spouse you love them to the moon and back with this pop-up card.
3. Home-Cooked Italian Dinner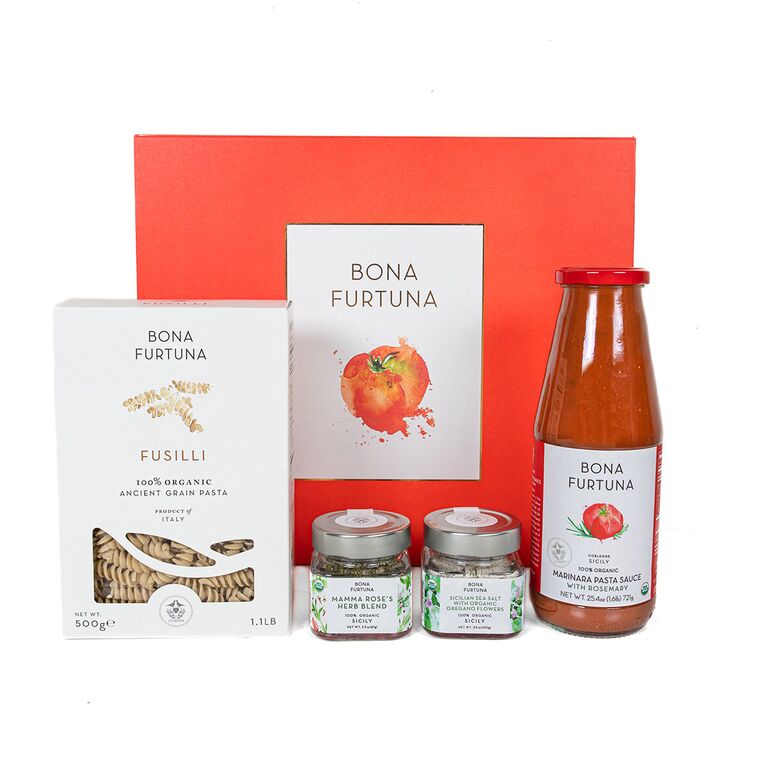 An anniversary dinner with your wife doesn't have to mean a night out on the town. This organic artisan gift set comes with ancient grain fusilli pasta, rosemary pasta sauce, a special herb blend and sea salt with oregano, so you can whip up a delicious Sicilian dinner at home. You could even make Italian night a monthly routine with Bona Furtuna's subscription service.
4. At-Home Wine Tasting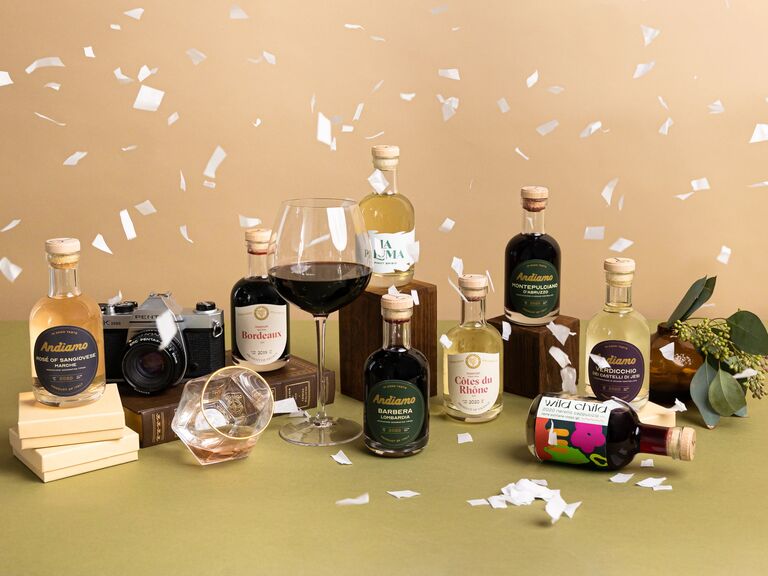 Pair your home-cooked anniversary dinner with a wine tasting. In Good Taste will send your wife six to 12 mini bottles of wine to sip and savor. You can choose an assortment of flavors that'll transport her to Paris or California, or select her favorite grape with a pack of reds, whites or rosés. And if she finds one she really likes, you can buy the full bottle for your next anniversary.
5. Mountain-Themed Wine Glasses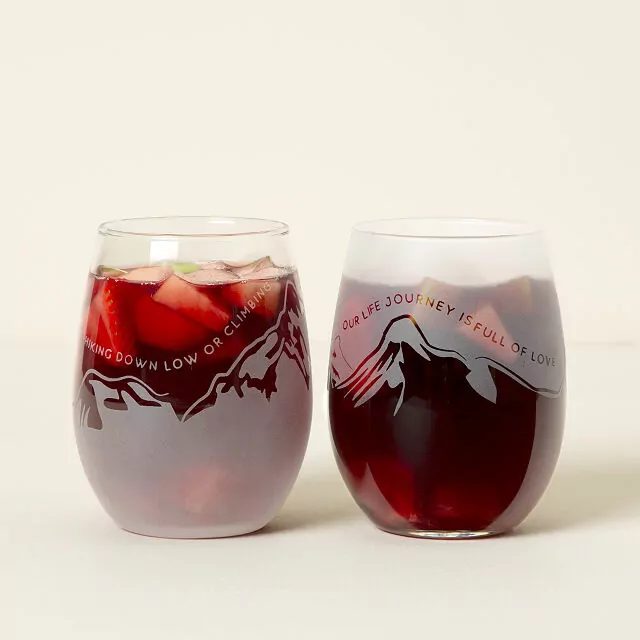 Raise a toast to another year of adventures. Gift your alpinist wife this set of stemless wine glasses that are sandblasted with snow-capped mountains and engraved with the poem, "Hiking down low or climbing above our life journey is full of love." It's an especially great anniversary gift for your wife if you plan to spend the day outdoors.
6. Engraved Disc Necklace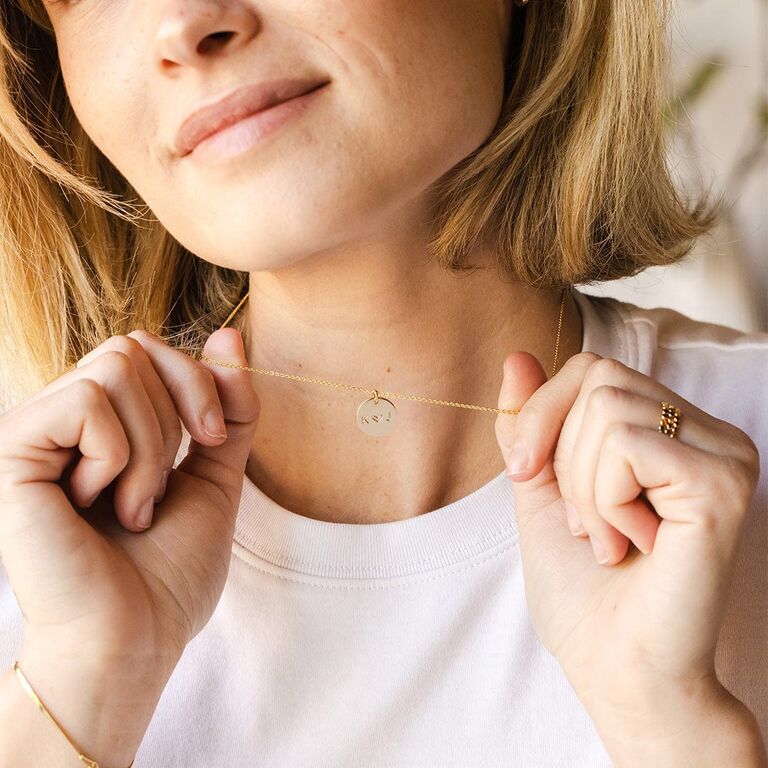 If your wife is a Taylor Swift fan, she'll definitely get the deeper meaning behind this personalized necklace. ("I want to wear his initial on a chain round my neck, chain 'round my neck, Not because he owns me, But 'cause he really knows me…") Have your initial or both of your initials connected with a heart engraved on a 14K gold-filled, sterling silver or 14K rose gold-filled disc. It makes a charming everyday bauble she can stack with other necklaces—plus, then you'll always be extra close to her heart.
7. Washable Silk Sleep Set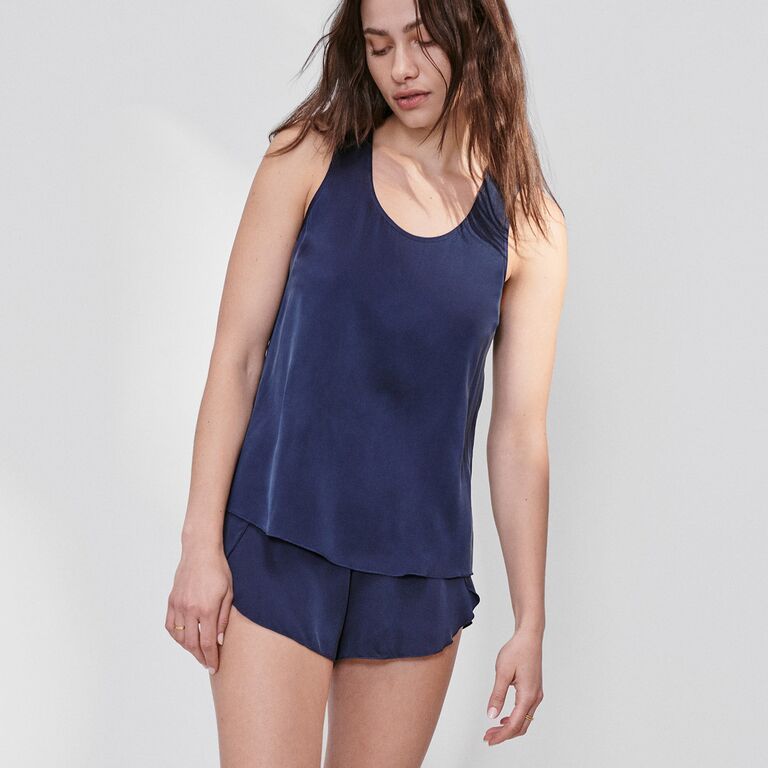 Lunya's mulberry silk pajamas are bestsellers for a reason. They're not just cute, they're extra soft, thermoregulating and, most importantly, machine washable. Low-maintenance silk? Now that's true love. You can shop for T-shirts or tank tops, shorts or pants as well as nightgowns and robes depending on your wife's bedtime style. And if you're a new customer, you can use the code FOR-TK20 for $20 off of your first order of $100 or more.
8. Mood-Setting Massage Candle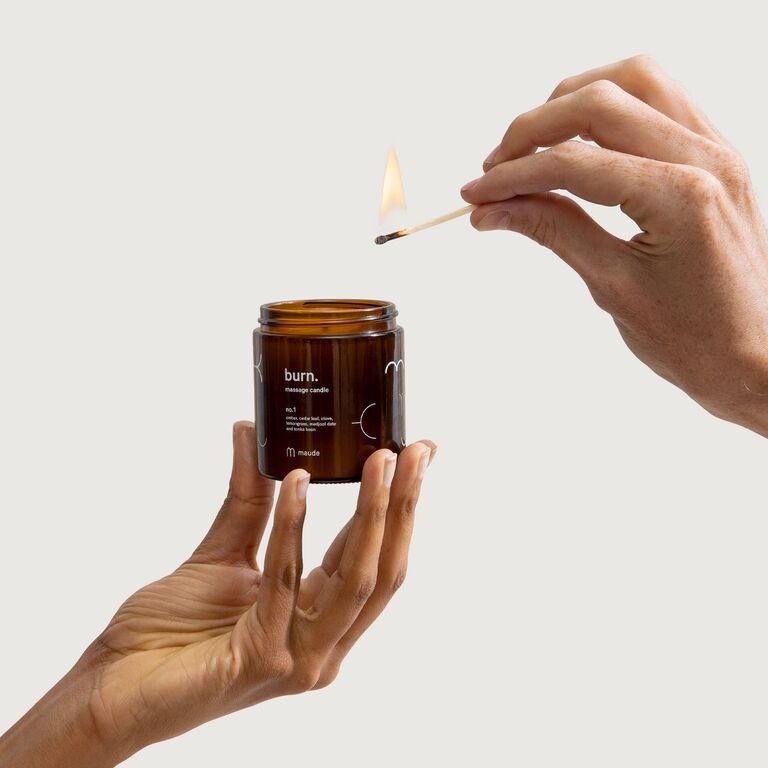 This candle is made with cruelty-free, sox wax that has a low melting point, so it can be safely poured onto the skin. It's also infused with Jojoba oil, which is full of skin-healing vitamins that moisturize and soothe as you swap sensual massages. It's kind of an anniversary gift idea for you too.
9. Scratch-Off Date Book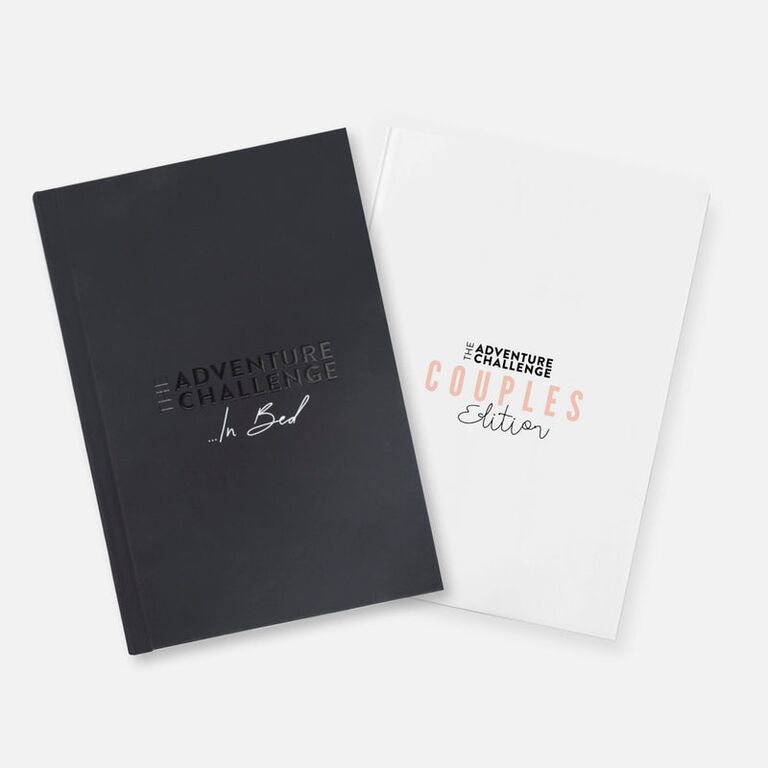 Looking for another anniversary gift idea for your wife that you can enjoy together? The Adventure Challenge: Couple's Edition book is a good choice—and this bundle also comes with the …In Bed edition, making it a great (and spicy) choice. The best-selling books are each filled with 50 scratch-off date ideas in and out of the bedroom for spontaneous couples. Need more convincing? You'll get 10% off sitewide when you use the code THEKNOT10.
10. Song Sound Wave Art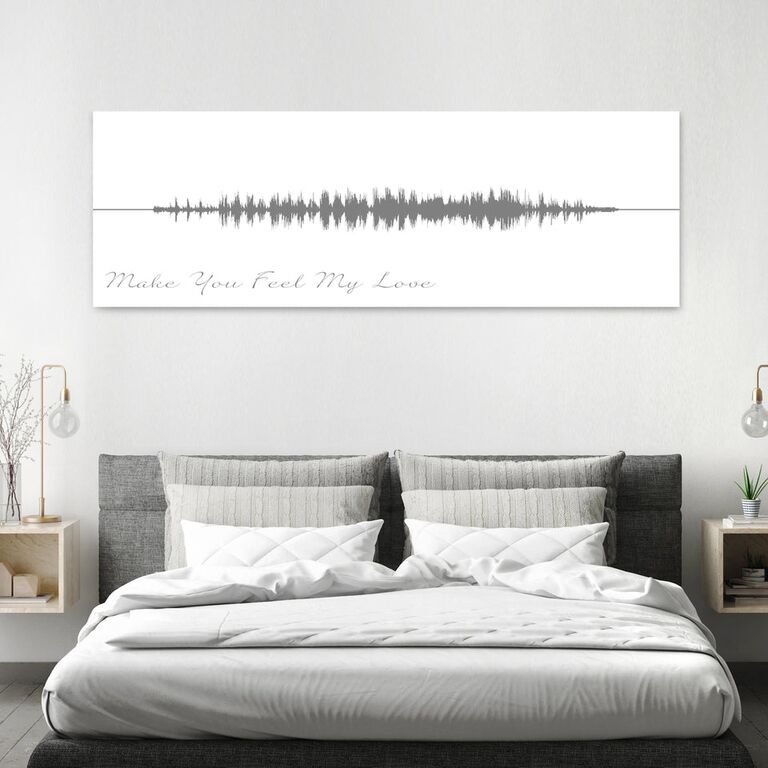 Turn on your first dance song as you hand over this anniversary present to your wife. This canvas can be printed with the sound waves of the song for some seriously sentimental wall art. Just choose the tune, select a print size and pick between a white or gray background, Canvas Vows will take care of the rest.
11. Indoor Smart Garden
Per my recommendation, my dad gifted my mom a Click & Grow garden for their last anniversary and she loves it. The innovative, app-controlled device automates water, light and nutrients, so she can grow fresh herbs, fruits, vegetables and flowers with ease. It comes with three complimentary tomato, basil and lettuce seed pods so she can start planting right away.
12. Personalized Wind Sculpture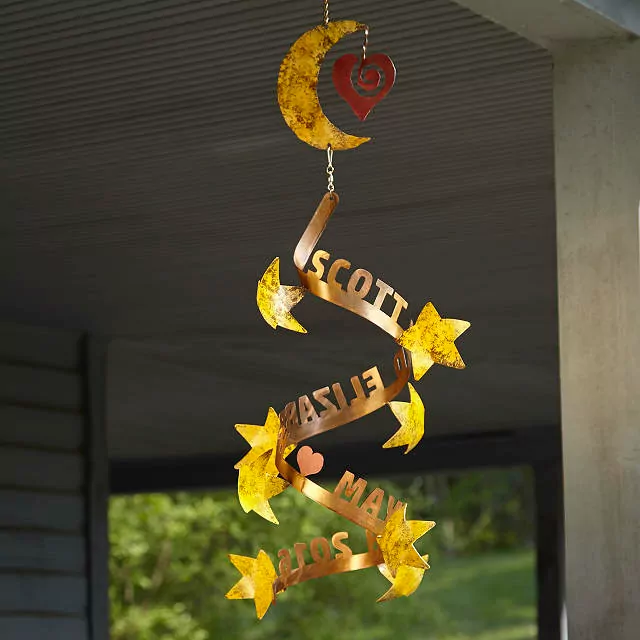 Celebrate your union that was written in the stars with this unique anniversary gift for your wife. The kinetic wind sculpture features the moon and stars along with both of your names and wedding date. Every time there's even a light breeze, it'll rotate in a hypnotic, spiral motion—just like how the two of you spun circles around your wedding-day dance floor.
13. Everyday Active Sneakers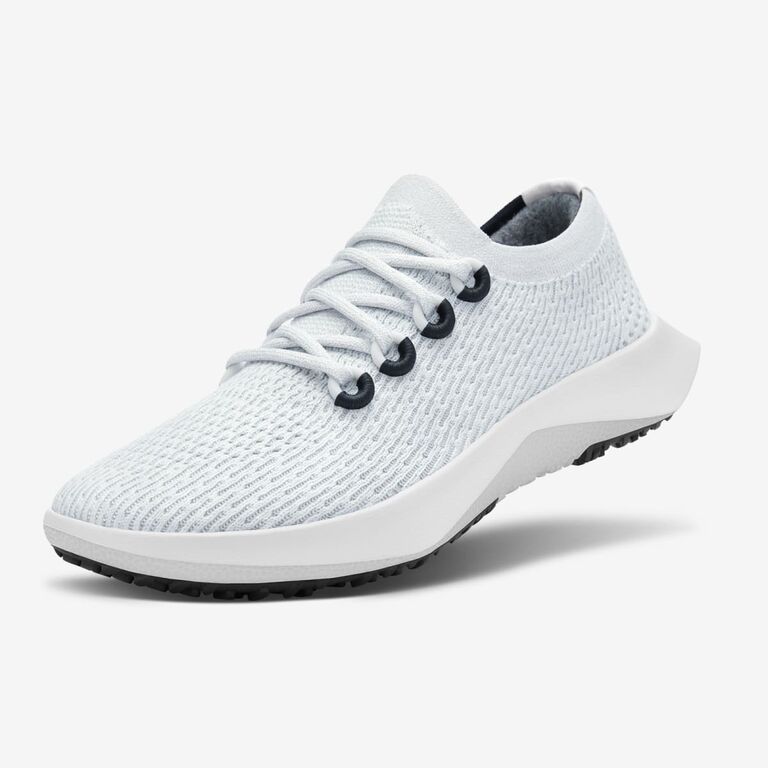 Do you like to go for daily walks—or even runs—together? Upgrade her shoe game with a pair of Allbirds. With responsive foam and extra grip, these shoes will help her stay comfortable all activity long—and then some.
14. Extra-Soft Hoodie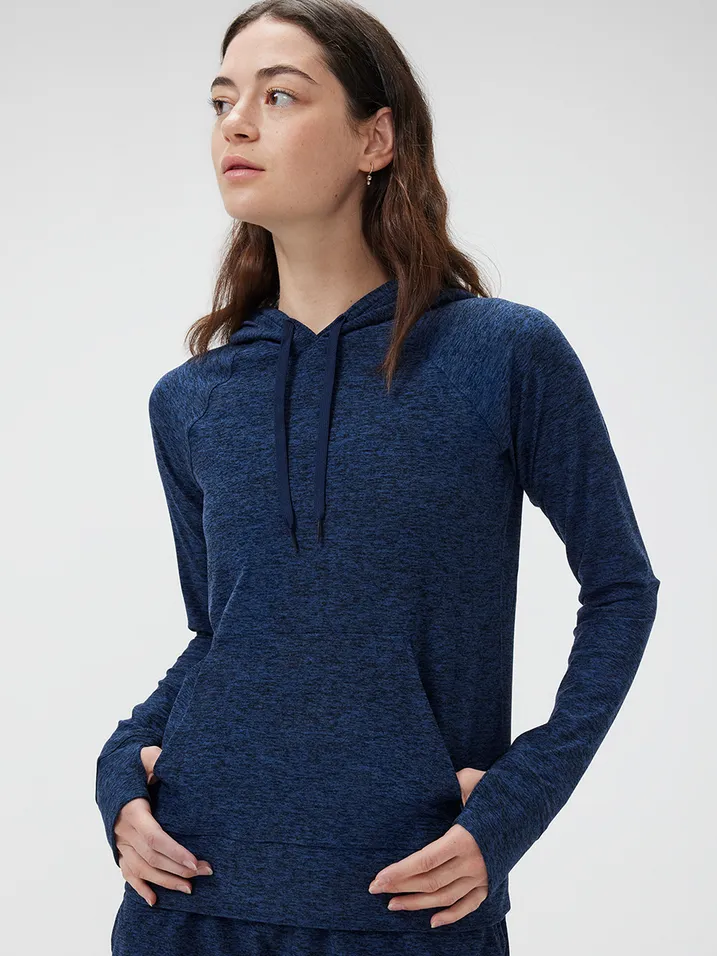 We hate to break it to you, but if you get your wife this anniversary gift, she may love it more than you. To be fair, who isn't obsessed with cozy loungewear these days? This slim-fitting and slightly cropped hoodie is made from a lightweight, breathable, wrinkle-resistant and insanely soft polyester blend she'll want to wear every day. Like, every single day.
15. Personalized Travel Map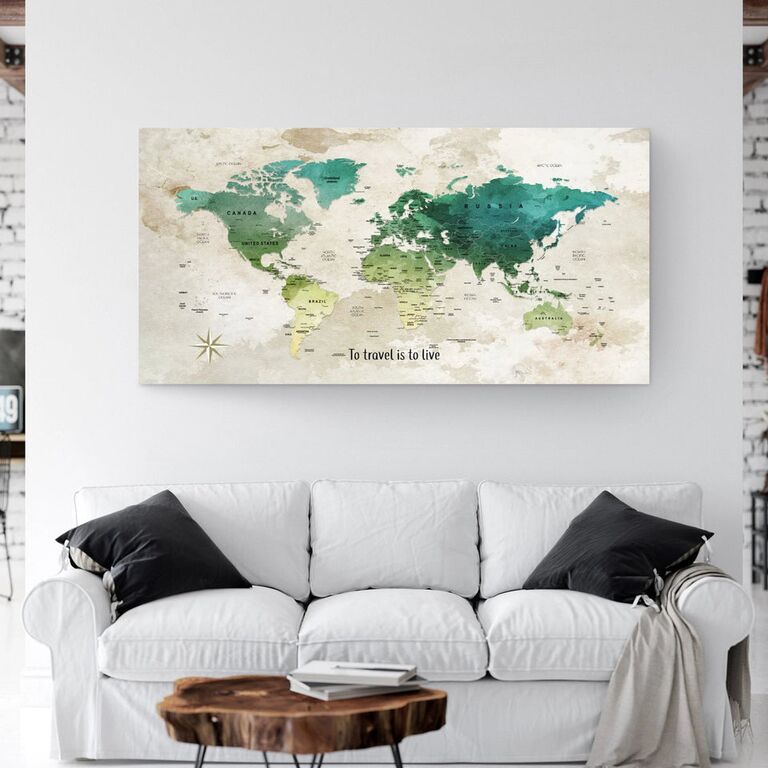 Married life is an adventure—especially for avid travelers. Track your love story around the globe with this personalized push-pin world map. As you venture to new places as a couple, you'll add another pin. We especially love the idea of adding a picture from the location too.
16. Ancestry DNA Kit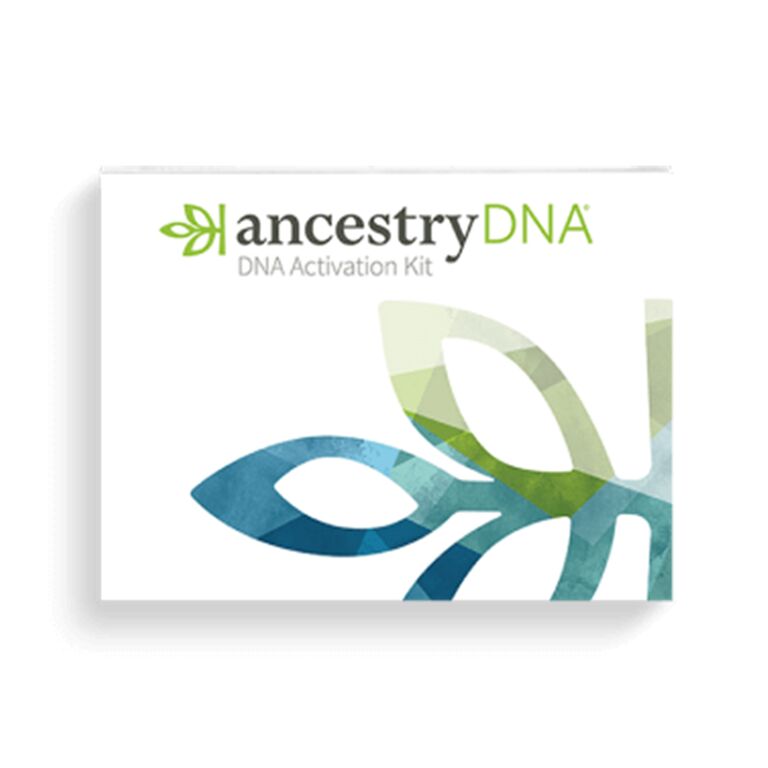 Here's an idea for an anniversary gift for your pregnant wife. (Congratulations!) As you build your family together, help her learn about her past and connect to her roots. AncestryDNA will reveal her family's lineage to see not just who they are, but where they came from—which will eventually come in handy when your child has a family history project for school.
17. Custom Love Letter Necklace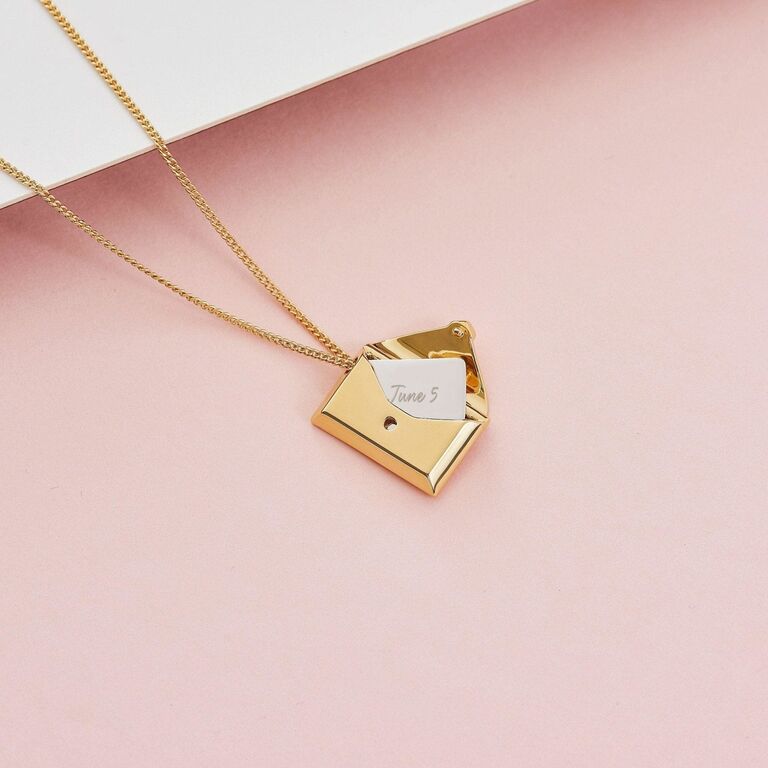 Looking for jewelry as unique as your love story? How about this locket shaped like an envelope? It actually has a note inside, too. Personalize the "paper" with a small message, like your wedding date or "I love you" in your own handwriting, then add a photo to the backside. You've just found the cutest wedding anniversary gift for your wife.
18. Cashmere Scarf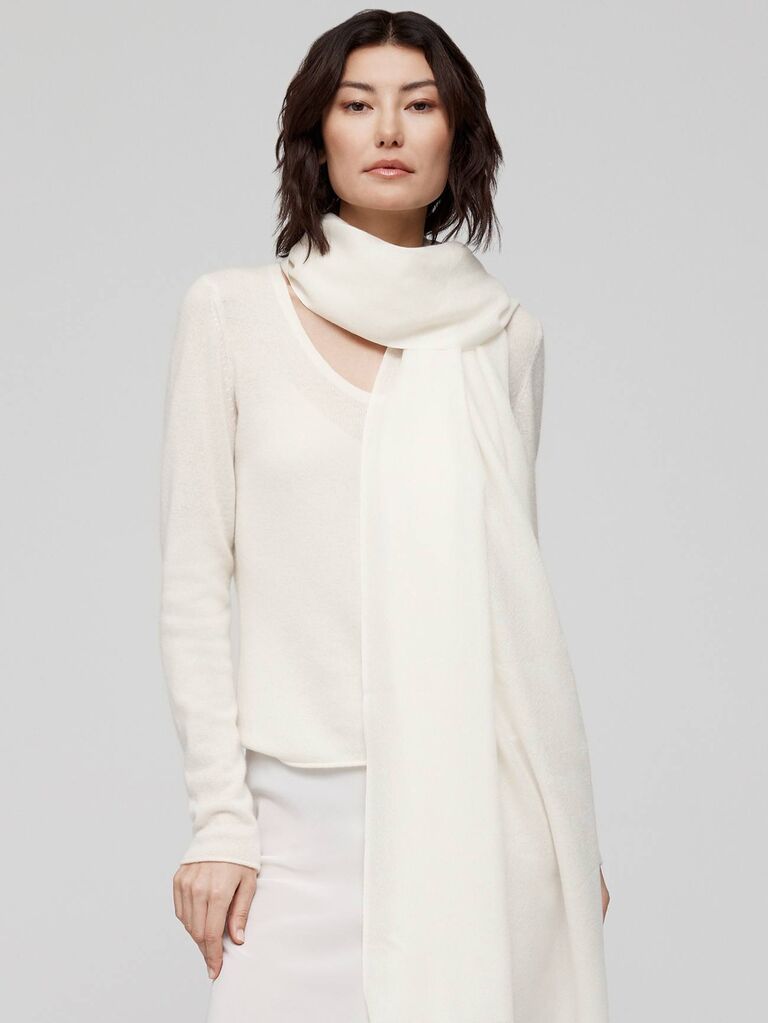 She'll feel like she's wrapped up in your warm embrace every time she wears this scarf. Made with 100% cashmere, it's lightweight, yet warm to accessorize any fall or winter outfit. Choose between four different colors: white, black, navy or red.
19. Couples Hand-Holding Mitten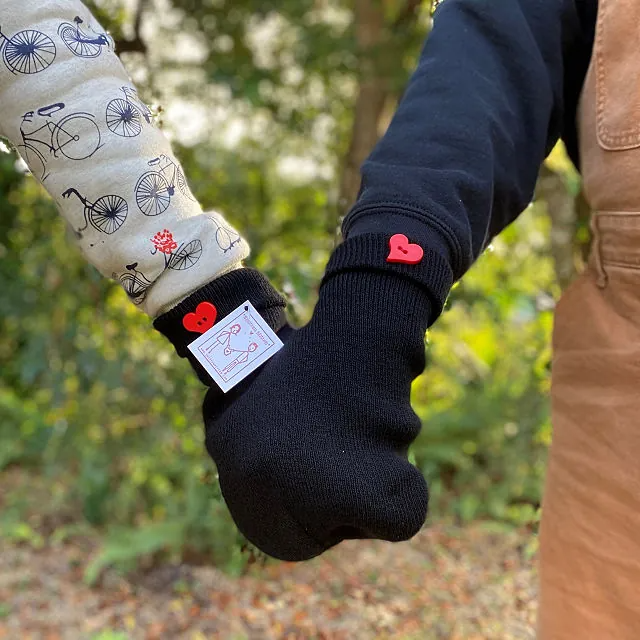 If your wedding anniversary falls in the winter, it may feel tricky to pick a romantic date idea to celebrate it. Let us help! A walk to see holiday lights or ice skating can be fun and still feel intimate, thanks to this clever couple's gift. You'll each get a glove and then can hold hands in the oversized mitten. We can't get over the cute heart buttons.
20. Trendy Utility Crossbody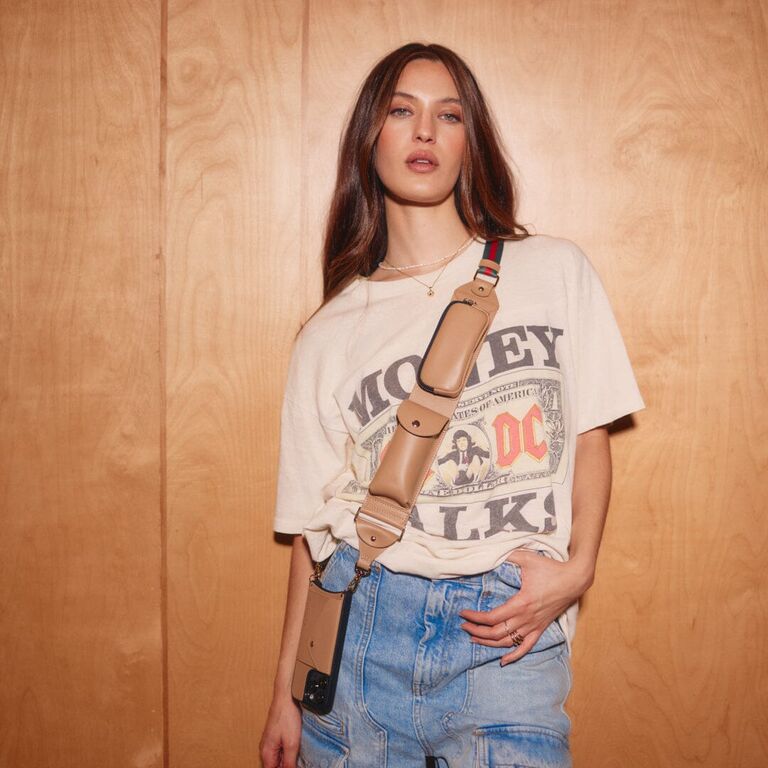 It's a crossbody. No, it's a wallet. Wait, it's a phone case? It's actually all three! Seen on Blake Lively and Martha Stewart, Bandolier creates innovative accessories that hold phones, cards and small essentials in a hands-free style. Your wife can wear it to the gym, on walks or anytime she doesn't want to lug around a big purse.
21. Wishbone Stacker Ring Set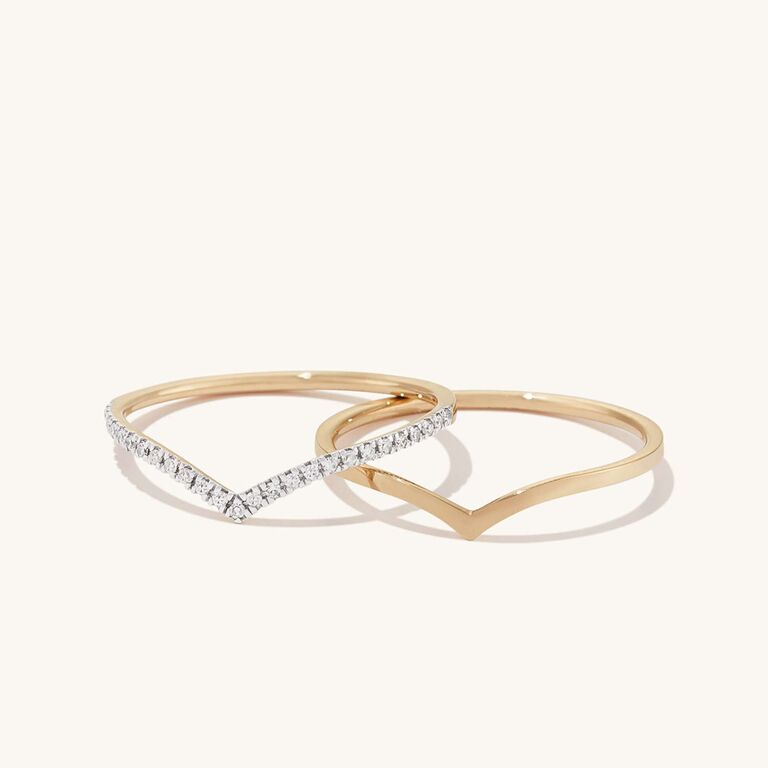 How long has it been since you slipped a ring on your wife's finger and vowed to love her unconditionally? Renew your vows this wedding anniversary and gift your wife a gorgeous new ring to stack with her wedding band. The wishbone design of these two rings reemphasizes that this life together is all you've ever wished for. Aww!
22. Monthly Tea Subscription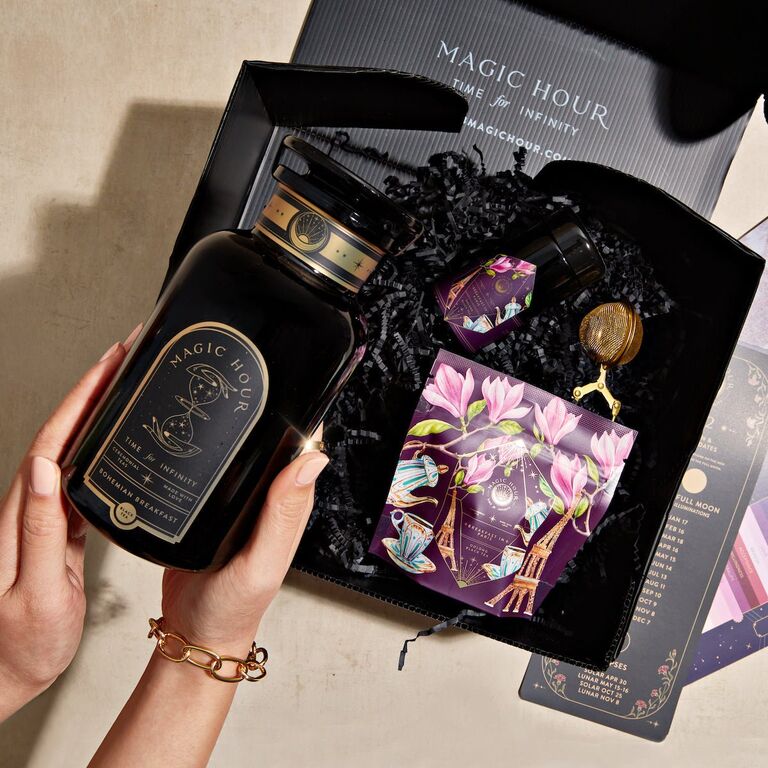 Tell your wife she's tea-riffic this wedding anniversary with a monthly tea subscription. Magic Hour Tea isn't just super pretty—look at those apothecary jars, though—they also promote wellness and taste great. Choose between four subscription boxes depending on how many cups she consumes a month, so the pantry is always well-stocked with her favorite drink.
23. Kissing Mugs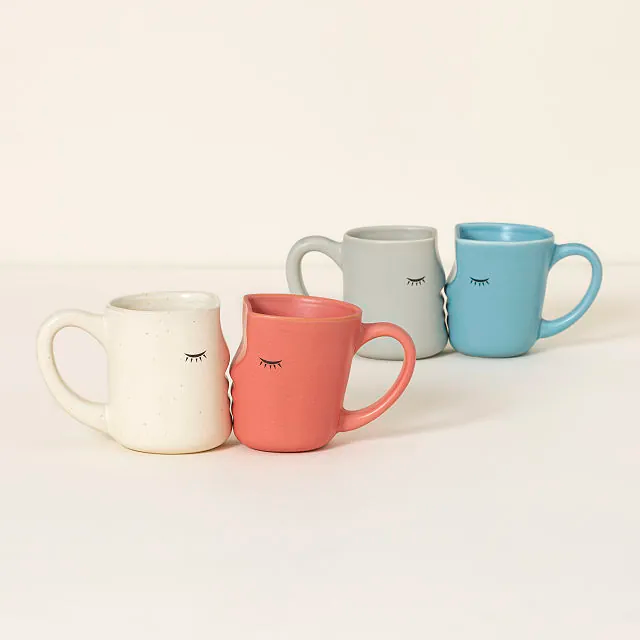 Things your wife loves: waking up each day with you and a steaming cup of coffee. Make every morning a little more special with this charming mug set as a unique anniversary gift for your sweetheart. The ceramic mugs are shaped like faces so when they're brought together, it looks like two people kissing. Feel free to copy them!
24. What to Watch Dice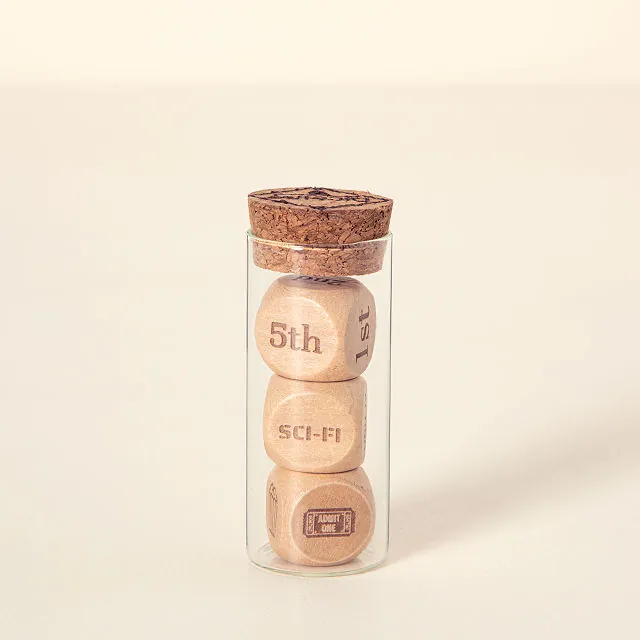 Every night is the same: You scroll through streaming networks together trying to decide what to watch and ultimately pick a rerun or just fall asleep. This funny anniversary gift for your wife will help you out. Simply pick a streaming service, then roll the dice to decide the genre, media type (TV show or movie) and the row and column placement of the title on screen. Whatever the dice lands on, you have to watch! (Or you could roll again until she's happy with the selection.)
25. Weighted Blanket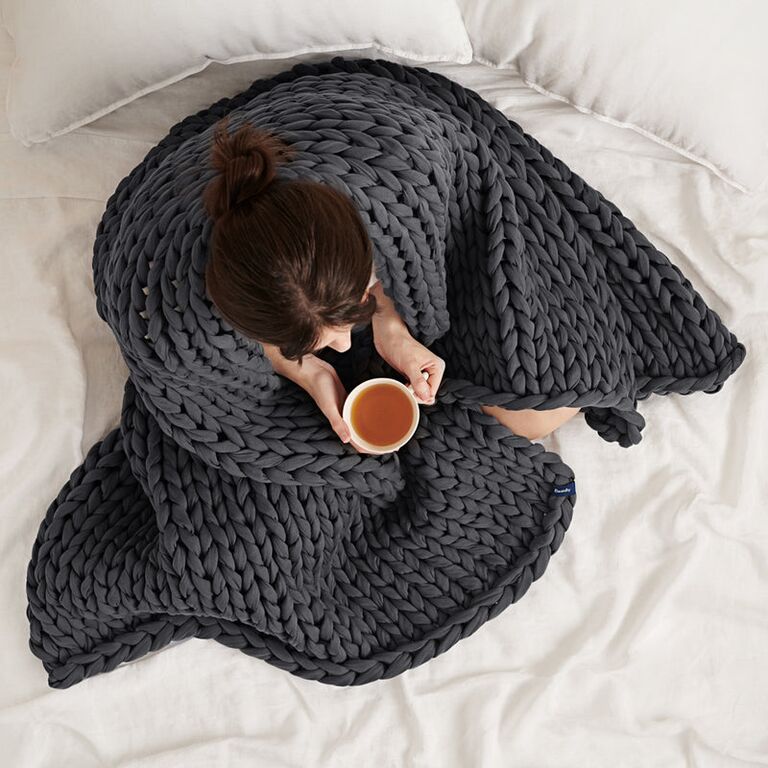 This year of marriage is going to be all about slowing down, relaxing and just enjoying each other's company. Start with a weighted blanket for the ultimate cuddling experience. The weight on your body stimulates serotonin, reduces cortisol and increases melatonin—AKA it helps you feel happy, relieve stress and sleep better. Your wife may not want to share.
26. Retro-Inspired Bathrobe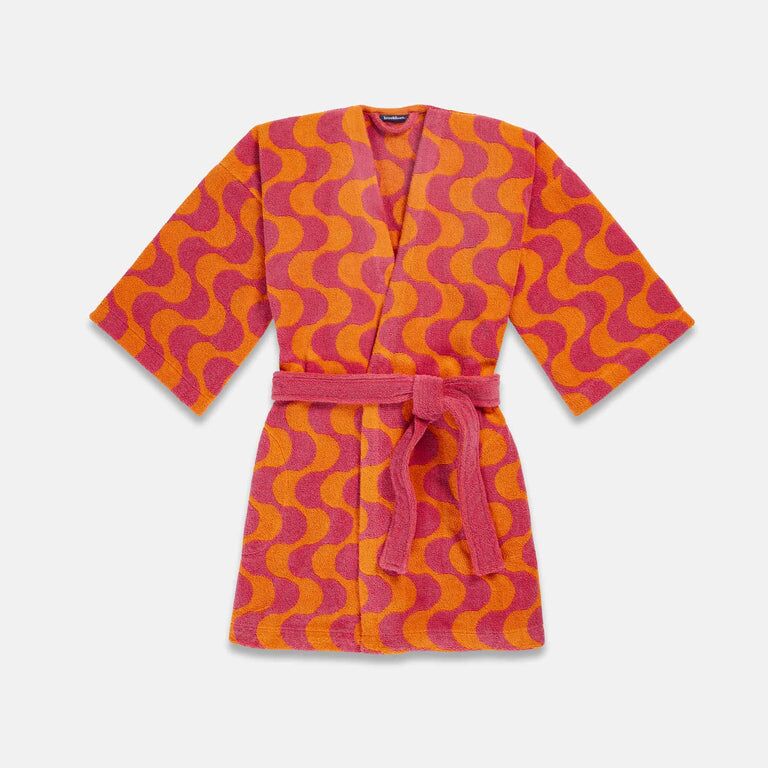 The wife that loves dopamine dressing needs this 1970s-inspired bathrobe. Whether she's chilling poolside or starting her 10-step beauty routine before a night out, she'll love throwing on this colorful robe. It's not just cute, though, it's also unbelievably soft thanks to the 100-percent Turkish cotton construction.
27. Spa Shower Gift Box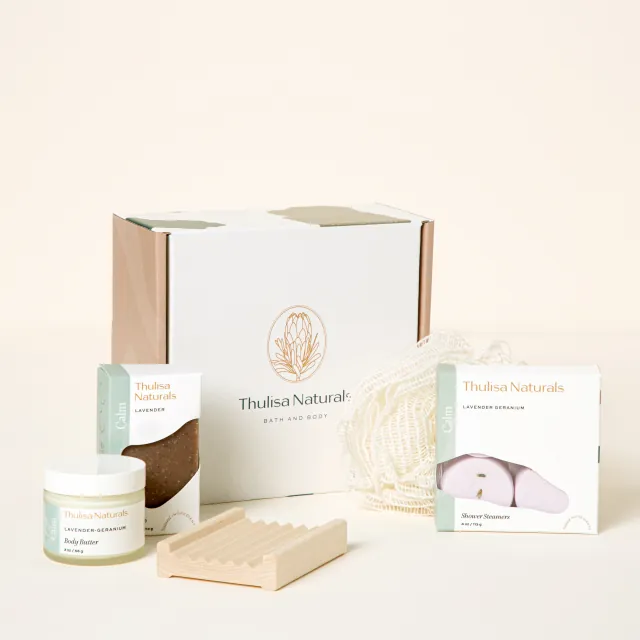 Life is busy and sometimes there's little time for a long, soothing bath. Good thing you can turn a shower into a spa oasis just as easily. This gift set for your wife includes lavender-infused shower steamers, bar soap and body butter for a relaxing wash no matter how much time she has. It also comes with a wooden soap dish and pouf.
28. Guided International Trip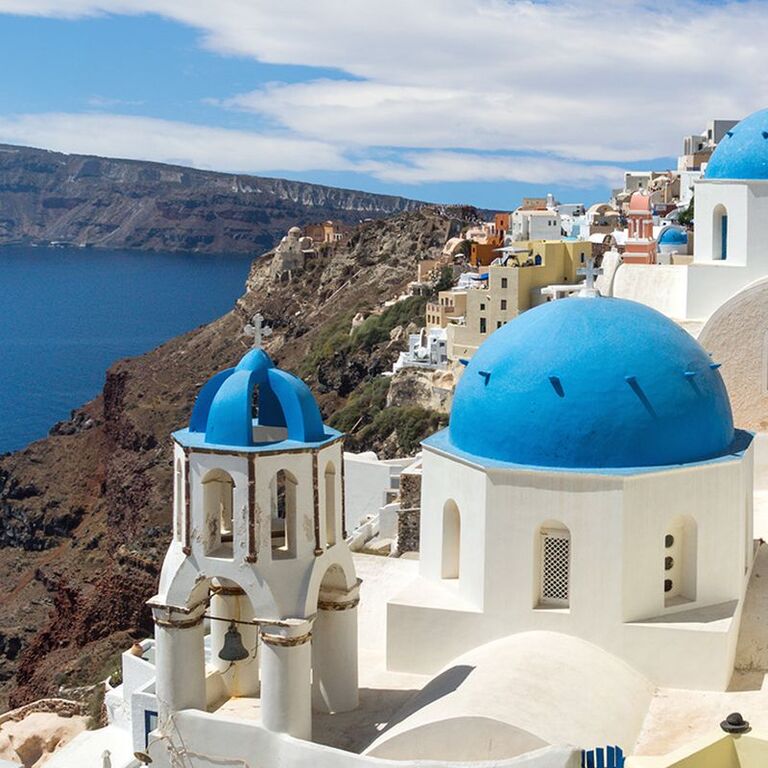 If you're celebrating a milestone anniversary—think: five, 10, 15, 20, 25, 30, 40, 50 or even 60 years—then a milestone gift is in order. Our suggestion? A once-in-a-lifetime trip abroad. Go Ahead Tours will find hotels and flights, design exciting itineraries and pair you with local guides so you can enjoy the sites and culture of a new place without any stress. Just pick your destination, then prepare for an unforgettable (and romantic) vacation.
29. Weekender Bag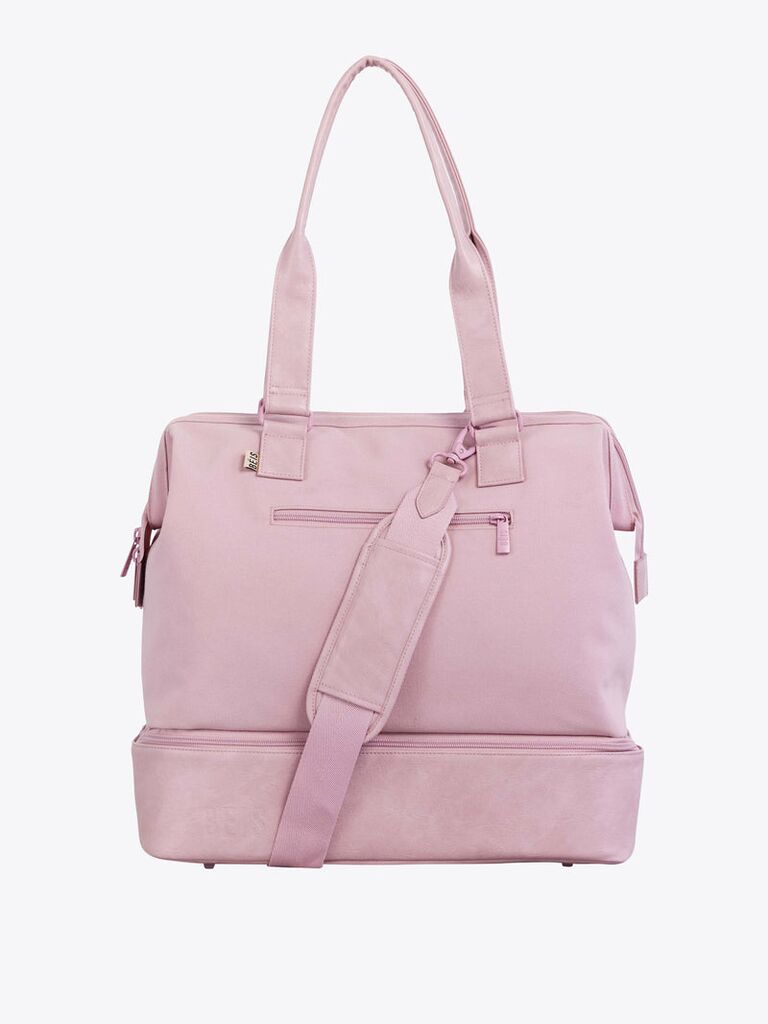 Everyone has their eye on Béis luggage. Each piece is chic and durable, and the iconic Weekender fits a lot of clothes in a little space. It has an easy-access opening so she can see everything inside, like the built-in padded laptop sleeve, large zip pocket, two small slip pockets and key ring. It also has a separate bottom compartment for shoes and an external zip pocket for small items. So, what are you waiting for? Upgrade your wife's plane style for your anniversary and then whisk her away for a lil' weekend trip to put it to use.
30. Leather Travel Toiletries Set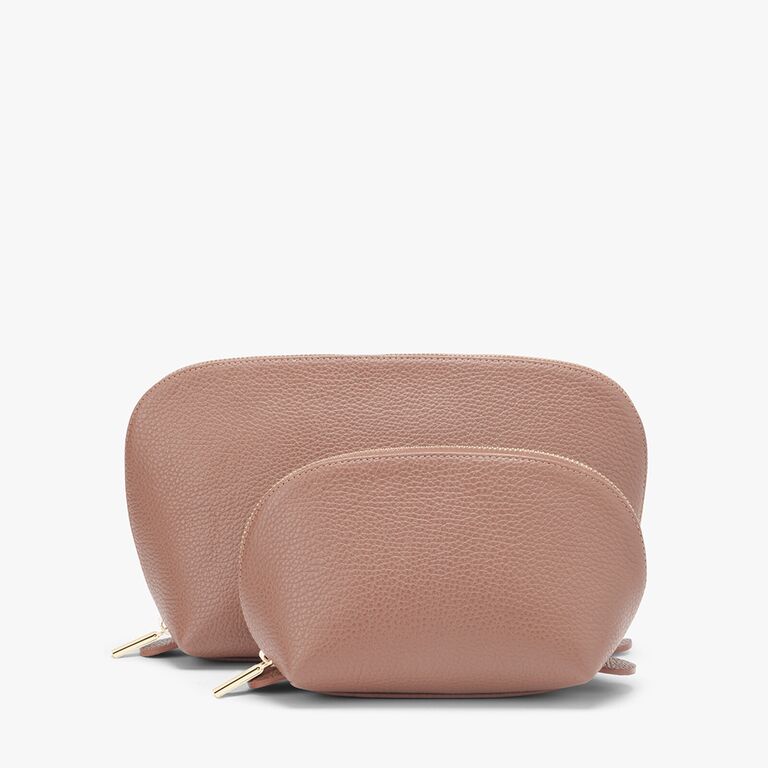 Speaking of luggage upgrades, has her toiletry bag seen better days? Surprise her with a set of the best-of-the-best travel cases from Cuyana. This pair of zip pouches are easy to clean and made with 100-percent sustainable Argentinian pebbled leather. They can hold her smaller essentials at home and on the go. We recommend customizing them with her initials for an extra-personal touch.
31. Crystal Tennis Bracelet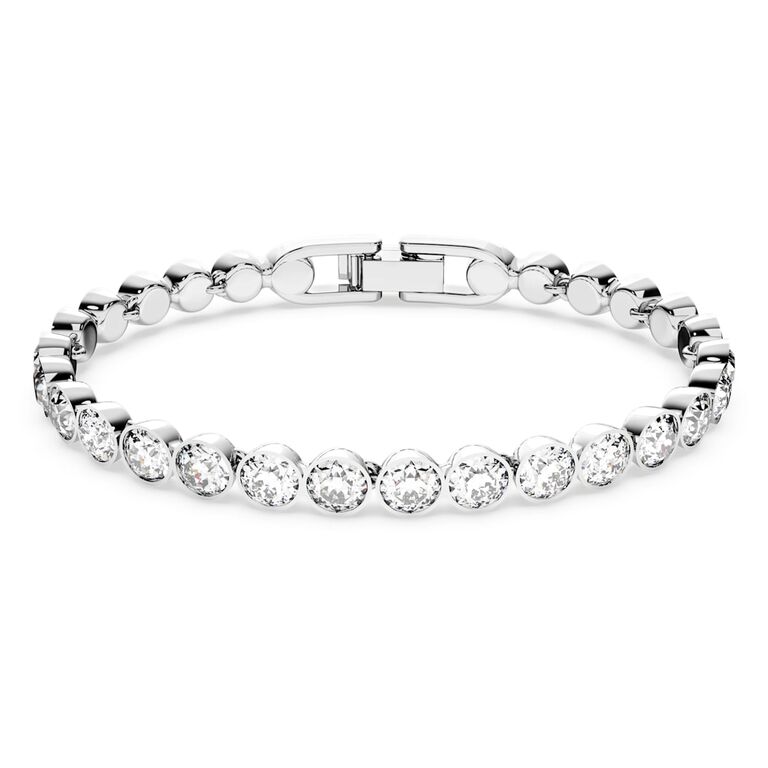 If you're still unsure of what to get your wife for your anniversary, jewelry is a good option—and a tennis bracelet is a great option. This sparkler is made with zirconia crystals, which can be placed with a gold-, pink- or silver-hued setting. It's a timeless bauble your wife will be ecstatic to receive.
32. Diamond Stud Earrings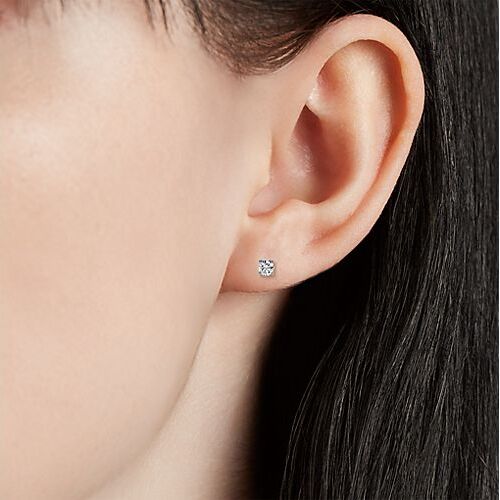 Solitaire diamond studs are another classic accessory for your wife. They can be an everyday piece or reserved for special occasions—like your wedding anniversary date plans. Simply choose a carat size in your budget and a setting based on your wife's preferred precious metal and you've got yourself a great anniversary gift.
33. Interchangeable Photo Wall Tile
Whether you've been married one year or 10, photo gifts never get old. You and your wife are proud to show off all the memories you've made together. These tiles have an adhesive backing for easy hanging and adjusting of the gallery wall—no nails required. Better still, the glassless frame allows her to swap out new photos anytime she wants a little decor refresh.
34. Enchanted Rose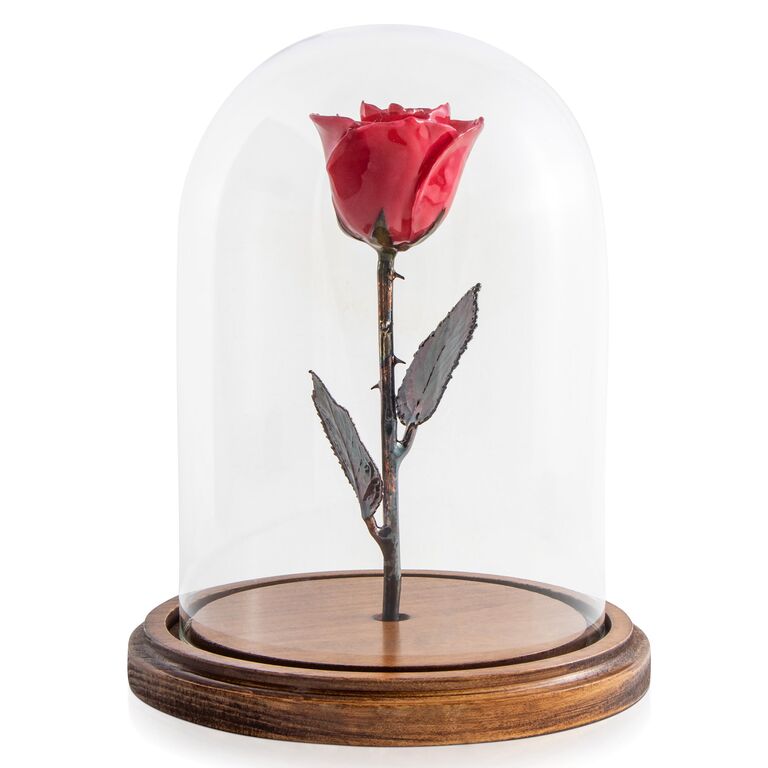 Calling all Disney adults! Tell your wife she's the beauty to your, er, beast with this fairy-tale-inspired anniversary gift. Forever Rose preserves a real flower with copper and lacquer so it'll last an eternity, just like your love. It's then enclosed in a glass dome with a wooden base that can be engraved with a custom note.
35. Chocolate Truffle-Making Kit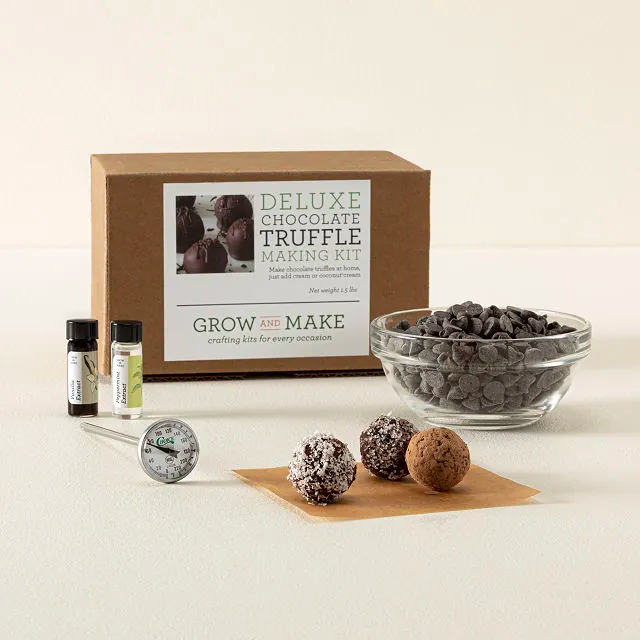 This isn't just a wedding anniversary gift for your wife, it's also your anniversary date plan. Make a batch of delicious chocolate truffles together with this DIY kit. It comes with all the dry ingredients to make 36 coconut, peppermint, vanilla or sea salt truffles right at home. Yum!
Frequently Asked Questions
Instead of asking your wife what to give her for your anniversary, ask us! On top of our list of the best anniversary gifts for wives above, we're also answering your burning questions about the occasion below.