The Knot Dream Wedding Bride Samantha Carisch: Why the April 29 Voting Date Is So Special to Me
This is the second installment in a series of posts from The Knot Dream Wedding bride-to-be Samantha Carisch. Check our website for updates on everything from the proposal to her wedding planning and be sure to vote each week on the latest details: TheKnot.com/dream-wedding.
by Samantha Carisch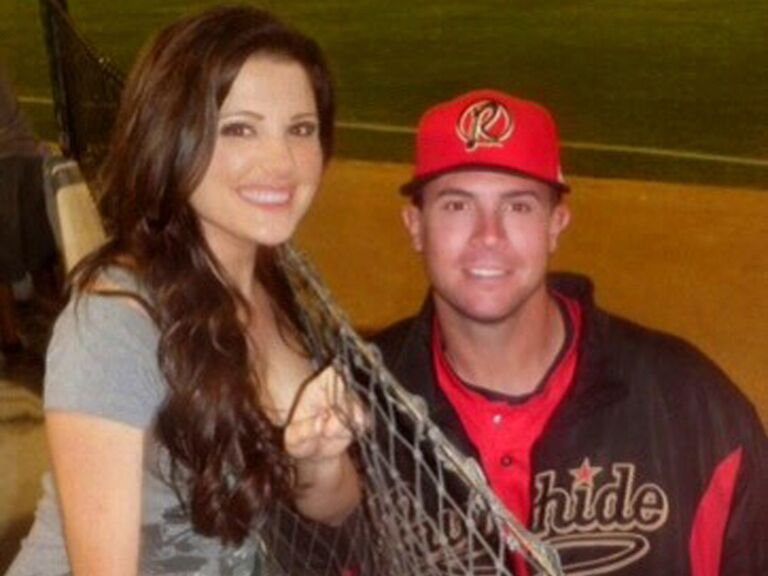 For those who don't believe in fate, our story may change your mind! I've always heard that love will find you when you least expect it, and that was definitely the case when I first met Taylor.
I'm a native Southern California girl, having grown up in San Bernardino and spending my college years living anywhere from Long Beach to San Diego. I always wanted to stay close to home, mainly because of my close relationship with my mom and the rest of my family. Staying nearby was also reassuring, so that I could be home quickly if my mom ever needed me. My mom was diagnosed with Multiple Sclerosis when I was in the sixth grade and it's been a slow progression since, not only affecting her overall health but also her ability to maintain her independence. Soon after I graduated from San Diego State University, my mom decided it was time to sell our family home and move in with my older sister and her family in Simi Valley.
I had recently moved home to help my mom with the undertaking of "the move," when a group of girlfriends found out I was in town. We hadn't seen each other in a really long time and decided that we had to meet up for a mini-reunion. Although we had never gone to a minor league baseball game together before, we figured it was the perfect Thursday night date for all of us. But as we sat in the stands drinking our $1 beers and catching up on everything, it was obvious that baseball was the last thing on our minds and the stadium seating was just there to facilitate our gab session. Both baseball teams wore red shirts, so we had no idea who was who and honestly cheered for whoever we thought was the cutest! We finally realized we were sitting on the away team's side when one of the pitchers in the bullpen turned up to us in the stands and said, "You girls know you're cheering for the wrong team right? We're the away team!" We laughingly admitted that we had no idea what was going on, but that we were happy to be their cheerleaders since they had no one rooting for them that night.
So we were now officially Visalia Rawhide fans and decided we needed to pick a favorite player to personally cheer for for the rest of the night. Although he wasn't one of the main guys involved in the banter, something caught my eye about one player who was occasionally glancing over and smirking at the situation at hand. "I'll take #12!" I said when it came my turn. Who knew that the cute, shy smile I saw from him at that moment would be a smile I now see every day?
#12 was of course... Taylor Sinclair. Taylor was born and raised in Indianola, Iowa, and had traveled all of the country pitching in the Arizona Diamondbacks organization after he graduated college. For the 2010 season, he was living in Visalia, California, and pitching for the Visalia Rawhide -- and I am so happy he was! He ended up not pitching the night that I picked him as my favorite player, but that didn't stop me from cheering for him. At the end of the game, his teammates convinced him to go talk to his new fan and we ended up exchanging numbers.
After that night, I never expected to see or hear from him again -- but to my surprise, he asked me to hang out the very next night! We ended up getting a group of people to go to a popular country line dancing bar that weekend and Taylor and I always say it was the best first date we've ever been on. Never would you think that a SoCal girl would have to teach an Iowan how to two-step, but that was exactly what happened! The following day, he invited me to their last game in town and I was there to root for him once again as he pitched in the winning game.
Saying goodbye to him that day was the last time I would see him for an entire year. He was back on the road for baseball and we kept in touch solely by phone calls and texts. When the season started up again the following year, I made a point to go to every game I could and became more smitten with him each time we hung out. On December 23, 2011 (Taylor's birthday), he officially asked me to be his girlfriend, saying it was the best birthday present I could give him. Our long distance relationship continued as Taylor moved to Alabama, Nevada and Arizona, but our relationship only got better and better. When he was done with baseball in 2012, he moved out to California to live with me... and the rest is history!
I constantly think back to that night when we first met and I'm amazed at the serendipity of it all. And if that isn't coincidence enough, The Knot Dream Wedding experience adds even more importance to it. I always thought it was funny that we'll be getting married on a Thursday, since that was the day of the week I first met him, but to top it off, the voting for our wedding details actually starts on the exact date we met -- April 29! As that day approaches, I'm getting asked more and more if I'll really be okay with the wedding details America picks. And every time, I answer this question with a huge smile and a resounding "yes!" -- because on April 29th, 2010, I actually got to pick the wedding detail that matters to me the most: him!
(Psst -- if you missed Samantha's first post, read it here!)