How to Throw a Royal Wedding Viewing Party Like The Knot
Fancy robes, silk pajamas, tea and tiaras and more. The Knot has the complete rundown for how to throw a lavish royal wedding viewing party ahead of the nuptials on May 19.
by Esther Lee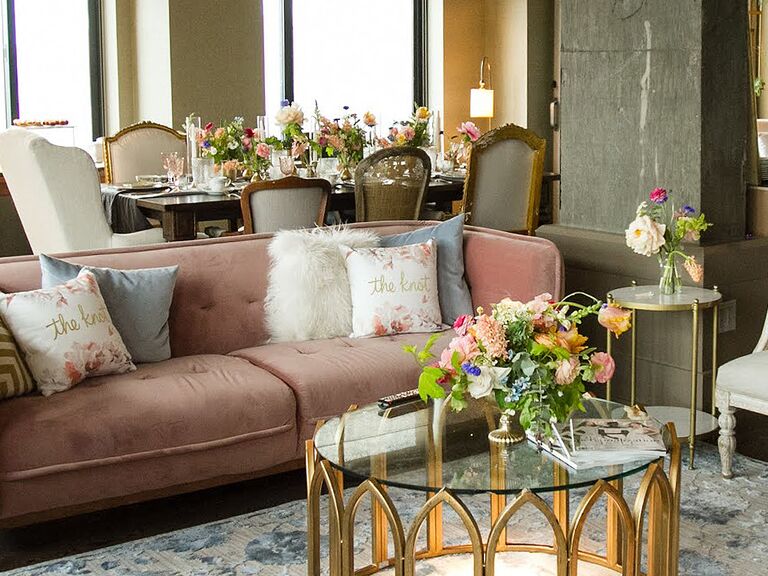 Grab your tiaras and your teacups. On May 19, 2018, the royals married before an estimated one billion spectators worldwide. While 600 lucky guests witnessed the nuptials in person, other devoted supporters across the pond in the bride's home country of the U.S. enjoyed the commentary, the fanfare, and the early morning wakeup call all from the comfort of their own homes. 
"Royal weddings don't happen often, which is why an affair like this is so exciting to witness," says celebrity wedding planner Mikie Russo of Michael Russo Events. "However, this royal wedding is groundbreaking and will change the monarchy forever. Traditions are being broken, fresh beginnings are happening, and it's [all] remarkable for young children to watch." While spectating was a must, hosts of royal-themed events should consider these fresh party ideas that include a proper twist. Below, The Knot rounds up all the fun ways to throw an outstanding and memorable royal-worthy party that will leave your guests delighted.
Tease the Royal Festivities

Violet Cakes / Instagram; Getty Images

Fill the Space With Fragrant Flowers

Dominic Lipinski-WPA Pool/Getty Images

VCG Wilson/Corbis via Getty Images

Build a British-Inspired Menu

Serve a Specialty Cocktail

Karlie Louise Photography