These Are the Best Wedding and Engagement Moments We've Seen on TikTok
The time to TikTok is now.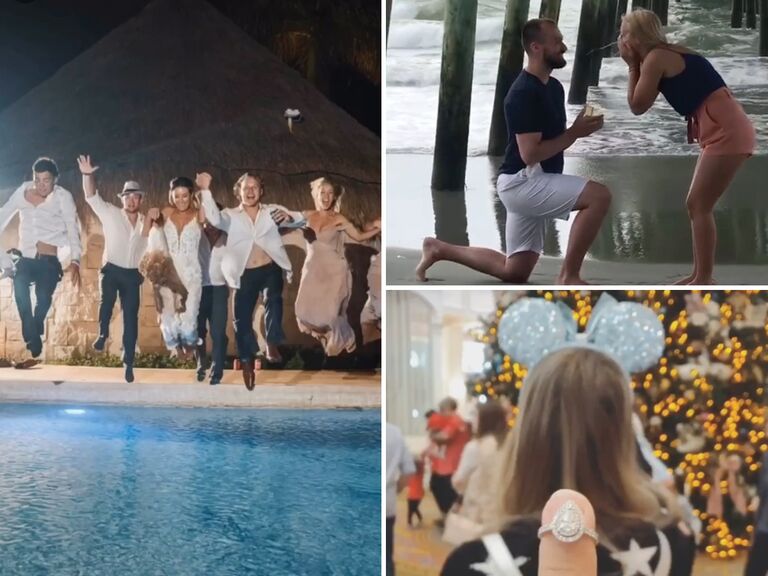 TikTok
The time to TikTok is now. Within the last year, one platform has become the top-trending app in the entertainment category and it's no surprise that TikTok is here to stay. In fact, many engaged couples have started turning to TikTok in search of delightful content (and possible challenges) to make them laugh, cry and remain mindlessly entertained while wedding planning.
Here, The Knot has rounded up a definitive list of our favorite wedding moments and proposal stories on TikTok, including that a variety of first looks that'll make you extra emotional. (We dare you not to cry!) Couples are increasingly being inventive about personalizing their wedding, including one duo who went for a piñata wedding cake and another couple who literally "took the plunge" after the reception—albeit, in full wedding attire. Get inspired and start crafting your ideal TikTok wedding moment below.
TikTok Proposals and Engagements
Imagine watching a sweet proposal moment in a minute or less. That's the reality of TikTok. We've seen everything on TikTok from real-time proposals to engagement announcements. The reactions are adorable, some are rather funny.
This BFF's reaction to her best friend's proposal:
This guy, who fake-proposed to a random girl in a bar, and ended up proposing in real life to the same girl years later:
This sweet pier-posal:
This man who took subtle shots of the ring behind his girlfriend's back before he proposed:
TikTok Wedding Moments
We're seeing both wedding vendors and couples (plus, wedding party members) lean into the wedding content on this creative platform. From first looks to first dances, and comical one-off, unexpectedly delightful satires too, The Knot has included its definitive list of favorite wedding moments on TikTok below.
This wedding of unexpected heights:
These grooms' reactions to seeing their S.O. for the first time on the wedding day:
This "First Touch":
This adorable love story involving tortellini:
This "Flower Girl":
This unexpected first look:
This artfully crafted cake:
This piñata wedding cake:
This bride asking the groom a very important question:
This mother-daughter reception entrance:
If you love weddings, you've most certainly seen this couple jump into a pool at their post-reception party:
TikTok Wedding Planning Videos
Wedding planning documentation is equally consumed across TikTok, such as relatable moments as a member of the wedding party and neat insight from vendors.
This bridesmaid who thought she ripped her gown… only to discover another surprise:
This behind-the-scenes setup of a ceremony space: