7 Tips for Planning A Rooftop Wedding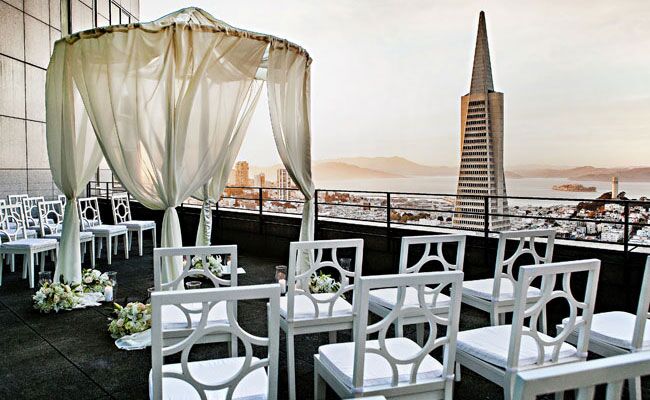 Picture-perfect views, towering skylines and a spectacular sunset — a rooftop venue is an amazing option. That said, pulling off a beautiful rooftop ceremony comes with some serious wedding planning logistical know-how. San Francisco Bay Area wedding planner, Erica Becks, shares her most-helpful rooftop wedding planning tips below. Our advice? Don't even book your venue until you read them.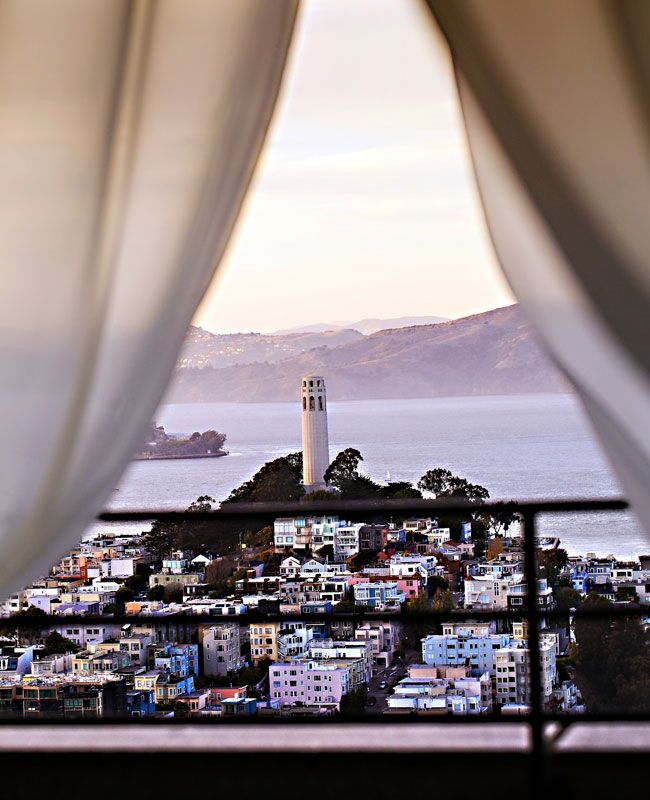 1. Have a Backup Plan
This is the most crucial piece to creating a beautiful rooftop wedding. Beyond the rooftop with perfect panoramic views, look for a space with a combination of indoor and outdoor spaces. It'll make planning much easier, give you options for your decor and provide you with a plan B in case of inclement weather. (The Mandarin Oriental Hotel San Francisco shown above has just this.)
2. Plan For Wind
Rain is the obvious concern, but don't forget about wind! It's best to expect that there will be wind on the rooftop, so think about that when choosing decor. Also make sure that all of your paper elements can be anchored down easily in case the wind picks up. Even better: Move any delicate details away from the gusty zones and into nearby hallways or corridors off of the rooftop.
3. Invest In Great Lighting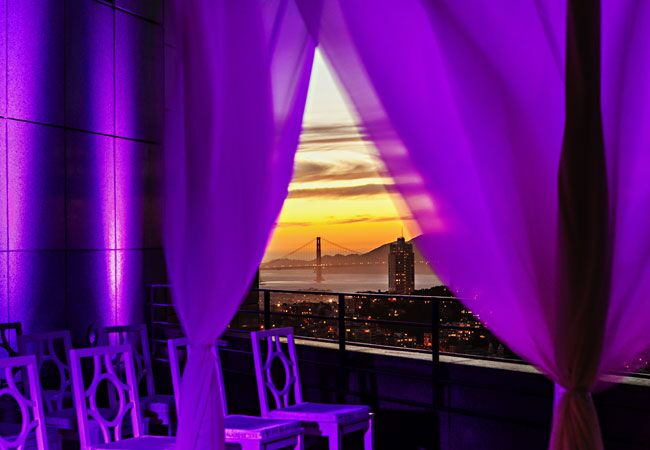 Sunset is a fantastic time for a rooftop ceremony because it creates a stunning, romantic glow — so time your wedding around that time if you can. Once the sun goes down, you'll obviously need to supplement the light. One idea is to enhance that sunset glow with candles and soft colored lighting, which will also work double duty into the evening. If the cocktail hour or part of the reception will be outdoors, look into having a lighting company bring in colorful LED lights and custom lighting (like with the room above).
4. Plan For Extra Coordination Time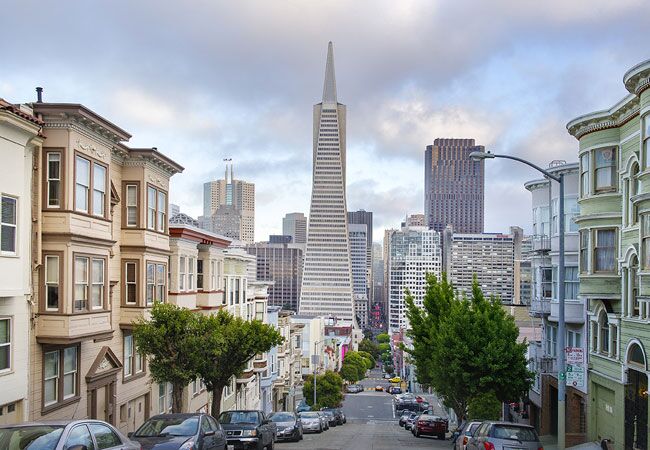 Many rooftop venues were constructed years (if not decades) ago and generally speaking, the older the building, the more difficult to access. Add to that, most rooftop venues are in urban areas, often on a small and crowded streets. During your site tour, ask about where the staff will load and unload. You very well may have to plan on building in several extra hours on the day of the wedding for the rental company, florist and other vendors to unload and access your rooftop venue.
5. Go Easy On The Extra Decor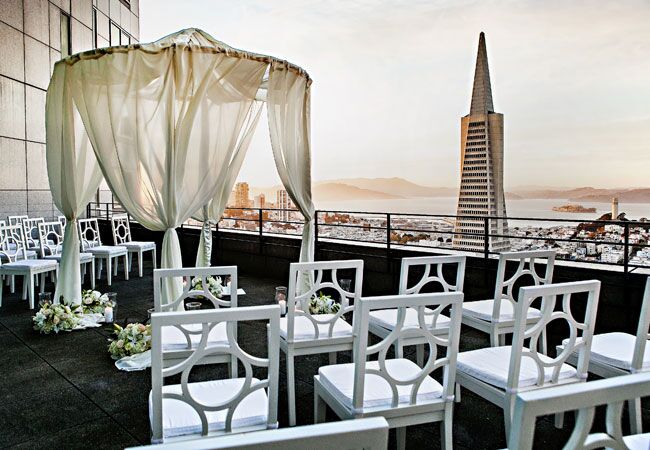 Your backdrop is the view, so feel free to keep the extra decor to a minimum so that you don't detract from the beautiful surroundings. Think small and fresh — like florals at the base of a huppah or small arrangements on your guest book table — to add just the right amount of elegance and glamour.
6. Rent Weather-Proof Furniture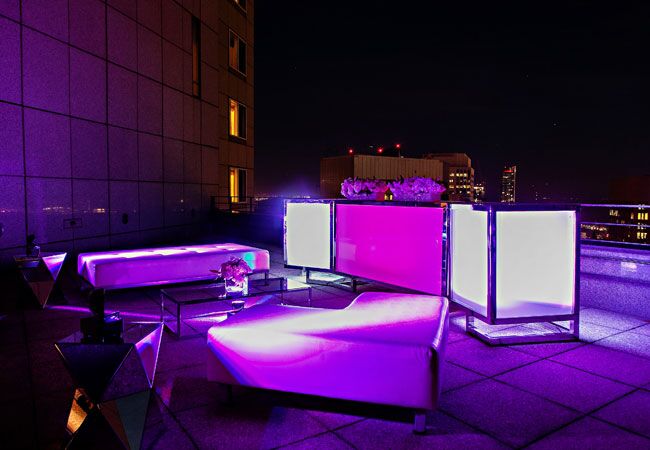 Go for furniture made of leather or synthetic material that cannot be damaged by moisture. For the cocktail hour, you might even want to go for illuminated furniture (like the bar pictured below). It creates a fun, club-like atmosphere while also providing just the right amount of light for guests to mingle.
7. Have a Back Up Plan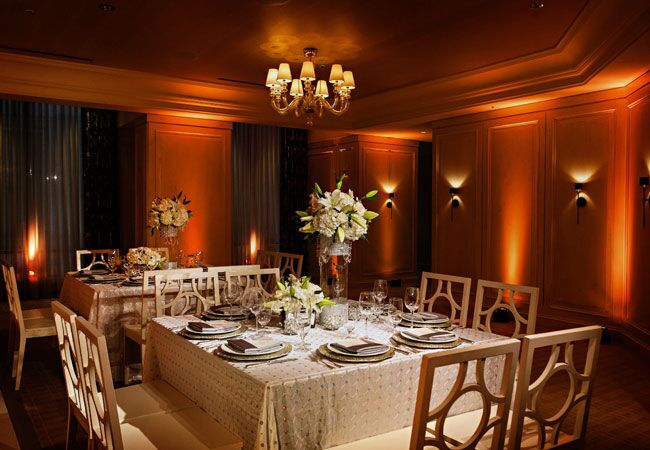 Always always always have a backup plan in case the weather turns. The best case scenario is to find a rooftop venue with an adjoining indoor room. Not only will a nearby indoor room serve as your backup-site, it can make for a nice transition — allowing guests to start outside, and then proceed into an elaborately decorated ballroom, like this one.
Ingredients From Above Photos
Planner: Erica Events
Venue: The Mandarin Oriental San Francisco
Photography: Bliss Fotography
Florals: EV Floral Design
Lighting: Gatsby Entertainment Group
Linens: Napa Valley Linens
Rentals: Hartmann Studios
Chuppah: Under the Chuppah
Want More? (Yeah You Do)
> Find your perfect rooftop venue here!
> 10 tips for the perfect wedding album
> 5 hacks for your outdoor wedding