20 Ways to Transform Your Reception Space
Personalize your venue with these impressive tricks.
Just because your reception space is a rented hotel ballroom or a plain white industrial loft doesn't mean you can't revamp it and make it totally your own. Whether you want to give your venue just a touch of your personal style or a total overhaul, these 20 ideas are a good place to start.
Don't forget: Get the green light from your planner or venue manager before paying for any big installations or décor pieces. You don't want to get told the day of that the light fixtures cannot be hung on the rafters or the fabric draping is against fire code.
1. Hang Extra Lights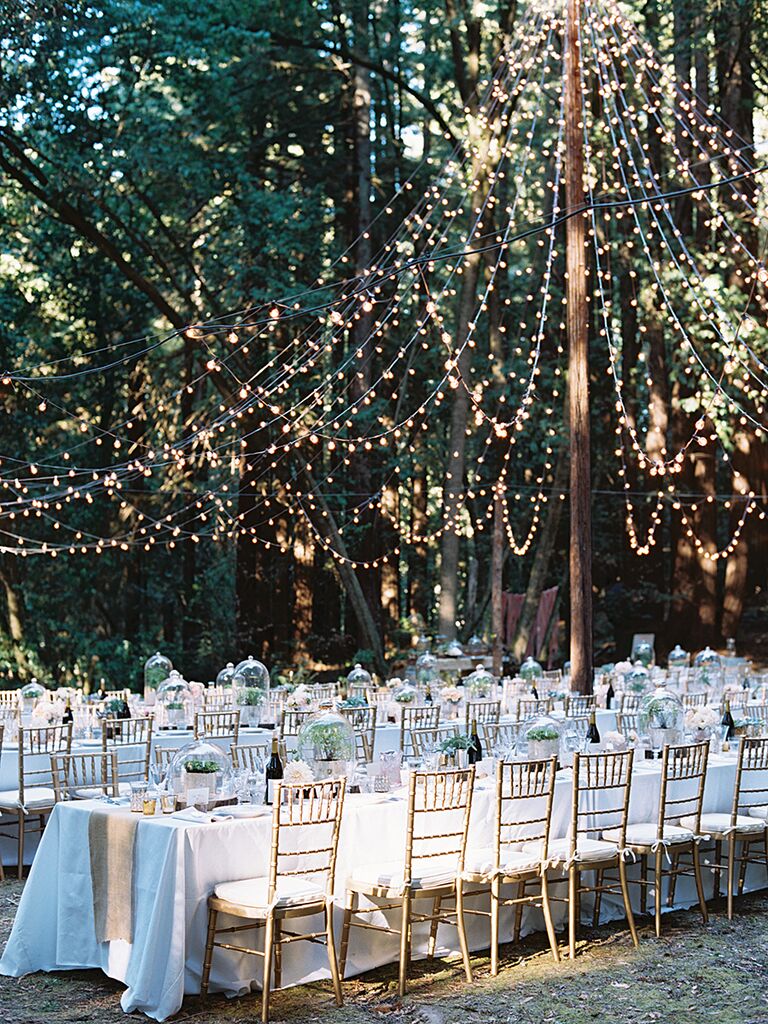 Lots of chandeliers, lanterns or café lights hanging from above can change the atmosphere of a space from feeling empty to intimate—especially if your venue has lofty ceilings.

From: A Formal, DIY Woodland Wedding With a Bohemian Spin at a Private Residence in Sebastopol, California
2. Bring the Outdoors In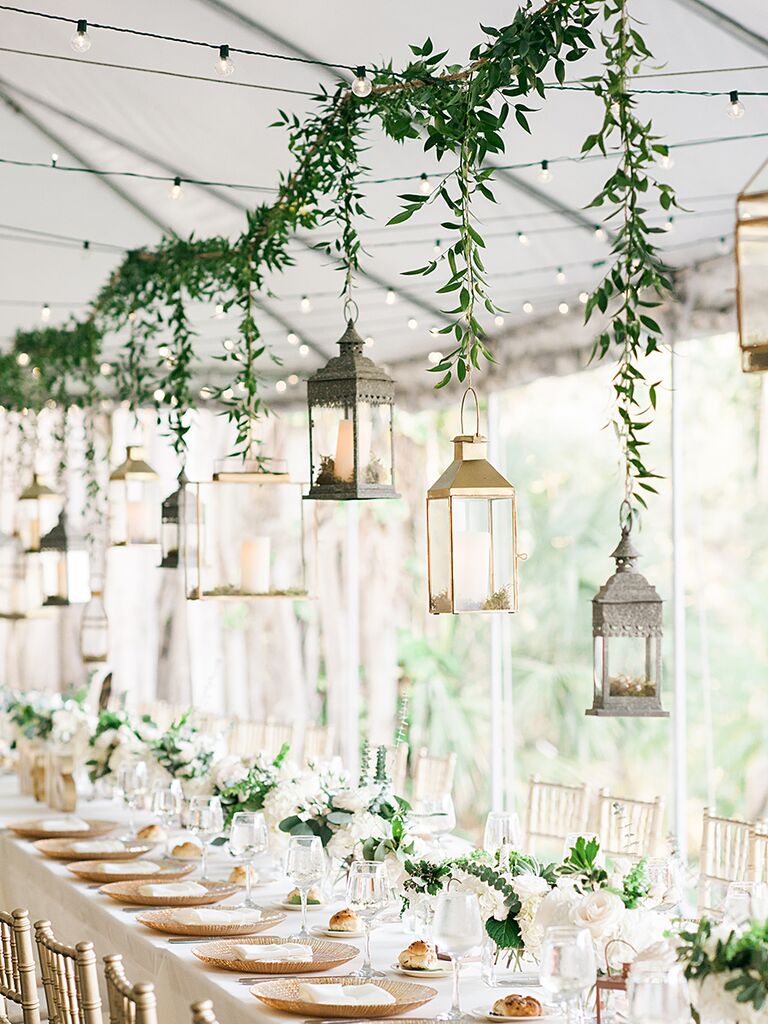 Work with your florist to bring in small trees to break up the dinner tables, or wrap a pergola with vines and greenery to make your head table stand out.

From: A Whimsical Spring Wedding at Bonnet House Museum and Gardens in Fort Lauderdale, Florida
3. Light Up the Room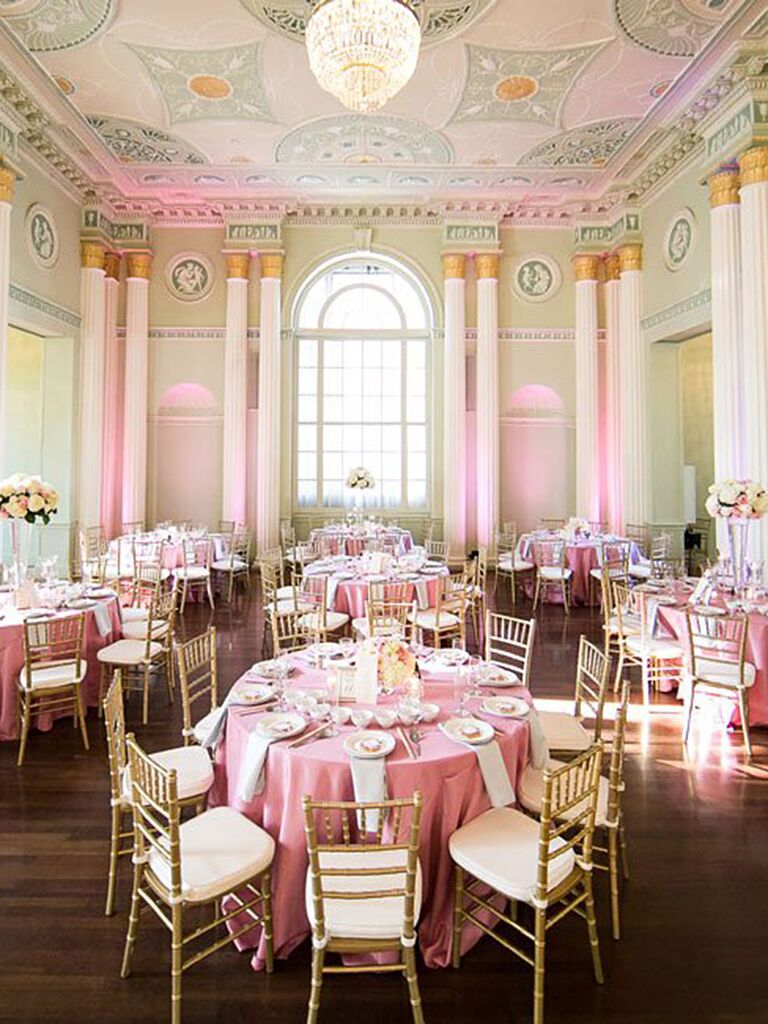 One of the most effective ways to instantly make over a space is with gorgeous allover lighting. Expert planners love amber or pink uplights—the warm glow is inviting and can make even the simplest room feel chic and stylish. Plus, this kind of light is super-flattering for all skin tones.

From: A Southern, Cultural Wedding in Atlanta, Georgia
4. Focus on the Details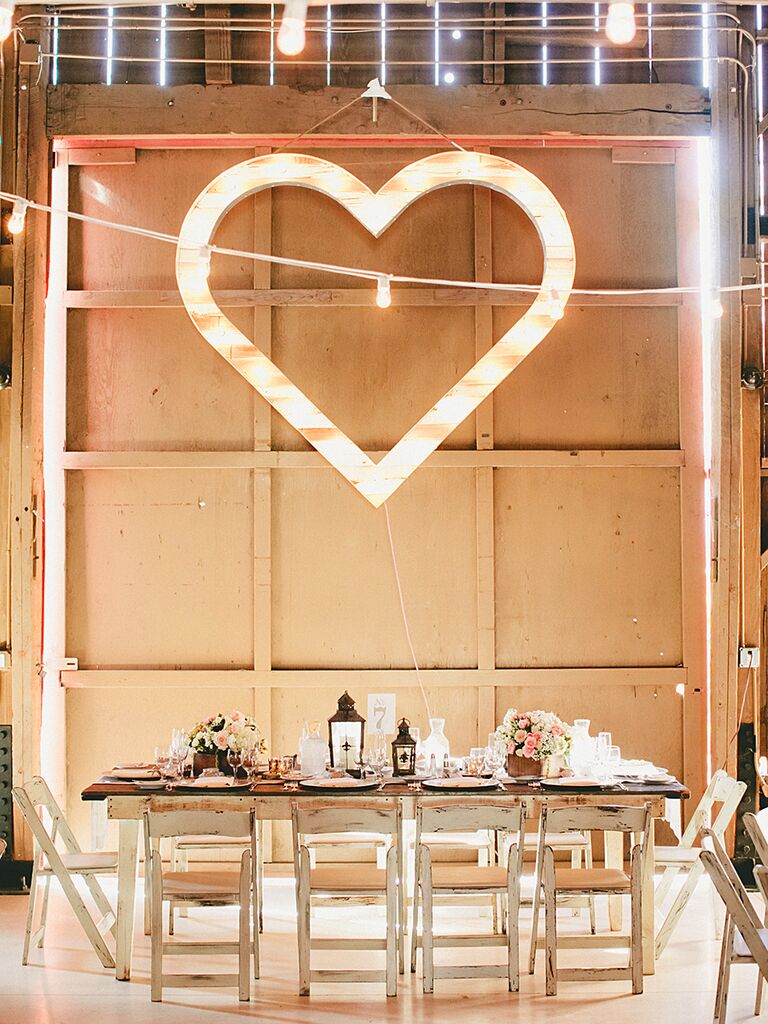 Once the room itself is lit, highlight a few spots within your reception with smaller lights to bring even more drama. For example, shine a monogram gobo light on the wall behind your sweetheart table, or aim pinspots at the cake table, escort card table and guest book display.
From: A Rustic, Southern Charm-Inspired Wedding at Camarillo Ranch in Camarillo, California
5. Drape the Room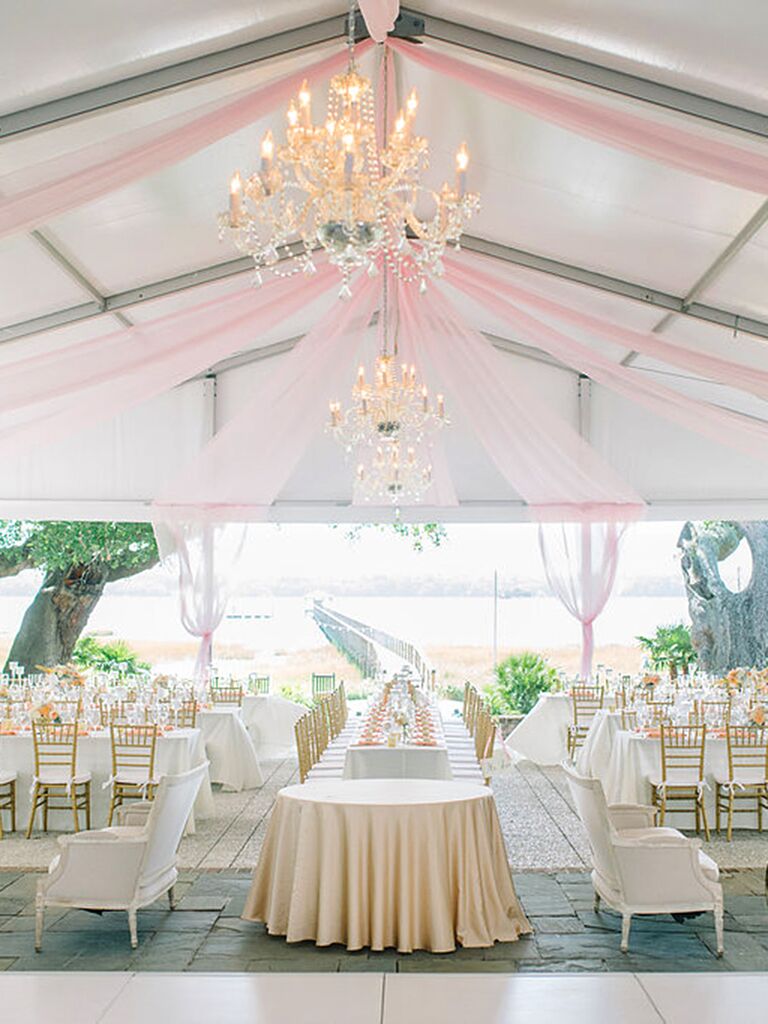 If your reception venue has wallpaper or paint that will clash with your wedding décor (or even if it doesn't!), you can create another world within the room with draping. Choose a fabric that matches your wedding colors, or pick white for a clean, classic look. Bonus tip: Draping just the ceiling can also make the space feel totally different, and it's cheaper than covering the entire room.
6. Choose Fun Linens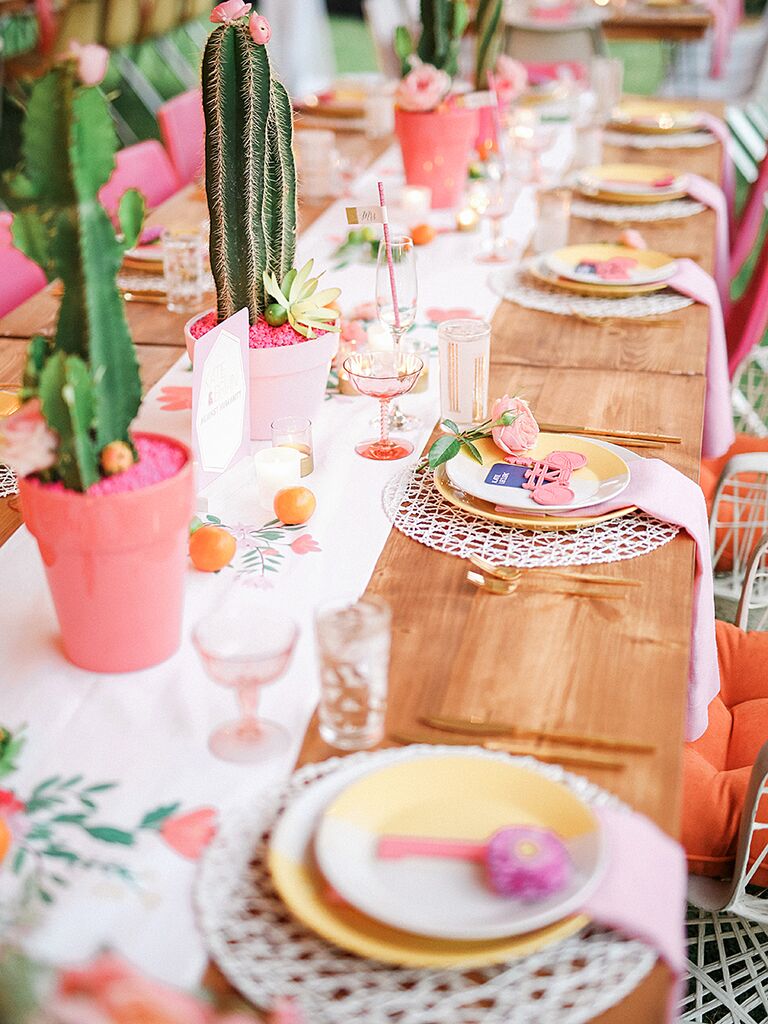 Skip the standard white linens and choose tablecloths, runners and napkins in bolder hues to create eye-catching blocks of color on the tables.

From: A Modern, Colorful Wedding at Colony 29 in Palm Springs, California
7. Divvy Up the Space
If your venue is a large ballroom or loft, consider staying away from the typical round tables and dance floor arrangement. Instead, set up a lounge area, outdoor seating and a zone of cocktail tables (these can be separated with draping), which will make the space seem cozier (and completely different).

From: A Romantic, Fairy Tale-Inspired Wedding at a Private Residence in New Market, Virginia
8. Accent With Some Sparkle
Give a blank canvas space a fabulous treatment with a little shine. Crystal curtains hanging along the walls, dangling from centerpieces or scattered on the dinner tables can give a plain space a fresh look. Or go the metallic route and deck out the tables with sequin table runners.

From: A Modern, Industrial-Chic Wedding at Rail Yards Market in Albuquerque, New Mexico
9. Repeat Décor Elements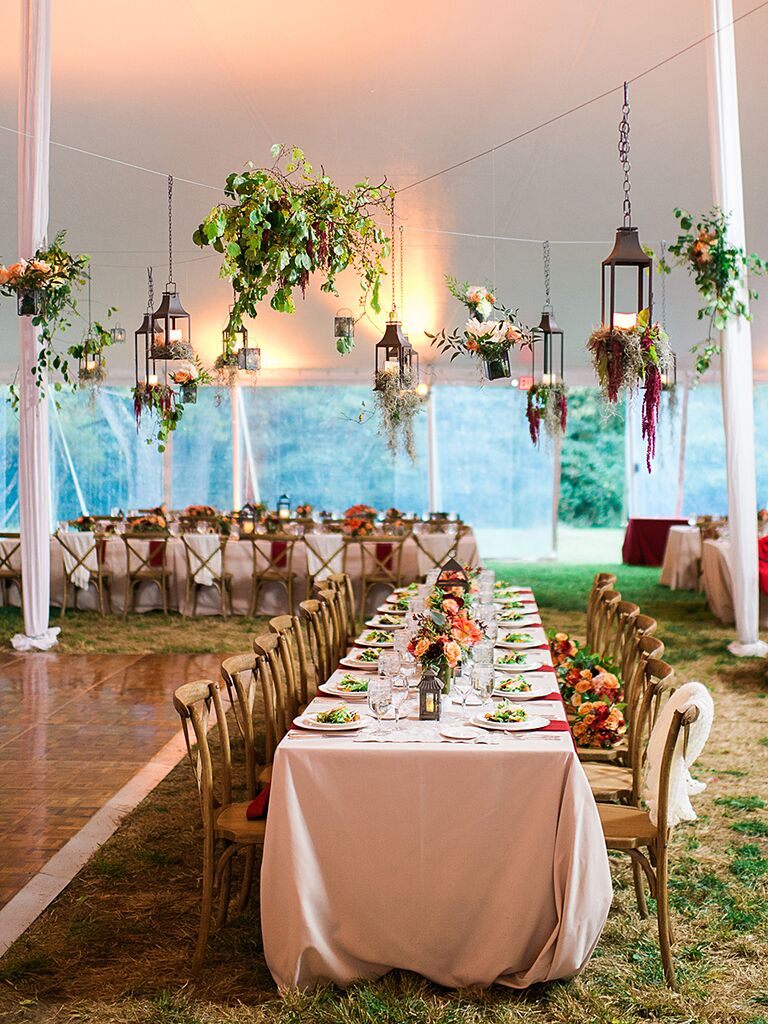 There's strength in numbers, and that goes for décor too. Any piece of decoration, from hanging lanterns to a custom monogram motif, has more visual impact when shown off en masse.
From: A Charming Fall Wedding at Woodlawn in Alexandria, Virginia
10. Create Vignettes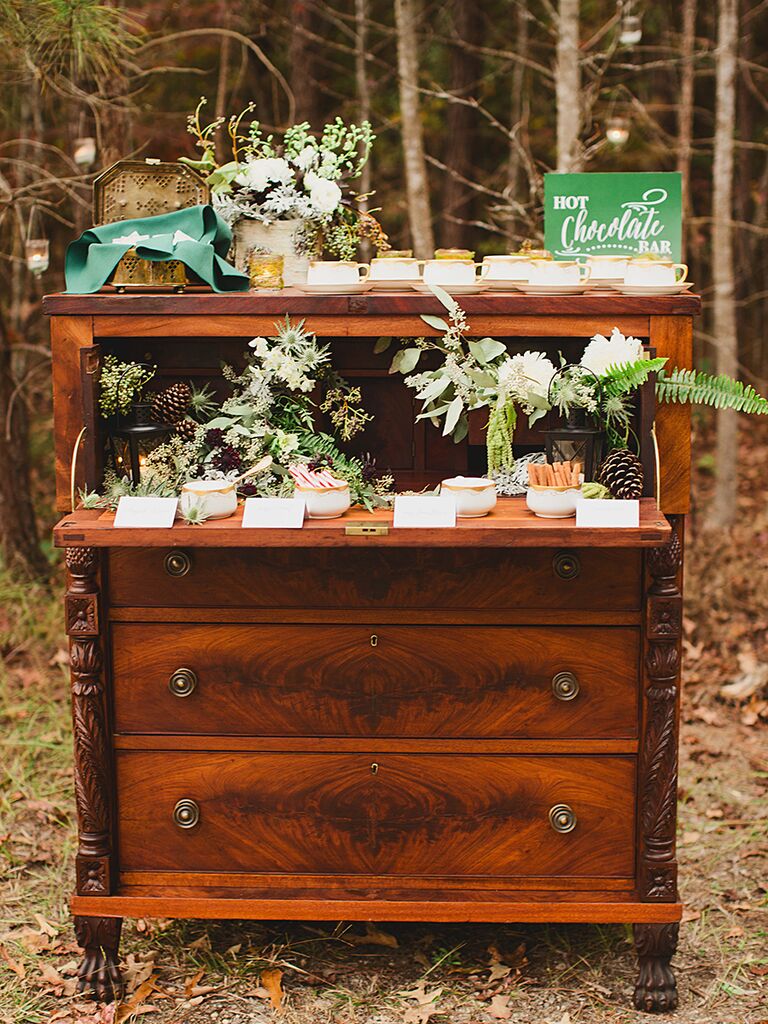 Borrowed from the world of interior design, a few stylish vignettes (grouped décor displays) can bring serious personality to your reception. For example, set up your guest book table with a few floral arrangements, framed photos and family mementos, or display pieces of antique furniture topped with vintage props.

From: A Winter Forest Elopement at Woodlake Country Club in Vass, North Carolina
11. Embrace a Theme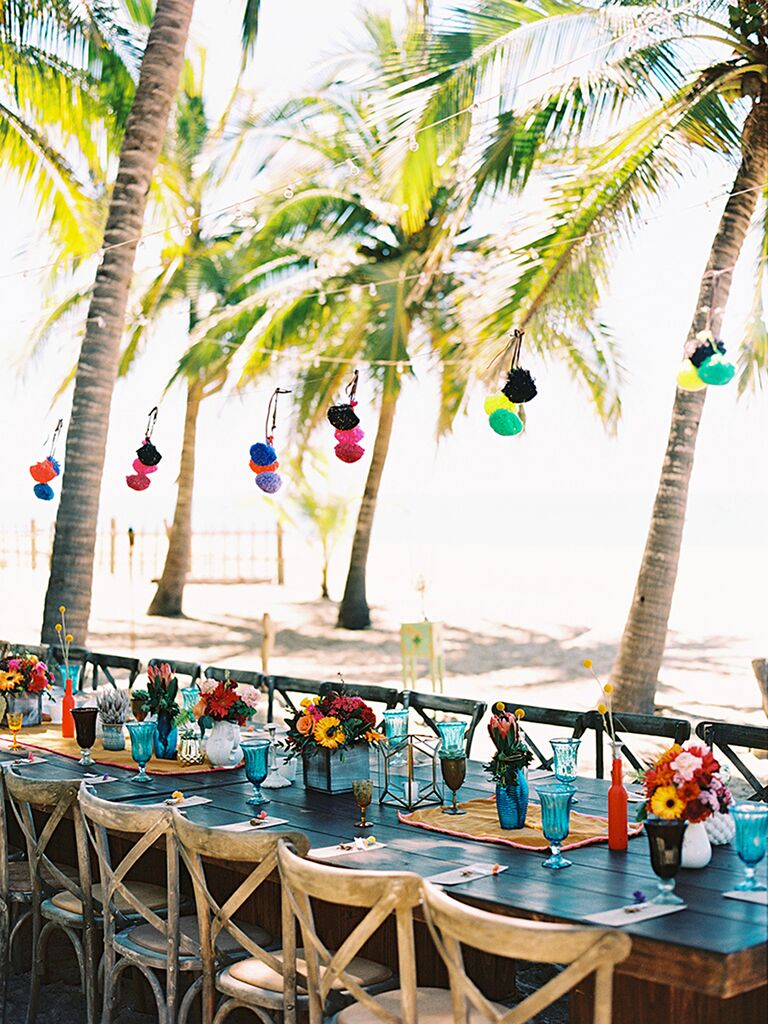 If you really want to turn your venue into another world, choose a strong theme and carry it through all of your reception décor. For example, go all out with a Western motif, complete with horseshoes, rustic wood elements and woodsy colors. For an Asian-inspired style, hang red lanterns, use gold accents and pick tall, exotic flowers. Or even embrace a fall theme, with autumn hues and lots of fall foliage.

From: A Beachfront Fiesta-Inspired Wedding at Las Casitas Bonitas in San Francisco, Mexico
12. Mix Up the Dinner Tables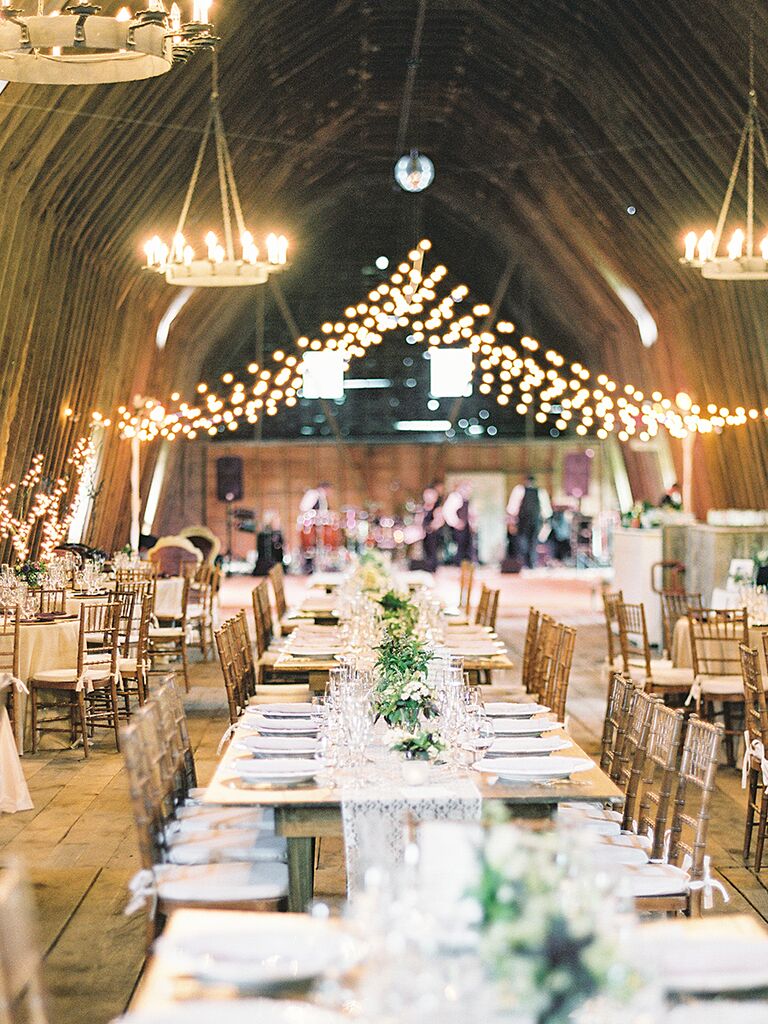 Round tables are classic, but you can totally change the flow of your reception by playing with the shape of your tables. For example, mix round and square tables for an eclectic look, or choose all long banquet tables for an intimate family feel.
From: A Classy, Romantic Wedding at Inn at Mount Vernon Farm in Sperryville, Virginia
13. Bring in Candles (Lots of Them!)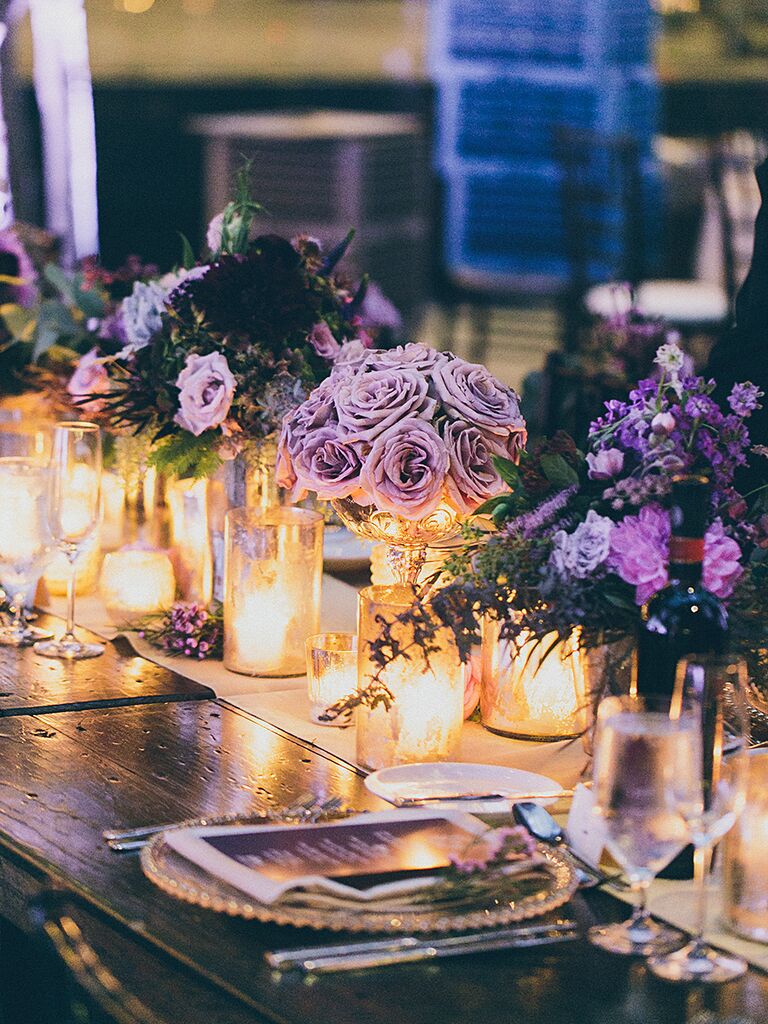 Add more votives than you think you'll need and fill the room with candles—we're talking hundreds of pillar candles, luminaries and tealights mixed together for an enveloping, flickering glow.

From: A Glamorous Indoor Garden Wedding at the Ritz-Carlton in Charlotte, North Carolina
14. Hang Chandeliers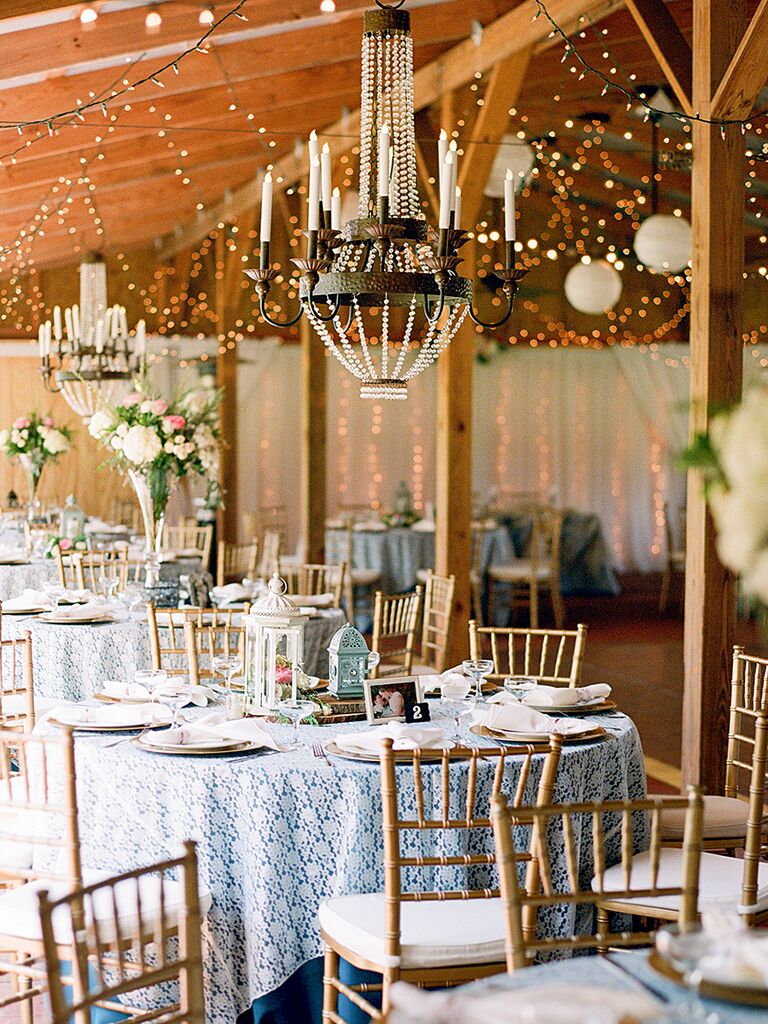 Whether they're modern wrought-iron chandeliers, antique crystal ones or chandeliers wrapped in greenery, ballroom-appropriate lights hung over a few dinner tables make for an elegant ambience.

From: An Elegant, Country Wedding at Cross Creek Ranch in Dover, Florida
15. Vary the Centerpieces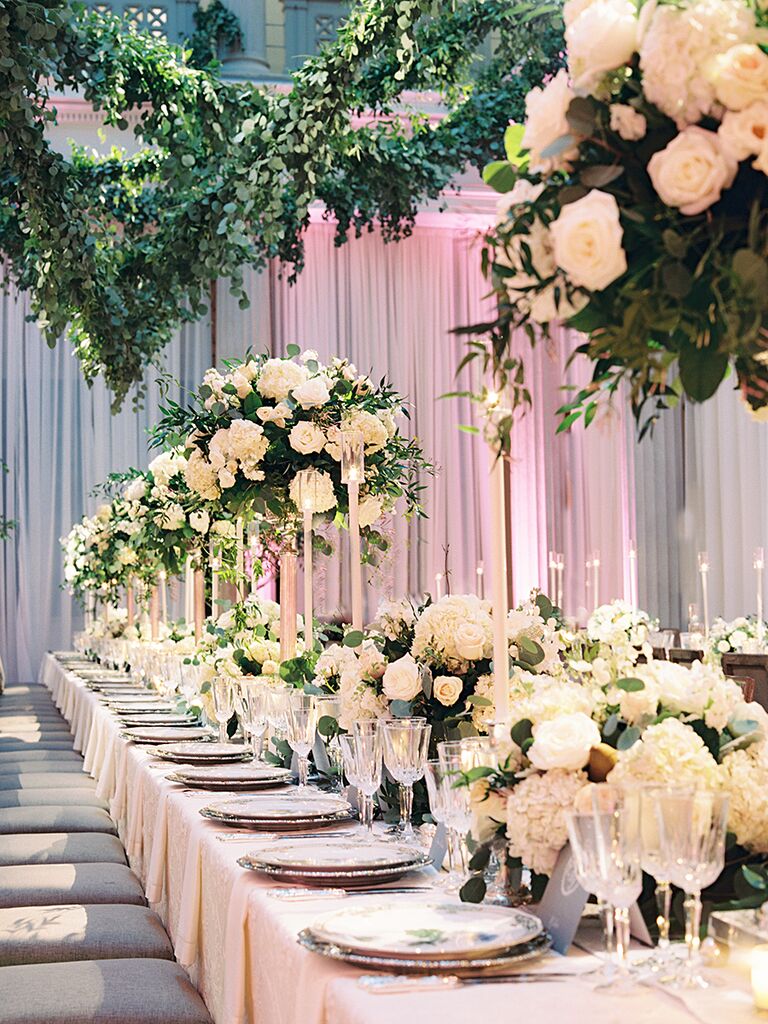 When it comes to flowers, variety is the key to a wow-worthy look, so work with your florist to create a mix of tall and low centerpieces.

From: An Enchanted Elegant Wedding at Corcoran Gallery of Art in Washington, DC
16. Jazz Up Your Glassware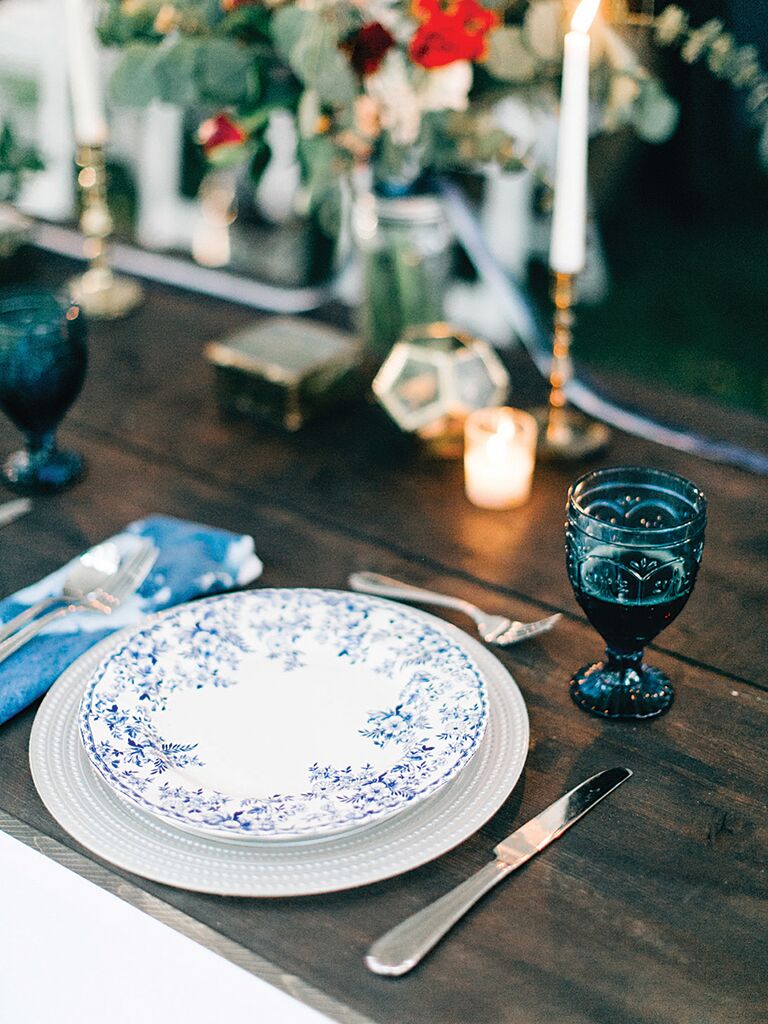 Instead of clear glassware, an unusual shade like black, red or cobalt will add instant personality to your table settings. Plus, the little splashes of color throughout the room can have a big impact.
17. Rent Unexpected Chairs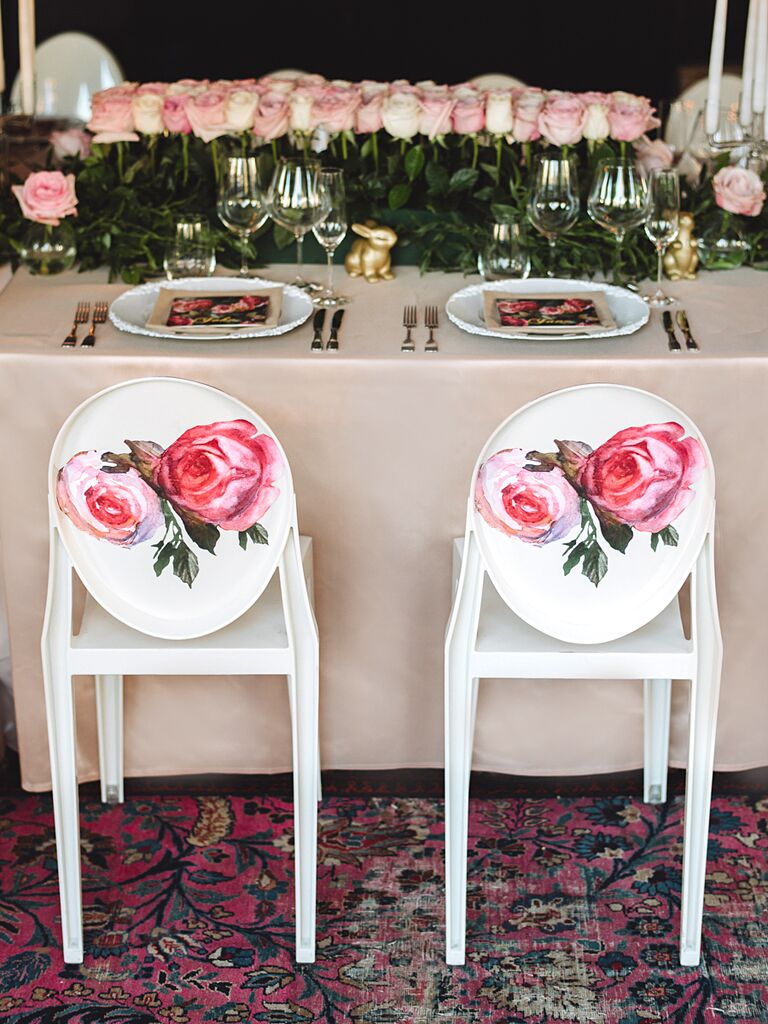 Chiavari chairs are a wedding staple, so choose something more unexpected for a new look. Rows and rows of eye-catching seats, like brightly colored vintage chairs or clear ghost chairs, can completely change the style of a space.

From: A Whimsical Garden-Inspired Wedding at the NoMad Hotel in New York, New York
18. Hang a Backdrop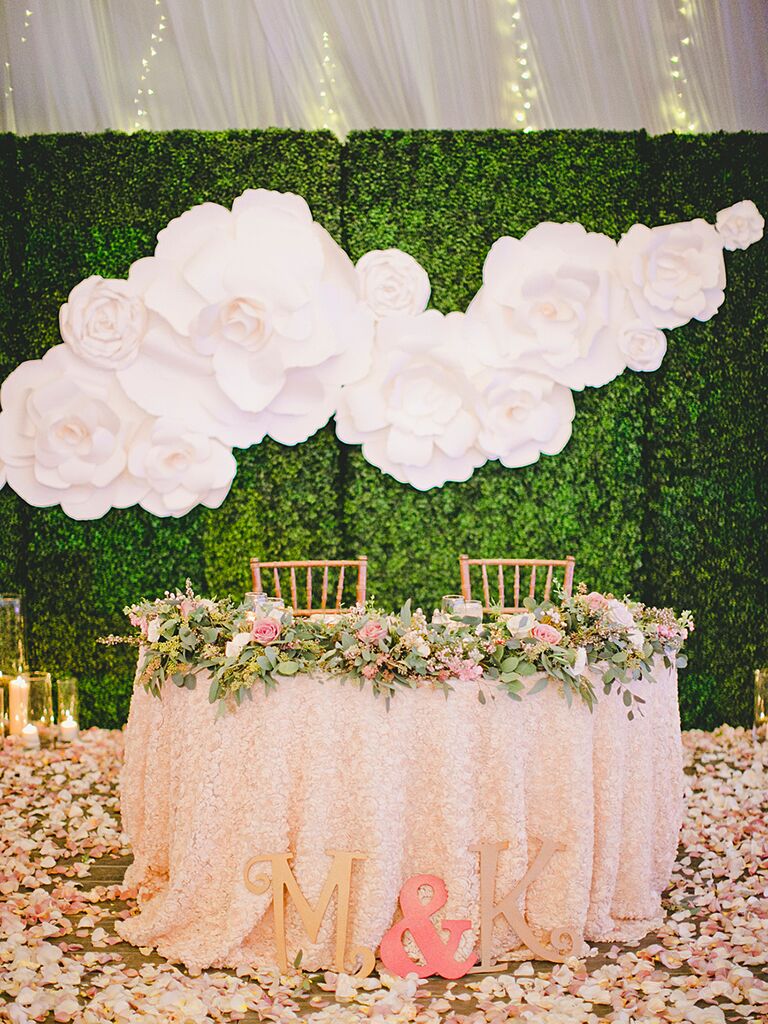 A big and bold custom party backdrop featuring your monogram, a big panel of fabric that matches your wedding style or even a faux greenery wall filled with candles can provide your reception with a fun focal point. Bonus: One of these can double as a background for your photo booth.

From: A Romantic, Garden-Inspired Wedding at Calamigos Ranch in Malibu, California
19. Wrap the Columns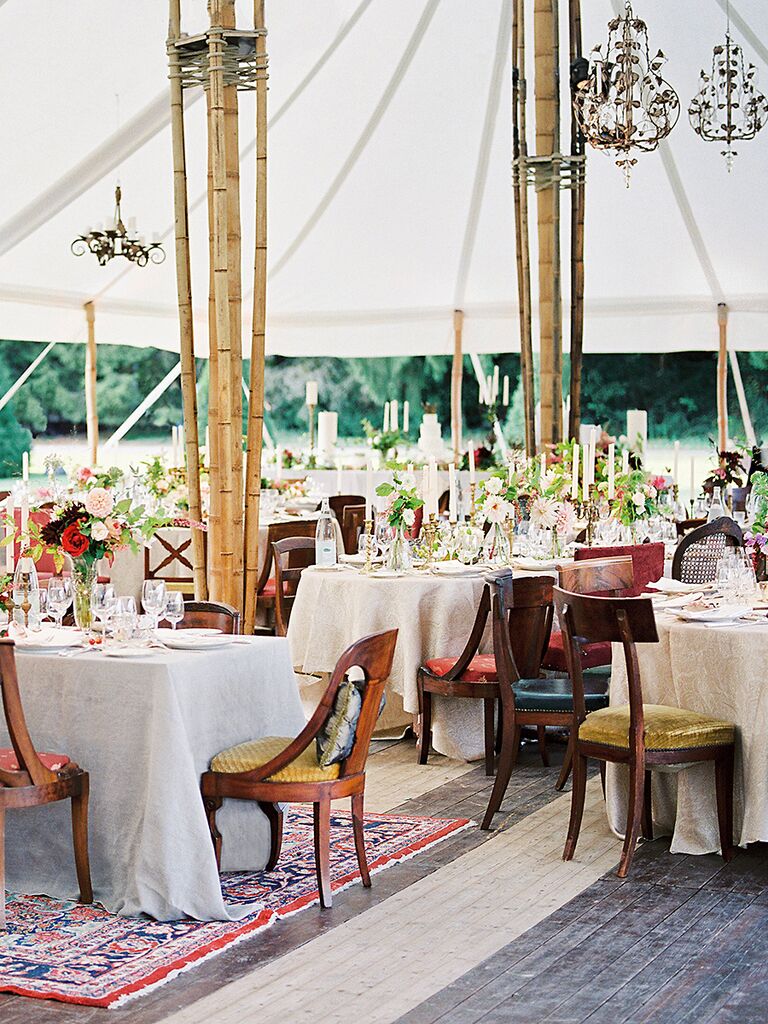 Transform your venue's columns or tent poles from annoying distractions into artful décor by wrapping them in strings of lights, greenery or colorful fabric.

From: A Luxe Wedding at Hôtel Chateau d'Esclimont in Bleury-Saint-Symphorien, France
20. Hang Unexpected Décor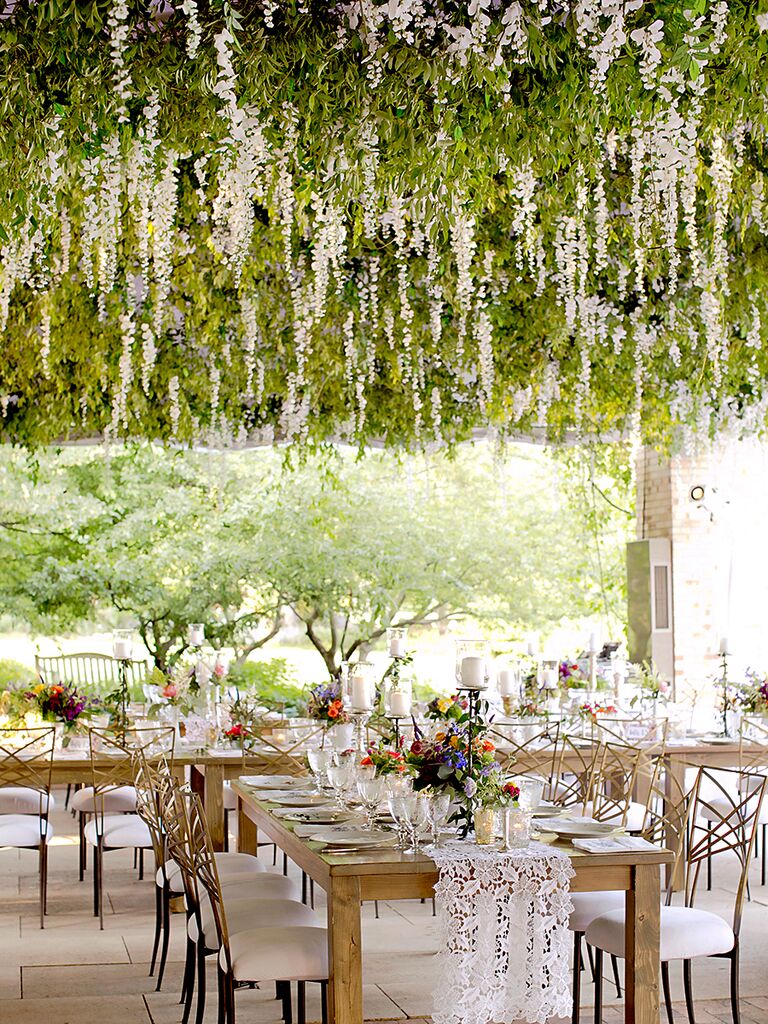 You can hang more than just chandeliers and lanterns from the ceiling—try strings of flowers, paper cranes or colorful ribbons.
From: A Garden Party Wedding at Chicago Botanic Garden in Chicago, Illinois