Tips for Booking Your Photo Booth
Check that these key points are included in your written agreement before you sign on the dotted line.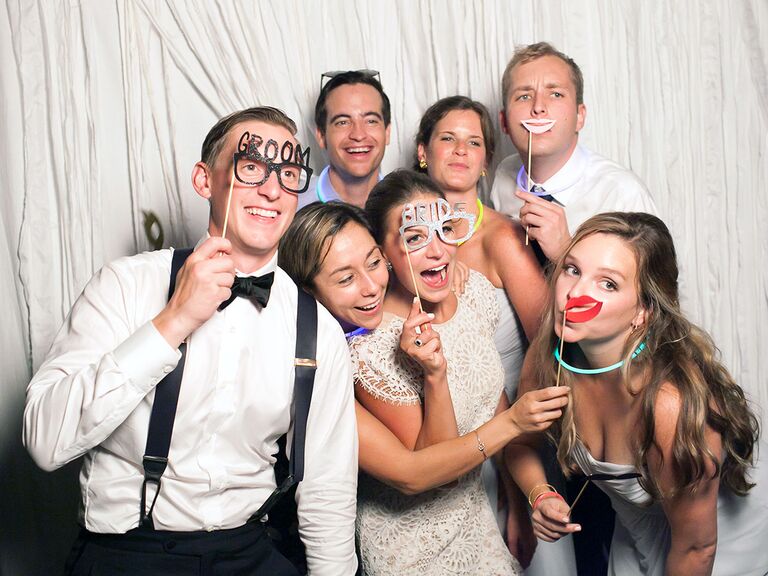 Iris Photography
Picked the perfect type of photo booth for your wedding reception? Now it's time to order. But before you do, like with any other service or pro, it's important to re-read your contract. Doing so will ensure you receive the photo booth services you really want, and eliminate any miscommunication. As you carefully read over your contract, make sure all of the following standard info is included. Once you have all your bases covered and everything is correct, sign on the line and have your photo booth pro do the same.
General Info
[ ] Name and contact information for the photo booth company.
[ ] The date, location, start time and length of your wedding. If your venue has different banquet rooms or ballrooms, refer to the one(s) you'll be using by its specific name.
[ ] Drop-off and pickup dates and times for the photo booth.
[ ] The number of guests you expect at your event (if you need a certain amount of photo paper, ink and so on).
[ ] Proof of license from the state and insurance carrier information. In case their equipment damages property or causes personal injury, or their props are taken or damaged by your guests or staff, you want to have all scenarios legally accounted for.
[ ] The latest date you can make changes to your order.
Pricing and Fees
[ ] The deposit amount paid.
[ ] The balance due.
[ ] The payment schedule.
[ ] Overtime policy.
[ ] The refund and cancellation policy.
Rentals
[ ] Any supplies the photo booth company will provide, like props, photo paper, ink, albums and so on.
[ ] The total cost of rentals provided by the photo booth company or whether they're included in your package price.
Staff
[ ] The name of the attendant(s) overseeing the photo booth and the backup in case they're sick or unable to make it the day of.
[ ] The name of the person(s) responsible for setup, cleanup and breakdown and any fees for these services.
[ ] The attire for attendants.
[ ] The cost per hour or flat rate for attendants, including overtime.
[ ] Any break/meal time throughout the event (and if attendants require a meal).
Need help finding the perfect photo booth rental in your area? Check out your options here.