All the Best Wedding Planning Tools For a Stress-Free Process
These apps and website features make your top to-dos easy—and fun.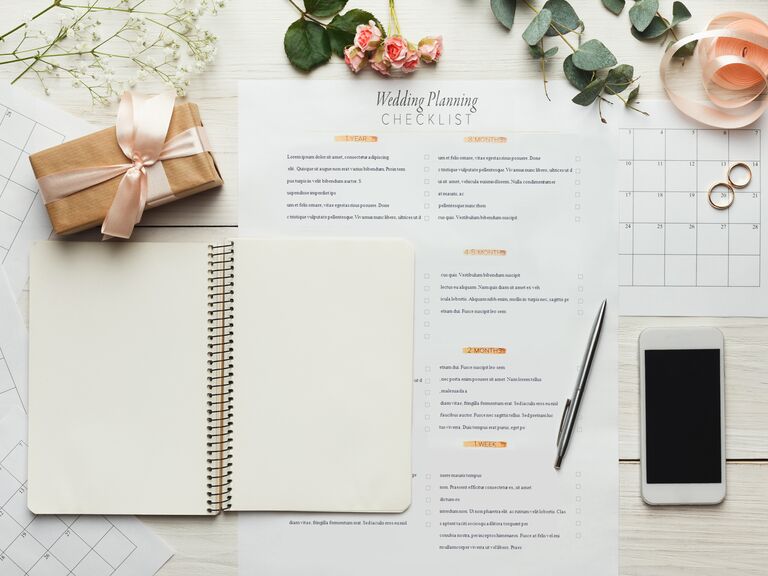 Shutterstock.com
We have included third party products to help you navigate and enjoy life's biggest moments. Purchases made through links on this page may earn us a commission.
Your wedding is one of the biggest (and most monumental) events you'll plan in life. If you're just engaged and not sure where to start, there are plenty of wedding planning tools to guide you through the entire process. While it requires much thought and decision-making, there are numerous apps and websites designed to make the overall process easier.
From narrowing down your wedding vision to finalizing your budget, these online wedding tools will walk you through every stage, step-by-step. And if you're already thinking about your post-wedding to-do list (like changing your name and preserving your dress), there are resources to help with those tasks as well. Because after all, your wedding is about your commitment to your partner—not the inevitable stress that comes with organizing such an important event. We've narrowed down the best wedding planning tools that will help you during this special time.
Tools For Wedding Style Inspiration
If you've spent years curating a wedding vision board (or two), it's time to make it a reality. Before you start actually planning your nuptials, you'll need an idea of what you want the day to look like. Even if you want to leave the artistic decisions to a professional planner, it helps to have at least a few ideas on hand to assist with important style decisions. These are our favorite wedding planning tools for finding your style inspiration.
Every wedding has to start with a vision. The Knot's Style Quiz makes it easy and fun to narrow down the design for your wedding day. After a series of dating app-style questions (really, swipe left or right on bouquet arrangements to table settings), you'll receive your own wedding style and recommendations for local vendors who can help you execute your vision.
If you want to see real couples and how they planned their weddings, turn to our Real Weddings section, where you'll find photo galleries of festive nuptials from around the world. Consulting images of other couples' nuptials is a great way to get your own creativity flowing. After all: you might come across new ideas that you wouldn't have considered before.
Follow The Knot on Instagram to receive a daily dose of wedding inspiration in your feed. You'll be the first to see what's trending in the bridal industry while being introduced to the best innovative ideas (bachelorette party cookies, anyone?). What's more, you'll also get expert advice straight from The Knot editors (from features like our weekly Wedding Wednesday Q&A). Or, you can simply browse through our #TheKnotRings hashtag to help you craft a perfect ring selfie.
Connecting with other individuals going through the same wedding planning process is a great way to find answers to questions and get inspiration from other real couples. The Knot Community serves as an online planning tool to connect users and encourage conversations about wedding styles, planning, honeymoons, and married life.
Tools For Online Planning
Once your inspiration is all set, the execution portion begins. There are plenty of online wedding planning tools to help you out. These are our favorite picks to keep you organized throughout the process.
With tons of ideas, tips and helpful tools, consider this your personalized wedding organizer. Nothing feels better than crossing items off your wedding to-do list, and the The Knot All-In-One Wedding Planner App makes it easy to keep track of your progress in one place. Our favorite feature? The wedding budget calculator, which gives you a personalized budget breakdown depending on the amount you want to spend.
Your wedding website is the digital home for all of your wedding information. Beyond that, it's also a space for you to share engagement photos, wedding party details, and last-minute updates for your guests. While there are plenty of resources to help you build your wedding website, creating one with The Knot will help you integrate all of your planning tools in one spot.
Creating a registry is a wedding must. Your loved ones will want to shower you and your partner with gifts, so it's important to build one well in advance of your wedding day. The best part about registering with The Knot? You can add whatever you want to your wishlist, from cash to cooking lessons to that serving set that perfectly matches your kitchen backsplash. (An added bonus: You can also link your registry on The Knot with a charity, so a portion of the proceeds from purchases made by your guests will be donated to the organization of your choice.)
No matter the location of your wedding, you'll likely be hosting guests from out of town. In order to accommodate all of your loved ones, consider reserving nearby hotel rooms to enhance their stay. Sites like Hotel Planner simplify the hotel room booking process, making it easier to reserve rooms with the best rates.
Tools For Booking Vendors
Booking vendors is one of the most important parts of your wedding to-do list. After all, you'll be relying on local professionals. If you're feeling lost on where to start to find your wedding pro squad, see our favorite resource below.
It can be hard to know where to start to book your wedding day team (think: caterers, florists, musicians, beauty pros, photographers and coordinators, to name a few). Before you get lost in a Google search of vendors, turn to The Knot Marketplace. This is one of the most comprehensive wedding planning tools because each vendor is broken up by category, allowing you to search for the exact service you need based on the location of your wedding. You can also read reviews from real couples and connect directly with the vendor, making the search for your wedding team as simple (and stress-free) as possible.
Tools For After the Wedding
Your tasks don't end once your wedding day passes. There's an entire checklist of things to do post-marriage (like having the "tax talk" and deciding how to preserve your wedding fashion). Luckily, these wedding planning tools will help you complete your to-do list after the wedding.
If you plan to change your name after your wedding, it can be overwhelming to manage multiple applications and forms. Instead, services like HitchSwitch Name Change take the hassle out of the process with just one form (no, really!) to save you time.
Preserving your wedding dress will keep your special pieces safe and well-kept. When left exposed for a long period of time, your dress can fade or even change shape. Having your wedding fashion professionally cleaned and packaged will keep it safe for years to come. You can take it to your local bridal salon or preservation specialist, or turn to an online tool like Wedding Dress Preservation by The Knot. No matter which option works best for you, be sure to take the extra steps to care for your gown and keep it safe after the wedding.
Some experiences are deserving of photos beyond a selfie. Services like Flytographer connect users with local photographers to document a special trip (like, say, a honeymoon). Not only are they able to show you around a new city (perhaps to some of the less-touristy hotspots), they'll provide you with images to always remember the special experience.
You'll want to remember your wedding for years to come (and show off all of your stunning photos from the day). Companies like Mixbook allow you to design custom creations with your favorite images. Fill your home with personalized prints, photo books or canvas portraits to preserve your most cherished memories from your wedding day.
Sending thank-you cards is of the utmost importance once your wedding excitement settles down. With The Knot Guest List Manager, you can keep all of their important information (like their address) in one place. Then, when you're ready to send out your letters, you can easily do so through our all-encompassing management tool.