16 Ways to Wow Wedding Guests at Your Reception
Go above and beyond for a celebration worth remembering.
While including a few traditions at your wedding is important, why not make sure your wedding stands out as one your guests will remember long after you've said "I do"? Put your own twist on a favorite trend, like having a cigar or tequila bar instead of offering just a signature drink at cocktail hour. Add a personal touch to popular décor for an alternative look with a timeless approach. Here are our top ideas for an unforgettable celebration that will wow your guests.
1. Assign Seats With a Sip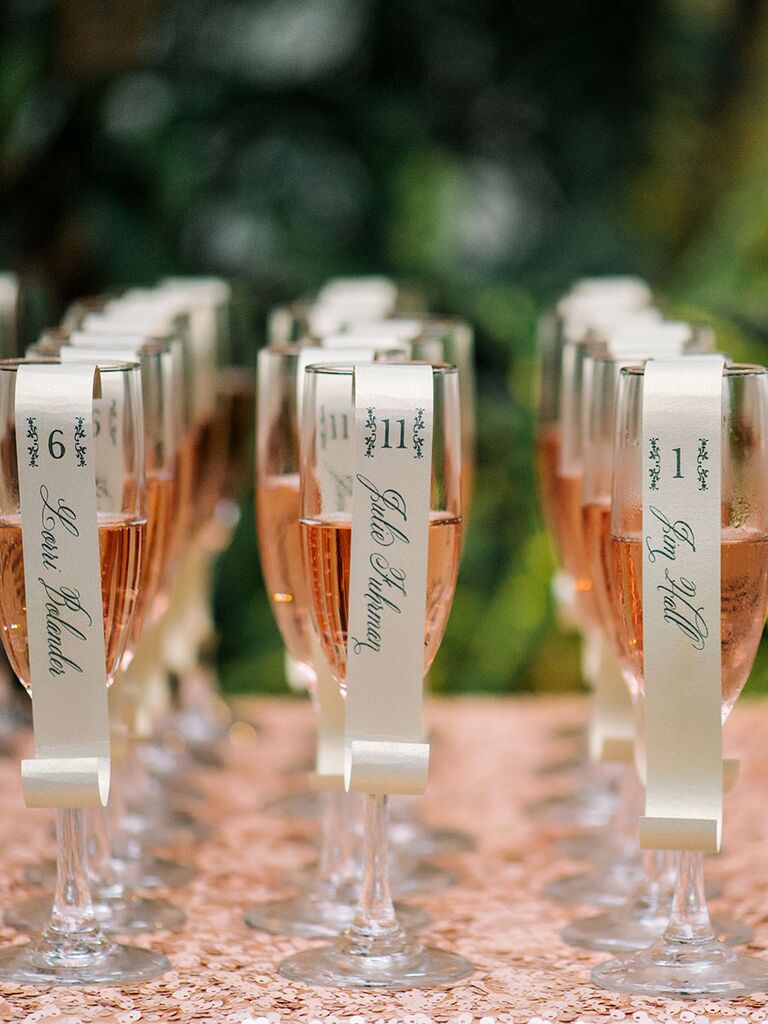 Swap traditional escort cards for individually labeled champagne flutes that will get everyone to their tables and ready to toast in one step.
From: A Sophisticated, Whimsical Wedding at the Hemingway Home in Key West, Florida
2. Go Out With a Bang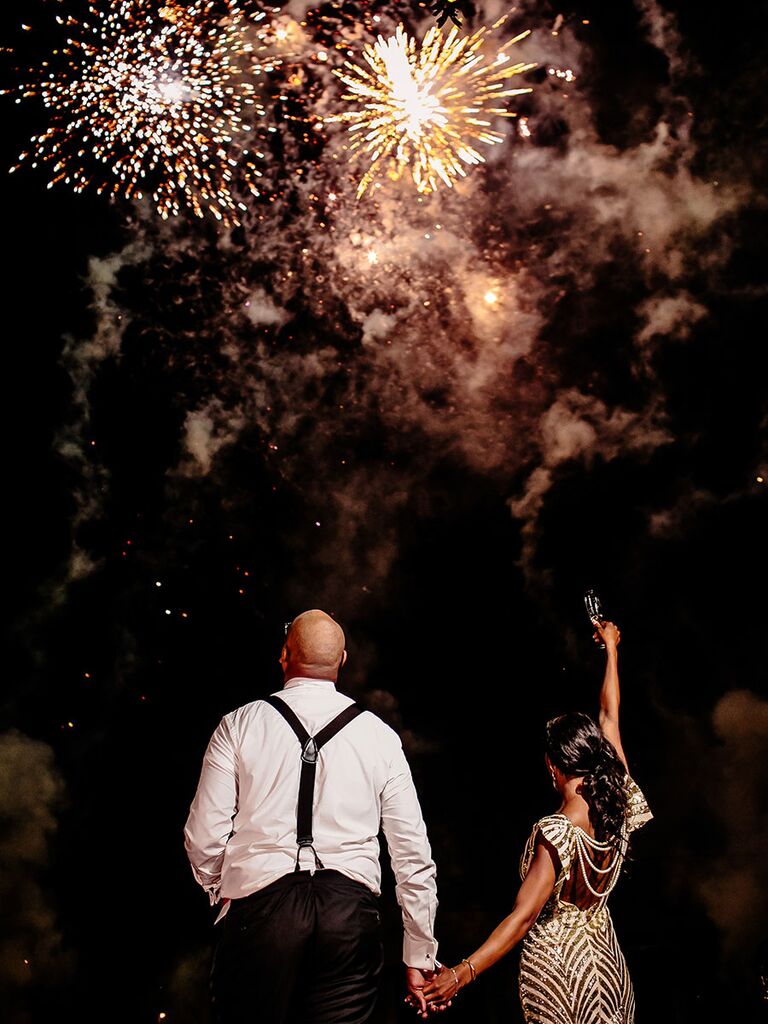 Jazz up your ceremony exit or nighttime reception with a celebratory firework display. Or hand out sparklers and champagne for your guests to hold as they escort you to your getaway car when the night is over. (Just don't forget to make sure your venue allows for fireworks and sparklers.)
From:A Contemporary Nigerian Wedding at Heaven on Earth in Missouri City, Texas
3. Change It Up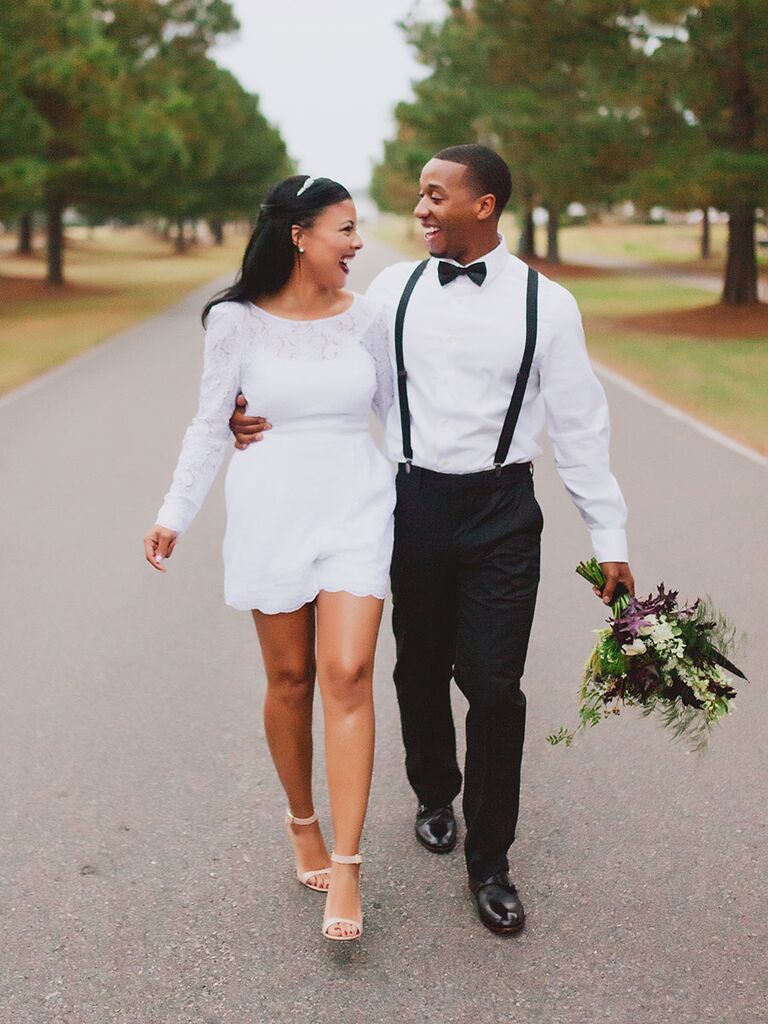 All eyes will be on you, so it'll be a fun surprise when you go from your classic wedding dress to a shorter, flirtier frock at the reception. If you want to stay in your wedding dress, consider making other style changes like letting down your hair, switching shoes or adding a few new pieces of jewelry.
From: A Winter Forest Elopement at Woodlake Country Club in Vass, North Carolina
4. Anticipate Their Needs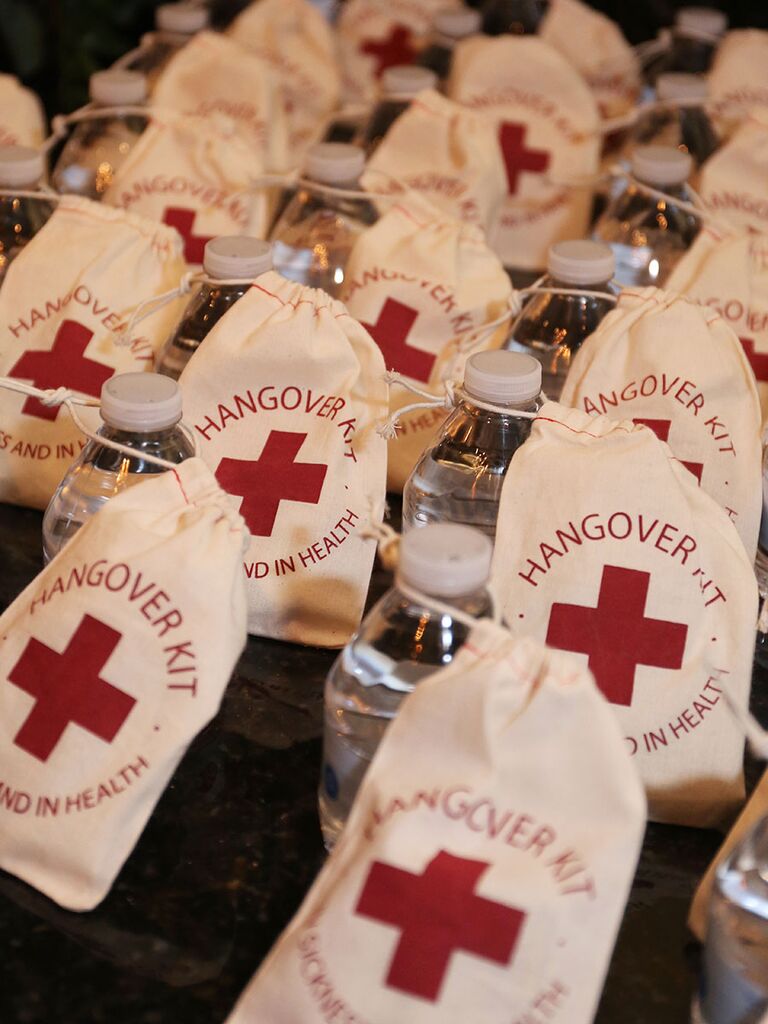 Trust us, your guests will appreciate a cute emergency kit for the morning after. Include all the hangover essentials (Aspirin, water, energy bars) to get them back on their feet after a night of celebrating.
From: A Tuscan-Inspired Wedding at Mission Inn Resort & Club in Howey-in-the-Hills, Florida
5. Choose Big, Impressive Blooms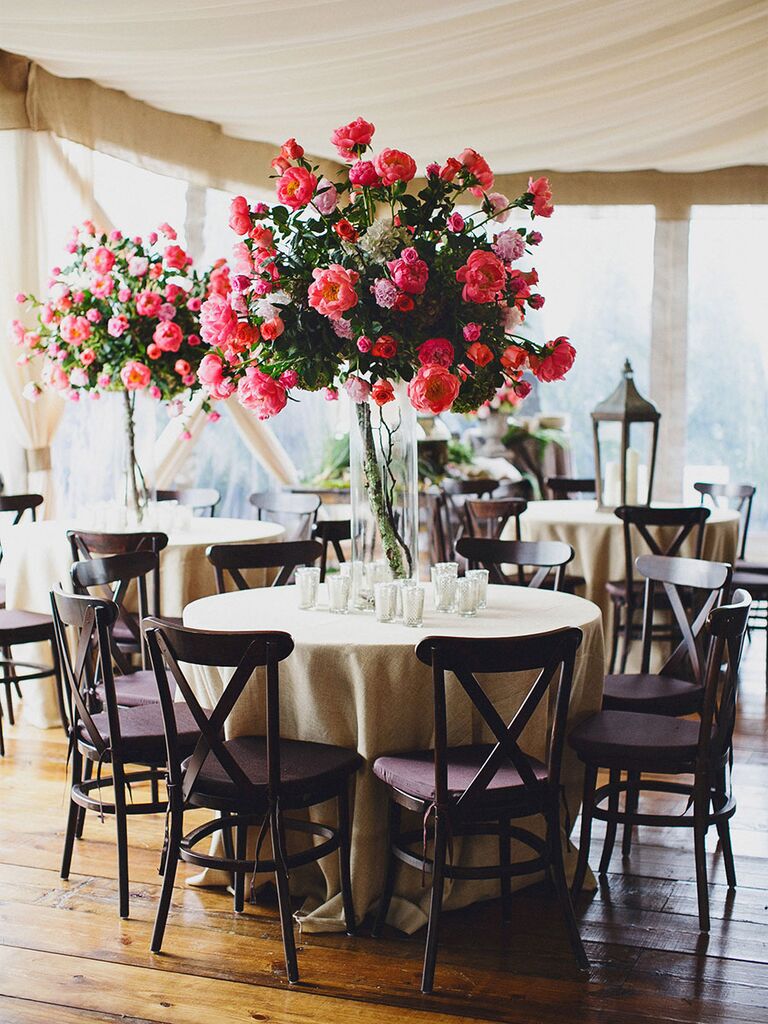 Go big with tall, over-the-top centerpieces on your reception tables. Bright blooms like cabbage roses and ranunculus make a colorful statement, especially if paired with a neutral color palette.
From: A Charming Southern Wedding in Blowing Rock, North Carolina
6. Provide Luxe Lounge Areas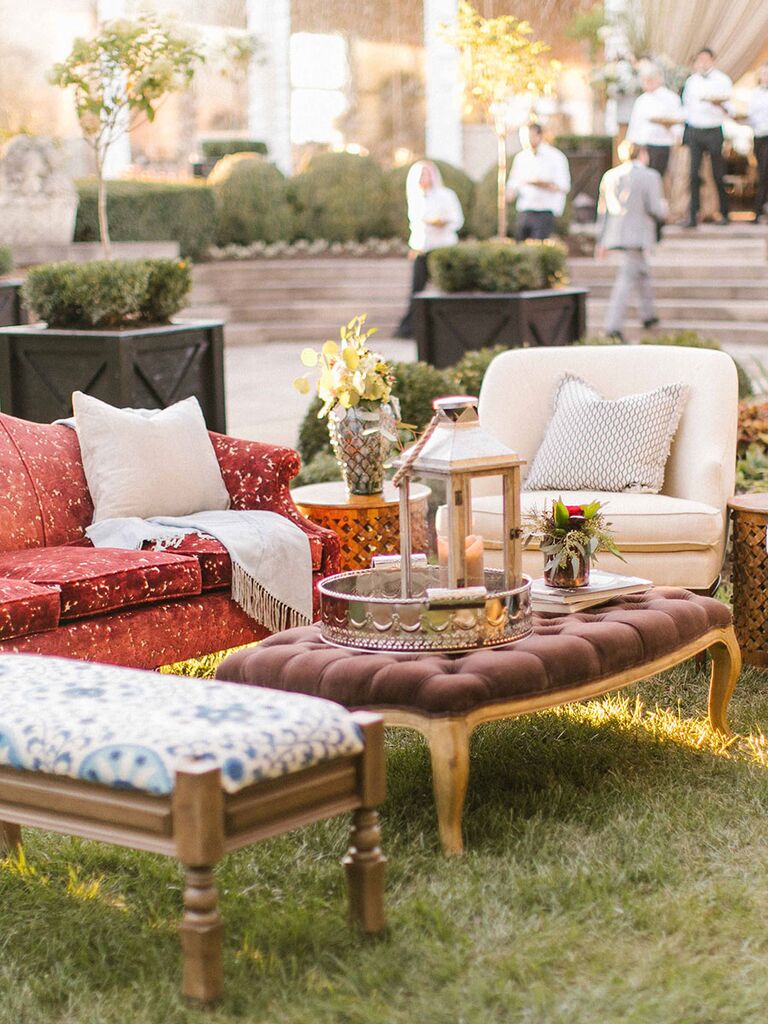 Give guests a place to mingle between dance breaks by creating a lounge area with comfy couches, chairs and plenty of pillows. It's the perfect way to keep everyone in on the party even when they're off the dance floor.
From: A Playful Black-Tie Wedding at a Private Residence in Lexington, Kentucky
7. Hang Low Chandeliers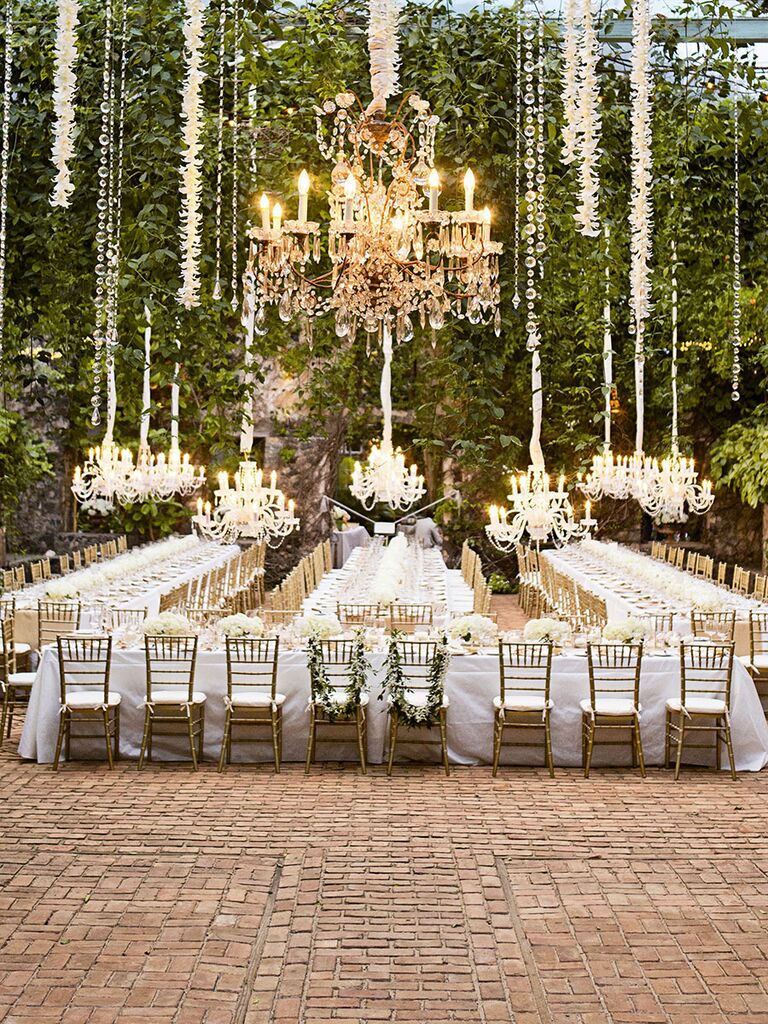 The possibilities are endless when it comes to setting up your outdoor reception. Decorate the space with low-hanging chandeliers and delicate florals. Instead of round tables, seat everyone banquet style for a close and intimate atmosphere.
From: An Elegant Island Wedding in Maui, Hawaii
8. Offer a Feast for the Eyes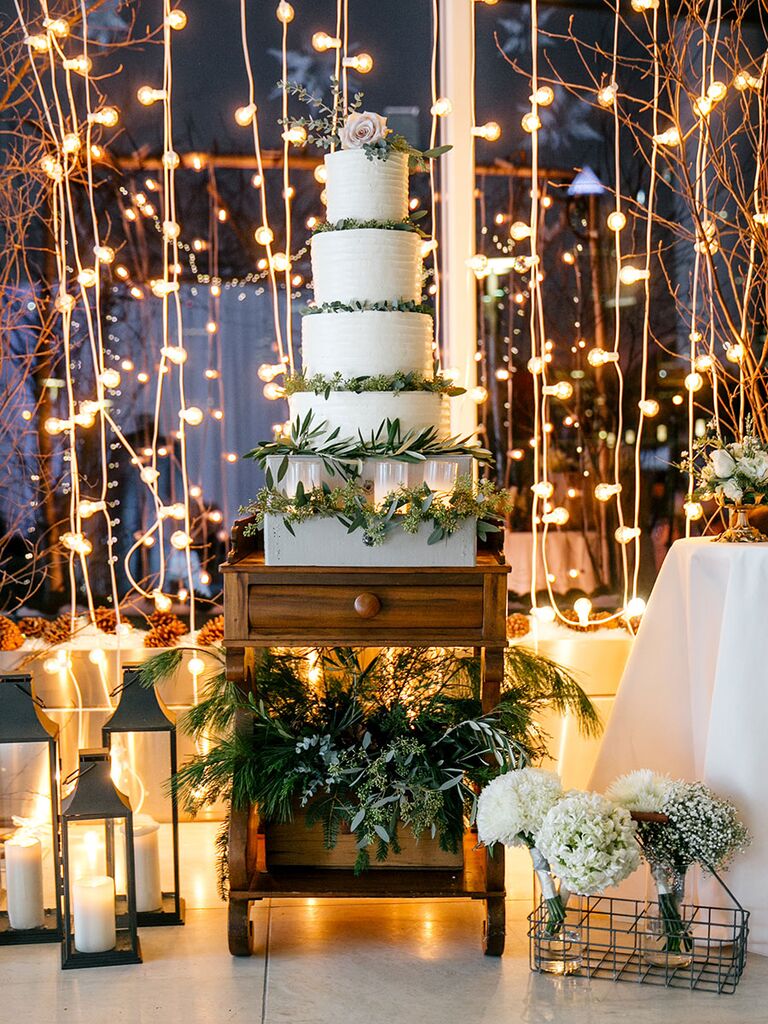 Don't overlook the details surrounding your wedding cake. Play up your cake display with twinkling lights, lots of florals and a unique stand.
From: A Gorgeous, Winter Wedding at Cira Centre Atrium at JG Domestic in Philadelphia, Pennsylvania
9. Serve a Home-Run Groom's Cake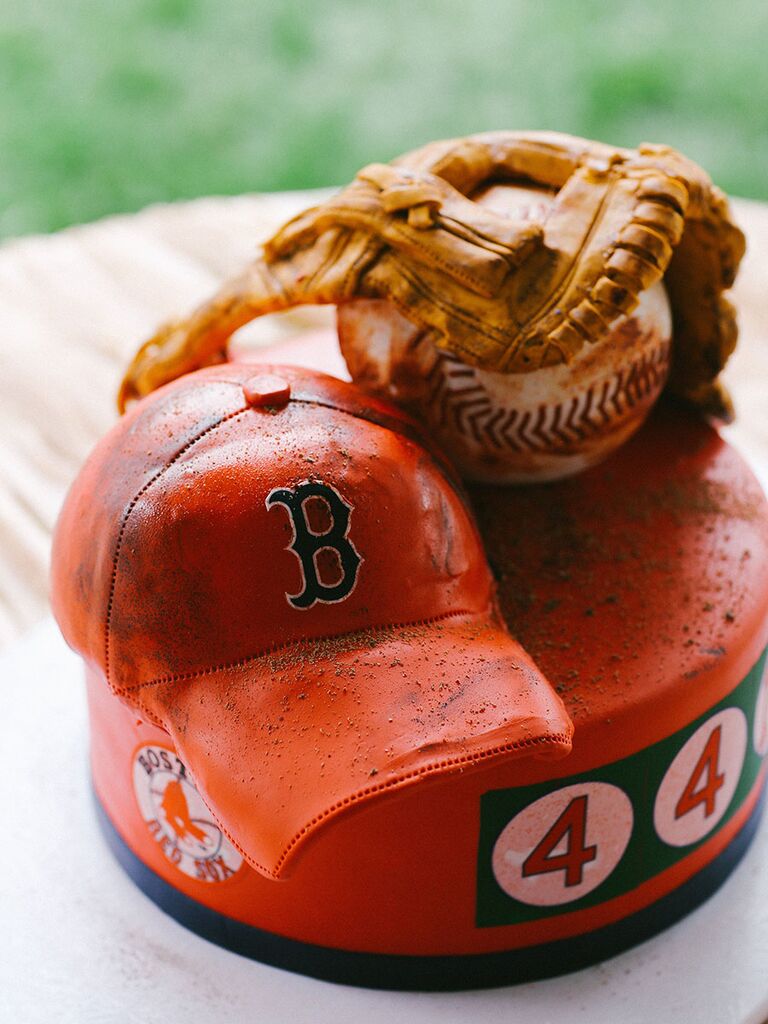 Make your guests' jaws drop with a second cake that looks (almost) too real to eat. Talk with your partner about which confection would best suit you. Incorporate an inside joke, a favorite hobby or a non-cake treat like doughnuts, assorted pies, cookies or an ice cream bar.
From: A Biltmore Estate Wedding in Asheville, North Carolina
10. Spoil Them With Late-Night Bites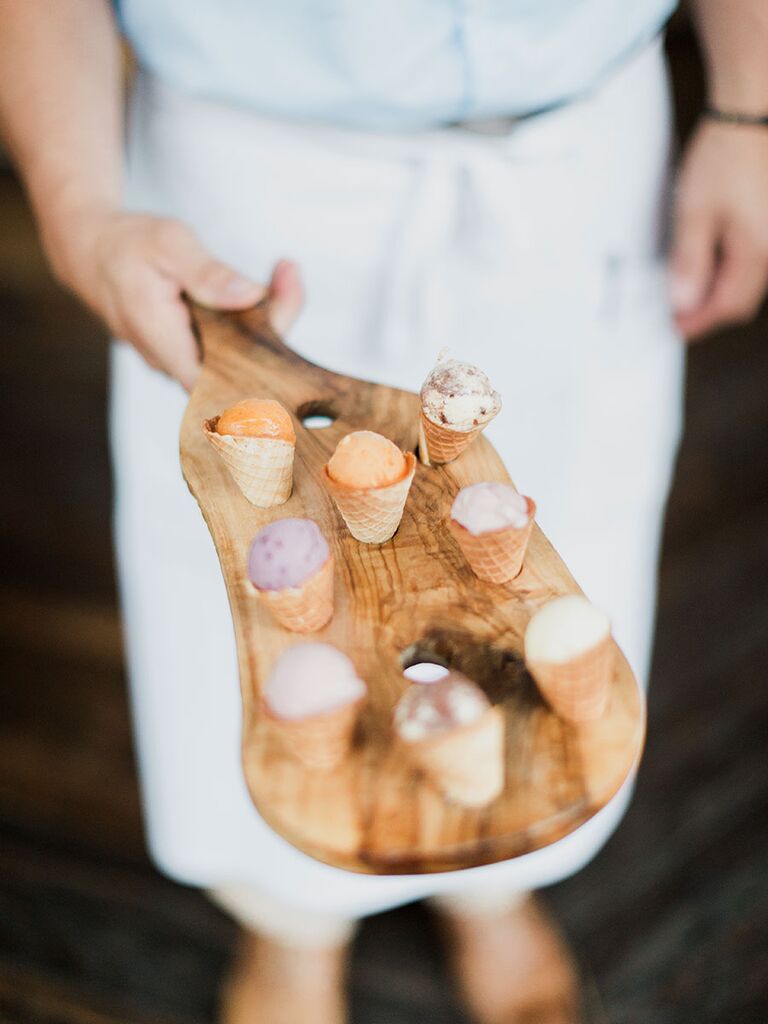 Just when everyone thinks the fun is winding down, liven up the party with late-night treats that will gear up guests for the after-party. Ice cream bites, fresh chocolate chip cookies and milk shooters, a fully loaded taco bar—your guests will love you for your midnight munchies.
From: An Intimate Vintage-Inspired Wedding at River Cafe in Calgary, Alberta
11. Encourage Game Time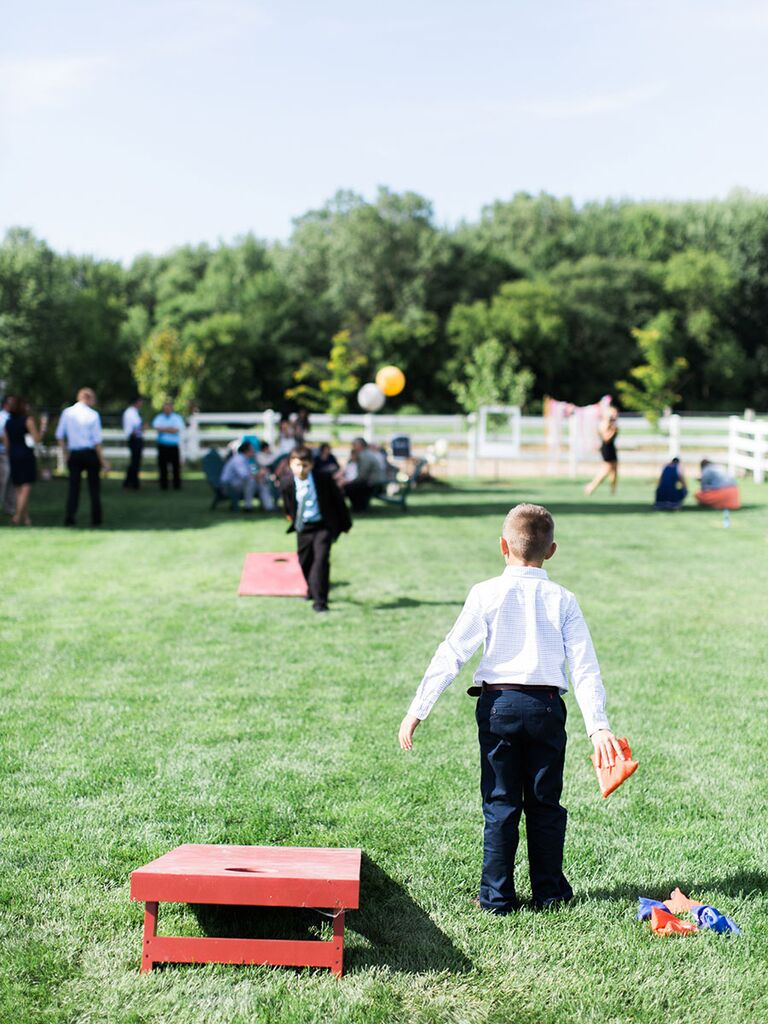 Keep your guests (especially the little ones) entertained at your reception with fun and interactive games. Set up a game of cornhole at your outdoor ceremony or reserve one of your reception tables as a coloring station.
From: A Colorful, Rustic Wedding at Wildwood Family Farms in Alto, Michigan
12. Have a Fun "Guest Book" to Sign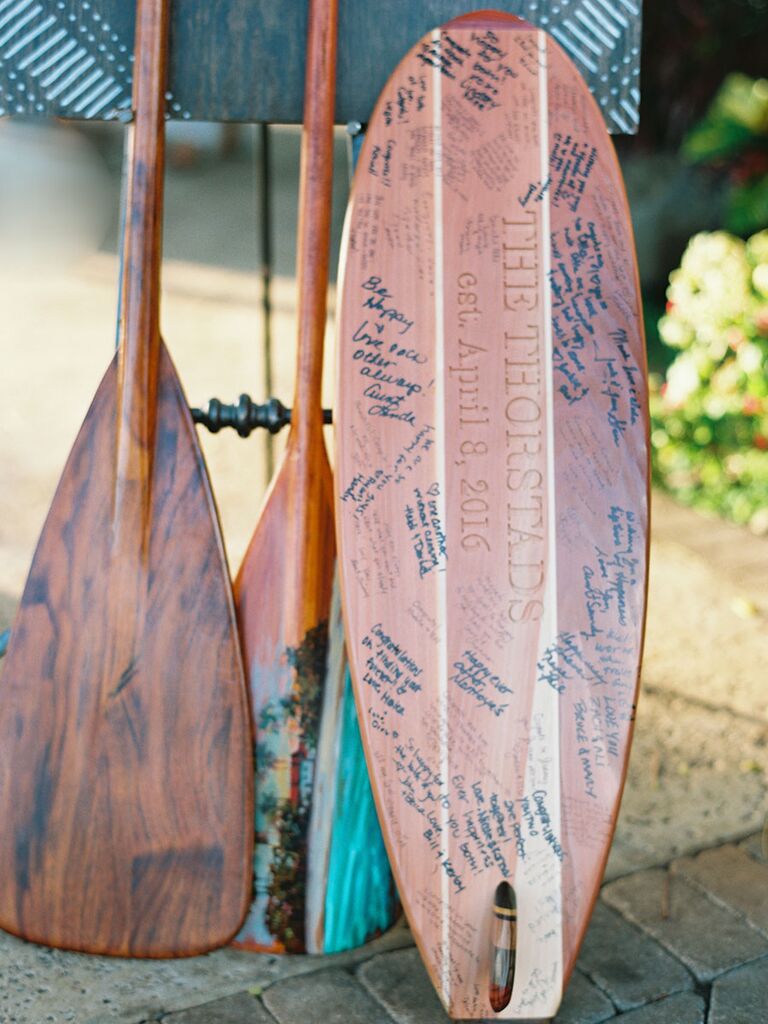 Think beyond the typical guest book—ask guests to leave a message on a vintage surfboard at your tropical destination wedding, or create a jigsaw puzzle of your photo and let guests sign each piece.
From: A Tropical, Bohemian Wedding in Lahaina, Hawaii
13. Say Cheese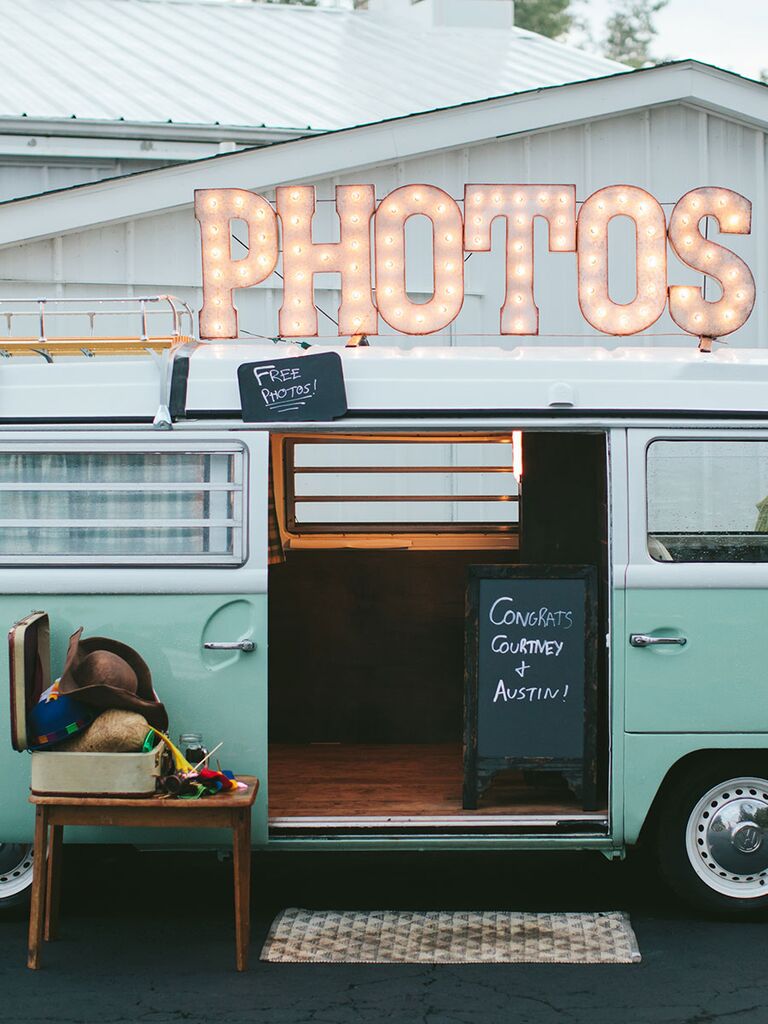 Having a photo booth is a surefire way to capture those silly, candid memories your photographer might miss. Outfit your booth with themed props like snorkel gear for a summer wedding or opera masks and monocles for a formal affair.
From: A Rustic, Elegant Wedding at Dorral Farm in Marysville, Ohio
14. Prioritize Lighting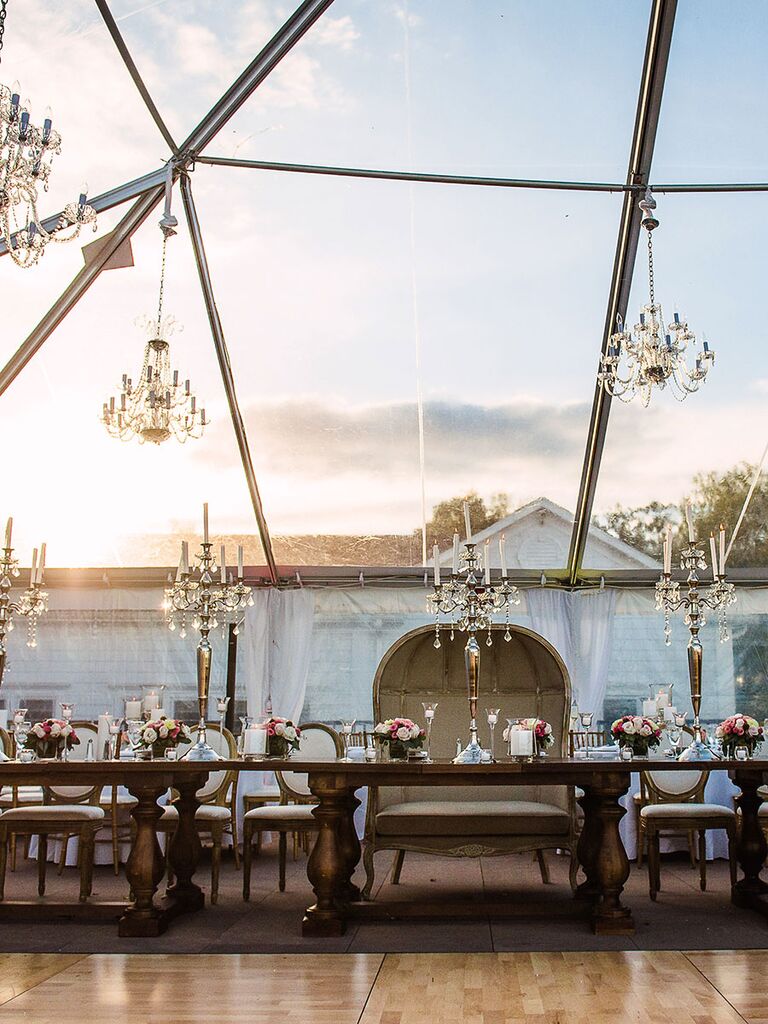 Revolutionize your venue with creative lighting. For example, decorate your rustic venue with decadent chandeliers for a touch of eclectic elegance.
From: A Breathtaking, Romantic Wedding at Trump National Golf Club in Sterling, Virginia
15. Display Towering Tiers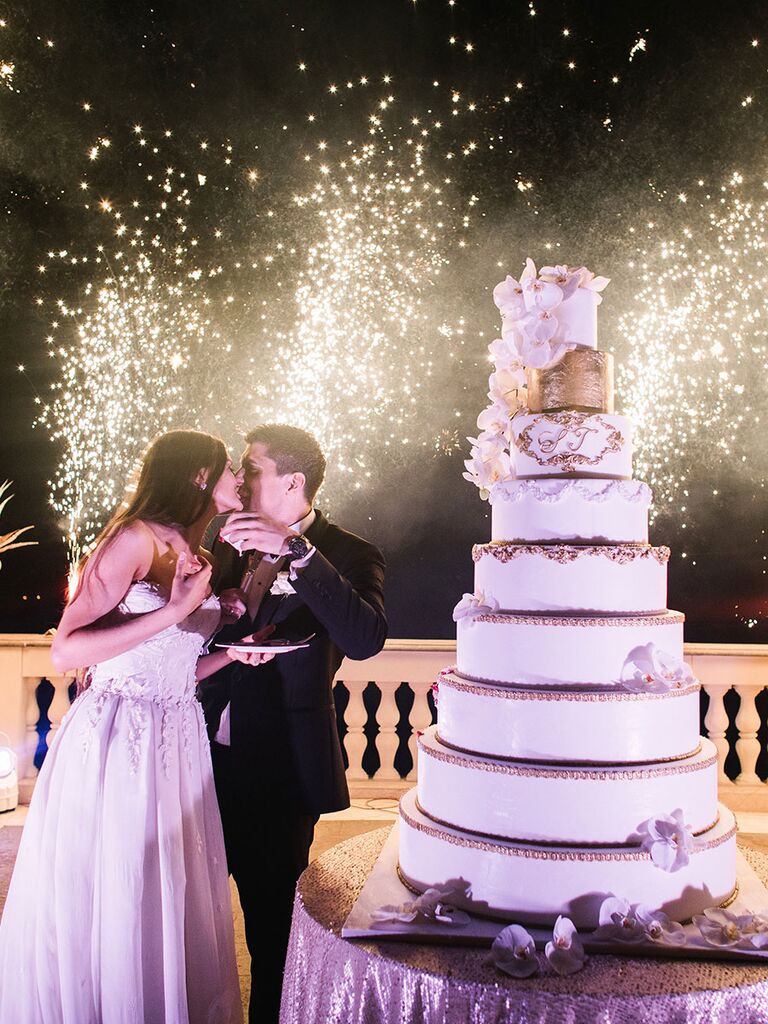 With a large guest list, you have the perfect excuse to take a sky's-the-limit approach to your cake. Talk with your cake baker about creating a multi-tiered masterpiece that steals the show and feeds a crowd.
From: A Glamorous, Romantic Wedding at Villa Miani in Rome, Italy
16. Set Up an Awesome Satellite Bar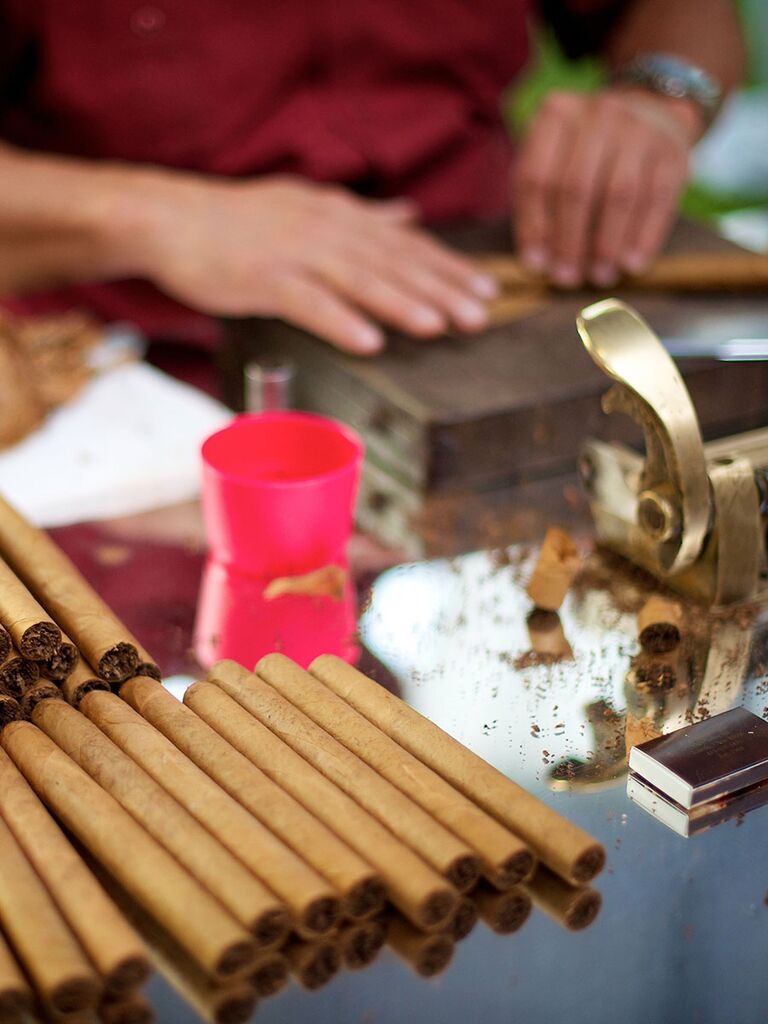 Offer your guests a celebratory surprise with a cigar rolling station during cocktail hour. If cigars aren't your thing, any creative, personal satellite bar idea works too, like a make-your-own prosecco drink station or a tequila tasting bar.
From: A Cascade Hills Country Club Wedding in Grand Rapids, Michigan