How to Transition Your Wedding Colors to a Different Season
From your décor and wedding party attire to your overall aesthetic, it can be done.
Due to the coronavirus pandemic, many spring and summer weddings are being postponed. Warm-weather nuptials are now transforming into fall and winter celebrations, while other couples may be thinking about rescheduling their fall and winter weddings for a different season. If you and your partner initially chose a seasonal wedding color palette, you may be wondering how to make your chosen hues work for your new date. For example, soft pastels aren't usually what you first envision for an autumn celebration, but here's the good news: any colors can work for any season. Your color palette doesn't have to coordinate with the weather. "Do not feel pressured to change your colors to match the season," says Jove Meyer, owner and creative director of Jove Meyer Events. "Go with what makes you happy."
But if you want to adjust your palette to align with the time of year, there are tangible things you can do to make that happen. "When it comes to making any color palette work, it often goes beyond actual color," says Alyssa Longobucco, senior style and planning editor at The Knot. "A lot of hues can work for various seasons if you play with things like texture, flower choice or fabric weight." So, if you're in love with your palette but you're now planning a celebration in a completely different season, don't write your colors off just yet. Consult your vendors (Longobucco says you'll be amazed at what they come up with) or check out these tips from some of our favorite planning experts.
Finally, remember that your wedding colors aren't going to make or break the day. It's OK to be upset about postponing your wedding, says Jung Lee, event architect and founder of Fête. "Take a moment—scream, vent, whatever you need to do to get it out of your system," she says. "Then, try to put it into perspective, and think about all of your great fortunes and feel gratitude. You have found your soulmate and you will be with each other for the rest of your lives—that is not a given in life, and that's an incredible blessing."
Meyer agrees, adding that it's best for couples to focus on the big picture when postponements happen. "Life happens and things go wrong, but do not lose focus of the reason for your wedding: love," he says. "Take deep breaths and approach your challenges one at a time, knowing this is beyond your control and in time it will get sorted out." Read on to see how to make your seasonal color palette work at any time of the year (yes, it really can be done).
Transitioning Spring Wedding Colors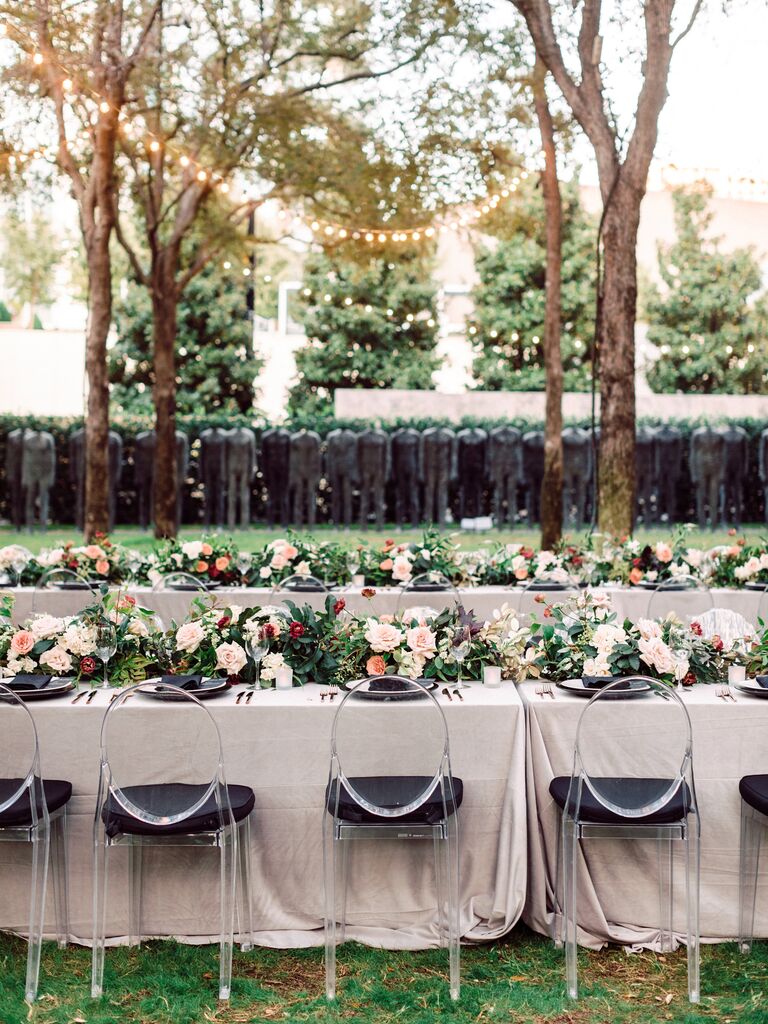 Let's say you picked a pretty pastel palette of blush, blue, yellow, purple or green for your spring nuptials, but now you're exchanging vows in the fall or winter. Not to worry, Longobucco says. "Here's the good news: your spring colors can totally work for fall or winter, so don't panic or think you have to change your whole wedding vibe," she tells The Knot. So, how do you do it? "Dust" everything up, she says. "By adding a slightly gray or tan cast to your pastels, you can make them just moody enough to fit a fall or winter vibe," Longobucco explains. "Think of it like layering a very fine layer of grit over your colors—it sounds weird, but once you compare shades like true blush and a moodier 'dusty rose' (which are both technically pastels), you'll start to understand the difference."
Another simple tip is to think about small accents you can add in to deepen the palette. Lee suggests incorporating darker florals and candle colors to make the palette more versatile. "We also love adding seasonal fruits and vegetables for the décor—split-open pomegranates, purple artichokes, different color grapes or cherries can bolster the season in your décor."
Transitioning Summer Wedding Colors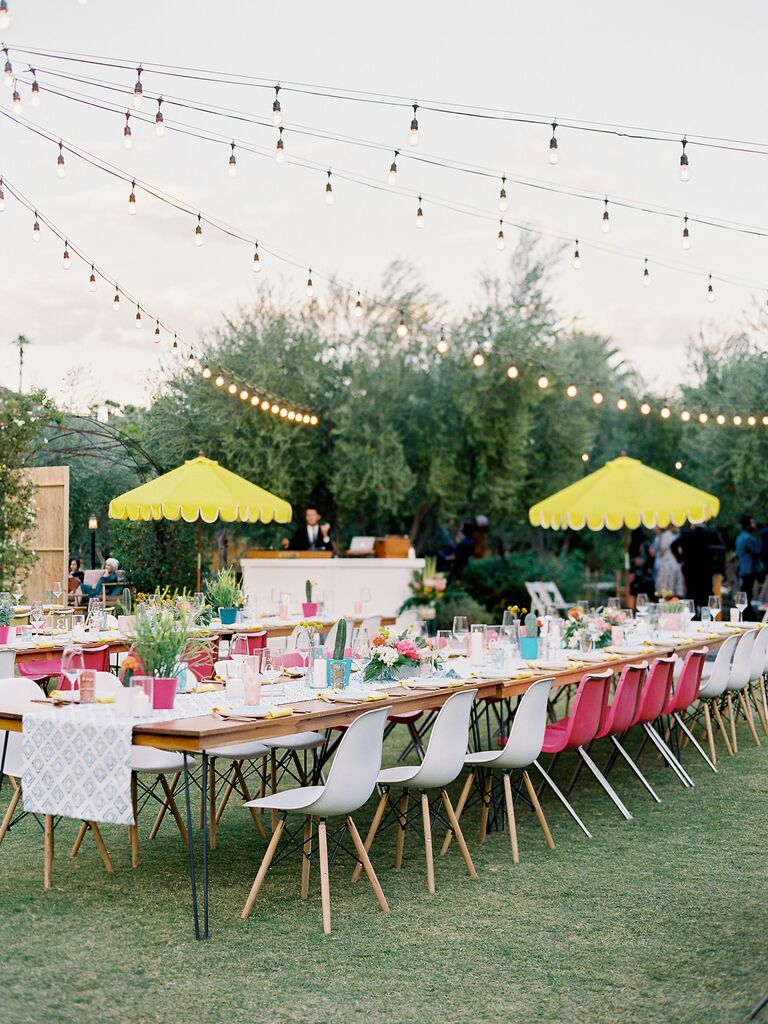 Summer wedding palettes tend to be bold and bright to reflect the sunniest time of year. But you don't have to write off your chosen colors if you're shifting from summer to a different time of year. In fact, Longobucco says that bright palettes are trending year-round. "Bold color is big right now no matter what the season, so chances are the wow-worthy palette you've chosen for summer will still be a hit in fall and winter," she says.
But if you're worried about the colors looking out of place, focus on textures. Longobucco suggests switching out lighter-weight fabrics (like a linen tablecloth) for their heavier counterparts (for example, a wool or velvet style in the same hue). "Other than that, I say bring on the color!"
If you want to take it one step further, Lee says you can deepen the summer colors by adding in more subdued tones. "I actually think a mixture of the brighter colors and a darker floral color would make a nice layer," she says. "Dark-colored candles are an easy change and add instant drama." Lee says she loves oxblood, navy and black candles to add contrast to your color palette.
Transitioning Fall Wedding Colors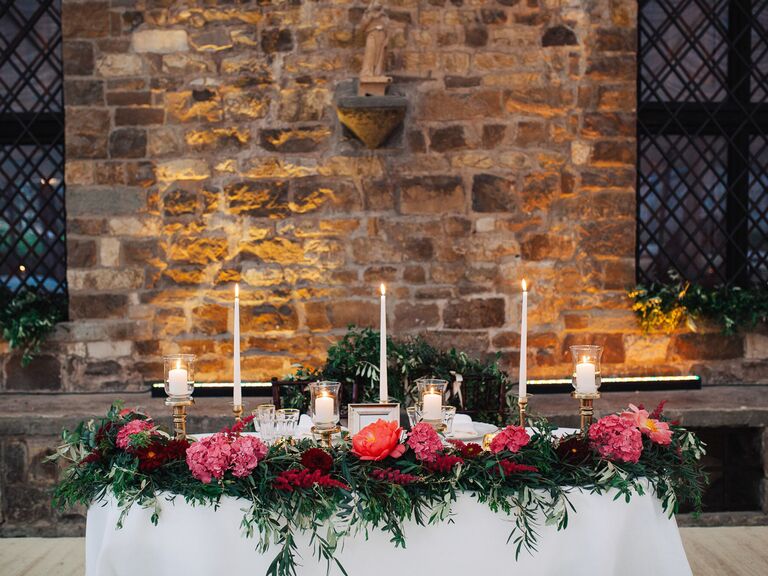 Already planned your autumn wedding? If your color palette leaned heavily into the fall aesthetic, there are ways to transition it to a different season. Switch up the fall colors for a spring or summer wedding by incorporating a bit of vibrancy with one or two pops of a more saturated shade, Longobucco says. "Even a palette of moody greens and burgundy can come alive with a hit of fuschia or pop of teal," she tells The Knot. "With a few lively color accents, no one will know your palette was previously conceived for a different season."
Look to your table décor and florals as places you can inject some brightness into your new season. If you're worried about the colors looking out of place, consult your wedding pros—they'll be able to expertly help you adjust your selected colors.
Transitioning Winter Wedding Colors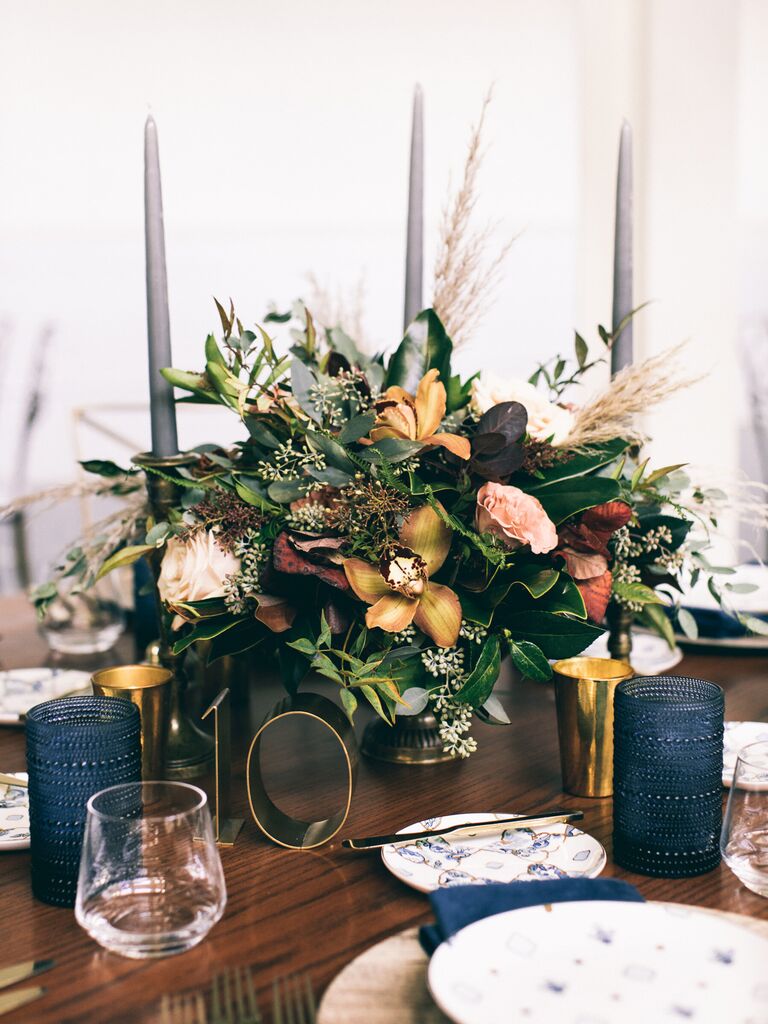 Winter weather makes for a dreamy wedding backdrop. If you've chosen your color palette to complement the colder season, we've got ways to pivot your selections for a different time of year. Longobucco's advice is similar to transitioning fall wedding colors: inject a few hits of color. Brightening up your palette will transform the hues to better match the new wedding season in an effortless and beautiful way. However, going bold and bright isn't the only approach you can take. "If you're finding that a pop of your favorite neon isn't doing the trick, you may want to try adding a warm metallic, like rose gold or copper." The iridescent elements will shine bright in the sunnier weather, and it will make for gorgeous wedding photos.