Hot Wedding Color Combos for Summer
Let these haute hues inspire your wedding planning.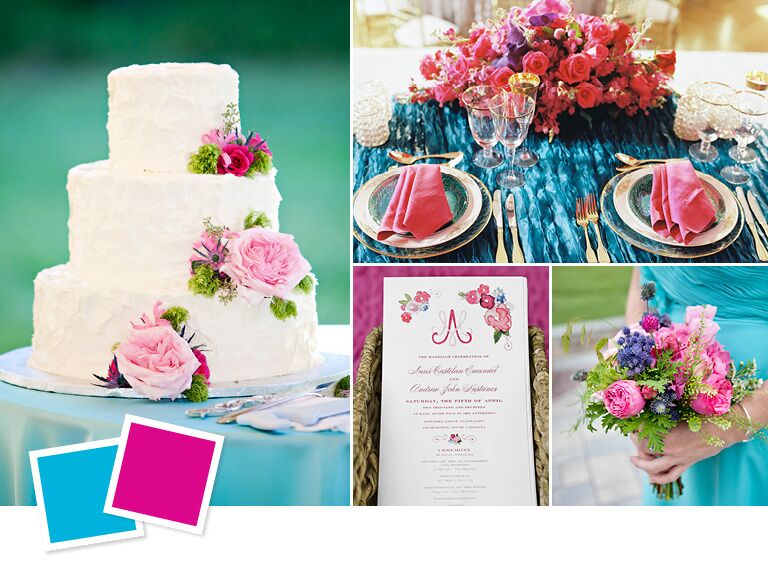 Cake and Bouquet: Click Imagery; Program: A Bryan Photo; Tablescape: Abby Jiu Photography
Summer weddings usually sport the brightest, boldest color palettes—and for good reason. They're sandwiched between a flood of spring pastels and the rich jewel tones of fall. Embrace the hues of the season, or let a favorite metallic lead your color scheme. From preppy to rustic, check out our favorite color combos to inspire your wedding planning.
Bright Blue & Fuchsia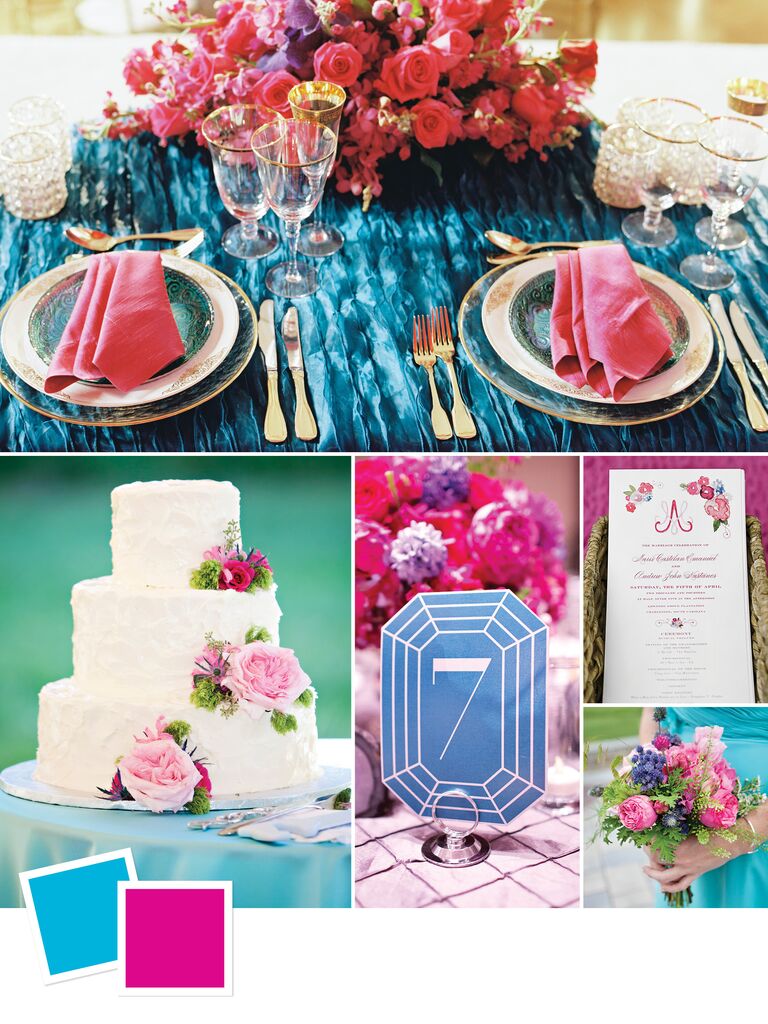 Best for: Edgy tented weddings
Want to throw a vibrant summer bash? Go with a shade of hot pink anchored with a calming blue. A modern graphic on your stationery is a great way to introduce this bold color combo, and it can be carried through the rest of your wedding on ceremony programs, the reception menu and cocktail napkins.
Marigold & Poppy Red
Best for: Fiesta-style weddings
If you're going for a bold and bright color scheme, choose hues that are either complementary (opposite each other on the color wheel) or analogous (next to each other on the color wheel). That way, they'll live in harmony and you won't have to worry about anything clashing. We're in love with the idea of accessorizing your bridal look with a flower crown of poppies or anemones or styling a single red bloom in a lose updo. Colored glassware is a great way to dress up your table without it looking too stiff. The perfect favor? Mini bottles of hot sauce with personalized labels.
Gold & Blush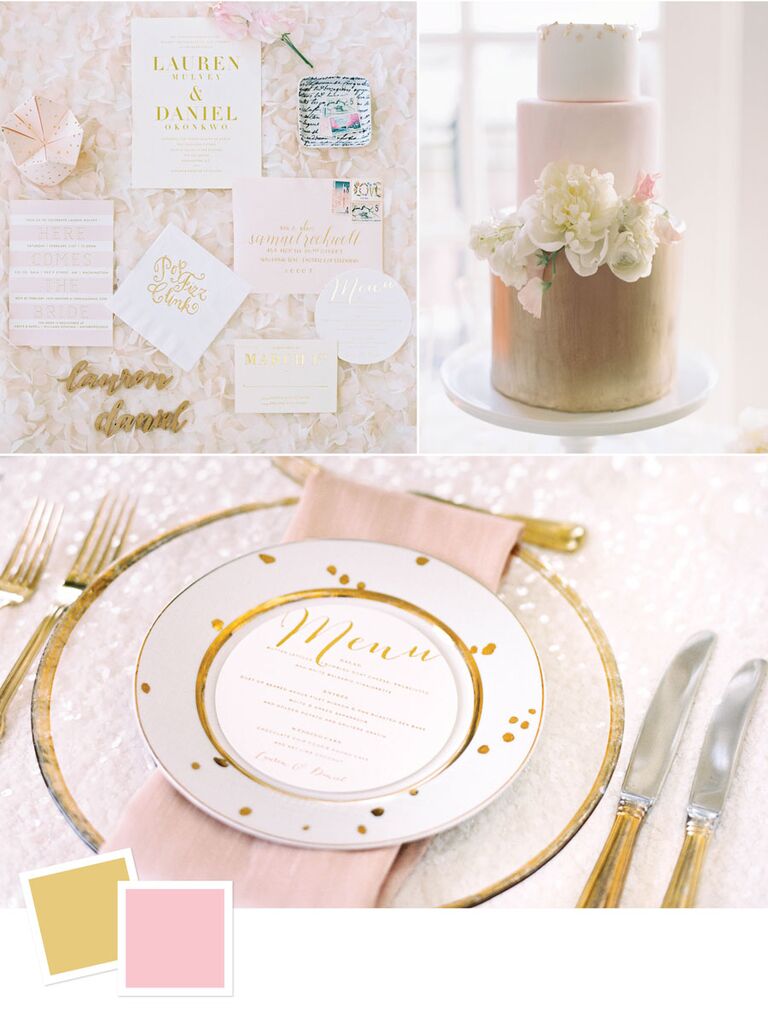 Best for: Formal ballroom weddings
What's more romantic that a barely there palette of light pink and metallic gold? Since the palette itself is so neutral, take risks in other design areas like textures or patterns. For example, drape reception tables in sequin tablecloths, style a linen dinner napkin at each place setting and have ruffled beaded tablecloths on accent tables like a dessert display or in a lounge area.
Ice Blue & Pistachio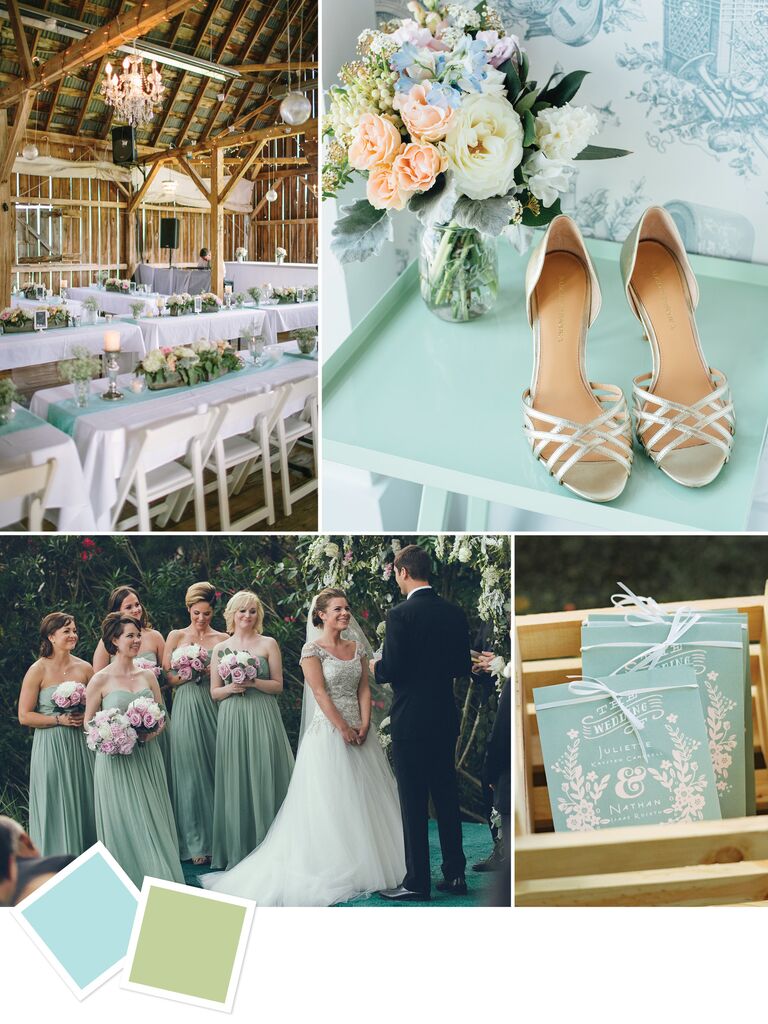 Best for: Lakeside weddings
Let the wedding party attire inform the formality of the event: floor-length gowns or cocktail-style dresses can push the party vibes in the direction you want them to go. Same for the groomsmen—suits or dress pants and a button-down? This color palette would excel in either environment. Blue florals are limited, but delphiniums and globe thistle both grow in a beautiful natural blue hue and they're perfect for a rustic outdoor wedding.
Pink & Pale Green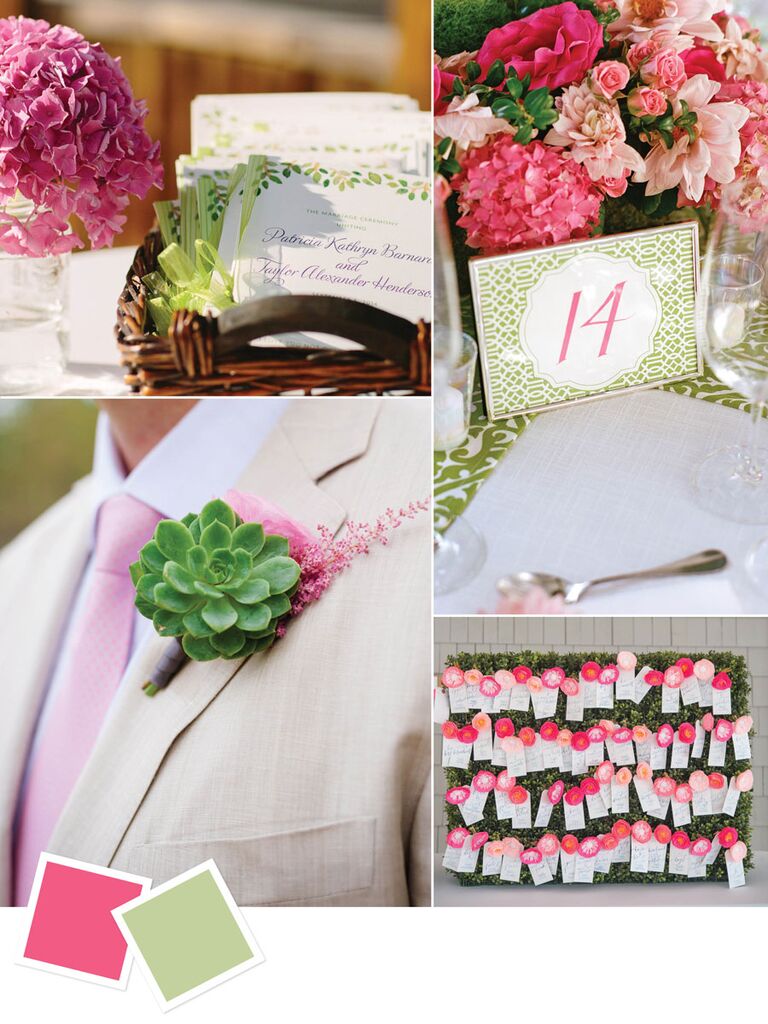 Best for: "Kate Spade" wedding
Harness the power of the peony for this preppy affair. The key to really making it your own is to incorporate some fun graphic prints that add intrigue to the feminine color palette. If a flower-filled venue is out reach (budget-wise), get creative with moments of paper flowers, like for your escort card display or as an arrangement behind the bar. As for the cake, a naked confection would be right in step, with a few fresh blooms propped on top in lieu of traditional cake toppers.
Dove Gray & Ecru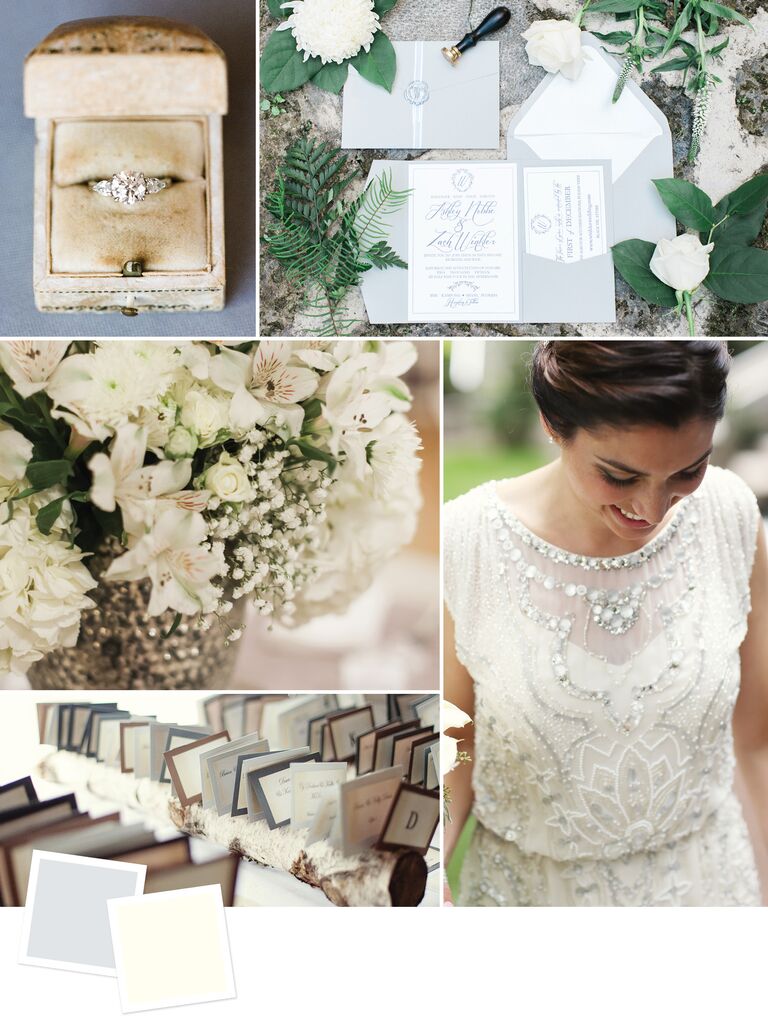 Best for: Upscale rustic weddings
Since this color combo plays so well with natural elements like birch and greenery, let Mother Nature flirt with your theme. For starters keep your invitations simple, but opt for paper that has a bit of a texture to it, like bamboo. For the reception, incorporate birch wood in your escort card display or get crafty and use it in your centerpieces. Glitz up the décor with mercury glass accents and go for all white florals with lush greenery to make full, glamorous arrangements.
Lemon & Watermelon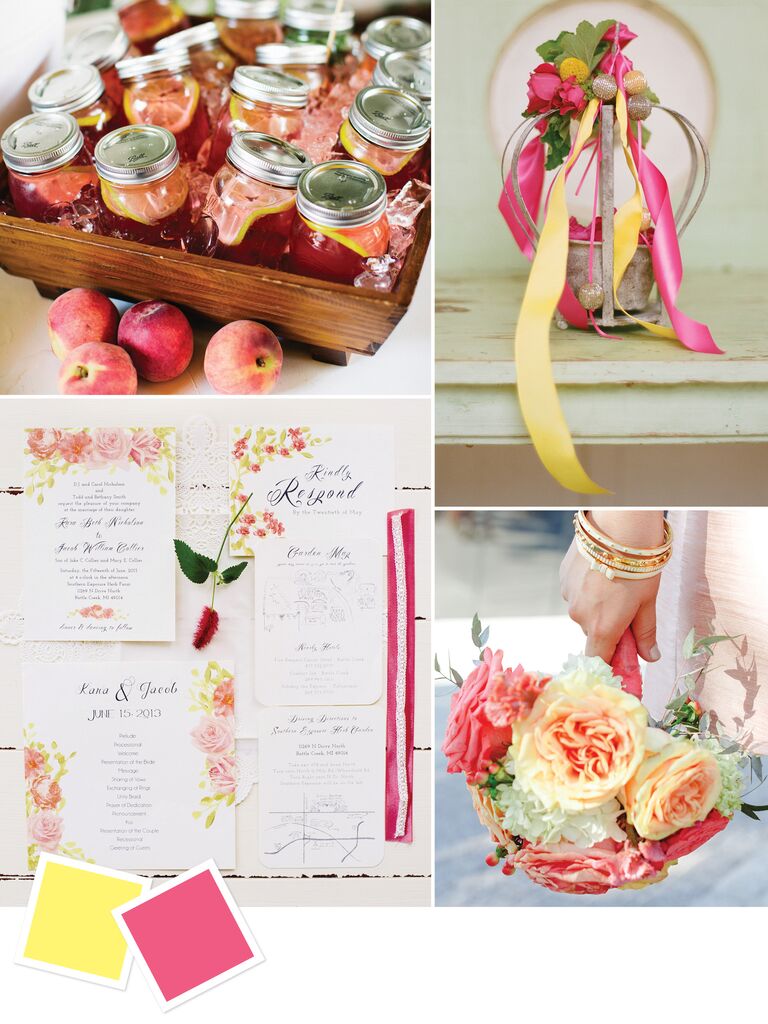 Best for: Preppy garden wedding
Happy wedding color palettes are our favorite, and this combo is downright cheerful. There are endless floral varieties that pair well together in pink and yellow hues, which is why this color pairing lends itself perfectly to a botanical or garden-themed celebration. Start with some pops of color on your invites and carry it straight through to the reception. Lemon garnishes in pink cocktails is a great way to add color to the cocktail hour.
Red, White & Blue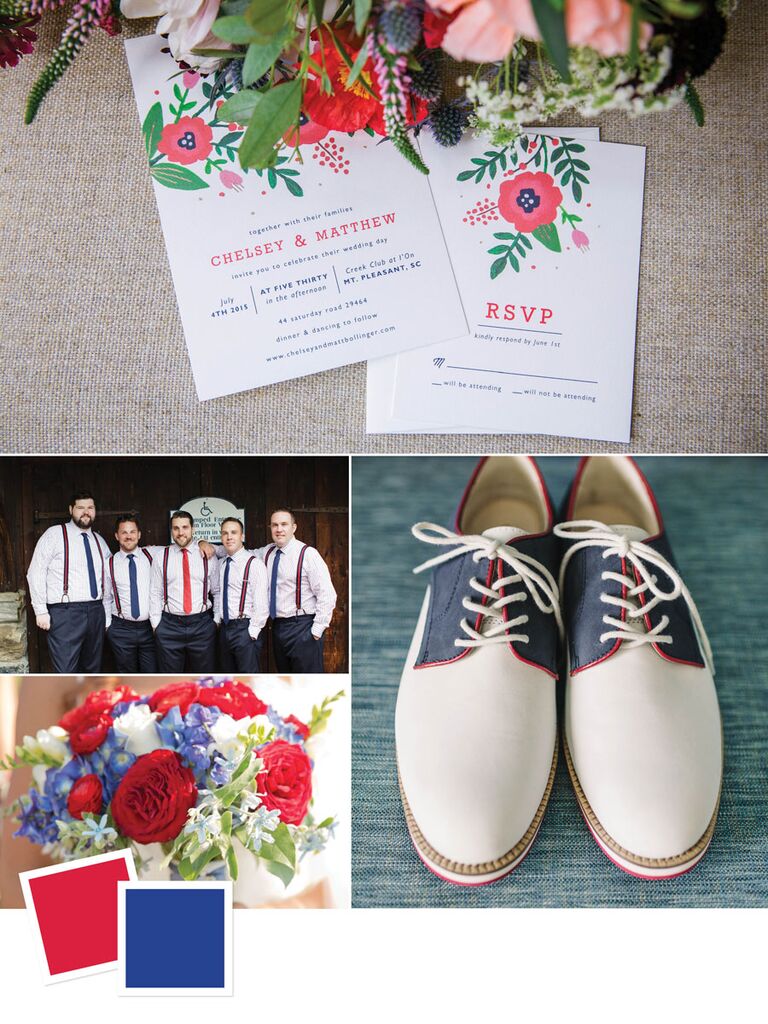 Best for: Backyard weddings
Summer wedding color inspiration wouldn't be complete without a patriotic palette of red, white and blue. But don't worry—paying homage to America doesn't have to take away from your personal style. Lean on a few fashion pieces, strategically colored stationery and some Fourth of July food staples like fruit kabobs and mini sliders to get the message across. The perfect final detail? End the night with a sparkler-filled grand exit (or, if you really want to impress, fireworks).
Navy & Sage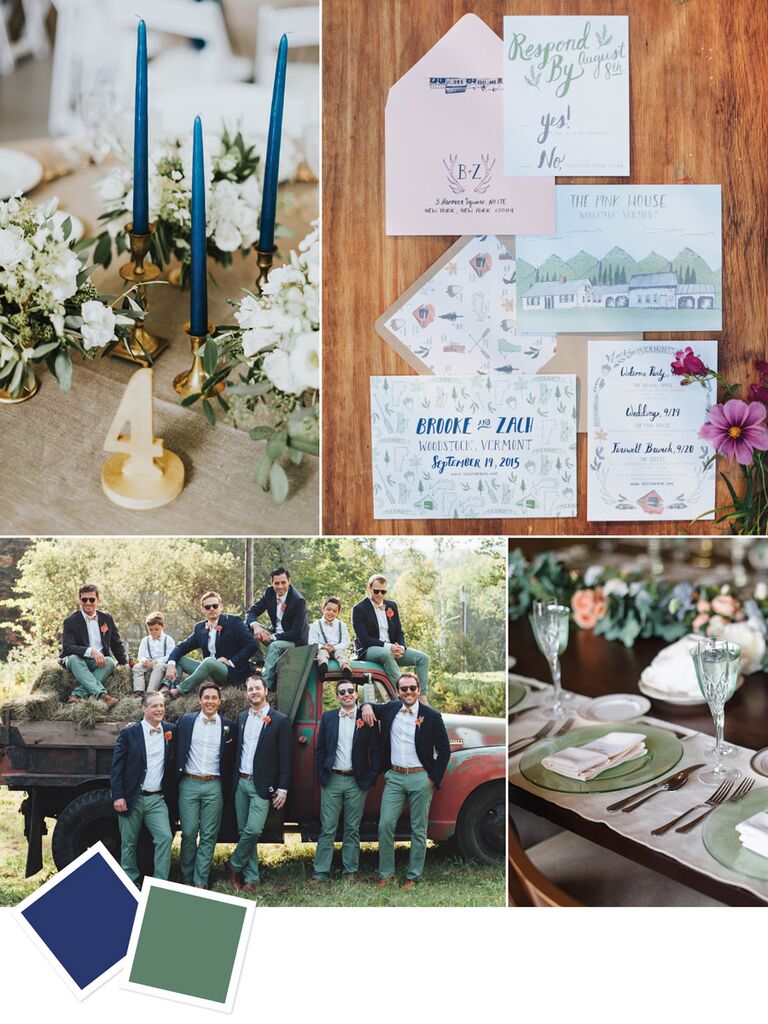 Best for: Camp weddings
Is your summer wedding teetering on the beginning of fall? Embrace a sultry combo of dark sage green and navy. Lean on lighting and pops of metallics to brighten up the palette, like tall taper candles and bistro string lights with gold centerpiece vases or footed pedestals. Play up the greenery in floral arrangements and dress your wedding party in a rich navy—because everyone looks good in blue.