17 Summer Wedding Color Combinations Inspired by Sunny Days
Brighter sunshine = brighter colors.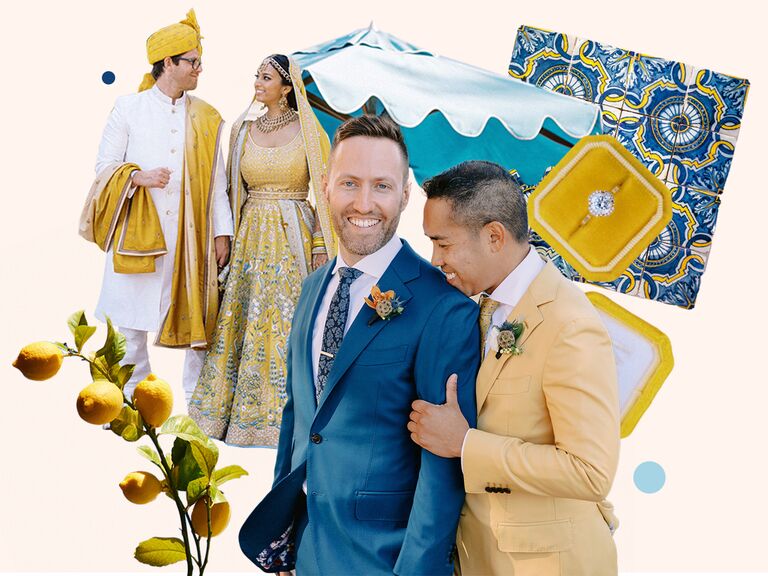 Ryan Greenleaf Photography, Kyle John Photography, Getty / Design by Tiana Crispino
Summer wedding colors usually involve the brightest and boldest of palettes—and for good reason. They're sandwiched between delicate spring pastels and rich jewel tones of fall, which makes the summer season the best time of year for vibrant hues to really step into the spotlight. Embrace the abundant sunshine, warmer temperatures and happy energy of long summer days with these summer wedding color schemes for every style.
In this article:
What Colors Are Ideal for a Summer Wedding?
Your wedding colors should primarily reflect the theme or aesthetic of your event, but you can also pull inspiration from your wedding season. During the summer months, turn to colors inspired by nature and sunny days, like blue, yellow, orange, pink and green.
If your wedding takes place on the cusp of summer, you can incorporate colors from the adjacent season for a transitional palette. Early summer weddings in May and June could include some spring colors, such as lilac, pale yellow, coral and periwinkle. Late summer weddings in August and September can incorporate rich fall colors, such as terracotta, brown or burgundy.
Summer Wedding Color Ideas
Ready to start brainstorming ideas? Use these real-life examples of our favorite summer wedding color palettes to get inspired for your own celebration.
1. Pink, Yellow & Orange Wedding Colors
Like rainbow sherbet for your wedding day. This summer wedding color palette is filled with sunshine-inspired hues to bring all the good vibes and whimsy to your celebration. Because pink, yellow and orange are on the same side of the color wheel, they automatically look amazing together. Bring in hints of white flowers or fresh greenery to add a bit of contrast.
2. Blue & White Wedding Colors
Take a classic approach with these elegant summer wedding colors. Blue and white are a timeless pairing, and this duo is stylish for so many different wedding themes, whether you're having a relaxed beach wedding or a formal garden ceremony. Use a variety of light and dark blues, then add other details, like chinoiserie vases, monogrammed wedding stationery and white hydrangeas (a must).
3. Boho Neutral Wedding Colors
Neutral wedding colors are ideal for achieving an earthy, boho look, especially when you incorporate elements like pampas grass, rattan accents and gold or bronze details. We love this palette for a summer beach wedding—it won't detract from the surrounding scenery and natural beauty of your venue.
4. Hot Pink & Green Wedding Colors
Throw a tropical-themed wedding with the help of these punchy wedding colors. Hot pink gives the palette a fun boost, while shades of green can be incorporated through palm leaves, monstera leaves or fern fronds. You can consider adding an accent color, like yellow or purple, or keeping the pink and green combo as-is.
5. Yellow & Navy Blue Wedding Colors
Draw inspiration from the Mediterranean coastline with a lemon yellow and navy blue color palette. This pairing is a popular summer wedding color palette for destination weddings and Italian-inspired themes. Don't forget the lemon-filled centerpieces and limoncello favors.
6. Blush Wedding Colors
Blush is one of the rare wedding colors that actually works for any season because you can tweak it depending on the time of year. For the summer months, pair blush tones with yellow, light green and bubblegum pink for a pretty summer wedding color palette that's sweet and romantic.
7. Primary Wedding Colors
A palette of primary colors—yellow, blue and red—is unique and unconventional, which makes it the perfect choice if you don't want your special day to look like the average wedding. Stick to accent colors that are variations of your three main colors, such as orange and green.
8. Black & White Wedding Colors
If you're planning a formal summer wedding, look no further for your color palette. Black and white are iconic for a reason—this duo evokes sophistication anytime, anywhere. Soften this high-contrast pairing with seasonal elements like greenery vines, beautiful garden roses and hints of blush or light blue.
9. Fuchsia Wedding Colors
It's no secret that pink is one of the most popular wedding colors of all time, but the supersaturated tones, like fuchsia and magenta, are made for the summer season. Even better: you'll find plenty of in-season summer flowers to match this zesty color, including roses, peonies, proteas and dahlias. This escort card display is draped with bright fuchsia bougainvillea inspired by the Greek islands.
10. Bright Neon Wedding Colors
Can't limit yourself to just one or two summer wedding colors? Use them all for an extra-colorful celebration. The key to nailing this color palette is not holding back—embrace the maximalist mindset with unexpected decor details, like neon signs and hanging installations to fill every corner of your venue.
11. White & Ivory Wedding Colors
Go ultra-chic with a color palette of white, ivory and cream. Summer whites are sophisticated and cool—plus, they present an opportunity to focus on interesting textures and details instead of mismatched colors. Consider asking your guests to follow an all-white wedding dress code if you really want to lean into the trend.
12. Turquoise & Yellow Wedding Colors
Pair eye-catching turquoise or teal with an equally cheerful yellow hue for a playful vibe. To prevent this summer wedding color palette from feeling overly two-toned, mix in hints of green, gold and navy blue, or add natural wood accents for a slightly rustic twist.
13. Lilac & Lavender Wedding Colors
Transition from late spring to summer with light purple hues. Fill your wedding arrangements and decor with fragrant purple flowers, like wisteria and fresh lavender, to complement the color palette.
14. Soft Rainbow Wedding Colors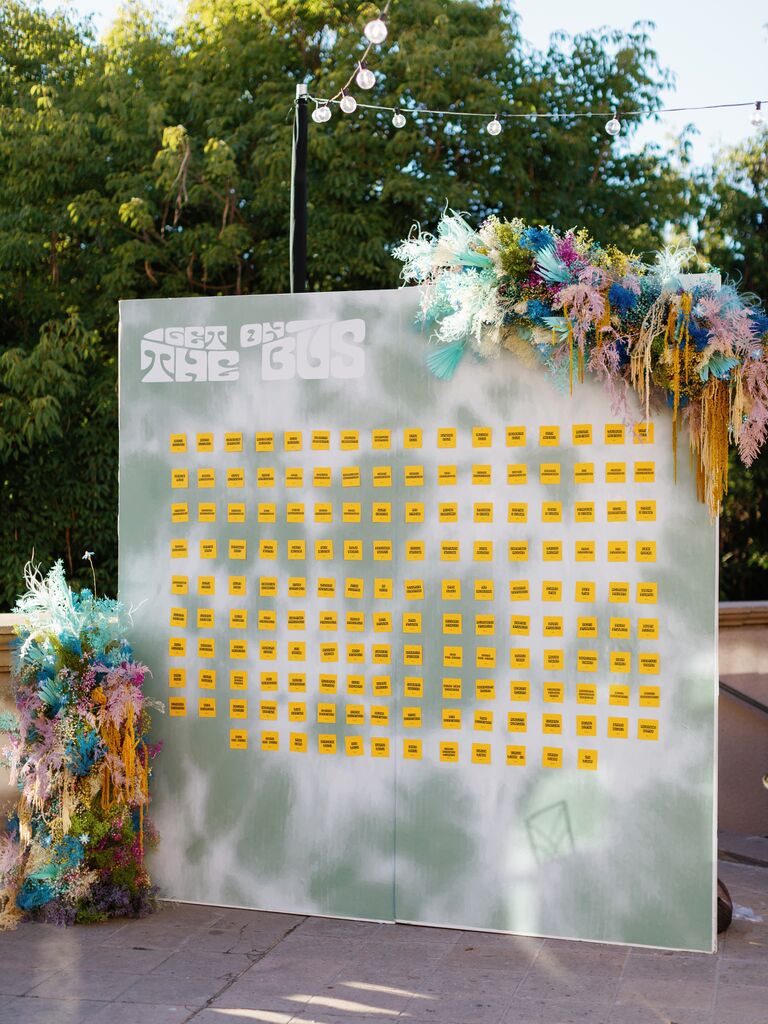 Whimsical and eclectic, this summer wedding color scheme is perfect for a low-key backyard reception. Choose one or two standout colors, like this bright yellow, and pair it with slightly muted accent colors, such as mauve, sage green or dusty blue.
15. Red, White & Blue Wedding Colors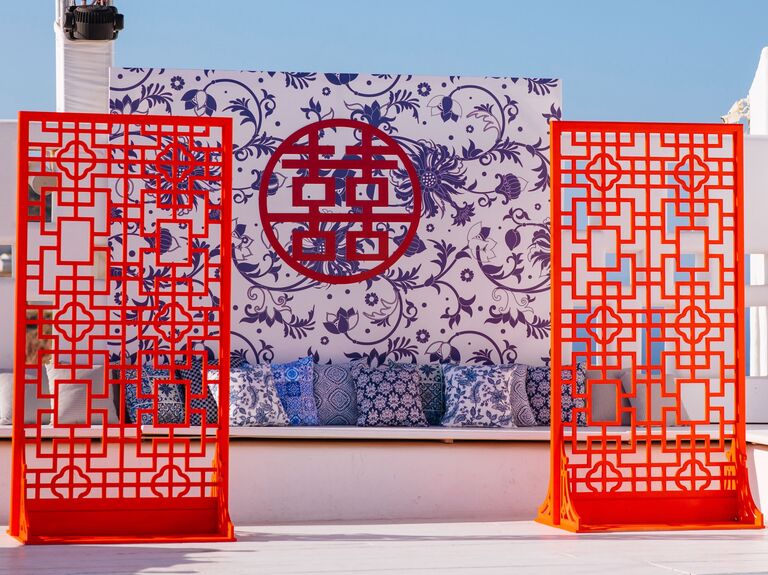 Getting married around Memorial Day, July 4th or Labor Day? A red, white and blue wedding color palette can help you boost the festive mood. There's no need to limit yourself to stars-and-stripes-themed decor—the colors alone will add enough Americana flair.
16. Orange Wedding Colors
Orange is admittedly one of the more complicated summer wedding colors to pull off, but you can ace it with the right styling. Pair soft coral with darker tangerine orange and yellow for an intense, fiery look (hello, Leo season), or add pink and purple for a Barbiecore-inspired palette.
17. Lime Green Wedding Colors
Citrus-inspired hues are always good colors for a summer wedding in our book, and lime green is no exception. This color is bold enough to stand on its own with white as the accent color, but you can also pair it with yellow or blue depending on your theme. Next up: mini margs with sliced limes.