9 Wedding Day Purse Essentials You Can Buy Right Now
You'll definitely want these things on hand during your reception.
We have included third party products to help you navigate and enjoy life's biggest moments. Purchases made through links on this page may earn us a commission.
As far as we're concerned, you should be totally carefree (and hands-free) on the dance floor at your wedding reception. But when it comes down to it, you'll likely want some essentials on hand throughout your nuptials—and that probably entails carrying a wedding day purse.
While some brides may opt to give their maid of honor a wedding day emergency kit, others might like to keep their necessities on-hand. No matter what you prefer, you'll want to have quick access to must-have items in case you need to touch up your makeup look or handle an unexpected fashion crisis.
If you do choose to carry a wedding day purse, there are plenty of photogenic options. But if you're concerned about keeping track of your handbag throughout the day, don't stress. Ask a designated person—like your mother or maid of honor—to hold on to it.
As you browse the internet for your dream bag, don't forget to also shop for the must-have essentials that you should stash inside. Check out our roundup of all the items you need to have in your chic clutch below.
1. Lip Balm
Even if your bridal beauty look doesn't include a bold lip, you'll still want to wear some sort of gloss or balm. (If you choose to wear a bright color, be sure to keep that shade on hand from the time you get ready until the party ends.) You'll be sipping cocktails, smooching cheeks and snacking on appetizers throughout the evening (not to mention kissing your spouse), so it's important to take care of your lips. A lip balm—tinted or not—will keep your pout shiny and moisturized all night long.
This glossy lip balm from Kopari is an editor favorite. Not only does the coconut-infused formula give your lips a satin finish, it's safe to use over liquid lipstick, meaning you won't lose any of the gorgeous color that you already swiped on.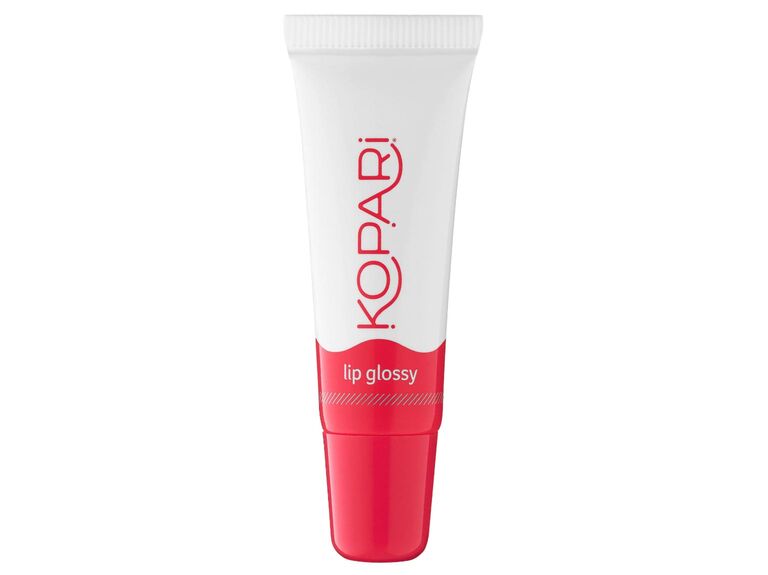 Kopari coconut lip glossy, $13, Sephora.com
2. Compact Mirror
Is there anything worse than realizing you have spinach in your teeth after mingling with people all day? Play it safe by carrying a mini mirror to check. And while we hope your spouse or wedding party would tell you if you have rogue makeup on your face after shedding happy tears, you probably won't have a chance to run to the bathroom for a mirror check every five minutes.
Not only is this personalized compact mirror perfect for you to use, it also makes a great wedding day gift for your wedding party. Each can be personalized with a name or a title (like "bride" or "bridesmaid"), and it's tiny enough to fit into any wedding day purse.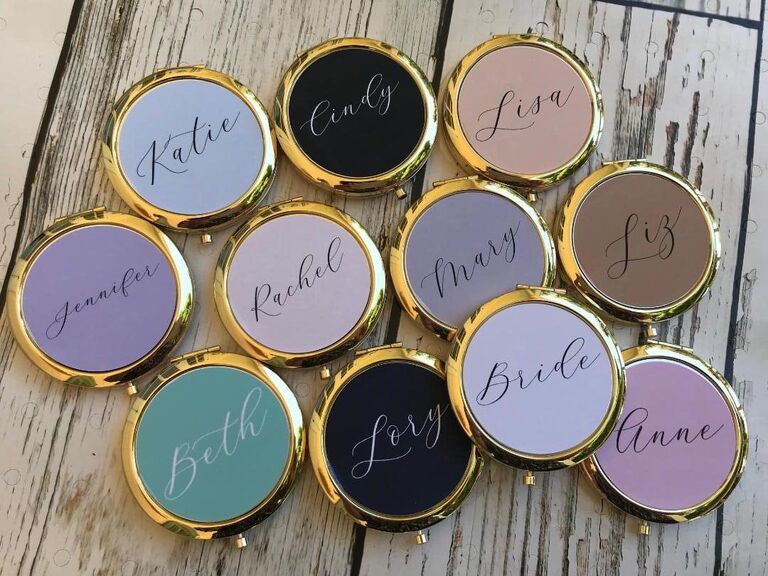 Anne Fannie compact mirror, from $11, Etsy.com
3. Gum or Mints
Yes, you'll be kissing your spouse from the moment you say "I do" to the moment you make your exit. But you'll also be mingling and making small talk all night long. We always recommend making time for each and every one of your guests, so make sure your breath is fresh in between conversations. If anything, it'll make you feel less self-conscious after snacking on garlic chicken satay during cocktail hour.
When picking out a pack of mints or gum to throw in your wedding day purse, you'll want the packaging to be small so it fits alongside the rest of your essentials. This find from Amazon is compact and it comes in a pack of nine, making it a great option for your bridesmaids too.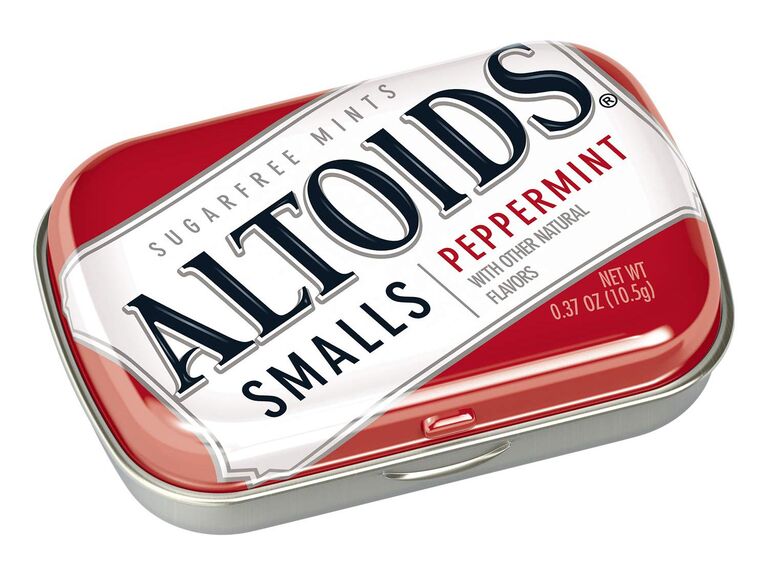 Altoids Smalls peppermint breath mints, $10 for pack of nine, Amazon.com
4. Stain Remover Stick
A wedding reception is (ironically) a dangerous place for a pristine white dress. Between the cocktails, the potentially messy appetizers and hugs from family members with full faces of makeup, there are plenty of opportunities for unexpected stains. Err on the side of caution by having a small stain remover stick accessible during the reception.
We recommend keeping a product like Tide-to-Go on hand to handle any unexpected stain crises. An added bonus? This particular find is miniature sized, making it an easy addition to your purse.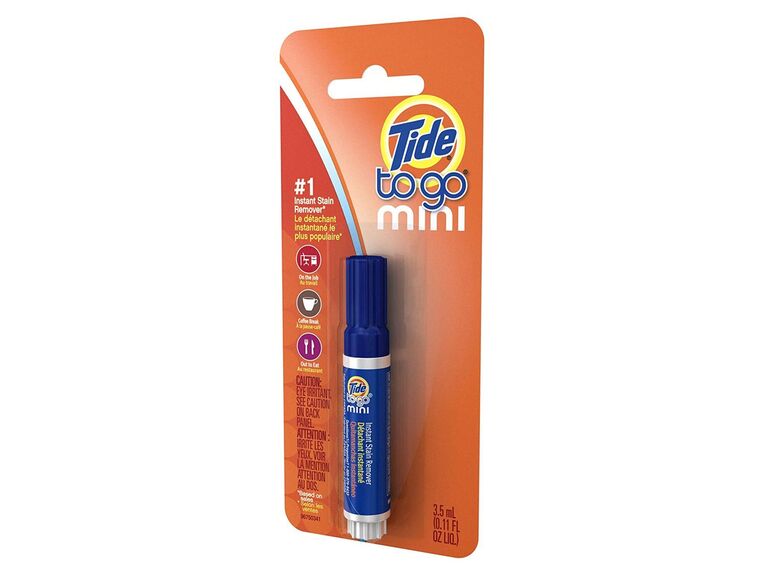 Tide Tide To Go mini instant stain remover pen, $13 for pack of two, Amazon.com
5. Tissue or Handkerchief
It goes without saying that you're likely to cry (possibly more than once) on your wedding day. Be prepared by carrying tissues or a personalized hankerchief so you can blot your own tears and those of your spouse if need be.
Stock up on pocket-sized tissue packs like this set from Amazon. If you have space for it in your wedding day purse, keep a few others on hand to pass out to your friends and family members who may need some too.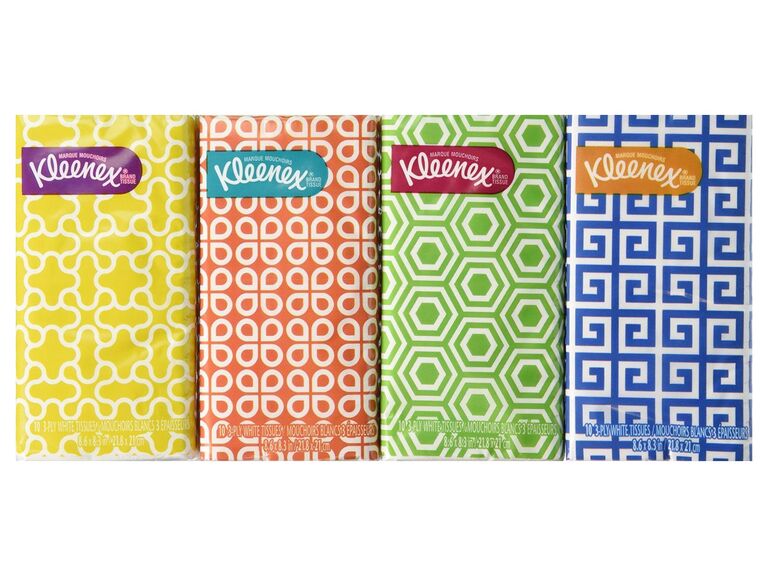 Kleenex white facial tissues pocket pack, from $8, Amazon.com
6. Phone
Unplugged ceremony or not, you will feel at ease by having a cell phone nearby in case your maid of honor needs to make any important calls during the day of the wedding. And while your photographer will be snapping away all night long, you never know when you'll want an impromptu selfie for your epic hashtag or Snapchat filter.
7. Portable phone charger
Given the chance that you (or your bridesmaids) will be snapping photos and Boomerangs on your phone all night long, you'll want to make sure your battery doesn't die. Having a portable phone charger in your purse will ensure that you don't miss all the Instagrammable moments of your wedding day, from the dance party to the late-night food truck.
Not only is this portable charger from Amazon lightweight, it also has the power to charge an iPhone six times.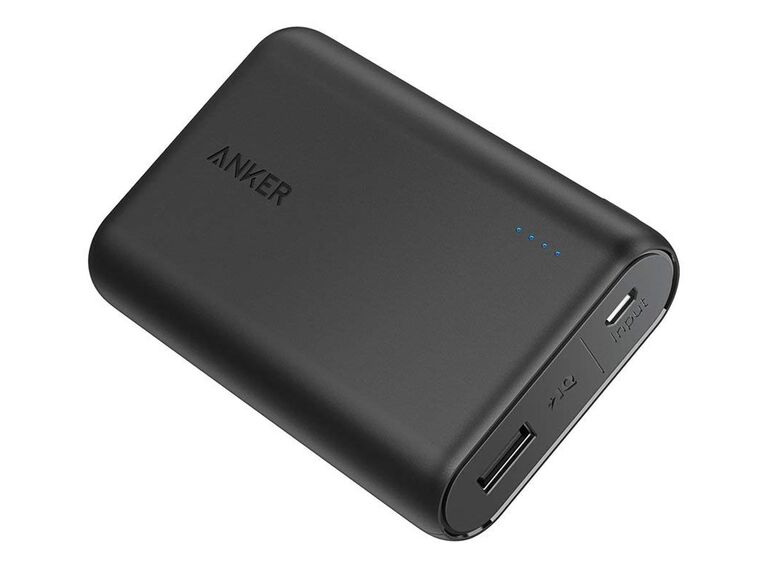 Anker PowerCore portable charger, $50 for black, Amazon.com
8. Powder or Blotting Paper
This is especially vital for outdoor spring and summer weddings where the temps are high. No matter how on-point your makeup is, you'll be dancing and likely sweating (unfortunately). To look your best and avoid any unwanted sheen in pictures, have blotting papers or powder available for touch-ups.
We love this affordable pack of blotting papers from Sephora because each sheet is infused with natural tea tree oil. The calming effect will help keep your skin looking its best, especially if you get flushed easily.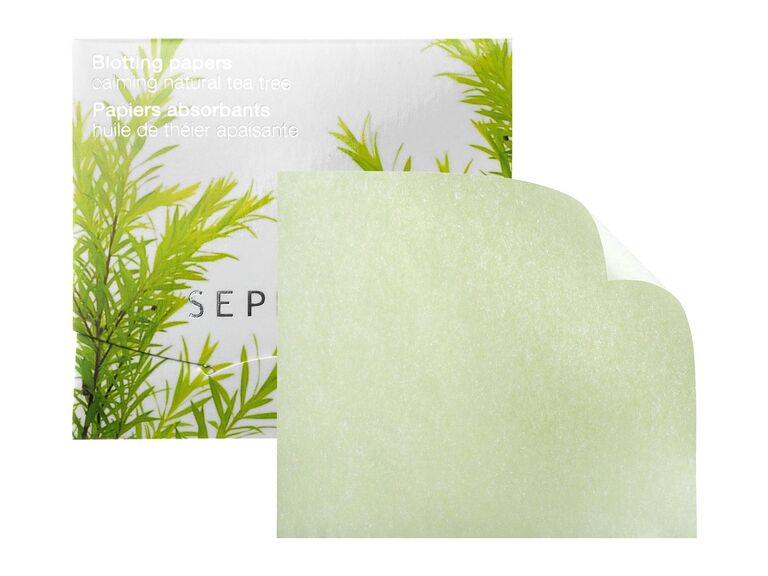 Sephora Collection blotting papers in calming natural tea tree, $8, Sephora.com
9. Safety pins
From the second you put your wedding dress on, you'll be moving nonstop, all day long. Between hugging your friends and family and breaking out your best dance moves, there's a chance that you might encounter a wardrobe malfunction. Make sure you have a few safety pins in your wedding day purse so that your maid of honor or your mom can quickly fix an unexpected debacle.
This pack of safety pins comes with 200 pieces. Throw a few in your bag and make sure your bridesmaids have some on hand, too. That way, everyone will be prepared to tackle an unforeseen dress dilemma.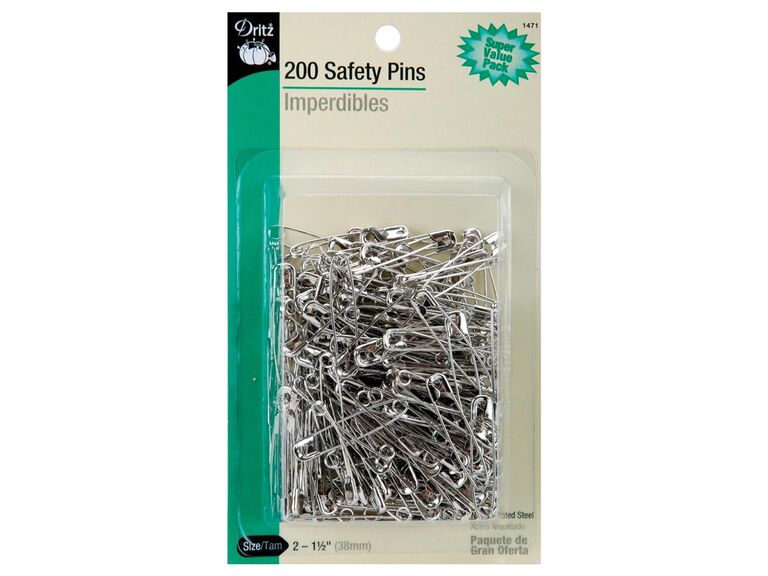 Dritz 200-count safety pins, $8, Amazon.com