Dive Into the World of Mermaid Aesthetic With These 26 Wedding-Worthy Looks
Mermaidcore is making a big splash on the internet, and for good reason.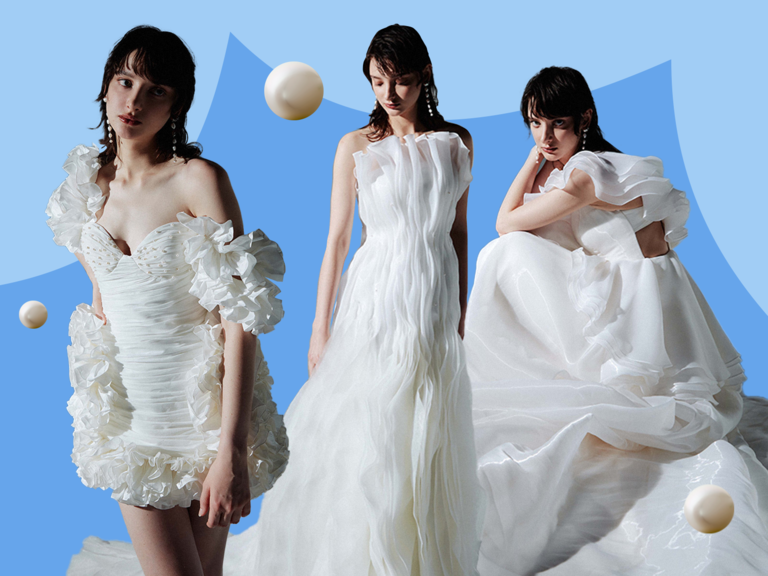 Photos: Sébastien Luke,Design: Tiana Crispino
We have included third party products to help you navigate and enjoy life's biggest moments. Purchases made through links on this page may earn us a commission.
Go ahead, get your Pinterest boards ready—there's yet another viral aesthetic making a splash on the internet, and the best part is that it's totally wedding-worthy.
Mermaid aesthetic, a.k.a. 'mermaidcore' started trending again following the release of The Little Mermaid and recent buzz about Dua Lipa's character in the upcoming Barbie movie. Of course, if you grew up in the early 2000's you know that the sea-inspired style has actually been around since the era of Aquamarine and H20: Just Add Water.
For 2023 brides looking to combine whimsy with a bit of Y2K nostalgia into their wedding day look, the resurgence of the mermaid craze comes at just the right time. Keep reading to dive deep into the ocean-inspired world of mermaidcore and the different ways you can rock the aesthetic for your nuptials. Then, check out our guides to other viral trends like Regencycore, pearlcore and cottagecore to get more inspo for your big day.
What is Mermaidcore?
At its surface, mermaidcore is a style which draws inspiration from the mythical creatures and other oceanic elements, but for those who daydream about what it would be like to explore the depths of the sea, it's much more than that.
"The 'mermaidcore' aesthetic is escapism at its best. It carries an inherent sense of childhood nostalgia, for the times when we would dream up our own fantasies to revel in," says fashion designer, Michael Fausto.
It's safe to say Fausto knows a thing or two about the viral trend given that he recently had the opportunity to design custom looks for The Little Mermaid actress, Halle Bailey, which she wore during the movie's press tour.
"What's most exciting about mermaidcore, is its fluidity (pun intended) in being interpreted by myriads of people and incorporated into their own personal style. From shell-shaped purses to siren-like ruffled dresses, it's almost reminiscent of playing dress-up, and I think that people are leaning into the joy and fantasy of that,'' Fausto adds.
Mermaidcore is certainly a buzz-worthy term on the internet right now, but Fausto believes that to-be weds who choose to incorporate the aesthetic into their big day should do so because it speaks to the story they want to tell, rather than because it's trending. After all, your wedding day is a chance to add layers to your own unique and personal fantasy.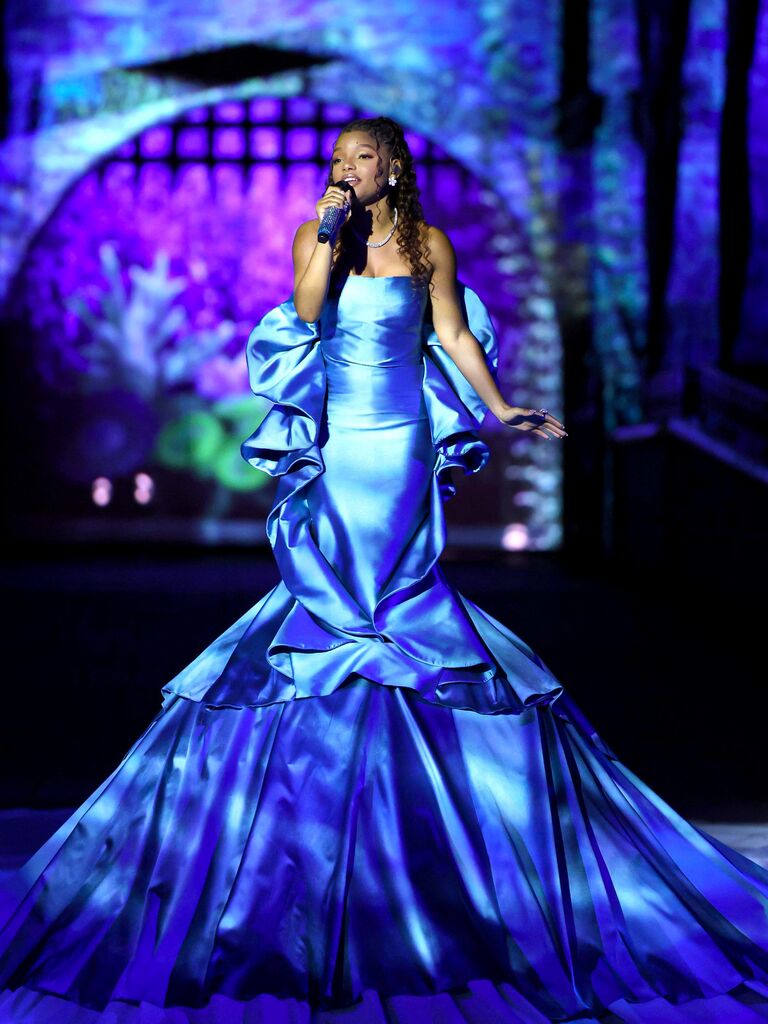 Mermaid Aesthetic Elements To Know
So what elements best represent mermaidcore when it comes to fashion?
"I always find myself drawn to the various exciting textures that can evoke images of the sea. Whether it be a rich coral bed or the swells of a storm, nothing about the sea is flat! And so, it's best to find components that can add depth to your look while also feeling organic," Fausto says.
For brides hoping to embrace mermaidcore for their wedding or pre-wedding festivities, there are a few other key things to look for in a dress, which we're outlining here:
Shells & Seaglass
Jewelry made from shells and seaglass (or seaglass-inspired beads) fit perfectly within the mermaidcore aesthetic. We like to imagine that mermaids would probably spend their days collecting similar ocean treasures.
Pearls & Iridescence
As one of the ocean's greatest accessories, pearls are an essential part of the mermaid aesthetic. On your wedding day, you can embrace minimalism with all-over pearl embellishments, or go a more minimalist route with a streamlined iridescent silk gown. Either way you spin it, the world is your oyster (sorry, we had to) when it comes to this trend.
Crochet
While fishing nets are certainly no friend to mermaids in the sea, when it comes to fashion, they're fair game. Crochet, especially when loosely woven, can offer a nautical look, as it appears similar to netting, thus lending itself nicely to the overall mermaid look.
Mermaid Color Palette
The mermaid color palette includes aquatic hues such as turquoise, seafoam green and lavender—basically, any color you might encounter while exploring underwater. According to Fausto, as mermaidcore continues to trend, we should expect to see more blues make their way into everyday attire and menswear as well.
Mermaidcore Accessories: Jewelry, Crowns, Clips & More
The key to capturing a mermaid aesthetic? Accessorizing. Keep reading to discover our favorite sea-inspired pieces, from jewelry, to tiaras and everything in between.
Jennifer Behr Primavera Hairpins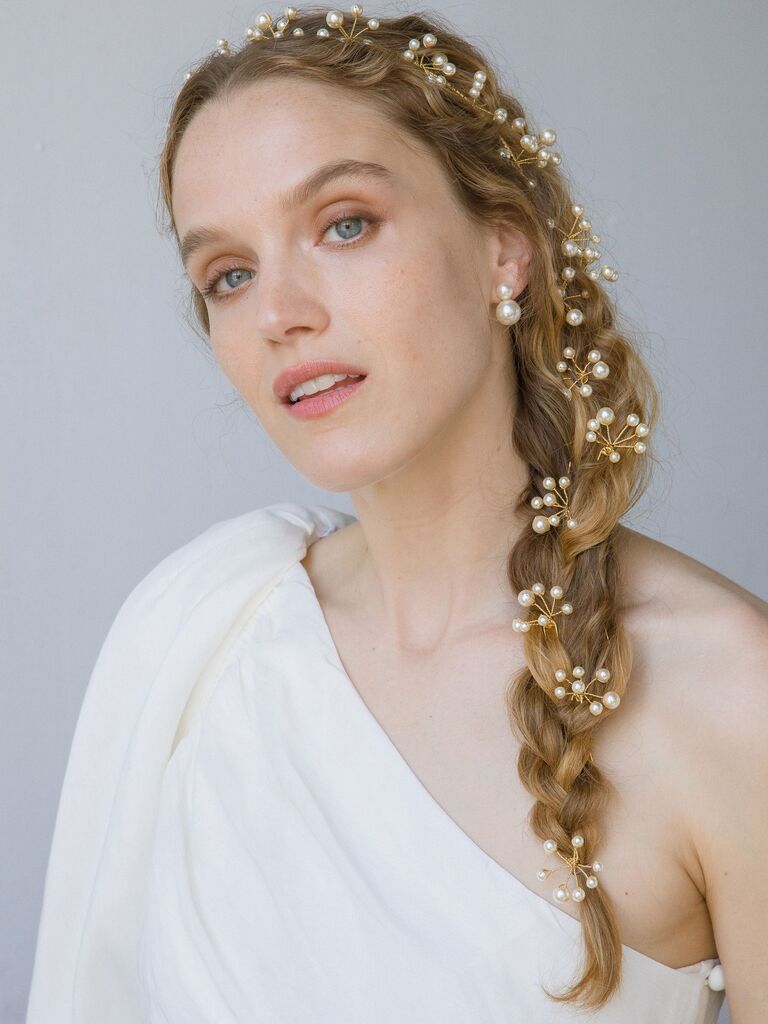 No sea-inspired look is complete without a little bit of pearls. . .or in this case, a lot of pearls. These dainty bobby pins make a simple and stylish addition to add to any bridal hair style and we're simply obsessed.
Shashi Seashell Chandelier Drop Earrings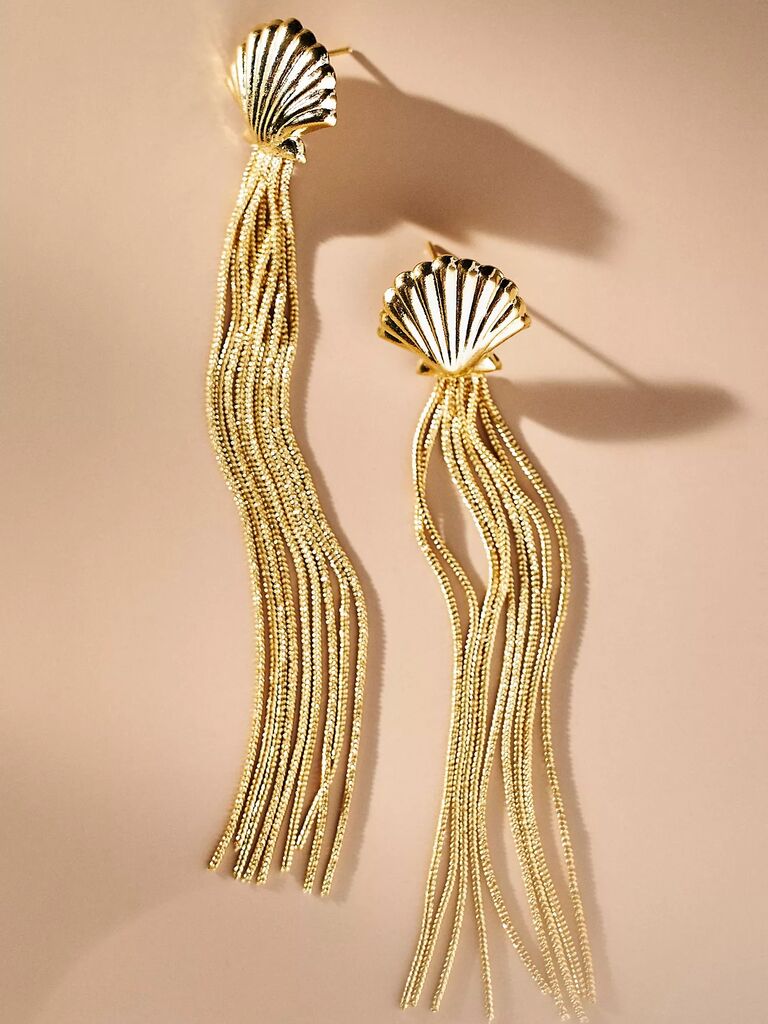 For brides looking to embrace the mermaidcore trend in a more subtle way, these 14k gold-plated earrings offer plenty of reason to shell-ebrate. The combination of seashells and dangly tassels makes for an elegant oceanic look you'll love.
Jennifer Behr Primavera Tiara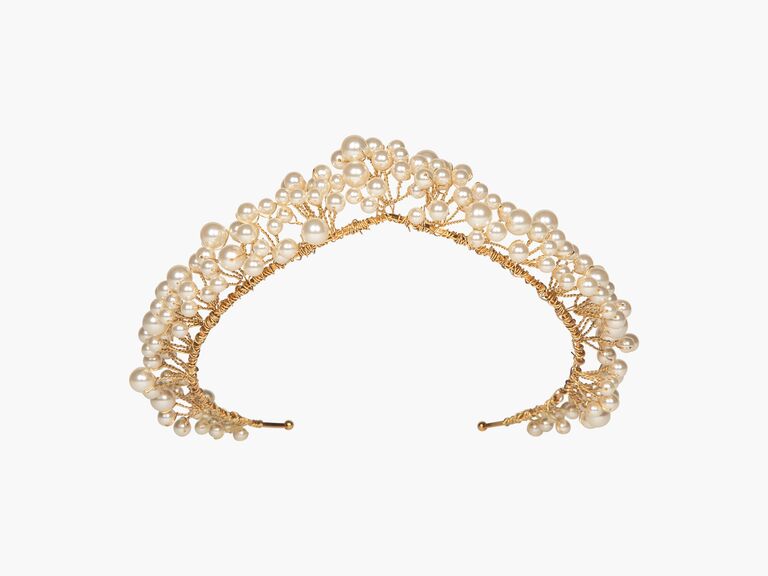 Every queen needs a crown, especially a queen of the sea. With dozens of Swarovski pearls set on the gold-plated brass tiara, you'll certainly feel like royalty while rocking this iridescent accessory.
Cult Gaia Mishka Bracelet
This unique accessory is as versatile as it is stunning. Because its genuine baroque pearls are suspended on an malleable wire cord, it can be adjusted and worn in a number of ways including as an armband, choker, bracelet, anklet and more.
Jennifer Behr Botticelli Barrette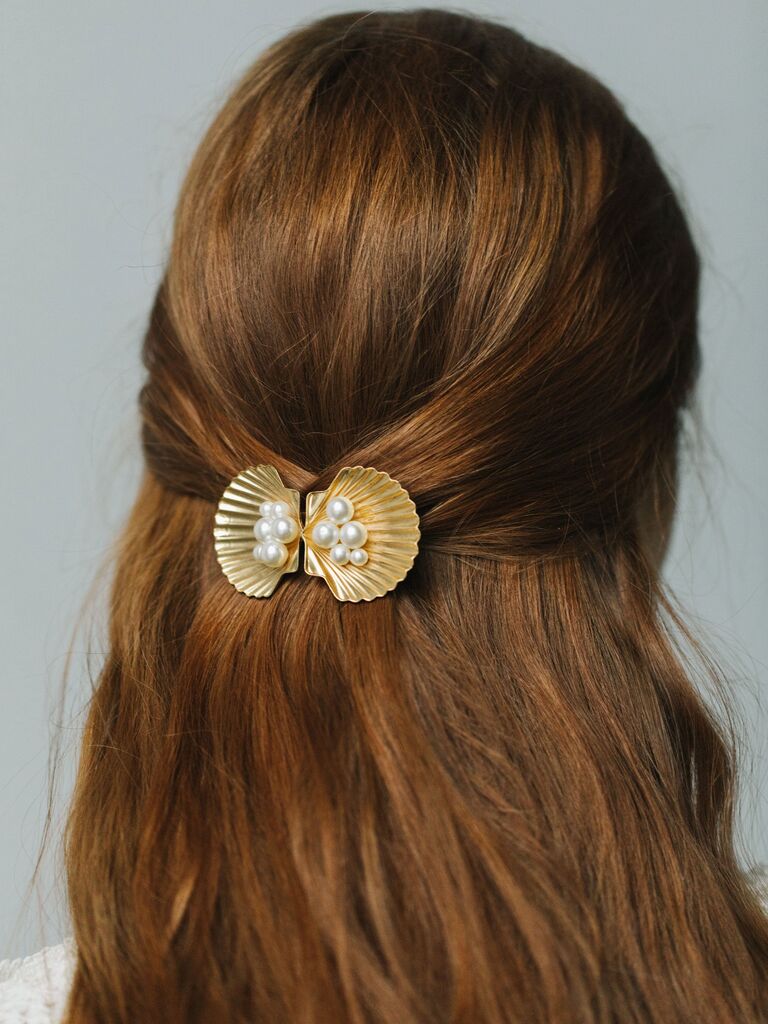 Here's an accessory that's *shore* to get plenty of compliments. With Swarovski pearls creating a Trompe-l'œil effect, the barrette mixes mermaid glam with classic coastal charm.
Cultmia Goa Luxe Handmade Mother of Pearl Clutch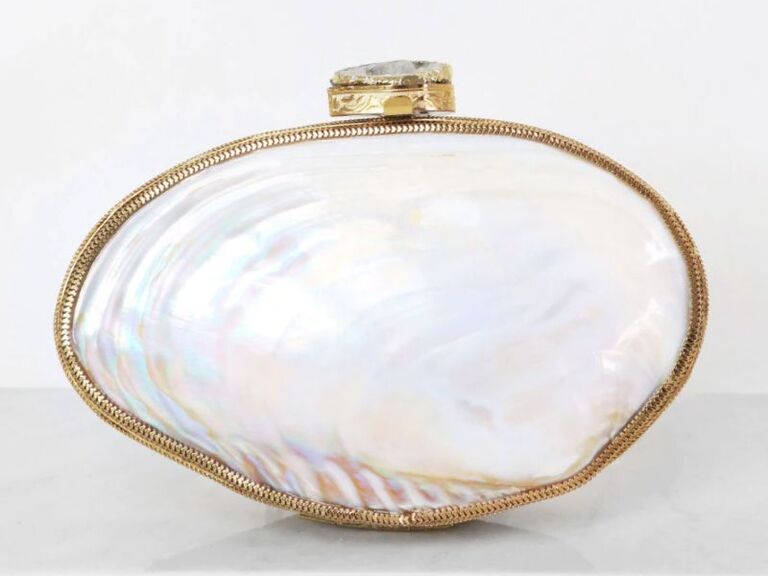 How about 'something borrowed' from the sea? Made from authentic shells, this handmade clutch is perfect for carrying all your gadgets, gizmos, whozits and whatzits galore.
Cult Gaia Noemi Choker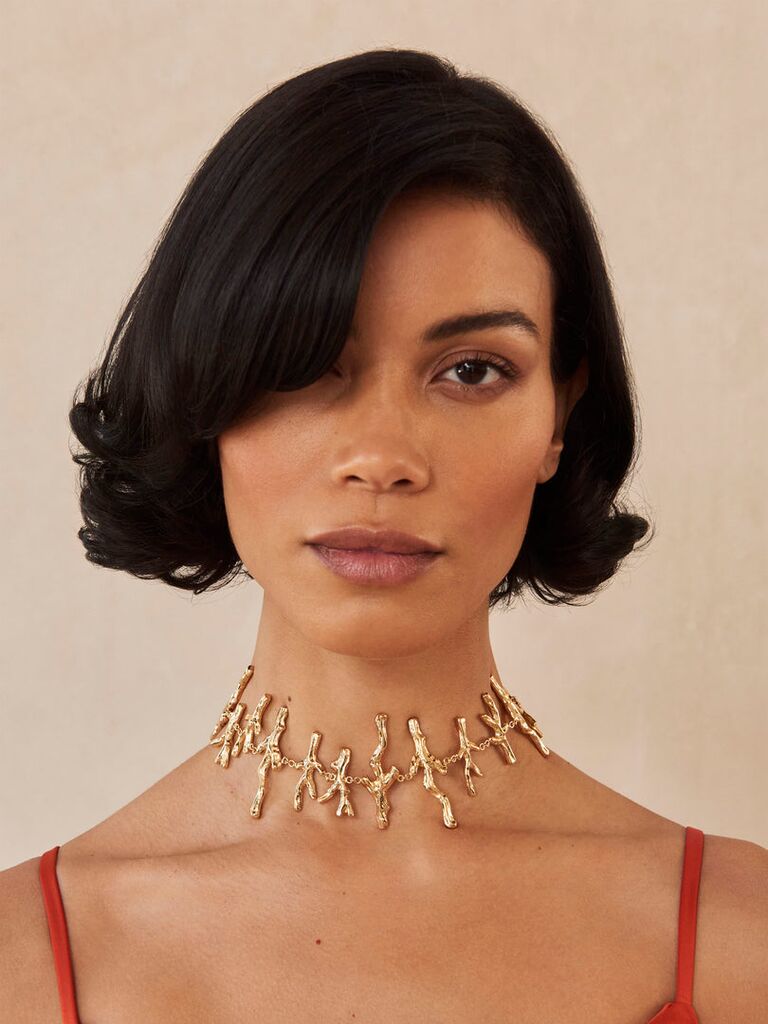 Bold brides: This one's for you. Whether you're walking down the aisle, or sitting seaside on your honeymoon, this coral-inspired choker is guaranteed to add an elegant aquatic touch to your look.
Simone Rocha Micro Egg Bag With Pearl Strap
If you've been keeping up with the *current* trends, you're probably no stranger to this sea-inspired handbag. Because it can be worn as either a clutch or crossbody bag, it's the ideal accessory to take you from your 'I-dos' to the honeymoon.
Cult Gaia Ariella Earrings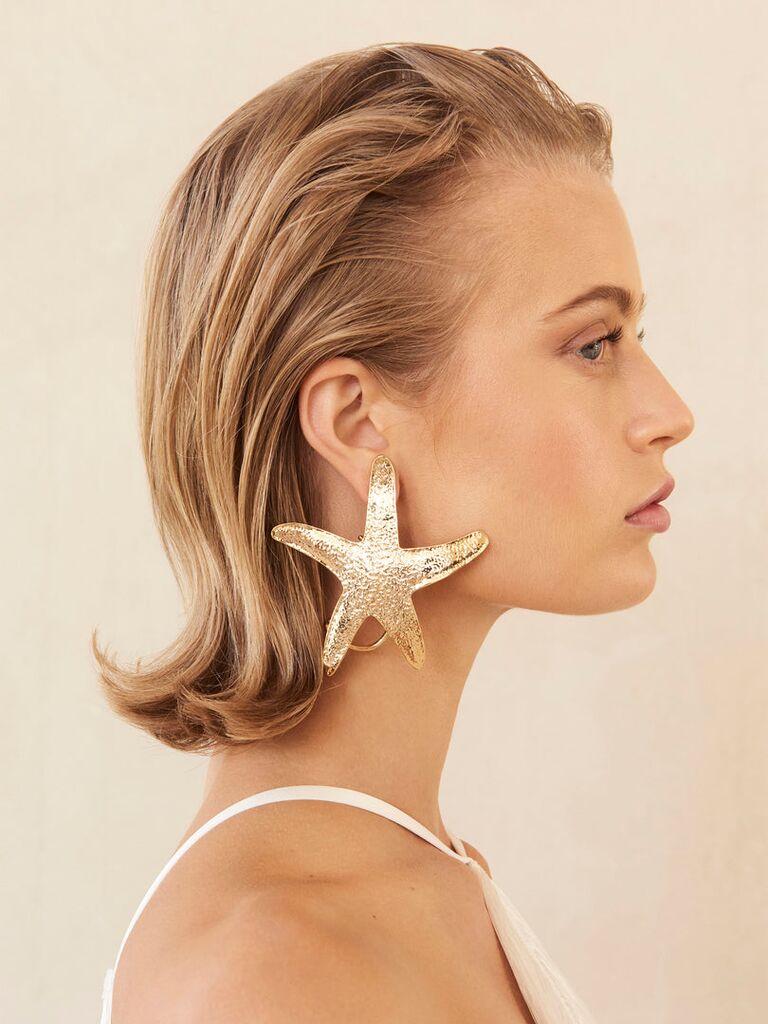 If you're a bride looking to embrace the mermaidcore trend with open arms (or fins), these starfish earrings are for you. Complete your aquatic ensemble with a glittering gown and a stunning coastal backdrop.
Mermaid Aesthetic Bridal Era Outfits
You've heard of mermaid silhouettes. Now, meet mermaidcore. While varying in style, these ten gowns all incorporate aquatic elements, making them totally on trend for 2023-2024.
Sébastien Luke Strapless Gathered Ballgown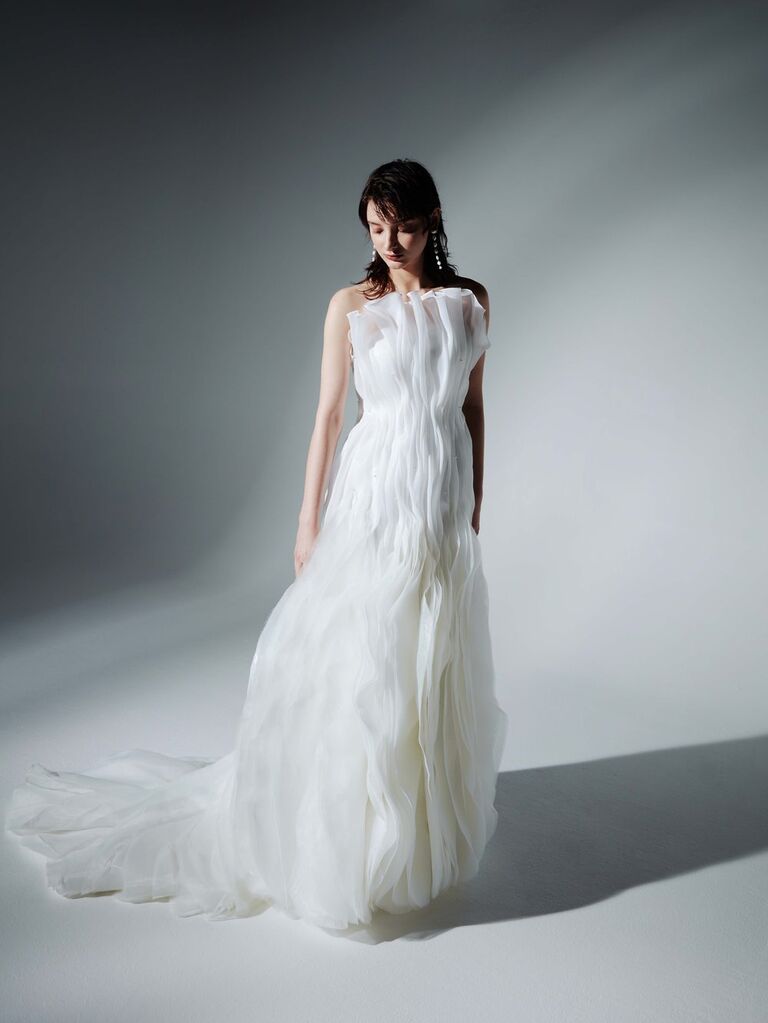 One of Fausto's top tips for creating a mermaid-esque look is organic texture, and this gown certainly has a whole lot of it. Its bodice is gathered to create ripples like ocean waves while its ivory silk blend fabric was designed to look iridescent like a pearl when in the sunlight.
Reev Bridal Celeste Gown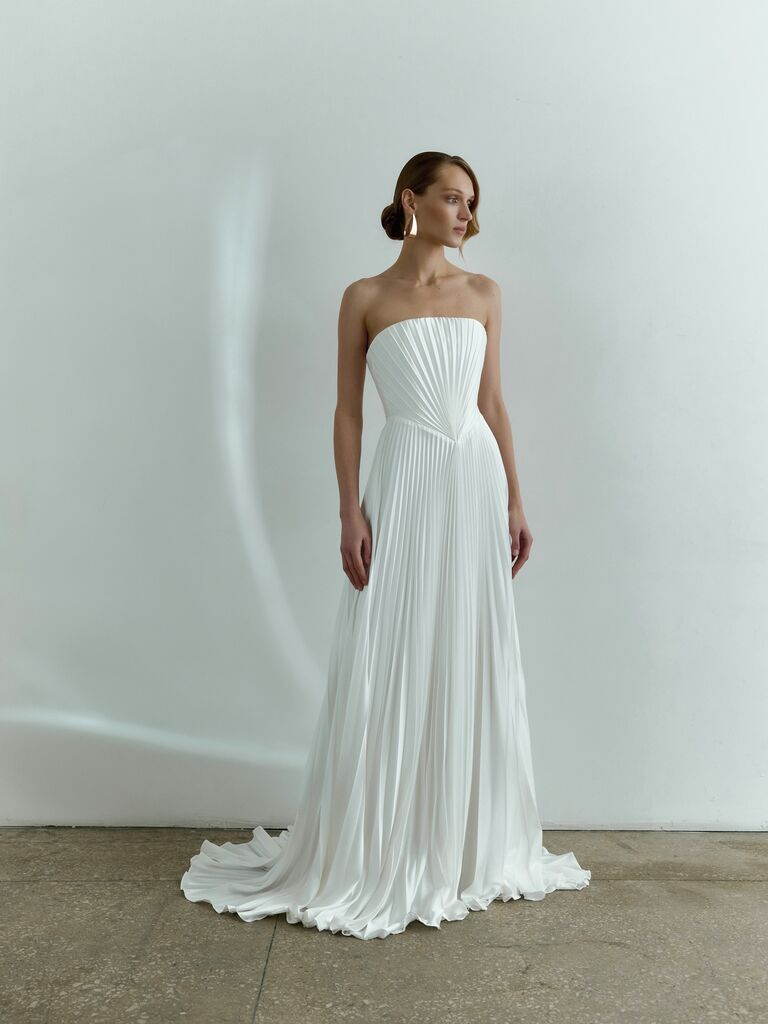 It doesn't get more mermaidcore than this. With a seashell-shaped bodice and light-catching satin fabric, this strapless A-line gown is the ideal pick for your summer beach wedding.
THEIA Saffron Gown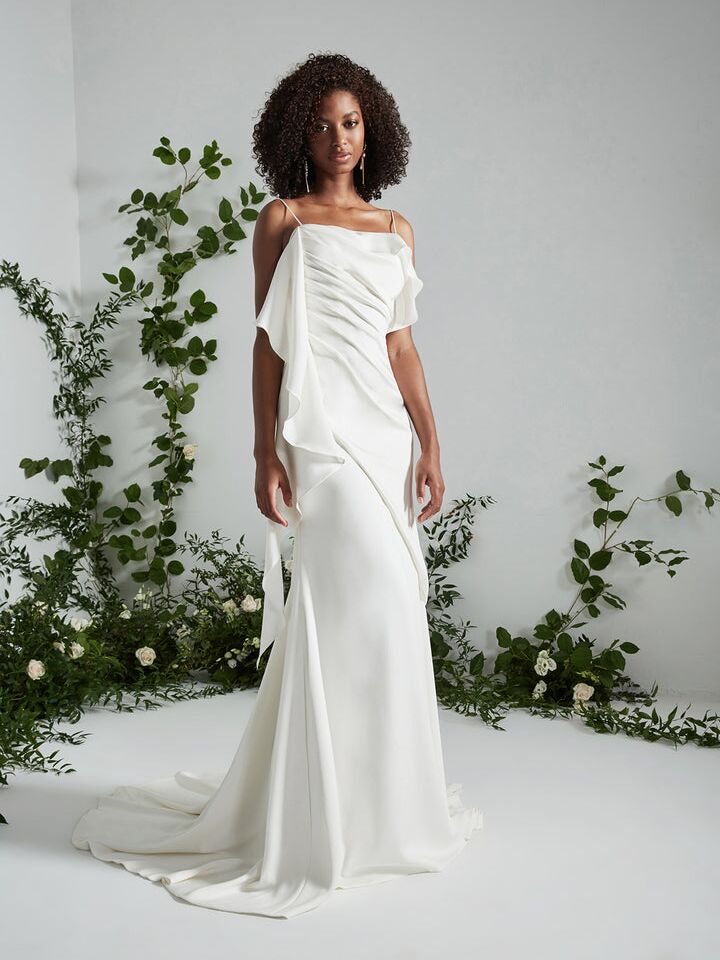 Embrace the vibe in a subtle way with a satin gown that reflects light like the ocean. Because of the way its fabric is delicately draped, it almost appears wet. Pair it with a crown of pearls for more of a mermaid look, or wear it on its own for major understated elegance.
Danielle Frankel Wren Gown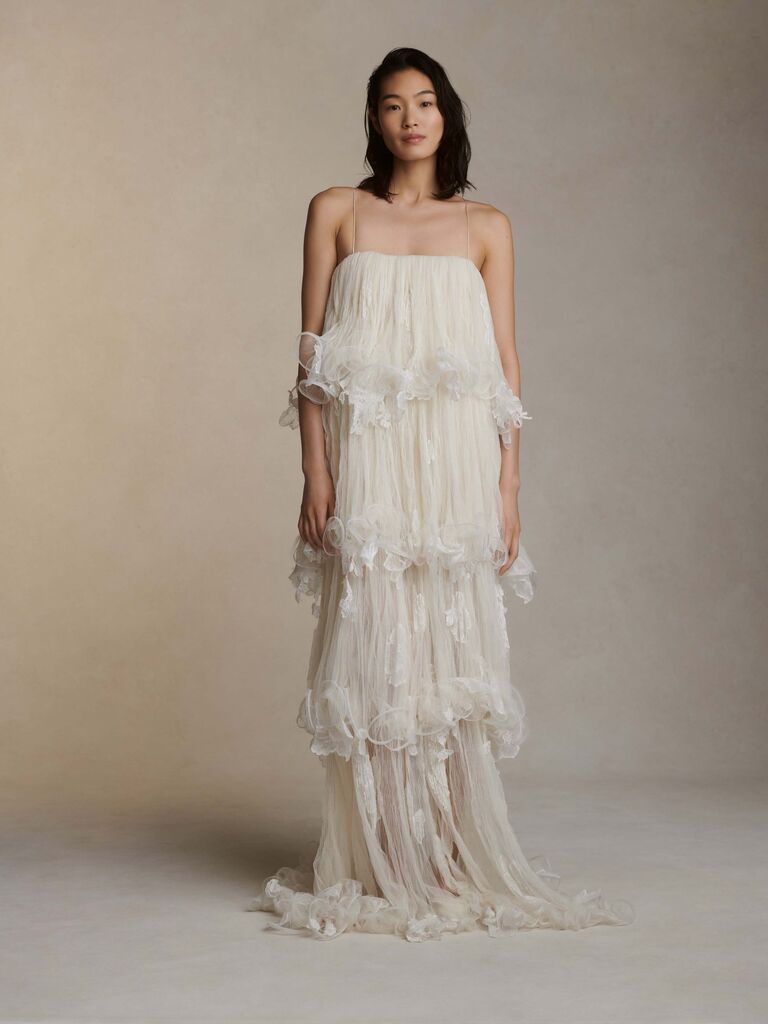 What is a mermaid if not free-spirited? This whimsical gown is ideal for the bride looking to make a serious statement. Its flouncy, jellyfish-like ruffling is just one of the many oceanic details we love about it.
Sébastien Luke Ruffled Ball Gown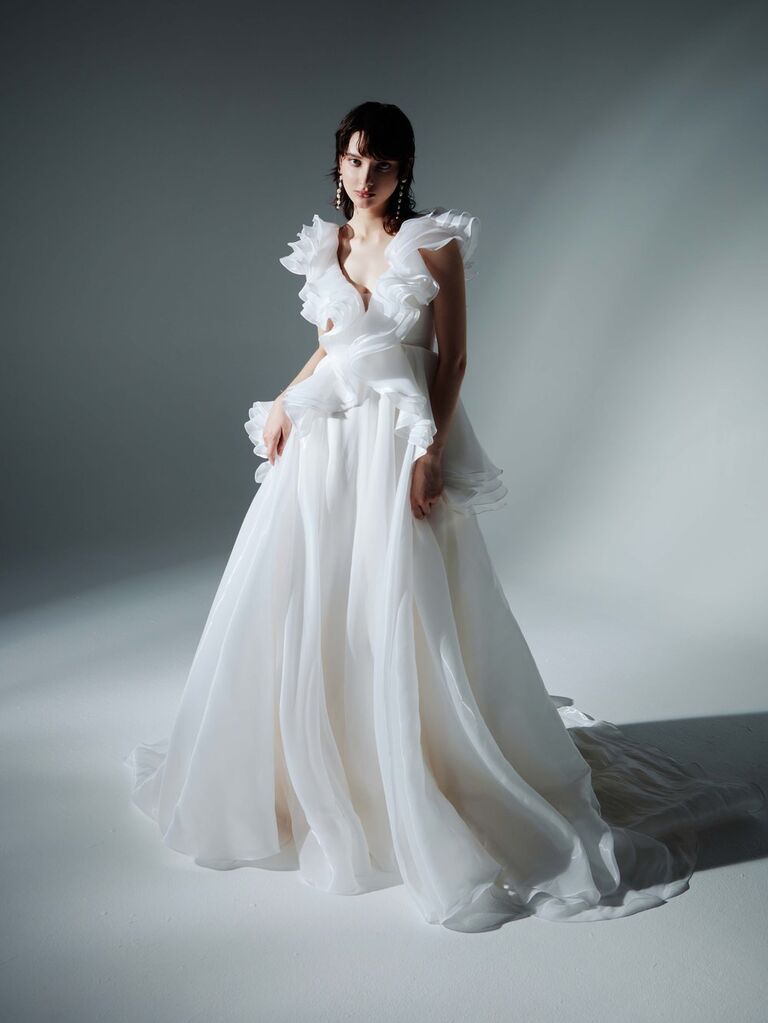 Mermaidcore doesn't have to mean mermaid silhouette. This pick offers all the volume and glam of a classic ball gown, with ocean-inspired elements including wave-like ruffle detailing and a lustrous fabric.
Reev Bridal Julie Gown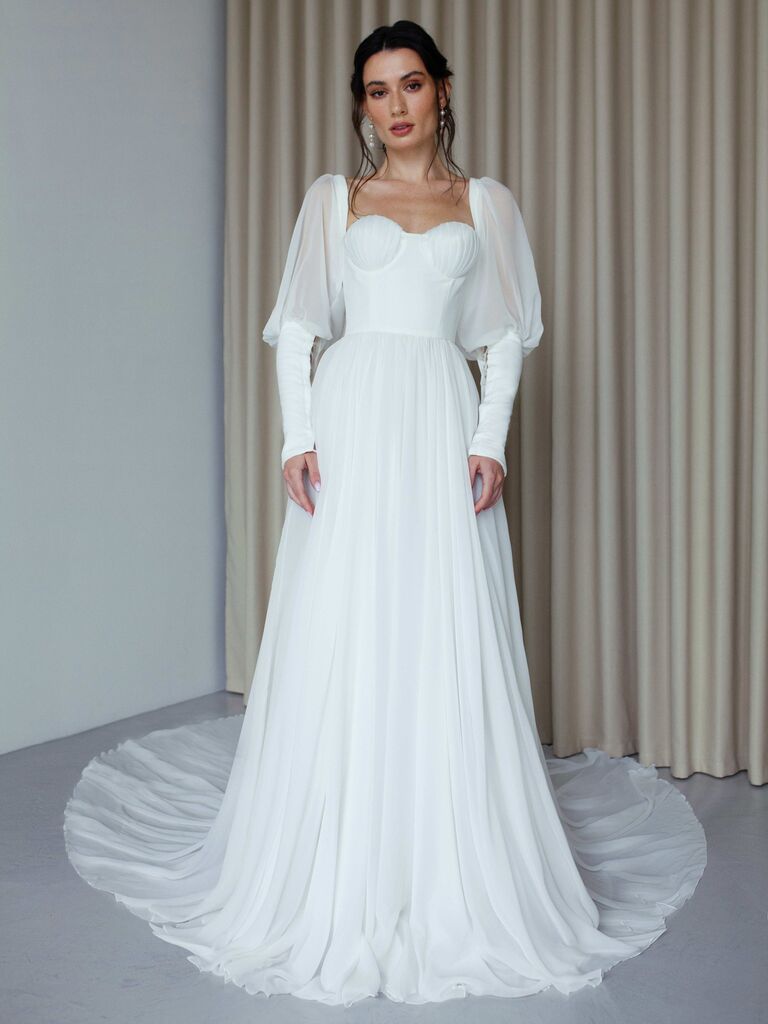 This stunning pick gives off regal siren vibes. From its hand-pleated seashell cups, to its sheer puff sleeves, you'll feel absolutely ethereal when walking down this aisle in this A-line gown.
Danielle Frankel Scarlet Gown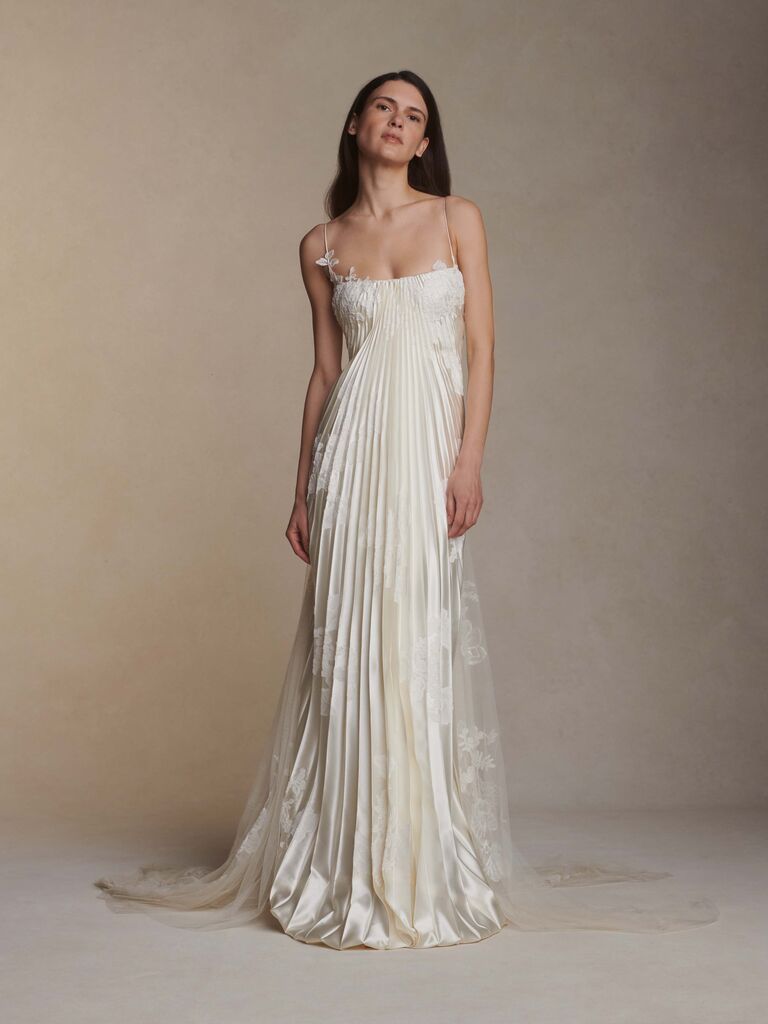 Like a pearl in an oyster, you're guaranteed to shimmer in this silk gown. It's elegantly pleated skirt mimics the ridges of a seashell in the most lovely way while scattered floral appliqués add a classic bridal touch.
Chosen by KYHA Amaya Gown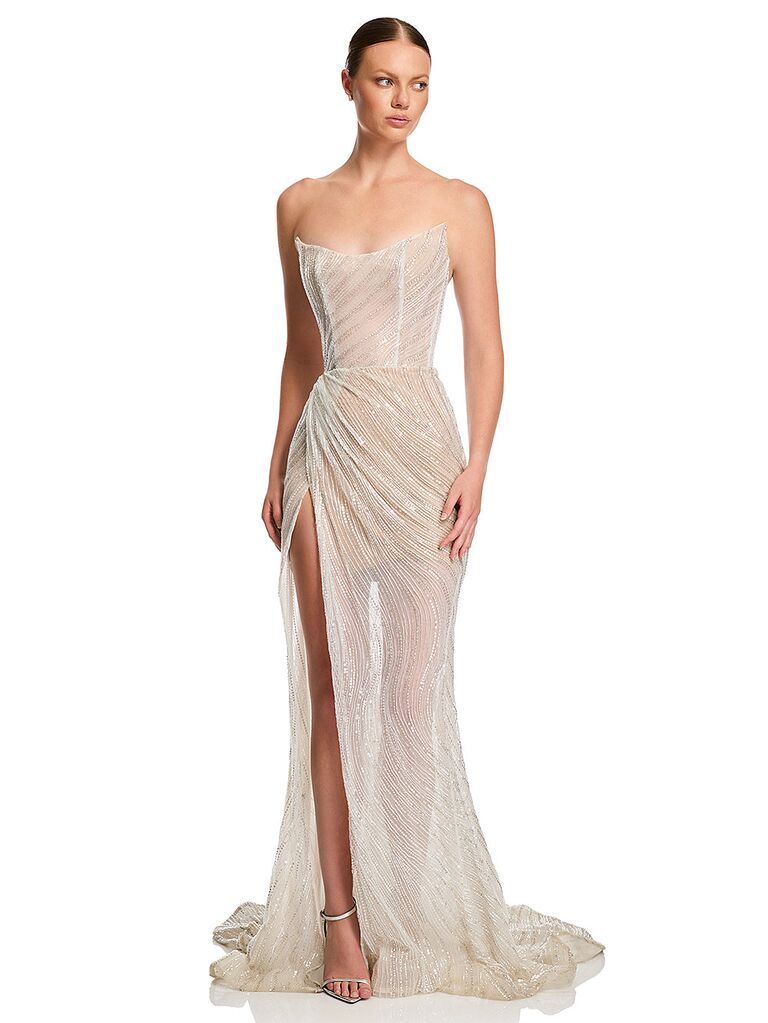 How about something sultry inspired by the sea? This sheer, figure-flattering gown features all-over lineal beading that beautifully emulates the lustrous scales of a mermaid tail. For brides looking to take a less risquė (but equally sexy) approach, it can also be made fully lined.
Michael Fausto Isola Coral Slip Dress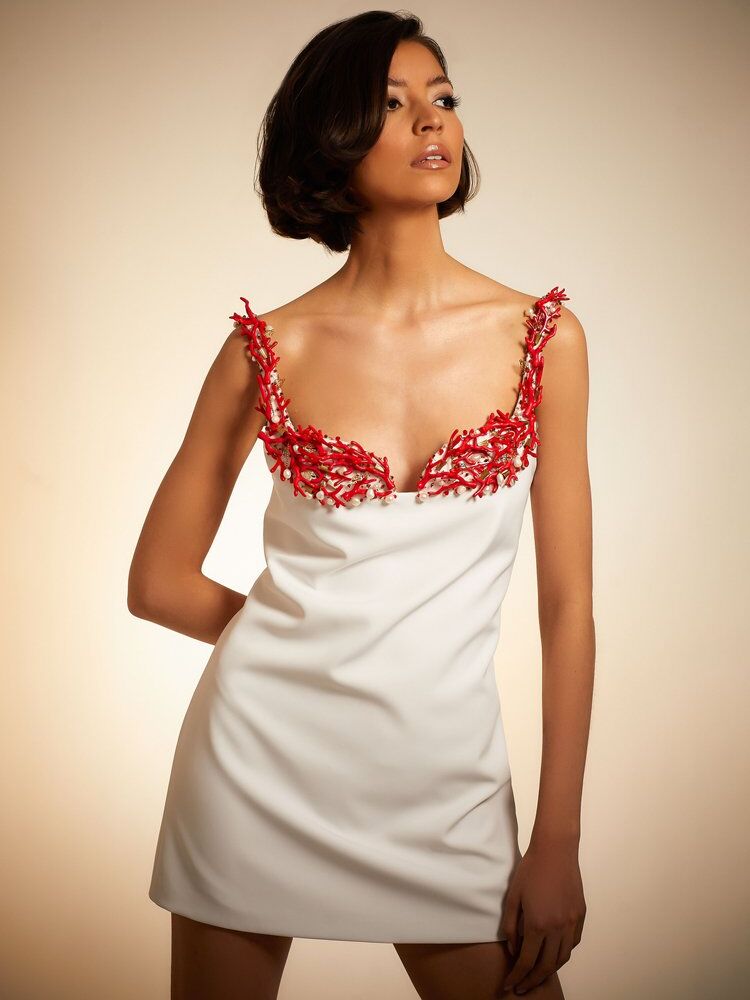 Found: The perfect reception look for your seaside celebration. This mini dress' neckline, decorated with baroque pearls and 3-dimensional coral-inspired beads, brings the ocean's greatest treasure onto shore for your time in the spotlight.
Sébastien Luke Pearl-Embellished Ruffle Dress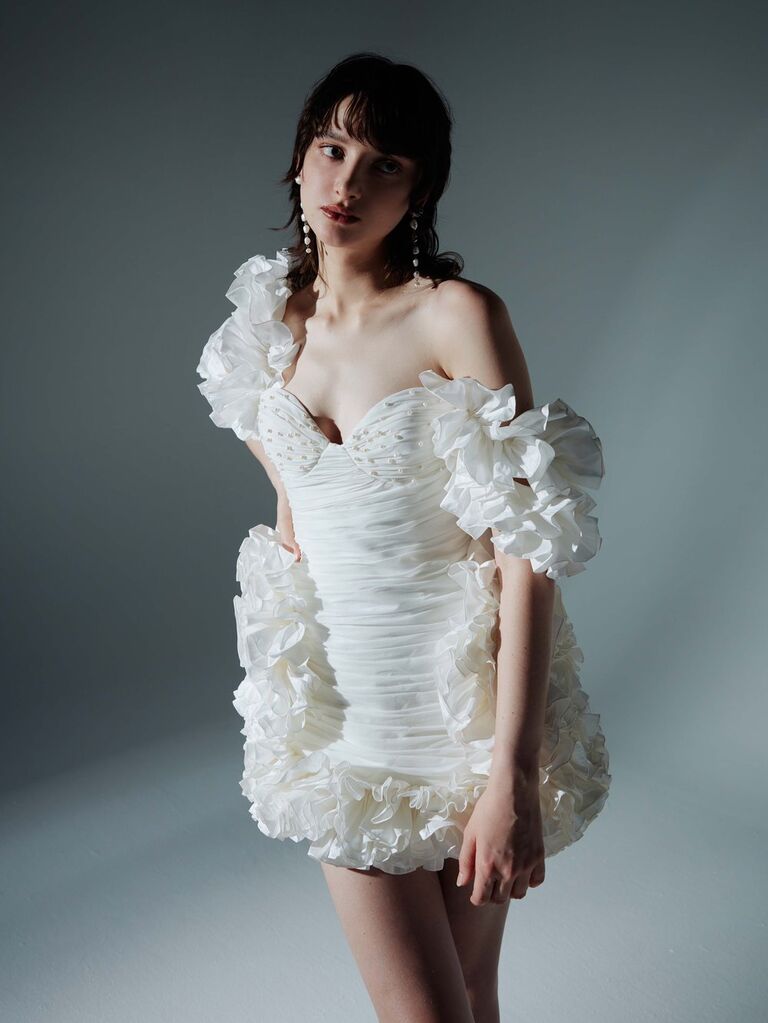 Here's a pick with minimum length and maximum glam. Scattered freshwater pearl and wave-inspired ruffles are just a few of the details that give this charming mini its mermaid feel.
Mermaid-Inspired Outfits for Bridesmaids & Wedding Guests
There's no reason to get *salty* on your search for a mermaidcore wedding guest dress—we've got the looks for you. Keep reading to discover seven of our favorite shoppable picks.
Nana Jacqueline Caroline Dress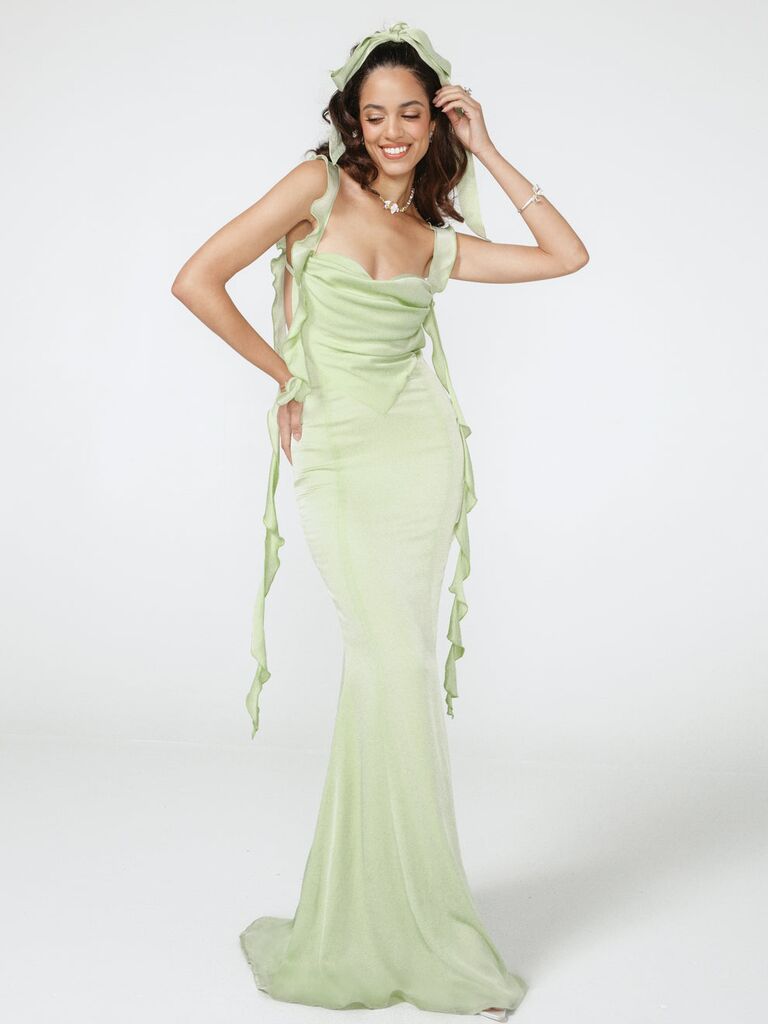 Here's a wedding guest dress you'll love for summer nuptials (and nights out long after). Not only is it a gorgeous seafoam green color, but it also features dangling ruffles that are reminiscent of seaweed (in the best way possible).
Sau Lee Jasmin Open-Back Halter Ombre Sequin Gown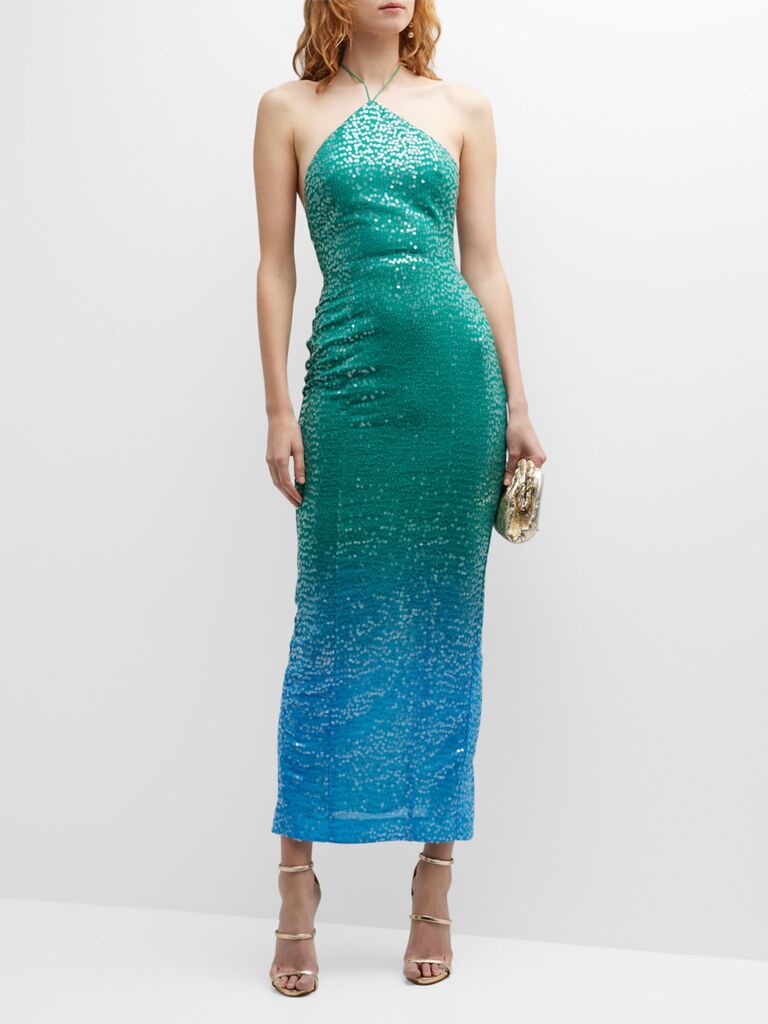 Here's a fashion-forward pick you'll want to add to your packing list for an upcoming destination wedding. With all-over sequins creating a gorgeous ombré effect, it offers the best of mermaidcore and classic resort wear in one stylish look.
Selkie The Water Lilies Moonlight Dress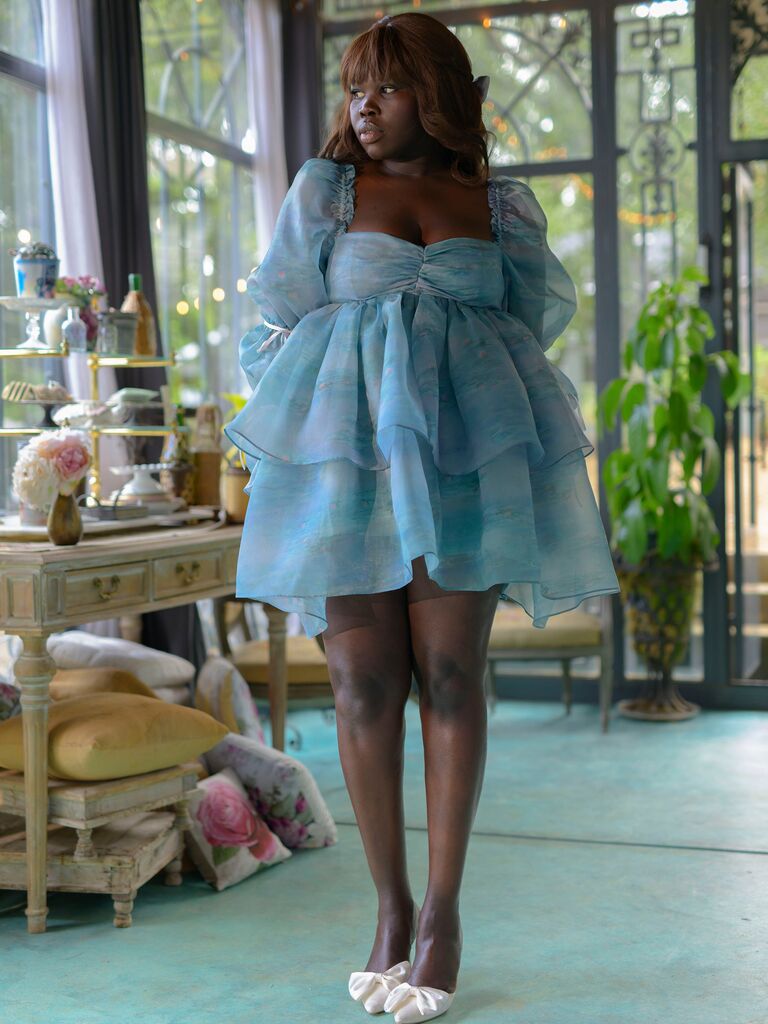 We like to believe that Ariel herself would have something just like this in her wardrobe. Made from lightweight fabric featuring a beautiful water design, you'll love sporting this size-inclusive pick at an upcoming bridal shower or rehearsal dinner.
Reformation Magnus Dress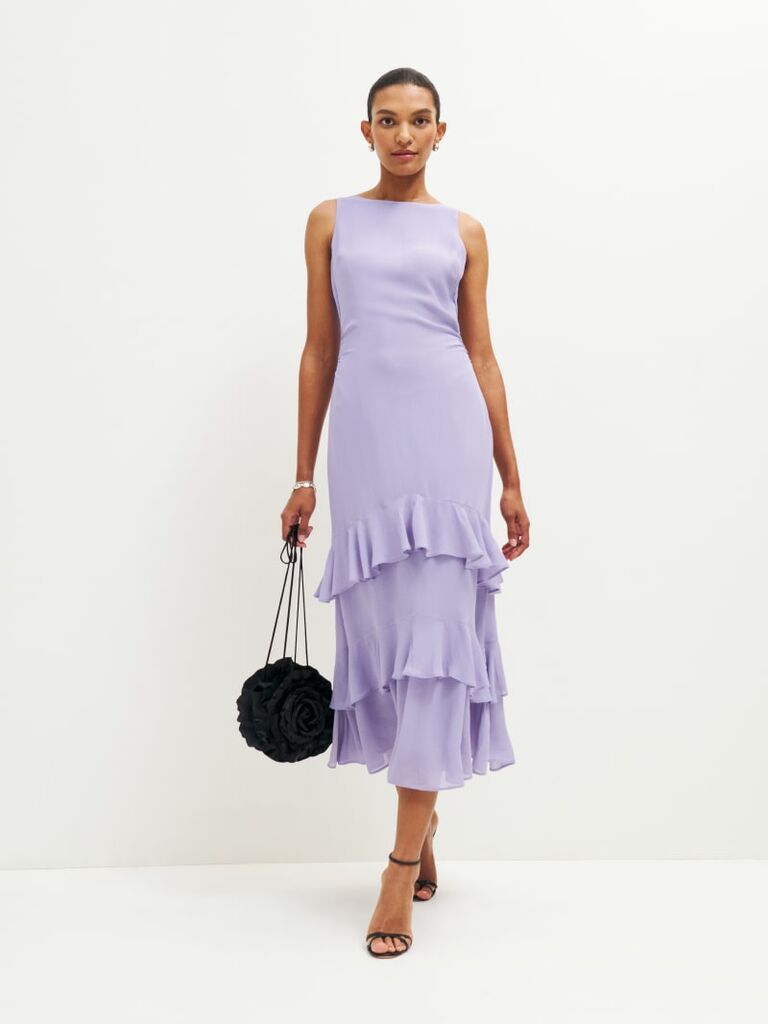 If you're looking for a modest way to rock the mermaidcore trend, this ruffled midi dress is for you. Its oceanic purple color lends itself nicely to pearl accessories like dangling earrings or a dainty necklace.
ASOS DESIGN Curve All-Over Disc Sequin Mini Dress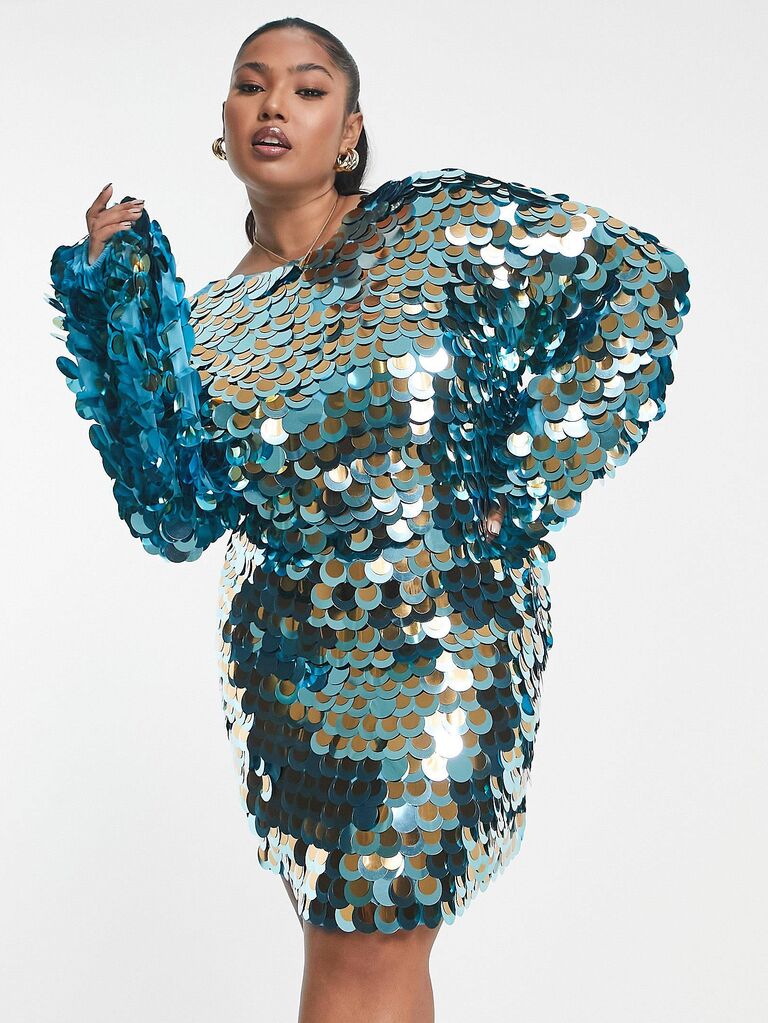 Got a mermaid themed bach party on your calendar? Earn yourself the title of 'best dressed guest' in this mini. Both its teal color and scale-like sequins make it a fitting option for the occasion.
House of CB Isabella Top and Ruffle Asymmetric Hem Skirt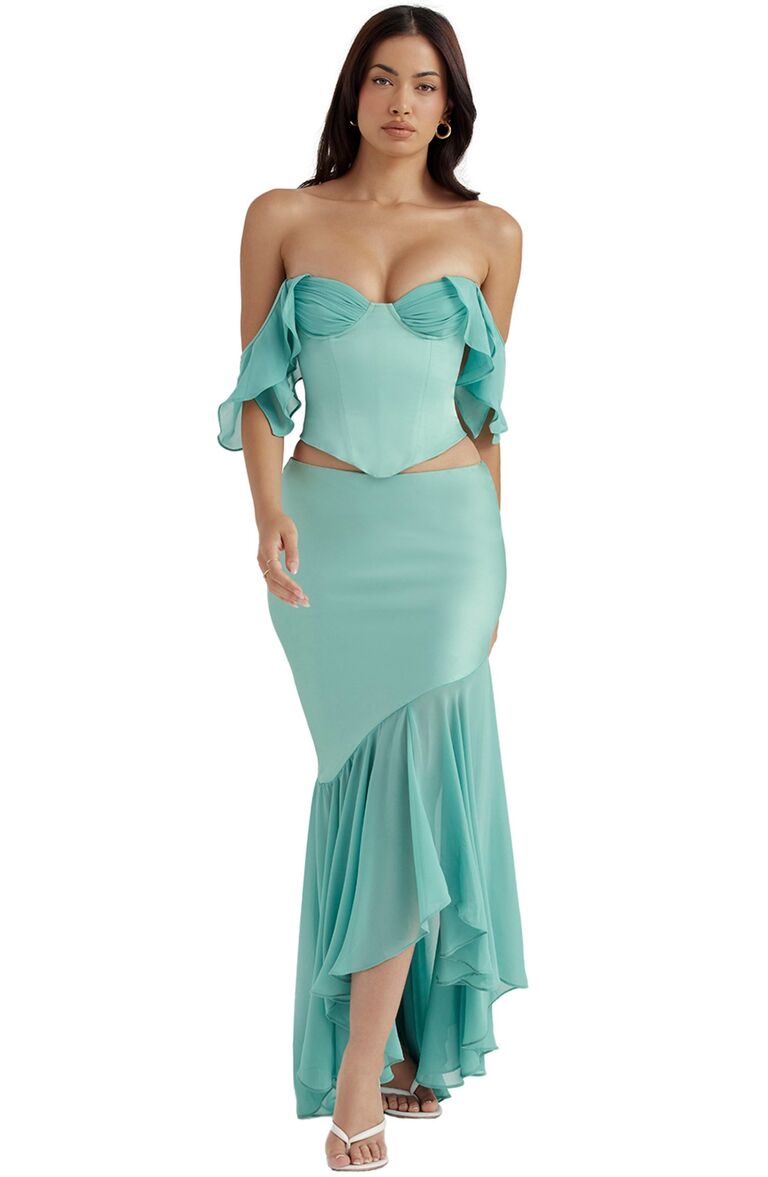 We're not sure what we love most about this aquamarine-colored set: Its sexy silhouette, whimsical ruffling or the fact that you can choose to rock both pieces together, or pair the skirt with a purple top for major Ariel vibes.
Mac Duggal High Neck Sleeveless Gown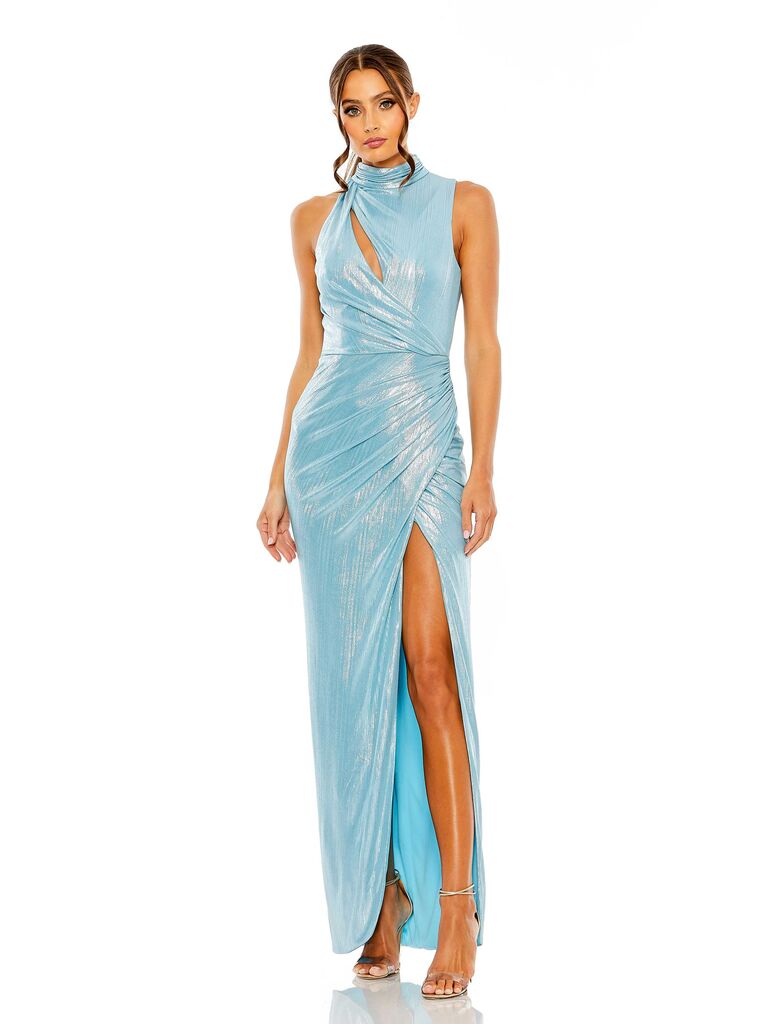 With shimmering metallic fabric and a figure-flattering silhouette, this gown offers a modern take on the mermaidcore trend and we're totally here for it. It's also available in dark blue if you're looking for more of a deep sea vibe.