Dog Wedding Outfit Ideas Paw-fect for Your Pup
This pooch attire is downright dapper.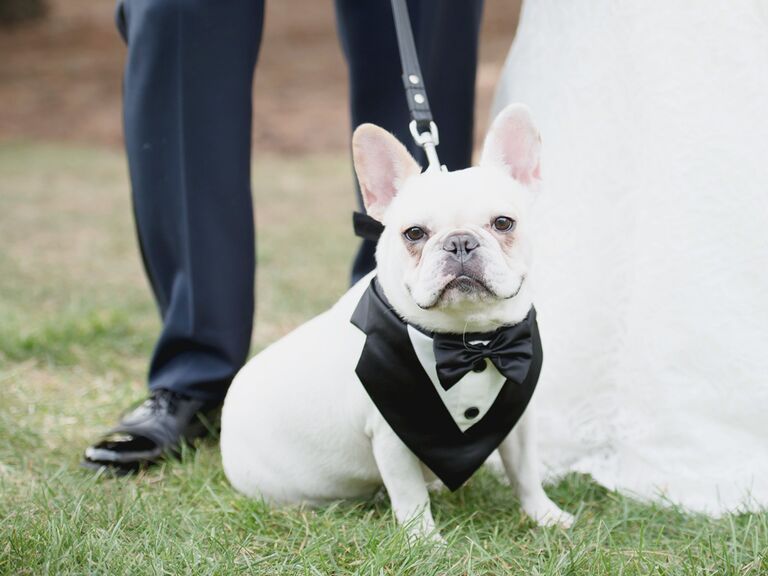 Kari Dawson Photography, LLC
We have included third party products to help you navigate and enjoy life's biggest moments. Purchases made through links on this page may earn us a commission.
Everybody in the wedding party deserves a special outfit—including the pooch of honor. Stumped on how to dress your pup? Ask yourself a few questions before choosing dog wedding attire:

How formal is the event? Base how fancy (or casual) your pet's ensemble is on what your human guests are wearing. If they're in tuxes, try a dog tuxedo.
What's the theme or color palette? Is there an emphasis on blooms? Try floral attire. Are the bridesmaids wearing pink dresses? Get your dog one too.
What's your dog's role? Is your canine serving as a best man pup? Find a dog wedding outfit that matches the groomsmen attire. Is your furry friend getting walked down the aisle? Consider a fancy leash.
What's your dog like? Everyone should look and feel their best on the special day. When it comes to dog wedding attire, that means finding something suited to your pup's body and personality. Pay careful attention to sizes, and if they hate wearing dog clothes, opt for something more subtle. A stylish dog wedding collar should do the trick.
Ready to shop? We've rounded up some of the cutest dog wedding clothes and accessories on the market. A couple last tips: Whatever you order, test it out well before the wedding day. If your pup can't move properly or makes a fuss, it's not the right look for them. And as a precaution, you should never leave your dog unsupervised while they're wearing attire.
In this article:
Dog Wedding Clothes
Want to go all out? Buy dog wedding attire that adorably (and hilariously) resembles people clothes. Whether you're looking for an elegant dog tuxedo or a full-blown dog wedding dress, these options will make your tail wag.
Blue Dog Tuxedo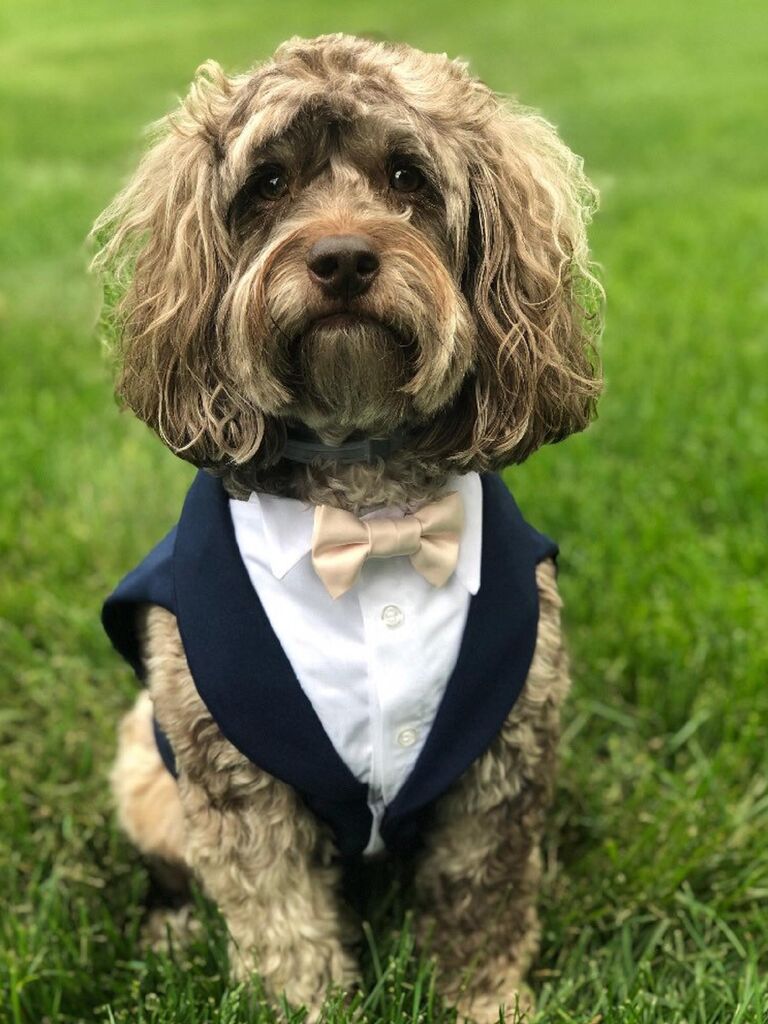 This navy dog tuxedo set is so darn cute. The outfit is made to order using your pup's measurements to ensure the best fit possible. Bonus: You can order the bow tie in any shade you like.
Yvette's Little Shop navy blue wedding dog tuxedo, from $151, Etsy.com
Black Dog Tuxedo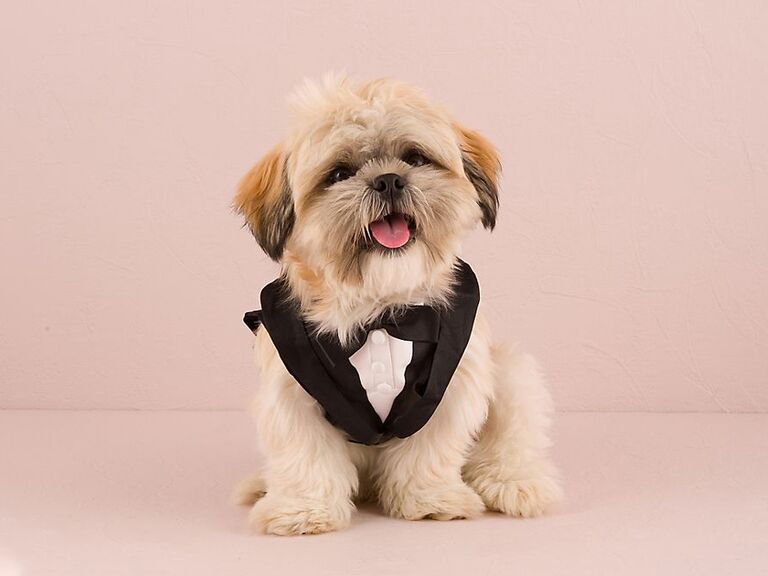 Searching for a black tux instead? Try this dapper dog wedding attire. Like the option above, the piece serves as a jacket, shirt and bow tie all in one.
David's Bridal pet tux, from $23, DavidsBridal.com
Dog Bridesmaid Dress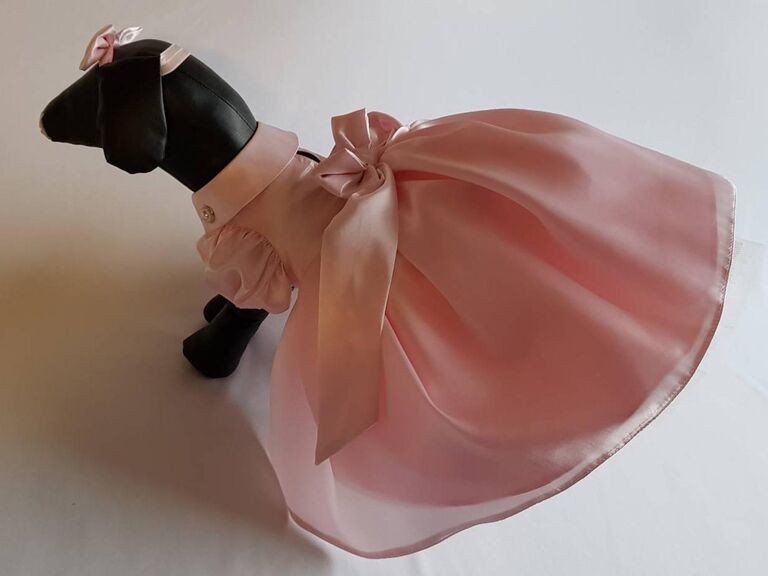 If your pup is your little princess, try this gorgeous dog bridesmaid dress made from oh-so-soft satin. This Etsy seller boasts a five-star status for their custom creations. All you have to do is submit your pet's measurements and choose your preferred color.
The Posh Paws Company dog bridesmaid dress, from $84, Etsy.com
Gray Dog Tuxedo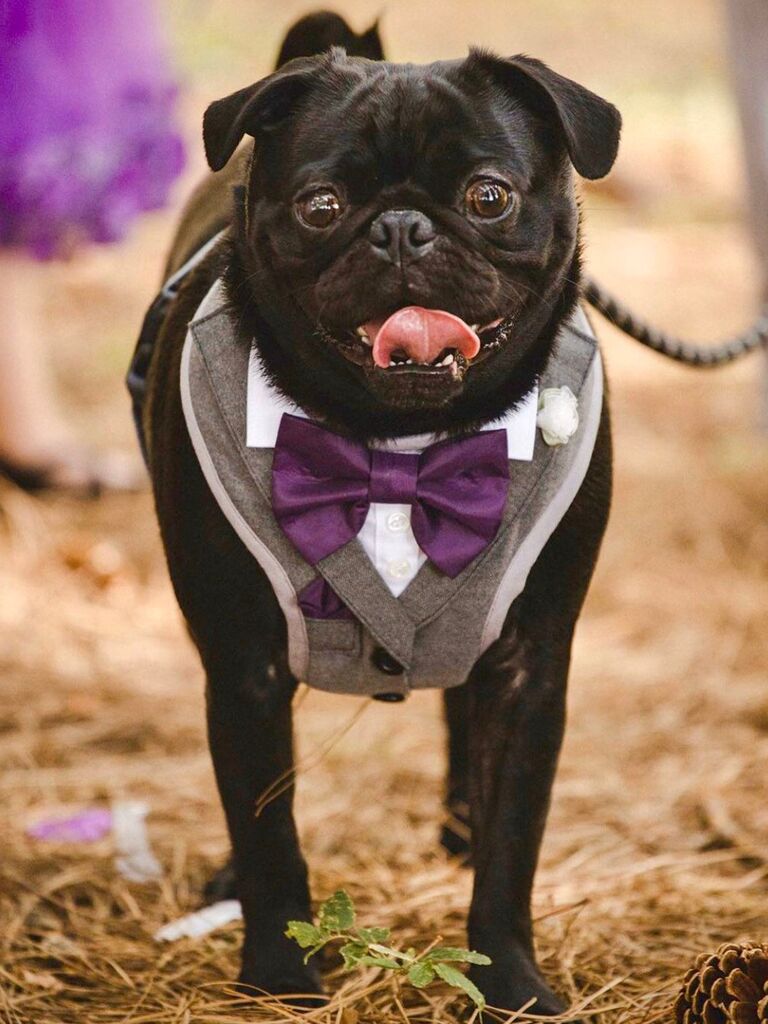 Want a gray dog tuxedo or suit? This "outfit" is actually a harness disguised as formal wear. It's an excellent choice if your venue requires the furriest member of the wedding party to be on a leash. Choose between three different shades of gray for your dog's suit. Then, further customize the look with either a bow tie or tie in your primary wedding color.
Mutts and Marriage dog tuxedo suit harness, from $55, Etsy.com
Dog Wedding Dress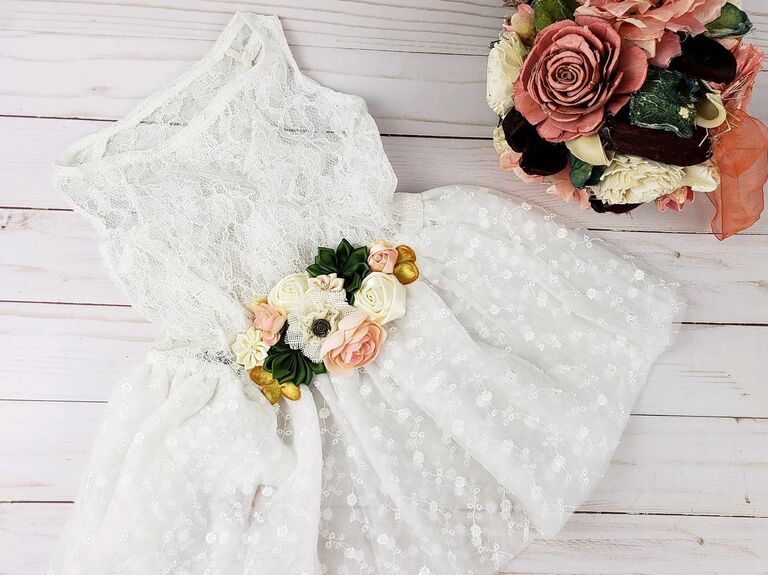 We're honestly amazed by this dog wedding dress. The lace gown, which comes with the prettiest floral accents, rivals a human wedding dress. The Etsy seller makes it in all sorts of sizes—work together to find the best fit for your fur baby. (Psst, there's also a matching dog collar and leash for a paw-fectly put-together look.)
House of Fur Baby dog wedding dress, from $27, Etsy.com
Dog Flower Girl Dress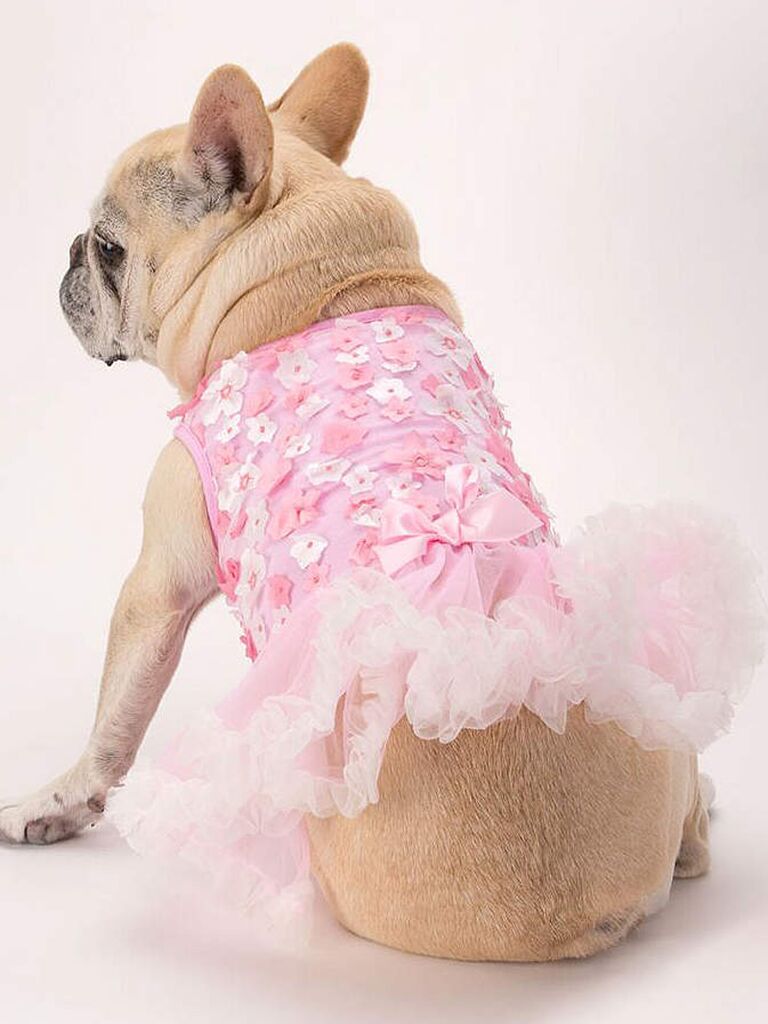 Shopping for a flower girl canine? We've got the dog wedding attire for you: a whimsical, floral gown. Again, the embellished design is pretty darn impressive. Who knew dog wedding dresses could be so chic?
David's Bridal pink 3D floral embellished dog dress, $25, DavidsBridal.com
Long-Sleeve Dog Tuxedo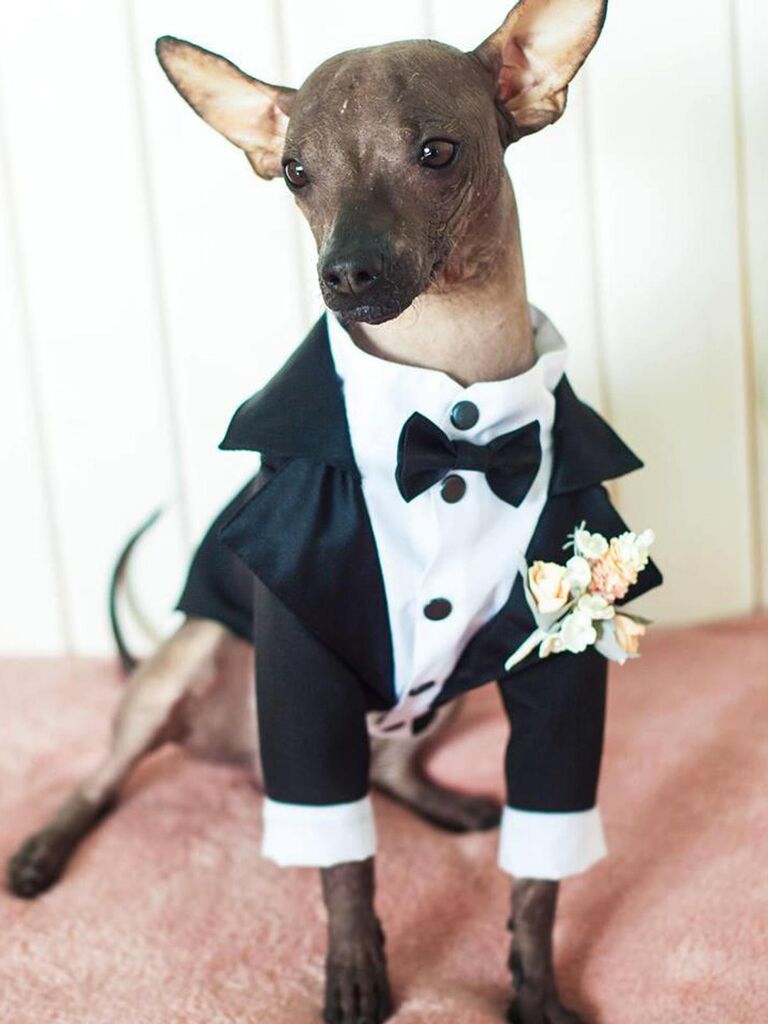 If you dont mind your doggo stealing the show, dress them up in this classic tux topped off with a bow tie and boutonniere.
Bark & Go classic black dog tuxedo, from $81, Etsy.com
Dog Ring Bearer Outfit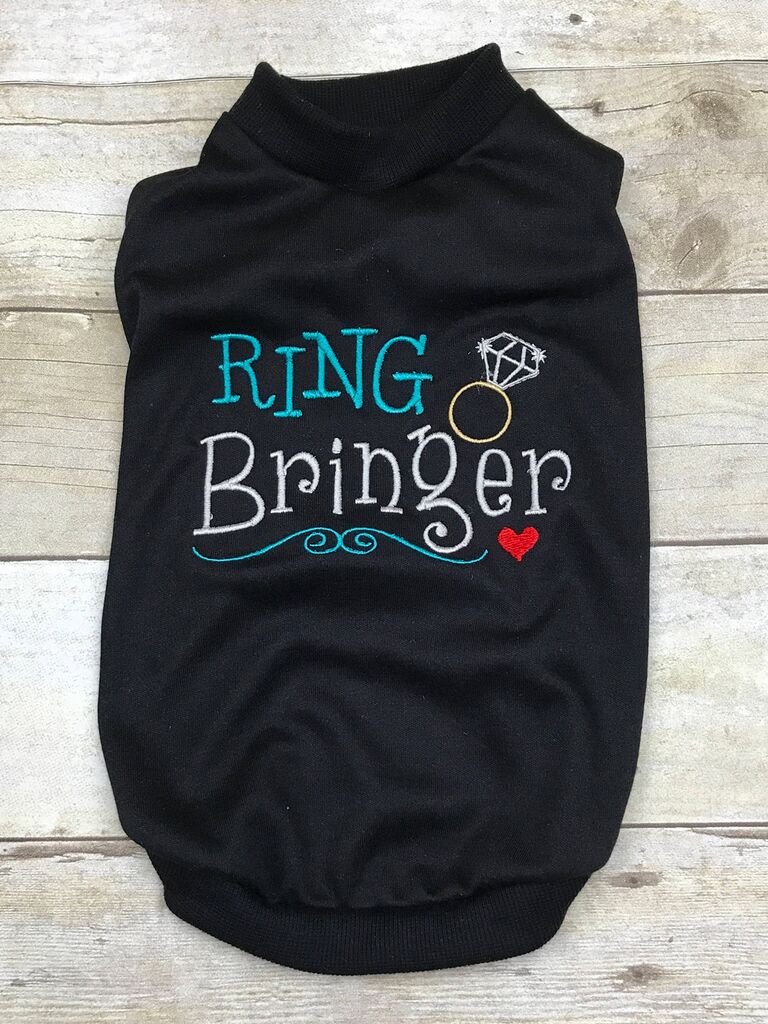 Trusting your pup with the rings? (Or at least making it look like you are?) Get your dog wedding clothes boasting their important role. This outfit comes in either dress or shirt form. It also comes in a range of colors.
Beau Chien Boutique Ring Bringer dog wedding dress or shirt, $20, Etsy.com
Dog Wedding Accessories
Your pup doesn't need a dog tuxedo or bridesmaid dress to make a fashion statement at your celebration. Fun, festive accessories are another adorable option. (And your canine might appreciate the more comfortable attire.)

Wedding Dog Collar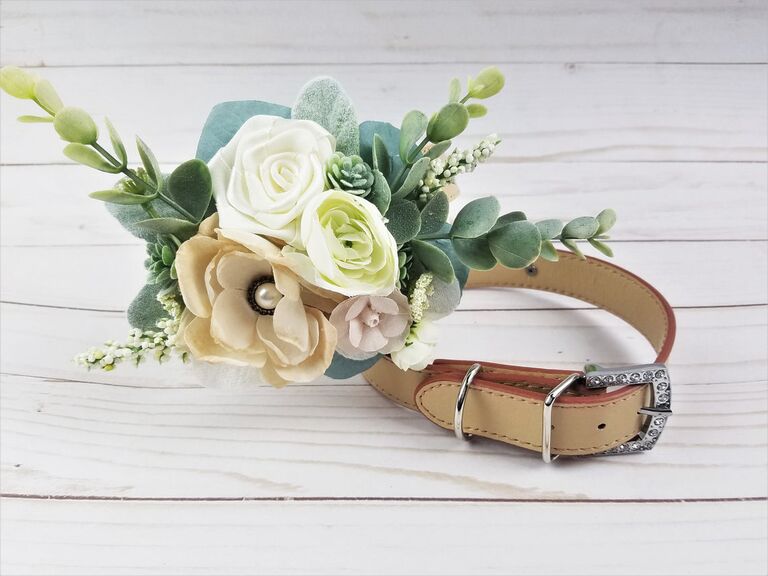 This wedding dog collar defines elegance. The faux flowers are durable but look realistic, and soft felt padding will help keep your pooch comfy.
House of Fur Baby succulent flower wedding dog collar, from $27, Etsy.com
Dog Wedding Bandana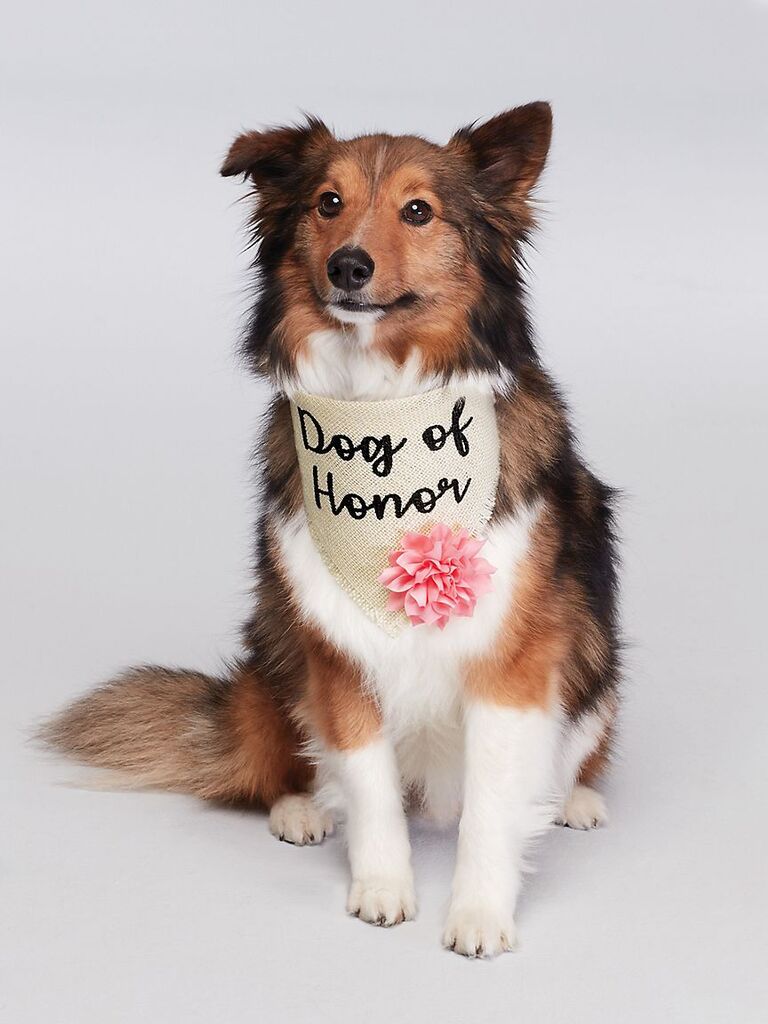 If you can't picture your pooch lasting the day in full dog wedding attire, accessories are your best friend. This one goes out to your maid dog of honor. The burlap bandana works especially well for a rustic wedding.
David's Bridal Dog of Honor flower bandana, $20, DavidsBridal.com
Dog Wedding Harness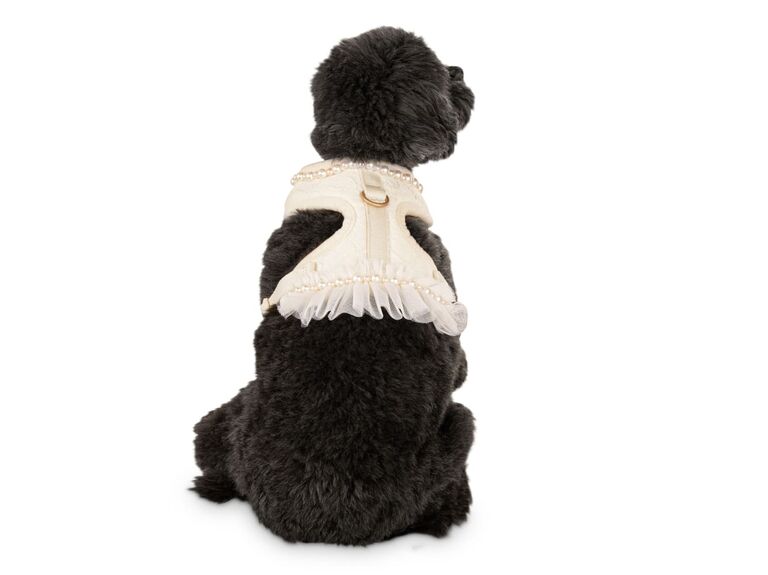 No matter your dog's role in the big day, this elegant white harness is a fitting wedding outfit. Faux pearls and a lacy overlay make it a beautifully embellished accessory.
Bond & Co. flower girl dog harness, from $20, Petco.com
Wedding Dog Tag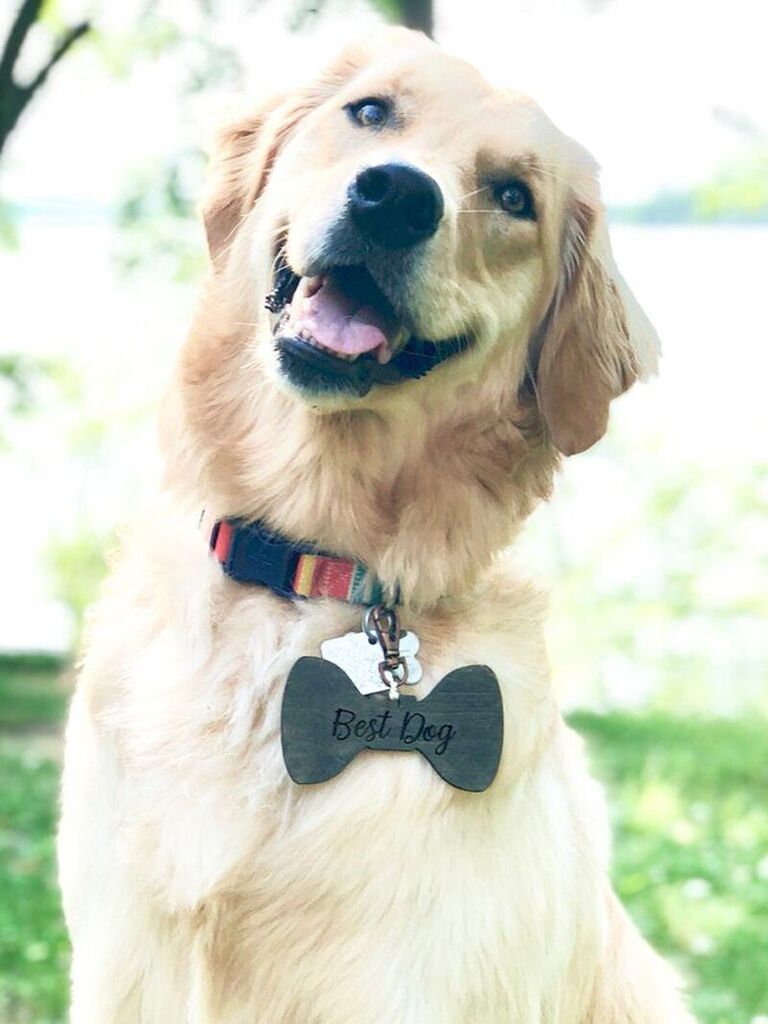 This sweet engraved dog tag, which reads "best dog" and comes in multiple colors, will double as a wedding keepsake after the "I do"s. Clip it to the dog wedding collar of your choosing for an even more personalized day-of outfit.
Cellar Co. best man dog collar tag, $26, Etsy.com
Dog Wedding Bow Tie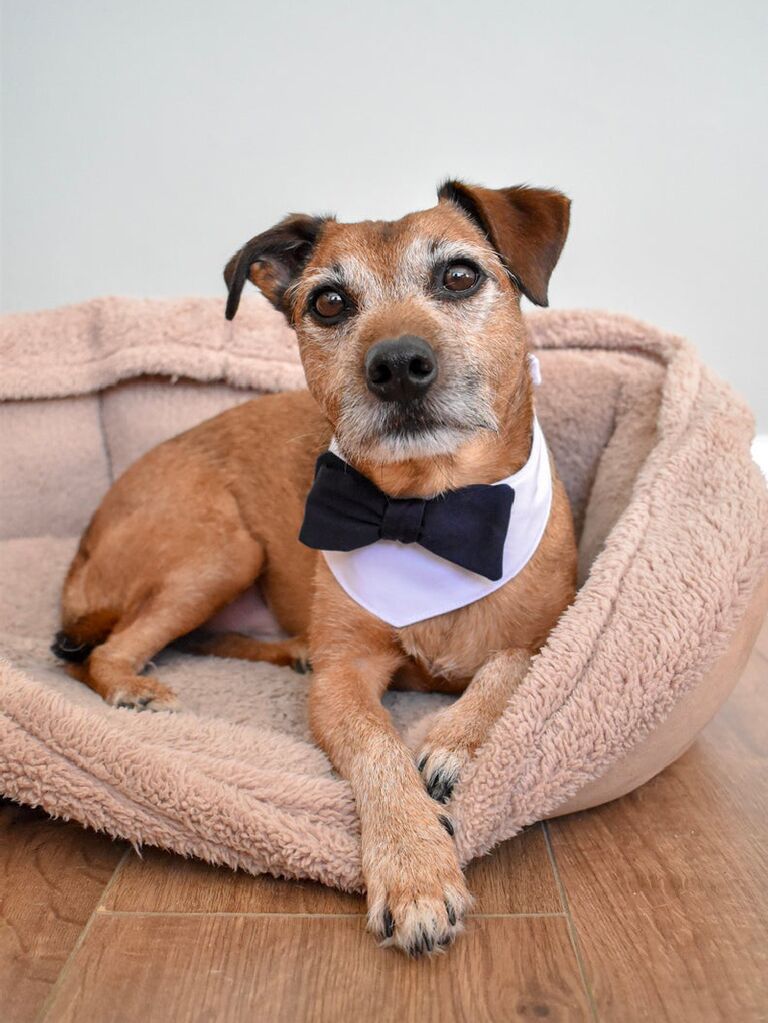 Here's another option if you want to skip the whole dog tuxedo and dress your four-legged friend in just a bow tie instead. This dog wedding bandana, which is an Etsy bestseller, features a fancy white collar too.
Giddings Gifts dog wedding attire, from $22, Etsy.com
Dog Wedding Hat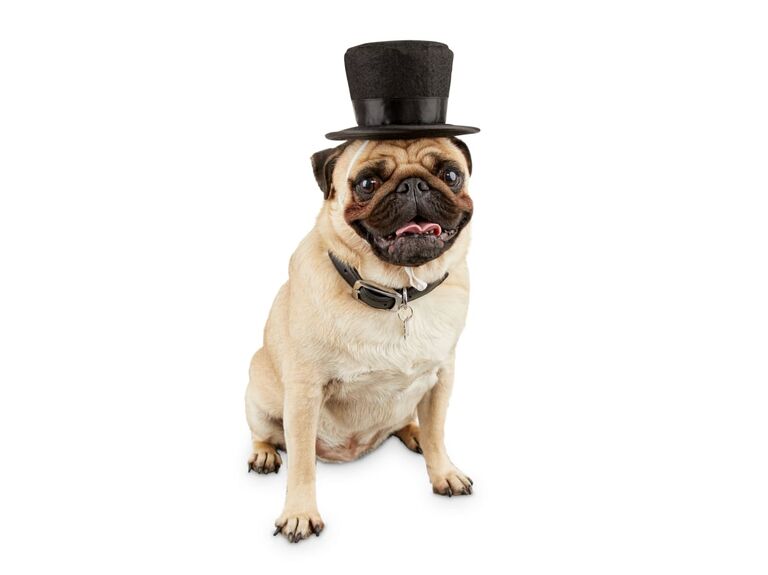 A playful dog top hat is sure to make your human guests smile. The adjustable chin strap will keep it secure, but it's flexible for comfortable wear. Dog wedding accessories have never looked so sophisticated!
Bond & Co. dog top hat, $10, Petco.com
Wedding Dog Leash
Add a little sparkle to your dog's wedding outfit with this (vegan) leather leash, which reads "I do too" in blinged-out letters. For even more glam, pair it with the matching wedding dog collar.
House of Fur Baby wedding dog leash, from $15, Etsy.com
Dog Tuxedo Collar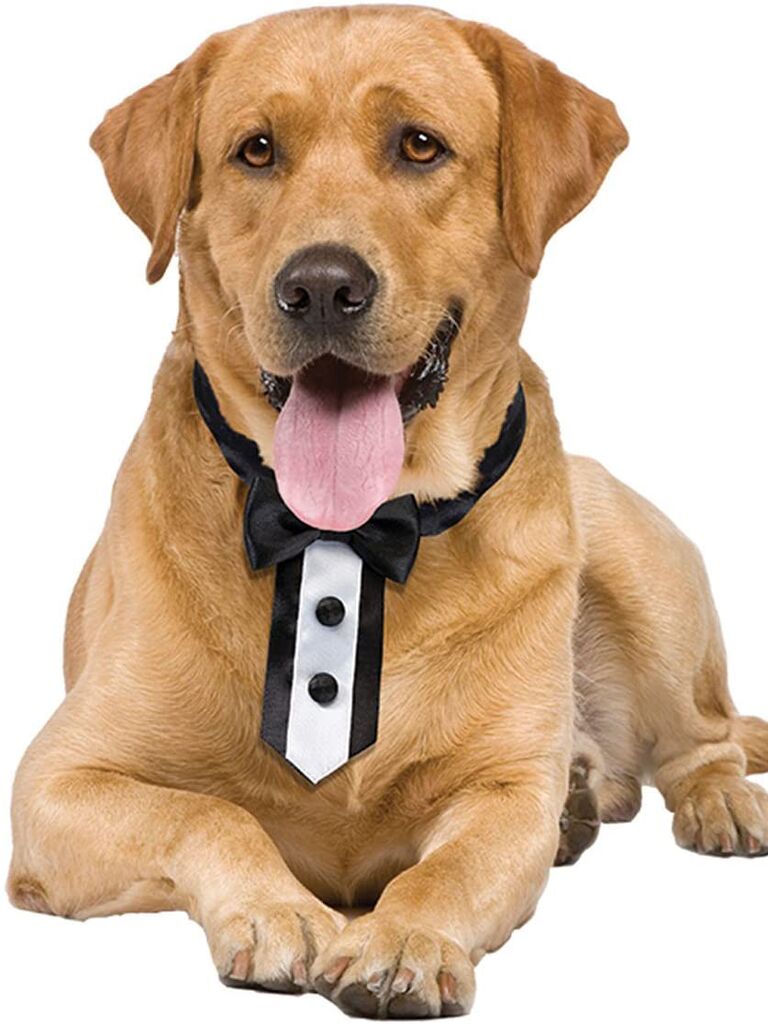 If you don't want to go all out with a dog suit for your wedding, opt for a dog tuxedo collar instead. This black and white accessory will give your furry friend serious 007 vibes.
Lillian Rose adjustable 7-16 inch tuxedo dog collar, $8, Amazon.com
Dog Ring Bearer Pillow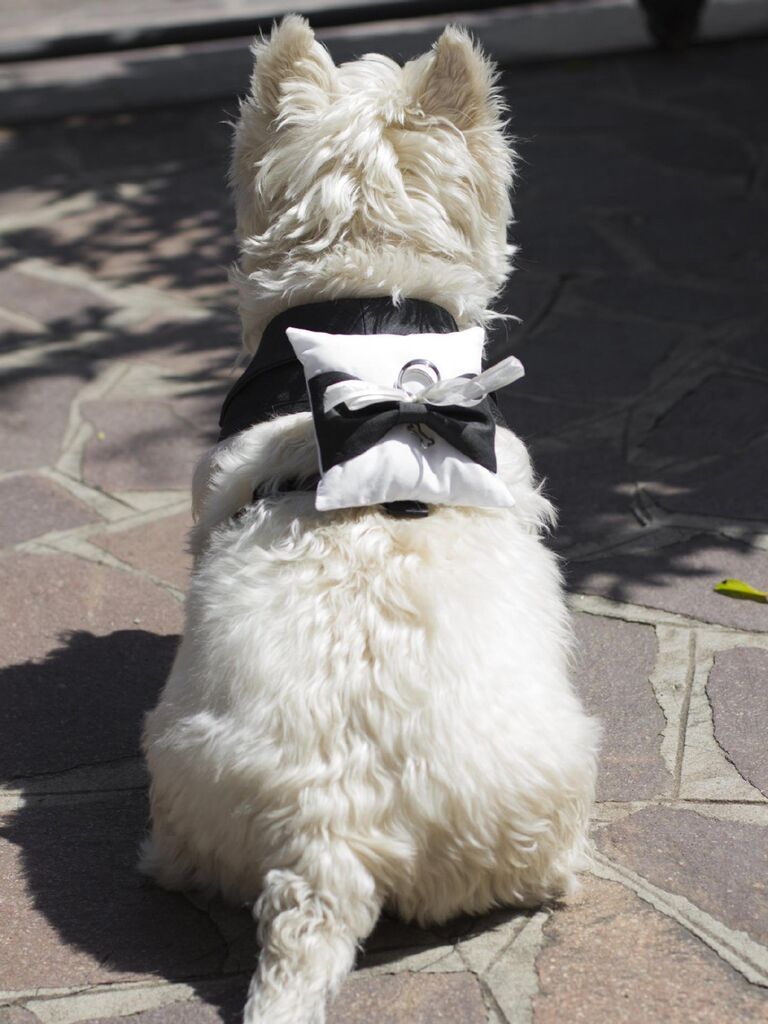 How about an adorable pillow for your dog's ring bearer outfit? You can have the bow accent customized to match your wedding colors for an extra-special touch. Simply attach the pillow to a harness and tie on the rings so your four-legged friend can deliver them to the altar. Just make sure they're fully secure (or opt for dummy rings instead).
Bow Paw Tie dog ring bearer pillow, $40, Etsy.com
Dog Wedding Sign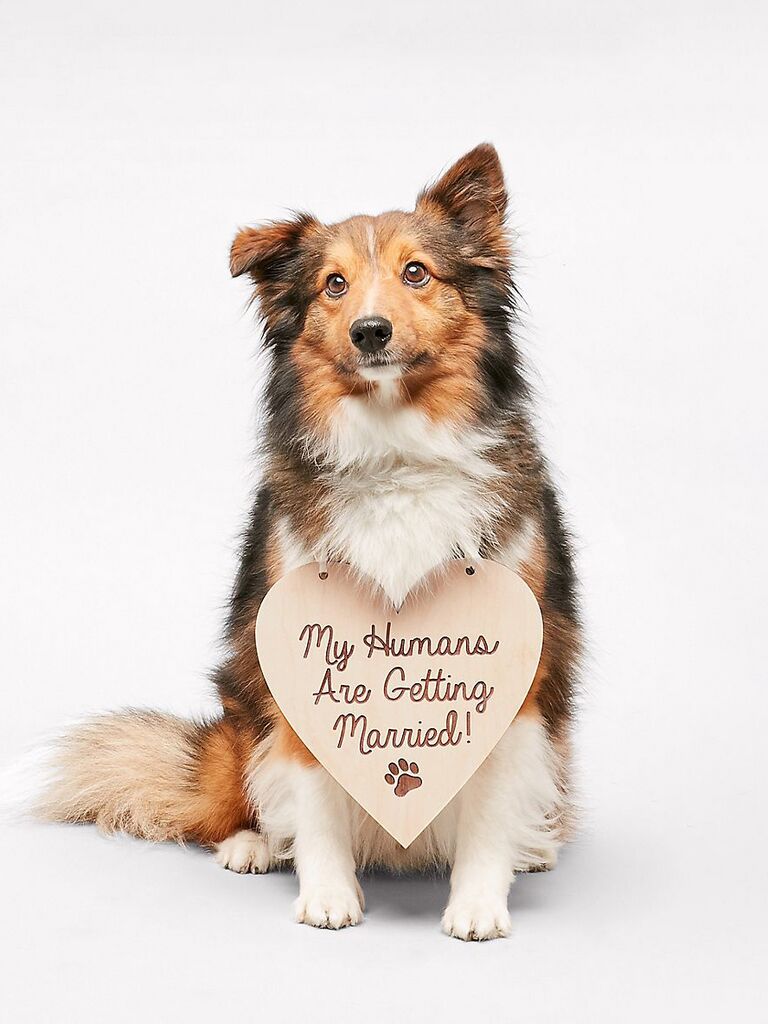 Don't overlook signage when searching for your dog's wedding outfit. This super-cute sign is simple but chic, and sure to make your wedding photos pop.
David's Bridal My Humans Are Getting Married sign, $17, DavidsBridal.com
Dog Flower Collar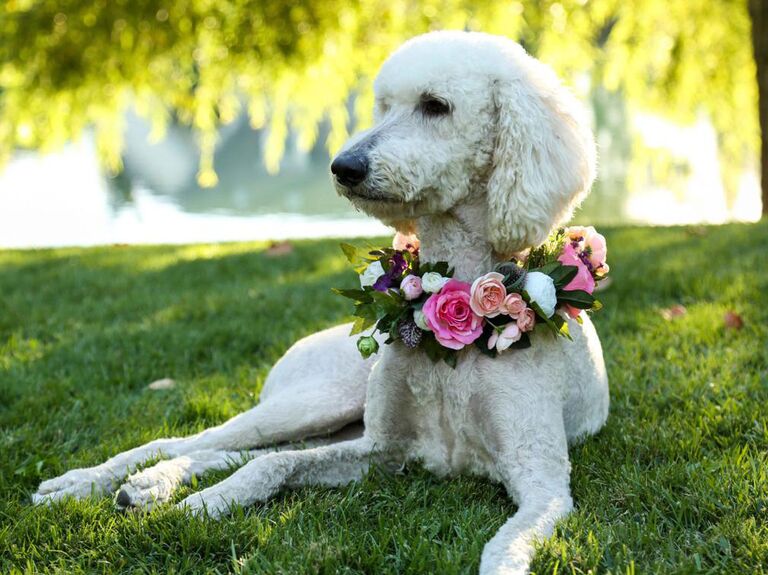 If you're planning on wearing a flower crown for the wedding, why not dress up your pup to match? With this gorgeous flower collar, your dog will be the belle of the ball (after you, of course).
Flowers Lovers dog flower collar, from $40, Etsy.com
Dog Wedding Necktie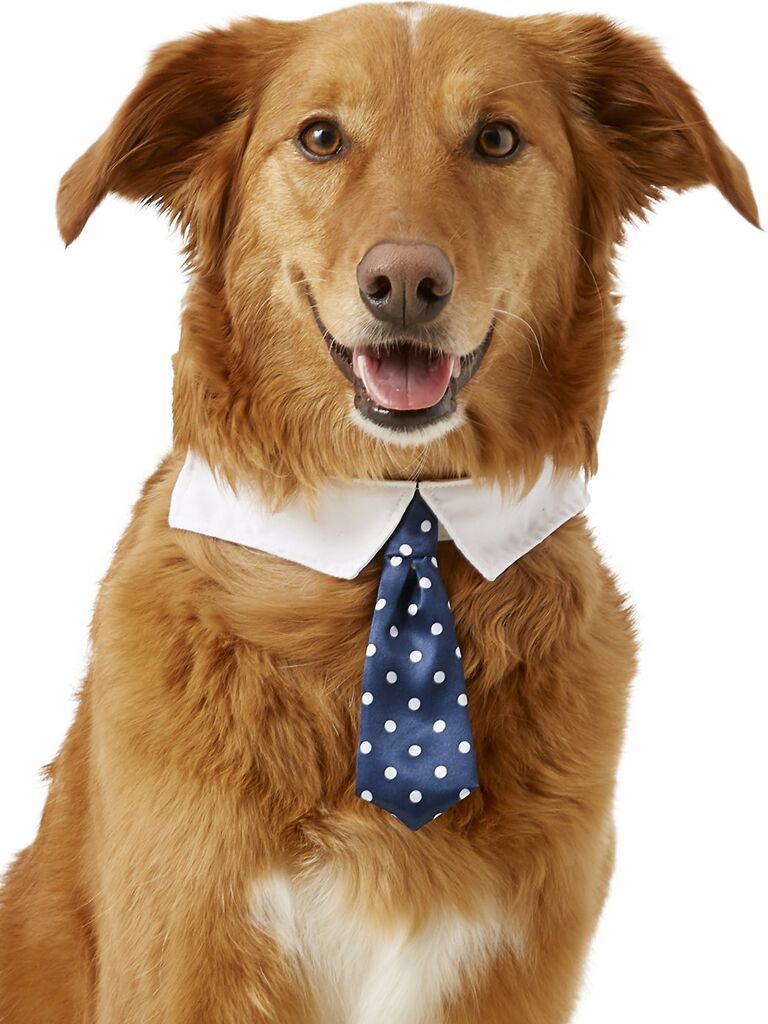 Whether they have the important role of ring bearer or are an honorary groomsman, this stylish shirt collar and necktie set will let everyone know your pet means business. Have you ever seen a more professional-looking pooch?
Frisco pet neck tie and collar, $5, Chewy.com