19 Dog Wedding Attire Ideas That Are Paw-fect for Your Pup
These pooch outfits are downright dapper.
We have included third party products to help you navigate and enjoy life's biggest moments. Purchases made through links on this page may earn us a commission.
Do you have a furry friend you want to include in the celebrations for your big day? Then they deserve a special outfit like the rest of your wedding party. Not only will you have fun buying dog wedding attire that adorably (and hilariously) resembles human clothes, but you'll also have the cutest wedding photos with your dog. But before you can start measuring your pooch of honor for an elegant dog tuxedo or a full-blown dog wedding dress, you'll need to consider a couple of things to ensure your dog is happy and comfortable. Check out our tips for buying dog wedding outfits, plus our round-up of the best clothing and accessories on the market for this special occasion. We guarantee that you and your guests won't be able to get enough of these darling duds.
In this article:
Things to Consider When Selecting Dog Wedding Attire
Ask yourself a couple of questions before buying the outfit.
Stumped on how to dress your pup? Here are a few questions to address before you shop:
How formal is the event? Base how fancy (or casual) your pet's ensemble is on what your human guests are wearing. If they're in tuxes, try a dog tuxedo.

What's the theme or color palette? Is there an emphasis on blooms? Try floral attire for your pet. Are the bridesmaids wearing pink dresses? Get your dog one too.

FEATURED VIDEO FROM THE KNOT

What's your dog's role? Is your canine serving as a best man pup? Find a dog wedding outfit that matches the groomsmen's attire. Is your furry friend getting walked down the aisle? Consider a fancy leash.

What's your dog like? Everyone should look and feel their best on the special day. When it comes to dog wedding attire, that means finding something suited to your pup's body and personality. So, if you have a big dog that likes to run around and explore, buy a colorful collar instead of a restricting tulle tutu.
Account for the weather.
Before purchasing dog wedding attire, keep in mind that your precious pup has a fur coat and can get overheated if not dressed in the correct clothing. This means you should opt for clothing with fewer layers and breathability. By doing so, your dog won't overheat and will have the mobility to do what they do best: sniff and run around. So if you're having a winter wedding, consider a lightweight dog tuxedo if you want your furry best friend as a groomsman. If you're having a summer wedding, consider only using accessories, like a floral dog wedding collar and leash, to protect your pup from getting too hot. Remember, less is more when it comes to your dog's wedding outfit.
Put the outfit on before the wedding day.
It's best to ease your pet into the dress-up process a few weeks ahead of time rather than putting on the dog's wedding outfit right before the ceremony. By slowly introducing your pup to the smell and feel of the outfit, they will have a better chance of feeling comfortable wearing it on the big day. We suggest you start this process at least one week before the wedding, so your dog has enough time to get used to the attire. Our tip: Reward your pet with delicious treats whenever they interact with the items positively. Your dog will quickly learn that loving the outfit equals yummy treats, which will make them more likely to cooperate.
Accept that your dog might not like wearing an outfit.
While going through the dress-up process with your dog, you might notice that they're not too keen on wearing an outfit. Signs that your dog is stressed or uncomfortable include pacing, a bowed head, a tucked tail, flat ears and round eyes that avoid eye contact. If you see this negative behavior, take off any clothing and give your dog a break—you don't want your dog to get too overwhelmed. (This is one of the reasons why you shouldn't leave your dog unsupervised while they're dressed up.) If you've tried several times to make the outfit work but your dog is still uncomfortable, we think it's best to move on from the idea of putting them in special dog wedding attire. Your dog won't be dressed to the nines, but they will still be at your wedding and happier than ever.
Dog Tuxedos
1. Navy Blue Dog Tuxedo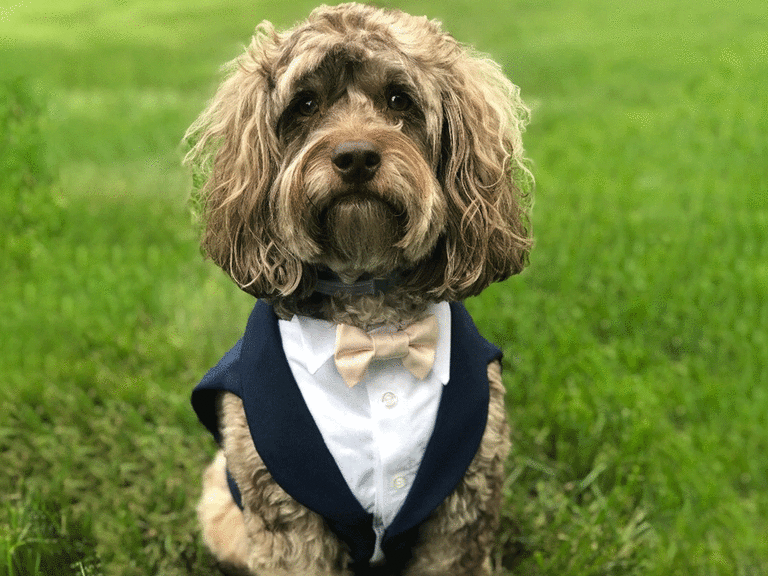 This navy blue dog tuxedo and bow tie set will make your furry best friend the best dressed at the wedding. The outfit is made to order using your pup's measurements to ensure the best fit possible. This tuxedo also comes in black or four different shades of gray. Bonus: You can customize the color of the bow tie in any shade you like.
2. Black Formal Dog Tuxedo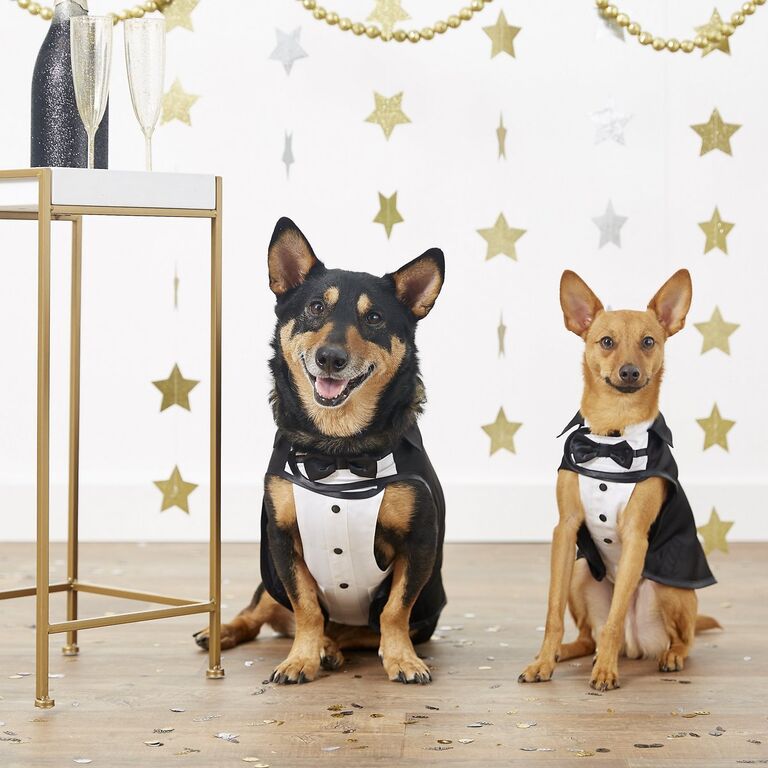 Are you throwing a black-tie wedding? Have your dog fit the dress code with this swanky black tuxedo and cute sewn on black bow tie. There's even a leash hole in the tux so your dog can walk down the aisle with you. The outfit ranges in sizes from XS to XXL, so you can find the perfect fit for your dog.
3. Gray Dog Tuxedo and Bandana Set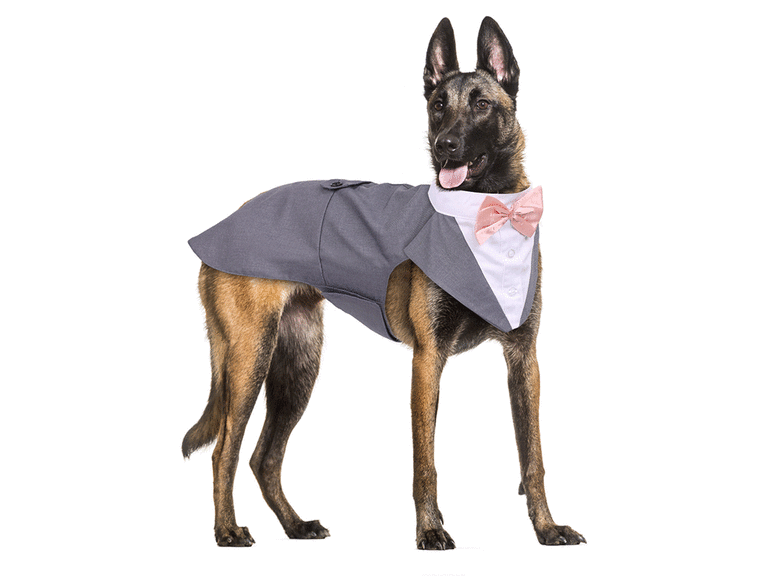 Have your dog dressed in style this wedding season in this darling charcoal gray tuxedo set. The best part about the set is that the bandana, with a pink bow tie accent, can be detached from the suit and used separately. This outfit also comes in solid black and black pinstripe.
4. Denim Blue Dog Tuxedo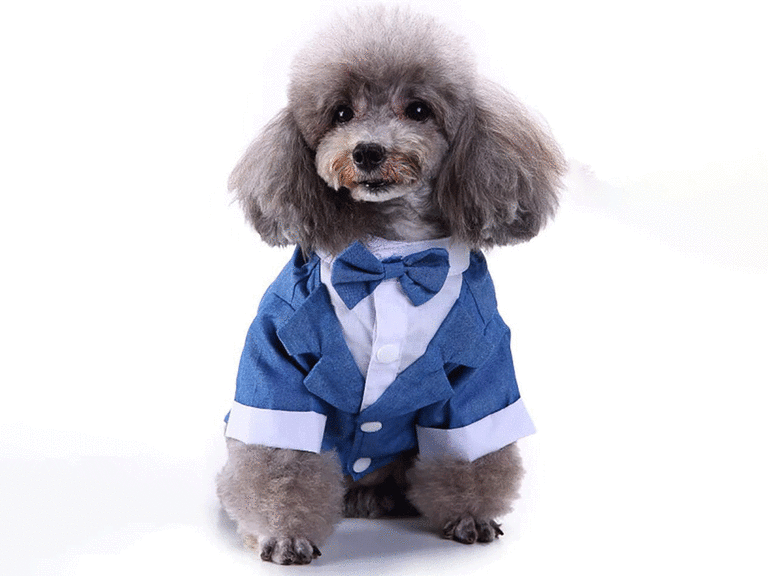 Your dog will look like a distinguished young gentleman in this dashing tuxedo. The tux comes in 26 different colors and patterns, like red plaid and navy pinstripe, so you have plenty of options to choose from. The color and pattern availability varies based on the size selected.
Dog Wedding Dresses
5. Summer Dog Bridesmaid Dress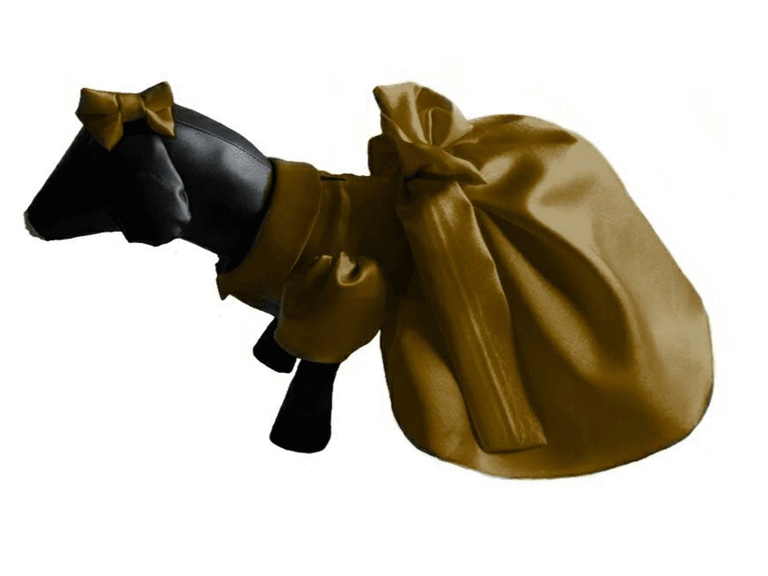 If your pup is your little princess, try this gorgeous dog bridesmaid dress made from oh-so-soft satin. All you have to do is submit your pet's measurements and choose your preferred color. The dress comes in five colors, like mustard yellow and plum, but you can also customize the color to match your wedding decor. Bonus: There are dresses in beautiful autumn, winter and spring colors too.
6. White Lace Dog Wedding Dress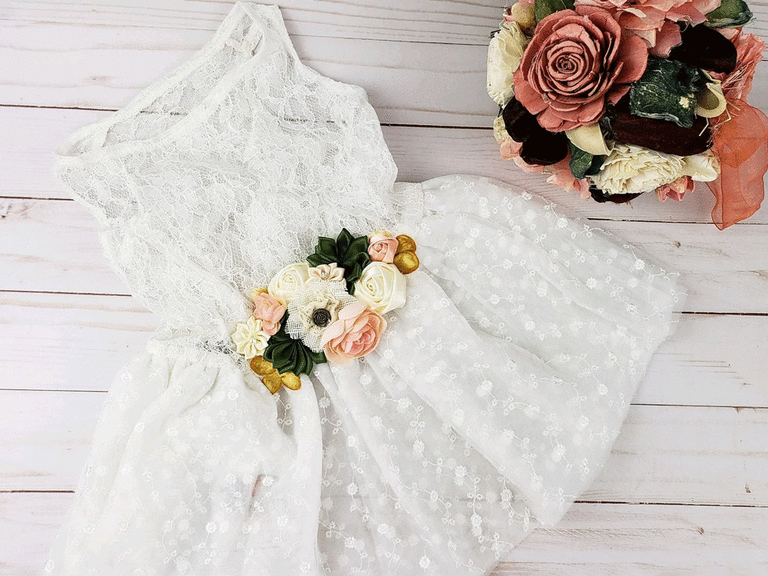 We're honestly amazed by this dog wedding dress. The lace gown, which comes with the prettiest sage and blush floral accents, rivals a human wedding dress. There's also a matching dog collar and leash for a paw-fectly put-together look.
7. White Satin Dog Wedding Dress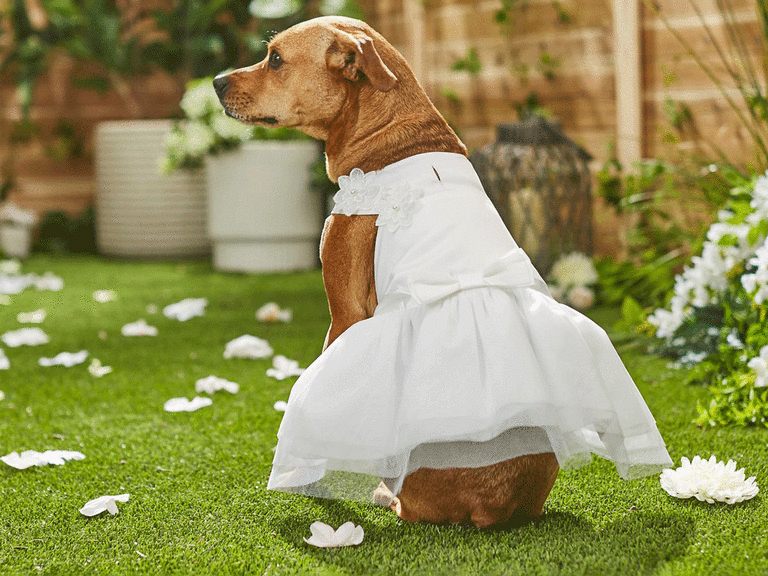 If you want your best friend to match your wedding dress, this white satin dog wedding dress with tulle layers is perfect for you. For a touch of elegance, the dress has lace flower embellishments, faux pearl beading and a satin bow.
8. Pink Lace Tutu Dog Dress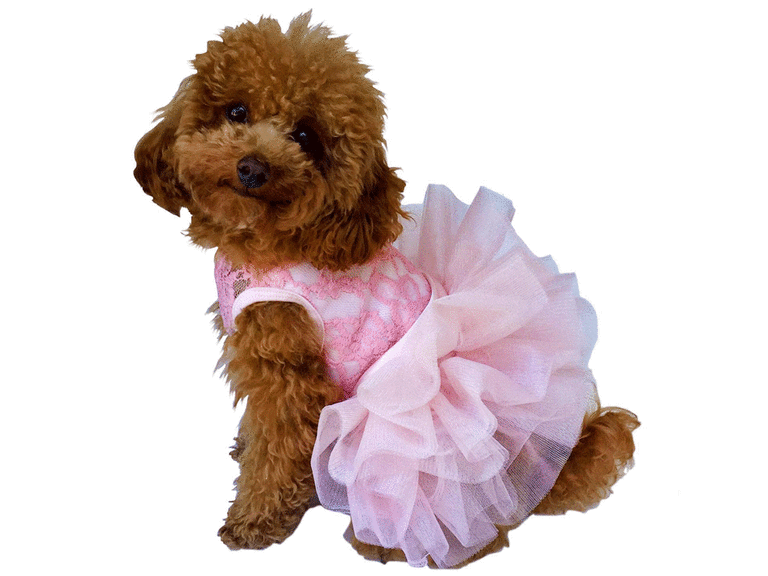 Your pooch will be pretty in pink in this cute lace tutu dress. The dress is accented with a satin sash and is a great option if you want your dog to be a flower canine or bridesmaid.
Dog Wedding Accessories
9. Succulent and Flower Dog Wedding Collar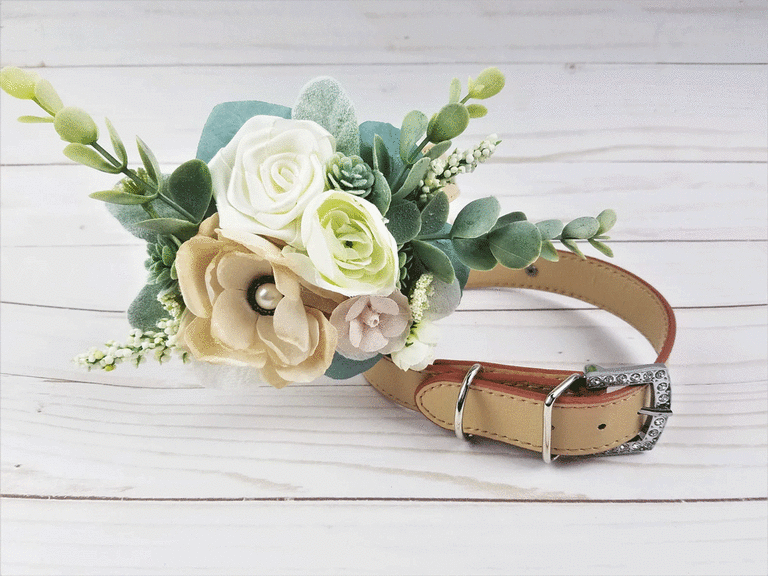 This chic dog wedding collar will help your dog steal the show. The faux flowers are realistic but durable, and the collar has soft felt padding that'll keep your pup comfy. You also have the option to add a matching leash to your purchase.
10. Nautical Anchor Dog Bow Tie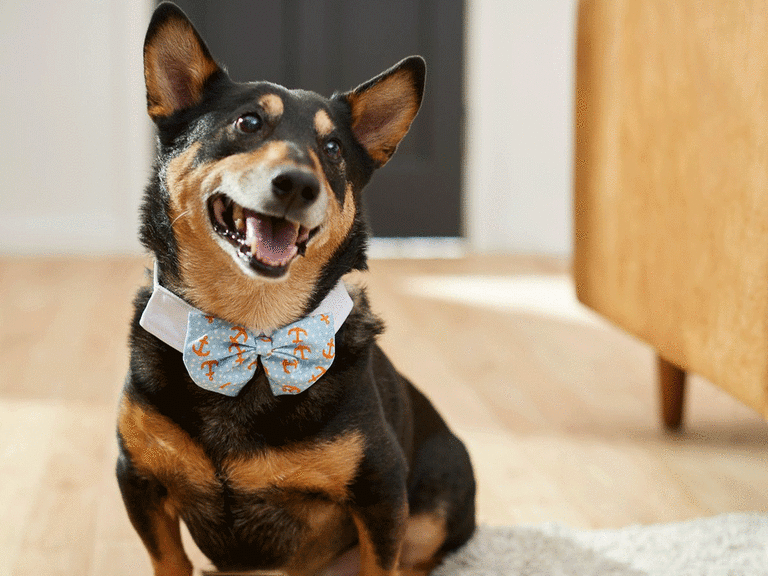 If you don't think your dog will like wearing a suit for your wedding, opt for a patterned bow tie instead. This blue polka-dot and orange anchor accessory is perfect if you're having a beach wedding.
11. "I Do Too" Dog Wedding Collar and Leash Set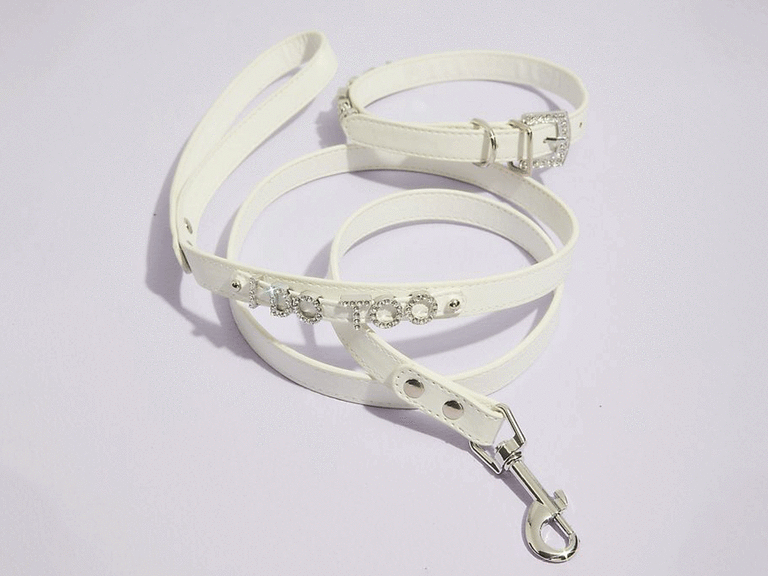 Add a little sparkle to your dog's wedding outfit with this white leash, which reads "I do too" in blinged-out letters. This collar and leash set will definitely turn heads.
12. "My Humans Are Getting Married!" Sign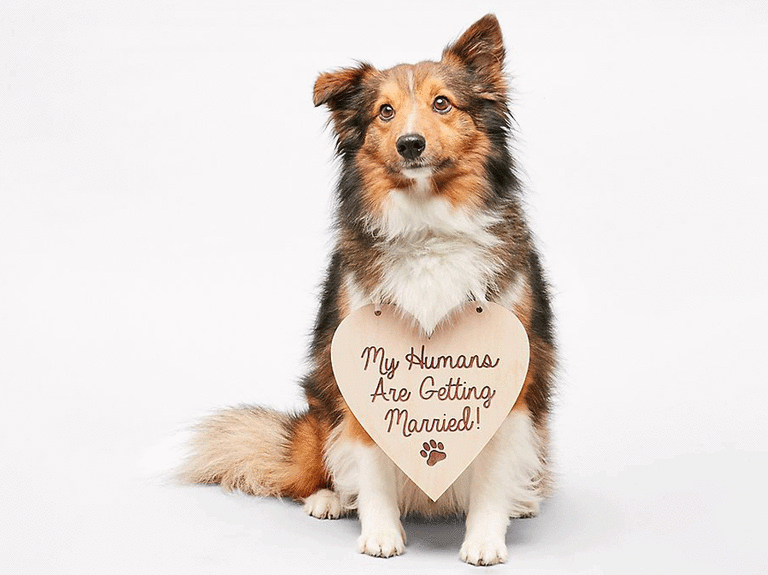 Don't overlook the option of using signage when searching for your dog's wedding outfit. This super-cute sign is simple but chic and sure to make your wedding photos pop.
13. Reversible Wedding Bandana
No matter what role you're honoring your four-legged friend with, this reversible bandana with "Flower Girl" and "Best Dog" written on separate sides will help your dog be ready for anything. The bandana has velcro attachments, so you can easily put it on (and take it off) with barely any fuss.
14. Luxury Ivory Dog Harness
This elegant cream-colored harness with a lacy overlay is a fitting wedding outfit for your pup. You have the option of adding a flower detail with faux pearls or a matching lace bow. You can also add a matching leash to your purchase.
15. Dog Flower Crown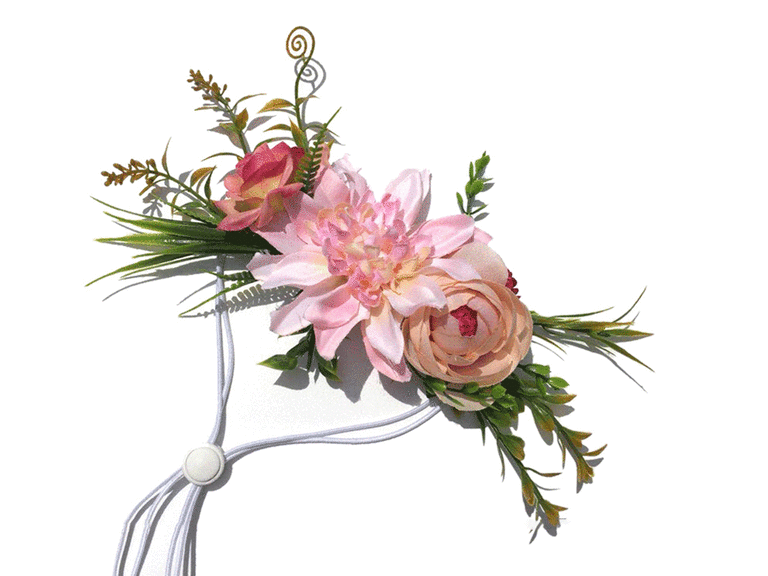 If you're planning on wearing a flower crown for the wedding, why not dress up your pup to match? With this gorgeous pink and peach flower collar, your dog will be the belle of the ball (after you, of course).
16. Black Dog Bow Tie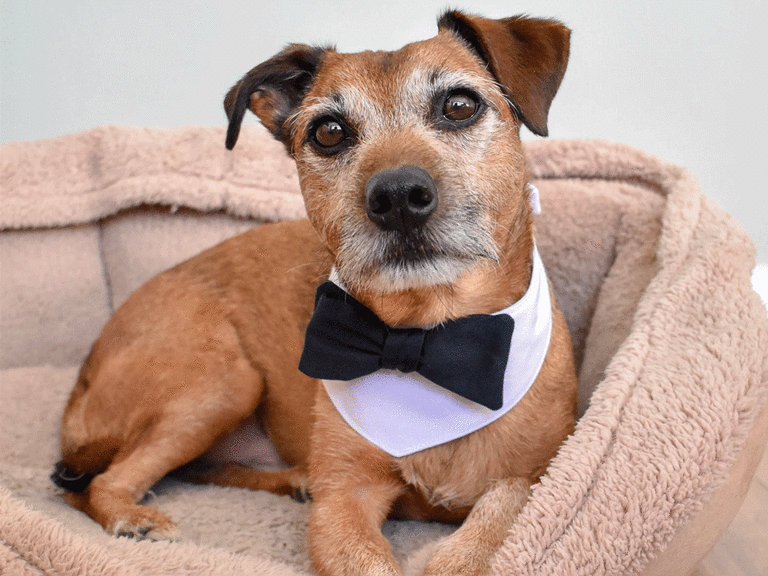 Here's another option if you want to skip the whole dog tuxedo and dress your four-legged friend in a simple bow tie instead. This dog wedding bandana, which is an Etsy bestseller, features a fancy white collar too.
17. Orange Carnation Collar
If you can't picture your pooch lasting the day in full dog wedding attire, accessories are your best friend. This one is simple yet vibrant and is made of soft fabric to keep your dog comfortable all day.
18. Dark Pine Metallic Collar with Bow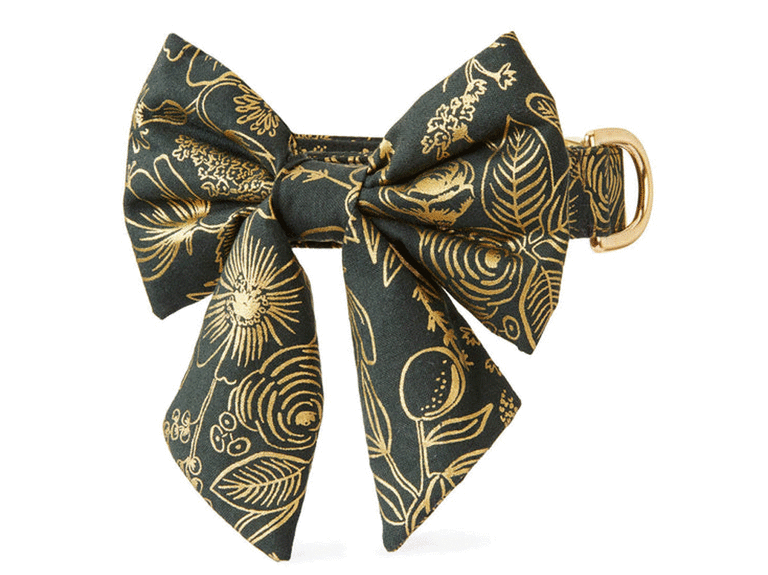 This glamorous floral metallic collar with bow detail is the best way to show your guests that you'll always go above and beyond for your furry friend. Bonus: The bow is detachable, which is perfect if your dog likes to chew on things too close to their face.
19. Dog Ring Bearer Pillow
How about an adorable pillow for your dog's ring bearer outfit? This white lace pillow comes with the option of satin ribbons or a white bow detail. Simply attach the pillow to a harness or collar and tie the rings to the ribbons (there is a ring clasp option if you want better security) so your dog can deliver them to the altar. Our tip: Make sure your rings are fully secure so there are no accidents (or opt for dummy rings instead).