20 Gorgeous Wedding Dress Hangers for Your Big Day
These are more than hangers. They're keepsakes.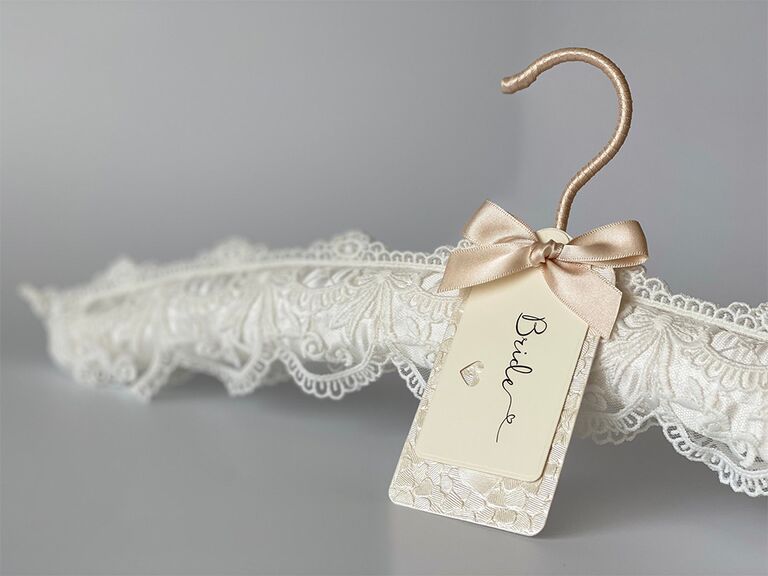 We have included third party products to help you navigate and enjoy life's biggest moments. Purchases made through links on this page may earn us a commission.
Wedding dress hangers have exploded in popularity in recent years. As you get ready, your photographer may take styled photos of your attire hanging up, so having a beautiful, keepsake hanger is a great way to make the photos pop. The hanger can feature your bride or groom title, your name or even your wedding date.
Wedding day hangers also make great bridal party gifts for your bridesmaids, flower girl and groomsmen—you could even gift a hanger to the bride as a bridal shower gift. While you could always DIY a wedding dress hanger, these options will save you time and are guaranteed to stand out in your wedding photos. Here are our top picks for wedding dress hangers, and browse The Knot for even more getting ready inspo.
The Knot Personalized Wooden Wedding Clothes Hanger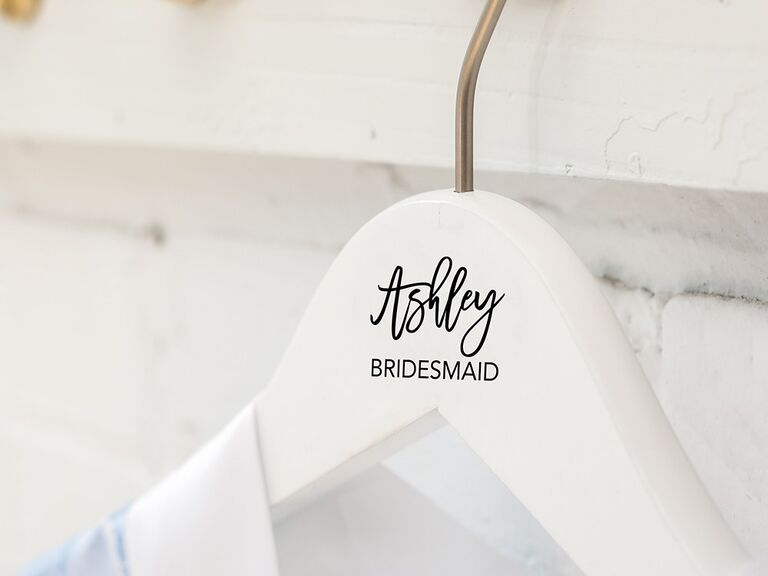 This wooden hanger features your name in a whimsical script at the top so it can peek out from your dress or robe. As a bonus, it comes in black, natural or white, so you can pick one that matches your wedding day aesthetic perfectly.
Weddings Decor Style Personalized Bridesmaids Hangers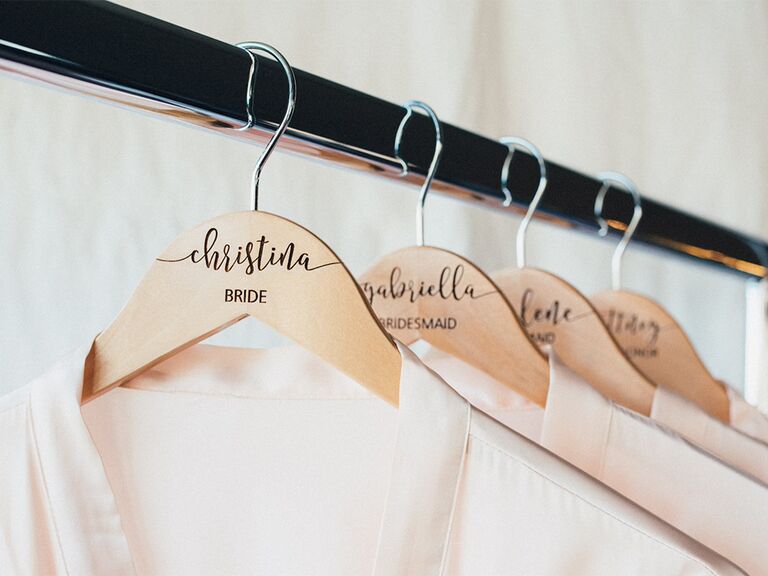 The names on these hangers are engraved into the wood for a bespoke touch. You can choose to keep it simple with just a name, or add titles such as bride and bridesmaid or even your wedding date. This wooden hanger option is perfect as both a wedding dress hanger and a wedding party hanger for bridesmaid dresses or attire.
The Knot Personalized Wooden Wedding Hanger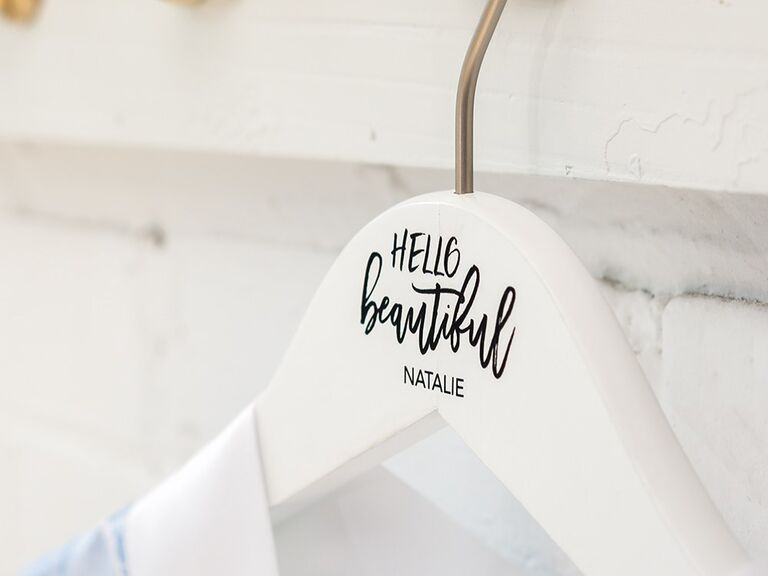 If you're looking for a fun and playful hanger that will still look great in photos, this engraved hanger may be the one. With cheeky "Hello beautiful" wording and the ability to personalize it with your name, it's the perfect accessory to your day-of look.
David's Bridal Personalized White Wooden Hanger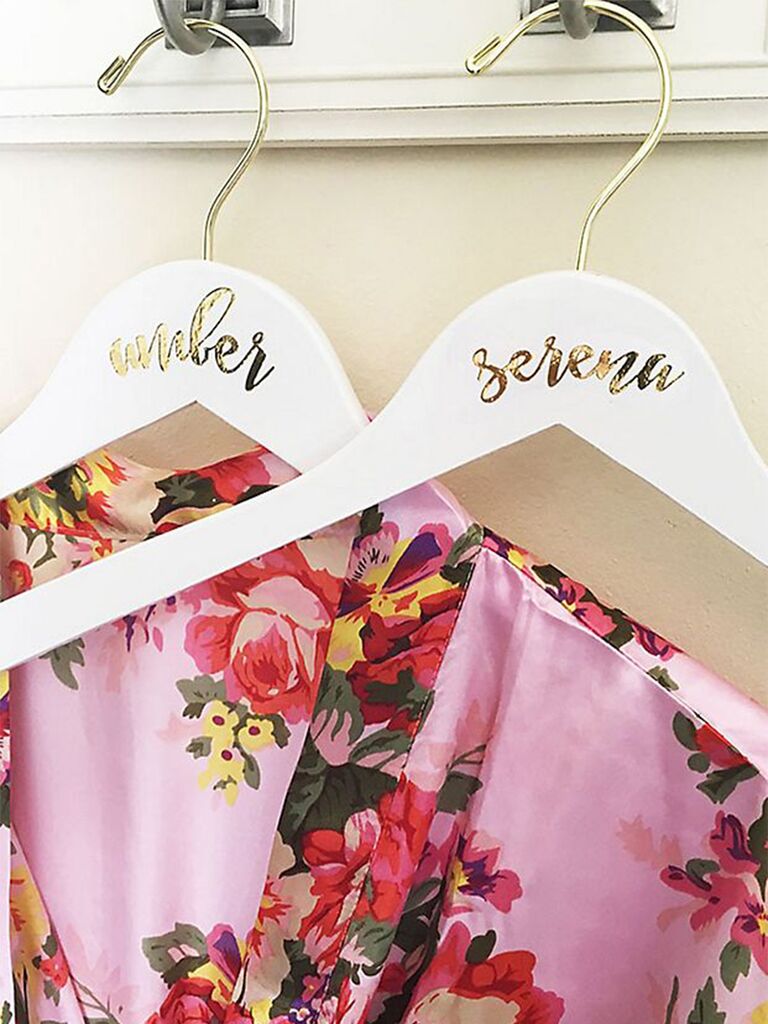 Nothing goes better with a wedding than white. These classic white hangers come with your custom text in a bright, shiny gold foil for a pop of glam. Whether you want the hanger to say your name, a nickname or your new title, this hanger will look great against your wedding day outfit.
The Knot Personalized Wooden Wedding Hanger Modern Fairytale Monogram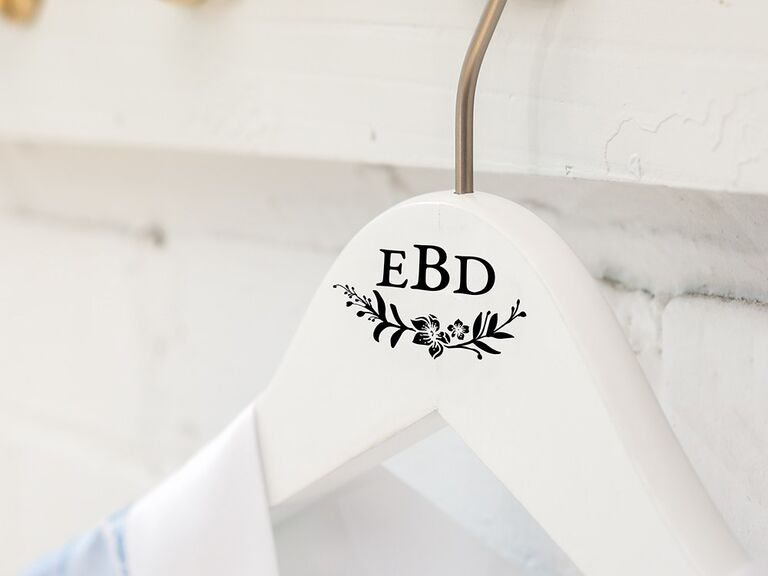 For many engaged couples, your initials are one of the biggest things to change after your wedding. Celebrate your new monogram with this hanger, which prints your initials onto the hanger in a bold serif font with a delicate floral motif.
Akito Avalanche Wedding Dress Hanger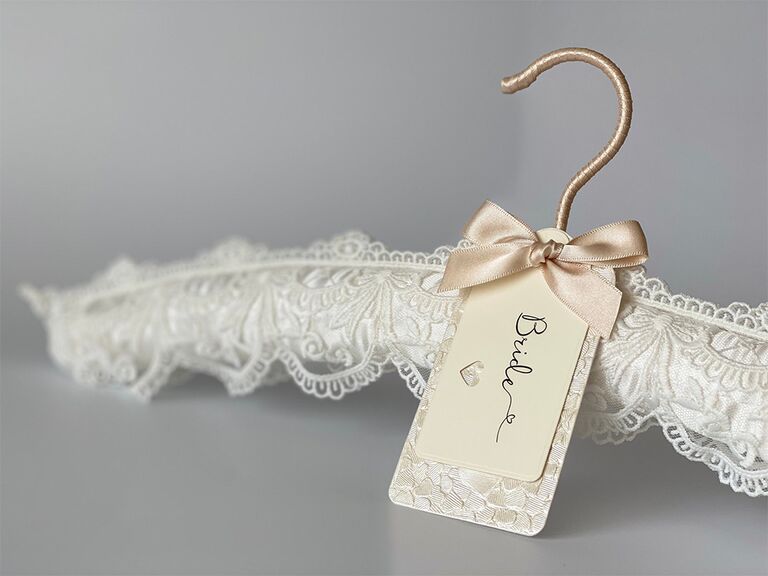 Bridal dress hangers don't have to be wooden. This padded hanger is covered with delicate lace for a classic and traditional look. It all comes together with a small gold bow and a handmade "bride" label—it would make for a beautifully unique gift for a family member tying the knot.
Bridesmaid Hangers Natural Bride Hanger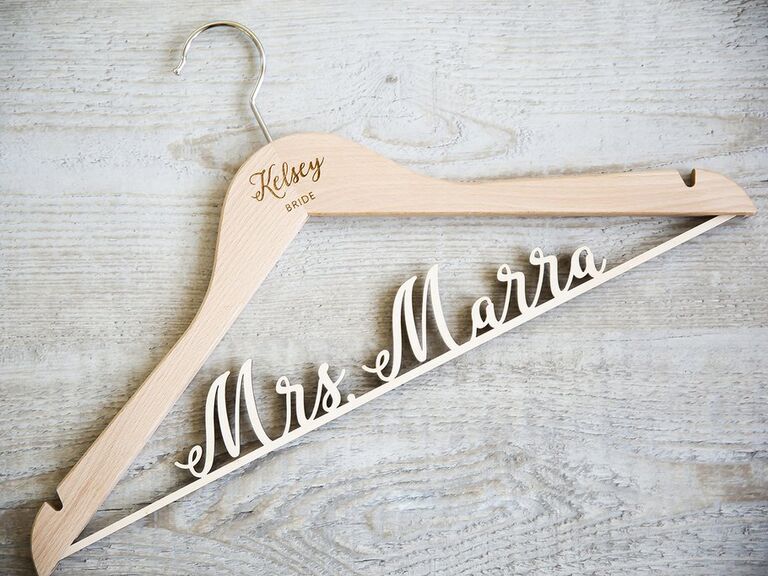 This option combines the best of both worlds with your first name engraved on the wood of the hanger and your new last name onto the "bar" of the hanger for a photogenic design that will turn heads. Hint: You can even order matching bridesmaid hangers or a hanger for the mother of the bride from this shop as well.
Your Wedding Place Custom Bridal Hanger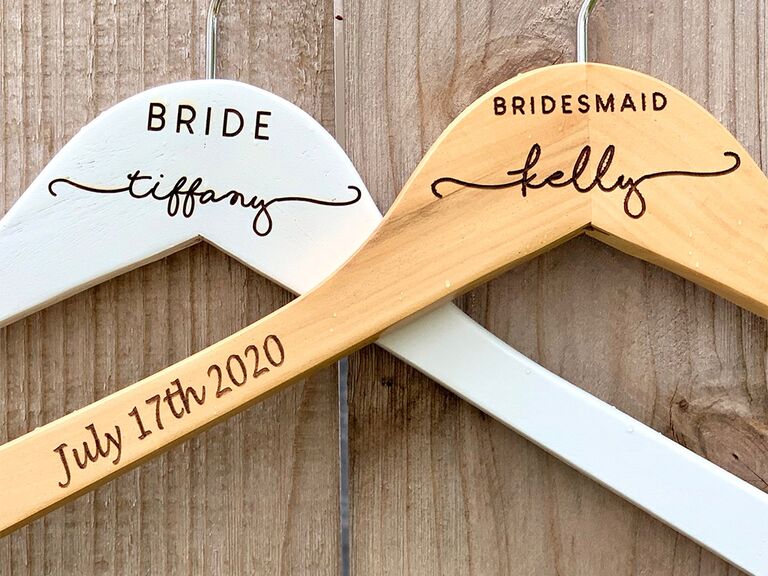 Your name, title and date can all be engraved into the wood of this classic hanger. Thanks to the craftsmanship and unique fonts available to choose from, it will look great in all your photos.
David's Bridal White Wooden Bride Hanger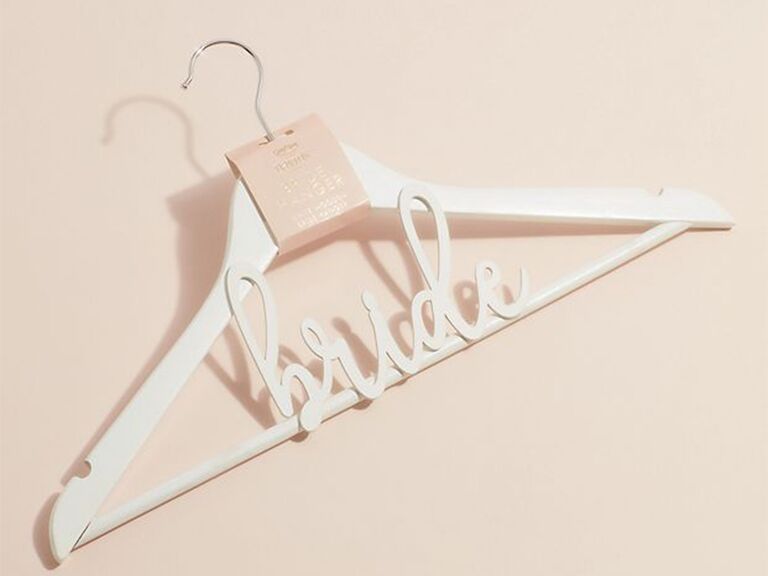 This classic bridal white hanger features the word "bride" cut out in impactful script at the base of the hanger. This option is ideal for a to-be-wed who considers themselves (or their wedding day design) more modern than romantic or frilly.
Griffins Nest Co. Velvet Hanger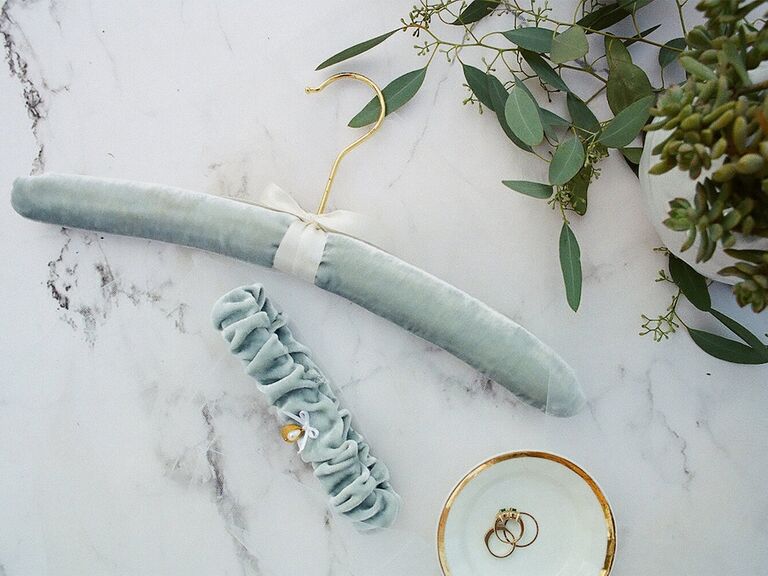 The luxurious, soft feeling of velvet is perfect for holding up your special occasion attire on your big day. This velvet hanger comes in a variety of colors and could even be your something blue.
Foxblossom Co. Elegant Satin Bow Bridal Wire Hanger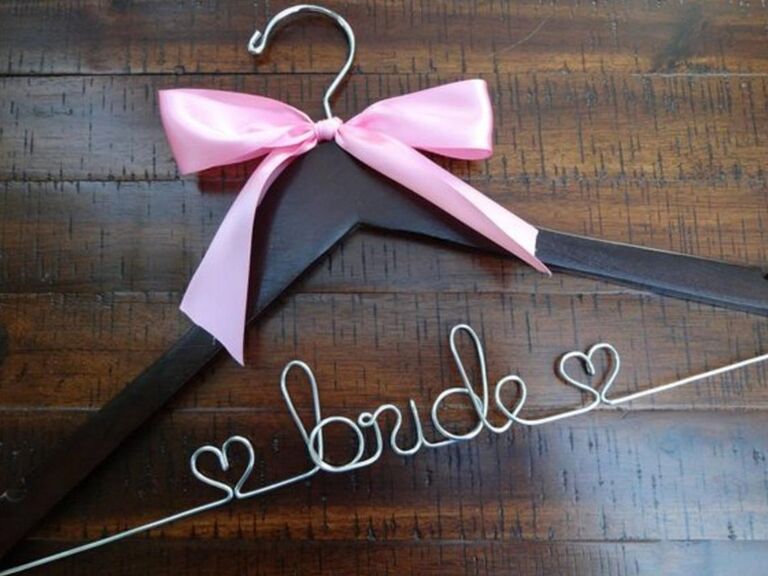 From the large bow to the "bride" script in wire, this unique option will pop against your dress for timeless and feminine wedding photos. You can choose the color of the wire, hanger and bow for an entirely custom and colorful look.
Foxblossom Co. Bride Hanger with Satin Flower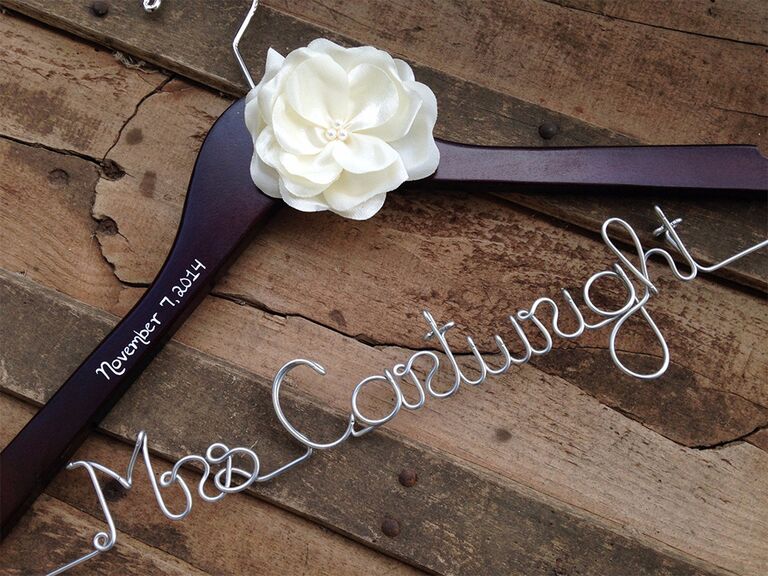 This wooden hanger spells your married name out in wire and includes a delicate satin flower that's perfect for a spring wedding. Both the flower and the wire come in a variety of colors, from silver to lilac, so you can match your decor colors perfectly.
Ribbon and Rings Personalized Wedding Gown and Bridesmaids Dress Hanger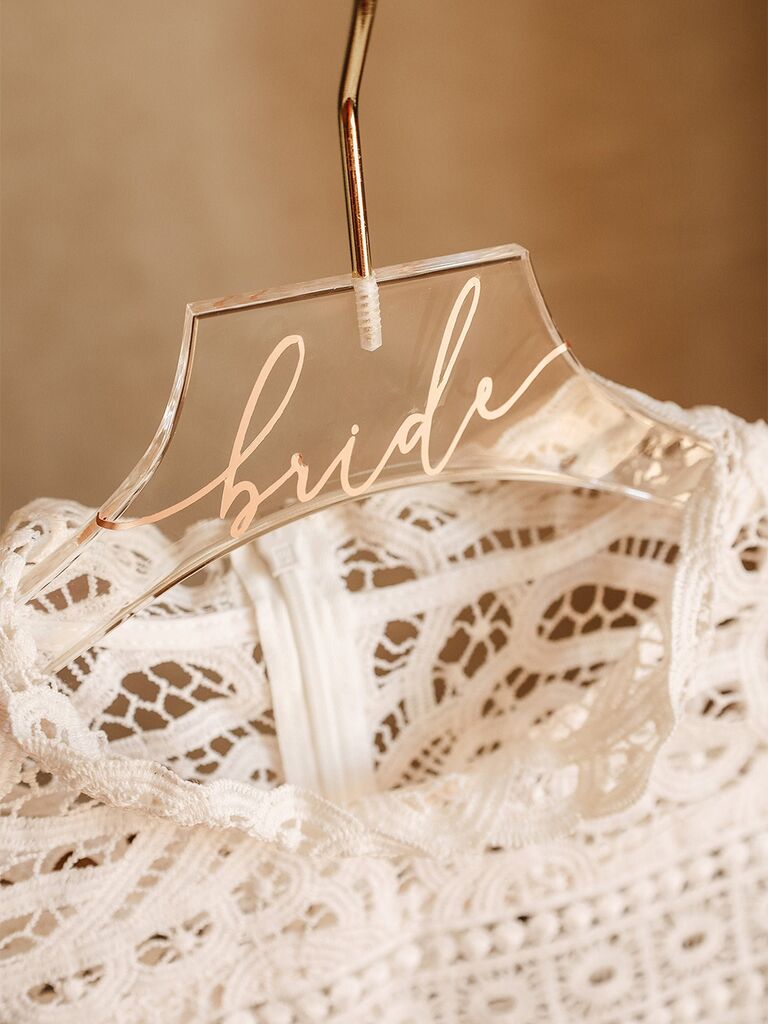 This acrylic wedding hanger features stunning gold, champagne or rose gold script. The clear acrylic is perfect for a bride-to-be seeking a modern, minimalist look for their wedding day details.
Apk Bridesmaids Gifts Personalized Bride Hanger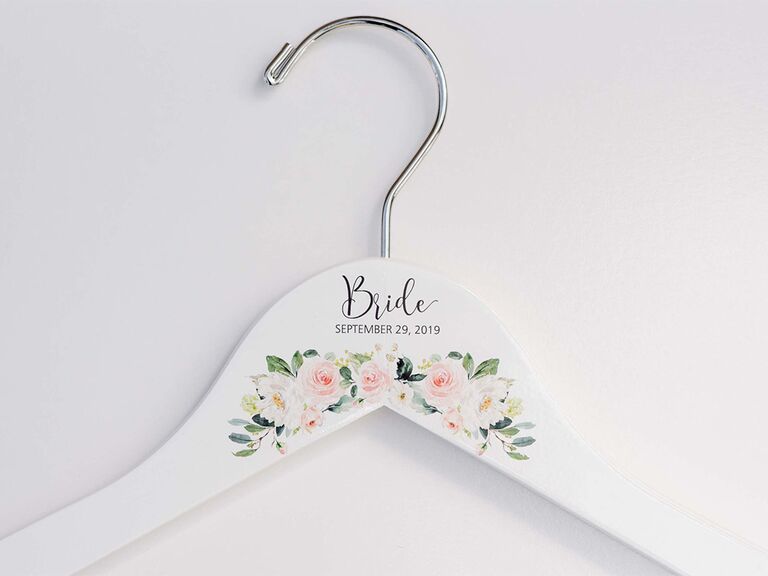 While many personalized wedding dress hangers are engraved, this option features beautifully painted flowers underneath your chosen title and wedding date. For those planning spring weddings with lots of blooms, this wedding dress hanger will fit right in.
Foxblossom Co. Elegant Wire Wedding Date Bridal Wooden Hanger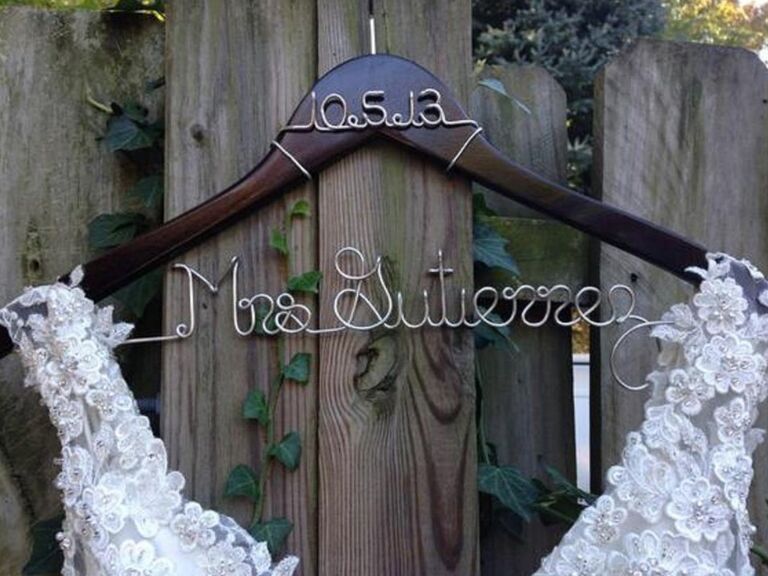 Many couples pick a wedding date that holds significance for them, such as the day of their first date. If that's true for you and your spouse-to-be, consider a hanger that prominently features your wedding date. The silver wire on this hanger carves out your name, continuing up onto the hanger where it forms your date.
Foxblossom Co. Elegant Beach Seashells Wedding Wire Hanger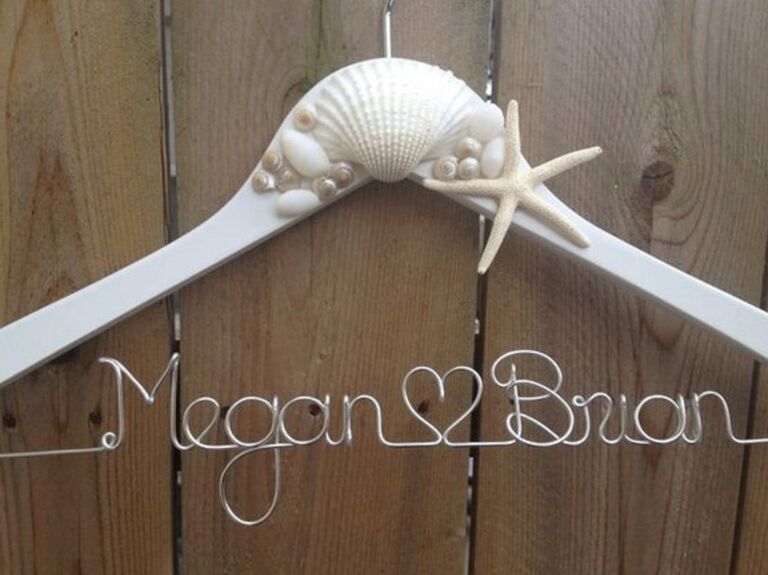 If you're saying "I do" on the beach, this hanger would be perfect for displaying your dress. The seashell details instantly evoke the feeling of sunshine and sand for the perfect coastal photos.
Awesome Hanger Personalized Hanger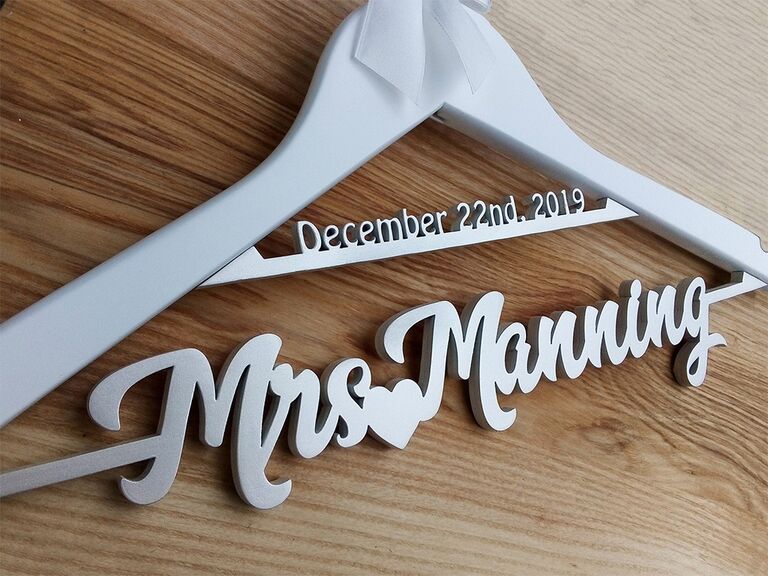 This bold, colorful name hanger features thick wooden text along the base. While many wooden hangers come in traditional stains such as cherry and natural, this hanger can be painted in almost any color, from navy blue to rose gold, and the wooden name can be done in a second color for a fully custom look.
Ella Celebration Mrs. Wedding Dress Hanger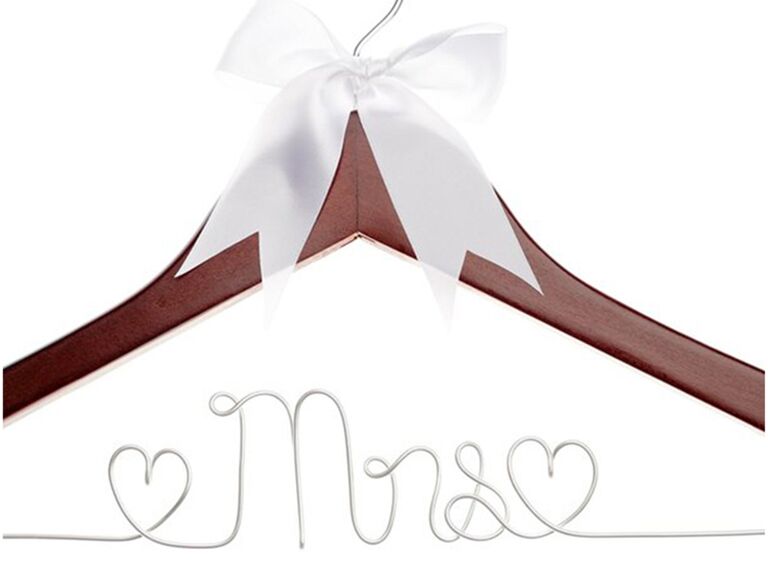 A simple white bow completes this classic bridal gown hanger. You can go dark with the mahogany wood color for a rustic wedding, or more traditional with an all-white hanger for an elegant ballroom bash.
Bash House Bridesmaid Hangers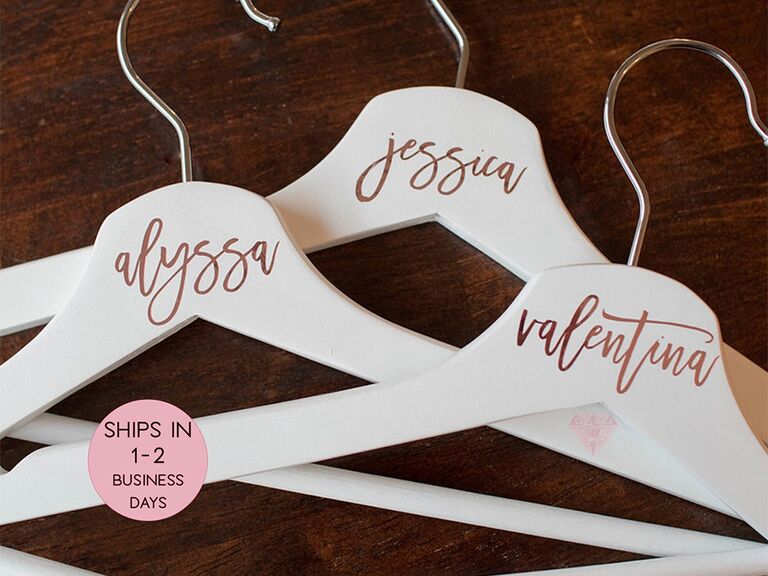 For a classic, Pinterest-worthy look, consider these bridal party hangers with rose gold calligraphy. You can customize them with any text you want, so they'd make a perfect bridesmaid gift or wedding party gift.
Whiskey 'n Wedding Bells Wedding Hanger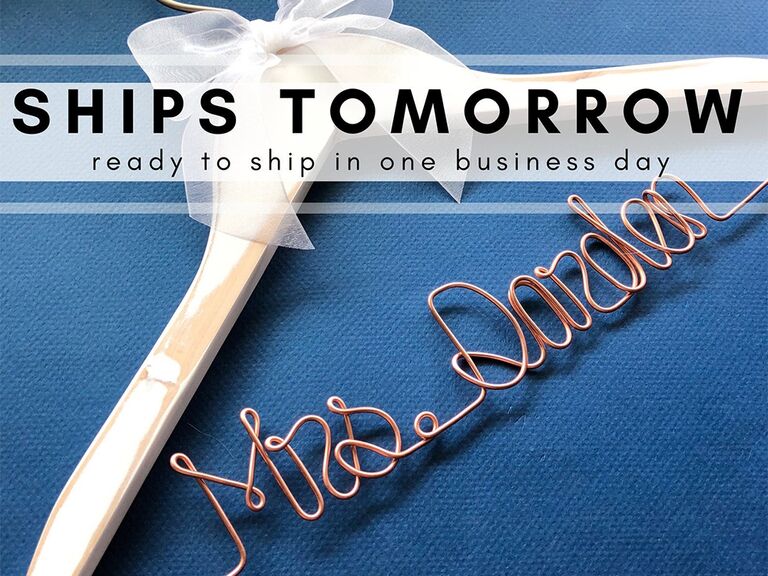 Instead of printing your name on the wood, this unique hanger spells it out with rose gold wire. This gorgeous design also comes with an adorable bow—you can pick white or ivory to match your dress or choose a fun color to match your decor vibe.