The Best Black Friday Wedding and Engagement Ring Sales of 2021
We've got the scoop on the best deals (including some The Knot exclusives!), plus expert tips on how to shop them.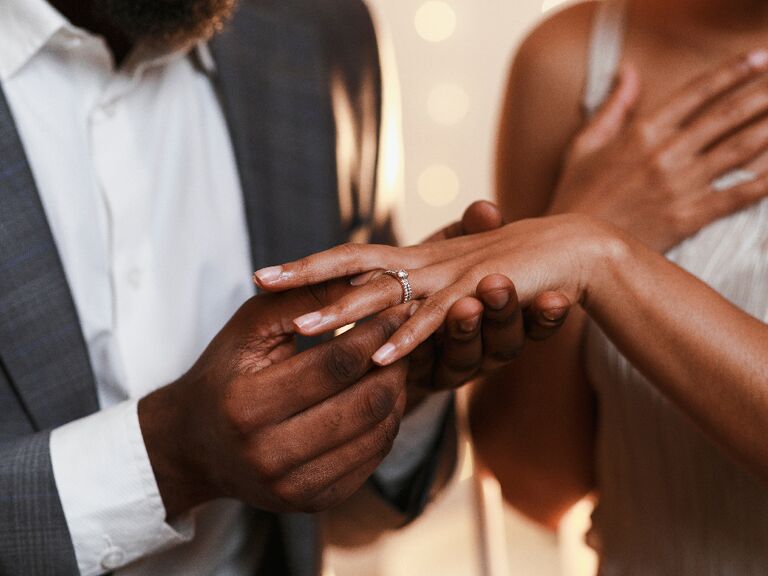 Prostock-studio/Shutterstock
We have included third party products to help you navigate and enjoy life's biggest moments. Purchases made through links on this page may earn us a commission.
It's the most wonderful time of the year… for engagement ring shopping, that is. Proposal season is officially here, which means it's time to let you in on a little secret: Black Friday engagement ring sales of 2021 have finally arrived. Some of our favorite jewelry brands are delivering massive cyber week sales this year, which means you can start shopping for the perfect piece today (at a fraction of the usual cost). And engagement rings aren't the only jewelry on sale this holiday season, because Black Friday wedding ring sales are 100% a thing too. So whether you're looking for a proposal piece, a new band for your wedding stack, or a great piece of jewelry to wow your S.O., now is a great time to commit to the purchase. "For many people, an engagement ring is the biggest purchase they will have made up until that point in their life, so shopping for bridal jewelry during Black Friday or Cyber Monday is an efficient way to ensure they can get an amazing piece at an incredible value," says Sean Kell, CEO of Blue Nile.
While some of these Black Friday engagement ring sales are available in-stores, most are accessible online as well. You can definitely shop virtually for an engagement ring, especially as online-only brands emerge on the market. But, if shopping online for such an important bauble feels overwhelming, don't stress. Virtual jewelry shopping is becoming more common as brands develop revolutionary technology to enhance the digital browsing experience. Plus, you can instantly connect with experts to ask questions and get assistance with finding "the" ring. And, since sales on engagement rings and wedding bands are rare, these Black Friday sales for 2021 offer the perfect opportunity to find a great piece for less.
Since wedding jewelry is such a valuable purchase, we're here to help take the guesswork out of shopping. Below, jewelry experts share how to shop Black Friday engagement ring sales to ensure you're getting a reliable deal from a trustworthy brand. And, to make your life easier, we've also rounded up the best sales from our favorite retailers that you can shop right now. (Consider it our holiday gift to you.)
In this article:
How To Shop for Engagement Rings and Wedding Bands on Black Friday
There are a few things to know before you start shopping for an engagement ring on Black Friday. First, you'll want to have a budget set in place. According to The Knot Real Weddings Study, the average spend on an engagement ring in the US is $5,900. Our data also found that the average cost of a female wedding band is $1,100, while the average cost of a men's wedding band is $510. Since these numbers represent the national average, they can simply be used as a guideline for your purchase. Your engagement ring and wedding band budget is a personal choice between you and your partner.
Sales tax and shipping fees are two important considerations to keep in mind when setting your engagement ring budget. Some brands may offer free shipping in their Black Friday engagement ring sale, which is a great perk—but if it's not included, these added costs can add up quickly. Remember this when crafting your budget, because the last thing you want to do is overspend due to unexpected fees.
Once you set a budget, you'll be ready to shop 2021 Black Friday engagement ring deals. To make an informed (and legitimate) purchase, here's how to find a trustworthy Black Friday or Cyber Monday sale on engagement rings.
Evaluate Sale Details Before Buying
The most important component of a Black Friday or Cyber Monday engagement ring sale is the discount itself. Since diamonds and gemstones are high in value, it's unlikely that retailers have the ability to drastically mark down their prices. "Typically, retailers work with a low price margin, so there's not much room to discount the actual diamond," says Nicole Wegman, founder of Ring Concierge.
With this in mind, it's best to steer clear of sales that sound too good to be true—because they probably are. "[Gemist's] maximum discount typically falls between 15% and 20% because we don't traditionally mark up prices," says founder Madeline Fraser. "If a brand offers a larger discount, you might question the quality of the products."
It's also recommended to shop through brands that offer reports and appraisals—as well as reviews from real clients—that confirm your diamond or gemstone purchase is legitimate. "Ensure that your retailer provides you with the appropriate reports and appraisals to confirm that your diamond has been properly evaluated," Kell says. "For example, all engagement rings purchased from Blue Nile include a grading report from the Gemological Institute of America (GIA), which serves as a grading system for the jewelry industry, along with an appraisal that states the value of the piece compared to relevant market data. Customer reviews also serve as another source of confidence when making a purchase decision."
Since largely discounted diamonds can be hard to find, experts instead recommend looking for Black Friday ring sales with added perks, like free shipping or gifts added to your sale. "Most engagement ring sales target other components of the cost, like the ring's setting or shipping fees. Some companies also offer a free gift with purchase," says Wegman. "An engagement ring is a forever piece, so you don't want to compromise the quality. You still want to make that purchase with longevity in mind."
You might also be able to save some money just by forgoing the in-store experience. "Shopping online for an engagement ring can actually be more affordable, depending on the company," Fraser says. "Most direct-to-consumer brands don't mark up the normal retail amount because there aren't third parties involved. As long as it's through a company you trust, online shopping is reliable."
Work Within Your Timeline
Unsurprisingly, the holidays are the most popular time of year to get engaged—that is why we call it "proposal season," after all. This season is also a great time of year to buy an engagement ring. "We see a spike in sales around the holidays," says Fraser. Adds Wegman: "The holiday season has always been our busiest time of year, and I don't see that changing any time soon." Spikes in ring sales can be attributed to couples spending more time with loved ones, which might accelerate the desire to get engaged. Some might also want to attend holiday parties as fiancés. Regardless of the reason, the holiday season is synonymous with celebration and love, making it an ideal time to start planning a proposal.
But it's crucial to work within your timeline when purchasing an engagement ring. Experts recommend buying a ring at least two months before your preferred proposal date, as this allows ample time for production and delivery. If you're planning to propose around the holidays and you want to shop a Black Friday or Cyber Week engagement ring sale, turnaround time will be limited and you may have to forgo a custom design to fit your schedule. (Read: An engagement ring purchase on Black Friday may not arrive in time for a Christmas Eve or New Year's proposal.) But, if you're planning to propose sometime in the new year, now's a great time to get a ring on sale. If you're just starting to shop for an engagement ring, work with your jeweler to set a timeline that fits their production schedule and your proposal plans.
Make a Virtual Appointment
If you're unsure where to start or what a brand's Black Friday engagement ring sale really includes, make a virtual appointment. After all, talking to an expert can help set you on the right track. Plenty of jewelry retailers offer personalized customer service experiences through instant message chats, call lines or one-on-one appointments with diamond experts or gemologists. Plus, as more shoppers turn to online shopping to find an engagement ring, brands have revamped the process to be more user-friendly and interactive than ever before. If navigating Black Friday and Cyber Monday wedding and engagement ring deals becomes overwhelming, a brand representative can help you navigate your purchase.
The Best Black Friday Engagement and Wedding Ring Sales of 2021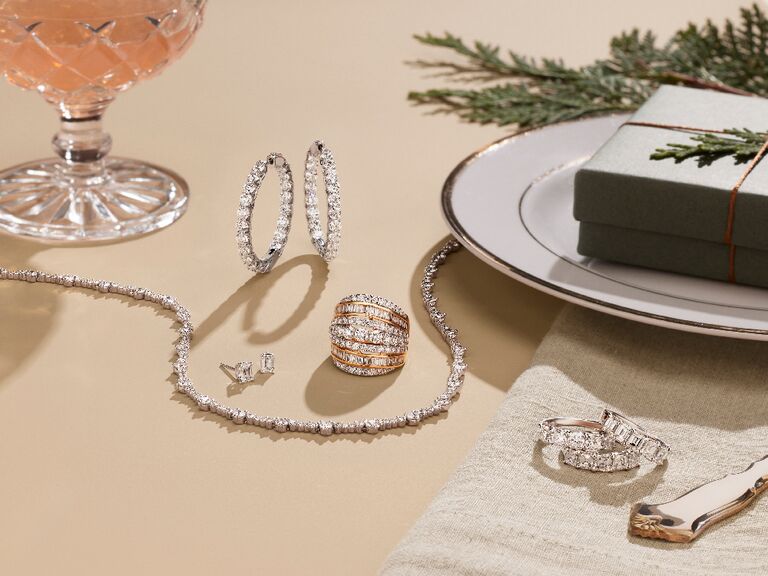 Now that you know how to find a good Black Friday diamond sale, it's time to shop discounted diamond rings. Below, we've compiled the best Black Friday engagement ring sales of 2021. Whether you're shopping for an engagement ring, matching wedding bands, or a nice piece of jewelry for someone on your shopping list, everything you need to know is right here. Plus, we'll keep updating our list with even more Black Friday and Cyber Monday ring sales as they begin—check back here to find the best deals of the holiday season!
The cost of custom engagement and wedding rings can add up. That's why we partnered with Gemist, an online jewelry company that allows shoppers to design jewelry from scratch, to give you exclusive codes to save big on your order. Use GEMISTLOVE for $25 off of a purchase of $200 or more, or SPECIALGEMS $75 off of a purchase of $500 or more—both codes expire on December 31. Want even more? Sign up for Gemist emails ahead of Black Friday for access to exclusive offers.
Looking for custom wedding rings this Black Friday? Get a head start on shopping with HOLDEN's Black Friday ring sale. The public deal doesn't start until November 22, but you can use our exclusive code KNOT10 for 10% off all rings until then. Trust us, you'll want to take advantage of this early Black Friday wedding ring deal.
Beginning on Black Friday, luxury jeweler Blue Nile will offer 50% off select jewelry including engagement rings, wedding bands and diamond bracelets. You won't want to miss out on a rare deal like this, especially because new products will be added to the sale every day from November 26 through December 4.
Beginning November 15, online retailer James Allen will offer 25% off select jewelry pieces sitewide. Be sure to check the brand's website frequently, as you never know what extra sale surprises are in store throughout the holiday season.
If you're looking for Black Friday engagement ring sales to shop right now, Zales has you covered. From November 12 through November 29 you'll get 30%-50% off everything. Plus, select solitaire rings will be up to 10% off.
You'll receive an extra-special gift with your purchase thanks to Brilliant Earth's Black Friday jewelry sale. Beginning on November 24, you'll get a pair of diamond studs with any purchase over $1,000. Then, for one day only on Friday, November 26, you'll get a surprise gift with orders under $1,000 too.
Multitaskers, you'll want to take note of VRAI's Black Friday and Cyber Monday engagement ring deals. Starting on November 18 and running through November 25, you'll receive a free Cuban link bracelet with a purchase of $1,000 or more, while supplies last. Then, from November 26 through November 30, you'll get free engraving with your engagement ring or wedding band purchase. As an added bonus, you'll also get a free mini candle with a purchase of $400 or more during this time frame, meaning you can knock off even more gifts on your list.
Whether you lead an active lifestyle or you just prefer the comfort of a silicone wedding band, you need to take note of QALO's Black Friday and Cyber Monday wedding ring sales. The accessory brand—which offers ultra-durable silicone wedding bands—will offer 30% off sitewide from November 22 through November 27. Then, from November 28 until December 1, shoppers can enjoy a sitewide Buy One, Get One free sale. (Read: Buy one silicone band for your spouse, and get one for yourself—talk about a holiday win.)
They say every kiss begins with Kay—and this holiday season, you'll get plenty of them when you shop the brand's Black Friday engagement ring sale. Starting on November 12 and running through November 29, Kay will offer 25%-50% off everything as part of their Black Friday jewelry sale. Plus, for Black Friday only, shop exclusive online deals up to 60% off.
If you're shopping for lab-grown diamonds or moissanite jewelry, you'll love Charles & Colvard's Black Friday and Cyber Monday jewelry sale. The retailer's Black Friday sale begins on November 22, when customers can take up to 25% off sitewide through November 27.
Whether you need an engagement ring or a wedding band, you can get both for a discounted price through With Clarity's cyber weekend sale. You'll receive 10% off wedding bands, ring settings (excluding the center diamond) and all jewelry sitewide from November 23 through November 30.
This trendy jewelry brand has plenty of bands perfect for completing your wedding ring stack. Take 20% off purchases of $150 or more, before tax. This Black Friday jewelry sale opens for email subscribers only from November 22 to November 23—then, public access runs from November 24 through November 29.
Those looking for colorful or bold engagement pieces will love the unique designs from Jillian Sassone, founder of Marrow Fine. The brand's new holiday collection—which includes statement black onyx engagement rings—will be on sale for 20% off from November 24 through November 29. Buyers can shop the sale online or in-person at the brand's San Diego and Newport Beach locations in California.
Last-minute shoppers, take note: Iconic jewelry brand David Yurman's Black Friday sales include a shipping deal you won't want to miss. From November 22 through November 30, you'll receive free overnight shipping. How's that for ultimate convenience?
Those looking for custom engagement rings may find what they want at online retailer Allurez. Use code BF2110 to get 10% off from November 23 to November 26. Plus, get ring settings and more for up to 65% off on Black Friday only. Tbose searching for Cyber Monday jewelry deals can use code CM11 to get 11% off from November 27 through November 30.