This Is the Late-Night Snack You Should Serve at Your Wedding Reception, According to Your Zodiac Sign
When the stars and your favorite snacks align.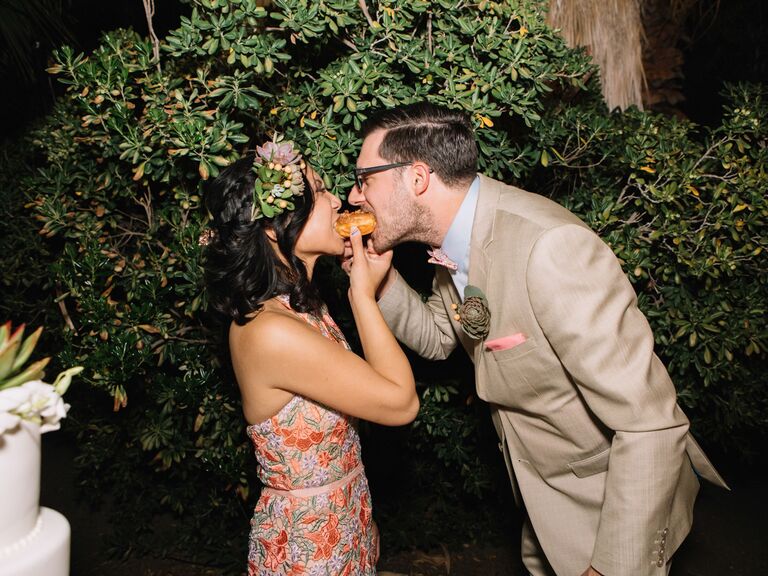 Stephanie Fong Photography
Looking to end your nuptials on a high note? You'll want to serve a divine late-night snack at your wedding reception to make it an evening to remember. But with so many food options, it can be hard to narrow down your search to just one dish. You're in luck though, because your ideal reception snack could be written in the stars. Here, we outline the exact late-night snack you should serve at your wedding reception, based on your Zodiac sign. From french fries to midnight breakfast and even charcuterie spreads, these astrology-approved snack ideas for your wedding reception are just as delicious as they are on-brand for your personality. See what the stars have in store for you, then book your caterer to make all your food dreams come true.
Aries (March 21-April 19): Popcorn
Energetic, confident, dynamic and quick. These are the most defining Aries traits, and what better way to honor them than with a popcorn machine at your wedding reception? The presence of an Aries is always known—just like how everyone knows when there's a fresh batch of popcorn being made. You love to be a trend-setter, Aries, so go above and beyond by organizing a popcorn machine with a variety of fun toppings (like bold seasoning salts, M&Ms and caramel and chocolate drizzles). Provide guests with a take-home bag to serve as their party favor, and they'll remember your reception snack as being one of their all-time favorites.
Taurus (April 20-May 20): Soft Pretzels
People can rely on you, Taurus, which means you'll serve a practical reception snack that's fun and fulfilling. Enter, soft pretzels. Any craving can be instantly satisfied with this carnival favorite. And since you've also got a soft spot for all things pretty and appealing, you'll want to arrange your pretzels with the most amazing toppings. (Think: melted cheese dips, bowls of cinnamon sugar and flavored salts.) If you really want to take it to the next level, give your guests fun upgrades like pretzel bites stuffed with mini hot dogs, dessert pretzels drizzled with chocolate, or pretzel pizza bites. One thing is certain: Your guests won't be leaving your wedding reception feeling hungry.
Gemini (May 21-June 20): Sliders and Fries
Two personalities means two late-night snacks—right, Gemini? Your sign is represented by the caring twins, so it only makes sense that your reception snack is a perfect pair (just like your personality traits). Look no further than burgers and fries. A classic pairing, your guests will be thrilled to devour both of these snacks after busting out their best dance moves all night. Stick to the basics if you like, or upgrade your offerings by serving sliders, veggie patties and a variety of fries (wedges, sweet potato, deep fried, take your pick).
Cancer (June 21-July 22): Mac 'N Cheese
Cancers are known for being home bodies, which means comfort food is the perfect late-night snack for your wedding reception. Consider serving a tried-and-true cozy favorite like mac 'n cheese. Make it dance-floor appropriate by offering crispy mac 'n cheese bites, or get creative with a self-serving station. You'll want to offer a variety of fun toppings like bacon, breadcrumbs, chives, avocado and more cheese (obviously). You'll love nothing more than being surrounded by your favorite people eating one of your favorite foods.
Leo (July 23-August 22): Charcuterie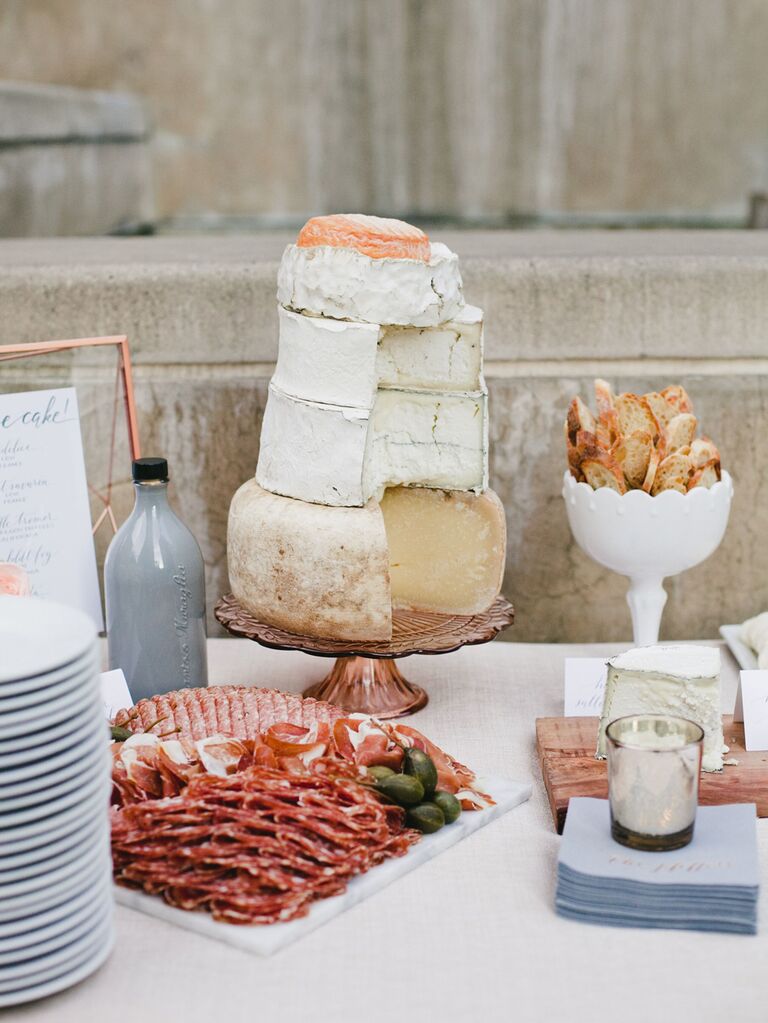 Your motto is "Go big or go home," Leo, which means you need a show-stopping, mouth-watering Instagram-worthy late night snack for your wedding reception. What better option than a charcuterie grazing table? You have a penchant for all things over-the-top and extravagant, and a charcuterie board is just that. Your options are limitless—find a caterer who will help you curate a selection of meats, cheeses, crackers, fruits, dips and veggies. Your guests won't be able to stop talking about it, which is exactly what you want. There's nothing wrong with wanting the best of the best!
Virgo (August 23-September 22): Breakfast
Virgos are known for caring about others—and since breakfast is universally-loved, you know your guests will be thrilled to pick from trays of waffles, pancakes and pastries as your reception carries on late into the night. You've got a sharp eye for detail, Virgo, so your late night reception snack will stand out for its unique touches. Innovative offerings like an omelet station, cereal bar or waffle bites in a cup will satisfy everyone's cravings. Or, have a breakfast-inspired dessert table with cinnamon rolls, homemade pop tarts and fresh pastries. No matter what you choose, breakfast is an egg-cellent snack idea for your wedding reception. (PS: Don't forget the mimosa bar too!)
Libra (September 23-October 22): Pizza
Stability and peace are of the utmost importance to Libras. You strive for harmony with your loved ones, and you'll stop at nothing to enjoy quality time with the people who matter most. There's no doubt that pizza is one of, if not the most, pleasing snacks for all. It's hard to find someone who doesn't enjoy a fresh slice, so go all out by ordering plenty of pies for your wedding reception. Get creative with inventive pizza toppings, or keep it relaxed with the basics. (You can never go wrong with a margherita pie.) No matter what you choose, you'll take comfort in knowing that your guests will be thrilled to eat a slice or two at the end of the night.
Scorpio (October 23-November 21): Tacos
You know exactly what you want, Scorpio, and that's a late-night reception food that will absolutely wow your guests. You're dedicated to making your wedding an unforgettable affair, so you'll stop at nothing to have the best food offerings possible. That's why your ideal reception snacks are tacos. The details are up to you: hard or soft shell, meat or veggie offerings, build-your-own or pre-made. All that matters is your friends absolutely love the food you give them. And since you've got a bold streak, give everyone a shot of tequila along with their tacos. You want to party, so you're willing to pull out all the stops to give everyone a good time.
Sagittarius (November 22-December 21): Fusion Food
You're a world-traveler, Sagittarius, which means a fusion dish is your ideal late-night wedding snack. While fusion dishes are typically composed of different cultural classics, you can give it a personalzied spin by making your own combo. From pasta and sushi to cheeseburger egg rolls, the possibilities are quite literally endless—it just takes a little creativity to make a menu that will delight guests.
Capricorn (December 22-January 19): Fast Food Takeout
You've always got a plan, Capricorn. Given your responsible tendencies, being organized and realistic is a must for you. So when it comes to planning your reception food, you want a no-fail option that's sure to keep your guests happily fed all night long. That's why you should consider ordering fast food takeout. Just imagine how thrilled your guests will be to enjoy McDonald's nuggets or Chipotle chips and guac after an evening of partying and celebrating. Getting your food catered by your favorite restaurant is just as efficient as it is practical—you don't have to do much else besides organize the delivery. And with so many other wedding tasks on your plate, that's music to your ears.
Aquarius (January 20-February 18): Ice Cream Cones
As an Aquarius, you thrive on helping others and making your friends happy. After all, nothing is more pleasing to you than seeing that your loved ones are taken care of. But your late-night snack will be anything but predictable—you do have a progressive mind, after all. Surprise (and delight) your friends and fam with an ice cream cone station. The fun will be far from over when everyone will get the chance to layer a cone with scoops of their favorite ice cream flavors. To make it even more original, find a caterer who will work with you to create your own custom recipes just for your wedding. How's that for a memorable late-night snack at your wedding reception?
Pisces (February 19-March 20): French Fries
You're known for being the most creative sign in the Zodiac, Pisces, which is why your wedding reception needs an arrangement of french fries for all your snacking needs. Curly, waffle, shoestring, sweet potato, truffly, wedge—the sky's the limit with your french fry offerings. You've got a selfless heart, and you know that just about everyone loves this salty snack, making it an obvious choice for your menu. Take it a step farther by having plenty of dipping sauces available to encourage your loved ones to use their creativity when building their snack place.