Here's How Your Wedding Can Support a Good Cause
Say "I do" to doing good.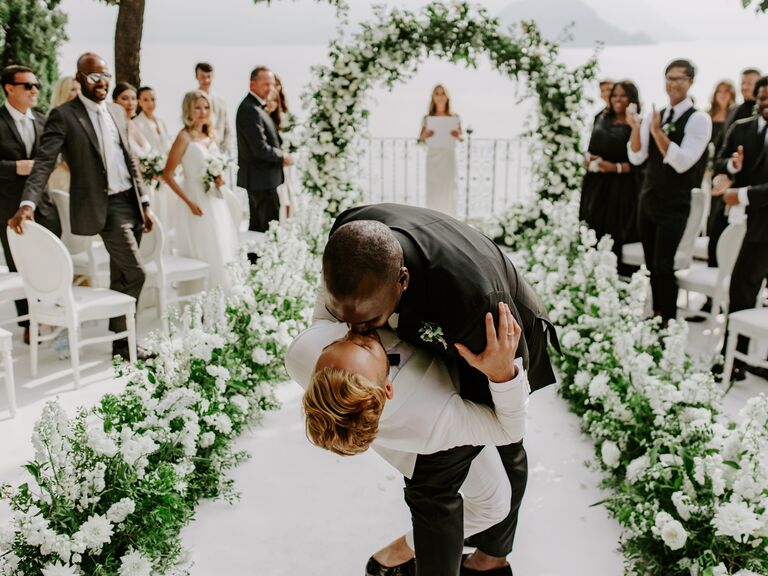 Joey Reger
We have included third party products to help you navigate and enjoy life's biggest moments. Purchases made through links on this page may earn us a commission.
Your wedding should showcase exactly who you are as a couple—from your love story to your values. Given the cost of weddings (not to mention the amount of time you spend planning), it's also another window of opportunity to do good and to give back. If you like the idea of using your wedding to support causes close to your heart, we're here to help. You can celebrate International Women's Day, for example, by supporting women-owned businesses throughout your planning process (think: vendors, venues, local shops, beauty brands and more).
How you choose to allocate your budget and whom you hire can show your guests what's important to you, the couple. From your registry to your vendors, every step of wedding planning is an opportunity to give back. To get you started, we're sharing 11 approachable ways to make an impact. These simple ideas ensure your wedding will make an actual difference in a way that's authentic to you. After all, what better way to celebrate love than by spreading it?
1. Register for a Cause
Your registry doesn't have to include the typical lineup of pots and pans. If you already have enough home goods, consider setting up a wedding fundraiser page in lieu of a traditional registry. Link it on your website where you'd normally put your registry info, and guests can make donations to whichever charitable cause or issue your philanthropic heart desires. There are many sites that make creating a charity registry a breeze—ZankYou, JustGive and Changing the Present are just a few. You can also use The Knot Cash Funds or create a GoFundMe Registry to raise money for a cause close to your heart. Through these tools, your guests can easily contribute to the charity or organization of your choice.
Another way to use purchasing power for good is to register for gifts that are created by like-minded retailers or companies. Whether that's a black-owned business, an LGBTQ+-owned shop or a female-owned brand, your guests will be giving their money to companies you and your partner support. Good news: registering for these items is easier than ever before with The Knot Universal Registry, which allows you to add any product from any site with just the click of a button.
You can also register for gifts that already have a charitable component included. Add a wooden bowl that will provide meals to children in schools around the world or a robe that supports people recovering from breast cancer reconstruction or surgery. Our registry tool makes it easier than ever to register thoughtfully. Want to take it one step futher? In honor of Pride Month, The Knot is partnering with the Ali Forney Center, an organization that works to protect LGBTQ+ youths from the harms of homelessness and empower them with the tools needed to live independently. Rather than simply created a cash fund to support this organization, you can purchase items that young LGBTQIA people need off of AFC's wishlist on The Knot.
The Knot also allows you to customize your registry page, so you can share why you've selected specific products, charities or organizations. That way, your guests can understand the importance of your registry picks and the significance of giving it to you.
2. Work With a Like-Minded Team
Use your own purchasing power to support important causes by being intentional with who you hire. If you're committed to doing good throughout your wedding planning process, you'll want a team that shares your outlook. Invest your vendor budget into businesses and people you believe in. Support small, minority-owned or sustainable businesses (or all three) by hiring them for your big day. It's a simple but impactful way to live out your values through the wedding planning process.
You can easily search for vendors on The Knot, but you can ask pros for suggestions too. Your planner will likely know of several great vendors you can work with, or your florist might be able to recommend a like-minded photographer.
3. Play favor-ites.
While little takeaways like candies and other treats are appreciated, most people don't miss them when they're not offered. Use that to your advantage and make a donation to great causes, like Wish Upon a Wedding, on behalf of your guests instead. Some big-name organizations, like St. Jude Children's Research Hospital, will even give you place cards, scrolls, bookmarks and stickers that explain the donations to guests.
Or, if you or your spouse-to-be just can't part with the idea of a farewell gift, consider a company like Truffles for a Cause, which lets you offer a traditional favor and support a charity. Alternatively, you can share a small note with your guests explaining the donation you've made and the significance behind it. It's a simple way to personalize your wedding and make everyone feel involved.
4. Choose a Meaningful Venue
One significant way to incorporate activism into your nuptials is by selecting a venue that does good work (or has a legacy of supporting important causes). Consider a building that was positively involved in the abolitionist movement or a historic landmark supporting LGBTQ+ causes. Knowing more about your venue and sharing a slice of that history with your guests is a way to bring further meaning into your wedding day. You can also book a spot that is currently doing important work, like a gallery that supports female artists or a restaurant that employs underserved youth.
5. Sip to Support
What's a wedding without wine? Enlist your caterer to place an order with vintners OneHope, and the company will donate a percentage of the sale to charity (each varietal benefits a different organization, all of which are thoroughly vetted by the company). If your venue won't let you bring in your own vino, not to worry. The masterminds at OneHope have figured out a way around that by working directly with your venue and its distributor. Get the full scoop here.
You can also shop at OneHope for beverages for your pre-wedding events, like your bach party or your bridal shower. It's a simple way to show your support for a cause that's important to you.
6. Give Flowers
Sometimes the smallest gestures can have the biggest impact. There are several organizations, as well as many independent florists, who work to turn your centerpieces and other arrangements into personalized bouquets for sick patients in health care facilities or residents in senior living communities. Some of the nation's biggest companies— Random Acts of Flowers and Bouquets of Kindness—have locations in dozens of cities. (Psst: this is also an effective way to cut down on your event's waste, making your wedding more sustainable.)
7. Give Thanks
Order your thank-you notes from Cards for Causes, and the company will donate 20 percent of the proceeds to one of the more than 500 participating charities. (The options range from animal rescue groups to those that support military veterans.) And the cards can be customized, so you can change the fonts, colors and text to match the feel of your wedding. You can even add a line mentioning the charitable donation for no extra charge. Simple, right? Now if only those cards could address and sign themselves.
If you're looking for an eco-friendly option, you can also send your thank you-notes on seed-infused paper, which your guests can plant after they receive.
8. Donate Your Wedding Attire
You spent time picking out the perfect wedding outfit, so why let it hang in your closet for the years to come? Make someone else's day just as wonderful as yours by donating your attire. One option is Brides For a Cause, which collects and resells wedding dresses to support charity. There are many other wedding dress donation options, like Brides Against Breast Cancer (which supports early detection education) or the NICU Angel Fund Program (which repurposes your gown to support families who have tragically lost a baby). Many companies accept accessories—veils, hair pieces or shoes—as well.
Another idea is to donate your attire to a local shop. It's an action that supports your own community, plus it will make someone's day.
9. Volunteer for Your Pre- and Post-Wedding Events
You can also donate your time to a cause close to your heart. Rather than plan the typical Vegas bach party or brunch bridal shower, rally your loved ones for a volunteer session. Spend your time together at an animal rescue shelter, a food pantry, a homeless shelter or a retirement home. You can also put an environmental spin on this idea and clean up your local park or beach. Your guests will leave feeling closer to you and feeling good about the work they've done.
10. Pay Purposefully
With a big wedding comes big bills, and even the amount spent on a small event can still make your head swim. Feel better about that spending by using a credit card that donates to a cause every time you pay a vendor. Known as affinity cards, the amount these big-bank-issued cards give is admittedly small. But those small payments can add up throughout the planning process. Some to consider are the Susan G. Komen Cash Rewards Visa (which helps fight breast cancer), Charity Charge Mastercard (which gives you cash back towards the organization of your choice), or the World Wildlife Fund Card (which will donate a percentage of money spent to the WWF).
11. Share Your Planning Journey to Inspire Others
While you're already focused on conscious consumerism, there are likely many couples who aren't aware there's so much opportunity to do good through wedding planning. Share your process on social media or submit your wedding album to The Knot Real Weddings so that other to-be-weds can get inspired for their own nuptials. Your thoughtful decisions may start a chain reaction of wedding-related good deeds. How cool is that?