Everything You Need to Know About Getting Married in West Virginia
Look to The Knot for local details about getting married in West Virginia, from choosing your wedding venue to getting your marriage license.
by The Knot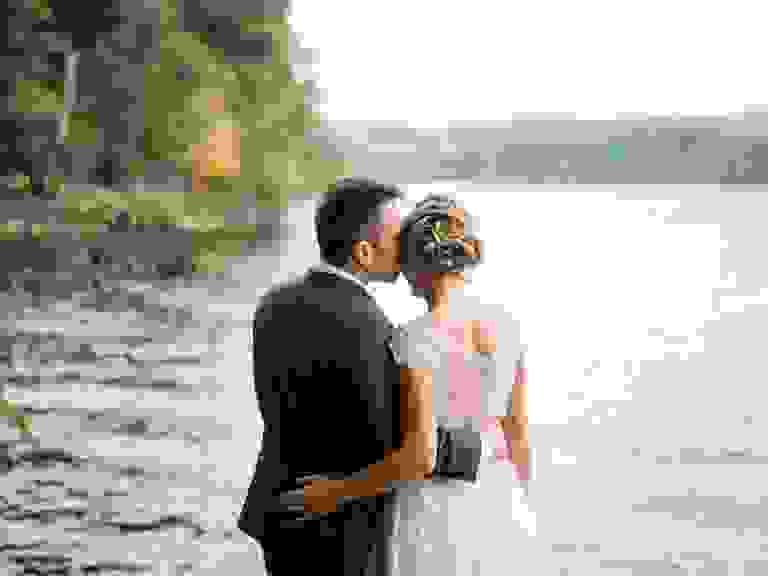 Ultimate Guide to Getting Married in West Virginia
From scenic outdoor venues to traditional banquet halls and ballrooms, West Virginia has plenty of unique places to hold a picture-perfect wedding. You can choose to throw your West Virginia wedding in a rustic log cabin, barn or farmhouse, or you can say "I do" in one of the state's historic churches.
If you're planning a West Virginia wedding, use this comprehensive guide to help with guide your every step. Brush up on the latest local trends, find lists of vendors and read through creative ideas to incorporate West Virginian flair into your wedding day. You'll also find information on the most technical aspects of your wedding, such as obtaining a West Virginia marriage license and how to go about changing your last name. Follow your wedding checklist to make sure everything is done on time.
Top Wedding Trends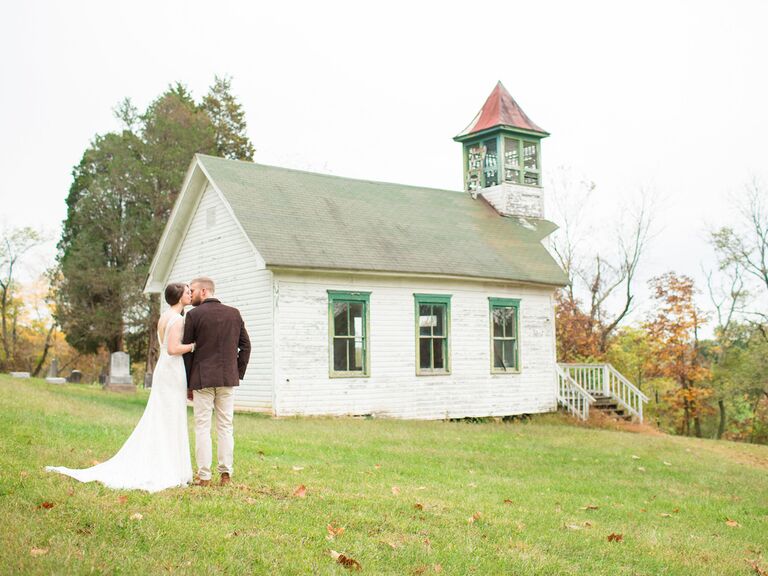 Not only are West Virginia wedding venues diverse and easy to personalize, but hosting your wedding in the Mountain State means that you get to enjoy the trends and traditions of the area.
Loving the rustic trend? Turns out that you're not alone. In fact, rustic accents and DIY details are on the rise in recent West Virginia weddings, according to The Knot 2015 Real Weddings Study. Other popular design trends include antique or vintage accents and the incorporation of family heirlooms for a more personal touch. The study also found that local weddings lean more toward intimate celebrations rather than traditional ballroom affairs.
West Virginia Marriage Rates and Costs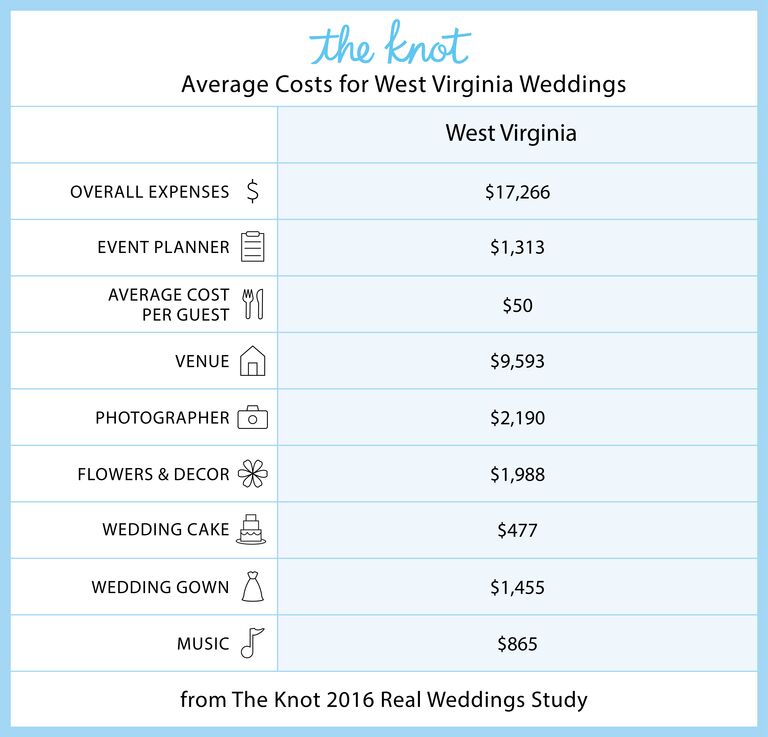 Planning a wedding can be a lot of fun, but affording it is another story entirely. No matter which type of wedding venue you choose or what type of theme fits your personalities, make sure you've created a budget and that you're sticking with it. Before you take advantage of The Knot Budgeter, here's a little background into on how many couples are tying the knot in West Virginia, plus what you can expect to pay for common wedding costs, as reported by The Knot 2015 Real Weddings Study.

West Virginia Marriage Stats
So how many couples are actually getting married in West Virginia? Turns out that marriage rates in West Virginia fall at 6.7 per 1,000 people. And according to The Knot Real Weddings Study, West Virginia couples are spending a grand total of $22,656 on their wedding throughout an average 14-month engagement period. That figure is 31 percent below the national average, making West Virginia weddings more affordable than most throughout other parts of the country.
Budget Breakdown: Average Costs for West Virginia Weddings
Getting a sense of what you'll pay for your wedding day expenses will make it easier to budget and negotiate with vendors. Below you'll find average costs in some of the state's largest wedding destinations: Charleston and Morgantown.
Top Cities in West Virginia to Marry
From the college city of Morgantown to the state's Charleston capitol, West Virginia boasts plenty of venues that stretch across the state. However, the following two cities stand out as the most popular wedding destinations in the area:
Make It Legal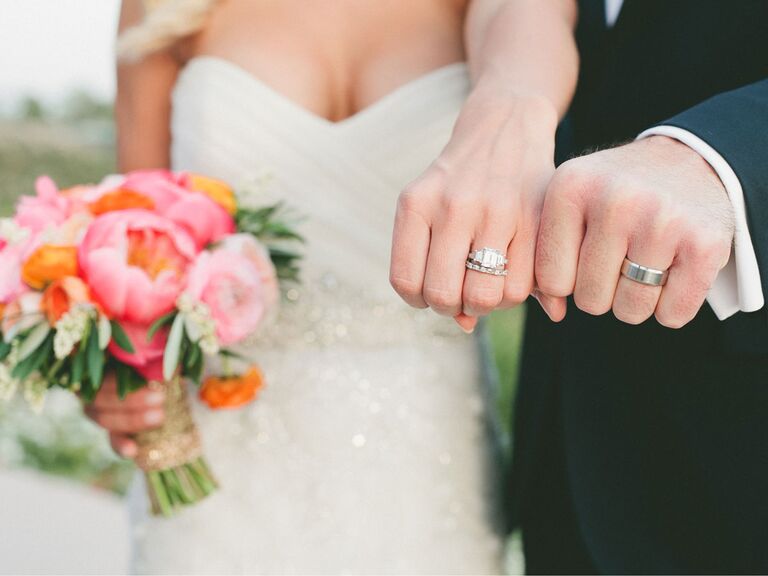 While planning a wedding should be filled with the fun events like cake tasting and dress shopping, there are some strings attached to tying the knot in the Mountain State. Understanding the ins and outs of not only getting your West Virginia marriage license, but also taking care of details like permits and changing your name(s) is equally important in the weeks and months leading up to "I do."
Getting a West Virginia Marriage License: The Basics
A West Virginia marriage license is issued at the county level, which means that you must apply through the county clerk in one of either of the following:
Your West Virginia county of residence
The West Virginia county where your marriage will take place
Each individual county clerk has his or her own method for marriage applications and may require specific documents or information. At minimum, you will need:
To have both partners present
Valid identification in the form of a driver's license, state-issued ID, passport, or permanent resident card
Both of your social security numbers
Full names of each set of parents
A check or credit card to pay the $56 application fee. If you have a premarital certificate of completion, the fee is lowered to $36.
If either to-be-wed was previously married, the exact date of the divorce decree or former spouse's death needs to be presented.
Once all materials are on file, you'll receive your marriage license for the officiant to file following the wedding ceremony. Keep in mind that all licenses must be used within 60 days of issue in order to be valid.
Permits and Other Important Legal Requirements for West Virginia Wedding Venues
Preparing for a West Virginia wedding ceremony is specific to the ceremony location and the rules and requirements of the venue itself. If you're serving food or liquor, confirm with your venue that they have the necessary permits, or if you need to apply for them separately. It also doesn't hurt to check with the county to make sure your venue complies with local regulations, so you're not blindsided with bad news after you've booked.
In addition to a marriage license and local permits, you must make ensure that your officiant has all of the necessary paperwork in place. In order to serve as an officiant in West Virginia, he or she has to be a religious representative that meets the requirements listed under the West Virginia Code, a family court or circuit judge or a justice of the supreme court of appeals. In addition, an ordained minister has to be authorized by a religious organization in order to perform a marriage.
How to Change Your Name in West Virginia
If you decide to change your name after the wedding, the process in West Virginia is pretty straightforward. Check out HitchSwitch professional name change service or follow our simple guide to changing your name.
Another easy way to make the switch is to indicate the change on your West Virginia marriage license application. This form legally takes care of the name-change process for you. Once that's complete, you'll need to take your marriage license to the Social Security Administration and fill out a change of name application. You'll then be issued a new social security card, which you'll take to the Department of Motor Vehicles to change your name on your driver's license. Note: You'll need your marriage license in order to change your name with both of the agencies listed above.
It's All About Timing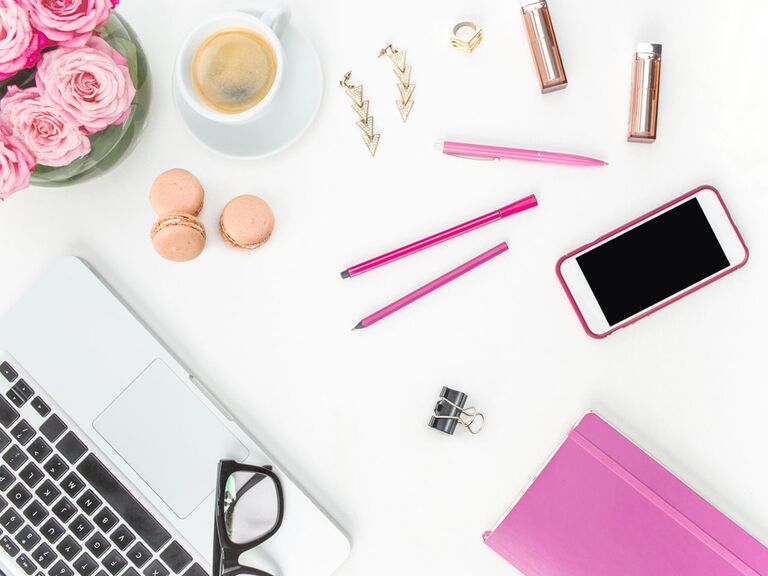 West Virginia's weather can be temperamental, and thanks to a lack of a real "dry season", 46 percent of local couples choose to exchange vows in the fall. While 32 percent of partners say "I do" in the summer, 18 percent celebrated during the spring and only 4 percent braved the elements for a winter wedding.
The Four Seasons in West Virginia
West Virginia's warmest season lasts from May 23 to September 19, which sees average high temperatures of around 77 degrees. Just keep an eye out for thunderstorms, which happen frequently during the summer months. Hoping to skip the rain in favor of some sunshine? Opt for an April wedding, when skies are typically the clearest, or plan your nuptials for the beginning of October, since that's when the chance of rain is the lowest.
West Virginia Wedding Dates to Avoid
Depending on where you get married in West Virginia, there are some important dates you may want to avoid in order to ensure that your wedding guests are comfortable and can easily secure a place to stay. Ask your wedding planner or venue for tips on how to avoid major traffic times or local events that might make your wedding weekend difficult to navigate.
If you're on a tight budget, try to avoid common national holidays and busy weekends that tend to inflate the cost of everything. (We cover these dates for 2016-2018 in our comprehensive guide.) Additionally, here are some nationally-recognized festivals and events you may want to note for 2017:
West Virginia Day (June 20th)
Upper Ohio Valley Italian Heritage Festival, Wheeling (late July)
West Virginia State Fair, Lewisberg (mid-August)
FestivALL, Charleston (mid-to late June)
Mountain State Arts & Crafts Fair, Ripley (mid-September)
Mountain State Forest Festival, Elkins (September to early October)
Mountain State Apple Harvest Festival, Martinsburg (mid-October)
All West Virginia University home games (September-November)
Great Guest Experiences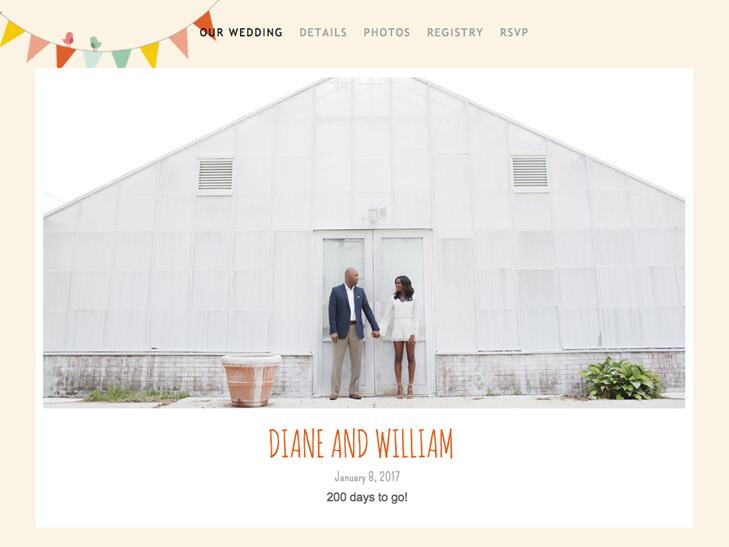 Helping your guests feel comfortable and welcome is one of the key ingredients to wedding success. With such a wide variety of unique wedding venues in West Virginia—from rustic farms to waterfront locales—there are so many places to celebrate in style. But no matter where you choose to get married, giving your guests a great experience starts with creating your very own wedding website, since it's an easy way to keep everyone connected and informed.
Finding Your Way: West Virginia Travel Info
Thanks to 37 local airports spread throughout Parkersburg, Lewisburg, Huntington and Beckley and an Amtrak station located Charleston, finding your way around West Virginia via plane, train or automobile is relatively easy. Remind guests that local transportation and rental car services are also available, along with the option to Uber.
Around Town: What to Do and See in West Virginia
Not only are the activities, events and attractions across the state of West Virginia incredibly diverse, but the outdoor options are endless. Enjoy activities such as fishing, hunting, rafting and canoeing, or try your hand at skiing and snowboarding during the colder winter months. Antiquing at local flea markets is also an option, and history buffs will love sites like the West Virginia State Museum.
Go Local: Food and Favors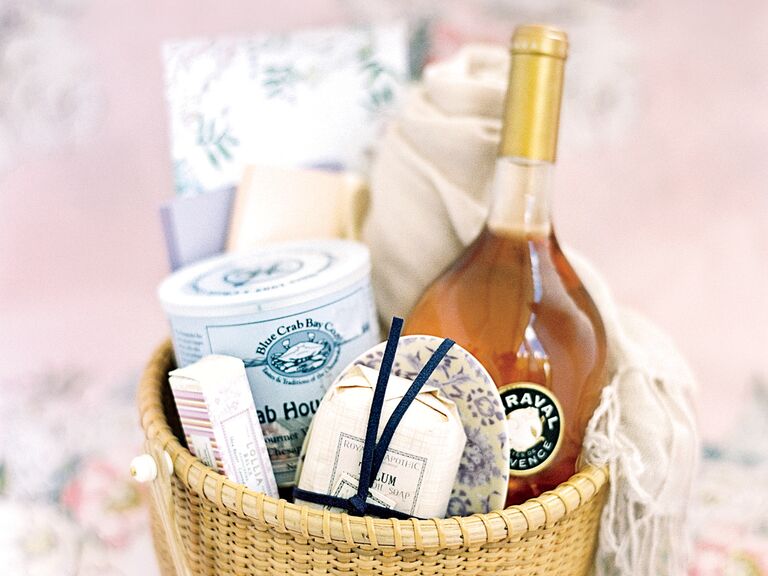 Whether you come from two born and bred West Virginian families or are bringing in relatives from all over the country, embracing unique elements of the Mountain State will help make your wedding memorable for all who attend.
West Virginia Flavors: Unique Regional Foods for Your Wedding
The long and celebrated tradition of hunting means local fare that ranges from venison and elk to even the occasional bear. Local eats also include traditional Swiss, Hungarian, Polish and German fare in the form of creamy soups, savory slaw dogs, ramps, biscuits and locally sourced greens.
Another famed West Virginian food: The pepperoni roll. It's a simple treat and well-known snack taken seriously by the locals. Incorporate the classic rolls into your dinner menu by serving up mini versions during cocktail hour.
Do Your Guests a Favor: West Virginia-Inspired Take Home Treats
Wedding favors are a great way to thank your guests and a fun way to gift family and friends with a memento from the day. For favors that incorporate a taste of the state, try West Virginia-shaped keychains or desserts, gourmet popcorn, hand-blown glassware or Appalachian milk soap.
Check out The Knot Shop for other personalized favors.
West Virginia City Guides
From the hills of Morgantown to the city streets of Charleston, there are numerous unique wedding venues in West Virginia that offer couples the opportunity to stay on budget and make memories that will last a lifetime. To start, check out why these two cities boast some of the best wedding venues in West Virginia, and then hook up with local vendors through The Knot ultimate wedding vendor marketplace.
Charleston
As the state capitol of West Virginia, Charleston functions as a cultural center, business hub and recreational getaway. In addition to golf courses, parks and a popular nightlife scene, the city boasts the West Virginia State Museum and the Clay Center for the Arts and Sciences.
For local Charleston vendors, check out:
Morgantown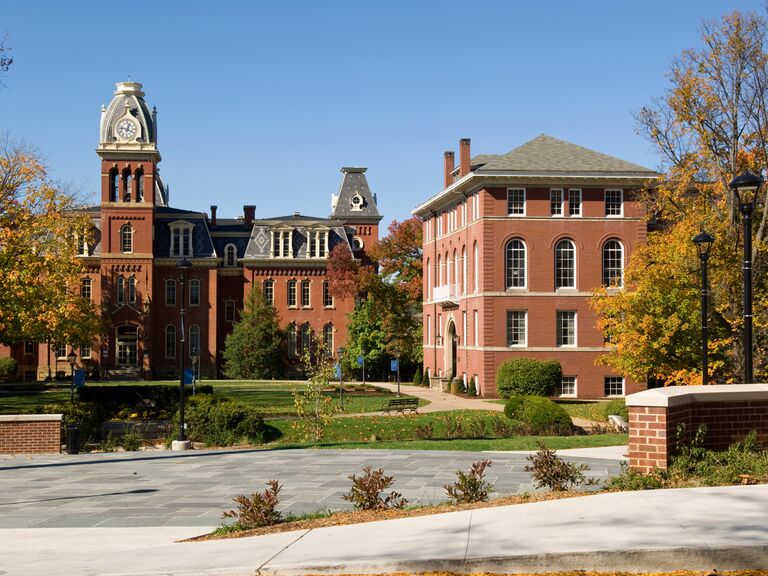 Home of the West Virginia Mountaineers, the college city of Morgantown is situated along the Monongahela River just miles from the Pennsylvania border. While you're in town, check out the Met Theatre, take in a Big 12 football game or visit Coopers Rock State Forest for unforgettable views.
Not sure where to start when searching for local vendors? Check out our list of Morgantown-based wedding pros below:
Check out more West Virginia wedding inspiration here.

Don't forget to download The Knot Wedding Planner app—it's a must-have for on-the-go planning.
Download for iOS: Wedding Planner App by The Knot

Download for Android: The Knot Wedding Planner
Disclosure: This post contains affiliate links, some of which may be sponsored by paying vendors.