Exactly What to Do When a Bridesmaid Drops Out of Your Wedding
Don't sweat it: You have plenty of options.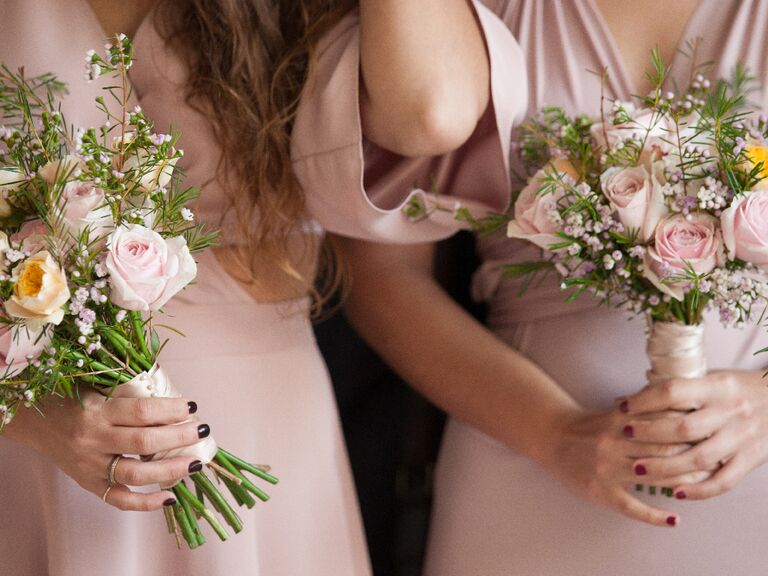 Jansamon Thongra-Ar/EyeEm/Getty
Proposing to your bridesmaids is a huge deal—whether you're popping the question with a custom wine glass, a sweet treat, or a heartfelt card, there's a good chance you've been thinking about who's going to stand by you on the big day for quite some time. (Perhaps, even, well before you got engaged.) While having a wedding party certainly isn't a requirement, it is a thoughtful touch for your nuptials. After all, it's a special experience for your loved ones to have such important roles during your big day.
Of course, while your intended bridesmaids and groomsmen likely want to be involved in your wedding, there's a chance not everyone will be able to commit to the role. In the event that a bridesmaid or groomsmen drops out, don't panic. While this might seem like a wedding nightmare IRL, you aren't out of luck. To help you figure out what to do when a bridesmaid drops out, an industry pro shares six tips you *need* to follow to keep your nuptials on track.
Meet the Expert: Lara Mahler is the founder and chief planner of The Privilege is Mine, an alternative event production company specializing in modern and collaborative wedding planning experiences.
Don't take it personally—and don't panic.
If a bridesmaid dropped out of your wedding party, you might feel hurt, panicked, or a combination of both. While this may seem like a major wrench in your planning process, take a deep breath and put things into perspective. The choice likely isn't personal, and your big day is not in jeopardy. First, consider the fact that your intended wedding party member may not be in the right financial or personal state to commit to your nuptials. "Weddings aside, we have all been through life changes in one way or another, especially during the pandemic," Mahler says. "Priorities have shifted, some people's financial situations have changed, some people now have families, some may have moved. Emotions can get high while planning your wedding but it's important to keep a clear perspective."
Talk to them about their reasoning, and see if you can help.
When you're not sure what to do if a bridesmaid drops out, start by talking to them to understand their reasoning. While it's always best to respect their decision, there may be ways you can help them work through concerns. If they're worried about affording your bach party, for example, consider working out an alternative solution—maybe they won't attend the trip, but can instead celebrate with you in a more personal setting over dinner and drinks closer to home. Or, if they can't commit the time to helping plan prewedding festivities like a shower, perhaps they'd rather help on the wedding day by serving as a touchpoint for vendors and guests.
Generally speaking, the most important "duty" bridesmaids have is to support you throughout the experience, and that may look different for each person. If this is something they're willing to compromise, consider working together to establish a plan that feels attainable. "When you're thinking about who to ask to be in your wedding party, really consider who they are to you and what role they'll play," Mahler suggests. "Instead of expecting certain things to be done by your bridesmaids, work together to create an environment that works for everyone. Your bridesmaids will be thankful that you've considered the time and finances you're asking them to contribute."
Touch base with the rest of your wedding party.
If your friend still plans to bow out of your wedding party even after you've tried to compromise, there's no need to stress—especially when you still have an awesome group of bridesmaids. If you find yourself in this situation, check in on the rest of your group. Make sure your wedding party members are still aligned on costs and expectations, and that they're feeling good about their positions. As much as your crew is there to support you, it's just as important to support them too, and having a constant line of communication will keep everyone feeling validated. "Be clear with your bridesmaids and communicate your expectations throughout the engagement," Mahler recommends. "You want your bridesmaids to be pumped to be a part of your day, not pumped that it's almost over."
Consider asking another loved one to join your party.
Those who are still a few months out from the wedding might consider asking another loved one to join the wedding party instead. While this may be an option, there are a few caveats to consider. First, it's important to make sure your potential new bridesmaid has enough notice to commit to being in your wedding. It's generally best to extend your bridesmaid proposals eight months to a year in advance of the wedding. If the big day is only a few days, weeks or months away, it may be best to keep your group as is.
It's important to also consider how a late bridesmaid proposal might feel to the person you're asking. Mahler recommends against picking a new bridesmaid just for the sake of filling an empty spot—not only will the person be able to sense this, the request may not feel entirely genuine. "My hope is that couples are asking people who are near and dear to their hearts to join their wedding party, rather than asking a certain number of people so it looks good in photos," she warns. "If a bridesmaid drops out and you have another person in your life who is special to you and your partner, you can ask them. But, if you're looking to simply 'fill a position,' ask yourself why it's so important to have that person replaced." If aesthetics are a concern, trust us: Your wedding photos will look great regardless of how many people are in your wedding party.
Work with your planner to adjust day-of logistics.
The timing of your bridesmaid dropping out will impact how many logistical changes need to be made. If they make the decision to leave your wedding party months in advance, there won't be many (if any) logistical updates to figure out. If your bridesmaid dropped out a few weeks or days before the wedding, it's important to inform your wedding planner or day-of coordinator so they can help you make necessary updates. "There may need to be slight adjustments to the processional order, as well as the reception entrance if you're choosing to have a special moment with your wedding party," Mahler says. Not to worry—your team of vendors are pros for a reason, and they'll be able to help you navigate this situation, stress-free.
Just roll with it.
Ultimately, don't let a bridesmaid dropping out put a dark cloud over your wedding journey. Once you've spoken to the person to understand their reasoning, all you can do is make the most of the experience for yourself and the rest of your wedding party—and know that your wedding day will still be a wonderful occasion. "The absence of a bridesmaid should not affect the flow of your wedding," Mahler says, noting that other bridesmaids and even your team of vendors can—and should—offer the support and guidance you need. "If you feel nervous or anxious about anything, your wedding planner is there to help you."