13 Potentially Embarrassing Wedding Moments—And How to Handle Them
We're here to help you navigate the cringiest scenarios gracefully.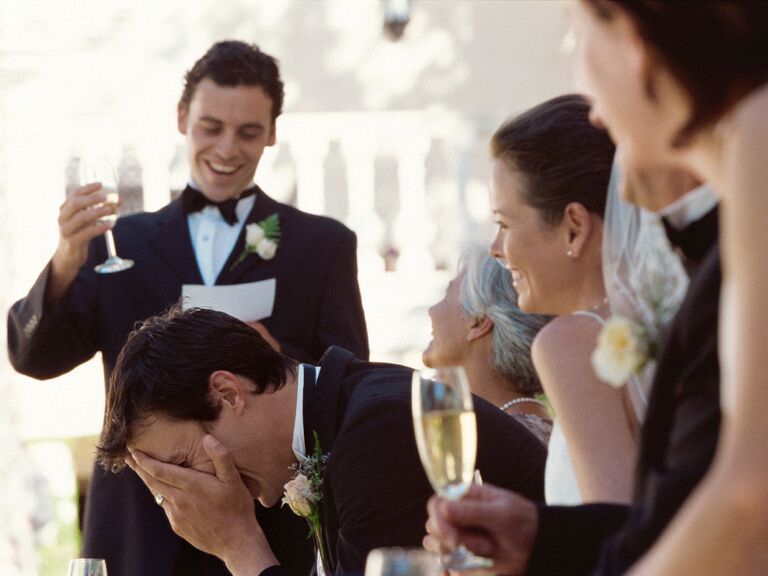 Corbis/VCG/Getty Images
You've spent a lot of time preparing for your wedding day, so it only makes sense that you want it to go off without a hitch. As with most events, though, even the most meticulous planning may not be able to prevent a few day-of hiccups. Not to worry: As your go-to resource for all things wedding help, we've put together a comprehensive guide on how to graciously navigate some of the most awkward (and even downright embarrassing) wedding moments. From rogue speeches to tipsy guests and, yes, rude comments from loved ones, here are 13 tricky scenarios you might encounter—plus, our expert tips to handle them like a pro. And remember: Even if you do find yourself in one of these situations on your big day, try to take it in stride and make the best of it. You can't control every aspect of your wedding, and some slip-ups may occur. But with a good attitude and a positive outlook, it'll still be the best day ever… we promise.
An uninvited guest shows up.
Crafting your guest list and perfecting seating arrangements is no joke—so if an uninvited guest or plus-one shows up, we totally understand why might want to freak out. Although this embarrassing wedding moment is rare, it could happen. Instead of making a scene, discreetly tell your wedding planner or day-of coordinator and let them handle it. They're highly experienced in overseeing events, and they'll know exactly what to do in this scenario. Instead of stressing about it, enjoy your big day and let the pros do what they do best.
Your flower girl or ring bearer won't walk down the aisle.
Incorporating children in your wedding party as flower girls or ring bearers is certainly adorable, but kids can be unpredictable. If a child throws a tantrum or refuses to walk down the aisle moments before the ceremony is set to begin, take a few deep breaths. Recognize that you can't force kids to walk down the aisle, and doing so may only make them more upset. Ask your planner or someone in your wedding party to take them to their parent to calm down, and have them rejoin the ceremony later if they're able.
Someone's phone rings during the ceremony.
Nothing can kill the romantic vibe of a wedding ceremony quite like the ding of a cell phone. If this happens during your vow swap, try not to sweat it; just keep smiling and focus on your partner and the officiant. There's a good chance that whoever was responsible for the interruption will quickly silence their phone. One way to completely avoid this awkward wedding moment is to have an unplugged ceremony. Use your wedding website to state your no-phones policy, and place unplugged signage around your venue as polite reminders. Not only will this ensure that cell phones stay out of your professional wedding photos, it'll help keep unwanted noises at bay. If you're really concerned about tech interruptions, you can always have your officiant make an announcement to turn off phones before the ceremony begins.
Guests arrive after you've already walked down the aisle.
You made your walk down the aisle, and you're finally holding your partner's hands… then out of the corner of your eye, you see a few late stragglers rushing in. Latecomers aren't exactly ideal, but there's not much you can do to prevent this embarrassing wedding moment. One step you can take is to have a few friends or family members serve as ushers. They'll be able to direct late guests to their seats at an appropriate moment.
You trip during the processional.
Tripping while walking down the aisle is a common wedding nightmare. If you're nervous about having all eyes on you, the thought of stumbling may cross your mind once or twice. Instead of letting the fear consume you, take a deep breath before your processional and focus on getting one foot in front of the other. If you do have a misstep, brush it off and keep smiling—we guarantee guests won't remember it by the end of the ceremony. To build your confidence, we recommend practicing walking around your house in your wedding shoes. The more comfortable you get in your footwear without an audience, the better you'll feel when it comes time to make your walk down the aisle.
Your rings don't make it to the altar.
Wedding rings are one of the most important elements of the ceremony, so it's crucial they make it to the altar. In the event that they get misplaced before the ceremony, don't panic—everything will be okay. Start by making your wedding jewelry is insured, as this will protect you in case they actually are lost. Then, delegate one trusted person to keep track of the rings beforehand. (This duty often falls to the best man, or sometimes the maid of honor.) Keep a close eye on the location of the rings leading up to the big day, then pass them off accordingly to ensure they get where they need to be.
Someone mentions an ex in a speech.
Of all the wedding speech nightmares, this one is one of the worst. If friends or family members will be making a toast throughout your wedding weekend, we recommend giving them a few rules beforehand. We know that guests don't like sitting through long speeches filled with inside jokes, so ask your speakers to keep their sentiments brief. Consider also reminding them to keep the content appropriate for your wedding—while you can't control what they say in the moment, you can ask them to refrain from talking about embarrassing stories, raunchy memories, or past relationships. If, by chance, someone does bring up a touchy subject during their speech, laugh it off as best you can and move on with the evening.
You're asked about when the grandkids are coming.
Picture this: You made it to the reception, good music is blasting, and you and your newly-minted spouse are making your rounds, mingling and chatting with loved ones when Aunt Jane asks when you're going to give your parents grandkids. Cringe. The subject of children can be a touchy one. If you and your S.O. are excited about the prospect of having kids, feel free to express that—but if you'd rather not talk about it, try not to let the comment dampen your vibe. While you might want to roll your eyes and tell Aunt Jane to mind her business, simply smile and say that you're focused on enjoying your wedding day right now. Then, excuse yourself to greet more guests.
A table of guests gets *way* too drunk.
Weddings are celebratory events, and there's a chance alcoholic beverages will be flowing. You want your friends and fam to have a good time—after all, you put a lot of effort into planning your wedding day. But if some of your guests get a little too drunk, it can turn a good night sour. (It may even pose as a liability issue for your venue.) We recommend delegating at least one person, like your planner, someone in your wedding party or a close friend or family member, to handle drunk guests. Talk to them before your wedding and ask them to keep an eye on people throughout the night. If they see guests acting inappropriately, they should be the ones to handle it, either by asking them to tone it down, stop drinking, or leave, if it gets to that point. We also recommend arranging transportation so you don't have to worry about guests drinking and driving. You'll be busy enjoying your own wedding, and the last thing you want to do is stress about rowdy guests. Let someone else handle this embarrassing wedding moment—it'll make your day much more enjoyable.
The wrong song plays for your first dance.
If the wrong tune starts playing while you're on the dance floor, your first instinct might be to run off or get upset. While this wedding moment certainly isn't ideal, there are two ways to handle it graciously. You can always just wing it and finish out the dance anyway, and later ask your music pro to play the correct song and do it again. Or, make sure someone knows the correct first dance song (like your planner or MOH) and ask them to politely tell your pro to change it. Of course, you can avoid this completely by connecting with your band or DJ before the wedding day to confirm song requests. Doing so will ensure everyone is on the same page, and that the correct song plays out when it's time for your spin on the dance floor.
Something spills on your outfit.
Whether you're wearing a dress, a tux, or something in between, your wedding outfit is a big deal, and the last thing you want is to stain it at any point throughout the day. We'll let you in on a secret: Accidents happen, and you might end up with a grass stain on your train or a drip of sauce on your top, regardless of how careful you are. It's for this reason that we recommend packing a wedding day emergency kit with stain remover in it. Ask a wedding party member to keep the kit nearby at all times in case of a stain—with a trusty remover on hand, you'll at least be able to try to get the mark out as soon as possible. If not? Laugh it off. It'll make for a good story one day.
A guest brings their children to your no-kids reception.
There's no denying that having kids at weddings is a hot topic. If you've specifically indicated that your event is adults-only, it can be incredibly frustrating to see children show up. To prevent this embarrassing wedding moment, be clear about your policy from the moment you send invitations. Address your stationery to the invited guests only, and add the request to your wedding website. If guests send back an RSVP with their children's names, reach out to them directly to inform them of your no-kids policy. If a guest does show up with their children, do your best to stay calm. As we suggested above, tell your wedding planner or day-of coordinator, and ask them to handle it.
The best man goes rogue during his toast.
If you have visions of the best man going rogue during his wedding speech, you aren't alone. It's a common fear that's certainly propagated by media and pop culture, and it's definitely not something you want to happen during your wedding. Before the big day, ask all speakers to limit their toasts to a specific time frame. (We recommend two to three minutes.) In the event that your best man—or any other speaker—goes way over time or starts getting inappropriate, signal to your DJ or emcee that it's time to move on. They are the experts, after all, and they can professionally signal to the speaker that it's time to wrap it up.