9 Wedding Planning Tasks That Aren't As Hard as You Think
Plus, our tips to get them finished ASAP.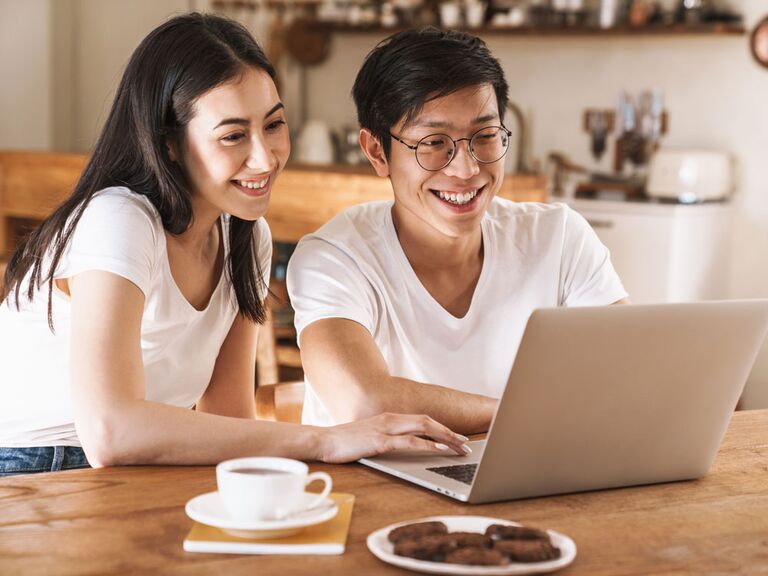 Dean Drobot/Shutterstock.com
While you might have more fun choosing a color scheme or curating welcome boxes, certain to-do items on your wedding planning checklist shouldn't fall to the backburner. While planning a wedding takes time and dedication, not all tasks you might be putting off are challenging. Below, we've outlined nine wedding planning tasks to complete up front. They're simpler than you realize, and we make it easy with tips to help you check off your list.
1. Making Your Budget
You can dream about drone photographers and sugar flowers all you want, but you can't focus on the details until you set your budget. In fact, this should be the first task you finish when you start planning. Before you can find a venue, choose your outfits, or start booking vendors, you need a clear idea of how much money you can spend. Set aside a day with your S.O. to talk through your budget and finalize a cost you're comfortable with. It won't be as bad as you think, especially because there are budgeting tools at your fingertips to keep you organized throughout the entire process. Make an account on The Knot and use the Budgeter tool to allocate funds and keep your spending on track.
2. Talking to Parents About Money
If your parents (or your partner's parents) are contributing to your wedding budget, it's important to include them in money discussions. While it's not always an easy conversation, it's necessary to talk to your parents about wedding money to ensure everyone is on the same page. This will help eliminate potential miscommunications throughout the planning process. As long as you keep the dialogue open, honest and respectful, the interaction won't be as difficult as you expect it to be.
3. Researching Vendors
We get it—you want to know your dream team right now. Securing your vendors sets planning in motion, but it requires thoughtful research. It's important to find vendors that align with your values and wedding vision. Start by using a search tool, like The Knot Marketplace. You can also discover local pros on social media. Evaluate their styles, read customer ratings and reviews, and then narrow down your favorites. Ask plenty of questions and treat your vendor search like an interview process. It'll be worth the effort when you find the best pros for you.
4. Creating a Wedding Website
You might be wondering if you actually need to take the time to make a wedding website—and you should. Not only is creating a wedding website free, it's the best way to share important wedding information with guests in a convenient place. If you're not a design whiz, there are plenty of online resources to create a website that matches your wedding style. Use your wedding website to share the details guests need, like the time, location and dress code, as well as directions and local accommodations. You can even add fun extras, like wedding party bios and a synopsis of your love story. Your wedding website is also the best way to share your registry with guests. Not only is it an important wedding task, it's one that you and your S.O. can turn into a creative activity.
5. Registering for Gifts
Registering for gifts is a must, especially because loved ones will want to start shopping the moment you get engaged. Creating a wedding registry simplifies the gifting experience for guests, but it also helps you get gifts you want. Forgoing a registry means loved ones might buy duplicate items, or they'll get products you might not want or use. Be thoughtful about your registry picks—perhaps you and your S.O. want a high-tech robot vacuum, or maybe you've got your sights set on a cash fund for a couple's honeymoon massage. You can even link your registry to a charity if there's an organization close to your hearts. While you might feel the urge to put off registering for gifts, create your wishlist early and update it often. Registering for gifts is essentially just shopping for your newlywed nest, so turn this task into a date night with your S.O.
6. Refining Your Guest List
Making your guest list might feel like a hurdle at first, but it's not as daunting as it seems. If you're dreading this piece of business, it's likely because it's tied to sensitive topics like your budget and family expectations. Despite this, refining your guest list is necessary if you're working within budgetary restrictions or your venue has limited space. Set aside time just for this task and start trimming your guest list until your celebration is the perfect size. Plus, getting your head count down to the right number will be so satisfying.
7. Figuring Out Your Seating Chart
There's no way around this one, but arranging your seating chart is never as bad as you think it'll be. Think of your reception tables like a puzzle—there's a great seat at a great table for all of your guests. It takes a little finessing, but most of it comes from following a formula. It's important that you and your fiancé tackle this task together, that way one person isn't stuck trying to make tough seating decisions. And if you're feeling stressed, try putting things into perspective: After dinner, your guests will likely leave their seats and head to the dance floor anyway.
8. Finalizing Vendor Contracts
Finalizing vendor contracts is one of the less glamorous wedding tasks, but it's one that shouldn't be procrastinated. A contract sets expectations for the wedding day, and it also secures your vendor's commitment. Until you sign it, there's no guarantee that they'll hold the date of your wedding. For this reason, it's important to act fast. Be thorough when reviewing vendor contracts so you don't miss any important information in the fine print. While it might sound intimidating at first, it's totally doable—just don't put it off until the last possible minute.
9. Writing Thank-You Notes
Cringing at the thought of putting pen to paper? You're far from the only one. While it's a lengthy task, writing thank-you cards can't be overlooked. This to-do will be much easier if you keep track of who sent what gift and when. It also helps to write your notes as presents arrive so they don't pile up. (This will also help cut down your postwedding to-do list.) Use your guest list manager to store everyone's addresses, track gifts and thank-yous sent. When the pile does get high, divide and conquer. You're partners for life now, so you might as well start with thank-you notes.