25 Unique Wedding Favors Your Guests Will Actually Want
Think outside the box with these creative gifts your guests will definitely use—not lose.
We have included third party products to help you navigate and enjoy life's biggest moments. Purchases made through links on this page may earn us a commission.
You've already put a lot of thought into every detail of your wedding day, from finding the perfect shade of non-Pepto-Bismol pink for your bridesmaid dresses to making sure Uncle Milton is sitting as far away from the open bar as possible. Why should your guests' take-home goodies be any different? Give your attendees unique wedding favors (a.k.a. favors they'll actually want) to show them how much you value their presence.
What makes a wedding favor feel thoughtful? Consider what you'd personally like to receive and use after attending a friend's wedding. Or, you can leave the thinking to us: These not-so-boring, totally unique wedding favor ideas are gifts your guests definitely won't leave behind.
1. Sweet Deck of Cards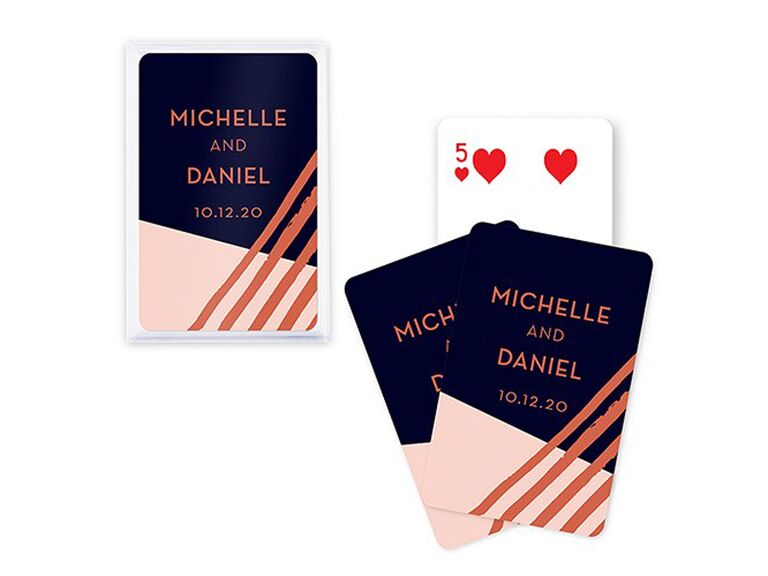 Whether they're into Go Fish or Bulls**t, your guests will be reminded of all the fun they had at your wedding whenever they break out these glam playing cards. (FYI, The Knot Shop sells decks for practically any wedding theme, from nautical and tropical to modern and even celestial.)
The Knot Shop unique custom playing card favors in Retro Luxe, $3, TheKnotShop.com
2. Cute Succulents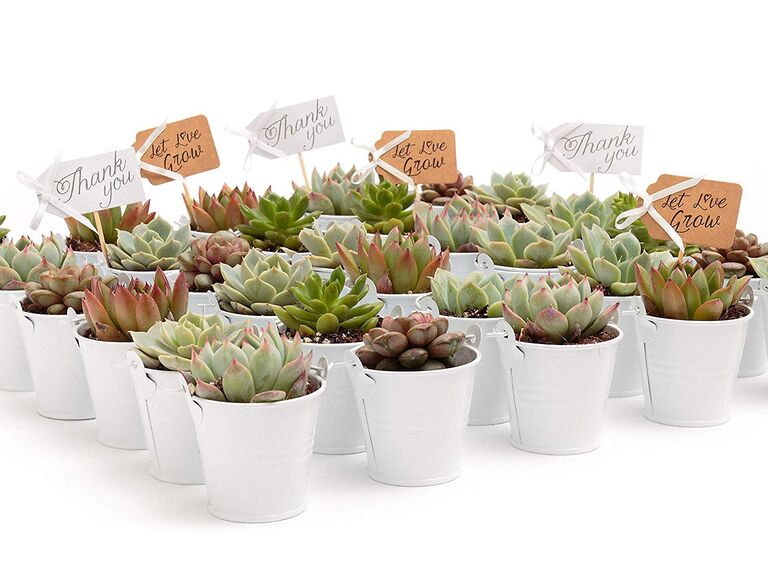 Who wouldn't be pleased with a potted succulent? These resilient plants are practically impossible to kill, so your guests needn't worry about their lack of green thumbs. Plus, they come in cute containers.
Succulent Source wedding event rosette succulents with white metal pails and thank you tags, from $117 for a set of 30, Amazon.com
3. Punny Pizza Cutter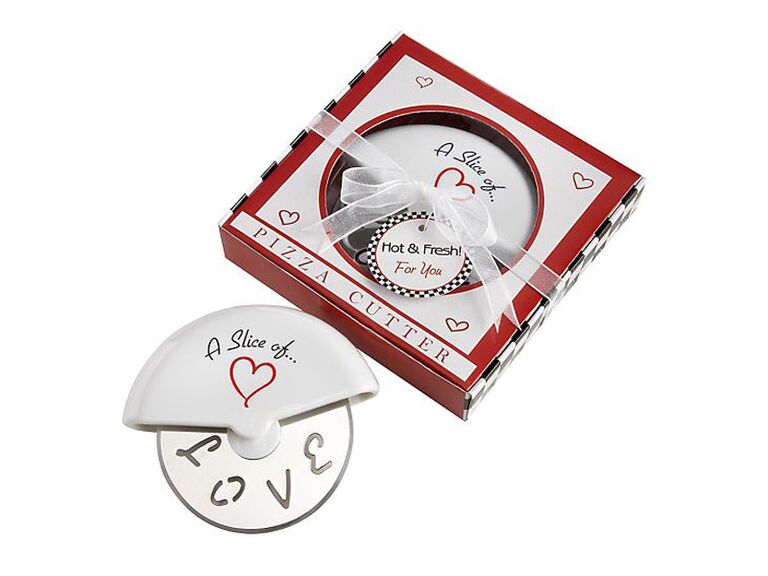 This one goes out to all the home chefs on your guest list, whether they're obsessed with baking their own pizza from scratch or they simply love a good frozen option! The "a slice of love" packaging is wonderfully punny.
David's Bridal A Slice of Love stainless steel pizza cutter favor, from $3, DavidsBridal.com
4. Matrimony-Themed M&M'S
Send your guests home with something sweet and almost too pretty to eat. M&M'S makes it easy to personalize your treats by choosing candy to match your wedding colors. Pick from several different packaging options, from heart-shaped tins to ribbon-adorned bags, or buy in bulk and DIY your favors. Not to mention, you can customize the candies by printing your names, a picture or wedding hashtag on each piece. (Yes, that means your guests can eat M&M'S with your faces on them.)
M&M'S personalizable wedding cake favors, from $4, MMs.com
5. Nautical Measuring Spoons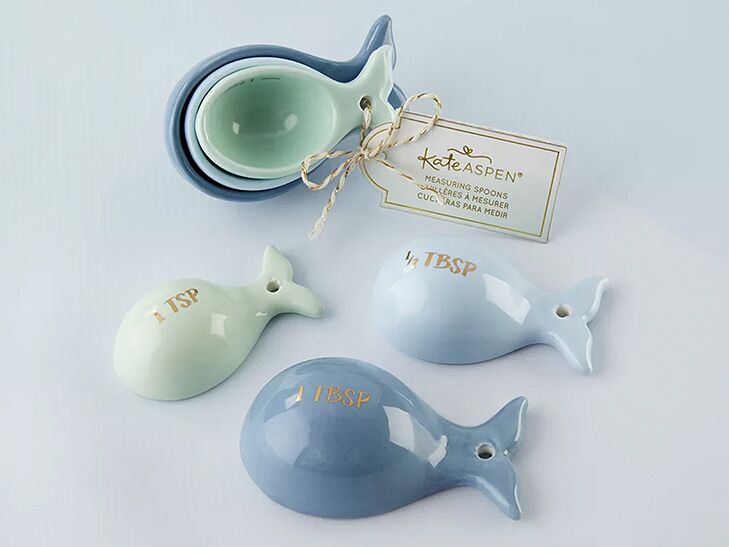 Cute and convenient, these whale-shaped measuring spoons will come in handy when your guests inevitably try (and fail) to recreate your ridiculously delicious wedding cake at home.
Kate Aspen ceramic whale shaped measuring spoons, from $3, FavorsLTD.com
6. Fun Cocktail Shakers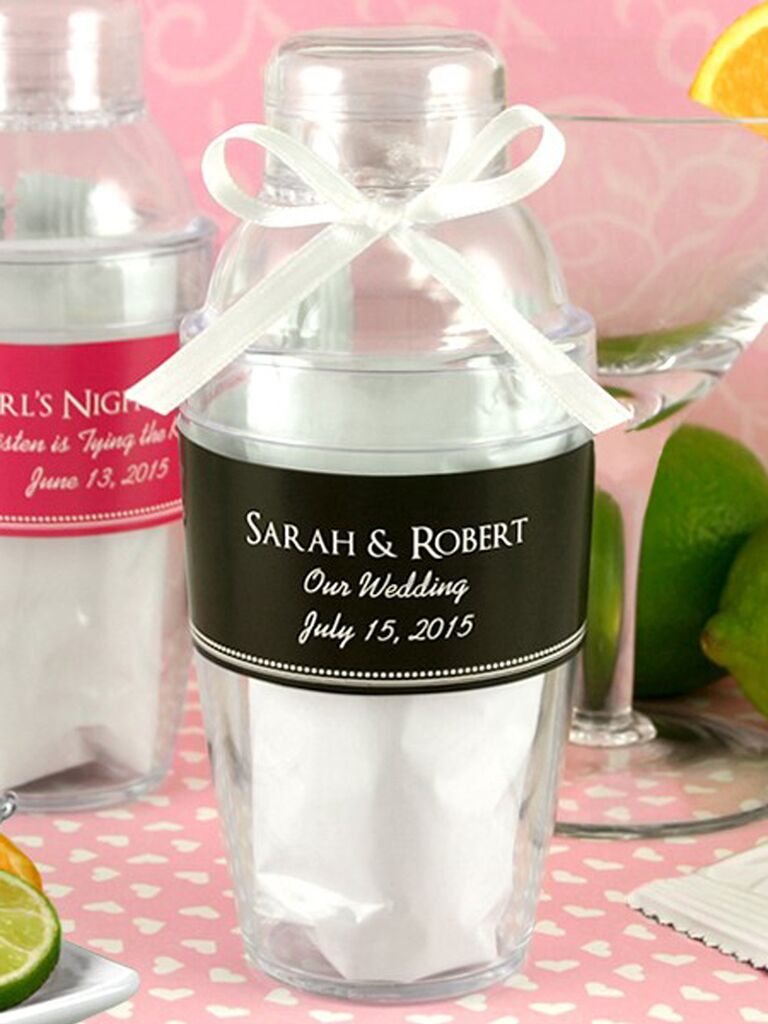 Customize the outside of these festive cocktail shakers with your names, wedding colors and date. That way, your friends will think of you every time they serve up a drink. Hopefully, you'll be invited to share.
Favors LTD personalized cocktail shaker with Cosmopolitan mix, from $3, FavorsLTD.com
7. Cozy Blankets or Pashminas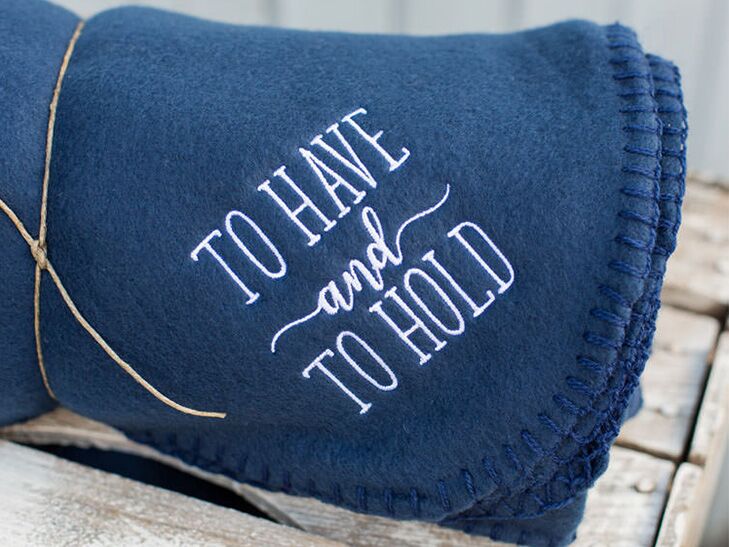 A cozy fleece blanket is something your guests will reach for again and again on chilly nights or for picnics in the park. Plus, if you're having an outdoor wedding, you can have them on hand for partiers in case the weather gets cool. Customize the corners with a witty saying, or go classic with your wedding location, hashtag and date.
Totally Promotional fleece embroidered wedding blanket, from $9, TotallyPromotional.com
8. Double-Duty Coasters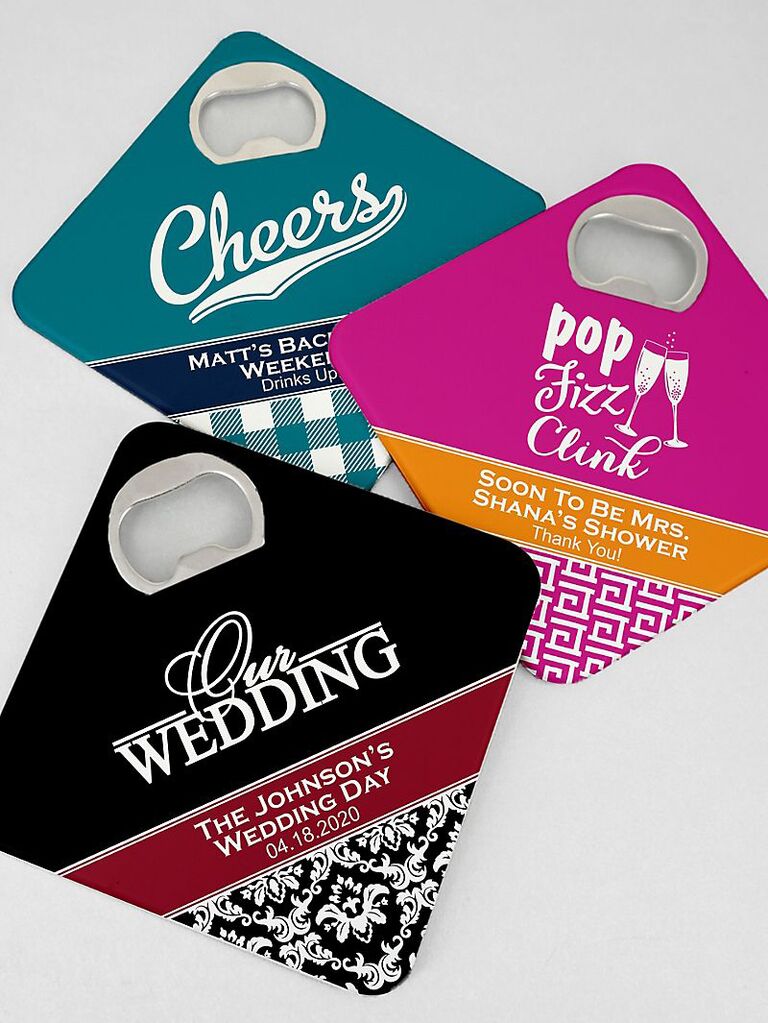 When it comes to unique wedding favor ideas, two-in-one products are always a delight. These fun, personalizable knick-knacks aren't just coasters—they're bottle openers too.
David's Bridal personalized bottle opener coasters, $4 each, DavidsBridal.com
9. Mini Notepads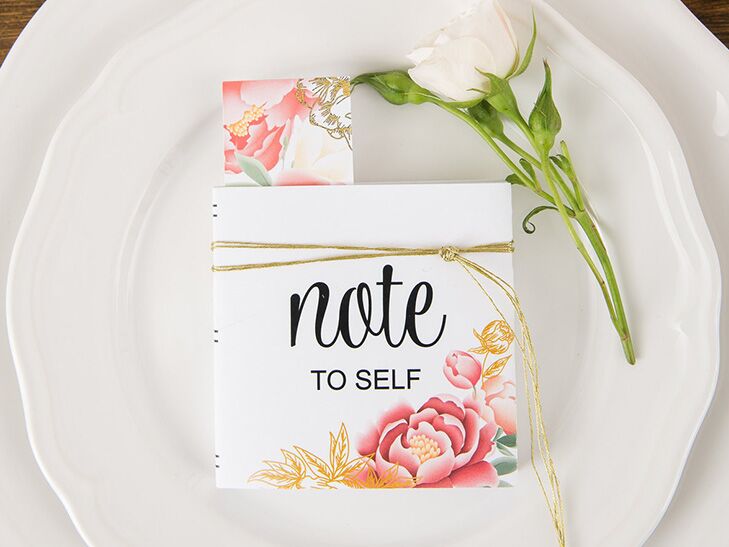 A mini notepad is a great option for busy guests, giving them 200 blank pages for to-do lists, important notes or just some doodles. Don't forget to add a note of your own: These unique wedding favors come with custom covers featuring a note you write to your attendants. Choose from a few cute cover designs.
The Knot Shop notepad favor with personalized rose cover, from $2, TheKnotShop.com
10. Do-Gooder Donations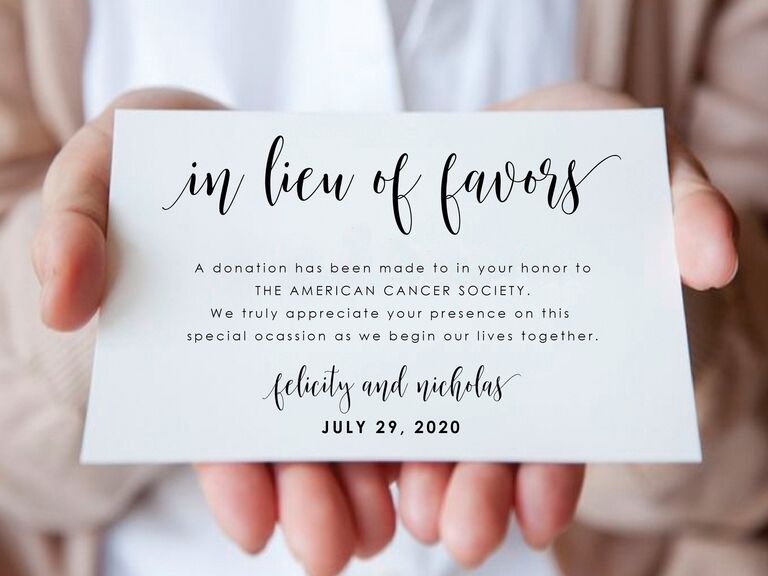 Use your wedding celebration as an opportunity to spread a little love around the world. If there's a cause that's close to your hearts, consider donating on behalf of your guests. Print up an explanation for guests in lieu of favors—Etsy carries lots of downloadable "in lieu of favors" cards, which you can leave at each guest's seat or frame and place beside the centerpiece on each table
Studio Nellcote DIY In Lieu of Favors card, $7 for instant download, Etsy.com
11. Teeny Booze Bottles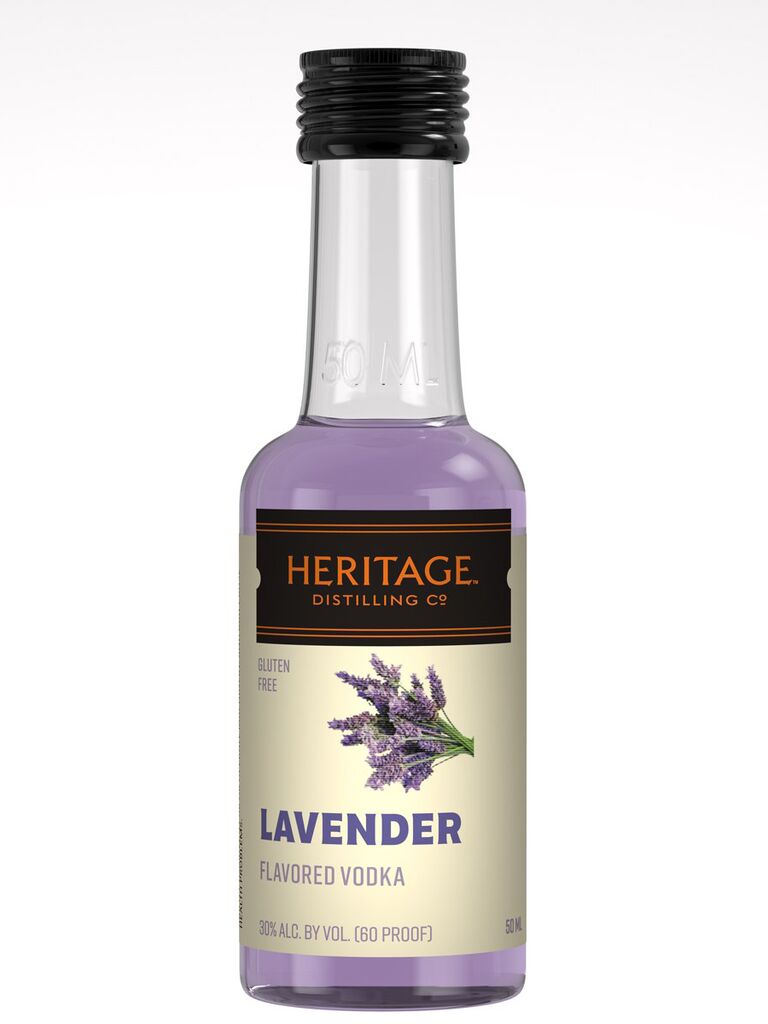 Keep the party going with a mini bottle of booze that guests can enjoy on the spot, or take home and save for later. Write whatever you want on the labels—from a celebratory toast to a funny pun. This brand sells tiny libations in ultra-unique flavors like lavender vodka (an excellent nod to your wedding flowers?) and ghost pepper vodka (to showcase your spicy side), plus other fancy spirits like aged bourbon.
Heritage Distilling Co. lavender vodka mini, $4, HeritageDistilling.com
12. Suitcase Swag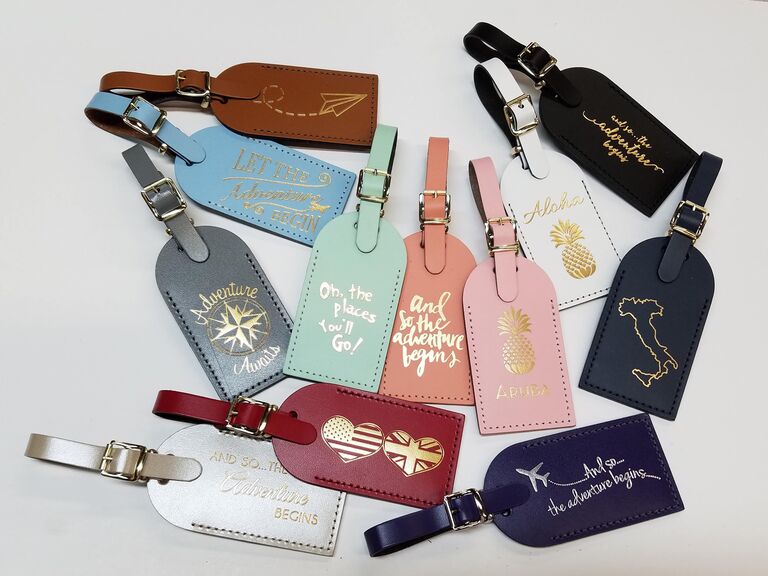 If you're planning a destination wedding, these handmade luggage tag favors are as useful as they are unique. There are a ton of colors designs to choose from, including the option to add your wedding date, a special quote or imagery to help further banish the baggage claim boredom.
Curry's Leather bulk order wedding favor luggage tags, from $3 each, Etsy.com
13. Coffee Beans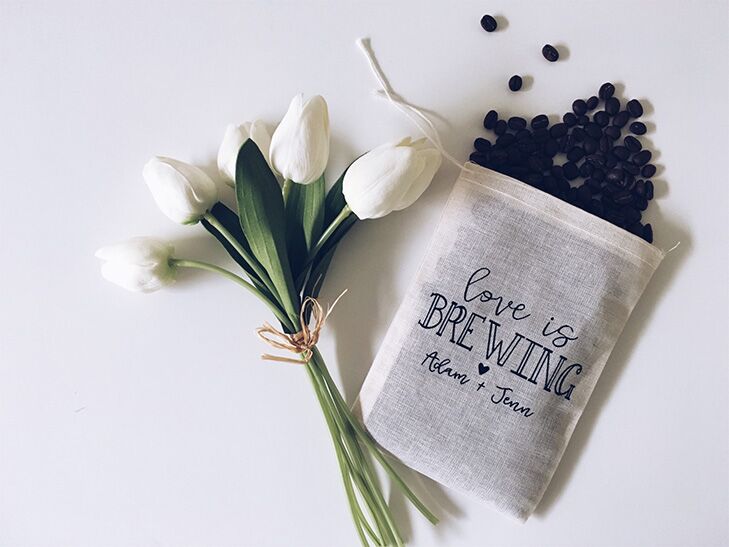 Fill these clever bags with local coffee beans to wake them up after a late night celebrating your union.
Keep Life Simple Design Love Is Brewing wedding favor bag, from $2, Etsy.com
14. Yummy Leftovers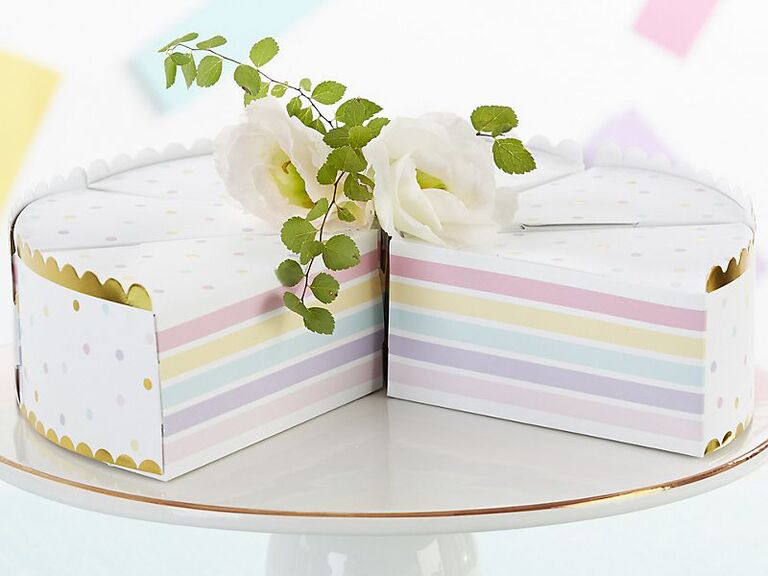 Oftentimes, wedding cake is left uneaten. (Rightfully so, if everyone's too busy crushing it on the dance floor.) But once those post-wedding or post-after-party late-night cravings kick in, they'll be grateful to have taken a slice to-go. Just make sure there's enough cake to take home.
David's Bridal cake slice favor box set, $25 for a set of 24, DavidsBridal.com
15. Bars of Soap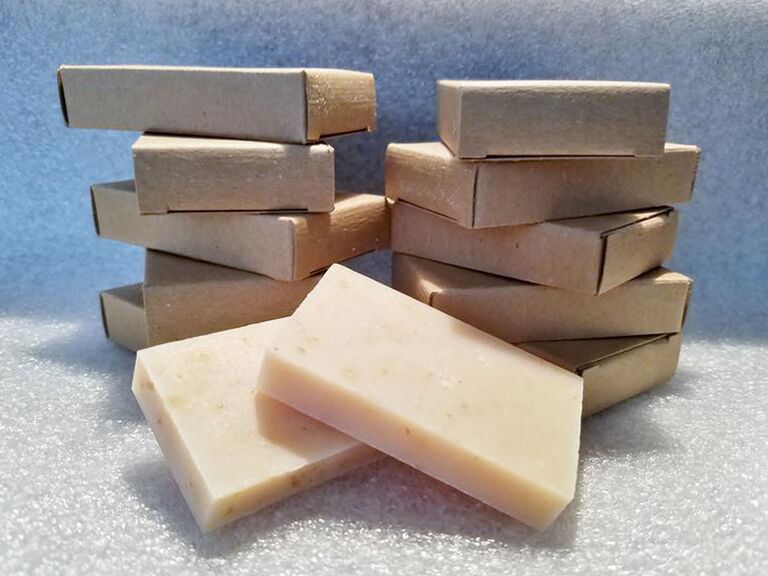 After a night of shenanigans, what's better than a nice, long shower? How 'bout giving handmade bars of soap as unique wedding favors? These ones have a cool, rustic look and you get to choose the scent.
Rustic Joy Soap mini soap wedding favors, $110 for a set of 100, Etsy.com
16. Anchor Bottle Openers
How cute is this gold anchor bottle opener? Your guests will be able to keep the party going and take home a nautical-themed, practical gift.
The Knot Shop polished gold anchor bottle opener, from $4, TheKnotShop.com
17. Seasonal Spice Blend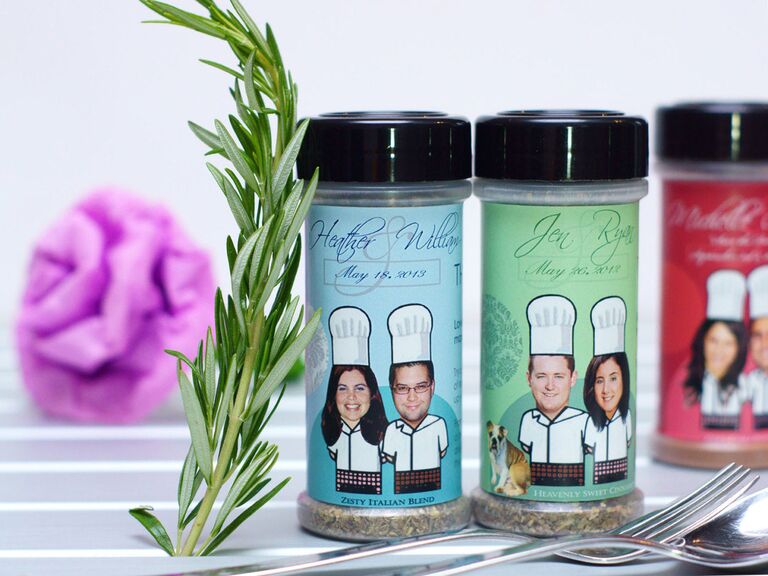 Any spices will make the perfect useful wedding favors, but these hilarious containers take the cake for creativity. Get them personalized with you and your future spouse's faces superimposed on cartoon chefs' bodies.
Spicy Wedding unique spice party or wedding favors, $126 for a set of 45, Etsy.com
18. Custom Engraved Chopsticks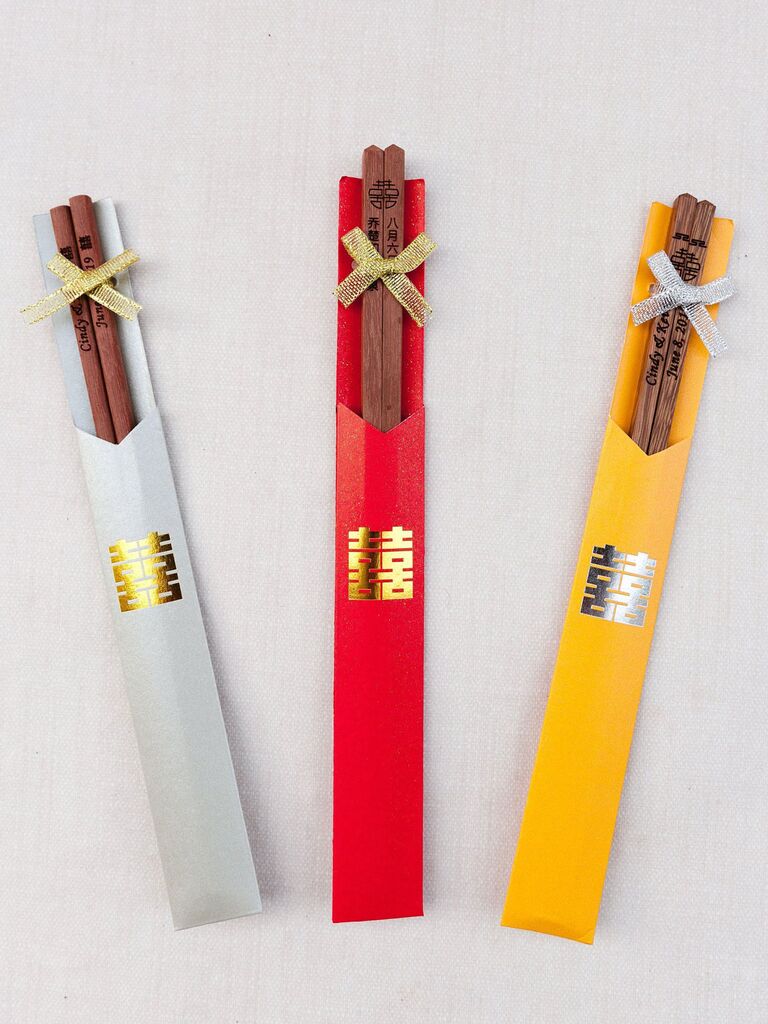 Each pair of these customizable chopsticks comes in a package embossed decorated with the Chinese double happiness symbol in gold foil. You can also customize them with your own choice of inscriptions. Pretty creative wedding favors right?
East Meets Dress personalized engraved chopsticks, from $3, Etsy.com
19. Jars of Nutella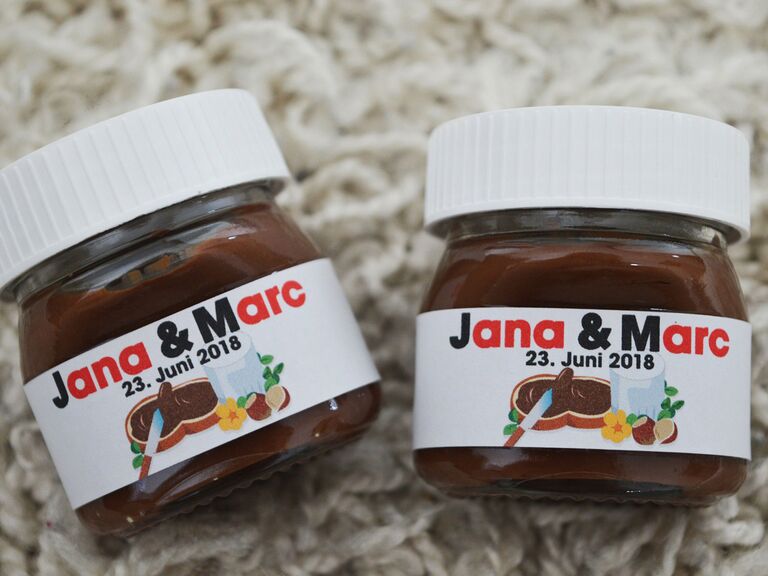 Everyone's favorite decadent dessert spread will (obviously) make deliciously unique wedding favors. Sweeten the deal by ordering personalized labels (that look like the real thing!). Don't feel like DIY-ing jars? Amazon sells adorable individual packs of Nutella too.
Wedding Mouse DE nutella labels, $12 for a set 25, Etsy.com
20. Ornate Ornaments
These stunning, customizable floral wooden slabs work well as Christmas ornaments, but you can also get them without the hole to gift them as coasters. Either way, they can moonlight as your place cards, which will save you money since you won't have to buy both.
Stringy Bark Supplies personalised wood slice favours, $3 each, Etsy.com
21. Seashell Salt and Pepper Shakers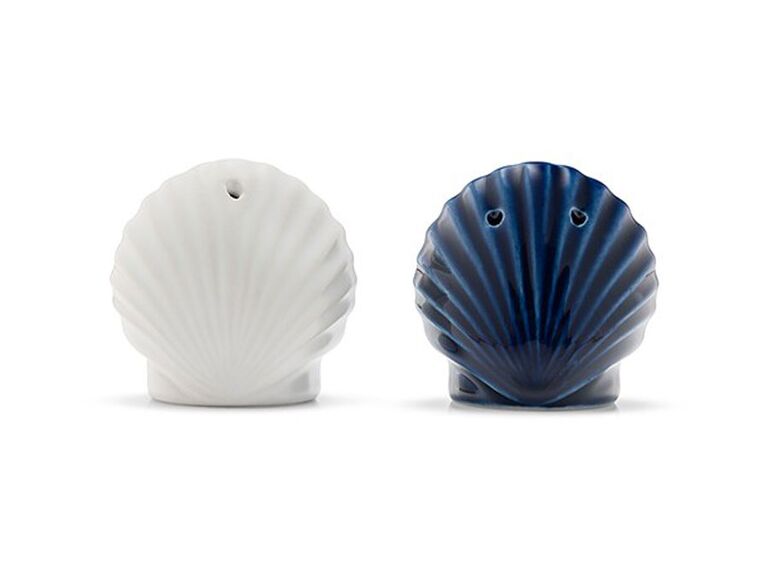 If you're having a beach wedding, we can't think of a better unique wedding favor idea than these seashell salt and pepper shakers. And they're sure to bring your guests right back to the beach when they use them at home.
The Knot Shop seashell salt & pepper shaker set, from $3, TheKnotShop.com
22. Essential Oil Diffusers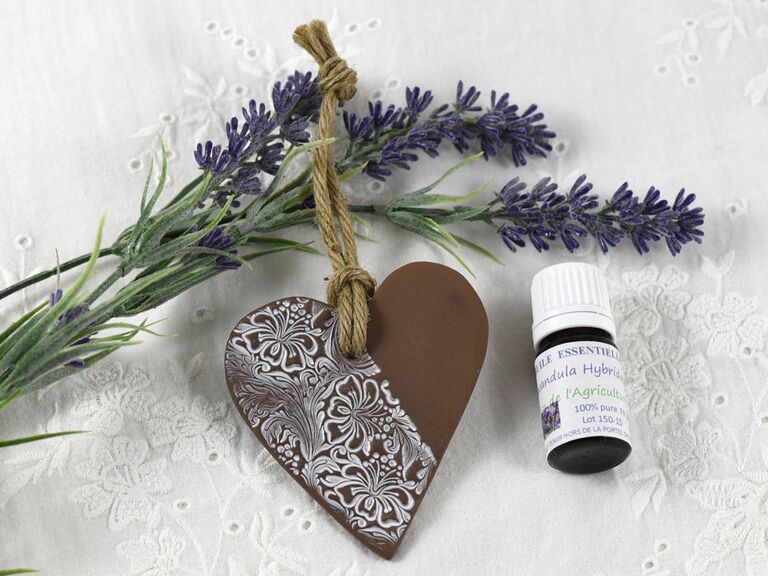 Your guests will love these essential oil clay diffusers—they can hang them in their cars, closets and so on. Each one even comes with an (ultra-soothing) bottle of organic lavender oil.
LiliBulle Ceramic terracotta essential oil diffuser, $11, Etsy.com
23. Lucky Scratch-Offs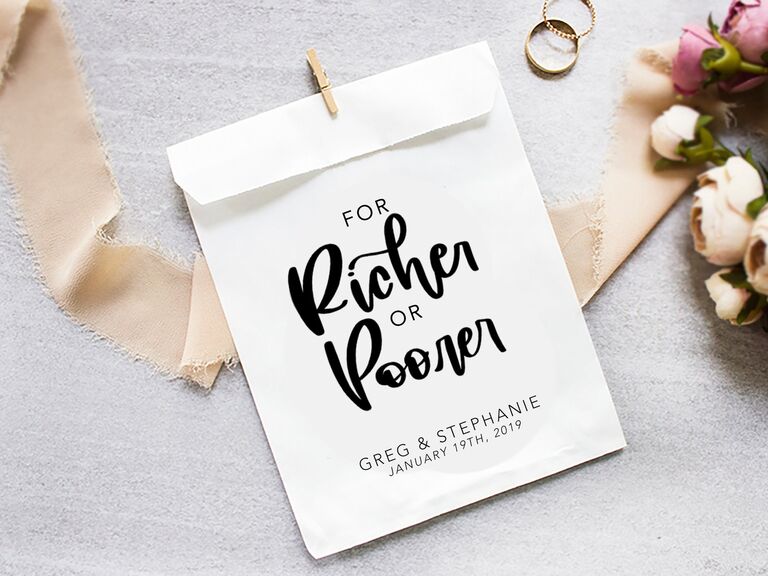 Scratch-off tickets are inexpensive to buy, but with a little wedding-day luck, they may just help a guest strike gold! Here's to hoping any winners share their earnings with the happy couple. Buy a kind that fits inside these witty "for richer or poorer" envelopes.
Ivory & Sage Company scratch ticket wedding favor bags, from $1 each, Etsy.com
24. Personalized Tic Tacs
It was mint to be! Seriously—buy tic tacs in bulk, then personalize them with these fresh and witty labels.
So Sweet Party Shop Mint to Be Tic Tac labels, $10 for a set of 24, Etsy.com
25. Adorable Honey Jars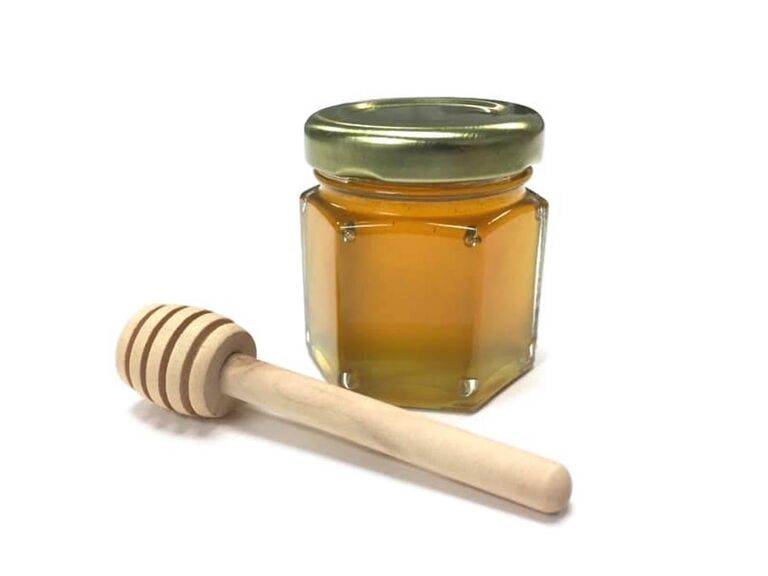 Yes, the wooden dipper is included. Send your guests off with the sweetest creative wedding favors imaginable: handmade honey individually packaged in adorable, glass hexagon jars. Uh-huh honey.
The Honey Jar Home hexagon honey jar with wooden dippers, $100 for a set of 50, Etsy.com