Who Gets a Plus-One for My Wedding?
What other brides are saying and our take on the guest list dilemma.
by Simone Hill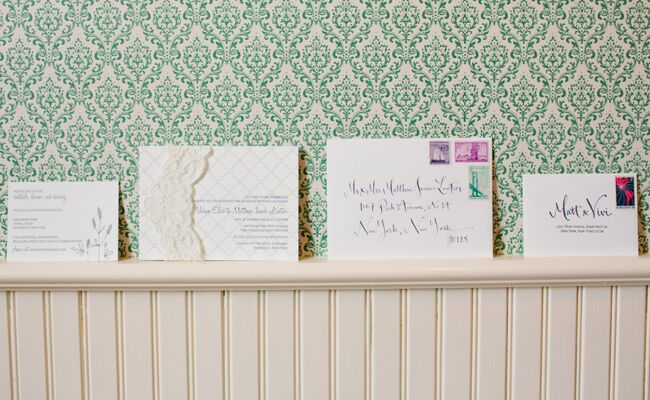 photo by
Caroline Frost Photography
Oh, the dreaded plus-one question. You've probably heard it before, and which guests should or should not get to bring a date is a seriously controversial topic on our Etiquette board. In a perfect world, you'd probably let everyone bring someone to your wedding, but budget and space limits mean that you have to make some tough decisions (and the easy way to cut down on wedding costs is limiting your guest list). So what do you do? Not allow single guests to bring someone and risk seriously upsetting them, or let them come and shoulder the costs?
Our answer: If a couple is married, there's no question about it—you have to invite their spouse. For everyone else though, instead of making a universal rule (for example, no plus-ones for all unmarried people), you'll want to make this decision on a case-by-case basis for each guest. If your friend has been with her boyfriend forever, you should definitely invite him because she'll be bummed if you don't take their relationship seriously just because they're not married yet. On the other hand, your 16-year-old cousin's high school boyfriend of two weeks may not need an invite. You should also think about factors like how well your guest knows other people, how far your guest will be traveling, and who will be attending and whether or not they started dating before or after invites went out to make your decision. Read more here about how to handle plus-ones.
What other brides are saying:
"If they are in a relationship, regardless of length of time, their partner should be invited as well." —CheleLyn
"Plus-ones in general are against formal etiquette. Each and every guest you invite should be treated as your guest and should receive all the courtesies that you extend to every other guest: to be invited by name, in an invitation sent to their own address, and to have the assurance that the people they meet at your party have been pre-vetted and approved by you." —AroundtheBlock
"I think you have to invite partners of long-term, engaged or married couples (no doubt about it). If you can't afford to invite everyone with a plus-one, it's fine as long as you're fair and even with all couples." —LowerEastSiide
Do you have an opinion about plus-ones? If so, weigh in on the conversation here.
Want more? Right here!
> 8 people you don't want to invite to the wedding (but have to!)
> Top 13 tips for cutting down the guest list