Everything You Need to Know About Getting Married in Wyoming
Look to The Knot for local details about getting married in Wyoming, from choosing your wedding venue to getting your marriage license.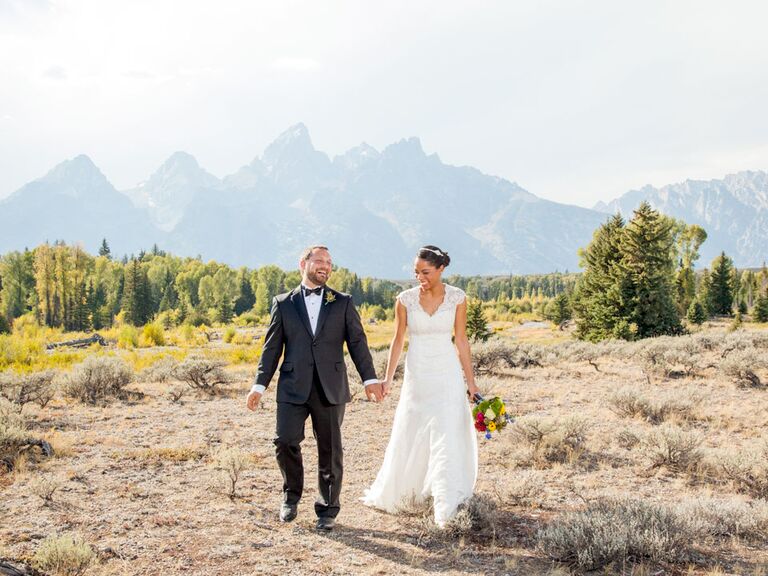 Heather Erson Photography
Ultimate Guide to Getting Married in Wyoming
From the breathtaking Rocky Mountains in the west to the High Plains in the east, Wyoming provides natural beauty and a sense of the Wild West to residents and visitors alike. Ideal for adventurers and those who enjoy the simpler life away from the hustle and bustle of big cities, Wyoming has plenty to offer to help you create your ideal wedding.
Whether you're looking to throw a traditional bash or a simple rustic reception, you can find Wyoming wedding venues and vendors to fit your personal style. Discovering exactly what you're looking for and coming up with ideas can be tricky and sometimes overwhelming though. This guide to Wyoming weddings can help you uncover local wedding trends, point you in the direction of the right wedding professionals and give you information on getting your Wyoming marriage license before changing your name. Follow your wedding checklist to make sure everything is done on time.
Top Wedding Trends in Wyoming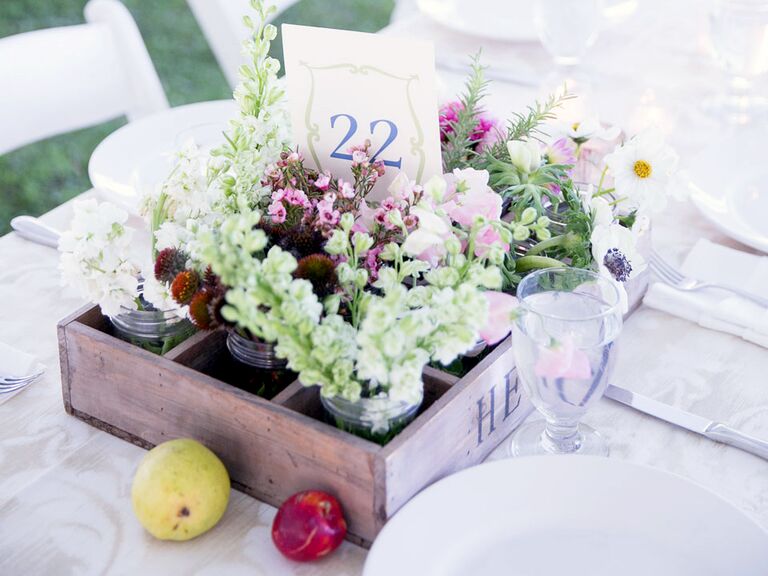 Rustic motifs and nature-centric themes have been and remain popular in weddings in Wyoming. Brides and grooms in Wyoming often blend city glamour with the untamed west (like pairing a ball gown with cowgirl boots) or simply go completely rustic. Luckily, this trend is easy to accommodate because so many wedding venues in Wyoming have rustic elements already in place. For example, there are plenty of barns, which have been popular wedding venue options for decades here, throughout the Equality State, and they have an inherently folksy atmosphere you can enhance with your own décor.
Other trends here involve reception layouts. Wyoming couples are moving away from the traditional round tables and choosing to have long banquet tables or smaller rectangle or square tables for a more intimate feel. Similarly, a lot of couples choose to rent big, comfy furniture to create lounge spaces away from the dining area for people to retreat to for some relaxation.
In terms of food, couples steer clear of the typical meal options and incorporate local or heritage-based dishes to their wedding menus. Serving a favorite family recipe or cultural dish is a common tradition, and local dishes are also making more appearances in Wyoming weddings.
There's also a local trend when it comes to the way brides choose to don their dresses at their Wyoming weddings: embellishments. More local brides are choosing dresses with fun textural details like ribbons, belts, extra bling, feathers, flowers and similar appliqués. To use this trend in your own wedding, find a dress that has its own embellishments or get creative and have a local crafter help you create and add pizzazz.
Other local trends you can use in your own Wyoming weddings include:
Suspended centerpieces
Wearable greens and flowers (woven grass headbands, sprigs of herbs or small flowers in your hair)
Single-bloom bouquets
Bold nail polish colors (no more simple French manicures!)
Serving slices of pie instead of cake
Wyoming Marriage Rates and Wedding Costs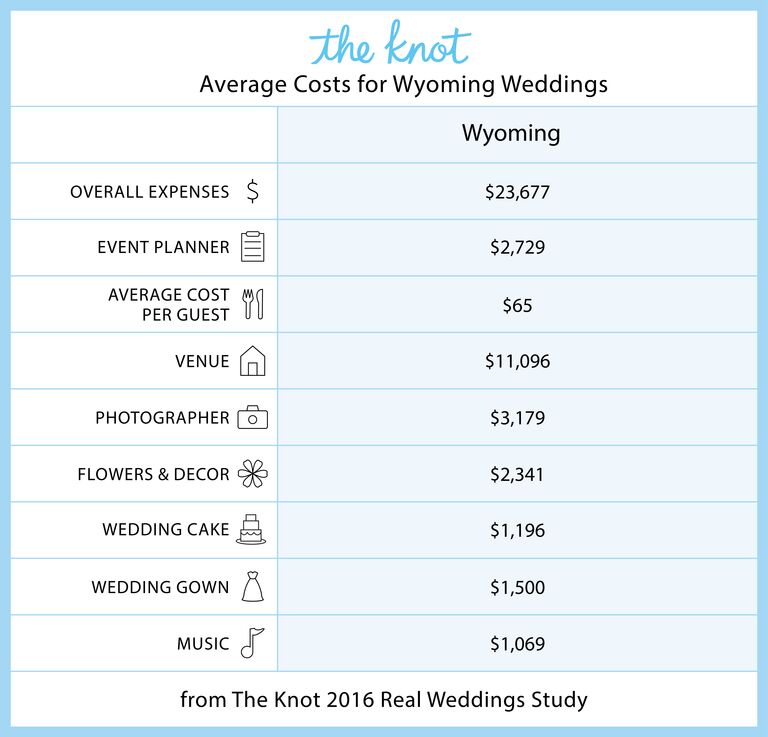 Planning a wedding can be all-consuming, and you may find your mind spinning thinking about all the little details. This happens primarily when you start to plan without having an idea of what things cost. The Knot 2015 Real Weddings Study gives you a detailed look at all the budget elements and trends to consider, from the price of wedding experts in specific places to different wedding styles and more. Take a look at some of the data regarding recent Wyoming weddings to help you plan your own event.

Wyoming Marriage Stats
In Wyoming, the marriage rate as of 2014 was 7.7 per 1,000 people. According to The Knot 2015 Real Weddings Study, the average age of brides at their Wyoming weddings was around 29, while grooms were at an average age of 31. The typical engagement lasted about 17.5 months long, and a wedding cost $24,919 on average (without taking into account the engagement ring or honeymoon). This places the usual Wyoming wedding's cost 10 percent under the national average cost of weddings.
Budget Breakdown: Average Costs for Wyoming Weddings
Creating a budget helps you keep track of what you're spending on each of your Wyoming wedding vendors. Start by choosing a maximum amount that you don't want to exceed and then break down that number to see what you want to allocate for each element of the wedding. This maximum amount might change as you see what everything is actually costing you, but having a budget certainly helps you pay attention to price tags and keeps you from overspending on little things. Take a look at what Wyoming couples paid for different wedding details above, and then head over to The Knot Budgeter to start keeping track of your own expenses.
Top Cities in Wyoming to Marry
Wyoming consists of five distinct regions that all offer their own benefits and drawing points. But research shows that two cities in particular seem to attract the most couples year after year. The two top cities to marry in Wyoming are:
Make It Legal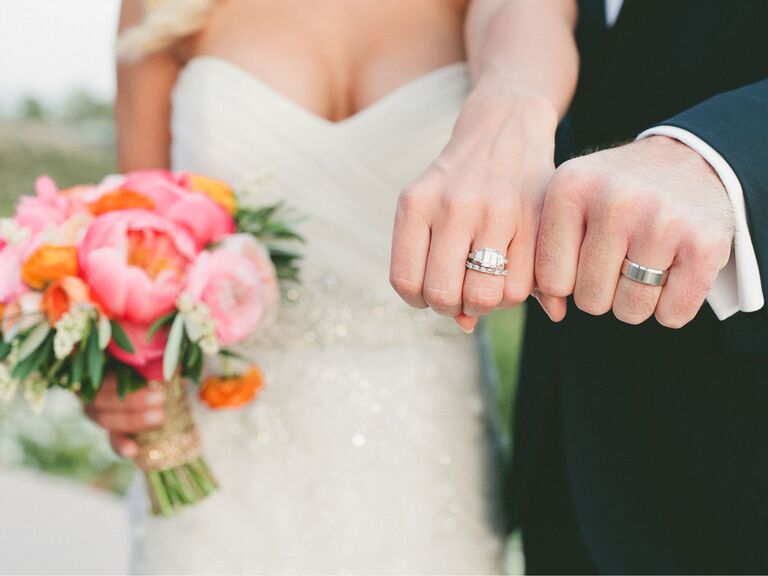 To ensure all of your careful planning isn't in vain, make your marriage legal by obtaining a valid Wyoming marriage license. To be legally married in the state, gather all of the necessary documentation, file an application with the county clerk, pay any required fees and follow some other steps before your ceremony and reception.
As you plan your wedding, you might also have to take care of other legal requirements for your venue. For example, if you choose one of the nontraditional Wyoming wedding venues, look into whether or not the site has the right permits for hosting your event. You may have to get the permits yourself or ensure the venue gets everything in place in time for the wedding. The following sections help you navigate the sometimes-muddy waters of getting your marriage license, obtaining any permits and changing your name once the wedding is over.
Getting a Wyoming Marriage License: The Basics
In order to legally marry in Wyoming, you have to be 18 years old. Applicants aged 16 or 17 may get married with notarized consent from both of their parents or legal guardians. Once that's done, the marriage license will only be issued through a court order via a Wyoming District Judge.
When applying for a Wyoming marriage license you'll need to pay about a $30 fee and provide certain information, including your birth date and birthplace, current address, Social Security number, parents' birthplaces and full names (including your mother's maiden name), and proper photo identification.
Types of ID accepted are:
Driver's license
State-issued ID card
Military ID
Passport/passport card
Permanent resident card
Foreign government-issued passport
If either you or your future spouse was previously married, you need to provide the date of the former spouse's death or the date of the divorce decree. There's no waiting period, no blood test required and no residency requirement to get married, and once you get your Wyoming marriage license you can use it anywhere in the state within 365 days of issuing. After the wedding ceremony, your officiant has to complete the rest of the marriage license and file it with the Register's office within 10 days. You need to have at least two witnesses at your ceremony.
Permits and Other Important Legal Requirements for Wyoming Wedding Venues
Most indoor wedding venues in Wyoming are already familiar with the proper permits to hold your event. This usually refers to food handling permits and permits to serve and sell alcohol. There are some nontraditional Wyoming wedding venues, however, that might not have the necessary permits to legally host your party. When that's the case, you might have to apply for and obtain the permits yourself.
For example, if you're having your wedding in a barn or on public parkland, you might have to obtain permits in order to close off the public areas or to set up certain equipment. You should also research and be aware of all rules regarding the venue when you're searching for places to get married in Wyoming. Some parks don't allow the temporary construction of structures like stages, arches or flooring. Some might not allow amplified music or cooking equipment. Always make sure you have the proper permission to hold your event and that you follow all of the rules regarding the space so you're not interrupted or, worse, shut down on your wedding day. Remember, it takes time to apply for and get a permit, so make sure this is done in advance so you're not left without one on the day of your event.
You also want to make sure your officiant has all of their necessary paperwork in order so they can legally perform your marriage. That being said, Wyoming doesn't require an ordained minister to register with a governing body, but they should still have proof of ordination just in case it's requested. A marriage in Wyoming can be performed by any ordained minister, Justice of the Peace, county/district/federal judge or court commissioner.
Changing Your Name
If you'd like to take your partner's name, fill out your marriage license appropriately with your new name. You can then use a name change kit like the one from HitchSwitch, which, for a small fee, uses your marriage license to legally change your name with the Social Security Administration as well as the Department of Motor Vehicles. You then have to use your new IDs with your new name to legally change your name on other things like utility bills, credit cards, your mail and your bank account.
If you don't want to use a name change kit, go to the Social Security Administration office as well as the DMV with a certified copy of your marriage license and photo ID and change your name with each of them. Visit the SSA first and wait to get your new Social Security card; you need it at the DMV. Once you have your new driver's license, you can go about changing your name with other agencies and institutions. Take a look at our guide to changing your name to learn all the details.
It's All About Timing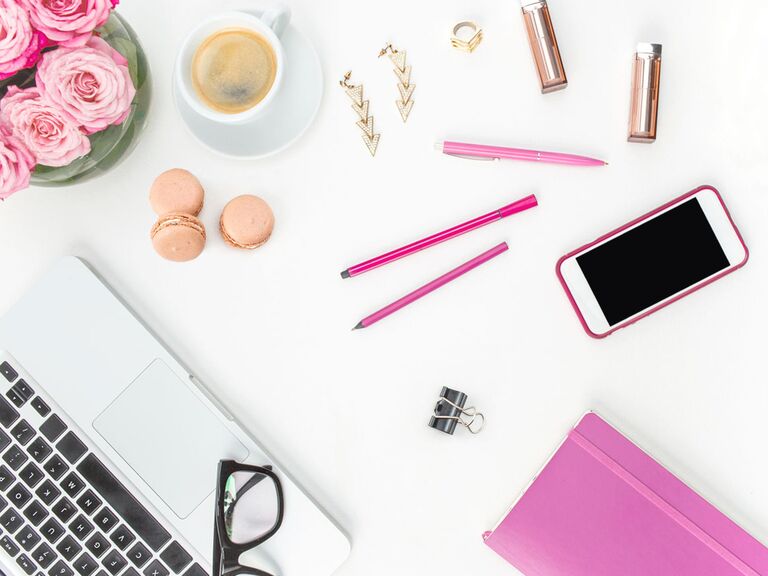 Wyoming's climate is considered continental and semiarid. When compared with the rest of the country, the state is windier and drier but does have temperature extremes thanks to its geographical location and topography. These temperature changes fluctuate more when you move up or down in elevation. Spring and early summer see the most precipitation, while the winters can get quite cold, depending on the location in question.
In order to avoid the extreme temperature differences, summer weddings are popular here. According to The Knot 2015 Real Weddings Study, 52 percent of couples who wed in 2015 got married in the summer, 35 percent married in the fall, 6 percent married in the spring and the remaining 6 percent had their weddings in the winter. In order to have the Wyoming wedding you want, take the normal weather of each season into account and choose a date you think will work best for your needs.
The Four Seasons in Wyoming
Summers in Wyoming have high temperatures that range anywhere from 85 to 95 degrees, but increasing elevation can take those temperatures down into the low 70s. The nights can actually get quite cool and dip into the 50s. In the fall, temperatures on average climb into the mid-60s and can drop into the low 40s and upper 30s. Winter high temperatures are usually in the low 30s but can remain below the freezing point in some places, while the low temperatures can be in the low teens or even in the single digits. The spring months record high temperatures in the 50s and 60s and lows in the upper 20s and low 30s.
Precipitation is limited in this state's semiarid climate, but when it does occur it's more likely in the late spring and early summer. Rainfall is usually under 10 inches per year, but this depends on elevation—lower areas can receive as few as 5 inches of rain, while some mountain areas get large amounts of precipitation, usually in the form of snow. There are some areas that record as many as 200 inches of snow annually.
Keep these average temperature and precipitation rates in mind when choosing your Wyoming wedding date—if you have your heart set on an outdoor wedding, choose a date aligned with temperatures that keep you and your guests comfortable.
Wyoming Wedding Dates to Avoid
When picking your wedding date, you probably want to avoid the major holidays and personally significant days like birthdays or family anniversaries. Remember to check what days of the week and dates holidays fall on so you avoid any conflicts. To do this efficiently, check out our list of wedding dates to avoid in 2016, 2017 and 2018.
There are no state holidays to worry about in Wyoming, but you may want to keep high-traffic annual events in mind when planning your Wyoming wedding. If you're concerned about increased numbers of visitors making it difficult for your guests to navigate your wedding day by impeding travel to and from the venue, steer clear of wedding dates during those events. Some popular Wyoming festivals that might cause scheduling conflicts include:
Jackson Hole Old West Days (late May)
Cody Stampede Parade (early July)
Cheyenne Frontier Days (mid-to late July)
Great Guest Experiences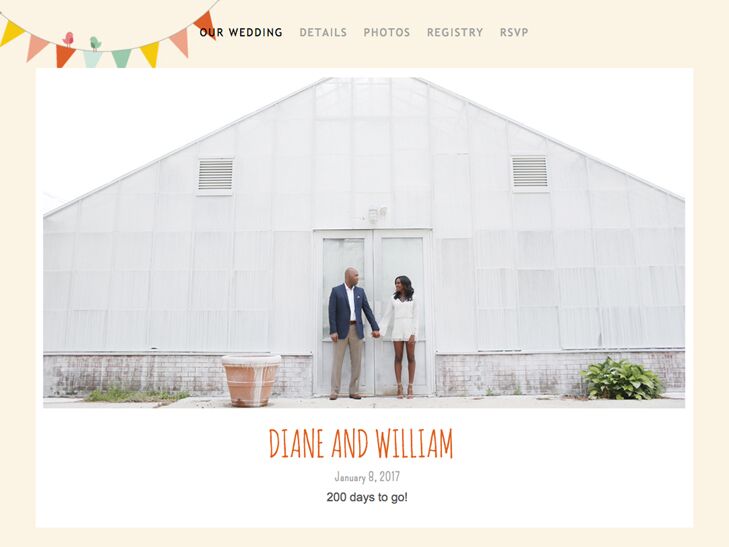 The main goal of a wedding is for you and your guests to have a great time from beginning to end. Start things off on the right foot by creating your own personalized wedding website. This helps your guests follow along with your wedding plans as you announce them, which lets them feel more involved with your event. This can also help build anticipation for the wedding. You can also use your wedding website to post travel information to your ceremony and/or reception site.
One helpful way to utilize your site is to post information about the area where you're holding your wedding. This is great for out-of-town guests who might be staying around for a few days and want to know about fun places to stay, delicious local restaurants and cultural scenes to visit. You can also post fun tidbits about the area, like historical facts or local records or milestones, that people might find interesting.

Finding Your Way: Wyoming Travel Info
Wyoming is served by 10 major airports for domestic and international travelers, the largest one being Jackson Hole Airport. Unfortunately, the state isn't serviced by Amtrak, so those who prefer traveling by train won't be able to do so to get to Wyoming. If driving is in the cards, Wyoming has plenty of accessible state highways, interstates and US routes to get your guests to and from your wedding:
Interstate 80 runs across the entire southern portion of the state and through Cheyenne, Laramie, Rawlins and Rock Springs
Interstate 25 breaks off of I-90 and snakes diagonally through the state, passing through Buffalo and Casper before meeting up with I-80 in Cheyenne
Interstate 90 passes through Sheridan and Gillette in the northeast quadrant of Wyoming
US Routes 14, 16, 18, 20, 59, 287 and 310 provide access to much of the state
Once in town, your guests have the option to get around using public transportation, car services (including Uber) or rental cars.
Around Town: What to Do and See in Wyoming
Wyoming is chock-full of natural landscapes that make it great for outdoor activities like hiking, cycling, rock climbing and fishing. Yellowstone National Park, as well as Grand Teton National Park, attract people from all over the world, while state parks like Hot Springs State Park offer their own great drawing points like the State Bath House and Rainbow Terrace (where water from a stream flows into the Bighorn River). There's also the famed Devils Tower National Monument, the first declared national monument in the country. This geological structure offers hiking trails and guided tours as well as climbing opportunities.
Some other attractions for those who might not enjoy the outdoors as much as others are:
Casper National Historic Trails Interpretive Center
Buffalo Bill Center of the West (Cody)
Fort Laramie National Historic Site
Go Local: Food and Favors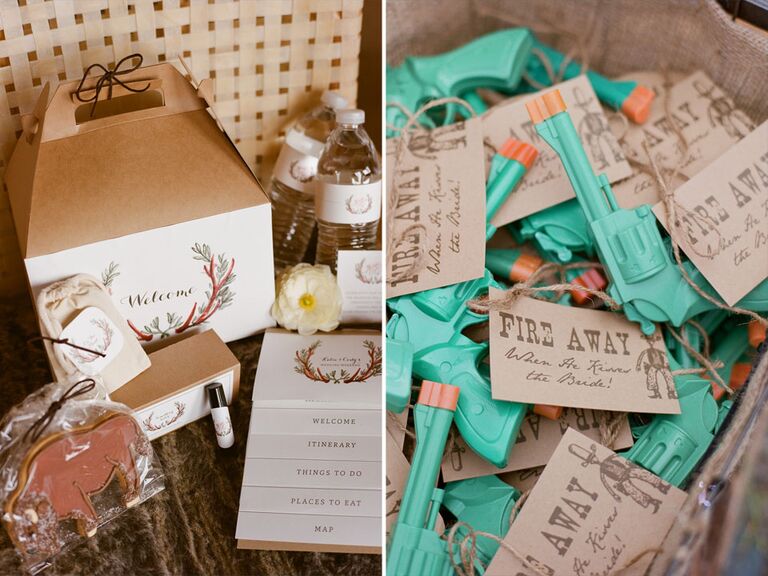 With couples turning to more personal food choices for their weddings here, you may want to follow the trend and pick local cuisines to create your menu. The Cowboy State is known for its "cowboy cuisine" that consists of things like chili, pan-fried steak, biscuits, beans and jerkies—that's what was prepared during the times of the Old West. Native American influences made proteins like elk, antelope, deer, buffalo and bighorn sheep popular.
If you want to stick to traditional cowboy cuisine for your Wyoming wedding, talk to your caterer or the chefs at your venue about incorporating this type of food into your menu. Consider entrées that highlight some of the local proteins or set up a chili station with different varieties for your guests to try.
Wyoming Flavors: Unique Regional Foods for Your Wedding
Regional cuisine in Wyoming is casual and fun and incorporates fresh proteins like buffalo and fish. For your wedding to have a truly Wyoming feel, use locally sourced ingredients as the main parts of your entrées. If you have your heart set on a fish course, choose a popular local variety like rainbow trout or kokanee salmon. Similarly, you can choose to serve elk steaks instead of the typical beef steak if you're planning a red meat option.
If you'd like to have a dessert that typifies Wyoming, you can't go wrong with the Cowboy Cookie. In essence, it's an oatmeal cookie loaded with chocolate chips, pecans and coconut, and it's hearty enough to keep any ranch hand satisfied. You can have these as part of a dessert spread for those who may want something in addition to your traditional wedding cake. By adding regional foods to your Wyoming wedding, you include a personal touch to your day and show your appreciation for the area.
Do Your Guests a Favor: Wyoming-Inspired Take-Home Treats
Wedding favors give your guests something to remember the day and show them that you're thankful for having the chance to share your celebration with them. In the past, these favors have been something generic like a key chain with the wedding date on it or a simple bag of sugar-coated almonds. These are great, but modern day couples seem to lean more toward personally significant favors. For this reason, Wyoming-inspired ones are a great choice. Go for something simple like cookies baked in the shape of Wyoming or key chains with the state's symbol of the bucking horse and rider. You can also choose some locally made treats, like buffalo or elk jerky from a local shop. Pick favors that are reminiscent of the frontier life, like fun s'mores kits to take home or horseshoes with the date of your wedding and your initials stamped onto each one.
Check out The Knot Shop for other personalized favors.
Wyoming City Guides
Wyoming has plenty of towns that can easily host your ideal wedding, but Cheyenne and Jackson Hole are the two cities couples seem to flock to for their nuptials. Each of these towns has gorgeous venues as well as plenty of Wyoming wedding vendors to plan the wedding you've been wanting. Because researching professionals can be time-consuming, our vendor marketplace allows you to search for providers by location. Simply select the type of vendor you're looking for (florist, DJ, venue) and select the city where you're looking and you'll get a list of local options you can peruse. This makes planning your Wyoming wedding a little easier. If you're interested in planning your wedding in Cheyenne or Jackson Hole, here's some information on both towns to help you get started.
Cheyenne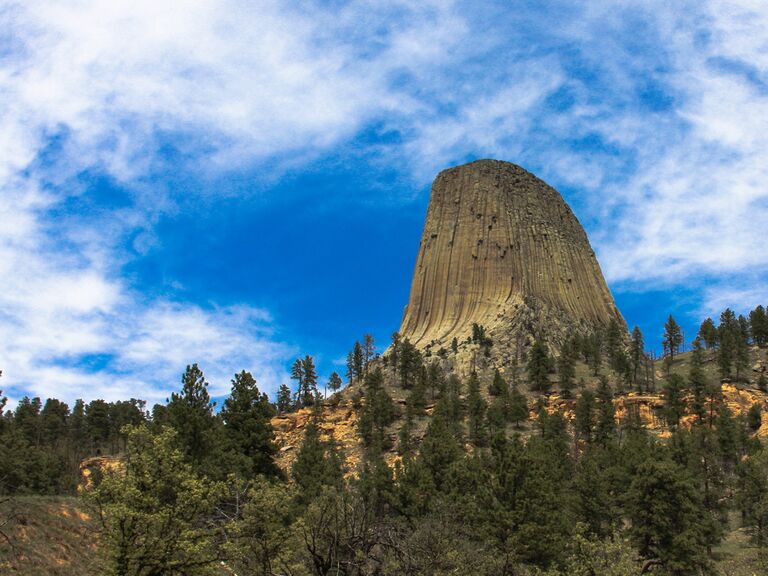 Cheyenne is the capital of Wyoming and its most populous city. It offers the hustle and bustle of a city but with the ease and slow pace of a small town. Cheyenne wedding venues range from banquet halls, hotels and tennis clubs to ranches and even national parks. Check out this short list of Cheyenne wedding vendors to help start your planning:
Jackson Hole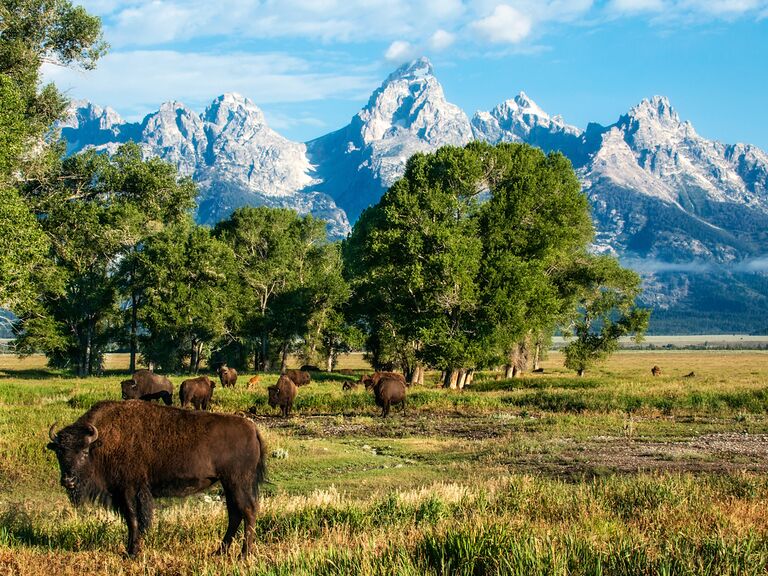 If you're looking for a more rural setting for your wedding, Jackson Hole is a great choice. It's a valley that lies between the Gros Ventre Range and the Teton Mountain Range with rivers and streams running through it. This makes it an ideal town for couples who love the outdoors and want to incorporate nature into their vows. While it may seem like Jackson Hole wouldn't have a lot to offer in terms of planning a wedding, there are plenty of available venues for you to choose from, many of them charmingly rustic. Browse this list of Jackson Hole wedding vendors that can help you plan your Wyoming wedding:
See more Wyoming weddings here.
Don't forget to download The Knot Wedding Planner app—it's a must-have for on-the-go planning.
Download for iOS: Wedding Planner App by The Knot

Download for Android: The Knot Wedding Planner