How to Get Legally Married in Wyoming and Plan Your WY Wedding
This need-to-know information will help you plan your perfect Wyoming wedding.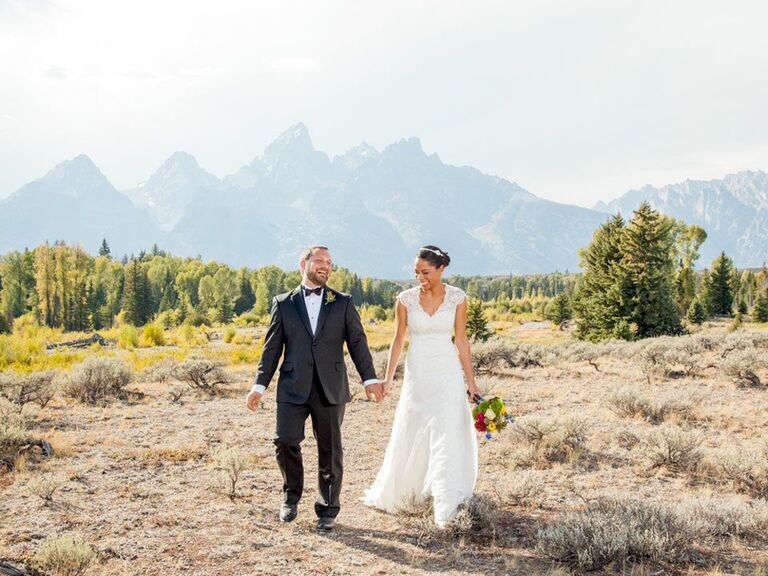 Heather Erson Photography
With its towering Tetons, awe-inspiring canyons and tranquil lakes, Wyoming offers postcard-worthy scenery, making it a popular place to say "I do." However, organizing and planning your Wyoming nuptials can feel stressful since you need to follow specific steps and know the legal requirements. As such, it's important to be—and remain—informed as possible.
To help, we've curated a detailed guide—complete with legal requirements, logistics and tips—for your Wyoming planning. From retrieving your marriage license to finding a perfect venue, we've got you covered. On that note, don't forget to read up on everything you need to know about changing your surname in Wyoming, should you choose to do so!
How to Get Married in Wyoming
Keeping track of crucial wedding planning details and logistics can be stress-inducing, to say the least. In preparation for your Wyoming wedding, we've compiled an insightful FAQ guide, which you will find below.
Is there a waiting period to get married in Wyoming?
The state of Wyoming does not require a waiting period to be wed. Plus, the marriage certificate does not expire for an entire year—giving you plenty of time to plan your perfect wedding.
What are the legal requirements to get married in Wyoming?
Before you say "I do" in the state of Wyoming, you'll need to obtain a marriage license from the County Clerk's Office. Those who are 16 or 17 years of age may obtain a marriage license. However, parental consent (or permission from a legal guardian) is necessary, as is proper documentation (such as a judge's court order).
Blood tests are not legally required, either.
What's considered a common law marriage in Wyoming?
Wyoming does not recognize common law marriages. The only way to be considered legally married in the state of Wyoming is to obtain a marriage license.
Wyoming Marriage License 101
Retrieving your Wyoming marriage license can seem like an overwhelming process—but we're here to help. Read on for answers to the most frequently asked questions about getting a marriage certificate in Wyoming.
What do you need to get a marriage license in Wyoming?
To obtain your Wyoming marriage license, both you and your partner must show up to the County Clerk's Office in-person. A valid photo ID (i.e., a driver's license, passport or military ID) is required. Be prepared to share personal information like your date of birth, residential address and Social Security number. Also, don't forget to provide your parents' full names (this includes your mother's maiden name) and place of birth.
If you or your partner have had any previous marriages, you'll need to provide the County Clerk's Office with the date of the former spouse's death and/or the date of the divorce decree.
What does a Wyoming marriage license cost?
In Wyoming, a marriage certificate will set you back $30. The marriage license fee is payable by cash, debit or credit card.
How long does it take to get a marriage license in Wyoming?
There is no waiting period to get married in the state of Wyoming. This means that your marriage license is valid immediately upon issuance. Additionally, it is good for one year from the date of issuance.
Can you apply for a marriage license online in Wyoming?
While you must retrieve your marriage license in person, the state of Wyoming requires couples to fill out a marriage questionnaire (which is conveniently available online) ahead of time.
How do you get a copy of your Wyoming marriage license?
The office of Vital Statistics Services—which is part of the Wyoming Department of Health—is responsible for issuing certified copies of marriage licenses. Visit their website to learn more about obtaining a copy of your marriage certificate.
How to Plan a Wyoming Wedding
Our expert tips and tricks make planning your Wyoming nuptials (essentially) effortless. Below, everything you need to know about wedding planning in Wyoming.
The Different Cities and Areas to Consider for a Wyoming Wedding
You can expect idyllic surroundings anywhere in The Cowboy State. However, according to one survey from The Knot, Cheyenne and Jackson Hole are Wyoming's most popular cities amongst engaged couples. Both destinations offer a distinct small-town feel—yet they're teeming with wedding venue options and guest accommodations. You'll also find several national parks and, of course, plenty of greenery and wide-open land for wildlife viewing.
What to Look for in A Wyoming Wedding Venue
Wyoming's serene surroundings serve as an idyllic backdrop for fairytale-worthy rustic weddings—which is why ranches and barns serve as beloved Wyoming wedding venues.
Swanky hotels and sprawling resorts also offer ample indoor and outdoor space for your wedding ceremonies and receptions. Alternatively, opt to host your affair at a museum or country club.
How to Find Wyoming Wedding Vendors
In Wyoming, you'll find many wedding vendors (i.e., caterers, venues, bands and more) across all price points. Choosing vendors is easier than ever with The Knot Marketplace, which lets you research and identify the best wedding pros in the state of Wyoming.
The Best Times of Year to Have A Wyoming Wedding for Good Weather
Wyoming temperatures vary drastically depending on the time of year due to the state's high elevation.
Winter weddings offer snow-capped peaks and majestic powdery grounds, while summer soirees—which bring plenty of sunshine and pleasant weather—are incredibly popular. Fall weddings, complete with colorful foliage, are just as stunning. Springtime, however, brings the most rainfall—but don't let the chance of showers get you down: The greenery is gorgeous!