Home

Altar Bridal
About this Vendor
Exceptional service. Unforgettable experience.
Altar Bridal was created for brides who want to shop for fresh and fashionable bridal gowns in a personal and relaxed atmosphere. Altar Bridal offers designer wedding gowns, rehearsal and reception dresses, bridesmaid dresses, and accessories.
Details
Flower Girl Dresses, Wedding Dresses, Custom Designs
Contact Info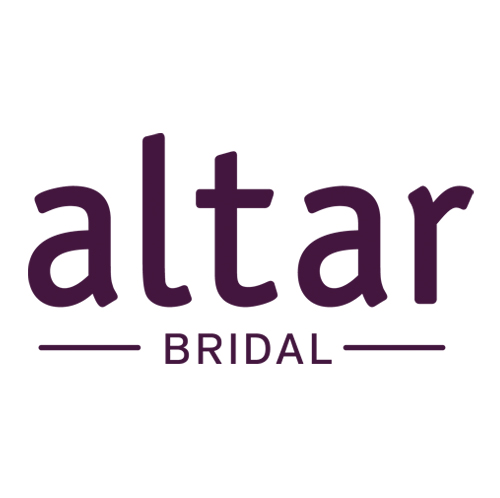 5220 West 116th Place, Leawood, KS
Wonderful selection and amazing service!!
Reviewed on

8/07/2013
Andrea J
This boutique bridal shop is the best in KC! The staff there are so helpful and know exactly what works best for each person that comes through. They have such unique styles of gowns. I love the dress I purchased- it worked so well with my venue and was everything I hoped for! I purchased all my accessories there and found some unique local pieces I know I couldn't have found anywhere else! This store is a must!
---
Reviewed on

6/01/2015
Ashley S
They have the most amazing employees. Altar Bridal was hands down the best salon I visited. The customer service blew me away. They have an amazing selection of dresses you can't find anywhere else in KC. The salon is clean, updated and bright. The fitting rooms are intimate with large mirrors. I can't recommend them enough. Thank you, Altar Bridal, for helping me find the perfect dress.
---
Bridal Dress
Reviewed on

3/26/2015
Nancy N
This store is fabulous. They cater to the bride and make sure the dress is perfect. We had a mishap with the dress, which wasn't Altar Bridals fault, but they took care of us and made it perfect. They went over and beyond. Such a fun staff and personable. This is the place to get your dress. A variety of styles and prices. Being a small boutique made the experience more special. We just weren't a face.
---
Beautiful Selection!
Reviewed on

1/22/2015
If you are looking for a dress, this is the place to visit. They have wonderful options for every style and the staff is very friendly!
---
KANSAS CITY'S BEST!!!
Reviewed on

10/27/2014
Andrea M
Save yourself the time and effort of making multiple appointments all over town, and go directly to ALTAR BRIDAL! You can not go wrong with the personal treatment that they give you the minute you walk in the door. As a bride, you go into wedding dress shopping with cautious optimism (or at least I did). This is the most important day of shopping you will ever do, and with high hopes you want to find the most perfect dress... the one you've been dreaming of wearing since you put your dress-up clothes away the final time in 1st grade. The most comforting part was the listening that happened before dresses were even seen. Dede and her staff first and foremost want to know what is important to YOU. What do you look for, dream of in your wedding gown? And, maybe more importantly, what do you dislike? They're also pretty good at knowing what might fit you well... :) (this is not their first rodeo...) Once we had developed a good understanding of the style and look I was hoping for, they went to work. I know I was one of the lucky one's who find their dress on the first day of looking, and only put on 6 total. But, I honestly think it was because they didn't waste my time making me try every dress in the store, and listened to my style, the style of my wedding, and my budget. Also, although my dress was custom ordered/made, I knew there would be alterations involved once it was here. The alterations were done by Janet at Fine Stitch, who was amazing! She paid the best attention to detail, and made it fit absolutely perfect (and as comfortable as a strapless dress could be..)! Dede and Janet work together, so you don't have to fret who's going to be stitching on your dress after you've grown or shrunk in certain places :) Dede and her staff are always smiling the minute you walk in the door, and willing to find you exactly what you are dreaming of! I have nothing but happy memories of working with Altar Bridal's services, products, and of course my gown and accessories. My wedding was a picture perfect day, and I could not be more thankful that I was confident in my dress and had such great service at Altar Bridal. PS... The accessories are fabulous as well! Do yourself a favor and just deck yourself out from head to toe :) You won't regret it. Oh, and Congrats!
---
Theia wedding dress of my dreams
Reviewed on

10/27/2014
Rachael S
I hate the words "off beat bride" or "non traditional" but that is exactly how I would describe myself. I went through so many ideas of what I wanted to wear for my small beach wedding from a short dress, to pink, to a very specific designer and that is how I landed at Altar. They were the ONLY salon in the midwest area to carry Sarah Seven, who I had found on instagram and loved the romantic, boho vibe of her designs. The staff at Altar was amazing. The second I walked in they had pulled the Sarah Sevens for me but I still walked around the store and say this ombre, petal Theia gown that I fell in love with. It was the first dress I tried on and I was hooked. Because of finance and family drama (every wedding, duh) there was a delay from when I tried it on (Sept 2013) to when I actually purchased (February 2014). They staff was good with follow up but NEVER pushy. I just got married and the dress was a show stopper. I can't thank Dede and the staff enough!
---
Beautiful Shop, Magical Experience
Reviewed on

10/25/2014
Krystal B
I had a fantastic experience at Altar Bridal and would definitely recommend it to any bride! It is so beautiful in the store which makes the environment even more magical. The ladies are so wonderful and helpful and really listen to what you are looking for but also will make suggestions based on their experience. I found my dress on my first stop and I only tried on about 10 dresses. The one I ended up choosing was actually one that the girl that was helping me suggested even though it wasn't exactly what I thought I wanted. But it was the one!!
---
couldn't be a better place to get your gown
Reviewed on

10/23/2014
Meghann M
Altar offered the best experience I could have ever asked for in searching for my dress. Sarah H was the first employee I met upon entering. I had actually already been to several bridal shops in St. Louis and purchased a dress there but was having buyers remorse in whether the dress I purchased was really what I wanted. Altar was extremely inviting, calm, and natural when inquiring as to why I was in the shop. I was honest with my circumstance and they were completely accepting of the fact that I may spend hours trying some things on and not need to buy another gown. They listened attentively, and in a matter of 15 minutes or less I had a dress before me that spoke to me more than any other gown I had seen. Sarah H shared in my overwhelming sense of satisfaction in finding what truly felt like was the dress for me. Each and every time I came back into the shop they greeted me with just as much enthusiasm as the first time. Altar Bridal couldn't be a better shop to work with-the store is intimate, cozy, and yet very modern and chic. I would recommend anyone to their services.
---
Sara is amazing !
Reviewed on

10/21/2014
Jennie S
The service here is top notch and other bridal stores don't even compare in the Kc metro area. Sara Hoosier is the assistant manager and literally helps you through every step of the bridal gown purchase process... Knows you by face and name (not a search in a huge database like Idas or bridal extraordinaire) and has a personal relationship with the dress vendors !!! I could always call and ask on the status of my dress and they were right there with every last detail. I wouldn't go anywhere else .
---
Best bridal store in KC
Reviewed on

10/21/2014
Brittany J
Sarah made finding my wedding gown the most amazing experience! I was so nervous about finding a gown, as I had never seen a wedding gown that I really liked. I told Sarah what I loved, what I thought was awful, and what I thought was okay. She brought me five dresses that I immediately fell in love with. I worried that I would not find a dress that I liked, but I found that that was not the case at Altar. As a seven-time bridesmaid, I have done my fair share of bridal gown hunting. The level of professionalism and attentiveness I was shown far exceeded anything I had ever seen in bridal stores. Sarah knew each gown by heart and was able to answer questions about fabrics, colors, and details regarding designers. My mother is very critical of quality of fabrics and alterations, and she was very impressed with Sarah. Sarah was extremely laid back and very supportive and patient while I was making my decision. I never felt pressured or rushed during my appointment. Once I had picked my gown and ordered it, Sarah kept in touch with me to keep me updated on the status of my dress. Once it was in and I tried it on, Sarah tacked on the hem herself when we realized the length didn't need altering (saved me LOTS of money on alterations). Picking up my dress the week before my wedding was a breeze. Altar had it steamed and ready in its garment bag and sent me off with a big hug and well wishes. Since my wedding they have checked in with me to see how everything went. The women at Altar have gone above and beyond all expectations I had for a bridal store. I cannot say enough wonderful things about the staff at Altar Bridal and the selection of gowns that they have. I would not hesitate to recommend Altar to anyone and everyone. I had an excellent experience and cannot imagine having married my husband in a dress more perfect than what I got at Altar! I absolutely LOVE Altar Bridal!
---
Amazing Dress - The Perfect Experience
Reviewed on

10/21/2014
Lauren F
From the get-go I knew I would love this place. The intimate shop, the beautiful designs, the upscale but accessible vibe all made it wonderful. After trying on a couple dozen dresses in other shops I was specific with Sara with what I wanted, and she was able to make it happen, finding me a beautiful high-end sample that came in under my budget. After purchasing the dress (!) my experience there got better and better, with the team at Altar quickly responding to my emails or allowing me to come by and try out different accessory options or visit with any bridal party member in town. I had endless questions about spanx and alterations, and I felt like the girls there knew me, were so excited about and always remembered the details of my wedding, and were truly consultants. I visited several bridal shops in my wedding planning process, and by far this was my favorite, most comfortable and fun experience. Thanks Altar! :)
---
Hands-Down Best Bridal Store in Kansas City!
Reviewed on

10/20/2014
Caitlin W
I went shopping at Altar shortly after getting engaged and had planned on just getting some ideas. I made the appointment online and had it confirmed almost immediately - it was super easy. After briefly describing what I was thinking to the friendly and welcoming store manager (her name is Sara and she's AMAZING), she brought out the perfect Monique Lhuillier gown. I knew instantly it was the one. I tried on about 10 more dresses (since I felt like I couldn't possibly have found my dream gown on the first shot), but I ended up buying that first one that day. I was so impressed that Sara had gotten such a good read on my style and personality after only talking to me for 5 or 10 minutes before bringing out some samples. I ended up going back to Altar for a veil and a rehearsal dinner dress, too, and I got both at incredible discounts because the gals at the store called or emailed ahead to let me know that they were having trunk sales for the stuff they knew I was still in the market for. My experience was the perfect amount of personalized service without feeling pressured or overwhelmed. I came away feeling like I could call them for any of my friends in the future and they would drop everything to help however they could. They even contacted me after my wedding to say thank you and to wish me well. I could not have been happier with how it all went. I should mention that I NEVER write reviews for anything - that's how much this meant to me. Every girl's experience with their wedding dress should be as perfect as mine was. Thank you, Altar!
---
Altar bridal exceeds all expectations !
Reviewed on

10/15/2014
Katherine L
My experience at Altar Bridal was amazing from the moment I walked in the door! I was greeted with a smile and warm welcome by Sara the manager. I really enjoyed working with her. Every time I stopped in the store, I felt like I was visiting friends.The team there makes all of their brides feel like a priority and their customer service is above and beyond. Sara really listened to what I was looking for and was very knowledgeable about all the dress styles, fits and designers.I felt like she really understood what I had in mind because the dresses she pulled were exactly what I had envisioned. There was one dress they didn't have in store but was one by one of the designers Modern Trouseau which they carry.Sara went above and beyond and had a sample dress shipped to the store from the designer just so I could see it in person which ended up being "the one". I purchased the Modern Troseau Wallis Dress and the Modern Touseau Daphne dress, Sara Gabriel belt and veil. They brought out champagne to celebrate and we took pictures. My mom wasn't able to be with me due to living miles apart, so Sara let me take some pictures to send to her so she could be a part of the special moment as well.A nice touch to make the experience feel very special. It's the little things. I can't tell you how many compliments I received on my dresses! It really made me feel beautiful on my wedding day and I absolutely love them! Altar Bridal is exceptional to work with when my dress came in, they transferred it to the tailor Janet at a fine stitch ( she's amazing ) and then shipped it to my wedding destination for me along with recommendations of where to get it steamed in the area. I would highly recommend all future brides to check out Altar Bridal for a special one of a kind wedding dress shopping experience! They have the best gown designers and the service is best in class.
---
Gorgeous selection and excellent customer service!
Reviewed on

10/12/2014
Brianna M
My experience at Altar Bridal was exceptional! Dede, Sara and the rest of the ladies at Altar are so kind and helpful. After explaining to Sara what I was looking for, I felt like she really understood what I had in mind because the dresses she pulled were exactly what I had envisioned. Once I decided on "the one" they brought out champagne and we took pictures. A nice touch to make the experience feel very special. I can't tell you how many compliments I received on my dress! It really made me feel like a bride, and I absolutely love it. I also found my shoes (Hey Lady - so comfortable and stylish) and gorgeous earrings (Untamed Petals) there after looking at several other places. Altar Bridal is so easy to work with - once my dress came in, they transferred it to the tailor (who is also wonderful) and then back to the store to steam and pick up. Every time I popped in the store, I felt like I was visiting friends. They make all of their brides feel like a priority and their customer service is excellent. I would highly recommend all future brides to check out Altar Bridal for a special wedding dress shopping experience!
---
Perfect Experience
Reviewed on

10/10/2014
The decision to get my dress at Altar Bridal was very easy. I knew exactly the dress that I wanted and they were the only ones that had it in the entire STATE! But that did not stop them from giving me the entire bridal experience when I was there. Their shop was so close to my new house that I thought it was fate. Sara helped me pick out some other dresses to try on, and picked so well that she almost got me to pick a different dress! Their gowns are so beautiful and unique. My mother, aunts, and FATHER even enjoyed the experience. And less that 2 months before my wedding I decided that I needed a belt for my dress, and they helped me try on just about every belt in the store until I found the perfect one. The ladies at Altar Bridal are so wonderful and professional. It was the perfect bridal store, where I got my perfect dress!(Ivy and Aster Anemone)
---
Great
Reviewed on

10/01/2014
danielle s
Had a great experience. Very flexible. I bought my dress from a trunk show in a different state and they were able to transfer it over and worked really well with me. They were understanding and allowed me to express my bridal vision. Sara is fantastic. And then after my wedding I find out that most of my outside venders are all bffs-- which I love because they were all so great!
---
Loved, Loved, Loved!
Reviewed on

9/16/2014
Kristen N
This was the first place we went to try on bridal dresses and after visiting many other places we returned to buy my dress, which also happened to be the very first dress I tried on! It was beautiful and perfect! The service here is amazing and it is a great little bouquet. It was the perfect place to buy my wedding dress. Everyone was very personable and so helpful! We even got a glass of Champagne to celebrate after I said "yes to the dress". Such a cute and fun way to remember the day!
---
No "exceptional service" here
Reviewed on

8/18/2014
Not exceptional service, and unforgettable for all the wrong reasons. I stumbled upon Altar Bridal after discovering Sarah Seven, a lovely designer with unique wedding dresses. Altar Bridal is the only seller in the region. My mother drove down from Nebraska and the owner touted how so many people come great distances to this boutique. They scheduled appointments the last business day at the old location. I was one of those appointments. Maybe the owner was stressed from the move. Maybe a lot of the merchandise had already left for the new store. Whatever the case, I received extremely disappointing service all around. As a bride with out of tone guests who was most excited to be there, the owner was clearly not. We were not allowed to take pictures of the wedding dress, which I find to be a silly policy. I can't look back on my options, or see how the silhouettes photograph on my body. The owner pulled about 8 dresses of the same dress, without varying the selection after I and my bridal party were clearly interested in seeing a different styles. Again, perhaps they had other merchandise moved. But they should not have scheduled appointments. My friends and mother who were with me felt uncomfortable with their interactions with the owner as well. She was short, and not warm. I'm not sure that she ever smiled. Not exactly the boutique shopping experience in KC we dreamt. I am happy to see other brides had wonderful experiences here. My experience was just so disappointing I had to share it. As one of the first brides in my friend groups from both Nebraska, KC, COMO, and STL areas, I will be warning many future brides and bride-to-be's to avoid this shop. They deserve a magical day. What a shame.
---
Great Service & Selection
Reviewed on

7/16/2014
Bailey A
The staff at Alter made you feel special throughout the entire dress shopping and altering process. They offer a surprisingly wide range of dresses and listened attentively to you as you shopped for the perfect gown. Once your dress was purchased, they maintained a high level of contact throughout the order and alterations process.
---
Great little shop
Reviewed on

7/10/2014
Cassie M
We purchased my dress before they relocated. The staff was wonderful, very attentive to our needs and preferences and willing to give us as much time as possible to wear the dress. They were very patient with us and never pressured us into anything. Every time I contacted them after ordering the dress to check up on status, etc. they were more than willing to help.
---
Found my dream dress
Reviewed on

8/31/2013
Emma L
I had absolutely no idea what I wanted when it came to a wedding dress. Not a clue. I started googling things and randomly came across a Monique Lhullier dress from a collection 4 years ago that I thought was absolutely beautiful. I couldn't track it down anywhere-- I was sure it was a lost cause. Randomly, on their pinterest, I came across a picture of it. Not expecting to find success, I contacted them just to inquire if it was something they had around. Sure enough, it was there. They were great fun to work with, and gave great advice on resizing it (the one off the rack was many sizes too large). I couldn't have found a better dress-- and I was so lucky they had it in their great collection!
---
Altar Rocks!!!
Reviewed on

8/20/2013
Sarah S
Dede and the staff at altar bridal are so much fun to work with! They make you feel like you are working with friends, its so comfortable and friendly! The service is impeccable. They also really know what they're talking about when it comes to wedding dresses and accessories! After telling Dede what I was looking for she brought me a lot of great options! There was also a dress that I didn't think was quite what I was looking for but Dede had me try it on and lo and behold it was AMAZING. She was also very helpful with suggestions on how I might be able to alter some of the dresses that weren't quite right to make them closer to what I was looking for, the sky is the limit at Altar! Dede really cares about what you're looking for and really listens to what you want. She takes the time to follow up with you and contacted one of the designers for me when I had a question about altering one of the dresses I tried on. I felt like a really special customer there! The gowns are beautiful and are really well made and they have a lot of really fun accessories as well! I can't say enough great things about altar and definitely suggest using alter for your bridal gown and accessory needs!
---
Last minute dress!
Reviewed on

8/15/2013
Cassidy C
After my seamstress ruined my dress 100 days before the wedding, Altar saved the day. They found me a perfect sample dress that fit to the tee and set me up with a fantastic alterations person. Worked directly with Sara who is so nice!
---
Exceeded Expectations
Reviewed on

7/16/2013
Ellie S
My experience at Altar has been everything I could have ever asked for and so much more! Not only did they have my dream dress (for a very good deal), the service has been amazing. They are so sweet, so helpful, and have made the dress buying process so much fun. I feel lucky to have found them! I went to a few other stores in KC and though some of them had great dresses, it just wasn't the same "feel" as Altar... you truly get the experience you dream of when you envision buying your wedding dress. And they carry designers that no one else in KC sells, so their selection is refreshing. Cannot say enough good things about Altar. The BEST!
---
Perfect Gown
Reviewed on

6/13/2013
Becca H
Found the perfect dress. Gave me ideas of how i could alter the dress to exactly what in envisioned. Very helpful, dress was steamed and held until I was ready to pick it up.
---
Send Message