Home

Birds of a Feather Events
About this Vendor
Purveyors of Pretty
Specializing in carefully curated, vibrant, eclectic and natural wedding design. Every event we do is highly detailed and personalized. Meetings by appointment only at our Dallas studio, contact us today!
Details
Full Service Wedding Planning, Planning
Contact Info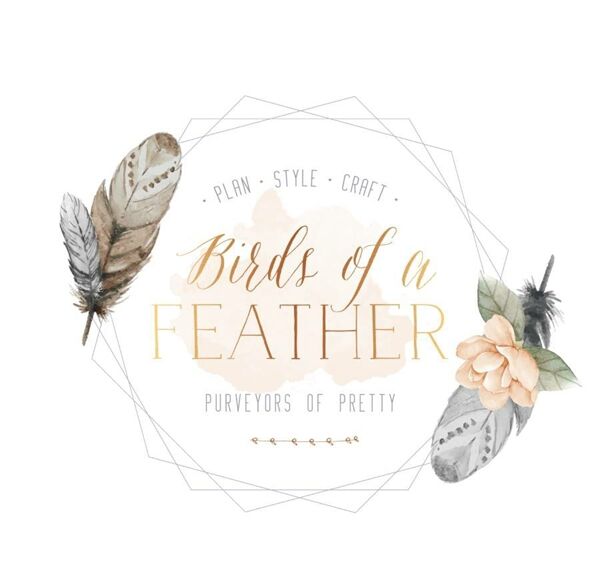 Dallas, TX
Serving the DFW area
I don't know where I would have been without her.
Reviewed on

8/23/2012
Rachael M
I was not one of those brides that have thought about their wedding their entire life or even thought about it the year before. I had NO CLUE where to start and felt so overwhelmed because I was planning my wedding out of state. I felt like Wendy had the same style as me from the start and I was right. I immediately felt at ease and less stressed after our first meeting. She took care of everything with me being out of state and we quickly became friends. She arranged our meeting with vendors and even went to meetings when we couldn't go. She listened to my ideas and what I wanted and then refined them into something better. She has alot of connections and was able to get us discounts on certain vendors because of her good reputation. It was nice to hear such wonderful things so many different vendors. She has a great reputation in the industry! By the time my wedding day arrived she didn't feel like a vendor she felt like a friend. Everything went perfectly and I was so happy the stress was about to be over but I was so sad that I wouldn't have a reason to email her 50 times a day. She really strives to connect with her brides and make it a personal experience and you would never know that she is handling multiple brides at a time because she makes you feel like you are the only bride she is taking care of. She really enhanced the whole expierence and her system and team is like a well oiled machine. We did the Love Birds package and it was worth every penny. We got to use alot of her decor which was amazing and added the perfect details to our wedding. She styled our engagement and bridal pics which we still get compliments for. The little extras that are mentioned in that package really add up and ended up saving us money in the long run. I would recommend Wendy to anyone wanting a detail oriented, non-traditional, fun wedding. She made me want to do it all over again and my husband even said he would do it all over again because of her haha!
---
Wendy is amazing!
Reviewed on

7/22/2013
Andrea P
The volumes I could speak on how amazing Wendy and Birds of a Feather are would fill a library. We lived in DC during the planning of our wedding and Wendy planned everything from the decor to the vendors to budget to everything. She was always there to lend an ear when we needed advice or to ask a question and she is brilliant in her design skills. People ask me if I have wedding withdrawal since the planning is over and I can confidently say that no, I don't because the wedding went off (or seemed to go off...if something happened, Wendy took care of it and I shall never know) without a hitch! It was everything I could've dreamed of and more.
---
How you can have a wedding without them, I don't k
Reviewed on

6/20/2012
Liz B
I had Birds of a Feather perform their month of coordination along with the decoration/styling package, but I feel I got so much more out of it. If I couldn't find a vendor I liked, I gave Wendy a price range and what I was looking for and she has several to choose from. Knowing that she had previously worked with them also put my mind at ease. Wendy's creativity with the decorations was brilliant, and my guests spent a lot of time taking pieces to each other's tables to compare and show them off! Her assistants kept the wedding moving, kept the vendors on their timelines, and herded guests whenever needed. We had our wedding downtown, and I didn't know a whit about all the mayhem they were handling with some "troublemaker" types outside. My family and I just got to enjoy the wedding. We didn't have to worry about set-up, break-down, or anything, just having a great time and celebrating. I seriously can not imagine doing a wedding or large event without them. THANK YOU!!!!!
---
Reviewed on

6/14/2015
Wendy, Sarah and their other assistant were the difference between a wonderful outdoor wedding ceremony and reception for the bride and groom, families and guests, and a near event disaster. My daughter, the bride, was in her last year of college studying Interior Design and had a clear creative vision for the wedding. I have extensive project management experience in a different industry and some meeting planning background, and was willing to take on the wedding as another side job. Even with all this on our side and nine months, planning a wedding for 270 was a significant undertaking and beyond time consuming due to the research requirements when starting from scratch with no wedding industry or vendor experience. It was important to be honest with our capacity and expertise limits, and we had gaps. Wendy and her team were the perfect experts for us. From our experience and high expectations, I can confidently recommend Birds of a Feather for their full event planning services, if you don't have these built-in skills and time, and I'm confident you'll be very satisfied. Wendy brings creativity, while being so respectful to my daughter's plans. She understood my desire for excellence in the execution, and I was able to completely trust her and Sarah. They understood the vision by asking many questions, they dug in to ensure our vendors understood our expectations of them, and they were able to make clear decisions on the fly … and not a one did I second guess. I'm demanding . . . that says an awful lot! Wendy did a perfect job designing all our floral needs, with her in-house designer. She and Sarah designed the rain plan for our outdoor event and made the entire day come to life with coordinating all our numerous vendors and volunteers into a well-oiled machine for "day of" execution. Their involvement in the last four weeks allowed me to enjoy being the "mother of the bride" versus "event management." All three ladies worked so hard and professionally on-site to ensure everything went well. They allowed the event to run without a glitch in the eyes of our guests, even though we had to flex into using our rain plan just days in advance (rainiest May in history and no on-site building could fit us all), adjusting our meal schedule to convert the tent post ceremony for the buffet line, adding a cocktail party, AND managing through a deluge and change in parking location just as guests arrived, which unexpectedly delayed the ceremony start by 30 minutes. It was the most weather impacted event these ladies had seen in five years (yes, we were under a tornado watch as well), and the first use of a tent in over two years at Howell Family Farms. In spite of these weather challenges, our attendance was nearly 100% of expected. Detailed, advanced planning for good AND poor weather, Wendy's ensuring all vendors were armed the day prior with the rain plan schedule, and their friendly and personal on-site facilitation made it a seamlessly executed event. It was truly memorable, especially when at ceremony time, the sound of gentle rain surrounded us like the Spirit and the temperature was pure perfection.
---
Our intimate Wedding
Reviewed on

2/23/2015
Hanna A
My husband and I contacted Wendy to see if she would be willing to plan and design our small wedding, on a conservative budget. She was extremely welcoming and eager to help us! Each recommended vendor was absolutely amazing and easy to work with. I was blown away with how easy it was for her to bring our vision to life. The flowers, the tablescape, the music, the food, the venue, everything was intimate and exactly what we wanted. Wendy made this experience so easy and enjoyable. I would recommend Birds of a Feather Events to anyone! (We can't wait to have her plan our vow renewal in 5 years!)
---
Wendy Kay!
Reviewed on

12/30/2014
Arlene O
Wendy, Wendy, Wendy where to start! Working with Wendy was absolutely wonderful (I say working but let's face it she did all of the real work) Wendy was a real miracle worker! I was one of those crazy Pinterest brides who pinned 1,000 different ideas and then drove herself insane trying to make sence of all of the madness. Well Wendy made sence of the madness for me. Before hearing about her I feared planning my entire wedding with no professional help being how I had interviewed with several other wedding planners and none seemed to really impress me or stand out much less make me want to dish out money and TRUST them with my very own fairy tale. Well my mom being much more sane and reasonable then I was begged me to keep looking and boy was I glad I did because the minute I came across Wendy's work I knew she was the perfect choice. Wendy planned out every single detail of my wedding with perfection she was always very upfront and honest and gave me the good and bad to everything. Staying within our budget and not compromising the look of the wedding was my biggest concern but with all her connections to different vendors she made it all happen. I didn't have to trade amazing videography for gorgeous floral I got to have both and not go over our set budget! Wendy was easy to contact and made herself always available for anything big or small. When things seemed crazy she always reminded me "that's what you have me for I'll take care of it" and she did just that, take care of everything. I could not have imagined a more beautiful day. I am still having wedding withdraws six months later from all the pretty flowers and DIY details it really was a fairy tale MY fairy tale. Wendy is extremely talented and this shows in all of her work I cannot imagine doing this without her. For anyone having any doubts she is worth every penny and then some! Here's a little peek to my perfect day all planned and designed by Wendy! http://vimeo.com/101354892
---
Lost Without Wendy
Reviewed on

12/21/2014
Shelley W
WOW! Needless to say, I don't know where to start without well….sounding cliché! I can honestly say, I would have been lost without Wendy! I don't know if I'd go as far as saying I was the "anti" bride; however I will say I was not the girl looking forward to planning her wedding, I hadn't dreamed about since I was five years old, and I was planning from 1,000 miles away in Chicago. Finding Wendy and her team truly made a process I was dreading so enjoyable, relaxing, and overall a great experience. Did I mention the first time I met Wendy, I wasn't even engaged? No judgment! If you are looking for a truly unique, personal, and insanely detailed wedding, Wendy is your girl. In a world with sites like Pinterest, Wendy's motto is "we can do better"! She truly gets to know you as a couple, understands what's important to you, is very transparent and provides good visibility into all the things, big and small, that make your day happen. She approaches every idea from multiple angles giving you the good, bad, and the ugly to ensure every expectation is managed to guarantee the day unfolds as you the couple wants. That's the key, she makes it all about you and what you want, all other opinions aside….she stresses that it's your day! She is accessible and as an out-of-town bride, she made herself available any time we were in town, even on holidays. She even drove with me 2+ hours (yes, one way) to my hair and makeup trial and met with any vendors on our behalf if we were unable to join. In a day full of unexpected events, Wendy was the ultimate problem solver and made everything go off without a hitch! I think the most impressive takeaway I have from working with Wendy is, she knew my vision even when I didn't and when it all came together, it was everything I could have ever dreamed and more. Her creativity, DIY skills, combined with her organization and assertiveness makes her the ultimate triple threat planner. I loved her approach, viewpoints, advice, ideas, drive, vision, perspective, design, staff, insanely valuable vendor recommendations, why she become a planner, and ultimately, I just LOVE HER!!
---
A Dream Come True
Reviewed on

10/18/2013
Rachel r
We hired Wendy just short of a month into our engagement. I was not really planning on hiring anyone to help me until I stumbled across a wedding that Wendy did in The Knot Texas. From then I was like I have to have her, becuase I knew that I wanted a really pretty and well put together wedding. Well she made the entire wedding planning process a breeze, not just for me but for my groom, mother, mother-in-law and all the vendors involved in making our day so special! She found us amazing vendors to work with everything from hair and make up to venue to DJ. She handles so much of the "dirty" work for you and makes your wedding everything that you want it to be and more. And on the day of you will not be stressed, she will have it all under control and allow you to enjoy everything about the wedding day! She is always available to answer any and all questions you may have no matter how big or small! I truly loved our wedding and everything about the wedding day, I am so glad that we hired Wendy and her team to make our wedding day vision come true!! I would highly highly highly recommend her!
---
The eye of Perfection
Reviewed on

11/26/2012
Carly W
I knew I wanted to hire a wedding planner for my wedding because my fiance and I work crazy hours, but mainly because I didn't want to put my family in a situation where they had to "work" the day of our wedding. I wanted everybody to enjoy the wedding and just to take everything in. Wendy and her team did a fantastic job of taking the pictures I had sent her and turning them into reality. All of our guest raved about how beautiful everything was and said it was one of the best weddings they had ever been too. The vendors Wendy used were professional and I couldnt have been more happy with everything. Thank you so much for everything.
---
Wedding Planner is a must!
Reviewed on

5/08/2012
Colby N
I am so thankful I went with a planner and very thankful I chose Birds of a Feather! She works hard on every detail to make your day's visions and dreams come true! She is awesome to work with and a delight to be around! She honestly made my day better than I could have imagined!
---
Simply Beautiful.
Reviewed on

1/31/2012
Lacy S
I wasnt going to have a wedding at all because we have a baby on the way and couldnt spend that extra cash on having anything formal. We were going to just go to the court house but after talking to Wendy about our situation she put together in just SIX DAYS the most special and simply beautiful wedding for me!! Only immediate family were invited which was about 25 guests. Our budget was about $250 and we had everything we could have ever wanted at any grand wedding. We had an alter, cake and food for our guests. A small reception, lots of pictures. It was WONDERFUL and my whole family really enjoyed my quaint little wedding at a ranch. If it wasnt for Wendy and her absolutely wonderfully talented self to put it together I wouldnt have ever had a wedding unless I waited about 5 years and just got married by a judge with maybe 2 family members to witness. Now I have such wonderful memories and beautiful pictures to show my family and son when he arrives :) From the bottom of my heart, Thank you Wendy!!!!!!
---
Wendy is amazing!
Reviewed on

11/23/2011
Jennifer M
Before I even met Wendy, I knew I wanted her to help me come up with a design for my wedding. She is perfect and paid so much attention to every little detail. She was great at corresponding with me and my vendors and ensured that nothing was at of place. Hiring her was the best thing I did for the sake of my sanity and the wedding. She made everything beautiful and perfect and I couldn't of asked for anyone better to work with!
---
Hiring Birds of a Feather saved our wedding!!!
Reviewed on

11/21/2011
Will H
Wendy Kay is a life saver! I received a call from Wendy at 11:30am on my wedding day, less than 7 hours before my ceremony, with news that my caterer had cancelled. Where would I find a caterer for 100 guests on Mother's Day hours before my wedding? I did not have an answer, but Wendy did. She told me not to worry and to not even think about calling my fiance. I trusted Wendy and she did not disappoint - and she was just our day of coordinator! Wendy found someone to cater the wedding and our guests never noticed. I really don't know what we would have done if Wendy Kay had not been our wedding coordinator, I highly recommend her services and wished we would have hired her to plan the whole wedding! Happy groom!
---
It does not get any better than her !!!
Reviewed on

10/04/2011
Kelly M
Wendy was a great planner and supported us through the planning of our wedding. She provided great vendor suggestions when I needed them, decoration ideas, websites suggestions etc. The day of the wedding she was very helpful. Wendy and her assistant helped us stay calm and ON- TIME. Thanks to them everything went according to schedule. I would definitively recommend Bird of a Feather to any bride!! Thanks Wendy, We love you!!!
---
AMAZING WEDDING PLANNER!!
Reviewed on

7/13/2011
Brittany M
We had Birds of a Feather Events take on the full planning of our wedding. Wendy was a life savor from the very beginning. She jumped right in to take over after another wedding planner took my money and ran. To give you an idea of how incredible she is, she planned my entire Houston wedding from Dallas. From the moment we met, I felt so comfortable with Wendy planning my wedding. She went above and beyond for my wedding and I never felt like she was neglecting my big day. Wendy's personality is a huge plus when it comes to having her around for your big day. She can calm you down when everyone else is causing chaos and throw down with any rude vendors. With such an incredible eye for detail and determination to make the whole day about the couple, our wedding turned out to be more than we could have ever imagined! After almost a year of planning our wedding, I know our relationship with Wendy will not stop now that it is over. She will continue to be an amazing friend as well. There is plenty more I could add about Wendy and her assistant Christina but I'll leave it at that. My advice is don't pass up this amazing event planner!
---
My Daughter's Wedding
Reviewed on

7/12/2011
Michelle R
Wendy was an absolute joy to work with! She is very detailed in everything she did. She was also a great buffer for my daughter and I when we did not see eye to eye on things.
---
You're in fabulous hands with Wendy as your event
Reviewed on

6/05/2011
Brandi N
We were incredibly overwhelmed when trying to plan our wedding by ourselves in the DFW for the first couple of months of our engagement. We then met with Wendy and hired her on the spot for full planning and design, and it was the best decision we could have ever made! She listened to our ideas for all aspects of the wedding and she exceeded our expectations in bringing them to life! She was also great at correspondence throughout the entire planning process since she knew that I wanted to be as involved as possible. The vendors she found for us to work with were absolutely perfect! My husband was also incredibly thankful for her involvement in the planning because she helped me stay calm and as stress-free as can be expected throughout the planning process. Furthermore, she handled any situations that arose with ease and professionalism! With Wendy, your wedding will be the best night of your lives, as it was for us! We still can't stop talking about it! And we will have these perfect memories for a lifetime!
---
Luau Birthday Bash
Reviewed on

5/31/2011
Erika T
I did not use Wendy for a wedding, but she did help me with planning my daughter's 7th birthday. I loved working with Wendy. I had lots of ideas for the party, but I could not vision how it could all come together and Wendy made that happen. She made my daughter, Addyson, luau bash a success! From the cake to the table decorations, etc. she amazed me! Thank you Wendy! I think any bride would be so lucky to have her plan their wedding.
---
One Happy Mommy-to-be!
Reviewed on

1/05/2011
Janice M
I did not use Wendy for my wedding. Instead, Wendy planned my baby shower for my little boy. From the moment I asked her, Wendy suggested ideas for possible themes and designs. I fell in love with them immediately! We tweeked a few things to include my husband's interests as well. Wendy recommended invitations, suggested party favors, and even found a special party favor we could customize for my husband. I was so incredibly pleased with everything that she did. My shower was everything I wanted it to be and more! I would definitely recommend Wendy to all of my friends for any event planning they may need (and I have!).
---
Wish I had her from the very beginning!
Reviewed on

1/05/2011
Kristina C
Unfortunately, I did not have Wendy from day 1 which would have made my life so much simple. Luckily, she was there for the end giving me so many great ideas that I would have never thought to do. She has a great eye for detail and is a true visionary. I had ask her to be there the day of my wedding to help my friend, who I had asked to be my coordinator a year in advance. Not a very smart move. My friend had no clue what she was doing, started to panic and was constantly calling me. Oh, and she left mid reception to let her dog out! Thankfully, Ms. Wendy was there to take control and she made everything go smoothly and everything was timed and coordinated PERFECTLY! So, thank you Wendy for saving my BIG DAY.
---
Birds of a Feather made my Wedding a breeze.
Reviewed on

12/10/2010
Crystal H
Wendy Tylaska has a real flare for organization and detail. I did a lot of the planning on my own but Wendy was there to for the last week to help with set up and execute my vision. If their were any problems on my wedding day I knew nothing about them. Wendy took care of everything and anything I needed. I was blissfully happy the whole day and night. I highly recommend her for any of your wedding or special occasion needs. You will not be disappointed.
---
Send Message