Home

Palm Door on Sabine
About this Vendor
Hip, Downtown Urban Space
Originally built in 1936 as a Victorian cabinet makers studio, it has also housed Austin Theatrical Supply Company & City Grill, and now the Palm Door. A 3,000 square foot main loft space with a beautiful wooden deck that looks over Waller Creek. Its a hidden Austin gem, great for weddings!
Amenities + Details
Amenities
Handicap Accessible

Indoor

Reception Area
For more details about amenities, please message the Venue.
Food + Catering, Rentals + Equipment, Service Staff
Contact Info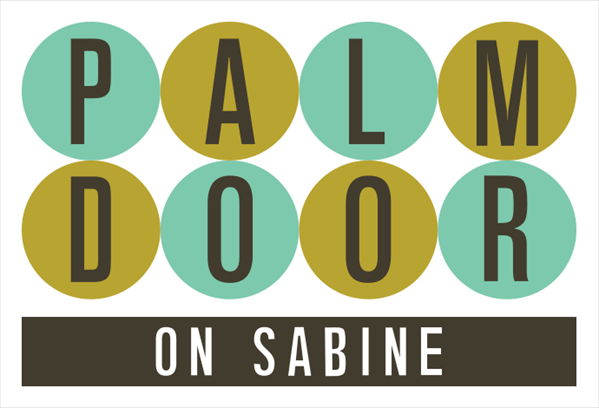 401 Sabine St, Suite A, Austin, TX
A Dream Wedding
Reviewed on

9/26/2013
Krista F
My husband and I waited six years before we finally tied the knot. And looking back just a couple of weeks after we did, we can't imagine why we didn't do it sooner ... but I think part of it was we just needed to find the right people to work with. We've always wanted a small wedding and I'd always imagined an outdoor setting. But we love Palm Door—it is, as they say, a blank canvas and we were able to do so much with it. Mariah is a joy to work with, not only did she understand what we wanted, she was able to put us in contact with our other vendors who made our day so much more than we could have ever imagined. She also knows how to put everyone at ease, which couldn't be more welcomed on a day when your nerves are kickin! Since we knew we wanted a small wedding, Mariah and the team at Bird Dog Wedding were able to figure out a way for us to have it outside and it was GORGEOUS!!!! There were about 70 guests, so we had two rows of chairs for immediate family and those with special needs, while the rest of our friends and family stood just behind them and I have to say, it helped give the super relaxed feeling we were going for, while also remaining intimate. It was truly perfect. I wish I could post photos so you all could see it! And inside was just as gorgeous as outside. We went with a family-style layout. It lent itself to the bohemian feel we were going for. Which brings me back to Mariah, we couldn't have done any of this without her help and expertise. She helped us plan everything from the layout to helping with our timeline. She also put us in contact with the team that helped make our day so unbelievable. I really can't describe a more perfect wedding day and it made us realize why we'd waited so long. It was to get married here, at Palm Door—in the heart of my favorite city in the world. We are still in awe of just how beautiful everything was and will recommend this venue to anyone who wants to get married in Austin!!!
---
Awesome venue + service!
Reviewed on

8/06/2013
Emily S
I've been involved in many events at Palm Door and have such a great experience each time! The space is a beautiful blank canvas to make your own. The ceiling has a ton of beams to hang your fun decor from. Mariah at Palm Door is also amazing! She's very helpful, informative, and responsive - overall excellent customer service. Just love working with her! You are in good hands with Mariah. Looking forward to my next event there!
---
A great space!!!
Reviewed on

6/18/2013
Katherine B
We had our wedding here in May and it was awesome. The space was exactly what we were looking for and Mariah and the rest of the staff were extremely easy to work with. I cannot recommend this place enough!
---
Reviewed on

5/11/2015
Nina M
My wedding night was so perfect in every way! Palm Door on Sabine was the perfect venue for us and it could make it our own, coming as a relatively black slate. At night, the venue is so romantic with a touch of candlelit. Plus, working with Jessie was easy and relaxed. If you are looking for a shabby chic spot for a wedding reception in the downtown area- I highly recommend checking Palm Door on Sabine out!
---
Lovely, versatile space
Reviewed on

6/11/2014
Brittani W
We had a wonderful time at our Palm Door wedding. This versatile venue is so rustic and easy to accessorize. You can easily adapt this beautiful space to fit into whatever theme you can dream up. We opted to keep it simple and not bring in any wall or ceiling decorations, and the place still looked fabulous. Mariah was accessible and super cooperative with our requests leading up to our event, and Heather was so helpful the day of. And with Pink Avocado (FOOD SO GOOD) right there on site, it makes for an excellently organized crew. I would highly recommend them for any type of event!
---
Great Wedding Experience with the Palm Door
Reviewed on

11/11/2013
Alisha L
From beginning to end I had a wonderful experience working with Mariah and the Palm Door. We had a beautiful wedding, and Mariah made it much easier for that to happen. She was prompt on answering my questions and also had great recommendations for set up, layout, etc. I would definitely recommend this venue for a wedding or other event!
---
Wonderful experience!
Reviewed on

11/11/2013
The Palm Door was a beautiful venue for our wedding in many ways! The staff were unbelievable; they were very helpful and always prompt with communications. The venue was organized and made prepping a breeze, and the changeover between the reception and ceremony was handled very quickly. I would highly recommend this venue to anyone!
---
BEST ONE-OF-A-KIND VENUE
Reviewed on

10/28/2013
Hans-Michael S
My (new) husband and I held our October 19, 2013 wedding reception at the Palm Door and it truly was a dream come true. Mariah and the Palm Door staff were more than accommodating and helped make our vision a reality. SO many of our guests were in awe at the Austin gem that is the Palm Door. We had guests come up to us asking how we found out about the venue, how more weddings should be personalized like ours (and not stuffy), among many other comments. The Palm Door truly does have a liberal decorating policy so we were able to make the place our own. For a couple that used DIY to the fullest, this was perfect. We had a handmade sign out front, paper lanterns hanging, customized canvas art on the walls, deck furniture, a candy buffet, photo booth, tealights, among many other details. We absolutely loved this freedom to express our creativity. We also want to praise Mariah. We could always count on her to provide speedy responses to my frequent questions. This was invaluable since we were planning our wedding from 1500 miles away. Mariah made the entire process seamless, and we appreciated it so much. The only minor hiccup was regarding the layout. Early on we had planned for some space in the front of the room for the designated dances--first dance, father/daughter, etc. Instead, the tables were spread out which did not allow for much room. Despite this, the Palm Door staff was gracious enough to help move one of the tables back and when it came down to breaking down the front row of tables, the process was efficient. Overall, we could not be happier with choosing the Palm Door. It allowed us to express our creativity and have the intimate, personalized reception we wanted. We recommend the Palm Door for ANY event!
---
Great Wedding Venue!
Reviewed on

9/04/2013
Simone K
Perfect venue for a party or smaller wedding. Go check it out in person and you will fall in love instantly... the long bar and wood floors makes this venue perfect for any type of event. Also check out Pink Avocado for pairing amazing food and service. Just had my wedding there and am already thinking about what excuse I can find to throw another party :)
---
Perfect!
Reviewed on

8/13/2013
Christine W
The place looked even more beautiful than I imagined. Everyone from the Palm Door was helpful and great to work with from start to finish. I would highly recommend them! We received tons of compliments from all of our family and friends.
---
Brittny Klein
Reviewed on

7/30/2013
brittny a
This was a very fun place to have the reception. We did a destination wedding and then held the reception here. Parking is horrible by this location, but great if you have a lot of people staying in nearby hotels. The staff was easy to work with and was accommodating on the day of the event as well.
---
Palm Door is an Amazing Reception Space!
Reviewed on

7/28/2013
Andy H
We recently held our reception at the Palm Door, and I couldn't be happier with how the even turned out. First of all, the staff is great. Everyone is laid back, really flexible and accommodating, so working with them to create the perfect space for our wedding was just a really nice experience. Secondly, the space itself is great! It was the perfect size for our 130 person wedding and created the right feel for the type of party we wanted to throw. Finally, it was AMAZING to find a venue downtown where we could bring our own alcohol in and is as affordable as the Palm Door is. I am thrilled about how the event turned out and would recommend the Palm Door as an event space to anyone wanting to throw an unforgettable party.
---
Bravo!
Reviewed on

6/13/2013
Rose B
I can't say enough about the crew @ Palm Door. I happened upon it by accident and once I visited the space and spoke with Mariah, I knew this was the place for us! From start to finish, everything was a breeze. Booking Palm Door led to booking the caterer, Pink Avocado, which shares a space in the same building. From there, literally everything else fell into place from hair + makeup to photographer and ultimately our officiant. It was a perfect event and a perfect day. My guests are still commenting on how wonderful the venue was. Adorable, sweet, comfortable and happy - these are just some of the words used to describe the space. I couldn't imagine my wedding any other way.
---
Exactly What I Wanted
Reviewed on

5/30/2013
Natalie W
Palm Door was great! Inexpensive, laid back, beautiful space indoors with a great deck. Mariah was so accommodating and was always available to meet with me to discuss details. Bartenders were awesome at the wedding and the whole staff really helped out picking up trash throughout, filling up waters and making sure we were comfortable. We got our damage deposit back within about 3 days of wedding. We are so pleased! Only downside is that if you do not use Pink Avacado, the in-house caterer, for your food, there is a small fee per person. However, we found another caterer and still came out fairly cheaper than if we had gone with Pink Avacado.
---
Loved The Palm Door
Reviewed on

4/30/2013
Nicole H
This venue was absolutely amazing! From the moment we went to take a look at the place, we fell it love. It has such a classy, Austin, laid back and sweet feeling. The people that work here are amazing and helping with questions right up until a couple days through. They worked with all of our needs so easily, very laid back and very professional. The place is so beautiful and people raved about the wedding and the venue. I would highly highly recommend this place!
---
Palm Door Reception
Reviewed on

2/04/2013
Kelsey H
My husband and I just got married at the Palm Door this January 2013. The venue looked AMAZING all set up with flowers etc. The wood floors, walls, and bar compliment any style. It was also the perfect size for a wedding of 150. Intimate but still room to dance. Overall the staff was really helpful and flexible... from set up to planning. The one thing we didn't like was being required to use their bar staff (expensive). It's understandable though since the glassware belongs to them and the bar staff was very nice. I think this is the best wedding venue downtown since there is plenty of room indoors, as well as on their nice outdoor patio. They allow setup early unlike many of the public venues. I would definitely recommend this space.
---
Palm Door= Bride's best friend
Reviewed on

11/29/2012
Ashley K
The palm door was great! I was so happy with how everything turned out and I heard rave reviews from our guests. I love the vintage space and feel, and the service was exceptional. They were all incredibly helpful, easy to work and attentive. Thank you for everything!
---
So Fun!!!
Reviewed on

10/18/2012
Nyssa T
We loved this venue! It was reasonably priced, beautiful, laid back, and the people were lovely! We had a marvelous time and I would host another event there in a heartbeat.
---
Beautiful
Reviewed on

10/13/2012
Leslie F
It was a beautiful location and their decorations were perfect, just what we asked for. However, we were told one thing by the employees there, with my parents being told something completely different, and the grooms mother told something different still when it came to what their role on the day of and what time we were aloud to drop things off. And when flipping the room they forgot to put two things on the tables that I asked them to. That being said, they were still polite to me and tried to fix mistakes that my mother and I pointed out on the day.
---
Very easy to work with.
Reviewed on

8/05/2012
Amber M
The Palm Door was very easy to work with and pretty much everything went smoothly. The venue itself looks very cool--kind of a upscale industrial feel, and the massive bar is awesome. It's also a huge money-saver since you can bring in your own alcohol. The only complaint I have is that Mariah tried to make it clear on numerous occasions that she would not be setting anything up that we brought in unless we rented it through them. However, on the day of the wedding when my family was trying to set stuff up, someone (either someone from the Palm Door or someone from Pink Avocado) said they would be the ones to set everything up. Had I known that before, it would have saved a ton of headaches in planning how we were going to get everything set up in the short amount of time before the ceremony; I could have specified what I wanted to Mariah rather than having a few surprises when we walked into our reception. Other than that, I'd highly recommend the Palm Door.
---
Perfect Venue!
Reviewed on

10/30/2011
Lindsay H
The Palm Door was the perfect venue for us! It was the first and easiest choice we made in the wedding planning process. Joy was great to work with. We traded emails for months and she answered all of my questions. Everything came together great. Our friends and family loved the atmosphere. We were very pleased with our choice. I would definitely recommend the Palm Door to those looking for a unique venue downtown for a reasonable price.
---
Fantastic!
Reviewed on

11/02/2010
Rachel B
Great venue for our 100 person wedding! They were easy to work with, we had the venue for 10 hours, a wedding coordinator was included in the contract, etc. Small, beautiful place for our ceremony and reception!
---
Send Message