10 To-Dos After the Honeymoon
Here's something no one tells you about getting married—after you get back from the honeymoon, you're still going to be in wedding mode for a bit. That's because more often than not, there are some to-dos left. Here, our top 10.
by Jamie Miles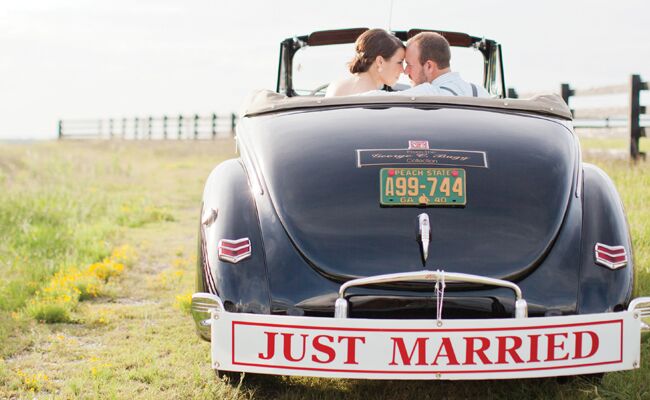 Kaitie Bryant Photography
Welcome back from your honeymoon! Hopefully you've fully recovered from the excitement and stress of planning your wedding with a romantic trip for two—but don't turn off wedding mode just yet. More likely than not, you still have a lineup of important postwedding tasks to tackle. We've shared our top 10 to-dos for after the honeymoon below so you can finally enjoy being married—checklist free!
1. Write a Review
While it's still fresh in your mind, take the time to review the experts who worked hard to make your wedding come together. We're talking everyone from your planner, florist, venue and photographer down to your hairstylist and even the crafty designer who made your ring pillow. You know by now how important reviews are to the planning process, so take the time to offer newly engaged couples insight and reward all your fabulous vendors by leaving reviews.
2. Clean and Store Your Gown
Have your dress dry-cleaned within six months of your wedding—the sooner, the better! (It's a cinch with wedding gown preservation kits like the one from Wedding Dress Preservation, where you're sent a kit with everything you need to securely ship your gown.) It's important to use a service that specializes in wedding dresses so they use the right solvents. Make sure they stuff it with acid-free tissue, avoid using metal pins or buckles, and store it in a box. Once it's back home, store it in a cool, dry place like an out-of-the-way closet and avoid the damp, musty basement.
3. Send Thank-You Notes
You should plan to mail your thank-you notes within two months of your wedding. Give yourself a head start by writing notes as gifts arrive (you'll thank us later!). Try setting a goal, like 10 a night, and crank them out during commercial breaks or while dinner's in the oven. Divvy up the project with your spouse and the job will be half as daunting. But no matter who writes the actual notes, you should both sign each one. Save yourself a hand cramp by printing out addresses and return address labels if you can—plus, it'll look neater.
4. Tackle Registry Returns
Stop trying to convince yourself that two blenders may actually come in handy—just bite the bullet and return registry items within two months of your wedding. While stores are likely to be lenient with couples who've registered with them, each store will have a different return policy, so research who will accept what, and for how long.
5. Change Your Name (If You've Decided To!)
If you do choose to change your name, it's a good idea to change all of your IDs within 90 days of getting married. This includes your driver's license, passport, social security card and credit cards. Don't know where to begin? Save some time and effort by fast-tracking everything with HitchSwitch.
6. Give Everyone Your New Address
If your marriage involved a move, it's perfectly fine to send a mass email or an e-card with your new address. Or go the traditional route: Buy store-bought moving announcements and slip them in with your thank-you note. Websites like TinyPrints.com have cute styles to choose from that you can customize, and they'll usually be ready within a few business days.
7. Order Your Wedding Photos
On your first anniversary, wouldn't you love to watch your wedding video and flip through your album? Don't put off your photo selection and video requests too long! Most photographers and videographers issue a standard contract that gives you six months to a year to select album photos and edit footage for your video. If you don't, you may have to pay extra.
8. Sort Out Finances
You've likely had the "money talk" long before you said "I do," but now's the time to merge accounts if you choose to. If so, head to the bank to fill out the necessary paperwork and get new debit cards and checks made.
9. Call the Tax Man
Time to check off a new (married) box on your tax forms. Now that you and your spouse are a legal unit, you need to decide whether you're going to file together or continue to file separately (joint filing isn't something mandated by law, though it's generally recommended). Before deciding, consult your accountant to see what he or she advises for the two of you. Do this ASAP!
10. Settle On an Insurance Plan
You'll also want to think about changing beneficiaries—most newlyweds switch their spouse to their beneficiary on work and life insurance docs. Call your insurance company and HR department at work for these forms. In addition, think about whose health insurance plan you'll use by comparing cost and treatment options. If you're the one making the switch, make sure the doctors you like are on the new plan.