The Ultimate Guide to Argentinian Wedding Traditions
Celebrate your heritage with these 15 wedding traditions from Argentina.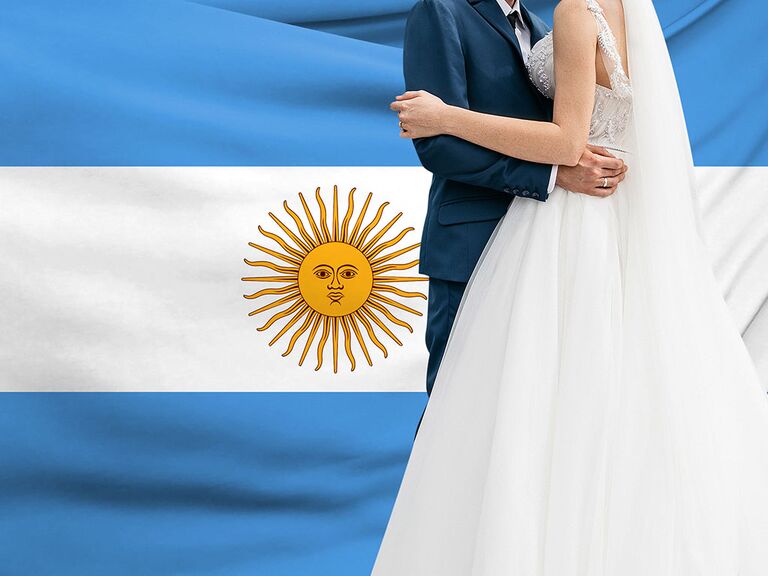 Shutterstock
Incorporating your heritage on your wedding day is an admirable way to honor your ancestors. No matter the religion or culture you come from, wedding ceremonies and receptions are known to be a place and time where cultural rituals and traditions are celebrated.
Whether you're embracing you or your partner's Argentinian roots or planning a destination wedding in Buenos Aires, there are plenty of ways to incorporate Argentine wedding traditions on your special day. And they're a lot of fun. Read on and learn how you can celebrate your heritage with these 15 wedding traditions from Argentina.
A Brief History of Argentinian Wedding Traditions
Though many parts of an Argentinian wedding are similar to ceremonies and receptions in other cultures, there are a handful of unique rituals that can be incorporated to specifically honor your Argentinian culture. Argentina, located in South America, practices many traditions similar to those seen throughout other Latin American weddings. Vows are normally exchanged in Argentina's national language, Spanish, there are traditionally no bridesmaids or groomsmen, and with the majority of the country identifying as Roman Catholic, most wedding ceremonies are held in a Catholic Church. Another thing we know? Get ready to hit the dance floor on your big day. Argentinian weddings are known to last all night long.
Argentinian Wedding Attire
Traditionally, Argentinian wedding attire is very similar to modern Western weddings. Both parties wear engagement rings, wedding rings, and the bride will often wear a wedding dress usually in white or ivory, while the groom wears a dark-colored suit.
If you've been invited to an Argentinian wedding, you should know that the cultural attire is traditionally more formal than in other locations. Abide by the dress code on your wedding invitation, but formal wedding guest dress attire is common in Argentinian wedding traditions.
Argentinian Wedding Ceremony Traditions
Upwards of 60% of South Americans identify as Roman Catholic, making traditional wedding ceremonies rooted in religious rituals. Most Argentinian weddings are held in a Catholic Church with a full mass. These are normally not small chapels; but large and historic churches with stained glass windows and beautiful, cultural architecture. These churches are usually decorated with ribbons and flowers for the ceremony. The couple does exchange wedding bands in their ceremony.
How Will Family Be Involved?
Wedding parties are not a common tradition in Argentinian weddings. In lieu, the father and mother of the groom as well as the father of the bride will traditionally sit at the altar by the soon-to-be newlyweds. Family plays an important role in South American culture, and this is just one more way of honoring that piece of Argentinian heritage.
How Long Does An Argentinian Wedding Ceremony Last?
Argentinian weddings typically have large guest lists and between the full Catholic mass and the exchanging of vows and wedding rings, Argentinian wedding ceremonies can last as long as 2 hours.
Argentinian Wedding Reception Traditions
Get your dancing shoes on! Argentinian wedding traditions are one extravagant party. The evening begins with a dance performance and typically doesn't end until the wedding guests say so.
The First Dance
Argentinian weddings have a creative way of getting their guests on the dance floor. Rather than separating the first dance song and the song for the father of the bride to dance to, one song is chosen. Though famously home to the Tango, the traditional first dance of Argentinian weddings is the Waltz. Traditionally, the bride will begin dancing with her dad and throughout their dance, she'll be handed off to dance with the groom, grandparents, and other family members, until the entire dance floor is filled. That sounds like a party we'd like to join!
Argentinian Wedding Cake Ritual
Queue Beyoncé, it's time for the single ladies! Similar to the tossing of the bouquet at American wedding receptions, Argentina has a fun tradition for single women at the wedding. Each gathers around the wedding cake and pulls a ribbon, which is previously placed between each cake layer. If you're the lucky one to pull the ribbon that has been attached to a charm, it's said you'll be the next one to get married.
How Long Does An Argentinian Wedding Reception Last?
Argentinian wedding receptions last all night long. No, we're not kidding. Once the party starts, there's really no cut-off. Traditionally the bride and groom are expected to stay until their guests have left as they're hosting the celebration. We've even heard of Argentinian wedding receptions serving breakfast in the morning. A coffee send-off? Sounds like a plan to us!
Argentinian Traditional Wedding Food, Drinks & Desserts
If we can offer any advice, it's to arrive at an Argentinian wedding hungry. Traditionally with large buffets, you'll want to enjoy every bit of the culture's decadent food choices and wines. Oftentimes, buffets will include fish, meat, and barbeque-style foods. Throughout the evening, elongated tables of pastries and cakes, some alcoholic cakes, even, will be placed in the room and available for guests. It's also common at Argentinian weddings to indulge in delicious, local wines.