The One Step All Brides Should Take to Set Bridesmaid Expectations
Take it from a repeat bridesmaid.
An editor at The Knot details why setting expectations with your bridesmaids from the start can transform the planning experience. Here's her take.
Two years ago, I was in a wedding where bridesmaid expectations were set by the bride up front, and thankfully so. While the very act of laying out bridesmaid expectations might sound alarming to some, it surprisingly made the entire process easier for the entire crew. About a month after her New Year's Eve engagement, the bride arranged a "kickoff brunch" at her mother's home, a central meeting ground for most of us for decades. As the bridesmaids caught up over fresh mimosas, the bride touched on key topics such as where the wedding would be held, where she wanted her bachelorette and her ideal color scheme.
It was a conversation, first and foremost, and I now practically beg my newly-engaged friends to do something similar. The bride's decision didn't involve a bridal shower or a bach party, but it was a simple group gathering that would've made any project manager beam with pride. It also paved the foundation for her 'maids to be invested in one another, especially with the flurry of activity to follow. If you're recently engaged, here are five reasons why you should consider doing the same.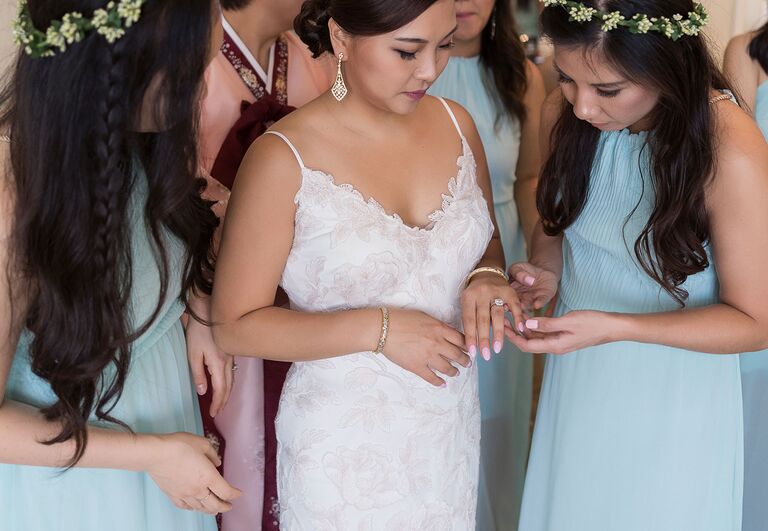 It Sets the Tone
Your bridesmaids likely didn't attend the same grade school together, which means your wedding party might consist of people derived from different walks of life. Whether it's your college dorm-mate or your deskmate from your first job, most of the crew might know of each other, but they might not necessarily know each other.
Which is why a kickoff brunch creates a golden window of opportunity for your chosen friends and family members to bond and engage. If the group is rallying together in support of you, the to-be-wed, then your bridesmaids' interpersonal relationships should somewhat reflect the strength of yours as well. Think of it like this: it's an opportunity to introduce (or re-introduce) everyone to each other and adjust attitudes. Plus, anyone who can't make it can always dial in via FaceTime or Google Hangouts. In this case, technology is your friend.
It Counters Scheduling Conflicts
In this particular situation, the bride faced a scenario where the vast majority of her bridesmaids were nursing, pregnant or had little ones at home. Calendars are already crammed enough as it is for moms, which is why having the group chime in on blackout dates for the bachelorette wasn't only helpful; it was understood.
The bride had about eight months to plan her destination wedding, which is why the sooner she claimed certain weekends for her events, the more everyone else could prepare for, well, life. Bridesmaid expectations are easier to set when everyone is on the same page, especially about calendar dates and the following topic: money.
It Helps With Budgeting
A bride who swoops in a few months before her bachelorette and says she wants it to be a lavish international getaway will likely be met with some resistance—unless she's offering to pay for the trip herself. In which case, that's one lucky wedding party. So what are bridesmaids expected to pay for? The bride will oftentimes be the one to determine the outcome, which is why it's important to be respectful of budget limitations and timelines.
Kathleen Entwistle, Senior Vice President at UBS, advises wedding party members (especially those who will partake in upcoming bachelor and bachelorette parties) be cognizant of financial planning. "You're better off saying, 'I know I have some goals. I have a couple of friends getting married, and I want to participate,'" she says. "When you do your direct deposit, you can put a percentage into your savings account, which you can designate towards your goal. Build it out over time. If you're putting $200 a month aside, after 10 months, you have $2,000. That's enough, hopefully, for a bachelorette."
Sitting together with your bridesmaids and giving them an overview of the resort where you're planning to marry or the bachelorette party destination you had in mind will help manage bridesmaid expectations. Plus, don't forget the cost of their dresses too.
It's a Place to Discuss Dos and Don'ts
If you want an adults-only wedding or an unplugged ceremony—or you've decided to only allow plus-ones with exceptions (i.e. Pippa Middleton)—your bridesmaids are among the first guests to inform about this wedding decision.
Use this meeting to openly discuss your choices, because this wedding is yours after all. That way, your squad can also tackle said questions from other wedding guests with grace.
It's an Opportunity to Solicit Advice
If some of your bridesmaids are already married, you should want to take a moment to hear them out too. Consider a kickoff meeting as an opportunity to listen to their biggest takeaways from the wedding planning experience. After all, this could be your first rodeo, so humility is a factor.
Perhaps the friends who've already planned weddings ran into a few snags that were preventable. Or they have a few thoughts about how to best approach delegating tasks to bridesmaids as opposed to the wedding planner. Having a kickoff brunch where you can outline a bridesmaid duties list, even with a broad overview of duties for the day of the wedding, will benefit the entire party… especially you.
In turn, you'll have a team rallying behind you throughout the wedding journey. Case in point: The morning of Anna's wedding, all of us had memorized the playbook and were prepared for any momentary setback. We had a situation where the wedding coordinator left the cake topper back in the bridal suite, and we discovered the omission as the cake cutting was about to take place.
A few bridesmaids kicked off their heels, hoisted up their skirts, and sprinted through the resort to retrieve the topper, our Olympic torch, on the opposite end of the property. Somehow and miraculously, we made it back just as the couple was posing for photographers, cake knife in hand, under a sea of sparklers. By setting bridesmaid expectations immediately, you'll save yourself a tremendous amount of potential miscommunication and heartache. In retrospect, it was that very first kickoff meeting that bonded us. Eight months later, we were one solid team.