7 Signature Wedding Cocktail Names (and Recipes) Your Guests Will Love
It doesn't get more creative than this.
As far as we're concerned, one of the best parts of wedding planning is getting creative with the little details. And it's easy to when it comes to something as fun as cocktails—even if it's as simple as cheekily renaming your favorite beverage (Rebecca-tinis, for example).
That's why we pulled together a few of our favorite signature cocktail recipes and some inventive name ideas to go with them, just in case you need some inspo (or you want to whip some up yourself for your bridal shower or other prewedding event). 
1. "Berry Happy Together" Sangria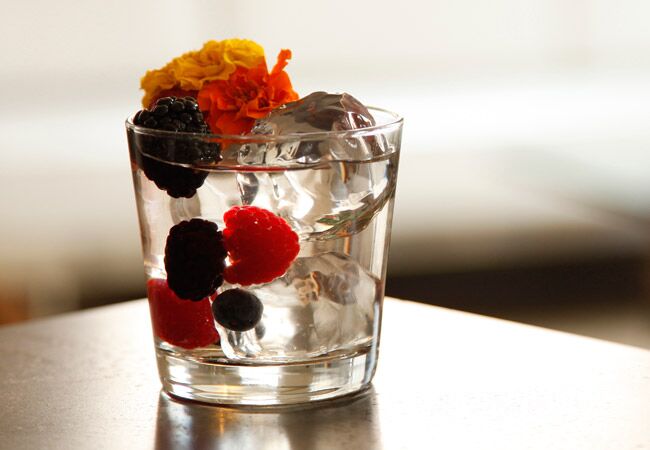 Berry Happy Together Sangria Recipe

1 bottle sauvignon blanc or dry white wine
3/4 cup St. Germain
2 fresh peaches
5–6 fresh strawberries
6 fresh raspberries
1 small bunch of fresh white grapes
Stir ingredients in a pitcher or carafe. Allow fruit to soak in mixture for 15 minutes– or longer if desired. Serve in an ice-filled glass. Garnish with micro marigolds.
2. "White Wedding" White Cosmopolitan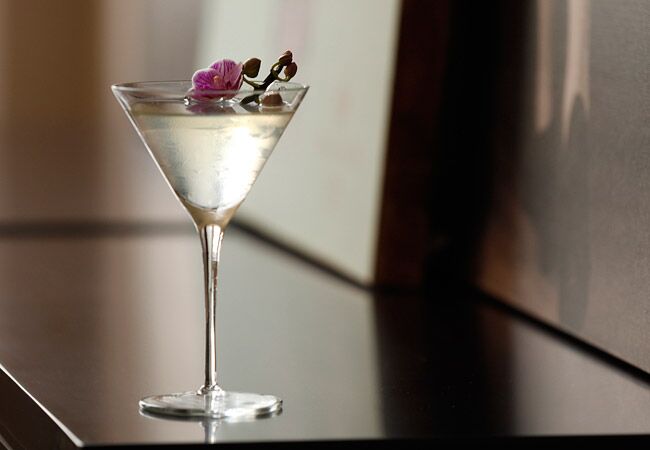 White Wedding White Cosmopolitan Recipe

2 parts vodka
1 part St. Germain
3/4 part white cranberry juice
1/2 part lime juice
Shake all ingredients with ice. Strain into chilled martini glass. Choose a dainty orchid to use as a garnish.
3. "The Blushing Bride" Champagne Cocktail
The Blushing Bride Champagne Cocktail Recipe

2 oz passion-fruit nectar
3 oz champagne
1/2 tsp. grenadine
Handful of huckleberries
Pour chilled passion-fruit nectar in a flute. Carefully add chilled champagne and grenadine; don't stir, but allow to blend. Top with huckleberry garnish.
4. "Honey, I Do" Honeydew Martini

Honey, I Do Honeydew Martini Recipe
3 oz vodka
1/2 oz Midori
1/2 oz triple sec
Fill a cocktail shaker halfway with crushed ice. Pour all your ingredients in with it. Shake it up well and strain the mixture into a chilled martini glass. Garnish with a slice of lemon or lime.
5. "Something Blue" Blue Curacao Cocktail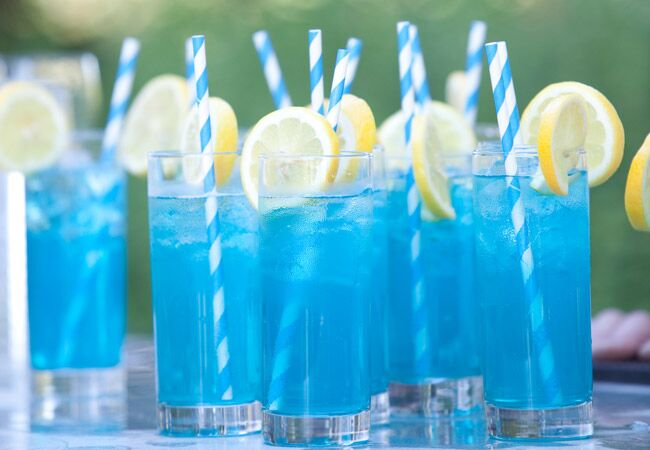 Something Blue Blue Curacao Cocktail Recipe

30 ml vodka
15 ml blue curacao
lemonade
Fill a highball glass with ice, add the vodka and blue curacao and top up with lemonade; stir and serve.
6. "Sweet on You" Strawberry Vodka Lemonade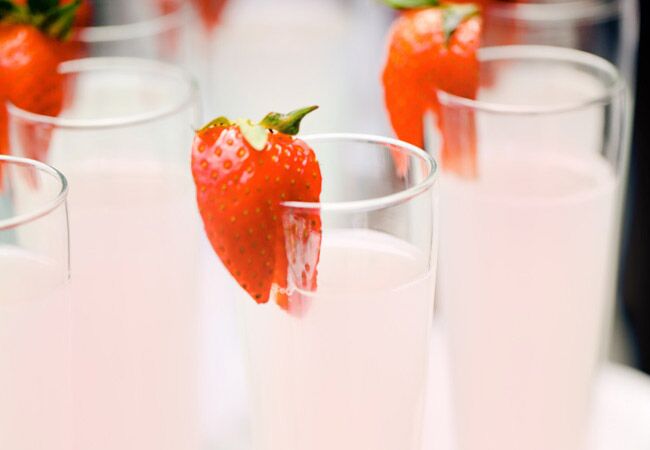 Sweet On You Strawberry Vodka Lemonade Recipe

2 cups sliced fresh sliced strawberries
1 cup granulated sugar
7 cups water, divided
1–1/4 cups lemon juice (about the juice from 6 lemons)
Pinnacle Strawberry Shortcake Vodka
In a saucepan over medium-high heat, bring strawberries, sugar and 1 cup of water to a boil. Reduce heat to low and cover. Simmer for 10 minutes. Place strawberry mixture in a blender or food processor and puree; set aside and allow to cool. In a pitcher, mix lemon juice, 6 cups of water and strawberry syrup. This is your Strawberry Lemonade. In a glass over ice, mix 1 part Pinnacle Strawberry Shortcake Vodka with 3 parts Strawberry Lemonade.
7. "Just Rosemarried" Tequila Cocktail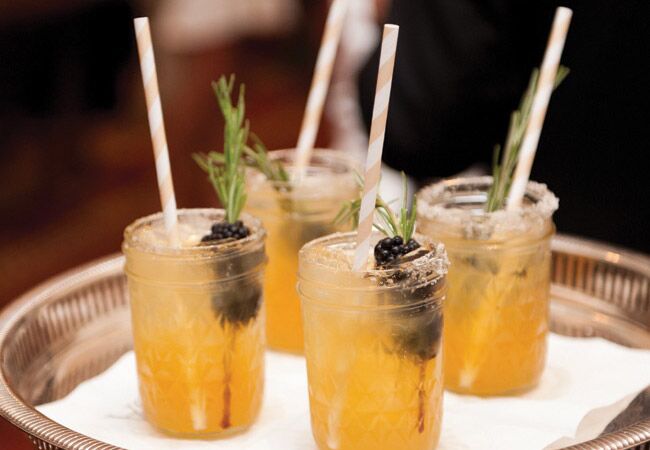 Just Rosemarried Tequila Cocktail Recipe

1–2 sprigs fresh rosemary
4 blackberries
3 Tbl. (1 1/2 oz) tequila
2 Tbl. (1 oz) lime juice
4 tsp. (about 3/4 oz) simple syrup


In a cocktail shaker combine 2 sprigs rosemary, tequila, lime juice, and simple syrup. Add ice cubes; cover and shake until very cold. Strain liquid into an ice-filled glass. If desired, garnish with additional rosemary sprig and blackberries.