8 Tasty and Unique Expert-Approved Wedding Cocktail Trends
Raise your glass and enjoy.
Food and drinks are a big part of many couples' weddings, and we don't think that's going to change any time soon. According to The Knot 2021 Real Weddings Study, to-be-weds pay an average of $2,300 for alcohol and bar services for the wedding day. This may seem like a lot, but lots of couples view it as a worthy cost because of the story they can tell through their drinks and the joy they get from seeing their loved ones break it down on the dance floor. But with so many different types of liquor, mixers and garnishes to choose from, you might not know where to start with crafting your cocktail menu. Check out the top wedding cocktail trends we can't wait to see at couples' weddings in 2023 to help inspire you.
Smoke Bubble Cocktails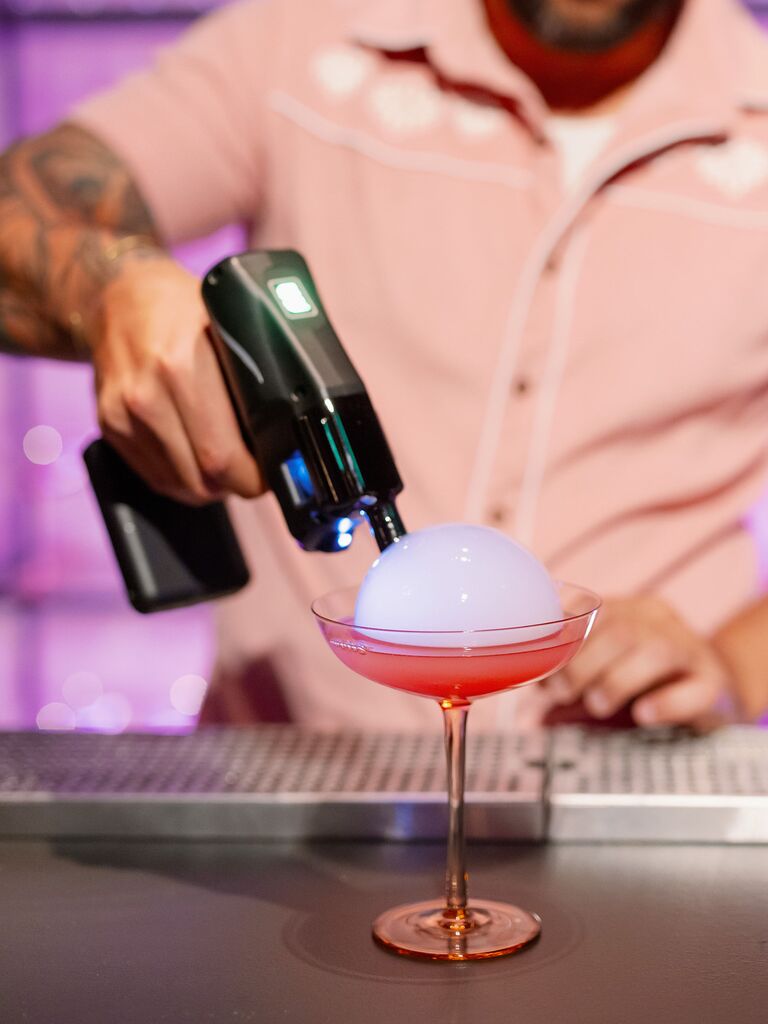 Whether they're on the menu at one of your favorite upscale bars or served at an event you attended, you've most likely seen one or two smoke bubble cocktails. They are a fun and eye-catching beverage that demands to be the center of attention at any function. If you're unsure how these drinks work, Matthew Landes, founder & CEO of Cocktail Academy, explains, "the main qualifier here is a coupe or a steeper martini glass. The bubble solution needs to spread across a smooth wet surface and then stick to the dry edges of the glassware." What's great about the smoke bubble cocktail is that it can easily adapt to any wedding theme. But Landes advises couples to use this wedding cocktail trend as a welcome drink or as one of the several drinks on their cocktail menu. "If you put it as a garnish on every drink, it loses its novelty, and all your drinks will look the same."
Espresso Martinis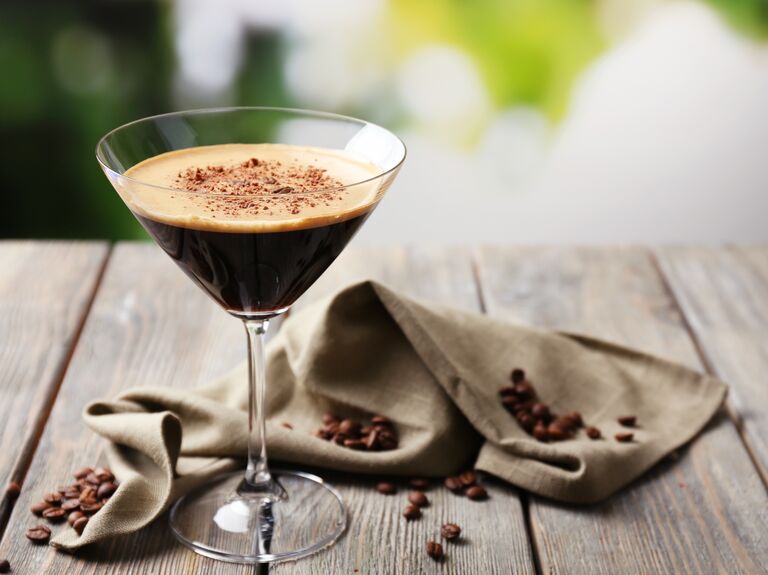 The night-luxe aesthetic is known for its display of expensive tastes in clothes, drinks and food, like sleek all-black outfits, dirty martinis and oysters. (Psst. Check out The Knot's latest magazine issue for night-luxe inspiration.) With the rise of this Sex and the City-esque aesthetic came the popularity of the espresso martini, which seems to be everywhere. Landes gives insight into what has made this drink so loved. "The espresso martini was the perfect solution to the post-quarantine epidemic. This epidemic was a challenge to staying-out-late and drinking night owls who had their wings clipped during months of shelter-in-place orders and early nights. What better antidote than the stiffness of a martini and boost of espresso, paired with the upgrade of quality coffee liqueurs?"
Nathan Canan-Zucker, bartender at Gin Lane Bar within Barr Hill Distillery, believes that espresso martinis are here to stay and would make a great addition to any wedding. "Coffee flavors pair beautifully with so many things beyond just vodka. I look forward to seeing more bartenders putting their own spin on the classic recipe." We suggest talking with your bartenders about what creative takes they can put on your wedding espresso martini. Serve this delicious drink at the end of the night to wake your guests up before your wedding exit, serve this at your wedding shower or brunch wedding reception. Kim Hanks, co-founder and CEO of Whim Hospitality, says espresso martinis are a great alternative to classics like mimosas, bloody marys and bellinis.
Custom Beverage Cans
Personalizing a wedding will never go out of style and is at the top of many couples' nuptial to-do lists. Custom beverage cans and bottles are one of many ways couples can achieve their personalized wedding goals. "Storefront IPAs and small-batch breweries are opening up this wedding cocktail trend. Having a personalized can that mirrors the couple's favorite brew is a cute way to continue the couple's brand throughout the wedding celebration," Hanks says. Custom beverage cans and bottles are a fun way for couples to curate their drinks while also telling their love story. We've seen couples commission illustrations of their faces on their signature cocktail cans or add their engagement photos to the outside of their favorite beer. The options are endless when personalization is on the table.
Mocktails
The gradual normalization of tasty and fun non-alcoholic drinks is one of our favorite wedding cocktail trends. Social drinking isn't only for people partaking in alcohol now. Hanks speaks on how mocktails' popularity benefits your sober or "sober curious" guests. "Dry bars are sprouting up in many populous cities throughout the US and abroad. There are so many great-tasting non-alcoholic drinks ranging from celebrity-owned to organic small-batch options found at your local store. This makes socializing sober an easy option to choose during the wedding season." Canan-Zucker urges couples to respect guests' decision not to drink alcohol and encourage responsible consumption at their weddings–– while offering "something other than just soda or water." By offering well-crafted wedding mocktails you make all your guests feel included and free to join in the celebration.
Adaptogenic Drinks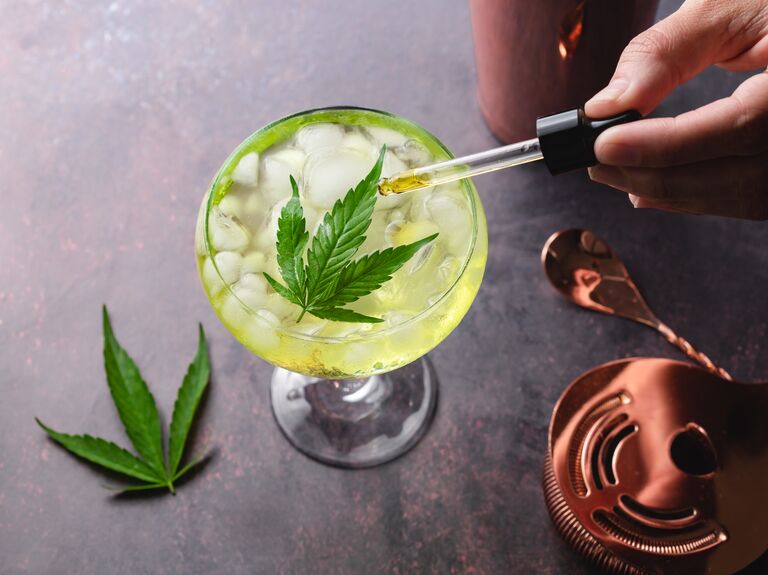 An adaptogenic drink is an alcohol-free cocktail of plant and herbal ingredients like CBD and ginseng. Some adaptogenic beverage producers assert it increases a person's energy, is an alcohol replacement or helps with relaxation. This unique cocktail trend has gradually become popular with people who want to try a sober lifestyle while drinking something that can loosen them up. Wondering how you can incorporate adaptogenic drinks at your wedding? Hanks says she loves how couples are having late-night coffee bars at their receptions. "[They offer] cappuccinos, lattes and cold brews infused with CBD to go along with a late-night snack of burgers or breakfast tacos. It's a great way to infuse the crowd with extra energy and fun vibes to dance the night away."
Secret Cocktail Menus
You've probably heard of secret menu items for different food and beverage chains like McDonald's and Starbucks, but what about incorporating this idea into your wedding cocktail menu? Secret menus, typically with one or two signature cocktails, can be a clever way to have fun with your guests. We've heard of couples spreading the word to their wedding party members and then letting it trickle down to their guests or putting a hint about the secret menu at the bottom of their wedding website. "The secret cocktail menu is used to create an organic word-of-mouth buzz in the crowd. A 'if you know you know' type of thing, which adds a fun element to the event and gets people talking," Hanks explains. No matter how you get the word out there, Landes thinks secret bar menus are great because "when you break off the bar as a separate moment, the bar becomes an experience and no longer just an amenity."
Honeymoon Cocktails
To show their excitement for their upcoming honeymoon, some couples have their wedding theme centered around their honeymoon destination. One wedding cocktail trend we've seen play into that theme is honeymoon cocktails––not to be confused with the apple brandy-based drink. We are talking about wedding cocktails that reflect where the couple will be traveling on their honeymoon. Hanks says Italy will be one of the top destinations in 2023, which means you'll see Aperol spritz, Campari and lemon-infused cocktails as the stars on many cocktail menus. And yes, this trend may result in you seeing a negroni sbagliato with prosecco cocktail at your friend's wedding next year.
Flair Bartending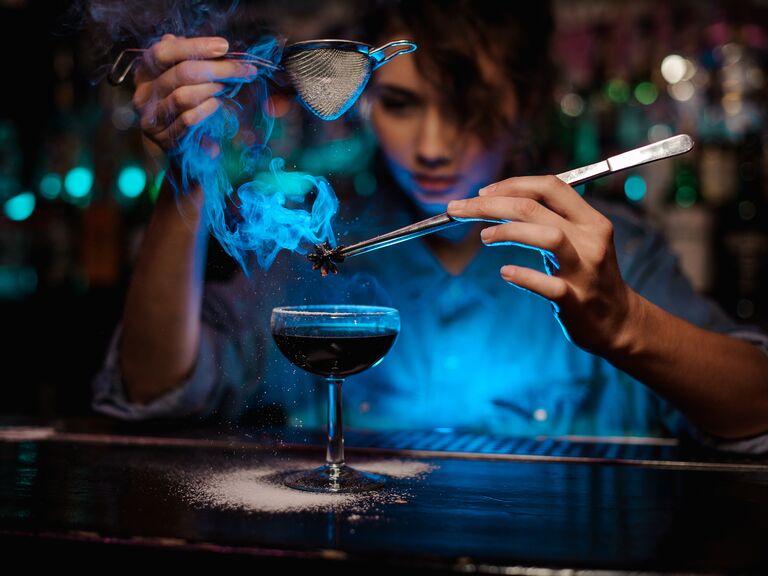 Flair bartending isn't anything new, but it has gained favor among non-bar venues and is even viewed as a performance art in some mixology circles. "[Flair bartending is] when bartenders specialize in doing tricks with bottles and their shakers, like juggling, fire theatrics and dancing," Landes explains. Landes believes flair bartending is becoming a wedding cocktail trend because of the rise in quality cocktails and couples wanting to have more ways to entertain their guests. There are a lot of elements that go into flair bartending (some that use fire or could result in broken glass). So make sure you ask your bartender what's involved in their performance and ensure that you and your bartender have insurance to cover any incidents.