What Exactly Does a Wedding Planner Do?
TL;DR: They're total lifesavers.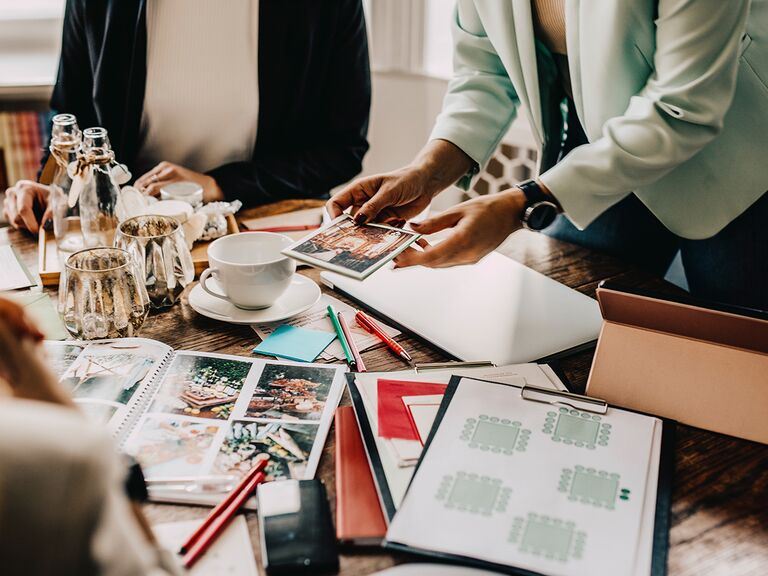 Westend 61/Getty Images
Planning a wedding is hard work, and it can be difficult to tackle the large number of tasks on your checklist yourself—especially if you're already slammed with work, school, family or just life in general. That's why hiring a wedding planner may be one of the best decisions you'll make during the planning process. They'll handle much of the work for you so you can actually enjoy your engagement. If you're still on the fence about hiring a pro to help you put together your big day, it's important to understand a wedding planner's responsibilities to help decide if booking one is right for you.
According to Edna Dratch-Parker, Boston-based owner of EFD Creative – Event Planning & Design, and co-author of Real Deal Wedding Insiders – Guide to Smart Wedding Planning, a wedding planner helps a couple "save money, time, energy and stress." Put simply—a wedding planner can be an invaluable resource that's worth every penny (and more!). But what exactly does this mean? We're here to give you a rundown of exactly what a wedding planner does, both leading up to and on the big day.
What Is a Wedding Planner?
As their title would indicate, wedding planners help couples plan their wedding day and ensures that the event runs smoothly. A wedding planner handles a multitude of tasks, both in the months leading up to the event and on the big day as well, to help lessen the load for busy couples. Wedding planners are experts in their field, and use their vast knowledge and extensive contacts to make the process seamless and easy for couples.
Yes, hiring a wedding planner does cost money (according to The Knot's Real Wedding Study, a planner costs an average of $1,700). But it's an expense that most couples would say is entirely worth it. When all is said and done, event planners can actually save you money by utilizing their wedding industry insider status to get the best deals, and ensuring you stay within budget.
Wedding Planner vs Wedding Coordinator Responsibilities
There are several types of wedding planners, but the most popular are full-service wedding planners and month- or day-of wedding coordinators. You might hear the terms "wedding planner" and "wedding coordinator" used interchangeably, but there's actually a difference between these two types of pros.
"A wedding planner is someone who plans the entire event," says Dratch-Parker. "A wedding coordinator focuses on the logistical planning and support of the wedding day. The couple has done all the main planning leading up to their wedding and only needs help with the final planning and execution of the event to keep things on track."
So as you're browsing the wedding planner duties below, know that full-service planners offers complete coverage of the planning process, where as month- or day-of coordinators would likely only handle aspects of the wedding related to last-minute logistics and details.
If you think you'll need full-service planning services, we recommend booking a wedding planner as the first step in your process—a year or more before the big day, if possible. Month- or day-of coordinators can be hired later on.
Wedding Planner Duties
While this is a list of the most common wedding planner responsibilities, it's essential to read your planner's contract and package details closely so you're clear on their outlined duties. Each planner offers their own unique packages, and it's important to understand what your specific planner will and won't do during the planning process.
"Many couples today are looking for flexibility in their wedding planning, which has evolved the 'menu' of what a full-service wedding planner offers," says Dratch-Parker. "Couples may not want every aspect of the planner's service, but pieces and parts of it, such as helping with the wedding budget or vendor selection or design of their wedding. Modern full-service wedding providers tend to offer various packages to support the unique requirements of each couple."
Here's a list of the tasks that wedding planners can tackle for you:
Hone In on Your Wedding Vision
Before jumping in and checking tasks off your list, you'll have several conversations with your wedding planner to determine the type of event you'd like host. You'll discuss your desired wedding date, size, style, location and more, to help ensure that you, your future spouse and your planner are on the same page. Throughout the planning process, your planner will refer back to your original vision to ensure you're staying on track and remembering what's most important.
Develop a Realistic Wedding Budget
One of the first steps of wedding planning is coming up with a budget. This can be difficult for many couples because they don't know how much a wedding actually costs. Well, that's where a wedding planner comes in. With their vast experience in the field, a planner can give couples a solid estimate of how much their desired event would cost in their location—and help them make the most of their budget.
"Perhaps the most important responsibility is working to develop a realistic budget that not only matches the expectations of the couple but also what they can truly afford," says Dratch-Parker. "This part is crucial to having a positive outcome and provides the foundation for a successful wedding. Working together throughout the process to be sure the budget is always a consideration is the sign of a seasoned wedding planner."
Select a Wedding Venue
Your wedding venue will set the tone for your entire event, and a wedding planner can help you find the perfect location for your big day. They'll take your wedding size, budget and vision into account and come up with a list of venues to consider. They may even accompany you on tours of wedding ceremony and reception venues in your area to help hone in on your dream event space.
Connect You With the Best Wedding Vendors
Once you've booked your venue and officially set the date for your big day, your planner will connect you with the top vendors in your price range, from caterers to florists, photographers to bands and DJs, and more. They'll know exactly which vendors will best suit your event, so you won't have to spend hours painstakingly researching hundreds of pros.
Working with a planner will not only save you time, but can also save you money: Wedding planners bring volume to favored vendors, so often the vendors will reciprocate by slashing prices or throwing in extras.
Read and Vet Vendor Contracts
One of the biggest mistakes couples make is not reading vendor contracts carefully, and missing important details or red flags. A wedding planner will vet all vendor contracts, and communicate with pros in case of any discrepancies or confusion.
"Wedding planners understand the nuances of vendor negotiation," says Dratch-Parker. "They have relationships with venues and vendors and can advocate for the couple in a way that the couple would not be able to do on their own. The couple may not always understand the right questions to ask or what to look for when reviewing contracts, etc., but planners do."
Serve as On-Location Contact for Destination Weddings
If you're hosting a destination wedding, hiring a local planner who knows your wedding location well is definitely a good idea. This is particularly essential if you can't travel to your wedding location frequently, as your planner will serve as your eyes and ears on the ground. They'll be able to connect you with vendors, help you follow local customs, assist with guest travel and hotel rooms, and more.
Plan Design Elements
Your wedding planner may also work with your florist and other pros to create design elements for your big day, including escort card displays, signage and more. You may also hire a separate wedding designer to take on this role.
Help With Wedding Etiquette Issues and Provide Support
Throughout your engagement, etiquette issues or other concerns will likely pop up. Wedding planners can also serve as quasi-therapists, helping you work through these problems. Whether it's managing divorced parents or figuring out how to tell a family member that her kids aren't invited, planners can use their experience to guide you through these sticky situations.
Stick to Your Budget
According to The Knot's Real Wedding Study, 49% of couples spent more than they'd planned by an average of $6,373. So how do you avoid blowing your budget? Work with a wedding planner.
"Wedding planners are experienced at keeping couples on track during the many months of planning, where it is easy to make purchasing decisions about things that aren't necessarily needed or could be attained more cost-effectively," says Dratch-Parker. "Wedding planners have the unique perspective of having worked with many, perhaps hundreds, of other couples. They know what works, what doesn't work—and that knowledge can save them considerably and avoid incredibly costly mistakes."
Assist With Wedding Weekend Events
If you need assistance planning the rehearsal dinner, next-day brunch, wedding-morning golf outing or any other related events, your wedding planner can likely provide assistance. Just note that these extra events might not be included in a planner's package, so you might incur additional cost if your planner is involved.
Handles Wedding Invitation Details
Wedding invitations are perhaps the most crucial piece of communication between you and your guests. Your planner can help with all things invitation-related, from the wording and ordering to the addressing and mailing, as well as tracking RSVPs.
Help With Seating Chart
Once the RSVPs start rolling in, you'll need to provide a final headcount to your venue, caterer, rentals company and more, and create your seating chart. Your wedding planner can assist with these tasks, ensuring that you have an accurate floor plan of your reception venue and helping with the time-consuming task of seating all of your guests, as well as creating escort and place cards.
Put Together a Wedding Weekend Timeline
A planner will also create a full minute-by-minute timeline of your wedding weekend. This timeline will be shared with everyone involved in the planning process, from vendors to members of your wedding party, family and more, so that everyone knows where to be and what to do (and that they arrive on time!). Creating this timeline is a super-involved, time-consuming process that's best handled by a professional—just one of the reasons a wedding planner is so valuable.
Coordinate All Details With Vendors
Your wedding planner will be the point person for your vendors, and will make sure that they have all of the information they need to do their jobs and work as a well-functioning team. Of course, there may be questions that you'll need to answer, but your planner will present them to you in an organized fashion so you don't feel overwhelmed.
Serve as Spokesperson
The last thing you want is to be fielding a million phone calls in the days and hours leading up to your wedding day. Consider your wedding planner your pre-wedding spokesperson, handling requests and answering questions from vendors, family members, wedding party and guests. If a last-minute question comes up, it should go to your wedding planner, not to you. (Another tip: Including an FAQs section on your wedding website will limit the number of questions that come in, since all of the information is easily accessible.)
Manage the Wedding-Day Logistics
Yes, there will be a lot going on during your wedding day, but your wedding planner will handle it all. From supervising vendors to managing setup and delivery, handling emergencies to soothing nerves, your planner will be the point person so you can relax and enjoy the day—and isn't that what your wedding should be about, anyway?