16 Wedding Moments Guests Secretly Hate—Plus, What to Do Instead
Spoiler alert: No one likes a line for the bar.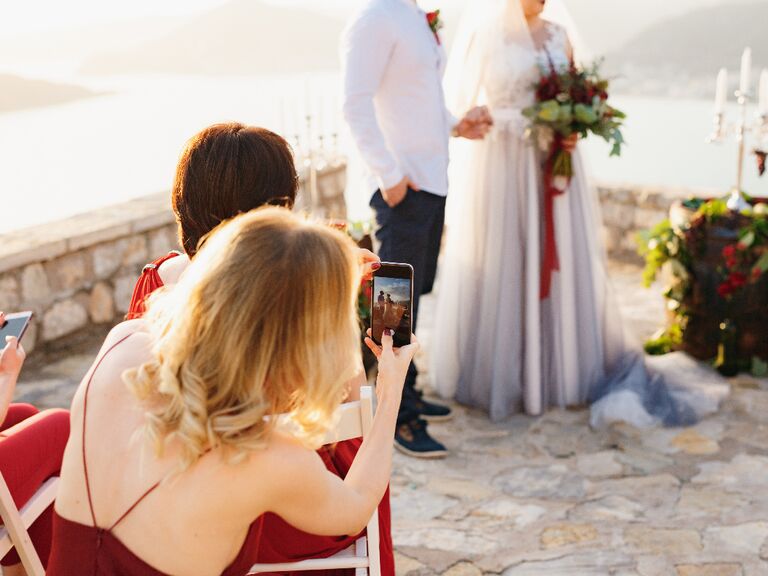 nadtochiy/Shutterstock.com
If you're in the midst of planning your wedding day, you probably want your guests to have the best time ever—because, let's be real: who doesn't want that? You're putting a lot of time, money and effort into your nuptials, so it only makes sense that you want it to go off without a hitch. In order to throw the best wedding of all time, it can be helpful to get inside guests' heads to learn what they love and don't love about weddings… and that's where we come in.
As your wedding planning bestie, we're here to help you through every step of the planning process. We're one of the most trusted wedding planning resources out there, so we know a thing or two about how to show your guests a good time. To give you a peek into guests' unfiltered wedding thoughts, we asked our Instagram followers to spill the tea on wedding moments they hate—that way, you can be sure to avoid the same situations on your own day. Below, we share the inside scoop on what guests really don't like, because we know you want to know. (Spoiler alert: Most guest pet peeves have to do with food and drinks.) Read up on what they said, along with our tips on how to avoid each situation entirely, to truly have the best wedding day ever.
Long Speeches
We get it: You and your bestie have probably been planning the MOH speech since the early days. But as much as you love your inside jokes and raunchy memories, not every person does. Guests generally don't enjoy having to sit through multiple speeches that include personal shared jokes, crude humor, or long anecdotes that prevent them from hitting the dance floor (or worse, enjoying dinner).
What to do instead: We still encourage you to have speeches at your reception if you'd like—after all, it really is fun hearing about a couple's love story from the perspective of a friend or family member. But to avoid toasts that monopolize precious party time, ask your speakers to limit their sentiments to two minutes max. They can share other personal memories or wishes with you in a more private setting at another time.
Group Dances
While you might dream of having a packed dance floor for the entirety of your reception, group dances aren't always the best way to achieve it. An overwhelming amount of followers responded to our question saying they don't enjoy popular wedding line dances—so when you're crafting your music requests, consider nixing tunes like the Chicken Dance or the Cupid Shuffle.
What to do instead: If you've hired a music pro, like a DJ or a live band, rely on their expertise to select songs that'll get the party started (and keep it going). They're experts for a reason, and they know how to read a crowd's vibe. While they likely have a lineup of go-to songs that always get groups moving and grooving, they'll also be able to pick out songs on the fly that'll work for your friends and fam. No awkward line dances required.
Long Lines at the Bar
Nothing kills a wedding guest's mood quite like a long line at the bar. They're at the wedding to celebrate with you and enjoy time with other guests, so the last thing they want to do is spend 20 minutes of precious party time waiting for a drink.
What to do instead: Work with your venue to see if it's possible to set up two bar locations, or to offer a passed drinks service. Having more than one spot to grab a beverage will alleviate traffic jams at the bar, and it'll be a serious game-changer for guests who aren't waiting for alcohol too.
Separated Bar
In the same vein, guests also don't love when they have to leave the main reception room to get a drink. The location of your entertainment is the heart of the party, and if they have to leave to grab a beverage, the wedding itself can feel disconnected.
What to do instead: Work with your venue to set up bar access in the same room if possible; if not, try having the beverage location as close to the main space as you can. Although every venue is different, keeping high-traffic locations close together will make your day feel seamlessly planned out.
Garter Toss
This one likely won't come as a surprise. Although it's been a reception staple for years, guests don't always enjoy watching the garter toss. The act itself is incredibly intimate and can sometimes come across as a little awkward or uncomfortable.
What to do instead: Luckily, there are plenty of garter toss alternatives to try if this tradition doesn't feel like a fit for your wedding day. Consider presenting your bouquet to a family member or another soon-to-be-married couple. Or, give a flower to the couple who's been married the longest and invite them to take a spin on the dance floor. If you really want to keep the essence of this moment, toss an unworn garter into the crowd without the "grabbing for it under the dress" situation.
Slow Food Service
We'll let you in on a secret: The best way to a guest's heart is through their stomach. Having a late dinner service is a huge turn-off for invitees, especially when there aren't a lot of hors d'oeuvres at cocktail hour.
What to do instead: Prevent hangry loved ones by offering dinner service shortly after the reception begins, or at a reasonable dinner time. Work with your caterer or food service team to create a service schedule that doesn't keep your friends and fam waiting too long to enjoy a meal.
Cheesy Favors
Wedding favors are a highly debated topic. Some say you absolutely need to give your guests a token of appreciation, while others argue that you can nix the whole concept, especially if it doesn't fit within your budget. If you're curious to know what guess really think about the matter, we've got you covered. When asked on our Instagram, many guests said they don't enjoy receiving "cheesy" favors. So, what qualifies as cheesy? That's up to your interpretation.
What to do instead: Generally, we know that guests enjoy gifts they can eat or use in their everyday life. So, if you're going to spend the money on favors, consider getting something edible or practical. Food can be a great way to highlight the location where you're getting married. You might consider giving small jars of things like syrup, honey, jam, or packs of baked goods from a local shop to support the community. Or, look for items that can actually be used, like candles, soap, coffee bags, or matches. Investing in disposable gifts that serve a purpose is a great way to ensure your favors don't end up in the back of a junk drawer.
No Water Outside the Bar
Staying hydrated is key for enjoying a wedding, and when the only place to get a glass of water is the bar, lines will grow long and guests will become thirsty.
What to do instead: Talk to your venue about water options. Ask if it's possible to have a separate space just for H2O, or if the serving staff is able to frequently refill glasses at tables. Making sure your guests always have quick access to water is one of the best ways to keep them satisfied and happy.
Late-Night Cake
Fact: Everyone loves dessert. Whether you're planning to serve cake or an alternative sweet treat, like ice cream, cookies or cupcakes, guests will be anticipating this part of the night, and they don't like to be kept waiting… especially when it comes to food.
What to do instead: Aim to serve the sweets midway through dancing, before people start leaving. Another thing we learned, though, is that guests don't always love breaking up the party to watch a cake-cutting moment. Pausing the dancing can actually slow down the vibe of the night, and once some guests leave the dance floor, they might not come back. To avoid this altogether, consider cutting the cake as the party goes on. It'll be an intimate moment for you and your spouse to enjoy together while everyone else continues on. Just make sure your entertainer announces when dessert is served so no one misses it!
Unassigned Seating
In theory, you might think that guests would enjoy having the option to sit where they please. But in reality, having unassigned seating at your reception can be a logistical and social nightmare. Foregoing designated spots can result in crowded tables and confusion for guests and venue staff alike. Plus, for invitees who may not know a lot of other guests, it can feel awkward to insert themselves at a full table of friends (or worse, end up at a table alone).
What to do instead: While it may seem like a headache, spending some time on a seating chart will be helpful for everyone. Not only will it give you peace of mind knowing that every head is accounted for with a seat, it'll alleviate stress for guests when it's time to sit down for dinner.
Obstructed Ceremony View
Your guests are going to your wedding to see you get married—so if their ceremony view is obstructed, that kind of defeats the whole purpose.
What to do instead: Be thoughtful about your ceremony seating arrangements. Are there any plants, poles, or structures that could block someone's view of the altar? If so, work with your planner and venue team to construct a design that gives every seat the best view possible. Another thing to consider is having an unplugged ceremony. You've hired a photographer to capture professional shots of your big day, and guests who can't see because of cell phones in their line of sight will be disappointed. Eliminating phones altogether can help ensure everyone sees clearly.
Confusing Schedules
Wedding vendors and guests alike agree that sticking to a schedule is one of the best ways to make your big day flow smoothly. As a guest, it can be quite frustrating to not know where to go and how long certain events will last, or what to expect throughout the duration of the day. Having an unclear lineup of events—or running way over schedule—will leave your guests feeling overwhelmed, bored, or confused.
What to do instead: It's for this reason that we recommend working with a planner or day-of-coordinator to help craft a wedding day timeline to keep the day's events moving. Put the schedule on your wedding website and on paper programs to keep guests in the know.
Long Cocktail Hour
Having a cocktail hour can be a major lifesaver, especially if you aren't going to do a first look. That chunk of time between the ceremony and reception is ideal for snapping the majority of posed photos on your shot list, and it also gives you and your spouse time to breathe in between the two biggest moments of the wedding day. But having a cocktail hour that goes well over an hour can be really awkward for guests. While this is a great chance for them to spark up small talk with others while enjoying drinks and appetizers, being in one spot for too long without many activities planned can get boring.
What to do instead: Do your best to limit cocktail hour to, well, an hour. You can also stretch it to 90 minutes if absolutely necessary, but consider giving guests activities to do during that frame to keep them occupied. Yard games, interactive food and drink stations, and live entertainment are all great ways to fill the time.
Uncomfortable Temperatures
Here's the thing: There are many things out of your control on your wedding day—especially the weather. You can't predict whether it'll be sunny and 90 degrees or cloudy and rainy, so try not to stress about the climate. One thing you can do, though, is prepare for common weather patterns.
What to do instead: Consider the time and location of your wedding. Will it be an outdoor ceremony in August? Provide guests with fans or novelty sunglasses. Are you swapping vows at a barn in the middle of fall? You might want to have blankets available in case it gets chilly at night. While guests certainly won't blame you for the weather on your wedding day, they will appreciate small gestures made to help them feel comfortable in the climate.
No Reception Activities
Wedding receptions are synonymous with dancing, but that's not the only way to keep guests entertained. In fact, quite a few of our followers said really enjoy when couples provide additional activities for guests. Of course, that's not to say you need to go all out with expensive entertainment, but remember that not every guest will want to dance the entire time, so providing them with options will make the night much more memorable.
What to do instead: Look into arranging a variety of reception activities. While games are an obvious way to keep people busy, you could also include additional things like food stations, performers, live painters, and so much more. Here's a roundup of entertainment ideas that go beyond dancing for your reception.
Lack of Direction
One last thing guests really don't like? Lack of direction. It's human nature to want to know what's expected of you, especially at a formal event. Showing up to a venue and having no idea where to go or what to do doesn't create the best guest experience.
What to do instead: Here's where that schedule comes in handy once again. Use your wedding website to give guests detailed directions on where to go and what to do upon arrival. Then, aim to have receivers or ushers near your ceremony entrance to direct guests and share any additional information they may need. Having structured direction will prevent guests from experiencing the ambiguous sense of "What now?" Putting in the effort to make sure your loved ones are taken care of is one of the absolute best ways to make them feel valued—and they'll definitely remember your wedding as one of the best they've been to.