The 12 Best Bed-and-Breakfasts for a Romantic Honeymoon
Historic rooms, cozy fireplaces and a picturesque atmosphere await.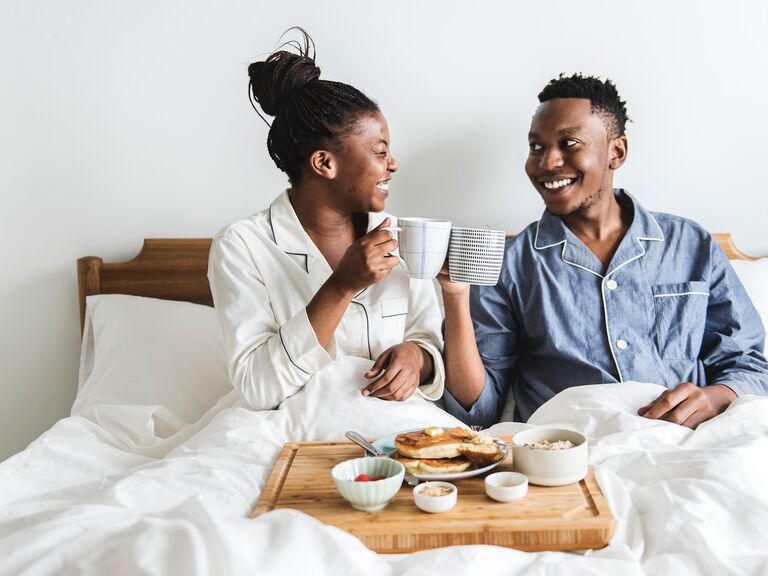 Rawpixel.com / Shutterstock
Bed-and-breakfast inns are like a home away from home—they're cozy, warm and probably smell like delicious breakfast food. Spending time at an all-inclusive resort can be fun, but sometimes you're craving a relaxing and picturesque stay at a bed-and-breakfast that's off the beaten path.
Keep reading for the best honeymoon bed-and-breakfasts out there, from charming country inns with quaint dining rooms to cozy, seaside spots that are perfect for a romantic getaway you're sure to remember for years to come.
Visit Eureka Springs, Arkansas, to stay at the popular and romantic Arsenic and Old Lace Inn bed-and-breakfast. Located just two blocks away from the city's Historic District, you'll be able to spend your days walking around shops and art galleries and your nights relaxing in your quiet guest room. The gourmet breakfast will give you the energy you need to explore during the day, and your private whirlpool tub will help you unwind at night.
Enjoy Maine's beautiful coastline when you stay at The Norumbega Inn in Camden. In the morning, enjoy a fancy three-course breakfast made from local ingredients. Stay in one of the 11 unique guest rooms, including the Victorian-style Kensington Room; the Balmoral Room with giant bay windows and panoramic views; and the two-room Library Suite, which, you guessed it, features its own library. Aside from the gorgeous suites, you'll find a variety of cozy sitting rooms and common spaces throughout the building.
Venture up north to find the Birds of a Feather Victoria bed-and-breakfast in Victoria, British Columbia. With self check-in and only three suites, you'll be about as secluded as it gets. Due to COVID-19, breakfast will be grab-and-go, but it features freshly baked goods that will have your mouth watering. The Honeymoon Suite features a hot tub, heated floors, a fireplace and a fully equipped kitchenette to make your stay more homey. If you're there during the warmer months, you can hop in one of the complimentary kayaks or canoes to explore the lagoon.
4. Brickhouse Inn, Gettysburg, Pennsylvania
Learn about the historic city of Gettysburg, Pennsylvania, when you visit the rustic Brickhouse Inn. Featuring both indoor and outdoor breakfast areas, this cozy inn is great for history buffs who want to incorporate trips to the museum into their romantic honeymoon getaway. Stay in the restored Victorian Mansion, featuring authentic furniture, or hole up in the Welty House, which played a part in the Battle of Gettysburg during the Civil War. Don't forget to visit the gardens or admire the view from the many patios and porches.
5. Port D'Hiver, Melbourne Beach, Florida
Escape to sunny Florida and stay at Port D'Hiver, known for its romantic rooms and beautiful beachfront location. Relax under the palm trees when you get your full breakfast delivered straight to your private porch. Throughout the day, indulge in complimentary freshly baked cookies, appetizers and drinks. The 12 spacious rooms located in this luxury inn on Melbourne Beach are perfect for rest, relaxation and enjoying the wonderful weather while having some one-on-one time with your spouse. Book one of the three honeymoon packages for the ultimate pampering.
Head down to New Orleans to stay in The Soniat House Hotel, a bed-and-breakfast that's both historic and luxurious. Not only will you be able to stand on one of the wrought-iron balconies that make New Orleans architecture so picturesque, but the hotel's 30 rooms and suites are sure to impress you with their style and modern amenities. Located right in the French Quarter, you won't have a hard time finding exciting places to see and tasty food to eat. For the perfect weekend getaway, book the three-night Romance Package, which includes a delicious courtyard or in-room breakfast, a romantic dinner at an award-winning restaurant, and champagne when you arrive.
The Dreamcatcher bed-and-breakfast will make all of your wildest dreams come true. Located in the beautiful Taos, New Mexico, the inn features Southwestern-style rooms featuring either woodburning or gas fireplaces. If that doesn't set the mood, a stroll through the beautiful gardens will do the trick. Each of the seven rooms has its own private entrance from the courtyard, so you don't have to worry about privacy. In the morning, you can relax in a hammock and eat a gourmet breakfast made from local ingredients.
Go international when you visit the Salerno Centro bed-and-breakfast in Italy. Located southeast of Naples, this port city is on the coast of the Tyrrhenian Sea, and it boasts beautiful views and a wonderful atmosphere. The bed-and-breakfast is set up in a 16th-century historic building in the center of the city. Sit on the beautiful terrace and take in the views as you enjoy your made-to-order Italian breakfast. While you're there, visit the Il Giardino della Minerva, or Minerva's Garden, which is just a short walk away.
If you're looking for a European bed-and-breakfast but you're not interested in hopping on an eight-hour flight, L'Auberge Provencale is a little closer to home and will give you all of the splendor of the French countryside. Situated in the Shenandoah Valley in Virginia (about an hour and a half from Washington, DC), the inn has 11 spectacular guest rooms, an award-winning restaurant and a beautiful backdrop. Grab the Evening of Romance package to experience the perfect getaway, or take the four-hour chauffeured tour through local wineries in a private luxury sedan.
If you and your love are outdoor adventurers, Berry Springs Lodge bed-and-breakfast in Gatlinburg, Tennessee, won't disappoint. The luxury resort is snuggled into the foothills of the Great Smoky Mountains, so you know those views are going to be great for your Instagram. When you're not relaxing in one of the gorgeous lodge rooms (we recommend snagging one with a private balcony or hot tub), you'll be able to explore Gatlinburg, hit up Dollywood or hike through Great Smokey Mountains National Park. You'll feel snug and cozy in the lodge, which features rustic cabin decor and updated amenities.
Enjoy a historic trip to the John Rutledge House Inn in Charleston, South Carolina. This inn was originally home to—you guessed it—John Rutledge, one of America's Founding Fathers. Built in 1763, the building's marble stairs and wrought-iron balconies make it truly breathtaking. Enjoy the delicious deluxe breakfast, an afternoon tea accompanied by hors d'oeuvres, and an evening cocktail. The inn is located within walking distance from many top places to see in Charleston, like the Waterfront Park and the Calhoun Museum.
You don't need to visit the East Coast to see the White House—just stay at the White House Carriage House in Portland, Oregon. Although the Portland White House's main building is not currently open, you can still stay in the Carriage House when you book through the building's sanctioned Airbnb page. This three-bed guesthouse is perfect for those interested in staying at a quaint place that's sure to leave a lasting memory. The mansion is located in Portland's Irvington District and provides everything from super-comfy bed linens to a coffee maker and a dedicated workspace.