11 Suction Vibrators That'll Show You What the Suck You've Been Missing
They're quickly becoming a nightstand drawer mainstay.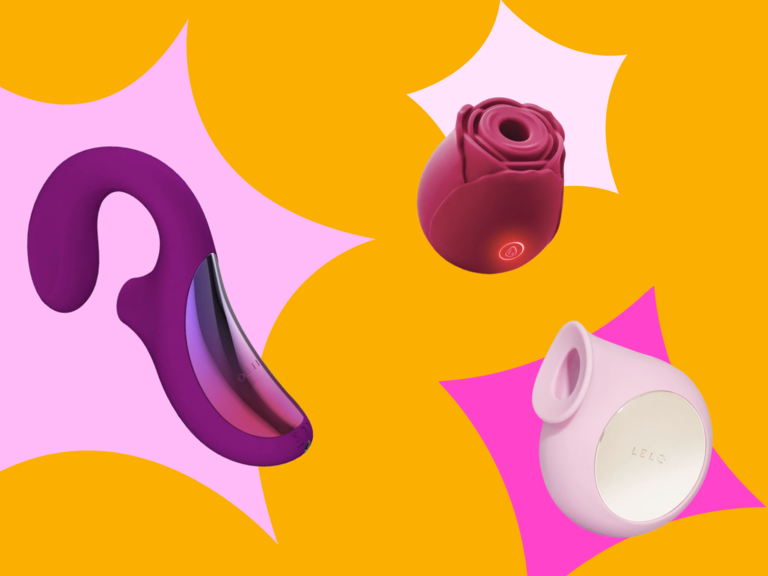 Photo: Babeland; Design: Natalie Romine
We have included third party products to help you navigate and enjoy life's biggest moments. Purchases made through links on this page may earn us a commission.
You know what certainly doesn't suck? Masturbation. And you know what does—in only the most literal sense of the word? A suction vibrator. This category of sex toy focuses on clitorial pleasure by using air pressure and vibrating suction (in lieu of traditional, buzzy vibrations) to provide toe-curling stimulation. Growing in popularity (I mean, have you seen the hype surrounding the rose suction vibrator on TikTok?), a suction vibrator is quickly becoming a nightstand drawer must-have.
If you're unfamiliar with suction vibrators, Lisa Finn, Sex Educator at Babeland is here to provide all the details on these clitoral stimulation toys. And if you're on the hunt for your own, you can find the best suction vibrator for you below, too!
Scroll on and find out what the suck these things are all about anyway.
In this article:
The Best Suction Vibrators To Buy Right Now
Best Overall: Satisfyer Pro 2, 2nd Generation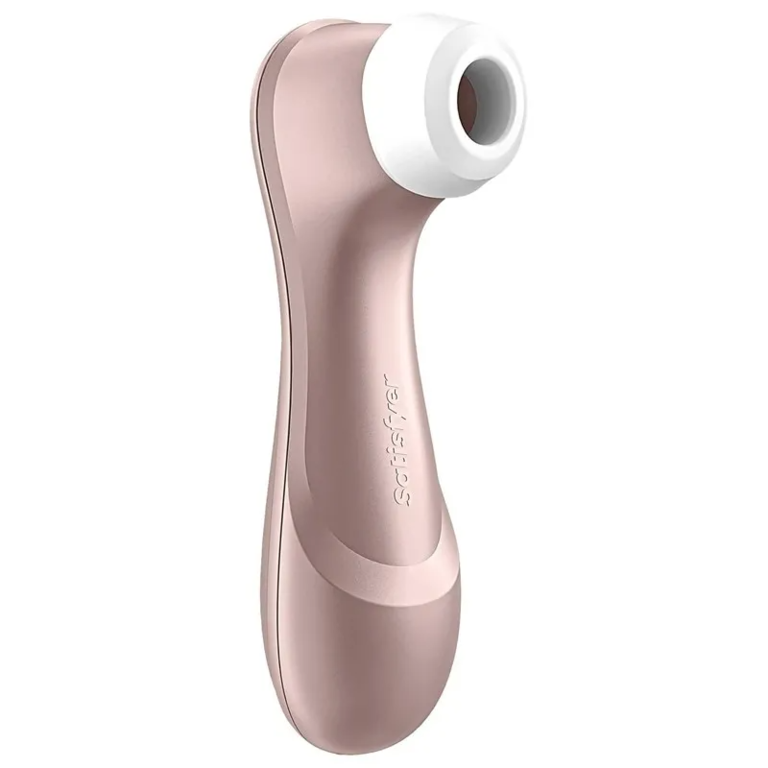 This sex toy is beloved by both those experienced with suction vibrators and first-timers. Its tried-and-true features make it the best overall in our book, with such details including oral-sex-inspired clit stimulation, a scoop-shaped tip, 11 various modes and intensities and waterproof construction.
Notable Review: "Purchased this for the wife of 26 years. I'm telling you, when this thing sucks the right spot on her clit, it's a volcanic eruption. Many toys in the arsenal, but this puppy is for real and all it claims to be. Satisfied her in less than three minutes—un-freaking-real."
Best Suction/Vibrator Duo: Satisfyer Pro 3 Air Pulse Stimulator + Vibration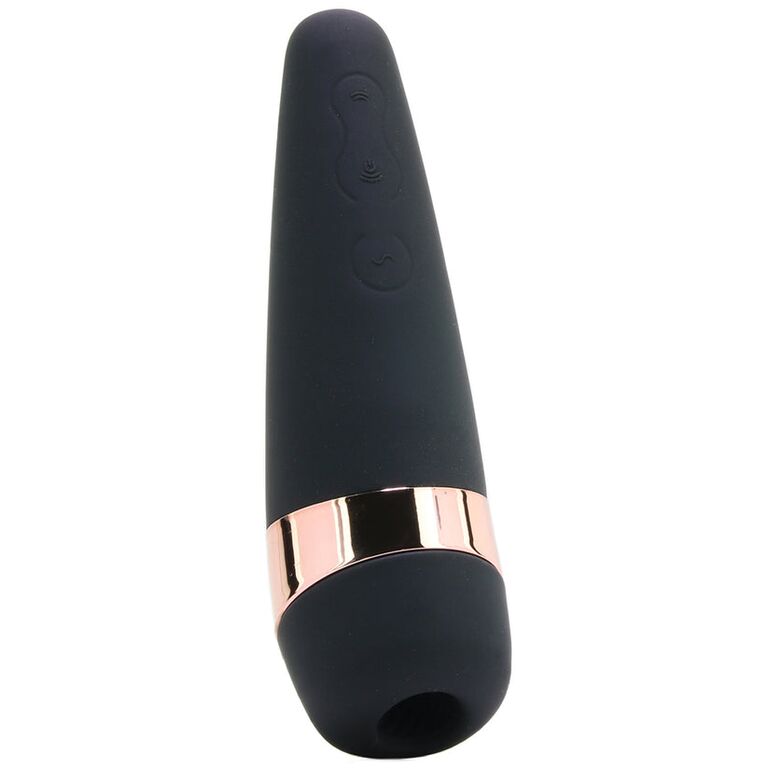 The sex toy equivalent of having your cake and eating it too, this vibrator with suction makes it so you don't have to choose between sensations. One end delivers 11 modes of touchless air pulses to the clitoris, while the other operates as a traditional vibrator with 10 orgasmic, buzzy modes. (That's over 110 possible vibration/suction combinations, BTW.)
Notable Review: "I bought this right at the beginning of the pandemic and have since bought another 25 or so toys. But no matter what I buy, I always use this. It is so amazing to use in any position, with other toys and especially in the shower. It's super difficult for me to orgasm without clitoral stimulation, but this always leaves me trembling."
Best G-Spot Suction Toy: Womanizer OG Pleasure Air G-Spot Stimulator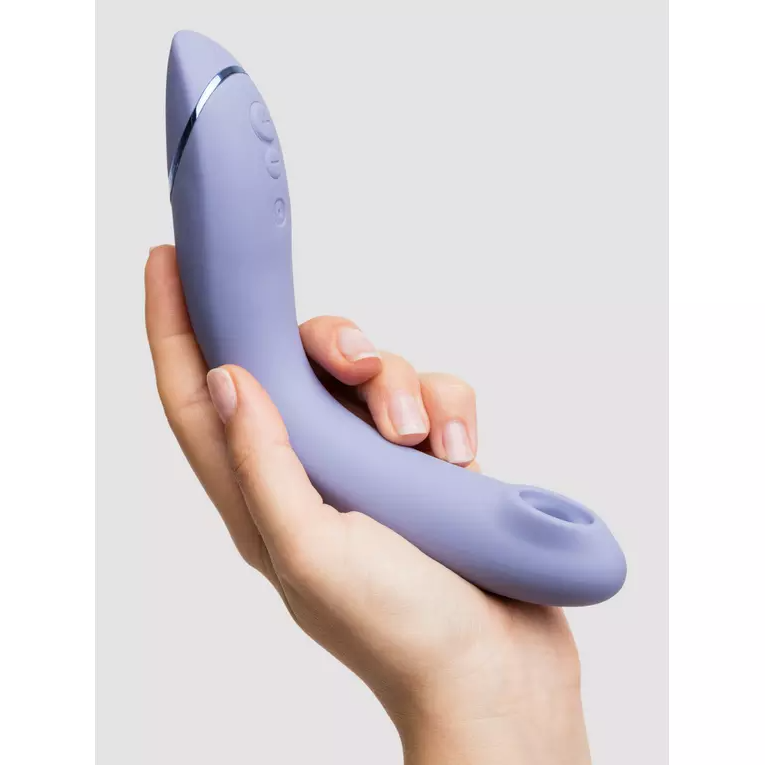 While most suction vibrators are designed with the clitoris in mind, this Womanizer wand delivers pulsating, massaging air pressure to the G-spot. With 12 intensity levels and three vibrational modes, this impressive gadget also features an "afterglow" function that reverts the toy back to its lowest setting for a gentle comedown after an orgasm.
Notable Review: "It took a bit of time to get used to using the OG, but as soon as it was in the right spot it was amazing! I just completely relaxed into it and let the toy do all the work and it did not disappoint. The feeling the air stimulator gives you is second to none!.. My whole body was shaking and the orgasms were incredible!"
Best for Dual Stimulation: Lelo Enigma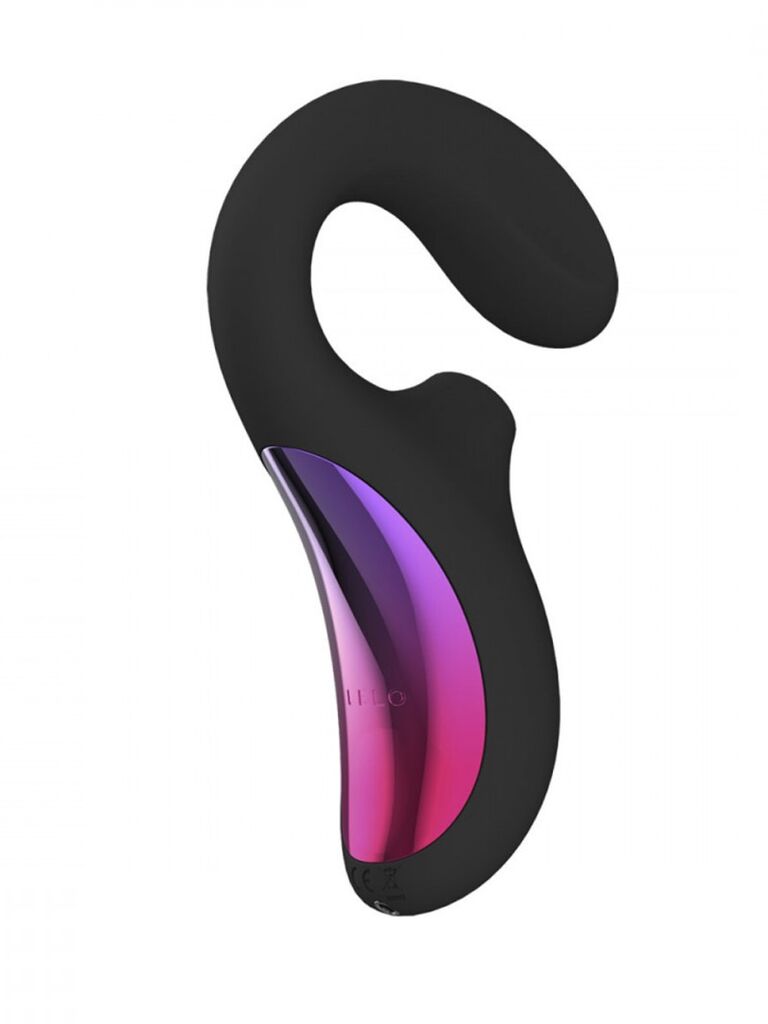 Thanks to its patented SenSonic technology, the LELO Enigma delivers simultaneous clitorial and G-spot pleasure that's completely in-sync for "all-encompassing orgasms." Plus, it provides sonic wave stimulation to the clit for deeper, gentler sensations.
Notable Review: "Of all my toys, this has been my favorite since I got it almost a year ago. The shaft is really soft and bendable, so you can push it in as deep as you wish and feel the rumble deep inside of you, or as shallow if preferred. The clitoral vibrator is excellent... It's quiet, waterproof and I take it everywhere with me when I travel. I highly recommend this toy. Expensive, yes, but I've definitely gotten my money's worth."
Best for LGBTQ+ Humans: 2 Become 1 Strapless Strap-On With Air Pulse Clit Stimulator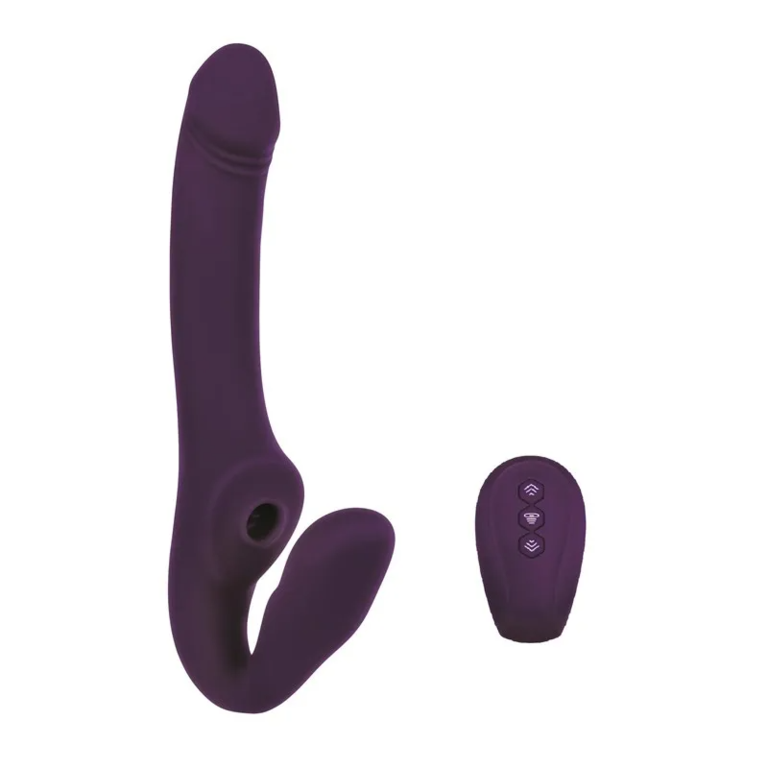 Anyone of any gender or sexuality can use suction toys, but this one is a standout for LGBTQ+ couples in particular—or cis-het couples interested in anal play and pegging. This variation on a strap-on dildo is worn inside one partner while penetrating the other. The star of the show here, though? Air-pulse suction that provides targeted clitorial stimulation to the wearer.
Notable Review: "I'm a trans man who bought this with the intent of using this when I started having more casual sex with people. However, I had never used something with this kind of clitoral stim[ulation] so I tried it solo. And my GOD. I don't need anything else... The air pulse, I was worried that the stimulator would be too sharp—but it's just incredibly intense. Like to a level that's unheard of... I have NEVER felt this good from a toy in my LIFE... I have never felt such gender euphoria and intense pleasure in my entire life.
Best for Beginners: Unbound Babes Puff Suction Toy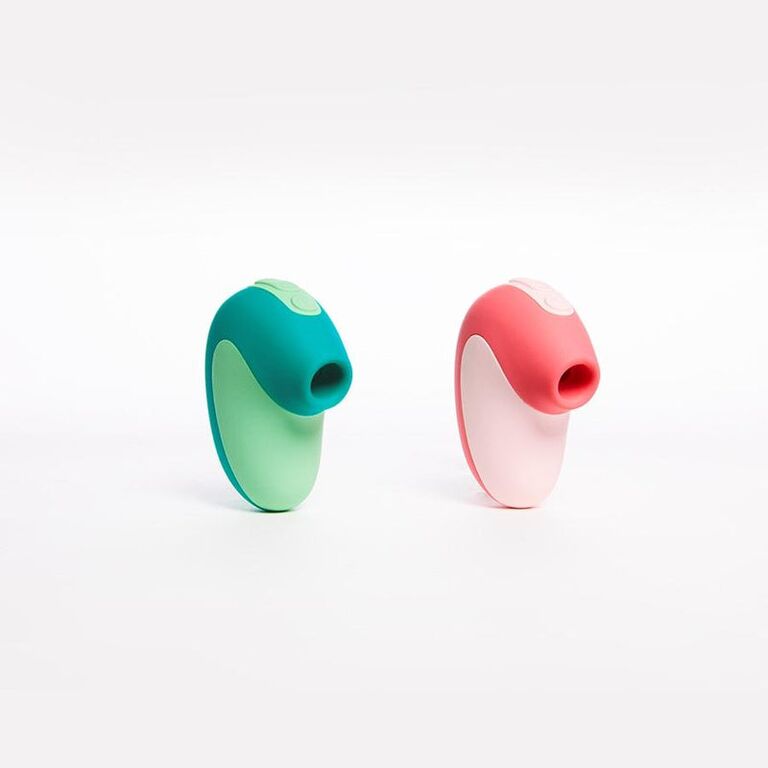 Since they offer contactless sensations, suction toys can be particularly pleasurable to beginners or those who are especially sensitive. "While a vibrator needs to be in contact with the skin for stimulation, air pulse toys surround the clit without touching the head directly," explains Finn. "It's the air itself that's coming into contact with the body."
Notable Review: "It's different than the feeling of a wand or a bullet—but it's an amazing feeling on its own. I would recommend it to anyone who's sensitive with their clit."
The Social Sensation: INYA The Rose Clitorial Stimulator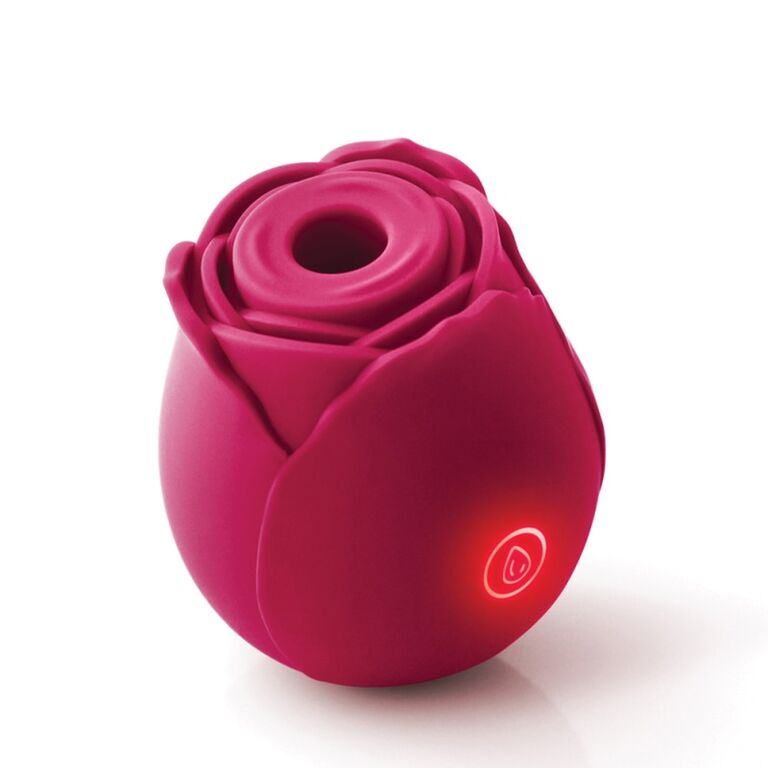 "It definitely went viral for a good reason," Finn says of this fan-favorite toy. "Having a friendly look to it in a recognizable shape makes it more accessible for those who may feel intimidated by the prospect of a sex toy." But it's just not aesthetics that this baby has going for it: "The Rose also combines vibration with air suction, so you get a sensation that's much different than just vibration or just suction," adds Finn.
Notable Review: "Holy mother of god, this thing is incredible. The first time I used it by myself, I came maybe harder than I ever had before. When I used it with my partner, he had to try and tell me to keep it down because I was being so much louder than I'd ever been. I've used one or two other suction vibes, and they were fine; this one is so, so good."
Best Suction Toy for Penises: Arcwave Ion Penis Stimulator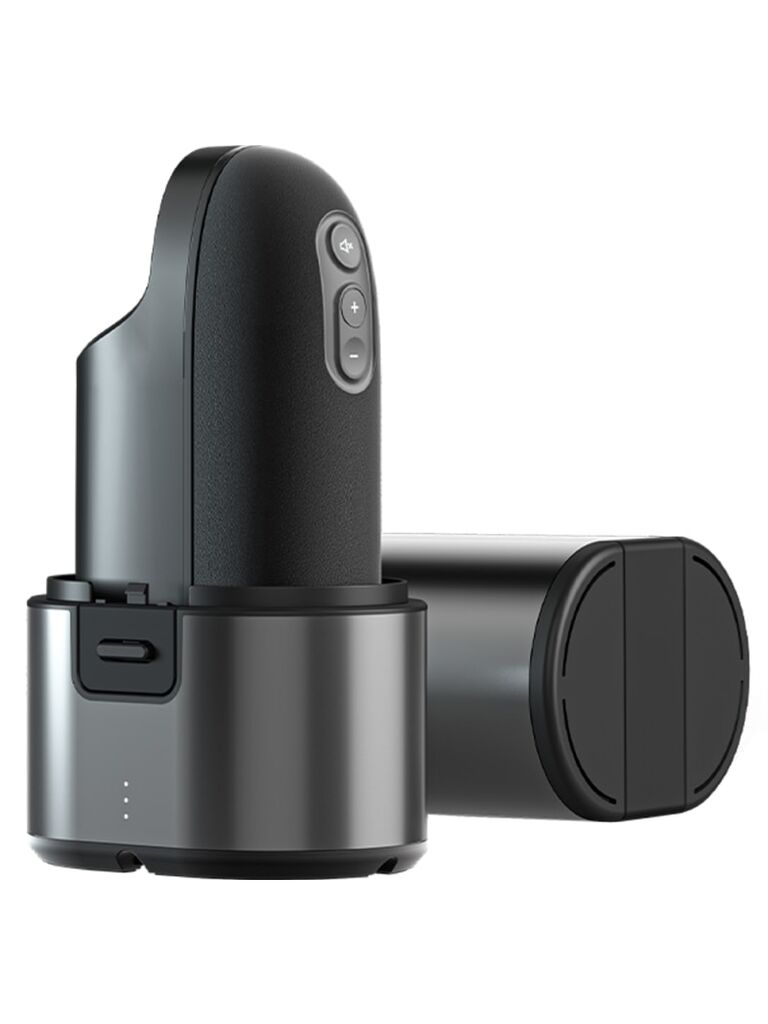 People with penises can get in on the air pulse action, too, with this suction sex toy. Once inserted in the canal, the penis can experience powerful air pressure at eight different intensity levels. (If the sensation is ever too much, pulling out slightly will instantly stop stimulation.)
Notable Review: "Best sex toy I have ever bought! EXCELLENT vibrating/pulsating power. And very easy to clean!"
Best Suction Toy for Travel: Diskreet Air by Bellesa
Whether you're a jetsetter, searching for the perfect after-dark honeymoon accessory or just don't want something that screams "sex toy," the Diskreet Air by Bellesa is bound to be your new BFF. Like its name suggests, it is awfully discrete, thanks to its clamshell travel case that doubles as its charger. Don't let the Diskreet Air's small size fool you, though: It packs plenty of power behind its five suction intensities in which negative pressure waves envelop and stimulate the clit.
Notable Review: "This tiny lil compact vibe is so wonderful and gets the job done—and multiple times. It's perfect for travel because of the case, and charging is super easy!"
Best Suction Toy for Couples: We-Vibe Melt App Controlled Rechargeable Clitoral Stimulator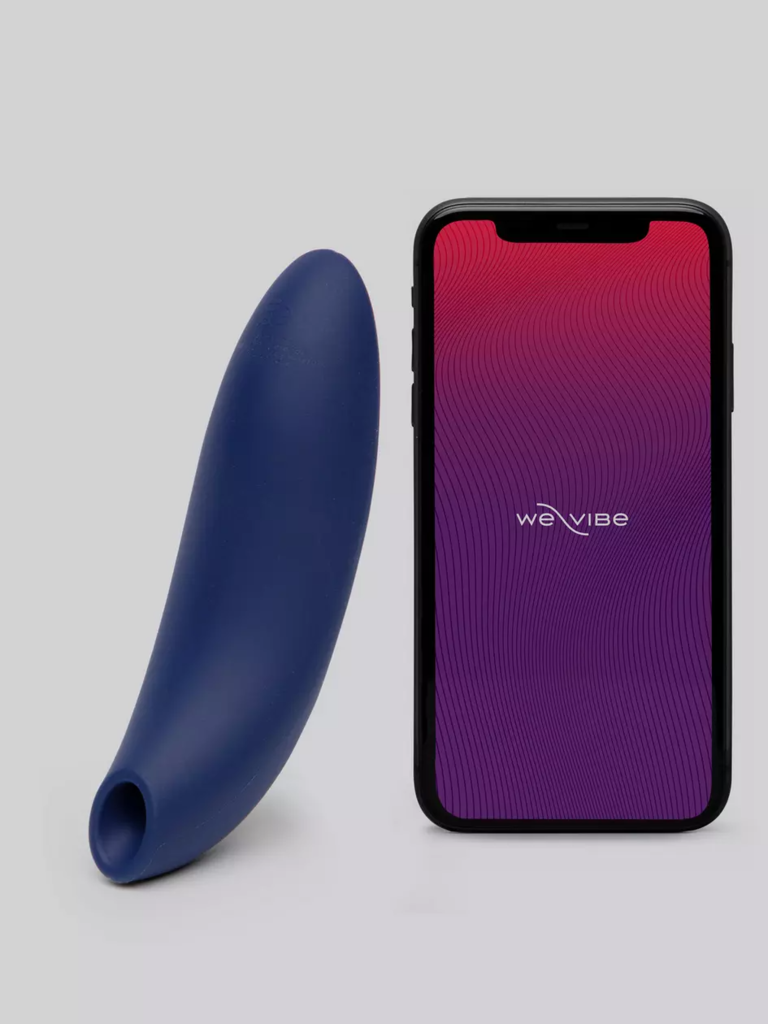 While most suction vibes can be used in both partnered and solo play, the We-Vibe clitorial stimulator was specifically made with couples in mind. This suction vibrator has a longer arm than most, making it easier for a partner to hold. Plus, it can actually be operated via an app, so your partner can control it themselves—whether they're in the same room or across the world.
Notable Review: "The biggest draw for this vibrator is the long-distance capability... The app is pretty fantastic so far, as it has a video call/voice call/text message feature built in. My partner and I typically use another app for sexting, but it was convenient to have it all in one spot... I have issues with orgasming, but this made me orgasm about four to five times! And when I say "orgasm", what I really mean is you should sit on a towel."
Most Unique Suction Toy: Thump by Bellesa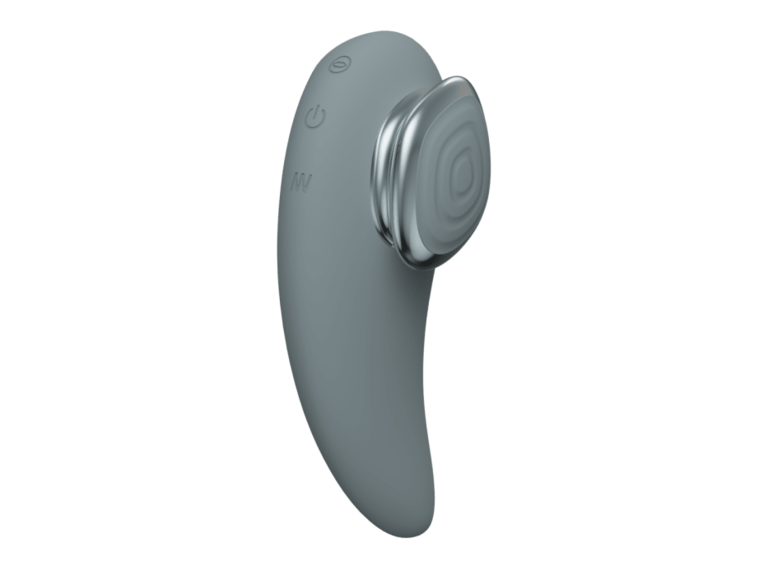 Cue the Greek chorus, this is the ultimate trifecta of suction sex toys. It wouldn't qualify for a spot on this list without a powerful clit sucker, and the Thump features a suction function that delivers pulsating air pressure to the clitoris over five levels of intensity. Want to mix it up? Its body provides traditional, rumbly vibrations, too. But what makes this toy truly unique is its clitoral thumping mechanism designed to provide stimulating palpitations to the clit (and lowkey heart, if we're being honest.)
FAQs About Suction Vibrators
Are you a freshman when it comes to getting frisky with sucking sex toys? Not to worry: Here's the 101 on all things air pulse vibes, including how to use a suction vibrator.
What Exactly Is A Suction Vibrator?
As Finn explains, "Most vibrators use a motor that is specifically weighted to create a lack of balance, making the motor rock or shake as it goes, creating that vibrating sensation." A suction vibrator, on the other hand, operates a bit differently—thus, creating a different sensation.
"Suction and air pulse toys depend on the movement of air, rather than the movement of the motor, to create the sensations felt on the body," says Finn. "On many suction toys, like the INYA Rose, a silicone diaphragm right inside the opening of the toy moves up and down to create the pulsation and pressure that can mimic the sensation of someone gently sucking on the clitoris—or wherever else you may use it."
How To Use A Suction Vibrator
Whether you're playing on your own or with a partner, using a suction sex toy—or any sex toy for that matter—is about learning what feels good on your and your partner's bodies. Don't be afraid to communicate and experiment!
Here are some tips for getting started with suction and air pulse vibes.
Many vagina-owners love using suction toys as a prelude to partnered sexual activities, such as penetrative or oral sex. (They can help increase blood flow to the clitoris and boost arousal!)
While a clit suction vibrator may be the first thing you think of when it comes to air pulse toys, know that these vibes can be used to stimulate other erogenous zones, too, such as the nipples.
People with penises should consider suction sex toys, as well. (The sensation can feel great on the penis and frenulum.)
Apply lubricant for slippery sensations: "Not only will lube help to enhance the experience by cutting down on the friction that vibration and suction can create," says Finn, "but lube will also help to create the seal between the toy opening and the body, trapping the air inside to make sure it's targeting that feel-good spot. It's almost like how a suction cup works better if it's a little bit wet before you stick it onto a surface."
While most sex toys are designed to, as Finn explains, "create a seal between the body and the toy, so all of that sensation is targeted to where the opening is placed," try hovering over it over erogenous zones or gently grinding it as you play. See what feels good!
Many suction sex toys are waterproof. Look to the label to be sure, and then mix things up by using it in a steamy shower sesh.