The Best Amenities The Knot Editors Have Ever Seen at Weddings
The Knot editors share tips and personal anecdotes about eclectic entertainment and awe-inspiring amenities that will make your wedding day even more memorable.
by Ivy Jacobson and Alexis Jones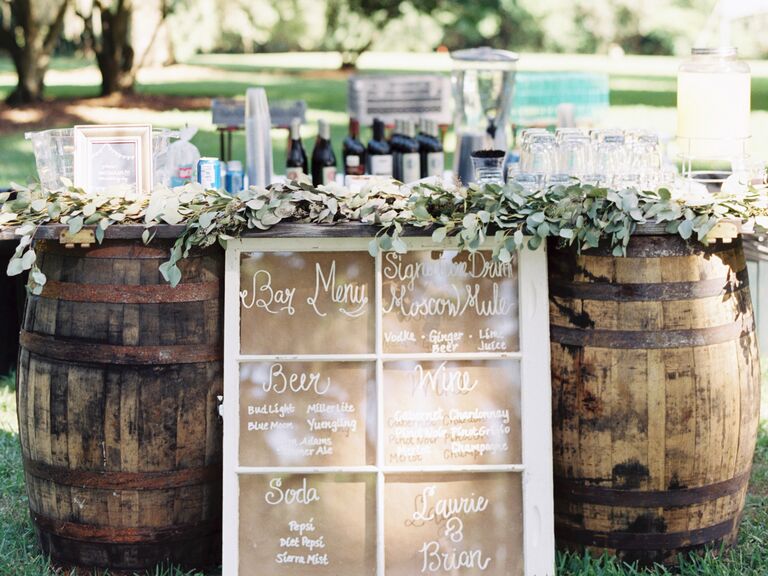 Cassidy Carson Photography
While a wedding is about celebrating the couple, it's also important to cater to your guests. You want them to remember the little things, such as providing a well-crafted welcome bag or flip-flops for beachfront nuptials. It's taking the extra step and considering their preferences that'll make your wedding truly unforgettable, so The Knot editors sounded off on their favorite amenities, entertainment and guest tips below.
"The best amenity was bug spray at one outdoor reception, and spray deodorant in a bathroom amenity basket at a Florida wedding. (It feels dirty to rub a stick against your skin that other people have used, but spray deodorant keeps things sanitary.) Let's be honest, everyone sweats on the dance floor." —Andrea Fowler, Style Editorial Assistant
"My favorite amenity is definitely the Pittsburgh tradition of having a cookie table, which is an arranged spread of delicious, homemade cookies at the reception." —Kellee Kratzer, Managing Editor
"The key to my heart is a souped-up welcome bag—there's nothing quite like a gift waiting for you in your hotel room. This tote was awesome and the things inside were so beautifully curated, packaged and tied. It made me feel so special and excited to see what other awesome details awaited. Another notable amenity would be the bluegrass band that played during cocktail hour at a barn wedding—the cocktails were flowing and the partners were swinging. And I couldn't give this tip without a humblebrag, but people still talk about the impromptu musical performance, a la Love Actually, at our wedding a couple years ago. It's my family's favorite movie so we had to re-create it, right down to instruments popping up among our wedding guests." —Lauren Kay, Senior Style Editor
"A unique amenity would definitely be professional sari drapers. Putting on cultural garb can be foreign to some guests, so I love when Indian couples offer a room with professional drapers to put on the ornate outfits. Another helpful hack includes links (on the wedding website or via email) to local places for hair, makeup and nails. And as another source of entertainment, why not hire a caricature artist? I think this just speaks for itself—hilarious!" —Stephanie Cain, Real Weddings Editor
"I'm not a big fan of favors because, realistically, when am I ever going to use a coaster, picture frame or glass with someone else's initials on it? So I love all food favors, especially the late-night snacks. One, it's a great break from drinking and dancing, and two, it's usually from some cute place the couple loves that you might never have tried on your own. So basically I love food trucks, cotton candy carts—all food on wheels!" —Katie Kortebein, Research Assistant Editor
"I went to a wedding in St. Louis at the Missouri History Museum and we were able to look through the exhibits during cocktail hour!" —Maria Bouselli, Senior Copy Editor
"One of my favorite amenities was from a wedding I attended in Napa. There was a welcome bag full of yummy local treats from around the area and a voucher for wine tasting with my plus-one. It even included a free bottle of wine to remember the trip!" —Sarah Love, Associate Photo Editor