Bridal Party Fashion 101
Everything you need to know to outfit everyone else in your wedding.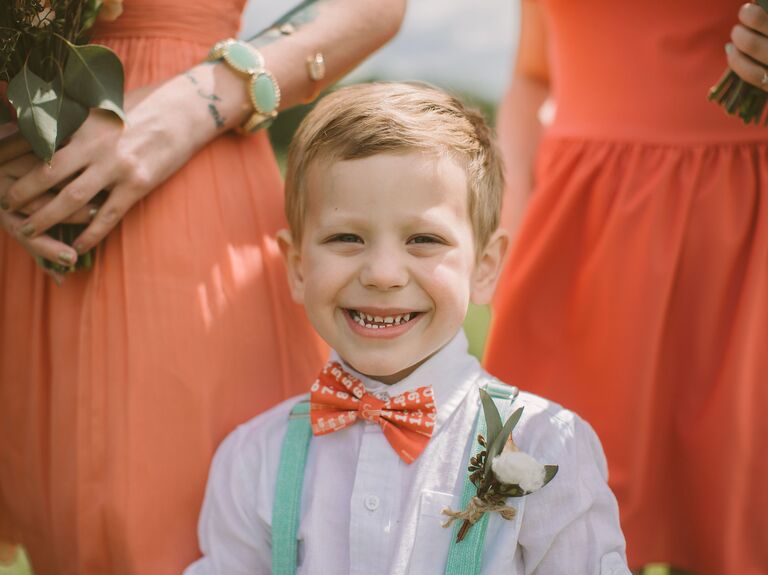 Hot Metal Studios
Coordination is not just for the bridesmaids and groomsmen. For many couples, helping all of your nearest and dearest choose their attire is an important part of making sure every look fits in with your overall wedding style. Here are some key tips for dressing the rest of the bridal party.
Flower Girl Frocks
Most little girls look for any excuse to dress like a princess, so being a flower girl can be a dream come true.
The Skinny Her parents traditionally pay for the flower girl's attire, so unless you're planning on making a gift of it, be sure to be up-front about this when you ask their permission to include her in your wedding.
The Formality: There are generally two schools of thought when it comes to dressing the flower girl: "She should match the bride" or "She should match the bridesmaids." Another option is to meet in the middle, and choose a white dress with an embellishment or a sash that matches the bridesmaids.
The Style: No matter how racy your maids might be, flower girl dresses are nearly always high-necked and tea- or floor-length.
The Accessories: Keep it simple. A basket of petals or a pomander is probably plenty for her to handle. Consider her age and maturity level: What is she really going to be able to wear or carry? If you know that floral crown is going to be off her head within minutes, you may want to reconsider it.
Ring Bearer Basics
Little boys in velvet shorts are pretty much a thing of the past. In fact, we've seen girls as ring bearers -- and even puppies.
The Skinny: Same deal as the flower girl—when you ask his parents if he can be in the party, you're also working from the assumption that they'll pay, so bring it up at the beginning.
The Formality: Look for a tiny tux if you're having a black tie affair. If your style is more casual, there are tons of cute options for these little men -- a lightweight cotton or linen suit, shortalls in a matching hue, or a sailor suit would all work well.
The Style: Unless he's wearing a full-on suit or tux, the ring bearer needn't match the groom or groomsmen perfectly. Give him a bit more color and flair than you would his older counterparts.
The Accessories: The most important accessory for this party member is the ring pillow, so choose one that complements your theme without clashing with the ring bearer's outfit.
The Moms
This is a big day for moms too (his and hers), as they probably haven't shopped for a dress this important since their own weddings.
The Skinny: Each mom should choose and pay for her own attire, but it doesn't hurt to give some guidelines. Try to make a plan to shop together, and keep it as fun and lighthearted as possible. Ultimately, it really does need to be her choice: Comfort is key since both moms will be circulating through the party and posing for countless pictures throughout the day.
The Formality: Use the bride and bridal party as a guide as far as formality -- you want everyone to go together, so considering skirt and sleeve lengths is key.
The Style: Their outfits shouldn't clash with the wedding colors, but the dresses don't have to match those of the bridesmaids. Instead, suggest a hue for each that complements her coloring but falls within the palette of your wedding party. And steer the moms clear of whites, creams, and ivories -- no one but the bride should wear those shades.
The Accessories: Give the moms corsages, pomanders, or small bouquets to help them further stand out.
Everyone Else
The wedding party doesn't end here. Consider giving clothing guidelines to the dads, ushers, usherettes, readers, and grandparents.
Dads: If the guys wear tuxedos, dads should too. That said, dads can wear tuxes on their children's wedding day even if the guys aren't wearing black tie. However, any formalwear should be in the same style as the groom's, so encourage the pops to get fitted for a modern cut—chances are, their waistlines (and perhaps their fashion sense) have grown since they last bought one.
Junior Attendants Select dresses or suits inspired by the older attendants' attire. Generally junior groomsmen can wear the same outfit as the other groomsmen, while for a junior bridesmaid, a slightly younger version of the dresses is best (in other words, nix the plunging neckline if she's under 18).
Ushers: The wedding style for your ushers should stick closely to that of the attendants, and the easiest way to coordinate is color. If your wedding is black tie, they should rent the same tuxes as the groom and groomsmen. If it's more casual simply tell them what to wear so that they match. Either way, give them slightly different boutonnieres so they stand out from the groomsmen in the photos.
Usherettes: Try a splash of color like a sash, corsage, or hair ornament in the same shade as the bridesmaid dresses. You might also ask them to wear their own dresses in your wedding colors, or to wear similar colors and styles to each other (you can't go wrong with black cocktail dresses).
Readers: Since they usually aren't in photos, you don't have to ask your readers to dress a certain way, but if you do, follow the rules for ushers and usherettes. Be sure to give them corsages or boutonnieres to denote their special status.
Grandparents: There aren't any rules for how grandparents should dress, but since they will be included in tons of family photos you'll want them to be looking their best. Think about having the MOB and MOG help their parents find outfits. You can't do it all!