16 Ideas To Inspire Your Nautical Wedding
Considering a seaside ceremony or a destination wedding? We've got all the tips and tricks for your nautical decor.
Whether you're thinking about an intimate ceremony in the sand or a full-on beach bash, take note of these nautical wedding decorations. From themed invitations to beach decor and favors, there are so many ways to incorporate sailing motifs and seafaring elements in the chicest of ways. Get inspired by some of our favorite ideas below.
1. Customized Invitation Suite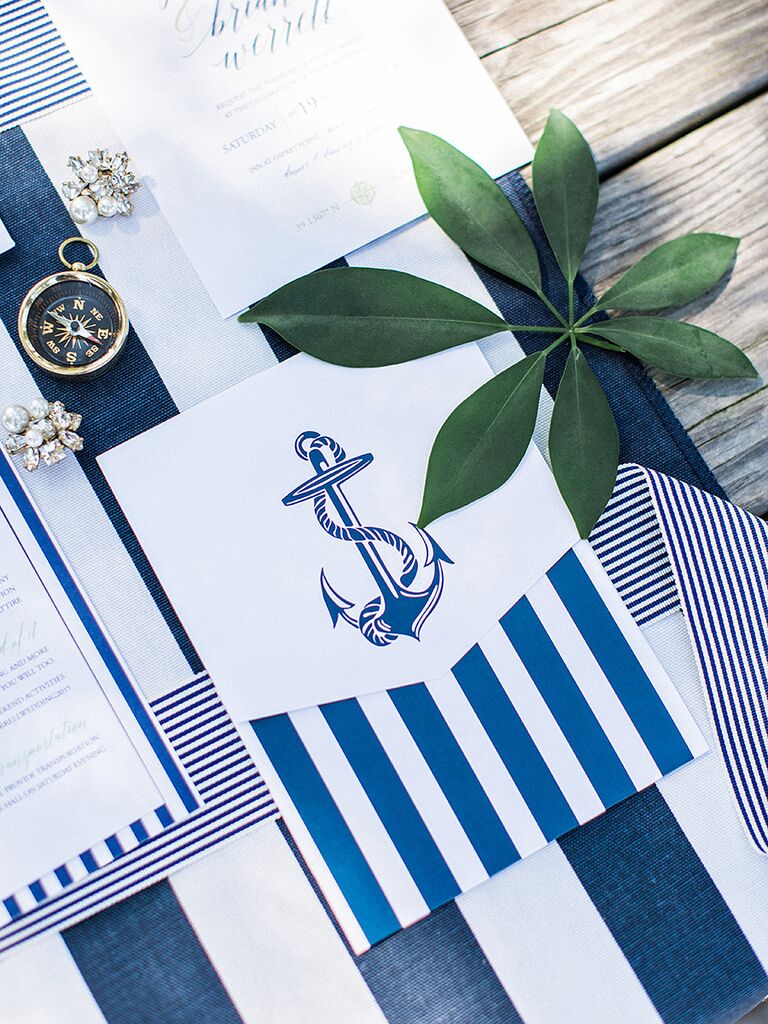 Inform your guests to the theme of the celebration by adding a custom logo or motif to your stationery set, like a piece of rope tied in a sailer's knot, an anchor, a helm (ship's steering wheel) or a lighthouse. If your wedding is going to involve traveling, consider adding in some local-specific information, like transportation and hotel suggestions, restaurants and activities for down-time.
From: A Nautical Waterfront Wedding at Osprey Point Inn in Rock Hall, Maryland
2. Bride and Groom Beachwear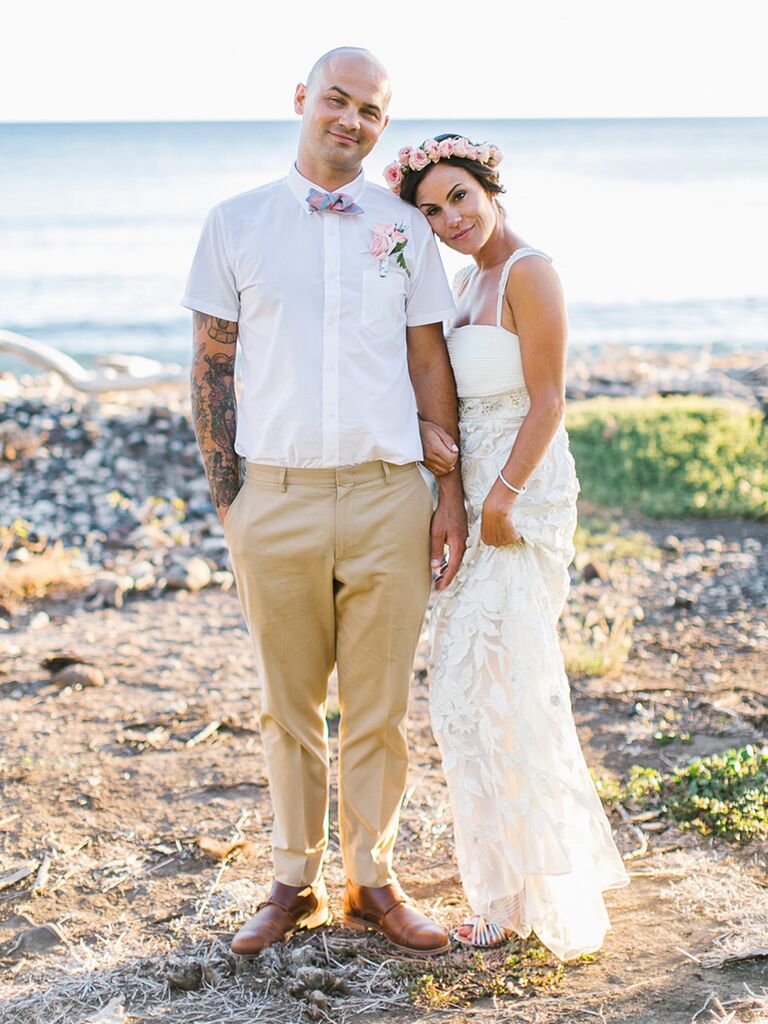 A low-fuss bohemian dress is a great option for keeping things light and breezy. If a ball gown is what you're after, opt for an A-line silhouette, which makes the overall look a little more casual. For the groom, a short sleeve button-down is casual, but stylish when paired with nautral dress pants.
3. Shoe Drop-Off Zone
If you think guests might be wobbling around in their high heels or getting too much sand in their formal shoes, offer the options of flip flops on the beach.
From: A Lakefront Backyard Wedding at a Private Residence in Tahoma, California
4. Beach Wedding Program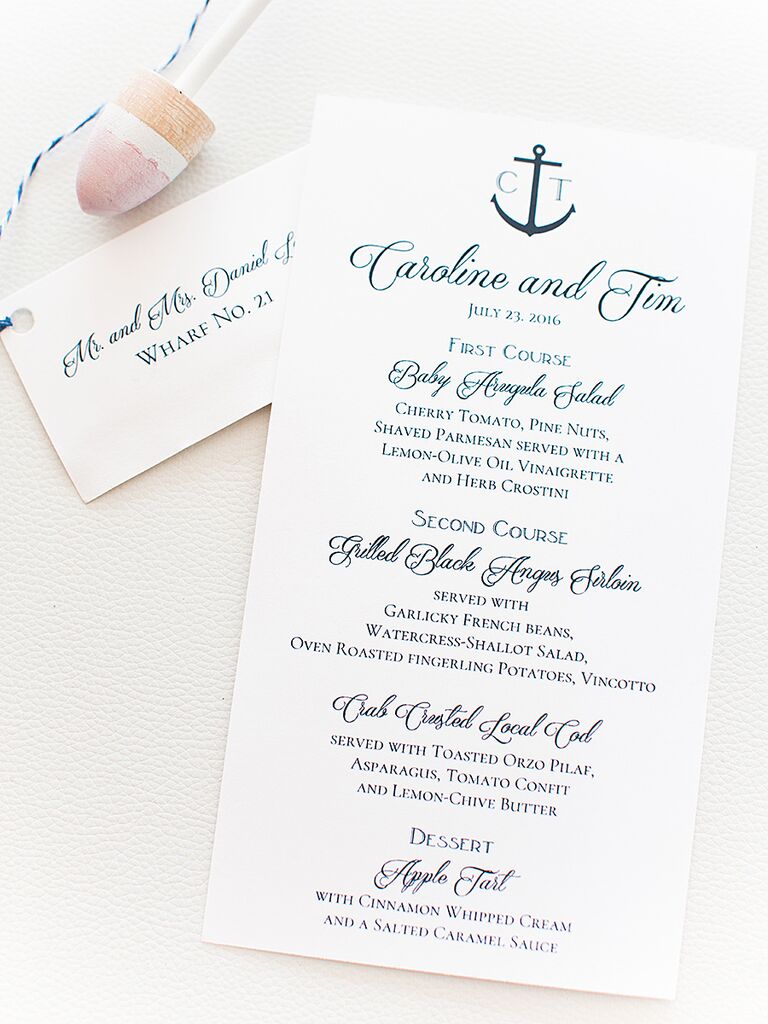 If you added a fun nautical motif to your stationery, include it on other paper items throughout your wedding day. The ceremony programs, escort cards and menu cards are all opportunities to personalize the dècor.
From: A Modern Nautical Wedding at Newport Beach House in Middletown, Rhode Island
5. Wedding Arch
You don't want any decor that will distract from the gorgeous waterside views, so think about what you can add to complement the scenery. A beachy arch, for example, adds a bit of charm and gives a sense of space to an outdoor area. Frame your vows with an arch made from linen fabrics and seashells.
From: A Blush and Gold Nautical Wedding at 'Tween Waters Inn Island Resort in Captiva Island, Florida
6. Waterside Reception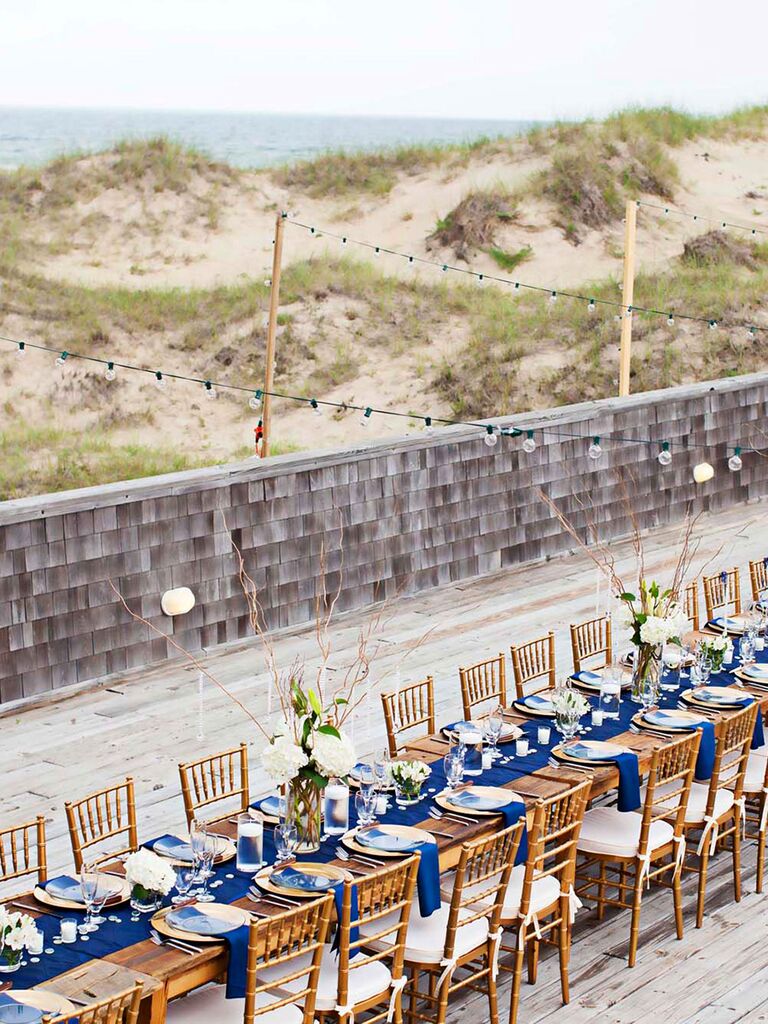 There aren't many decorations you can bring in that rival Mother Nature's beautiful scenery, so roll with the surroundings and let them take center stage—opt for a color palette that compliments the blue waters, sandy shoreline and natural grasses. If you have an open-air venue, it's always a good idea to have a plan B just in case the weather doesn't cooperate. Ask your planner about tent options or indoor spaces close by.
From: A Nautical, Beach Wedding at a Private Home in Corova, North Carolina
7. Nautical Escort Cards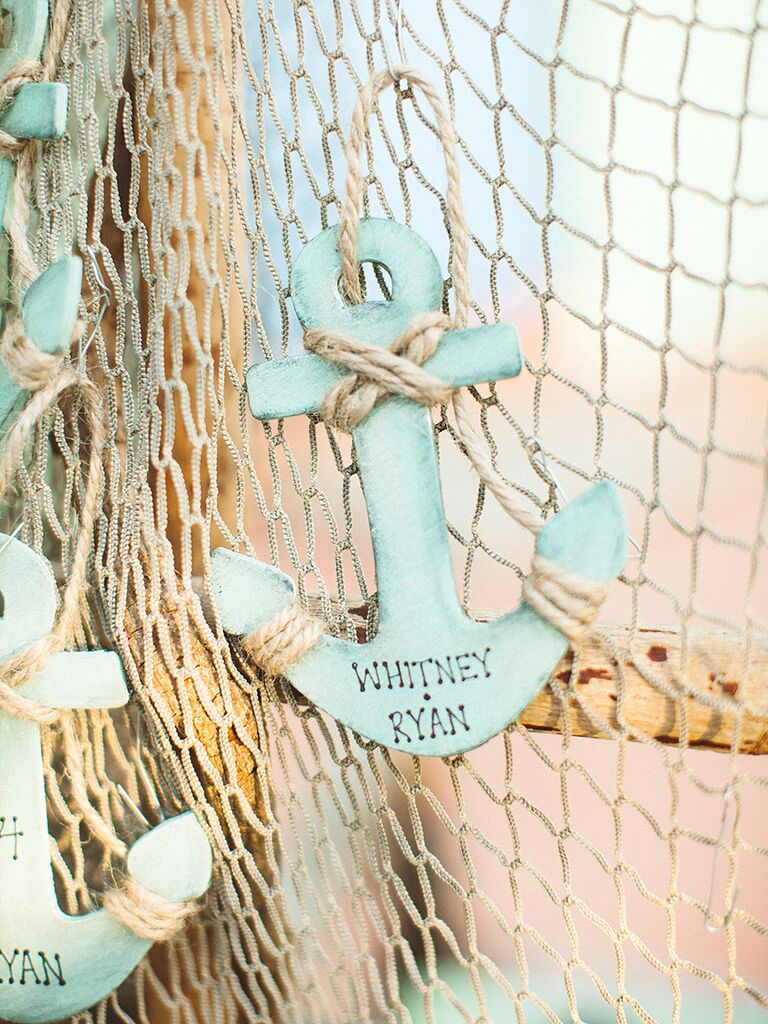 Cast a fishing net over a fence or a couple posts to create a one-of-a-kind escort card display. And with all those strong waterside winds, it's one of the most stable options, too.
From: A Coastal Chic Wedding at the Drop Anchor Resort in Islamorada, Florida
8. Under-the-Sea Decor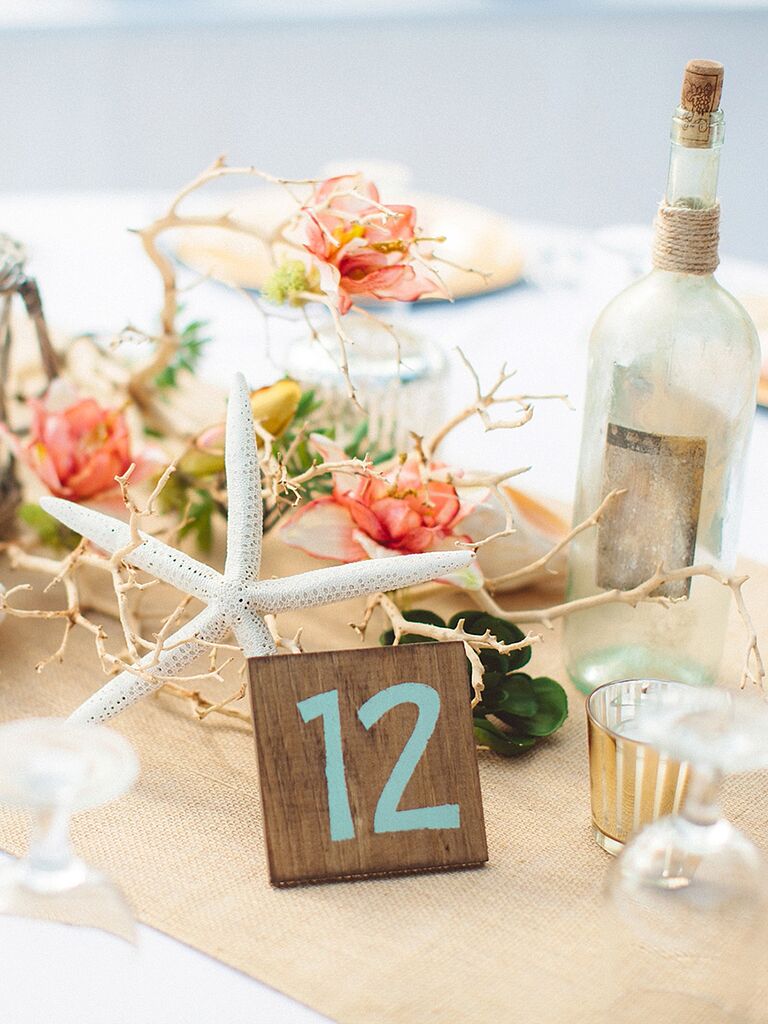 Dress your table with unique elements like sea glass, driftwood, seashells or starfish. For the centerpieces, try to keep them low and lush so they're not blocking any views. You could even get crafty with your floral arrangements and incorporate beach grass or sand-filled bottles for an authentic picnic-on-the-beach vibe.
From: A Coastal Chic Wedding at the Drop Anchor Resort in Islamorada, Florida
9. Anchor Table Settings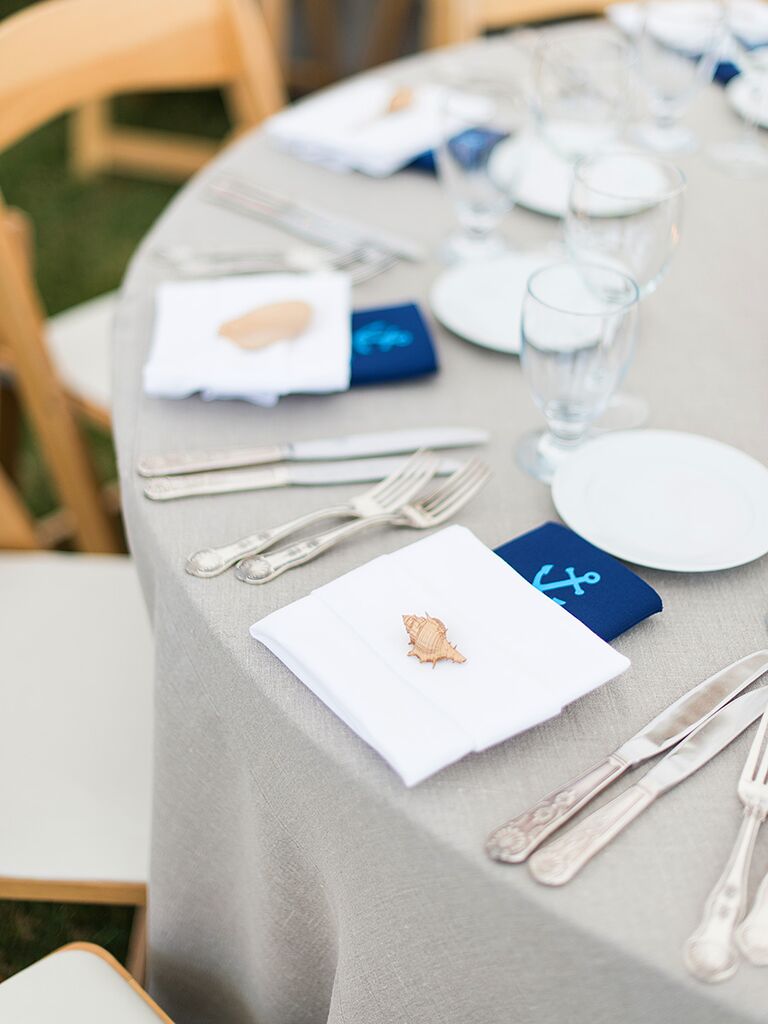 Light grey table cloths act as the perfect neutral to pair with nautical blue hues like navy and turquoise. For added fun, include a crossword puzzle at each place setting filled with sailor-speak so guests can test their seafaring knowledge while waiting for dinner. There's countless terms to choose from, like helm, stern, boom, bow and starboard.
From: A Nautical Wedding at Riverside Yacht Club in Riverside, Connecticut
10. Unique Table Numbers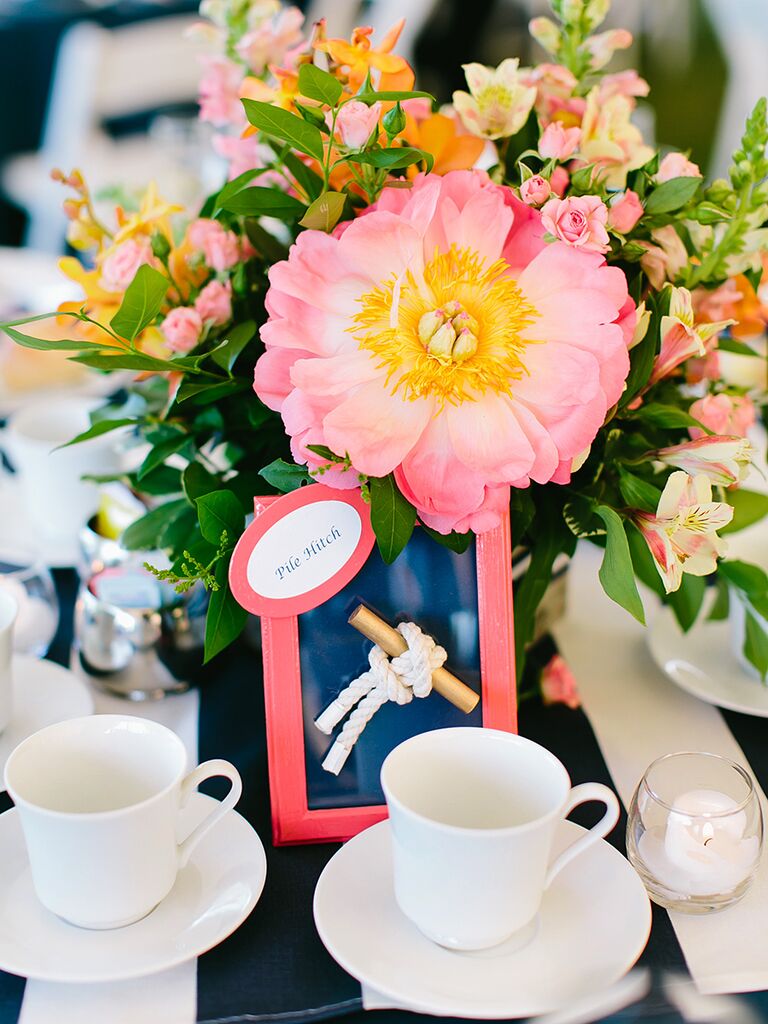 Get creative with your table numbers. Framed sailor's knots is a great way to test your guests' nautical knowledge and it's a fun swap for the typical numerals.
From: A Coral and Navy Nautical Wedding at Lake Hopatcong Yacht Club in Lake Hopatcong, New Jersey
11. Passed Apps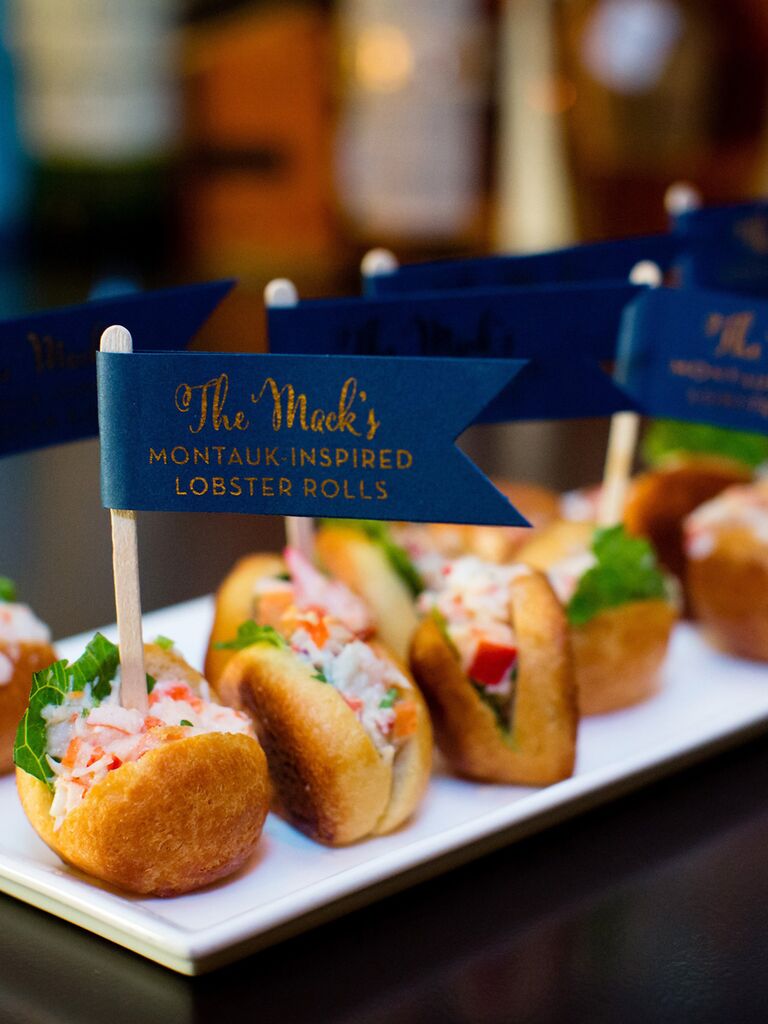 Would a nautical wedding be complete without some seafood? Since crab cakes and lobster rolls are usually made with sauces and seasonings, they tend to be an approved middle ground for those people who shy away from "fishy" food. Get local with your passed plates and adorn the appetizers with a little flag telling where the seafood was caught.
From: A Four Seasons Hotel Wedding in Austin, Texas
12. Raw Food Bar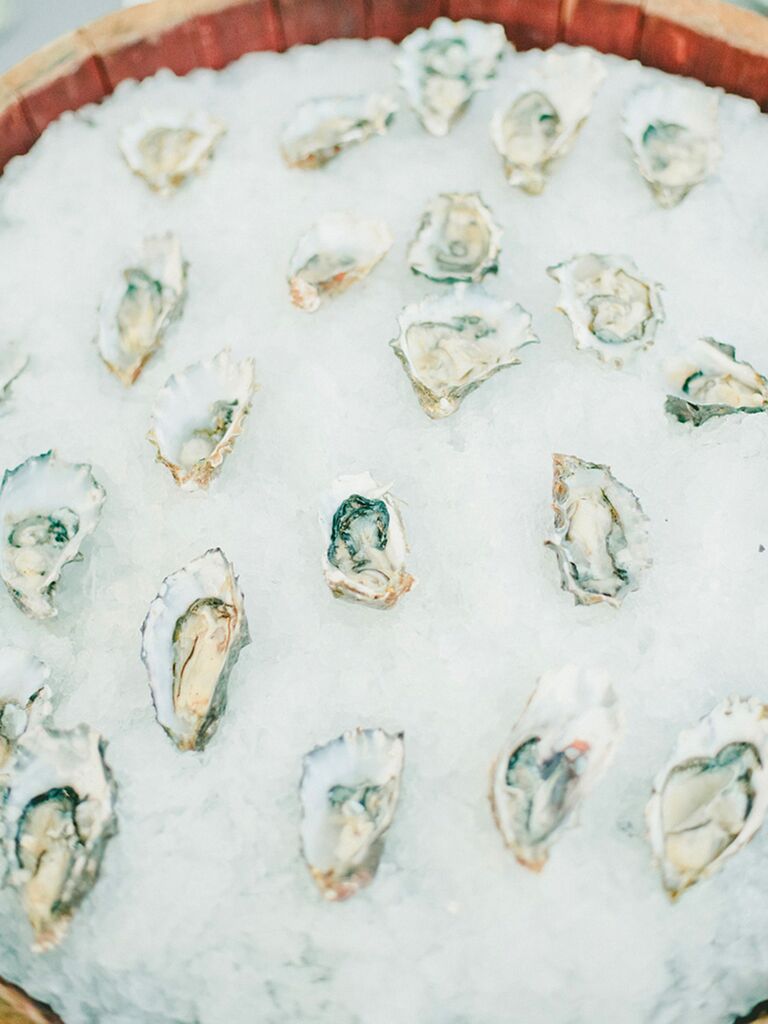 One of the perks of hosting a seaside celebration is the access to fresh seafood. Since you won't have to splurge on high shipping costs, think about having a small raw bar that can feature light bites that were caught day-of.
From: A Casual, Backyard Beachside Wedding at Sanderling Resort in Duck, North Carolina
13. Nautical Signage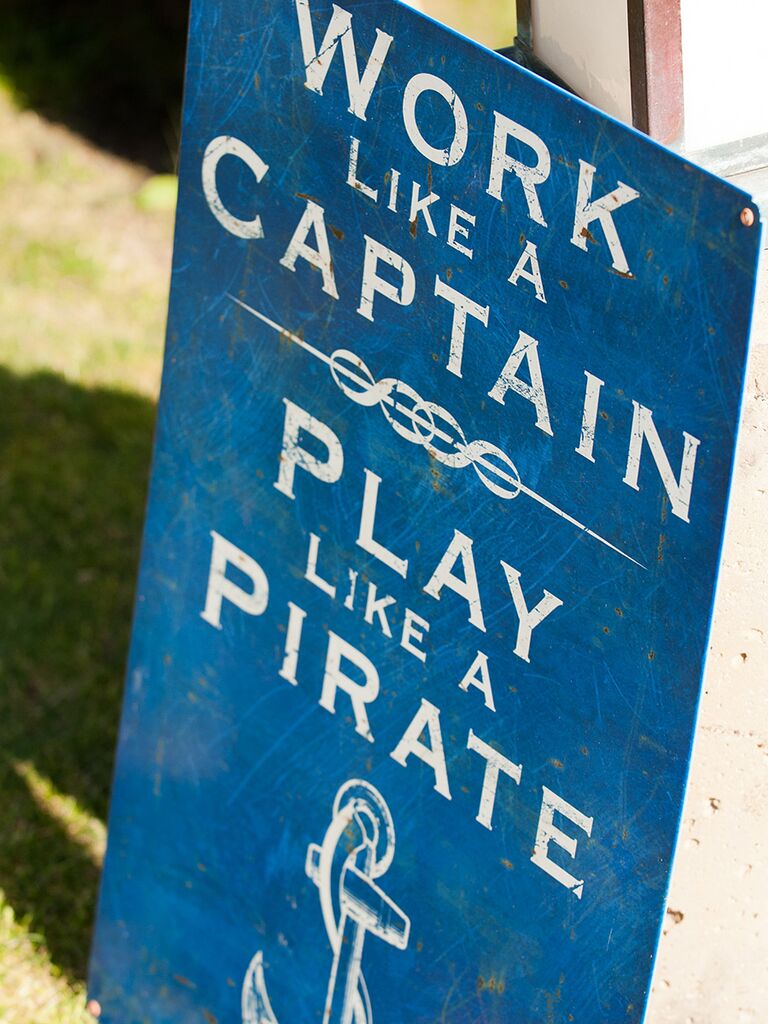 Don't forget to have fun with your theme! Adding a few pieces of punny signage by the bar area or a food bar can go a long way. They can also be staged for fun photo-ops too.
From: A Nautical Military Wedding at The Crossings in Carlsbad, California
14. Active Entertainment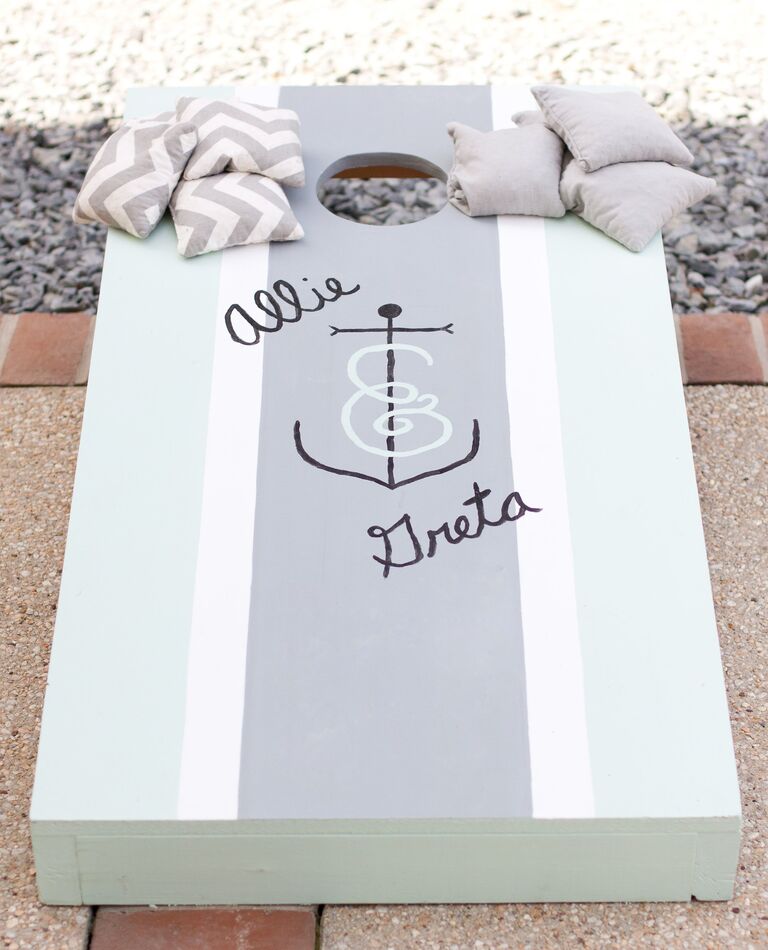 If you're on the beach, why not get your guests on the beach! Expand the party perimeters by arranging games like horseshoes or corn hole on the sand. Then when the sun goes down, a bonfire and s'mores is the perfect alternative for guests who want to take a break from the dancing.
From: An Osprey Point Wedding in Rock Hall, Maryland
15. Wedding Cake Details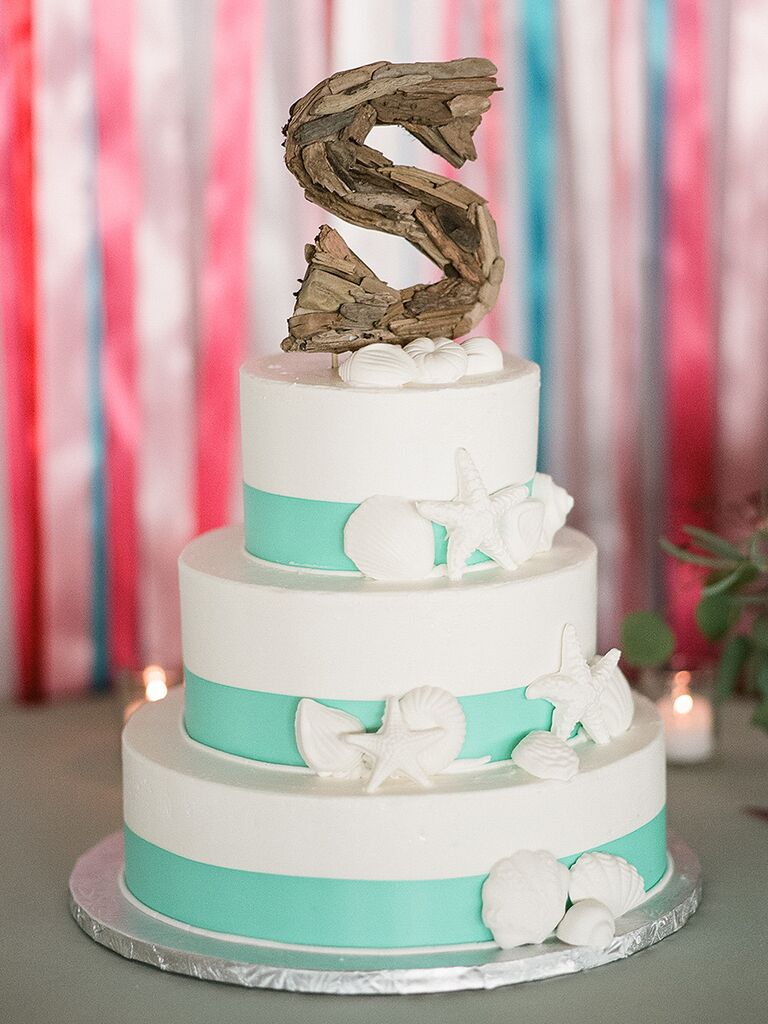 Celebrate your new initials with a simple monogrammed cake adorned with a playful fondant rope... tied in a knot of course! Or if you want something less sailor-y and more beach-y, ask your baker to create a serene scene of waves with soft ombre ruffles.
From: A Nautical Military Wedding at The Crossings in Carlsbad, California
16. Sweet Favors
Yes, saltwater taffy. Could this be any more appropriate? Display taffy-filled candy bags in an antique chest for a grown-up "treasure chest," or create a serve-yourself candy bar with labeled apothecary jars. Unlike heat-sensative chocolates or other sweets, taffy won't melt and make a mess, so for the most part you can let it be after it's all set up and turn your attentions elsewhere. (And germophobes will appreciate the individual wrappings.)