How to Get an Instagram-Worthy Donut Wall For Your Wedding
Trust us, it's worth it.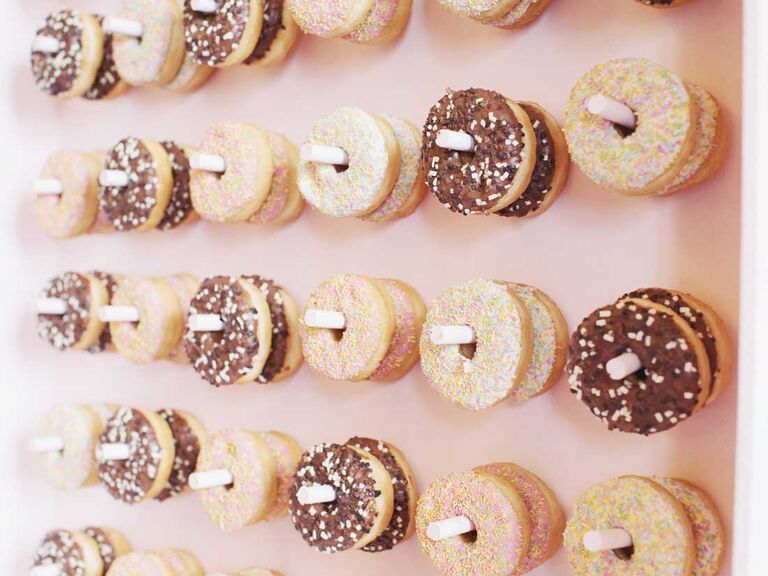 Sasha Lee Photography for Shutterstock.com
We have included third party products to help you navigate and enjoy life's biggest moments. Purchases made through links on this page may earn us a commission.
If you're planning an Intagram-worthy wedding, one detail you don't want to overlook is a donut wall. There's a chance you've seen one (or two) of these wedding cake alternatives on social media feeds before—or perhaps you've already been to a wedding with a memorable donut wall display. There's a reason this ever-popular wedding trend isn't going away any time soon. Having a donut wall at your wedding is a must if you want loved ones to snap photos all night long. While guests will enjoy indulging in frosted and sprinkled creations, they'll also turn into content creators—because when they see a donut wall, their first instinct will be to snap a photo for the 'gram. (Trust us.) If this sounds like your dream dessert spread, you're in the right spot. Having a donut wall at your wedding will delight your guests, and it'll give them something to savor long after the party ends. Plus, a donut wall will serve as fun wedding décor that's interactive and functional.
To help you get an Instagram-worthy donut wall at your wedding, we're breaking down everything you need to know. If you're the crafty type, find out how to make a donut wall from scratch to save some money. We also share everything to know about donut wall rentals if building one isn't your forté. You can also learn where to buy a donut wall in case you want to reuse it for future parties and events. Plus, we've rounded up our favorite donut wall ideas from couples. See how they arranged their wedding donuts, and use the photos to inspire yours. (In other words, you donut want to miss it.)
In this article:
How to Make a DIY Donut Wall
If you're feeling crafty, you can make a DIY donut wall for your wedding—and it's probably not as difficult as you might think. First, you'll need to purchase a sheet of plywood (or a pegboard) from your local hardware store. They can cut it to your desired size, so plan ahead and come prepared with measurements. While you're there, stock up on one or two cans of paint and small dowels to hang your donuts.
Next, sand and paint the board. If you purchased plywood, you can use wood glue to fasten the dowels in lines. (We recommend mapping out where you'll glue the pegs with a pencil first!) If you went the route of a pegboard, simply insert the dowels in the holes. You might need to use a small hand saw to cut the dowels to your desired length, so keep that in mind when shopping. Once your dowels are securely fastened, you're done! We recommend stocking up on parchment paper to put around the dowels in between the wall and your donuts. Since traditional paint isn't safe to consume, using parchment paper will ensure that your donuts are clean.
You can spruce up your donut wall by adding hand painted designs throughout, or you can purchase letters, stickers and other party decorations from shops like Etsy. Creativity will set your donut wall apart, so think outside of the box and let your creation represent you and your S.O.
Where to Buy or Rent a Donut Wall
If you're not a self-proclaimed DIY guru, don't stress. You can easily buy or rent a donut wall for your big day too. Sites like Etsy and The Knot Shop have pre-made donut walls that you can purchase and reuse after your wedding. (It might be a worthy investment if you want a donut wall on hand to wow guests at future birthday parties or family gatherings too.) Or, you can purchase it ahead of time and use it for your bridal shower, bridesmaid brunch or any other prewedding events. Some companies also offer donut wall rentals if you don't want to purchase one. Search for local caterers or bakers in your area using The Knot Marketplace, or conduct a Google search to discover donut wall rentals in your area.
Whether you make, buy or rent your donut wall, you'll have to purchase donuts, the star of the showcase. Partnering with your favorite local bakery will make your wedding reception feel thoughtfully personalized, and it's a great way to support small businesses.
Our Favorite Donut Wall Ideas
Now that you know how to make your donut wall dream a reality, it's time to get inspired. One of the best ways to discover inventive new wedding décor ideas is to browse real wedding photos. We've done the work for you by compiling our favorite donut wall ideas here. See how real couples arranged and decorated their wedding donuts to get your ideas flowing.
Displaying edible donuts on wood donuts is about as creative as it gets. This couple arranged their treats on four wheels, giving their donut wall an inventive, modern feel. Of course, no wall is complete without a punny saying, so consider stealing this idea by writing "Donut ever let me go" on your own. The pennant banner on top adds a playful touch on this rustic creation.
Your donut wall doesn't have to be on a pegboard—instead, take a cue from this couple and arrange your dessert on shelves. This is a great option if you'll be serving a variety of flavors too. With labels for each row, guests will know exactly what kind of donut they'll be enjoying.
Give your donut display an optical illusion by arranging your treats in an ombré color pattern. Not only will it make for a great Instagram Story, it's a unique (and delicious) way to integrate your wedding colors into your reception space. Plus, consider this: Splurging on an eye-catching dessert display can serve as decoration, so you can save on other elements in your reception space.
Make sure no one misses your donut wall by writing it out in large letters across the top. This couple also took extra care to ensure their board and floral arrangement matched the icing colors on their donuts. If you really want your donut wall to be a spectacle worth photographing, pay close attention to the color scheme. Having a cohesive palette instantly makes your board look polished, which is exactly what will wow guests.
Your donuts don't have to hang horizontally. If you want your wall to look different than those you've already seen online, consider stacking the treats vertically on longer dowels. A donut stand will still create a sight worthy of all the attention, as proven in this photo. Plus, in doing so you'll help guests see what kind of donut they're taking from the dessert bar.
Donut frames, anyone? Spice up your display by giving it a framed border—because donut walls are a work of art, after all. This couple's gold-and-white color combination looks sophisticated and elegant, as does the uniform white icing. When put together, these elements create a stunning photo op.
Sometimes, bigger is better when it comes to wedding ideas. This large donut wall begs to be photographed. With a massive sign that says "Treat yo'self," how can you not? A variety of chocolate, sprinkle and vanilla donuts get their space to shine on this wall, and the extra donuts around the bottom ensure that favorite flavors aren't gone forever if they get picked off the wall. Nestled in between mouth-watering arrangements of even more dessert displays, a colorful donut wall like this certainly wouldn't go unnoticed on your big day.
This donut wall is as classic as can be. Guests will have plenty of fun picking their dessert from an interactive board like this—in fact, they might come back for seconds (or thirds) throughout the night.
If donuts are your love language, there's no doubt a board like this deserves a spot at your wedding reception. This couple opted for a board with a dark wood stain, making it a perfect accompaniment to their rustic wedding. The addition of moody florals and greenery on the top left corner adds dimension and color to this donut wall.
If a donut wall isn't your thing, you can still arrange the sweet treats in a fun way. These stacks of donuts are simply begging to be picked—and with a large wedding cake topper in the middle of a stack, your guests will know exactly where to go once dinner is over.