20 Fall Bridesmaid Dresses in the Prettiest Autumn Colors
Let the foliage be your guide.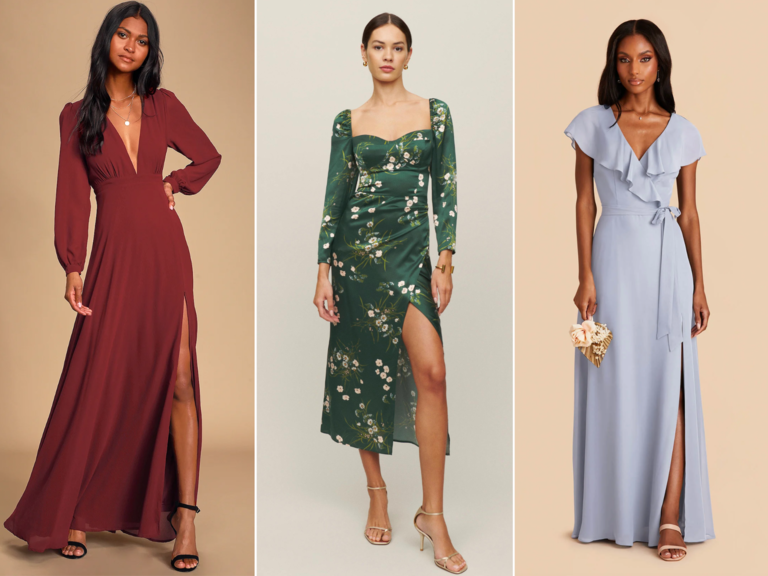 Photos, From Left to Right: Lulus, Reformation, Lulus
We have included third party products to help you navigate and enjoy life's biggest moments. Purchases made through links on this page may earn us a commission.
There's nothing quite like a cozy fall wedding when the air is crisp and the changing leaves create a glowing backdrop for vow exchanges. Once the bride has said yes to her dream dress, it's time to start shopping for fall bridesmaid dresses in autumn colors. Whether you are planning on having cohesive matching bridesmaid dresses or a mismatched vibe, leaning into the hues of the season will certainly make for a memorable affair! Warm shades of amber, rust, emerald and plum are some top fall colors—think of the natural colors of fall foliage. Plus, the cooler weather means you can lean into luxe fabrics like jacquard and velvet.
Although certain colors are deemed traditional fall colors, you get to make the rules for your wedding day, and that goes for the wedding dress code and bridesmaid dress colors too. Grace Lee, founder and CEO of Birdy Grey, suggests "Don't feel constrained by 'typical' fall styles or colors. If you want a light, airy neutral vibe or a bright neon moment, go for it!"
In a similar vein, if you love bright, light colors, Lee suggests you "dust them up" for fall. Hues like Birdy Grey's Dusty Rose and Dusty Blue are great choices for a fall wedding. Retailers like Lulus, Reformation, Dessy Group and Kennedy Blue are other great options for bridesmaid dresses and carry a wide range of colors to suit every style. No matter your style, you get to choose bridesmaid dress colors that feel true to your style.
In this article:
Top 2023 Fall Colors for Bridesmaid Dresses
For fall weddings, selecting fall wedding colors, such as rich jewel tones and rustic hues, is always an apt choice. Lee shares "Fall bridesmaid dresses typically are in darker, richer shades given the moodier hues of autumn and the colder weather." Whether your wedding vibe is bohemian naturals or elevated elegance, leaning into the colors of the season will ensure your wedding color palette is on point.
1. Emerald
Green has been trending in the fashion world for some time now and emerald green in particular is perfect for fall weddings. This rich tone feels extra luxe in rich fabrics like velvet and satin. Honorable mention goes to the other jewel tones like sapphire blue and amethyst purple.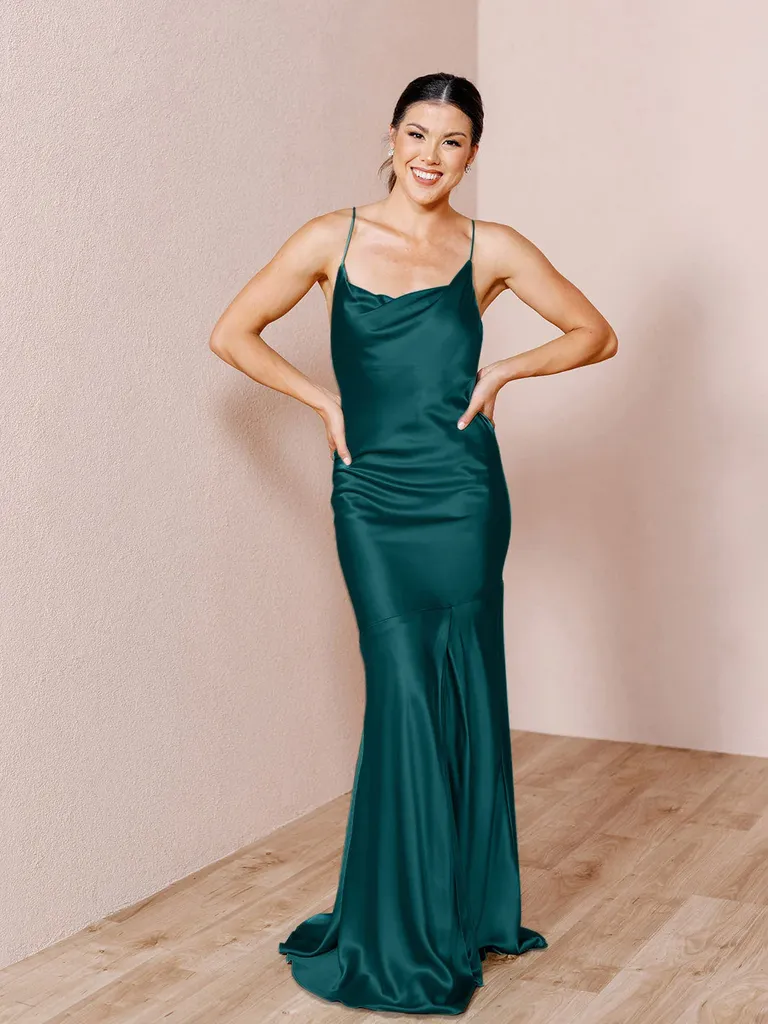 2. Black
A classic for a reason, you can't go wrong with choosing a black bridesmaid dress. This timeless shade can work for countless types of weddings and special occasions.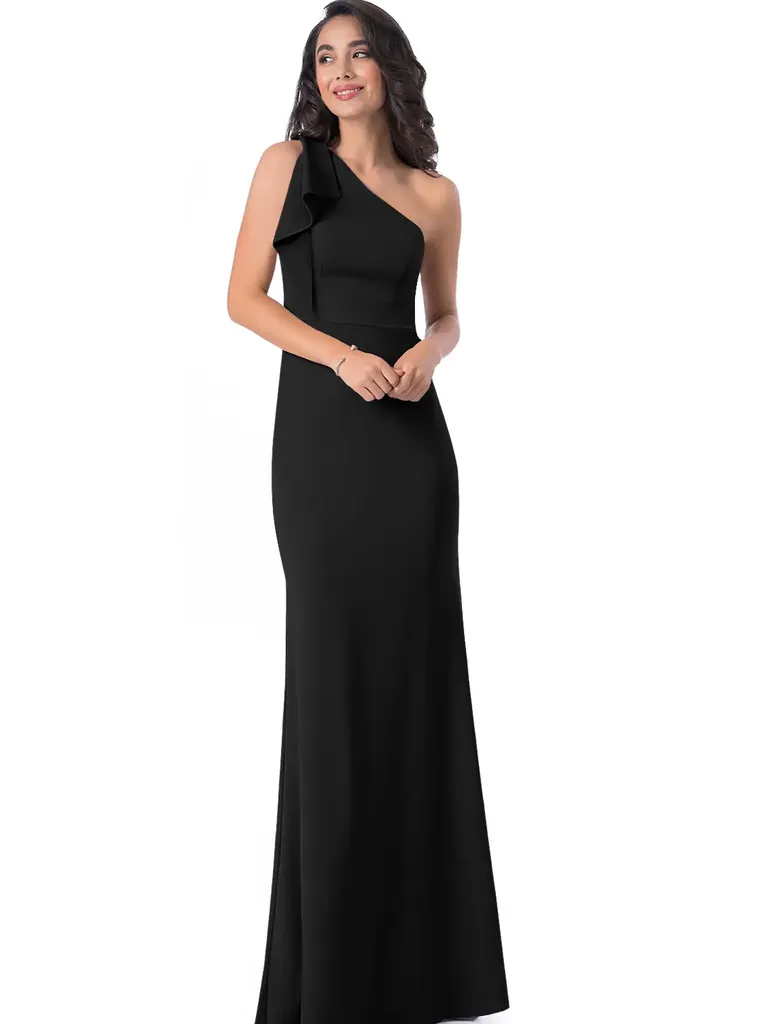 3. Rust
This *ahem* rustic shade is perfect for fall weddings since it picks up on the natural tones of fall foliage. Whether you go for a true burnt orange shade of rust, metallic copper or a lighter pink tone, there are countless shades of rust that fit the bill for autumn weddings.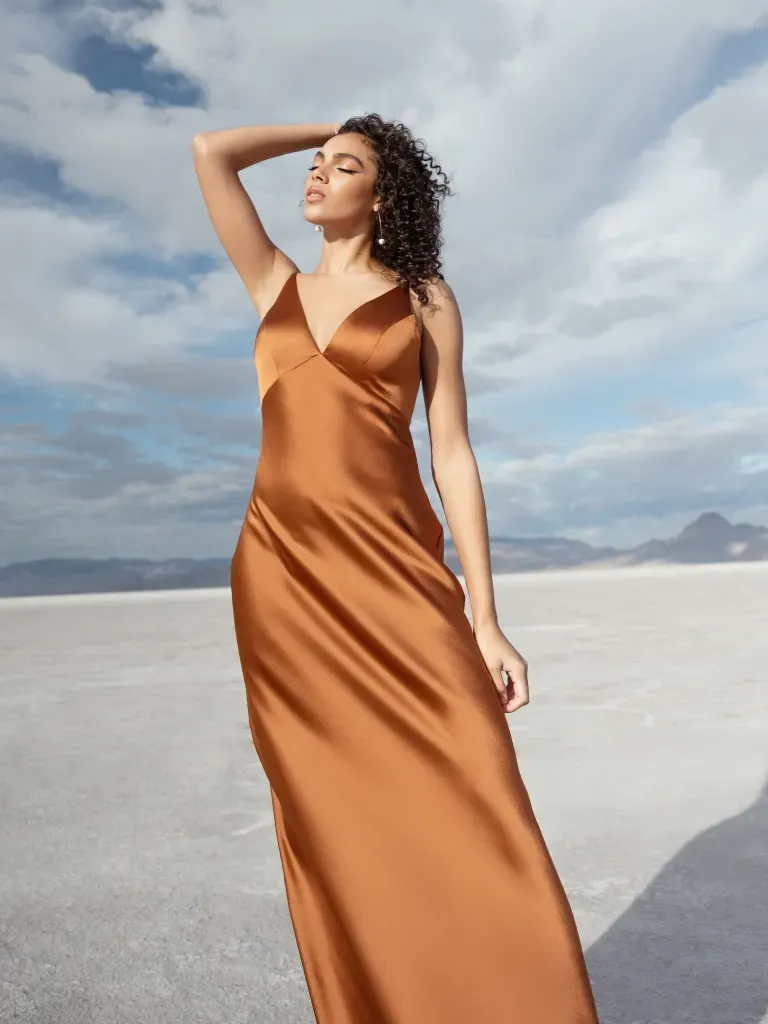 4. Red
"Red is already one of the biggest trends for fall," Lee shares. "Red is a fun, bold choice for bridesmaid dresses that's still romantic and timeless. Everyone looks great in red, and it injects a pop of color into your wedding palette—plus it matches the pretty fall leaves perfectly."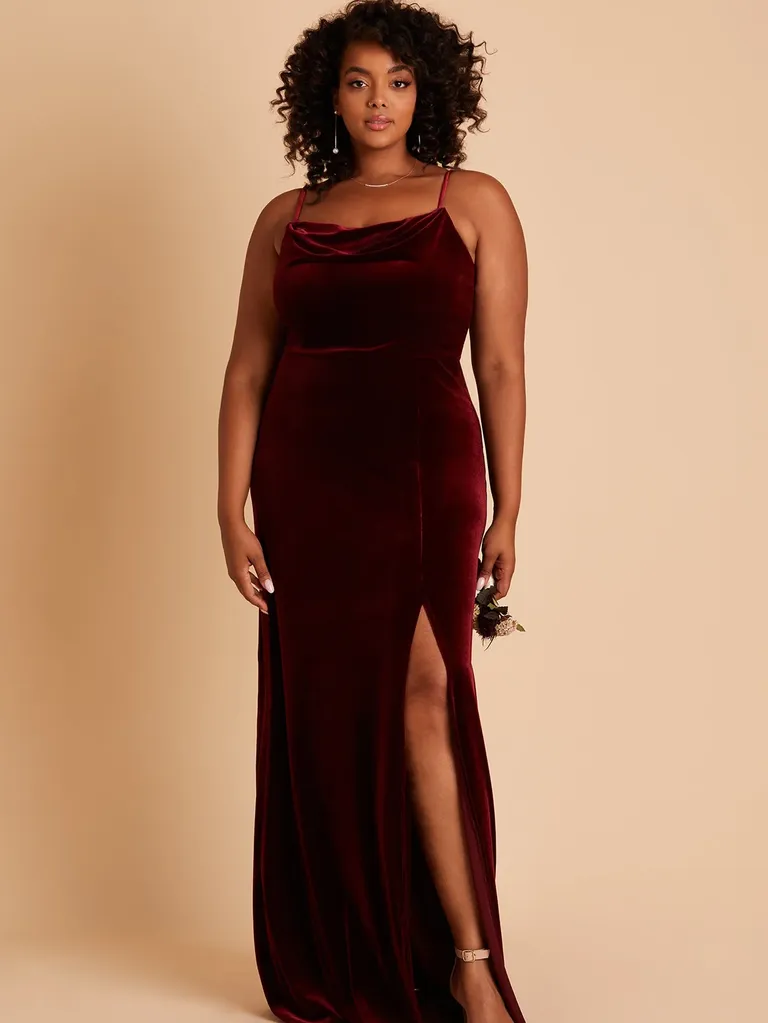 5. Champagne
Anything but boring shades of champagne and taupe are sure to dominate the aisles this wedding season. Lee says "​​As a neutral girl myself, I love the clean, classic look of these colors—especially set against gorgeous fall foliage! The versatile hues are a fun way to offset the darker colors of the fall season and are perfect for mixing and matching (a trend we're only going to see more of in the world of weddings)."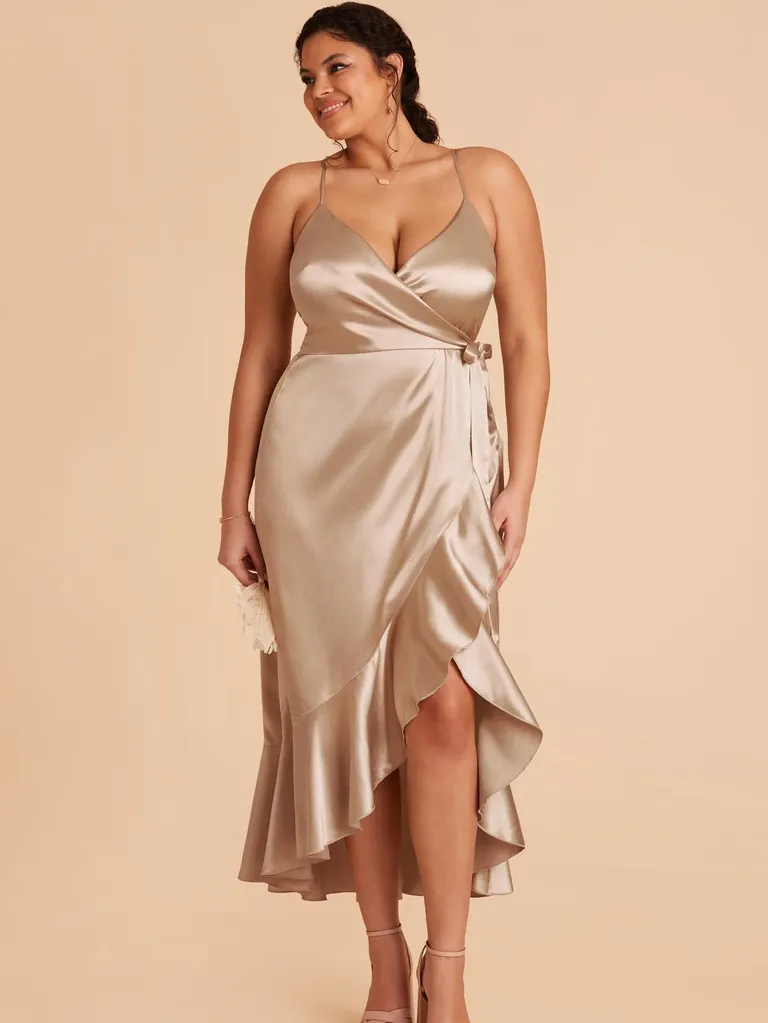 Fall Bridesmaid Dresses for Every Wedding Style
No matter your wedding aesthetic, there's a fall bridesmaid dress to fit the vibes of your big day. From rustic bohemian to elegant black tie, we've curated our top editor-approved favorite fall bridesmaid dresses.
Reformation Casette Silk Dress in Artichoke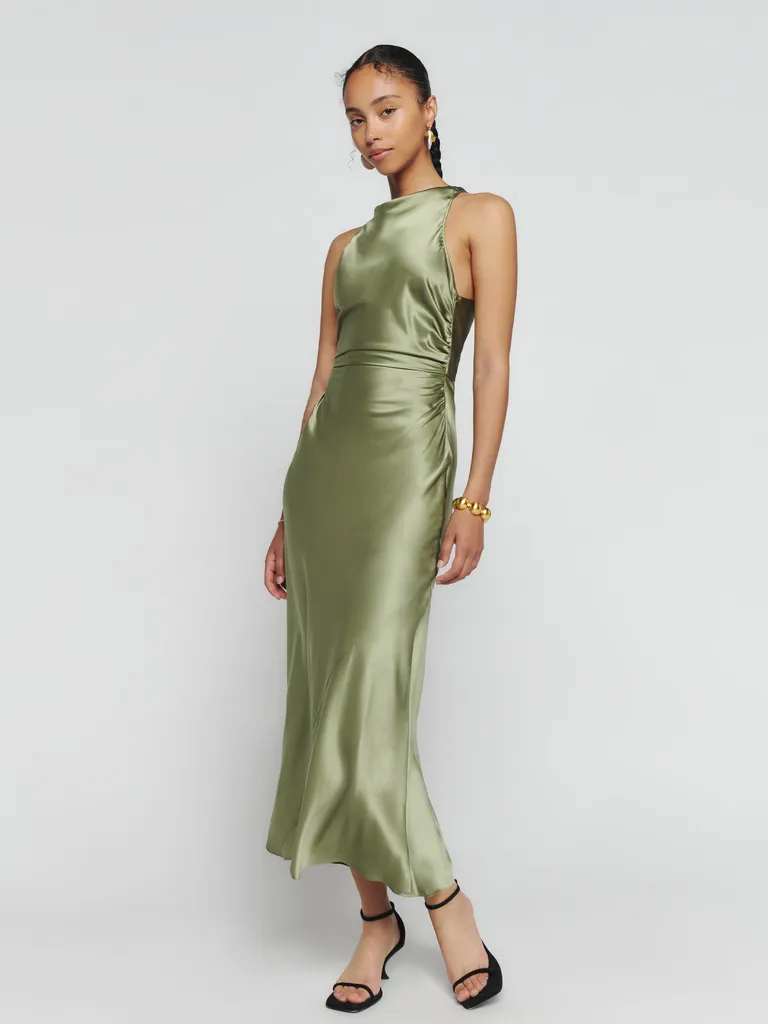 This dreamy silk gown features a backless criss-cross silhouette. It comes in a sage green hue that is perfect for a fall wedding. Sage green is a top color for 2023 and it's not slowing down anytime soon.
Size Range: 0-12 | Fabric: Silk | Color Options: 8
Dessy Group Off-the-Shoulder Flounce Sleeve Velvet Maxi Dress in Auburn Moon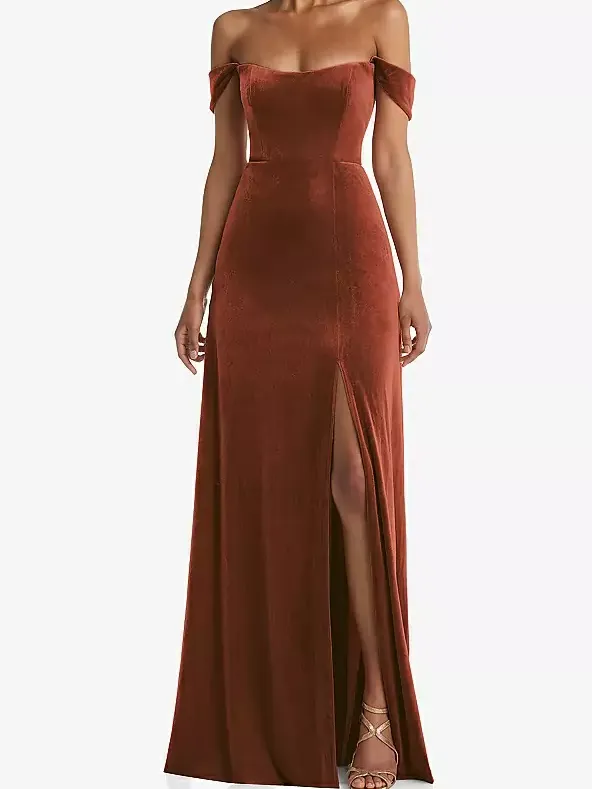 We're swooning over this ethereal gown. The off-the-shoulder silhouette lends a romantic feel to this perfectly autumnal gown. The Auburn Moon color is particularly fitting for a fall wedding.
Size Range: 00-30 | Fabric: Velvet | Color Options: 12
Birdy Grey Mia Convertible Dress in Neutral Champagne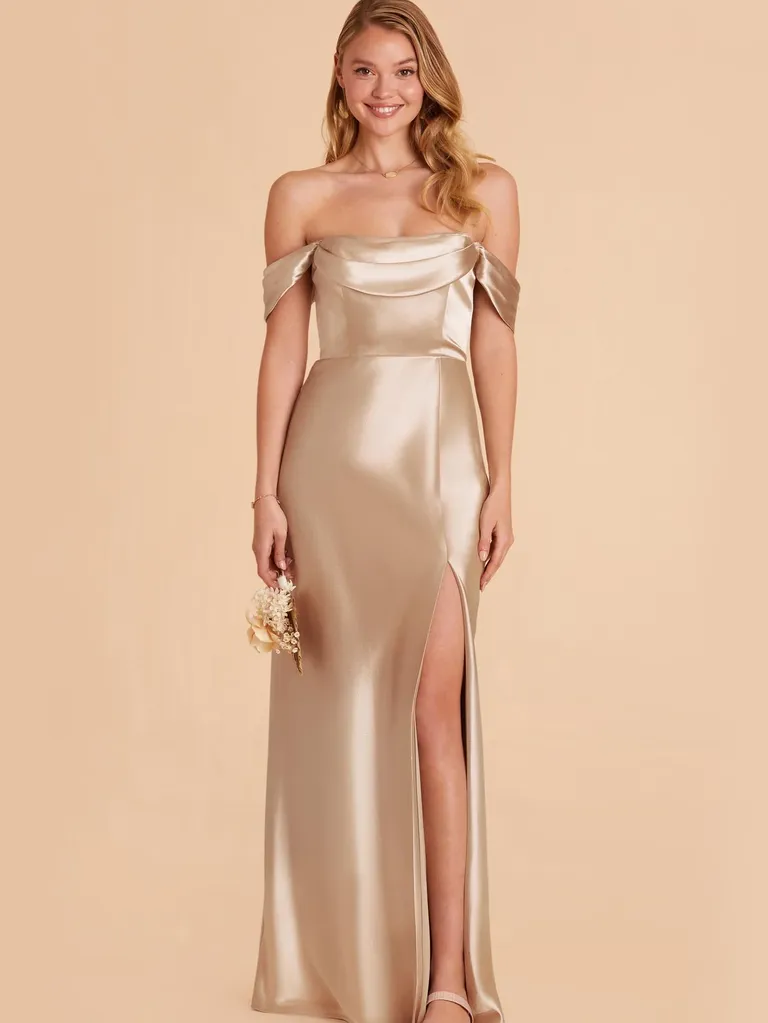 "Mia is one of our most popular dresses, but I love it for fall specifically because it can be worn three ways: strapless, with skinny straps or with off-the-shoulder sleeves (perfect for any indoor-outdoor situations!)," Lee shares. "The gorgeous design plays into the romance of autumn, and it comes in so many fall-friendly colors like terracotta, rust, black, navy, emerald and more."
Size Range: XS-3X | Fabric: Satin | Color Options: 25
Mestiza Christianna Gown in Sunkissed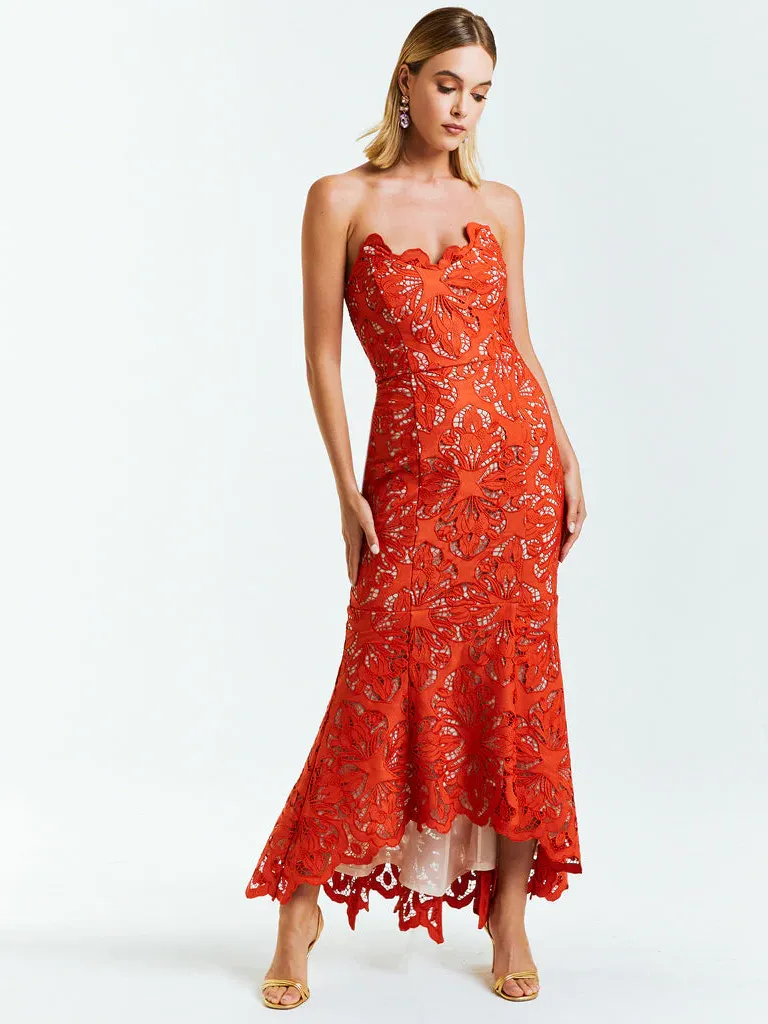 If you're looking for a standout bridesmaid dress, this fiery red gown is for you. This laser cut lace gown features a mermaid flare skirt with high-low scalloped hem.
Size Range: 0-14 | Fabric: Laser cut lace | Color Options: 1
Jenny Yoo Aimee Dress in Cinnamon Rose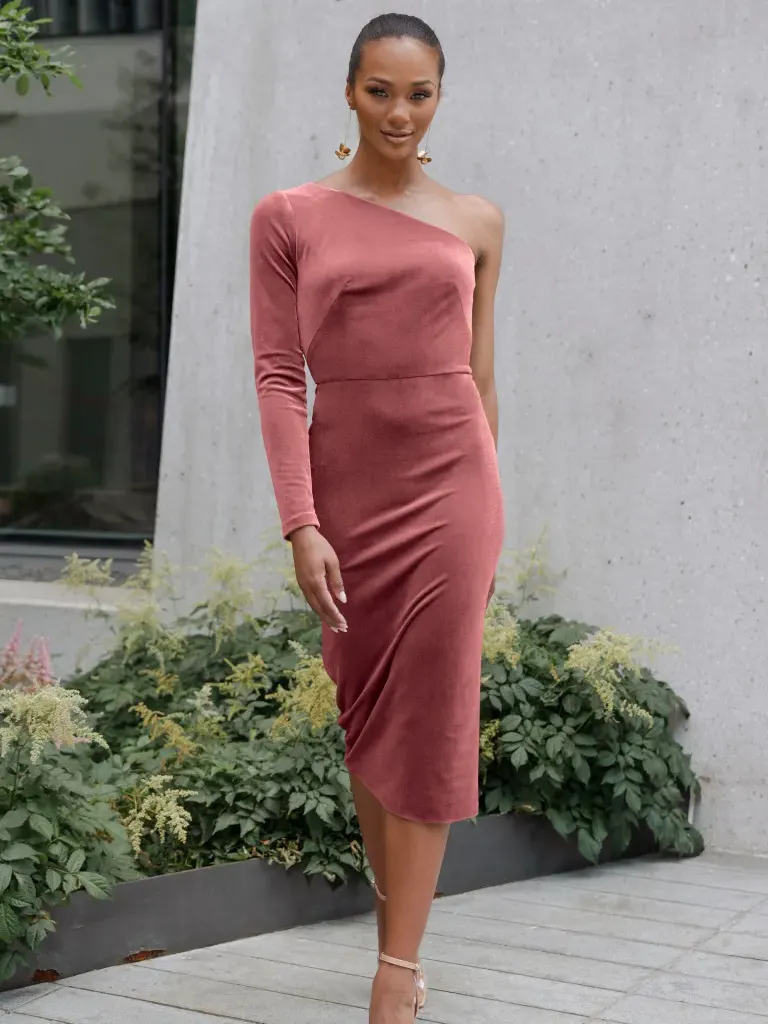 A one-shoulder midi is a fashion-forward choice for a fall bridesmaid dress. Plus, it actually lives up to the age old cliche that you can wear it again after the wedding.
Size Range: 00-32 | Fabric: Velvet | Color Options: 14
Azazie Kimber A-Line Ruched Chiffon Floor-Length Dress in Black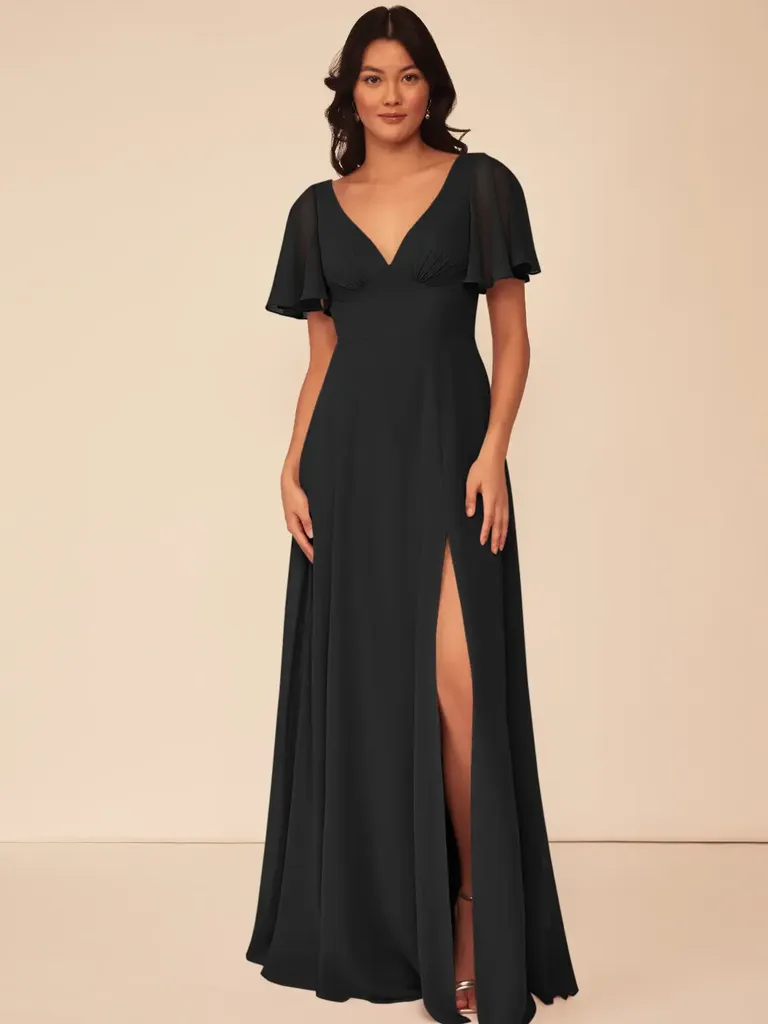 This flirty gown features romantic flutter sleeves and a daring leg slit. Plus, it comes in 63 (!!!) colors, so there's truly one for any wedding color scheme.
Size Range: 0-30 | Fabric: Chiffon | Color Options: 63
Kennedy Blue Blake Dress in Mulberry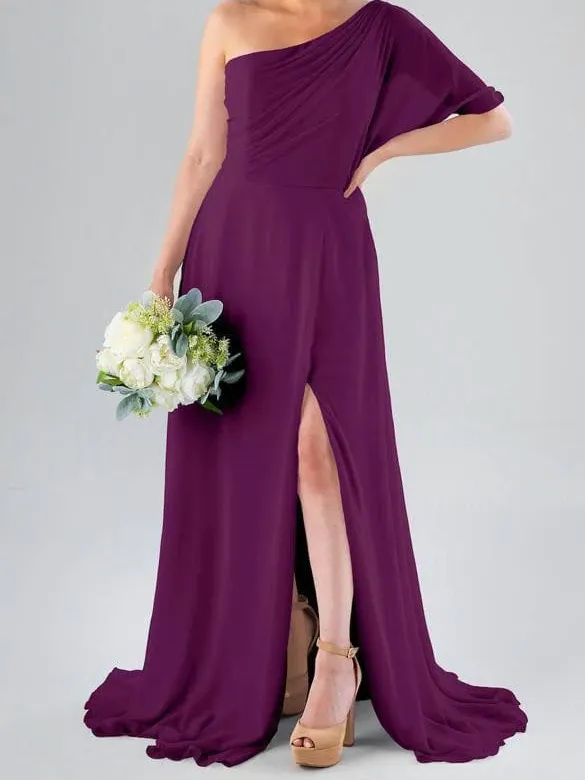 Channel your inner Greek goddess in this striking one-shoulder gown by Kennedy Blue. The rich Mulberry color is perfect for anyone leaning into fall jewel tones for their wedding party color scheme.
Size Range: 00-32 | Fabric: Chiffon | Color Options: 56
Lulus Feel the Romance Off-the-Shoulder Maxi Dress in Emerald Green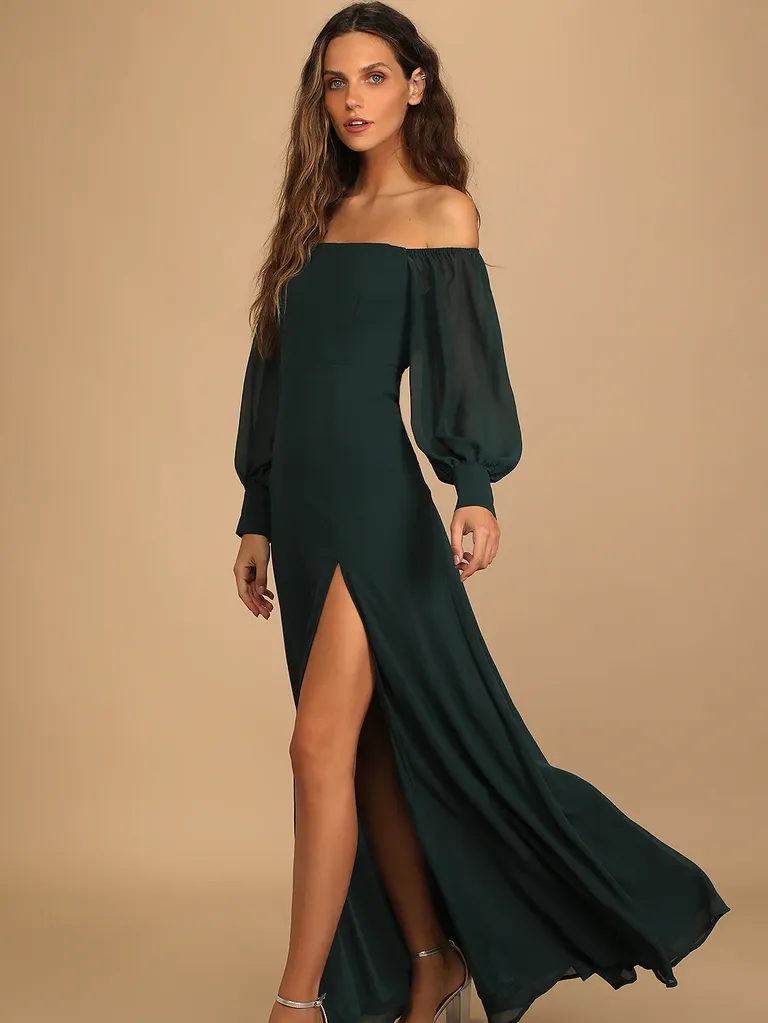 Balloon sleeves with button cuffs give this gown a Renaissance-era vibe. The off-the-shoulder neckline would pair perfect with a sparkly choker necklace or a statement earring and an updo.
Size Range: XS-3X | Fabric: Chiffon | Color Options: 6
Significant Other Demi Backless Long-Sleeve Column Gown in Gold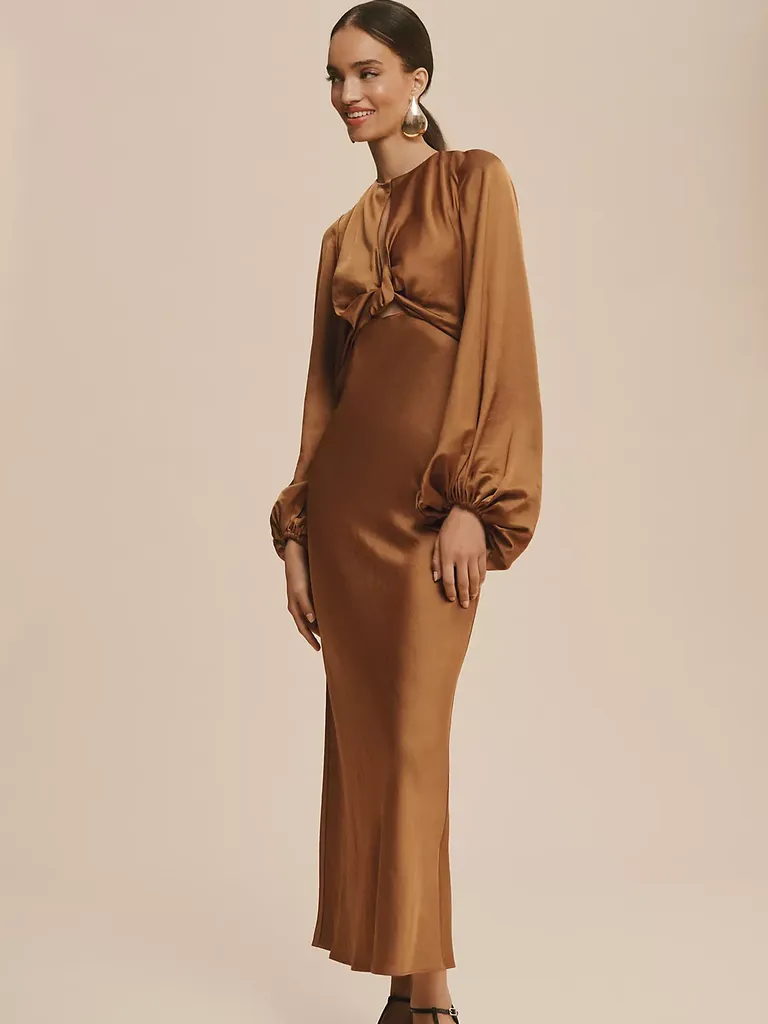 If traditional bridesmaid dresses aren't your thing, might we suggest this bohemian gown? The balloon sleeves and open back are an unexpected take on the bridesmaid dress. It would be an especially fitting choice for a western inspired wedding.
Size Range: 2-12 | Fabric: Satin | Color Options: 5
Birdy Grey Alex Convertible Dress in Black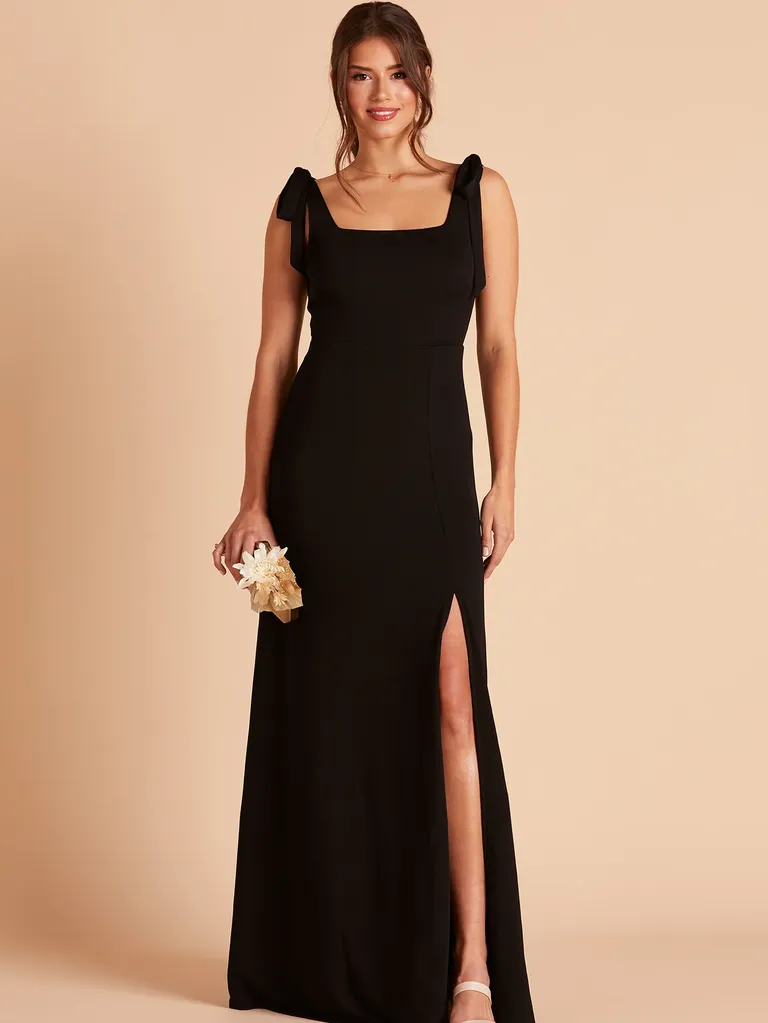 Bow sleeves add a romantic vibe to this simple crepe gown. If bows aren't your thing, you can also tie the removable straps in knots or long drapes. The choice is yours!
Size Range: XS-3X | Fabric: Crepe | Color Options: 13
BHLDN Ruby Twist Halter Satin Gown in Dark Berry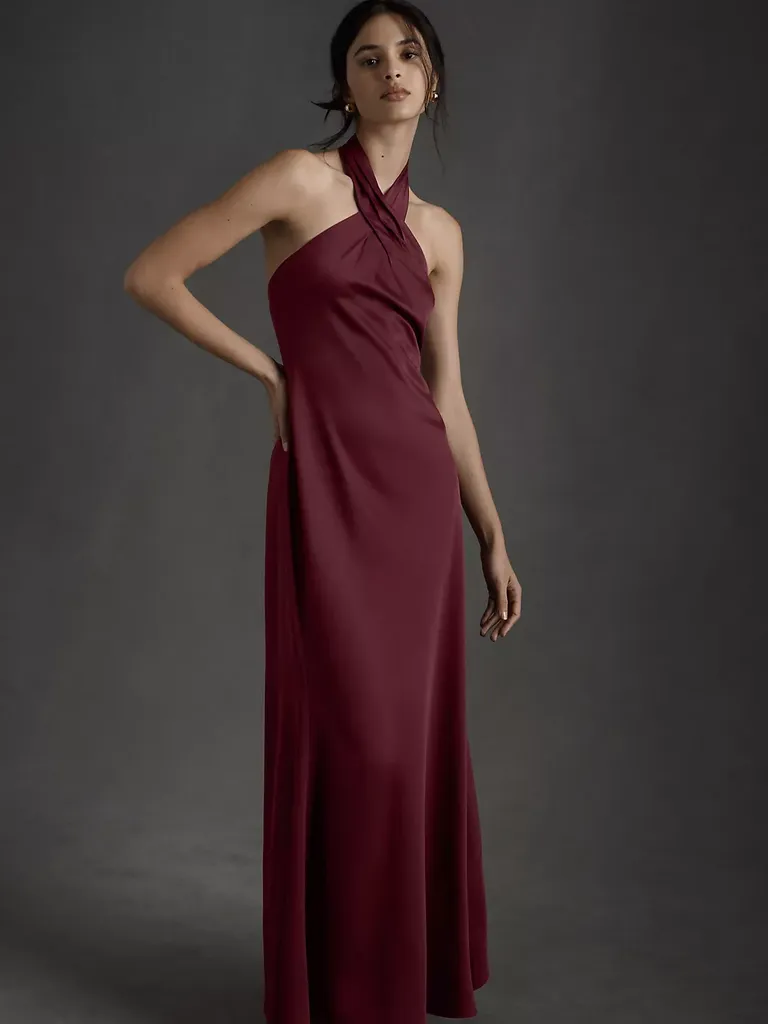 A chic high neckline elongates the frame and is a flattering pick for a bridesmaid dress. This one is made in a sleek satin charmeuse that just catches the light when you move around the dance floor. We especially love this shade of Dark Berry.
Size Range: 0 - 26 | Fabric: Satin | Color Options: 10
Lulus All My Life Long Sleeve Maxi Dress in Burgundy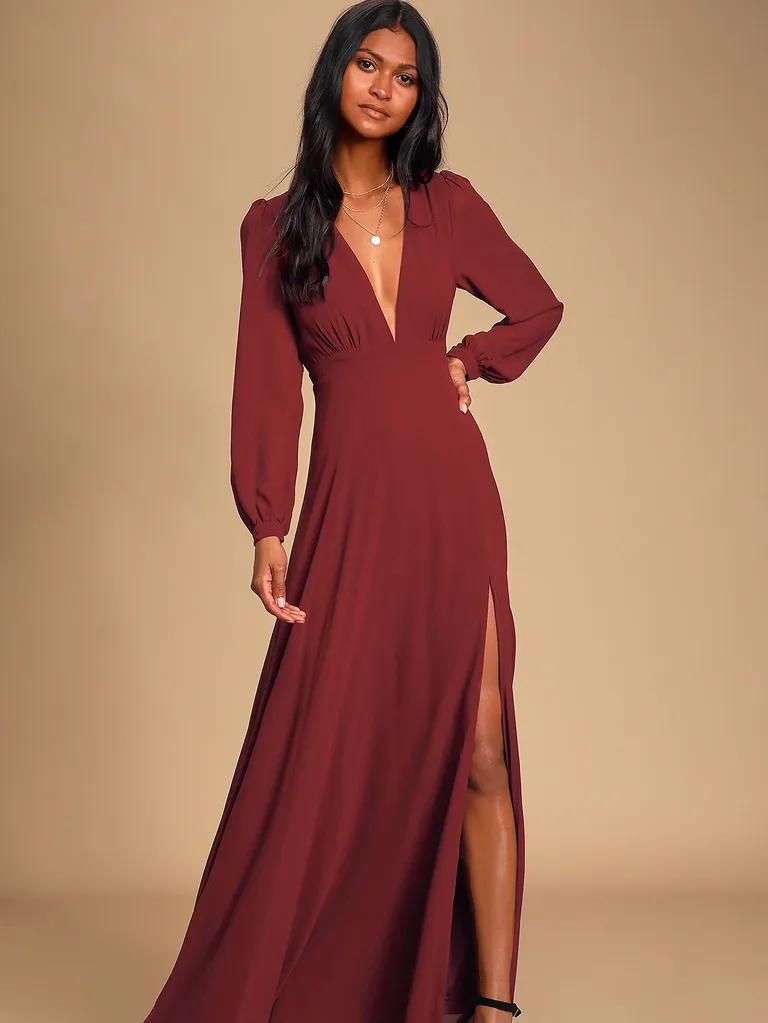 If you're getting married in a colder climate, you might want to consider looking for a long-sleeved bridesmaid dress. This one from Lulus features billowing cuffed sleeves and a daring plunge neckline that would pair perfectly with a sparkly drop necklace.
Size Range: XS-3X | Fabric: Chiffon | Color Options: 2
Show Me Your Mumu Reese Ruffle Dress in Champagne Luxe Satin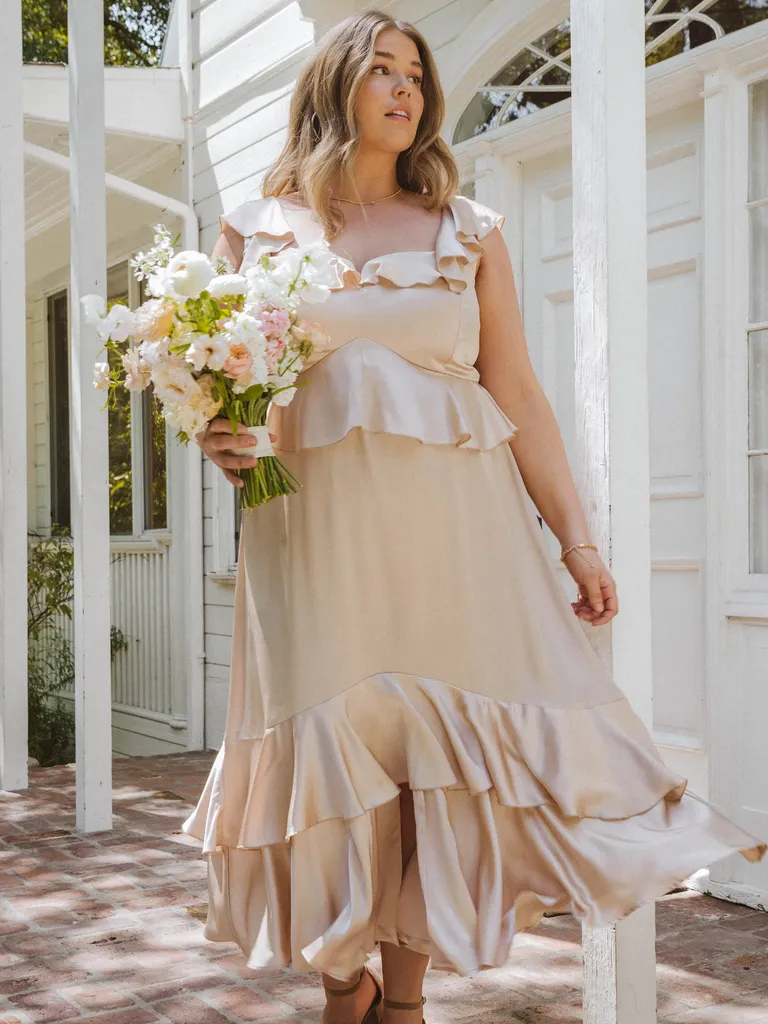 This flirty satin gown is perfect for a romantic candlelit wedding. Dreamy ruffles and flutter sleeves add movement and interest so that the dresses dances along with you all night long.
Size Range: XXS-3X | Fabric: Satin | Color Options: 14
Birdy Grey Jackson Dress in Dusty Blue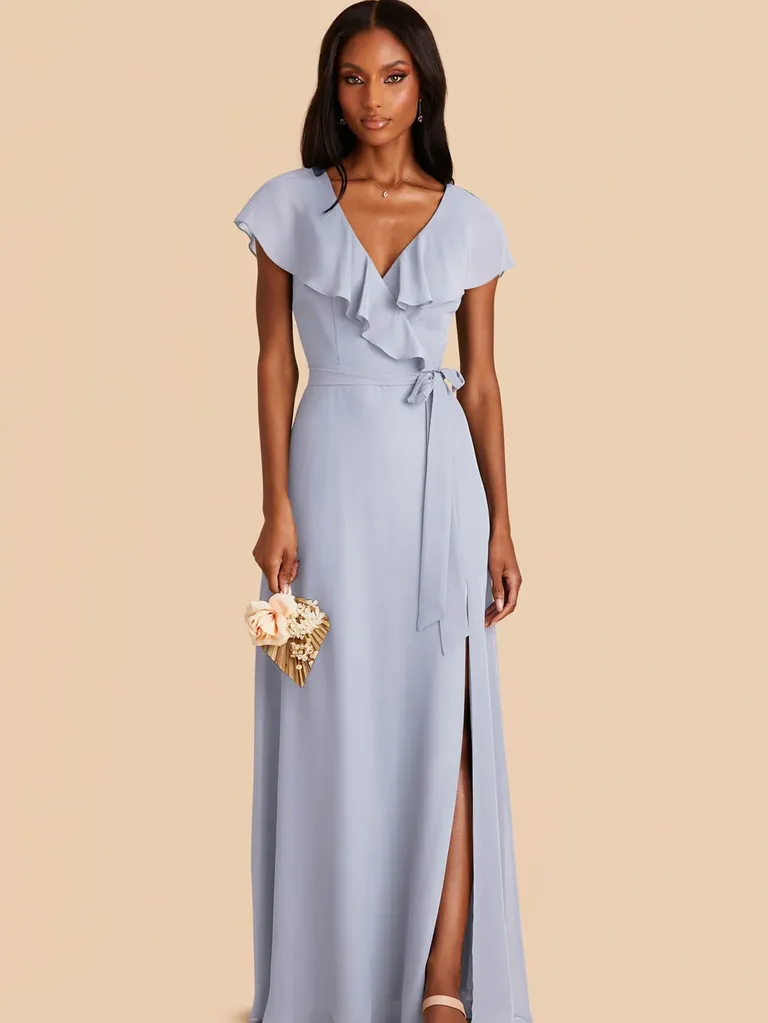 Love light and bright colors? This dusty blue gown is bright and cheerful, but the dusty shade makes it perfect for a fall wedding. Pair it with your favorite silver jewelry and a matching high heel.
Size Range: XS-3X | Fabric: Chiffon | Color Options: 29
Reformation Gloriana Silk Dress in Buena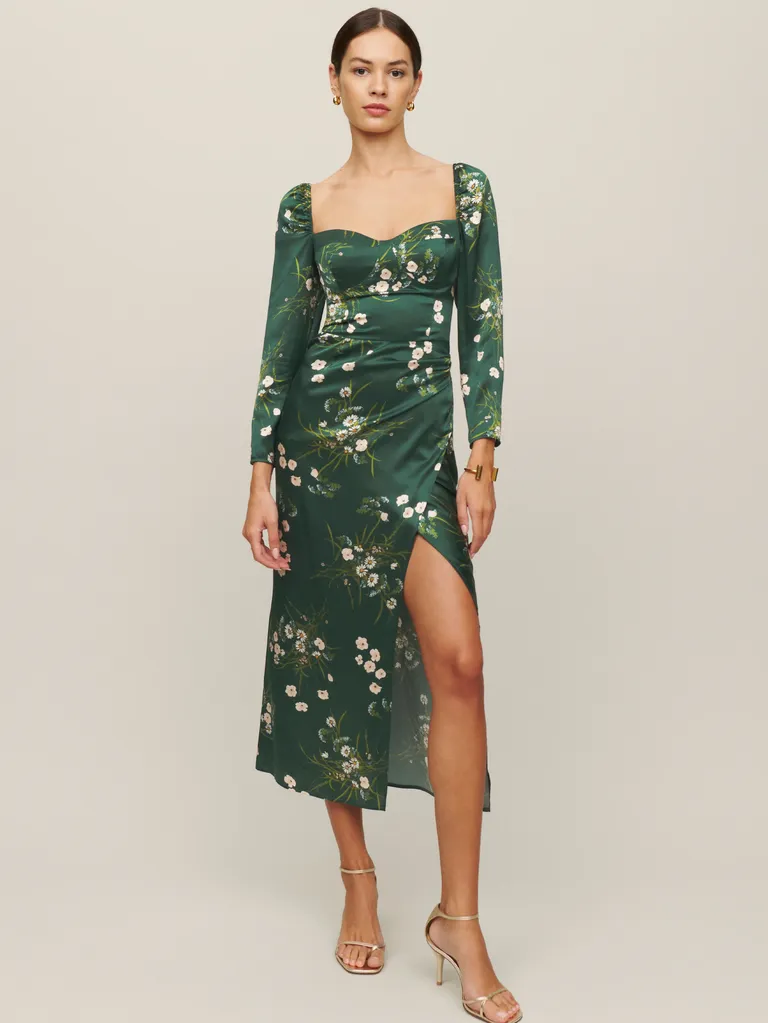 Planning on a trendy mixed floral bridesmaid dress theme? This silky floral midi from Reformation is a perfect addition!
Size Range: 0-12 | Fabric: Silk | Color Options: 1
What to Look for in Bridesmaid Dresses for the Fall
Every season has its own unique set of traditions—whether you choose to follow them is up to you! Fall bridesmaid dresses are traditionally chosen in rich autumnal shades and are often made of heavier fabrics like jacquard or velvet. However, there are a few important things to consider when shopping for bridesmaid dresses for the fall.
Weather
While we typically think of fall as having crisp, cool weather, this can vary greatly depending on where your wedding is taking place. Be sure to check the forecast for the time of year so you can have a general sense of what to expect so you can plan dresses accordingly. A fall destination wedding in the Caribbean can allow for short, shoulder-bearing bridesmaid dresses while a wedding in the mountains in Vermont may need long sleeved bridesmaid dresses in a heavier fabric.
Fabric will be a huge factor here, as Lee states "​​Typically, fabrics are heavier for fall weddings since it's colder outside. Velvet, crepe and satin are all great choices as they provide a little extra warmth than an airy chiffon or tulle might."
Pro tip: you can also incorporate layers in your bridesmaid attire if you anticipate some chilly weather! A shawl or wrap can help your ladies to stay warm while looking stylish.
Dress Code
Just as guests will consider a wedding dress code, the bridal party attire should also adhere to the designated dress code. A black tie evening will call for floor length gowns while something more casual will lend itself to midi or short dresses. Once you determine your dress code, be sure to keep it in mind when shopping for bridesmaid dresses.
Color Palette
Traditionally the bridesmaid dress colors will tie into the rest of the wedding day decor. Most brides prefer to narrow down their wedding day color palette first and then shop for dresses to match. However, don't feel like your bridesmaid dresses have to be an exact match for your tablecloths or bouquets, etc. As long as the colors are cohesive and aesthetically go together, there's no need to worry about having a precise match.
When to Order Bridesmaid Dresses for a Fall Wedding
The typical guideline is to order bridesmaid dresses six months before the wedding, so around March - May for a fall wedding. Dresses can take up to three months to arrive, so it's important to leave in extra cushion room for any needed alterations. If your bridesmaids are wearing the same color, be sure to order all of your bridesmaid dresses at the same time so that you can ensure they all come from the same dye lot and will be an exact color match.