Tips for Planning a Bridesmaids' Tea
Brides, loved your shower? Return the favor! Mellow out with the gang and say "thanks for all your help" at a prewedding bridesmaids' tea.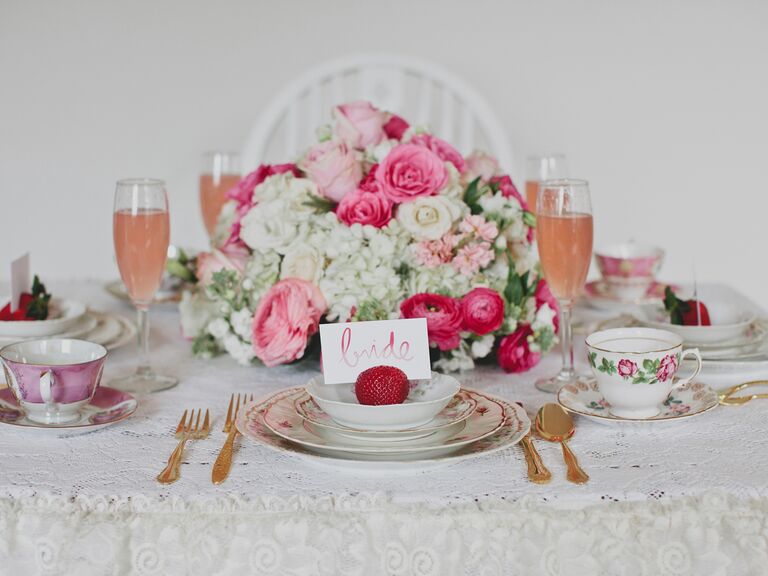 Sarah Gormley Photography
Many brides host a bridesmaids' tea or luncheon to thank the gang for all the wedding prep they've put up with and to get in some last-minute bonding. Usually on the casual side, this girls only get-together is an opportunity to swap stories and for the bride to present each maid with her bridesmaid gift. To plan your celebration, use these basic tips.
When to Gather
The tea or luncheon is usually held a day or two before the wedding and sometimes on the big day itself. This timing works well, especially if your bridesmaids are coming from all over and will be in town for a few days. Also, tensions tend to peak during the final stages -- a relaxing, reflective meal together is the perfect way to chill out.
Before you set a date and time, determine what you can handle. If you think you might be hysterical when the big day arrives, hosting the tea that same afternoon is not advised.
Who's Invited
The maid of honor, bridesmaids, and flower girl comprise the guest list, and no, invitations aren't necessary (unless you're planning something very formal). Some brides include mothers, grandmothers, and other female family members on the guest list, too. Think intimate. While you're formally repaying your maids for their many exertions, keep in mind that this is also a bittersweet occasion. In many ways, the bridesmaids' tea is a fond farewell.
Where to Host
Is everyone staying at the same hotel? The hotel dining room will provide an elegant and convenient setting. Or, consider a place that has special significance for all of you: A favorite café or tea salon? Mom's basement? Grandparents' country club? Also consider heading outdoors for a beach picnic or park party.
What's the Style?
Many brides love the formality of a traditional seated tea or luncheon: white table linens and fine china, the attendees in flowered dresses, their fingers freshly manicured. Still, the point is to relax and hang out. Don't fuss over the details -- if you'd prefer something casual, do it up informally. And if the gathering is happening just hours before gown time, it's perfectly fine for everyone to show up in bathrobes and the like. Just make sure everyone knows what the deal is and keep it simple.
What to Serve
If you're getting together on the afternoon of the wedding, plan a light menu. Most of the wedding party will probably be too nervous to eat, plus you don't want everyone feeling bloated from that rich cream sauce or super-spicy enchilada. Traditional tea treats -- finger sandwiches, mini pastries, mints -- are a safe bet, but a Caesar salad, bagels and fruit, even sushi can also provide excellent nourishment without being overwhelming. If the tea or luncheon is taking place days before the big event, feature food your friends will love, but know that it's not worth planning a fussy feast. The emphasis should be on enjoying each other's company.
Gifting the Maids
Those bridesmaid gifts you spent so much time choosing? Now is the time to give them out! You can place the gifts at each bridesmaid's place setting, or present the goodies any way you please. You might have 10 or 12 maids, or just two -- but take the time to thank each of them with a handwritten note. Or, think about handing the gifts out personally, standing up to say a few words about the meaning of your relationship with each maid. If that's not your style, don't worry -- add your own gesture to really enhance the intimate vibe.
More Key Moments
Other significant activities can be part and parcel of the bridesmaids' tea. Often the gang will use this time to present the bride with something old, new, borrowed, and blue. And, if they all pitched in to buy the bride a special wedding gift, they'll present that too, maybe with some words of benediction from the maid of honor. What else? Married attendees can come prepared to share what they've learned about marriage, usually in the form of funny anecdotes, moving memories, and sound advice.
A Charming Tradition
In traditional wedding circles, especially in the South, a popular feature of the bridesmaids' tea is the "charm cake." Symbolic charms (usually sterling silver) are tied to 12-inch-long ribbons (one for each maid); the ribbons are then arranged between the bottom tier of the cake and the cake plate, trailing out onto the table surface. At the tea, each bridesmaid pulls a ribbon and the charm she retrieves bears a special message. Examples: Horsehoe = good luck; Anchor = adventure awaits; Fleur-de-Lis = love will flower; Wedding Bells = next to marry; Ring = next to be engaged; Camera = fame and fortune; and on it goes.