30 Great 18-Year Anniversary Gifts That They'll Love and Use
Mark the 18th marriage milestone with one of these thoughtful anniversary gifts.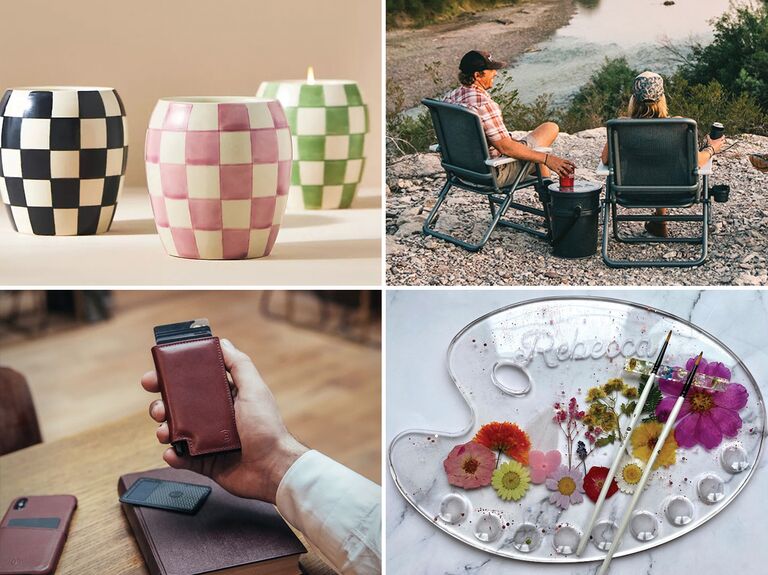 Photos: Anthropologie, YETI, Ekster, Etsy
We have included third party products to help you navigate and enjoy life's biggest moments. Purchases made through links on this page may earn us a commission.
Congratulations are in order! You and your spouse are celebrating almost two decades of love and marriage, a romantic milestone worthy of a really thoughtful 18-year anniversary gift. If you can't decide what to get for your partner or married friends, we're here to help. Whether you're shopping for a traditional-themed gift or something totally different, our round-up of sentimental and practical presents will get the ideas flowing. Read on to learn more about the symbolism behind the 18th wedding anniversary before browsing through our selection of thematic and unique gifts.
In this article:
Traditional 18-Year Anniversary Gifts
The traditional 18-year anniversary gift is one made of porcelain, a delicate material that symbolizes the care and attention required to nurture a long-lasting marriage. Just like a committed relationship, porcelain can last a lifetime when handled with care. If you're looking for a thoughtful anniversary gift for your partner or favorite duo, we've got plenty of ideas to help you incorporate the traditional theme. From pretty teapots and personalized bakeware to delicate earrings and novelty mugs, our list is brimming with on-theme gifts for him, her or them.
Kissing Coffee Mugs
If you're lucky enough to enjoy a coffee with your spouse every morning, these cute mugs will make you both feel the love. The two porcelain pieces are sculpted into faces that fit together to share a kiss, while the handles make a heart. It's a sweet 18-year anniversary gift that'll draw plenty of smiles from your other half (and maybe even a kiss or two!).
Personalized Family Tree Chime
When shopping for a sentimental spouse, it's hard to go wrong with a personalized gift from Uncommon Goods. This customizable wind chime is perfect for the 18th wedding anniversary and is sure to give your partner all the feels. Each hand-cut ceramic leaf can be stamped with the names of you and your loved ones for an artistic take on a traditional family tree. Whether you hang it outdoors to blow in the wind or as a feature in your living room, it'll remind you and your spouse of the deep-rooted love you share.
Planted Succulent Assortment
Whether your partner loves keeping plants indoors or just wants to add a little greenery to their windowsill, these succulents are sure to please. They come in stylish (and on-theme) ceramic pots, each with its own drainage hole and optional rubber stopper to regulate water flow. The best part? Succulents are known to be super resilient and low maintenance, so your S.O. can spend less time watering their plants and more time hanging out with you.
Wood and Ceramic Serving Set
If your spouse is always up at the crack of dawn, why not give them the gift of a leisurely breakfast in bed? Whether they love a tall stack of pancakes or bacon and eggs, this elegant serving set will make them feel like they're in a five-star hotel. It comes with a rectangular ashwood tray engraved with your names and wedding year, along with five ceramic bowls for a shared feast you can savor together. It's a traditional 18-year anniversary gift that'll get your next year of marriage off to a blissful (and delicious) start.
Porcelain Butterfly Teapot
Tea for two is a great way to start the day, especially when it's poured from a pretty teapot. This one is handcrafted from porcelain and boasts a vibrant butterfly design that'll add a colorful touch to your kitchen table. Invite your spouse to join you for an 18th anniversary afternoon tea and let the romance (and perfect brew) flow!
Essential Oil Stone Diffuser
Scent is a powerful tool that can be used to boost mood and increase energy in a matter of seconds. With this ceramic essential oil diffuser, you can invigorate your spouse's senses to help them unwind after a busy day. Fill it with soothing lavender for a restful evening or zesty lemon for a quick pick-me-up before dinner. Whatever fragrance you choose, we think your partner will love this thoughtful 18-year anniversary gift.
Lovebirds Ceramic Bowl
Give it up for the lovebirds! If you're looking for an on-theme gift that celebrates the joy of 18 years of marriage, we've found something really special. This hand-painted ceramic bowl features a delicate illustration of a pair of doves sitting in a bare tree against a bright sunrise. Your names and wedding date appear on another branch, while a romantic quote from Atticus Poetry forms the tree's roots. This message reads: "I want to be with someone, who dreams of doing everything in life, and nothing, on a rainy Sunday afternoon." Sweet, right?
Porcelain Bakeware Set
If you're married to someone who loves to cook, here's a traditional 18-year anniversary gift they'll use every day. This bakeware set includes three dishes in various sizes and shapes to accommodate all their recipes, from a creamy homemade lasagna to a delicious apple crumble. Each piece is made from high-quality white porcelain that's naturally non-stick and delightfully durable for a practical gift that'll last another 18 years. The set is available in five different color combinations, so you're sure to find a style your partner will love.
Porcelain Dangle Earrings
If your spouse has all the porcelain dishes they'll ever need, there are other ways to incorporate the traditional anniversary theme into your gift. These pretty earrings are handmade from porcelain and finished with freshwater pearls for a cute vintage feel. Whether they wear them daily or save them for special occasions (like going out for your 18th anniversary), they'll be reminded of your love and thoughtfulness each time they wear them.
Ceramic Ocean Ring Dish
Whether you got married on a beach or honeymooned by the sea, this pretty porcelain ring dish will take you and your spouse right back to the ocean. Carefully crafted by hand, it features a painted resin picture of waves lapping the seashore for a striking 18-year anniversary that'll have you both reminiscing on the magical memories you shared all those years ago. Have the dish personalized with their initials for a super sweet (and safe) place to store their wedding bands.
Personalized Travel Mug
Modern life is filled with hustle and bustle, so it's no surprise if you and your spouse are always on the go. Brighten up your partner's commute with this personalized travel mug that'll remind them you are always there for them (even when you two are apart). Made from ceramic, it boasts a double-wall insulation to keep hot or cold drinks at the perfect temperature for hours. Have it customized with your favorite photo of the two of you and a sweet message that'll make them smile as they queue for the subway.
Elegant Porcelain Vase
We all know that flowers are a classic symbol of romance but what about a pretty vase? This one hits the traditional theme on the head, as it's made from smooth and silky porcelain. Choose from three subtle shades of dusty pink, muted green or cream. If you really want to win your spouse over, fill the vase with a bunch of their all-time favorite blooms or take inspiration from your wedding day centerpieces.
Porcelain Jar Candle
If your spouse loves to chill out by lighting a scented candle, here's one that's definitely worth checking out. It's made from a soy wax blend and comes in a porcelain vessel with a fashionable checkerboard pattern that'll add a bit of funk to any room. With notes of cyclamen, lavender and vanilla, this flame smells just as good as it looks and is bound to be appreciated by anyone who likes floral scents.
Handmade Spoon Rest
Cooking with your other half can get a little messy, especially if you've got multiple pots on the stove. Keep your countertops clean—and your spoons—in check with this two-tone ceramic spoon rest. Handmade from speckled clay, it comes in four different color combos, so you can pick a design that suits your partner's tastes. Practical and affordable, it's a traditional 18th anniversary gift they'll get loads of use out of.
Cabbage-Shaped Bowl
Whether you're shopping for a reluctant veggie eater or a dedicated vegan, this cabbage-shaped bowl will inspire them to tuck into their greens. It's made from durable ceramic in a quirky design inspired by large cabbage leaves and is available in three sizes, from small to large. Perfect for serving side salads, fresh fruit and savory snacks, it'll make a charming addition to any kitchen table.
Unique 18-Year Anniversary Gifts
If porcelain gifts aren't your cup of tea, there are a couple of other 18-year anniversary symbols to take inspiration from. First up is the anniversary gemstone, a cat's eye, which symbolizes wealth and prosperity. Wearing this pretty stone is said to remove negative energy and protect the wearer from unexpected danger. Blue is the 18-year anniversary color, a calming hue that represents loyalty, honesty and trust (three key ingredients in a healthy relationship). While there isn't an official 18th anniversary flower, you can still gift your spouse a symbolic bouquet of blue blooms. Still not sold on themed presents? We've got you covered with some really thoughtful alternative gifts that are sure to wow.
Custom Song Wall Art
While it may have been 18 years ago, we bet your first dance together still feels like yesterday. Relive that precious moment all over again with this custom wall art modeled off a soundwave from your favorite tune. All you have to do is pick a snippet, chorus or an entire song you love to have transformed into a handmade wooden sculpture. Hang it on your living room wall and prepare to give your partner a twirl!
Indoor Smart Garden
We're big fans of Click and Grow indoor smart gardens, and it's not hard to see why—thanks to an automated plant care system, they make gardening super fun and practically effortless. With timed watering and light management, they'll get your favorite plants off to a flying start. This starter set comes with basil seed pods, but you can also browse over 75 plant varieties for an 18th anniversary gift that keeps on giving.
Made-To-Order Personalized Song
We can't think of a more romantic gift than someone writing a song for us. If you want to sweep your spouse off their feet (again!), get some help from a songwriting pro for a wow-worthy anniversary gift they'll never forget. Simply answer a few questions and share some anecdotes about your marriage through an online form, and singer-songwriter David Morgan will take care of the rest. You'll receive an audio recording of an original lyrical composition inspired by all the special moments you've shared with your spouse. Cue the happy tears!
Cat's-Eye Cufflinks
If you've got a stylish spouse to shop for, these blue cat's-eye cufflinks will make them feel like dressing up. Not only do they tick both the 18-year anniversary color and gemstone off the list, but they also look great on most shirt cuffs. To really up the ante, pair them with a crisp white dress shirt and whisk your partner away for a romantic dinner somewhere fancy.
Insulated Lunch Bag
Packed lunches can get a bad rap (soggy sandwiches and squashed bananas, anyone?), but we've found something that'll change all that. This insulated bag makes a stylish statement and may offer all the encouragement your S.O. needs to make their own lunch. Whether they're taking it to work or out for a picnic with friends, it'll keep all their delicious snacks cool and fresh. It's made from water-resistant fabric and comes with multiple compartments for storing crackers, fruit and a bottle of juice. Choose from a variety of colors and prints (we heart the polka dots!) for a practical accessory they'll use every day.
Personalized Four-Across Game
Make games night extra special with this personalized four-across game you can play with your spouse. The wooden frame features heart-shaped slots and can be customized with your names and wedding date for a memorable 18th anniversary keepsake. Be warned: It may bring out your partner's competitive side, so be prepared for a marathon games session.
Smart Leather Wallet
Practical gifts are always a good shout, especially if your spouse is more on the pragmatic side. This smart leather wallet is something they'll use daily to keep their cash and cards safely stashed away. Not only does it look great, but it also prevents wireless theft and card skimming for extra security. Your partner can access their cards any time at the click of a button, saving them time when buying their morning coffee or subway ticket.
Cat's-Eye Bracelet
Take inspiration from the 18-year anniversary gemstone with this gorgeous cat's-eye bracelet. It's made from 14K gold-plated brass with a vibrant cobalt stone for a striking accessory that looks great worn solo or stacked with other jewelry. And, since a cat's eye is said to ward off negative energy, you can expect your spouse to react positively when they see this stunning gem.
Personalized Door Mat
After 18 years of building a home together, it's totally normal if you've run out of gift ideas. Sometimes keeping it simple is the best way to go, especially if your spouse already has everything they need. This personalized door mat is something you can both use every day and is a lovely way to welcome visitors to your doorstep. It can be customized with your monogram, surrounded by a pretty leaf motif and a warm message that reads: "Welcome to my home."
Compact Camping Chair
If you and your spouse take regular camping trips, this compact chair from YETI will make your adventures much comfier. Lightweight yet sturdy, it's made from breathable fabric and can support up to 500 pounds of weight while maintaining its shape. It even has a handy cup holder, so your partner can sit back and relax with an ice-cold beer while they watch the sunset. We bet they'll love it so much you'll be tempted to get one for yourself, too.
Murder Mystery Puzzle
Keep the mystery alive for a bit longer with this fun and entertaining puzzle. Your spouse can work solo or with you to complete a 500-piece jigsaw and solve the murder mystery. As you rule out suspects and unravel different clues, you'll have a great time embracing your inner sleuths. Pair it with a bottle of wine or some tasty snacks for an 18-year anniversary date you can enjoy at home.
Cozy Wool-lined Slippers
In our book, there are two things that never go out of fashion: cozy nights in with your partner and soft wool-lined slippers. Celebrate both by presenting these snuggly UGGs to your spouse for your next relaxing evening at home. The shearling lining will keep their toes warm, while the water-resistant suede won't get damaged if they have to answer the door while it's raining (date-night pizza, anyone?).
Luxury Soap Set
Encourage your spouse to take time for themselves after a hectic day with this luxury soap set. It has everything they need to enjoy a relaxing shower or a soak in the tub, including two bars of soap, a travel soap box, a dish and a personalized washbag. Choose from two colors (black or brown) and three different monogram designs for a stylish kit they'll use for years to come.
Pretty Paint Palette
If your spouse likes to unwind by painting, this thoughtful anniversary gift is a great way to encourage their creative talents. This pretty palette is made from floral-decorated resin and has nine circular wells to separate each paint color. It comes with a handy paint brush holder that can hold five brushes, so there's no need to fuss when they're switching paint colors.
Preserved Roses
While the 18th anniversary doesn't actually have an official flower, there's no need skip gifting blooms. These preserved roses come in a vibrant shade of royal blue and are the perfect nod to the milestone's anniversary color. Best of all, they're guaranteed to last at least a year, so your spouse can admire them until the next anniversary comes around.
Our team received [some of] these products as promotional samples in exchange for editorial consideration and independent review.