Why We Took a Buddymoon Before Our Honeymoon
Instead of packing your bags for a honeymoon for two, spend more time with your nearest and dearest after you say "I do."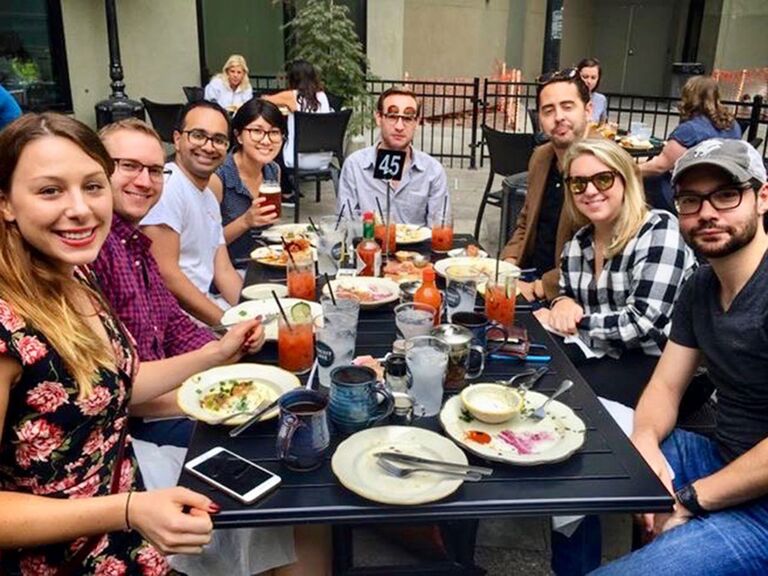 Kate Springer
A lot of couples jump straight from wedding to honeymoon mode, eager for some alone time after all the chaos leading up to the wedding day. But we decided to do things a little differently. Instead of canoodling on a Hawaiian beach or sipping wine in French cafés, we spent our first week of marriage on a buddymoon, road-tripping from Pennsylvania to Nashville, Tennessee, with five of our closest friends.
Buddymoons have been gaining momentum in the wedding world, after first evolving as a natural progression of destination weddings. Celebrities and everyday couples alike see these shared holidays as an opportunity to extend the celebration, spend quality time with far-flung friends and, in some cases, save on costs. In our case, a buddymoon didn't replace our honeymoon—that came six months later in the form of a (totally private, totally romantic) road trip through Central Europe, from Italy to Croatia and Montenegro, but a week with our friends turned out to be just what we needed. Here's why we'd do it again in a heartbeat.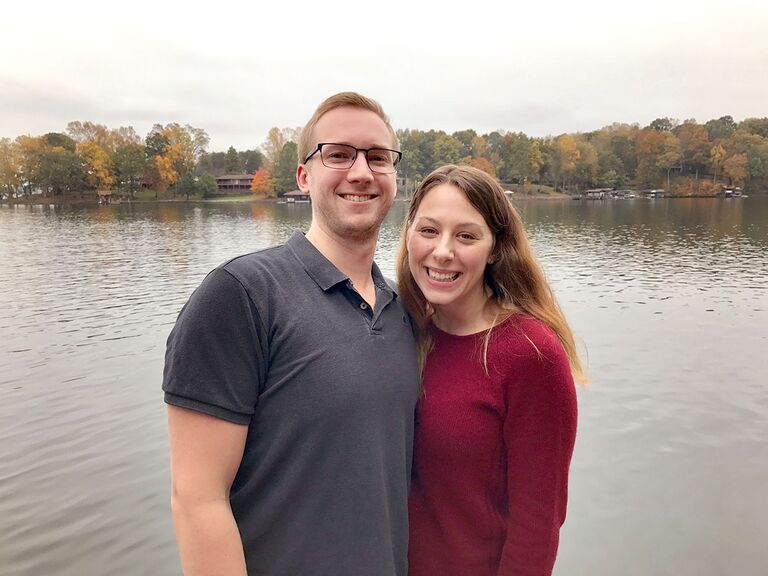 Why a Buddymoon?
Last October, my husband, Chris, and I exchanged vows in the shade of a century-old oak tree at Springton Manor Farm in the Pennsylvania countryside. We both grew up in Pennsylvania, but we've lived in Hong Kong for the past six years. Over time, our Hong Kong friends have dispersed to all corners of the globe, now living in Thailand, Singapore, London and New York. We were thrilled that some of our faraway friends planned to descend on rural Pennsylvania to help us celebrate, but worried we'd hardly see them, given all the blur of the wedding celebration. So when they floated the idea of taking a trip together postwedding, we were were on board. It was a win-win for everyone: They'd get more miles out of long-haul flights (as would we!); my husband and I could relax after the festivities; and we'd have more quality time to spend together.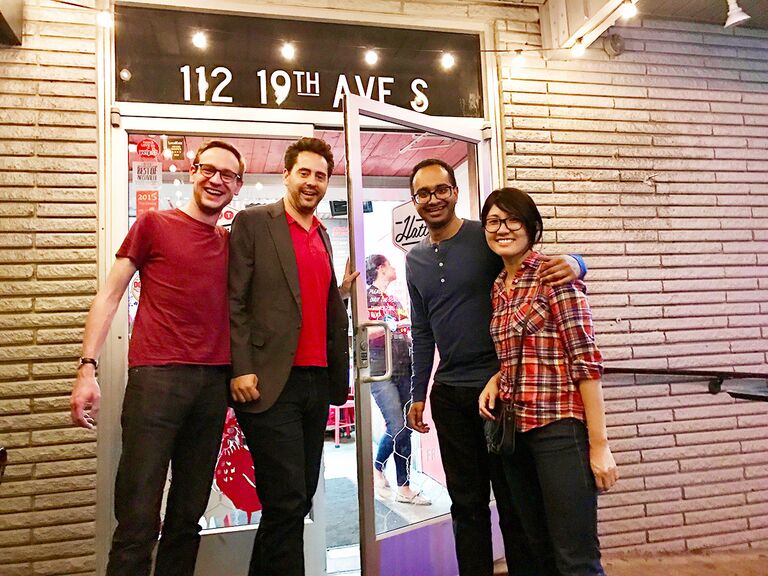 How We Did It
Our friends proposed a road trip to the southern US, stopping for two days in Roanoke, Virginia, followed by three nights in Nashville, Tennessee. We were pumped: Two places we've never been, and the autumn leaves would make for a beautiful drive. As we focused on wedding planning, our friends took care of the buddymoon details, organizing everything from Airbnb rentals to restaurants, pit stops and supplies. Basically, all we had to do was show up and hang out with a few of our favorite people.
Find your kind of venue
From barns to ballrooms, discover reception venues that feel like you.
Of course, even if you all adore each other, traveling with a group of seven people is never completely seamless. There were nights where some friends wanted to go out, while others wanted to sleep—plus everyone moves at their own pace. It was challenging to corral all our friends, particularly in the mornings. But we entered the trip with a very loose itinerary, and the leisurely pace was refreshing after so many intense months of wedding planning. We were generally on the same page with budgeting and priorities (great food, good booze, lots of dancing), which made it much easier. After five days together, we parted ways—each heading off in a different direction. It's a rare occurrence to all be in one place at one time, and we're thrilled that our wedding brought everyone together.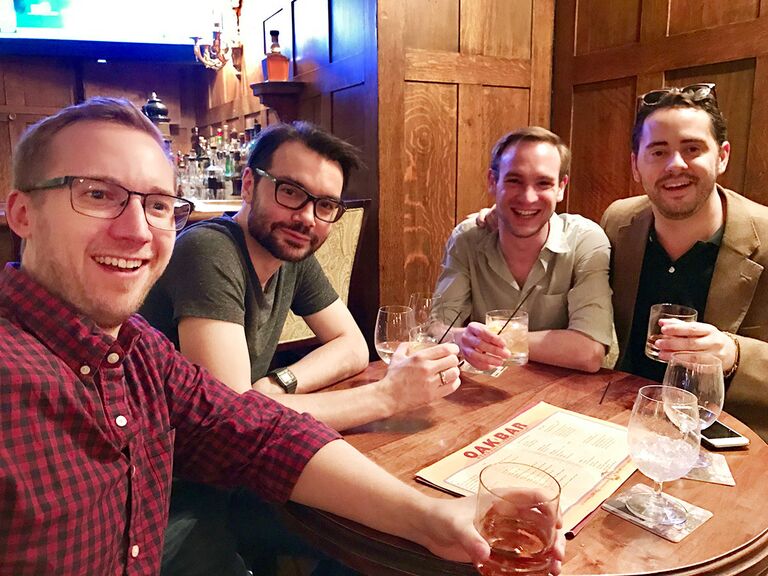 Buddymoon at a Glance
Time of year: Early November
Budget: $1,000 per person
Friends: 7
Length of Trip: 5 Days
Travel Time: 5 hours from Lancaster to Roanoake; 7 hours from Roanoke to Nashville
Buddymoon Highlight: After a chaotic few weeks, Chris and I were grateful to have some quality time with our best friends. It wasn't as romantic as a traditional honeymoon, but we were totally relaxed and surrounded by people we love.
Standout Stay: As if it'd been plucked from an interior design magazine, the Airbnb house in Nashville was beautiful and spacious. It could sleep about 10 people, so we had plenty of room to stretch out—plus it was much cheaper than booking separate hotel rooms.
Standout Dinner: One of the best dinners on the trip was at Husk, where we celebrated a friend's birthday. Set in a heritage mansion with a homey feel, the restaurant specializes in upscale Southern cuisine with drool-worthy dishes, including the likes of grilled catfish, homemade cornbread and apple-cider-glazed pork. Just be sure to make reservations—this place is constantly packed.
Want to steal our itinerary? Here's where we went:
First Stop, Roanoke, Virginia: Following a Saturday wedding, we took off for Roanoke on Monday morning. Chris and I rented our own car for added flexibility, while our friends piled into an SUV. Five hours later, we were winding through country roads in Roanoke—the trees so orange, they practically glowed.
Tucked away in a forest, the secluded Roanoke house (booked onVRBO) overlooked Smith Mountain Lake, and came complete with outdoor decks and a boat dock. For two days we hung out in the quiet countryside, hiking, playing cards, cooking dinner together, and catching up on life. We couldn't have been more relaxed, surrounded by our best friends and the beautiful scenery.
Next Stop, Nashville: As we drove the six hours from Roanoke to Tennessee, the scenery changed from lush rolling hills to wide open farmland. We hit the brakes in Johnson City for some brisket and pulled pork at The Firehouse—a family-run restaurant that defines Southern hospitality. Before taking off, we refueled with coffee at Dos Gatos Coffee Bar—part art gallery, part craft brewery, part coffee house—and stretched our legs along charming Main Street.
After a few low-key days by the lake, we were all ready to hit the town in Nashville. We drank and danced along Broadway (Nashville's main entertainment drag), honky-tonk hopping until the wee hours. Big breakfasts of biscuits and grits at popular Biscuits Love revived us in the morning, before doing it all over again.

Nashville is a culinary wonderland—and we are textbook food obsessives. We devoured fried chicken and craft beer at Hattie B's, sipped Old Fashioneds at the Oak Bar inside the Hermitage Hotel, indulged in a classy dinner at Husk, shared mounds of pulled pork at the Nashville Farmer's Market, and stopped for coffee and chocolates at Barista Parlor in a cool warehouse district.
Kate Springer is a Hong Kong-based freelance journalist who covers travel, food, culture, architecture and urban innovation. Her work has been published by Condé Nast Traveler, National Geographic Travel, CNN, BBC Travel, Travel + Leisure, Food +Wine, Forbes Travel Guide, Fodor's, Munchies, Time Out, and more. See more of her work at Kate-Springer.com.