A Vancouver Honeymoon Blends Adventure With Luxury
Plan your amazing British Columbia getaway with this useful guide.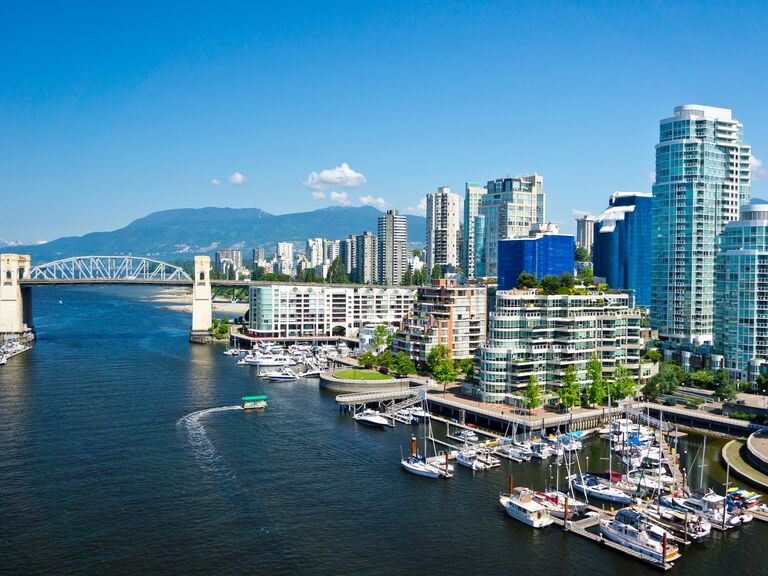 mffoto / Shutterstock
We have included third party products to help you navigate and enjoy life's biggest moments. Purchases made through links on this page may earn us a commission.
If you think a Vancouver honeymoon doesn't sound exciting, think again. Tucked along the coast of southern British Columbia, Vancouver is a cosmopolitan playground with access to nature and recreation just a few minutes away. If you want to fill your days with amazing scenery and outdoor activities but want your nights to be all about boutique hotels, romance and five-star gourmet cuisine, Vancouver is the perfect spot for a romantic honeymoon.
If you're thinking of picking Vancouver as your honeymoon destination, here's a quick guide on what to pack, what to see and the best places to stay for a romantic getaway for two.
Is Vancouver Good for a Honeymoon?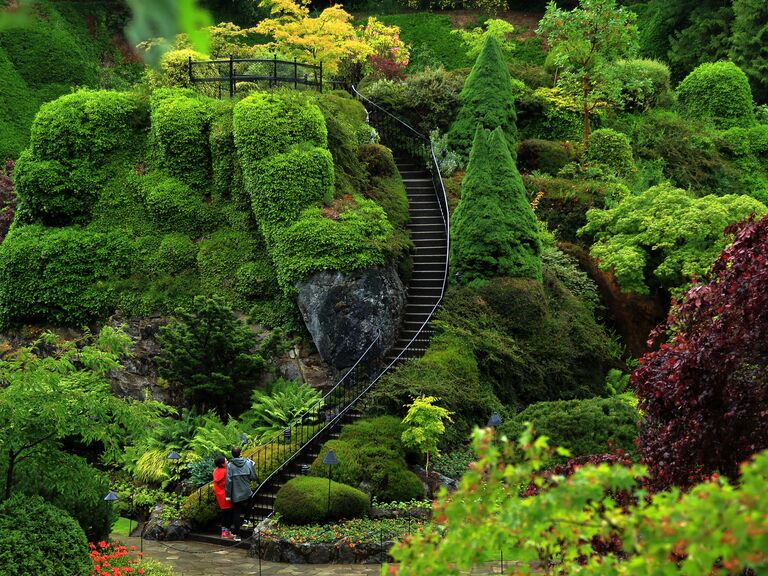 Western Canada is known for having some of the most beautiful landscapes in the world. From Vancouver, you can take a day trip to world-famous Whistler or Vancouver Island, visit Canada's wine country in the Frasier Valley, or hop on a seaplane to track pods of orca whales traveling along the coastline.
Vancouver is easy to reach from almost every major US city (especially those on the West Coast, like Seattle and San Francisco). It's also an affordable destination since the US dollar is usually stronger than the Canadian dollar—you can have a five-star experience for what a three- or four-star experience would cost in the states.
Pros of a Vancouver Honeymoon
For travelers who've never been to Canada's British Columbia, it's hard to understand just how stunning it is, partially due to the massive scale of the Fitzsimmons Range (the coastal mountain range just north of the city).
With massive mountains that drop into the ocean, accessible temperate rainforests, huge gorges and valleys, and wildlife ranging from orca whales to grizzly bears, the coastal province is stunning beyond words. And since Vancouver is the biggest city in British Columbia, staying there puts you in the perfect position to experience it all while still having unlimited options for hotels, restaurants, activities, culture and nearly everything else you'd want on a posh honeymoon. It's an ideal destination for blending daytime outdoor adventures with romantic evenings in the city.
Cons of a Vancouver Honeymoon
This is not a tropical destination. If you dream of over-the-water bungalows and afternoon snorkel sessions, French Polynesia may be more your speed. But if you dream of cuddling up under blankets next to a fire pit during sunset or sipping champagne as you sail along the coast of a lush, remote island, Vancouver should check most of your boxes.
The Best Times of Year to Go on a Vancouver Honeymoon for Good Weather
For most honeymooners, the best time to visit Vancouver is from late spring to mid-fall, during which time the weather is generally sunny and warm. You can slowly meander past downtown Vancouver's art galleries, outdoor cafes and riverwalks without having to wear a heavy jacket. If you like fall foliage, you'll want to visit in September, when popular sights like Stanley Park and the mountains of the Sea-to-Sky corridor just north of the city come alive in vibrant shades of orange and red. If you're into mountain biking or hiking, you'll want to visit after June to ensure the snow has melted from most trails.
The exception to this advice is if you're a skier. To spend your days skiing, snowboarding or snowshoeing (and your evenings relaxing in a hot tub), plan your visit between December and April. You can easily combine a few days in Vancouver with a few days in Whistler (about 90 minutes north of the city).
Things to Do During a Vancouver Honeymoon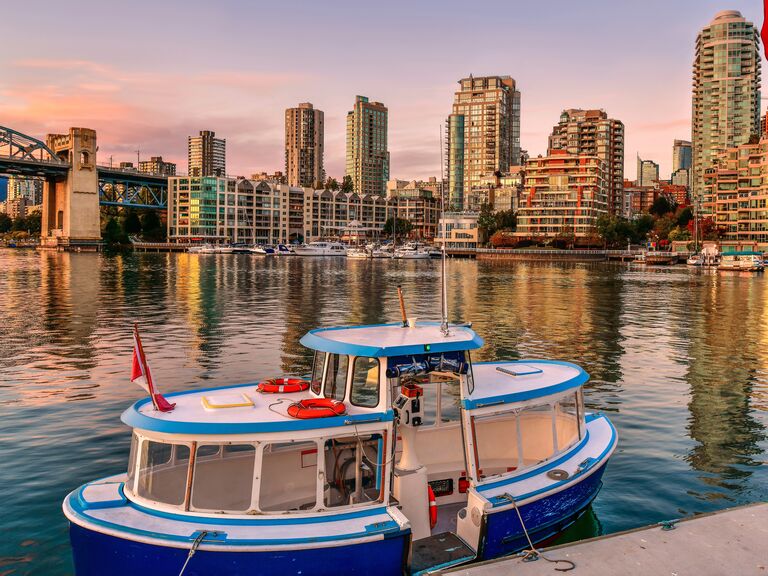 Vancouver may be the gateway to British Columbia's outdoor recreation, but there's plenty to do if you'd rather not pack your hiking shoes. At less than an hour from Seattle, you can easily visit Vancouver in a weekend and find plenty to fill your days without needing a car or leaving the city limits.
That being said, if you are willing to leave the city, you'll probably never run out of things to do.
Stroll Through Granville Island
Granville Island is the spot for hip, artsy couples who prefer low-key artisan bistros and collective art galleries over elegant fine dining. The small, walkable island is a wonderful spot for a leisurely half-day visit, especially if you've had a late night the evening before.
Be sure to stop by the Granville Public Market with an appetite, as there are more than 50 stalls selling everything from handmade donuts and fresh fruit to gourmet sausages and pretzels—it's a playground for foodies. Leave yourself a few unscheduled hours to stroll past Granville Island's shops and galleries, and consider taking the ferry to the island rather than driving to see the city from a new perspective.
Explore Vancouver Island
Vancouver is a fantastic base camp for exploring small British Columbia towns that are tucked along the Pacific Ocean. One of the best is the town of Victoria on Vancouver Island. Victoria is like a historic seaside town that continued to grow; the waterfront is still the center of the town, but now it's dotted with elegant ocean-view hotels and weekend street fairs.
From Victoria, you can take a whale-watching cruise or stroll through the super-romantic, 55-acre Butchart Gardens. If you have a few days to spend, consider booking an overnight stay at a romantic lodge in Tofino (Clayoquot Wilderness Lodge is a stunning safari tent luxury lodge) or hiking past ancient trees and remote seashores at Pacific Rim National Park.
Take a Backcountry Brewery Tour
You won't find a shortage of breweries or distilleries in Vancouver, many of which are near the popular Seawall walking path and easy to work into a day of sightseeing. But to ensure your honeymoon is truly a romantic getaway you won't forget, consider booking a private craft brewery helicopter tour. You'll fly with SKY Helicopters for around 30 minutes, soaring over coastal cliffs and inland sounds. You'll then land deep in the alpine backcountry, where the team will arrange a private craft beer tasting with the Fitzsimmons Range as your backdrop.
If beer isn't your thing, consider a helicopter flight to the nearby Frasier Valley for a wine tasting. Or, skip the landing entirely—the sunset tour includes a champagne toast while you fly over the North Shore of the city.
Walk Across the Capilano Suspension Bridge
The Capilano Suspension Bridge is a must-visit attraction near Vancouver. It's one of those places you'd see on social media and plan an entire trip around.
Fortunately, the huge park is so much more than just the bridge (which itself is 450 feet long and 250 feet above the river canyon). In the forested Capilano Suspension Bridge Park, newlyweds can stroll hand in hand on a boardwalk through temperate rainforest, cross suspension bridges that weave through the trees, or explore the narrow "cliff walk," which hangs off the mountainside.
Be sure to buy your tickets in advance as it's one of the city's most popular attractions. If you don't have a car, don't worry—the park offers a free shuttle for both daytime visits and the holiday light event every winter.
Best Hotels and Resorts in Vancouver for a Honeymoon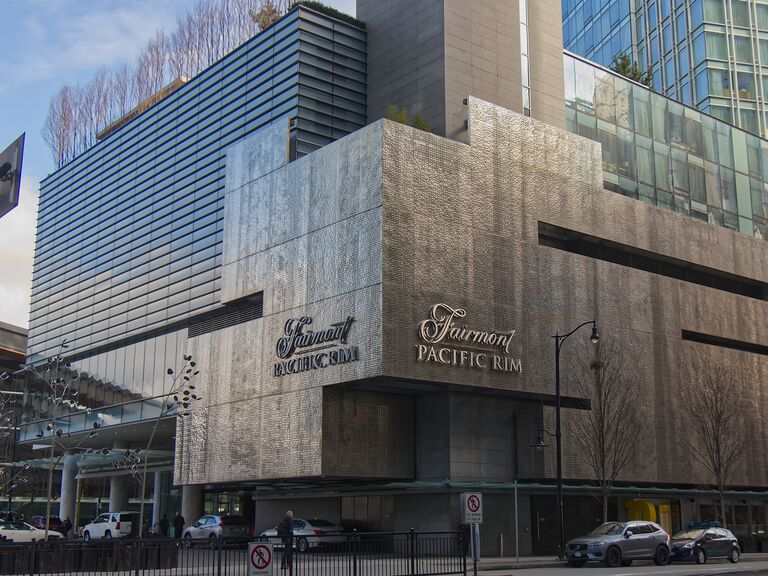 Luxury and romance are the focus at the Fairmont Pacific Rim, where guest rooms have floor-to-ceiling windows looking out over the harbor or water. The hotel is home to the highly rated Willow Stream Spa, and the rooftop pool even has cabanas and palm trees. Honeymooners may want to consider the romance package, which includes an elegant guest room, champagne upon arrival and breakfast in bed.
If you're aiming for a slightly more affordable option, you could also consider the Fairmont Waterfront. It's just a block from the Fairmont Pacific Rim, and it offers the same fantastic views at a lower price point.
The Opus Vancouver has all the draw and personality of a stylish boutique hotel but with the amenities of a large property. It's in the hip Yaletown neighborhood in between Chinatown and Granville Island. Rooms are colorful and richly designed, and hotel perks include free loaner bikes for cruising around the bike-friendly city. You'll be near dozens of restaurants in Yaletown, but the Opus' own restaurant, Capo, is well-loved in the neighborhood for its delicious fermented sourdough pizzas.
Book a night or two in a suite at the JW Marriott Parq Vancouver if you truly want to treat yourself on your honeymoon. The sprawling, airy suites have views of the city and features like private patios and marble bathrooms. Of course, it's a JW Marriott, so even the standard rooms are stunning. Guests have access to an outdoor yoga space and rooftop bar, as well as an astonishing nine restaurants and bars, including the hip Lotus Whiskey and Tea Lounge.
The hotel is in Gastown, the city's oldest (and arguably most photographic) neighborhood. But you'll also be close to Chinatown and Robson Street, one of the city's main thoroughfares for shopping and international restaurants.
Inherently romantic, the Rosewood Hotel Georgia pays homage to the 1920s. The moody hotel has wrought-iron curving staircases, rich wood paneling and sculptured facades both indoors and out. The hotel's spa and indoor saltwater lap pool will take you back to the opulence of the 1920s. You can usually find packages for couples at various times throughout the year that include everything from welcome sweets to discounts on extended stays.
What to Pack for a Vancouver Honeymoon
Packing for Vancouver isn't too tricky, but you'll likely need to pack for various climates. If you're going to be skiing or snowboarding, pack for cold weather—aside from your ski gear, you'll want a down jacket for the evenings, a beanie and gloves. Both Vancouver and Whistler have a mix of restaurants, so if you want to dress up a bit, feel free to bring your designer jackets and fur-accented boots.
Otherwise, remember that Vancouver can be rainy, and Vancouver Island even more so. You'll want a thin, packable rain jacket to carry while exploring the city, as rain showers can start (and end) without much notice. You'll also want comfortable shoes, especially if you plan to hike during your honeymoon or visit Stanley Park, which is actually larger than New York's Central Park. In short, you'll want to pack for an outdoor trip, with a few stylish outfits for evenings out on the town.