The 3 Easiest Ways to Trim Your Catering Bill
Step one: Keep it light and casual.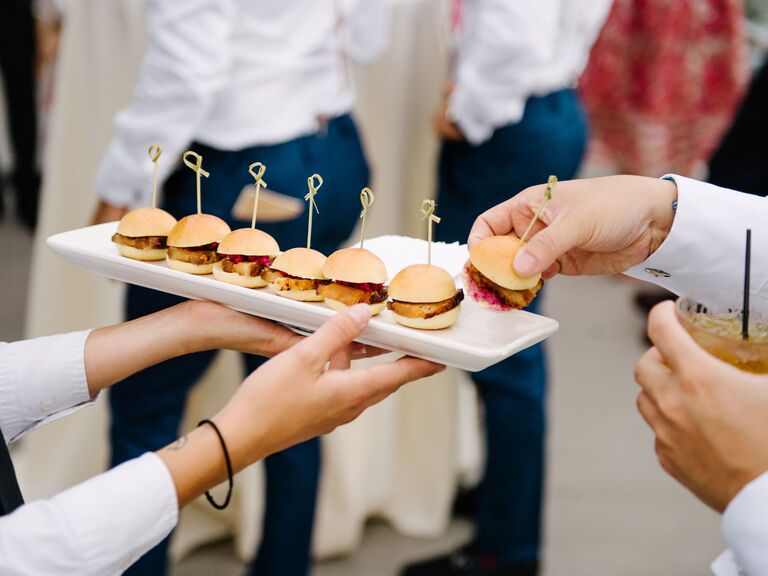 Brian Hatton Photography
The Knot 2018 Real Weddings Study puts the national average cost of catering per wedding guest at $70. Now, if you're hosting a formal wedding with all the fixings (read: lobster, caviar and truffles) in an expensive city (New York City or Los Angeles), you can expect your catering spend to soar above $70 per head. But your bill can also fall below the average cost—if you play your cards right. While it's worth dropping a little dough to ensure your favorite people are well fed, your menu doesn't need to cost an arm and a leg. Here are a few basic ways to save on wedding catering and keep your budget in check.
1. Pick a non-Saturday wedding date.
If you're open to it, getting married on a Friday or Sunday is pretty much guaranteed to save you a some money on all vendor fronts, from the venue to the flowers, and catering is no exception. This is simply due to the fact that they're relatively less popular days to wed than Saturdays. Since these days of the week are lower in demand, vendors tend to charge less for their services then.
2. Have a morning, afternoon or cocktail-hour wedding.
Timing is clearly everything: You'll save yourselves money by hosting a morning or afternoon wedding reception. This goes back to the above point about choosing a less sought-after time to party, but it's also to do with hosting your guests at a time they're not expecting a full, plated meal. If your wedding ceremony is at 1, 2 or even 3 p.m., why not have a tea reception? Begin by 3 or 4 p.m. and serve tea along with bite-size eats (finger sandwiches, scones, pastries and, of course, cake). You could also have a morning ceremony followed by a brunch reception. Brunch food is often less fussy (read: less expensive)—and it's always a crowdpleaser.
Push things a bit later and have a cocktail reception starting at 4 or 5 p.m. that centers around fun drinks and hearty passed hors d'oeuvres. Your guests will probably be able to tell by the timing you won't be providing a major meal, but make it easy on them with a note on your wedding invitations: "A tea [or cocktail] reception to follow."
3. Serve a simple, casual menu.
The formality of a wedding is often directly proportional to how expensive it is—and the same goes for the menu. Unless you're dying to, there's no need to impress your guests with five courses, four entrée options, labor-intensive dishes and expensive ingredients no one can pronounce. To cut catering costs, stick to simple, more affordable cuts of meat, seasonal, local ingredients (from fish to veggies), and one or two filling, crowd-pleasing options. The bottom line? Don't overdo it and be open with your caterer. They'll know exactly which corners to cut to keep your wallet happy without letting anyone go hungry.
Read on for more ways to budget for wedding catering.